The next time you plan a party or family gathering, make one of these cheese ball recipes and serve it as an appetizer or dessert. Your guests will love them! 
Great appetizers are essential for a successful party, and there's nothing easier (or more tried and true) than a tasty cheese ball. But if you're tired of the same old recipe you've made for years, here are some unique and surprisingly easy cheeseball recipe ideas to help you kick it up a notch.
Thake out those cheese out of the refrigerator and prepare for a dash of yummy recipes! Cheese balls are super convenient to have on hand for a quick or impromptu party…like a few friends stop by and it turns into a celebration.  If you are looking for some other easy party ideas:
It seems like most people think of cheese balls as appetizers. However, they aren't limited to just being a first-course nibble. Check out these cool cheese ball ideas, because I think you might be surprised at all the different types of cheese ball recipes you can try.
Best Savory Cheese Ball Recipes
If you've never made and are wondering how to make cheese balls, it couldn't be easier! They require just a few ingredients and come together in a mixing bowl in mere minutes. From scrumptiously savory to decadent desserts (down below), you'll find lots of crowd-pleasing and more than classic cheese ball recipe here.
1. Pepperoni Pizza Football Cheese Ball Recipe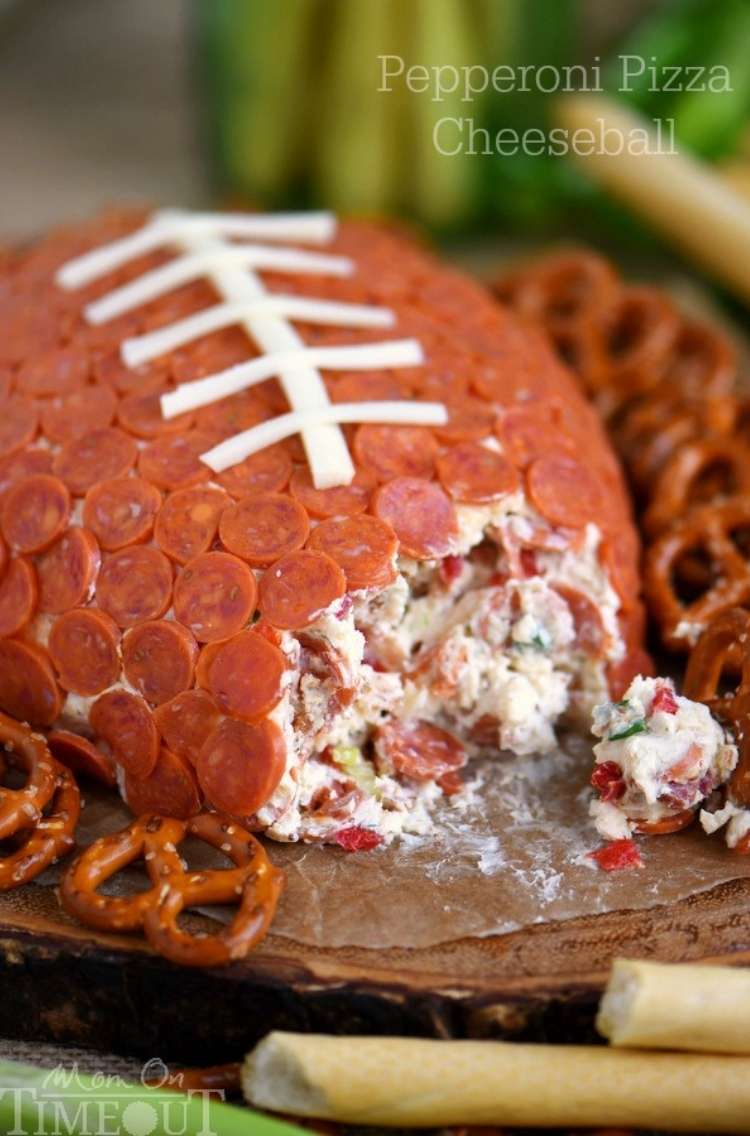 This Pepperoni Pizza Football Cheese Ball is easy to make, rich in protein and a total showstopper! Make this your next game day celebration and watch the crowd go wild! You have to make this Pepperoni Pizza Football Holiday Cheese Ball for your next tailgating party. With three kinds of cheese mixture, pepperoni, green onions, and a load of bacon inside, you'll be the real MVP. It won't end up in the fridge for sure. 
2. Jalapeno Cheddar Cheese Ball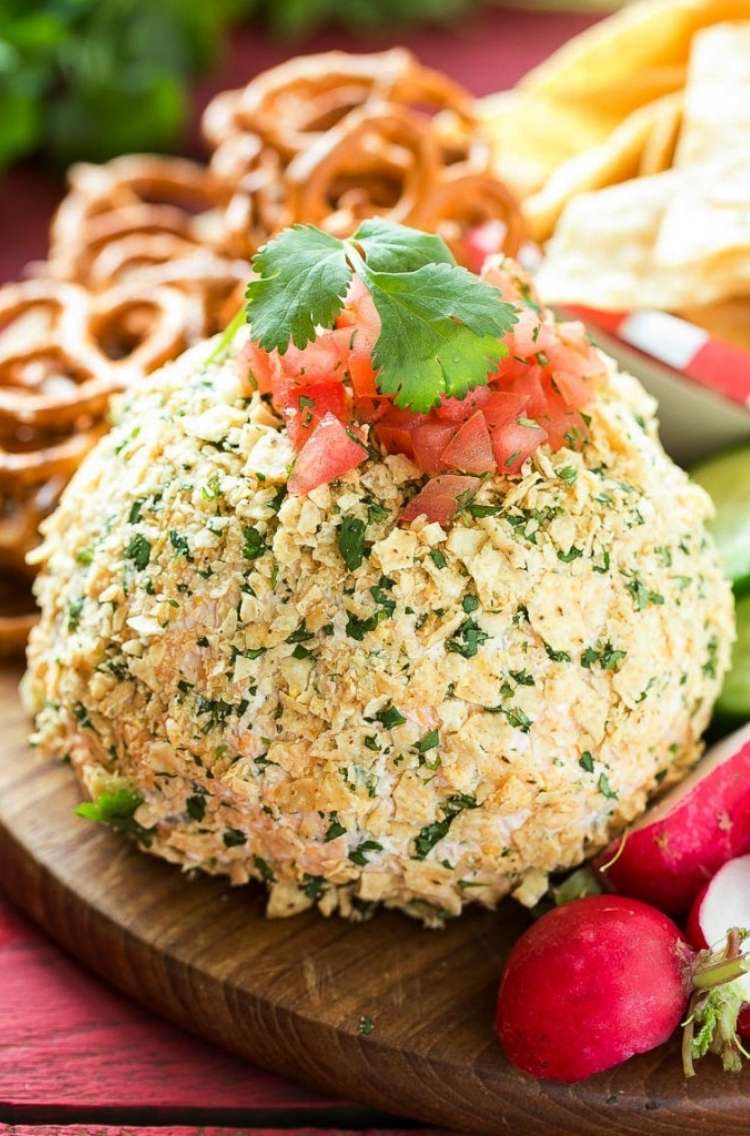 Only a few ingredients (cheddar cheese, cream cheese, salsa, and jalapenos) are needed to make this spicy Jalapeno Cheddar Cheese Ball that's full of all the Mexican flavors you love. If Mexican food is your weakness, this is the cheeseball for you. This is the best cheeseball recipe out there.
Tip: This Jalapeno Cheddar Cheese Ball is full of zesty Mexican flavor and takes just minutes to make. The perfect snack for game day! Substitute green bell peppers for the jalapenos if you want to tone down the heat a little. Or choose a spicier pepper if you want something with a little more heat.
3. Bacon Jalapeno Cheese Ball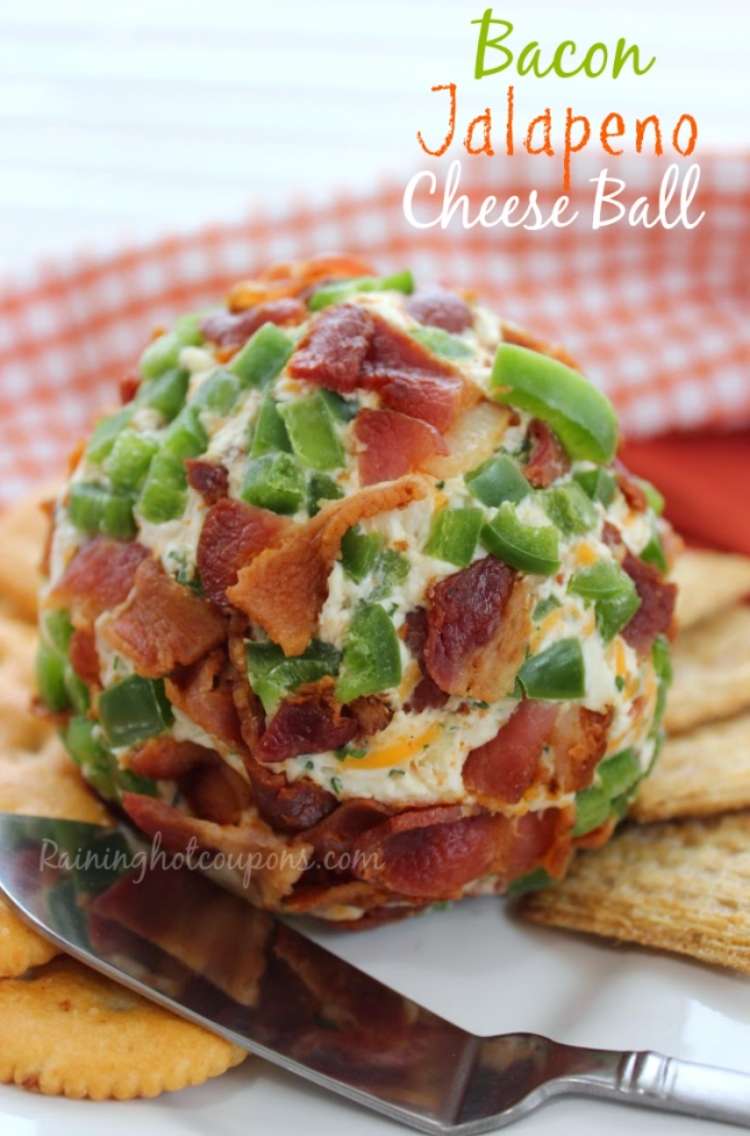 Perhaps this Bacon Jalapeno Cheese Ball might be more your style. It's one of my favorite savory cheeseball recipes. After all, bacon is good with everything! This Bacon Jalapeño Cheese Ball recipe has a creamy texture base and is loaded with crispy smokey bacon, spicy jalapenos & sharp cheddar. So, delicious! 
4. Video: Easiest Fancy Appetizer: Pull-Up Bread
It is easy to win at holiday party appetizers when you make this pull-up bread! It only takes 10 minutes from prep to serving and wows every time!
Related Post: Insanely Delicious Mocktails To Serve at Your Next Party
5. Onion, Cranberry & Pecan Cheese Ball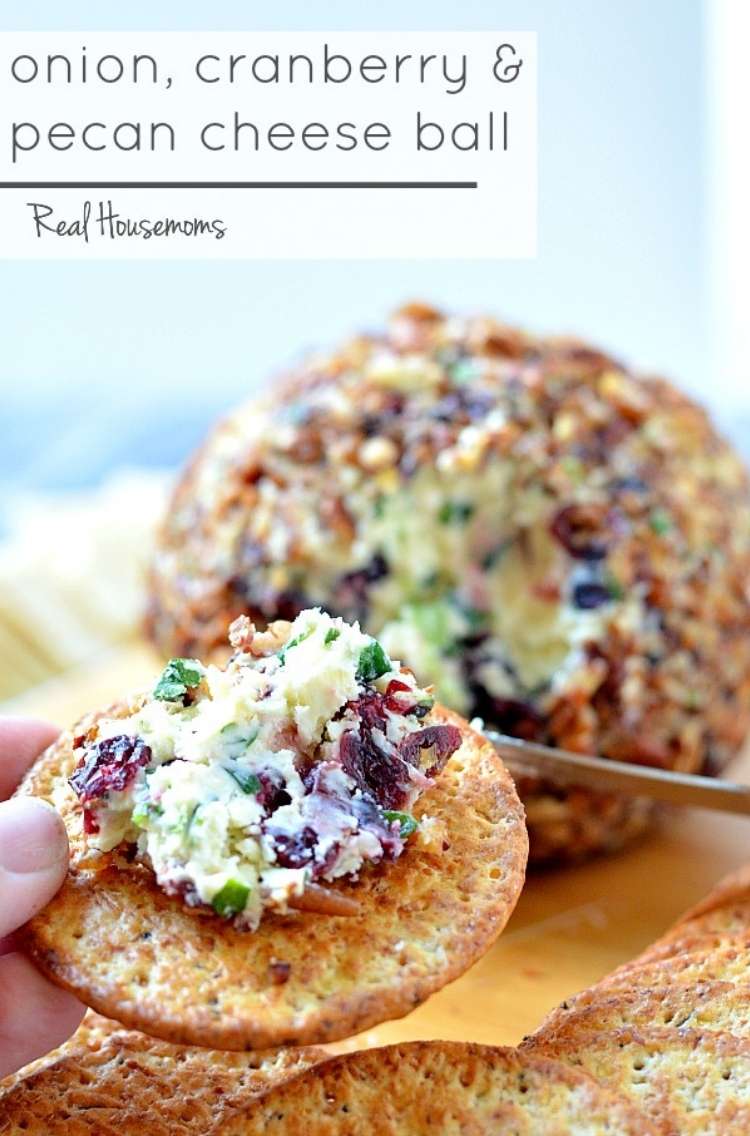 This Onion Cranberry Pecan Cheese Ball is an easy, make-ahead appetizer that tastes amazing & has the most beautiful colors! The colors in this cheese ball recipe are just beautiful. Between the flavors and the colors, this recipe works perfectly as an appetizer for a Christmas holiday meal as well as any gathering you may host (or attend!). Colorful pops of cranberry make this dish look beautiful and a plate. It's a top contender for any holiday potluck or as a family appetizer during Thanksgiving.
Tip: Check these simple cheese pinwheel recipes that will tickle your taste buds.
6. Allergy-Friendly Ranch & Onion Flavor Cheese Ball Recipe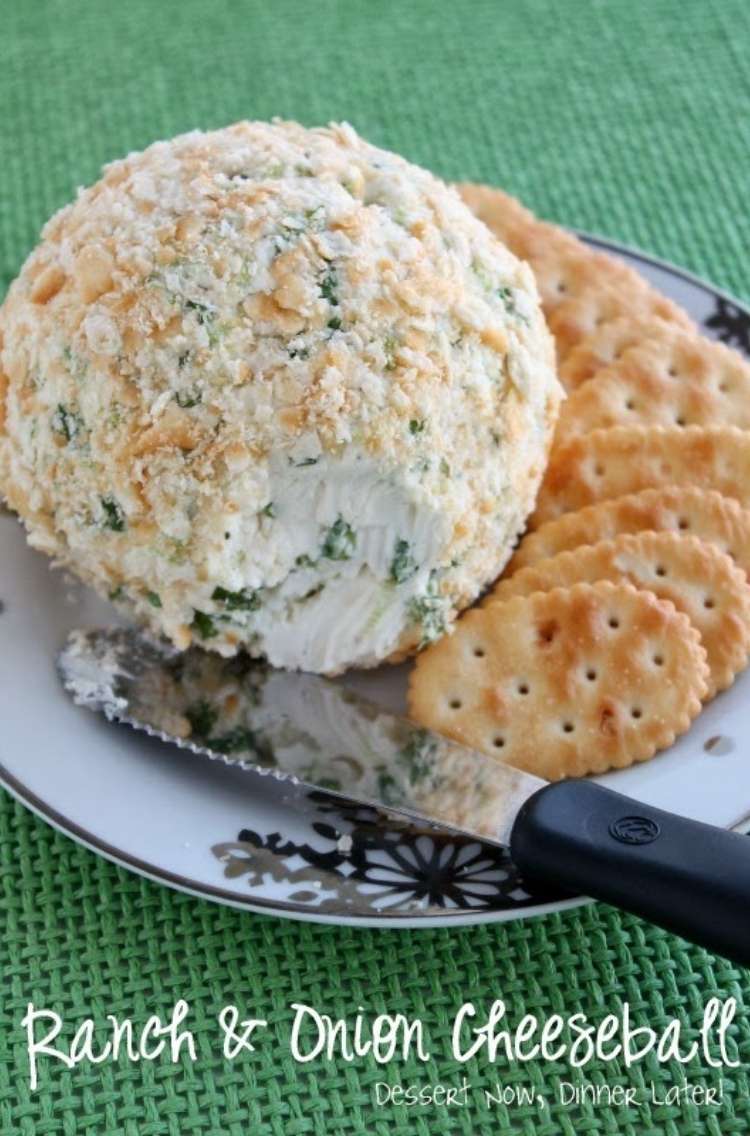 Have a nut allergy? This Ranch and Onion Cheese Ball is the perfect solution. It's so easy to make and will be loved by all! Perfect for holidays or snacking! The flavors in this cheese ball recipe work well with ritz crackers, pita chips, tortilla chips or baguette slices if you're wondering what to eat with cheeseballs.  And, it's yummy rolled in crumbs or even nuts.
7. Pimento Cheese and Bacon Cheese Ball Bites Recipe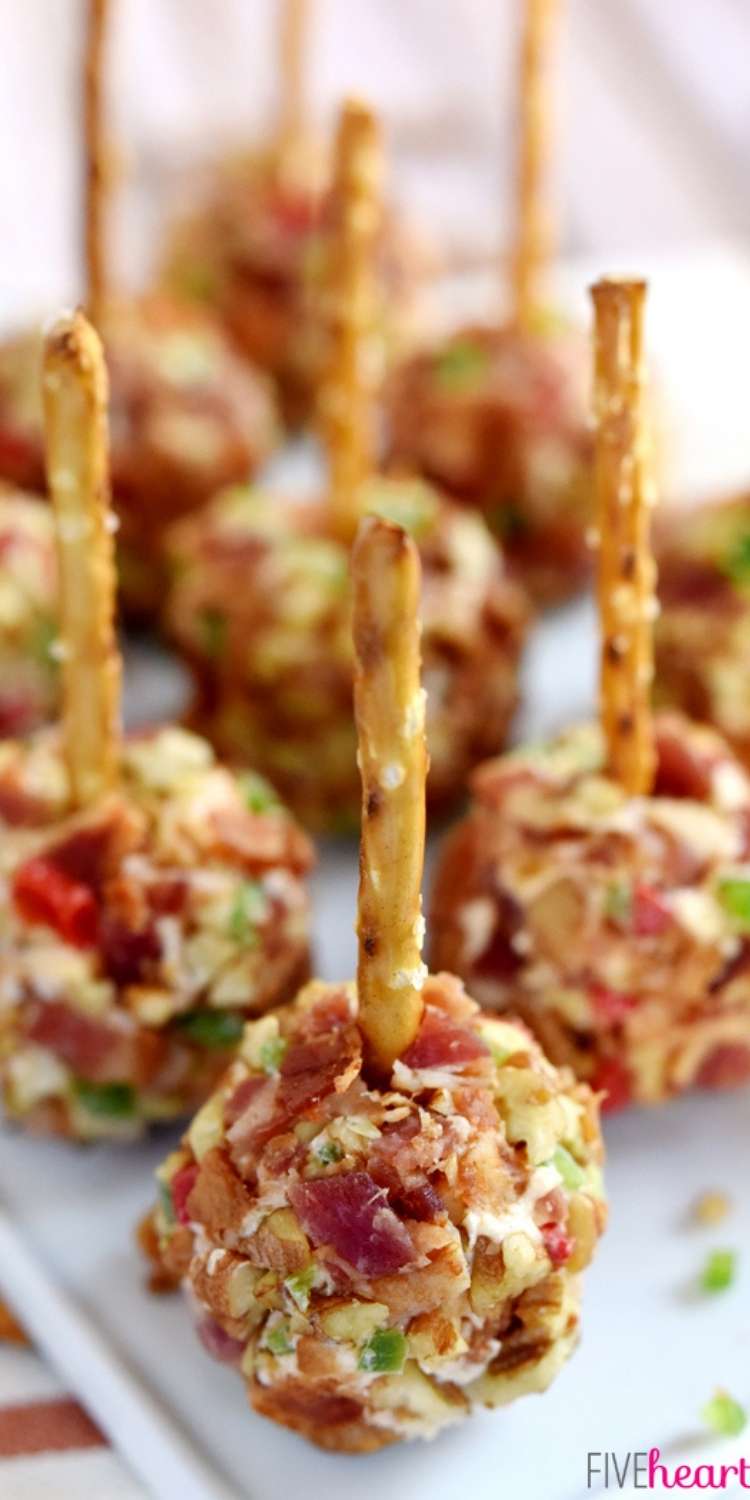 Don't want someone hogging the cheese ball? Make Pimento Cheese and Bacon Cheese Ball Bites instead. Pimento Cheese & Bacon Mini Cheese Ball Bites are rolled in crispy bacon, toasted pecans, & minced jalapeños & speared with a pretzel for an easy appetizer! Everyone can have a few bite-sized appetizers, so you can make sure there's enough to go around. It'sPimento Cheese and Bacon Cheese Ball Bites a far cry from a classic cheeseball recipe, but it's just as tasty. And Again, bacon makes everything better!
8. The Everything Cheese Ball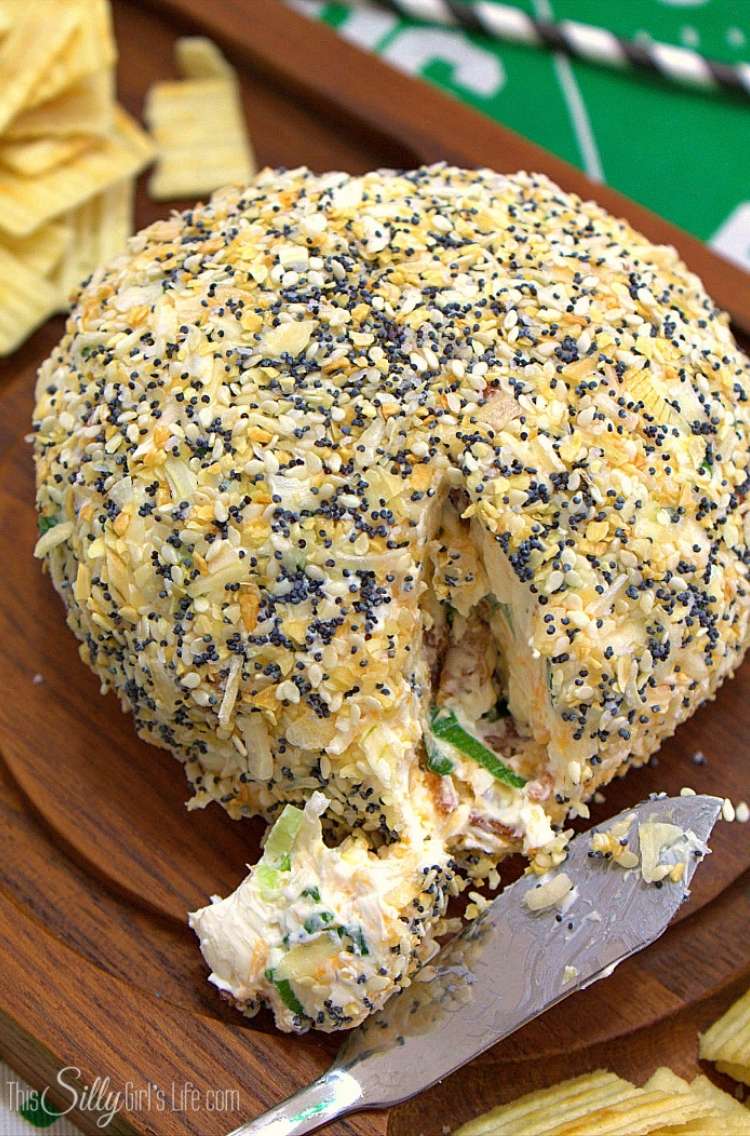 Do you swoon for everything bagels? If so, you have to try the Everything Cheese Ball recipe. You're in for a really special treat. Anything with poppy seeds is a touchdown in my book. This Everything Cheeseball recipe is no different. It's a winner every single time I serve it. Make it for the next party you plan, and you'll see for yourself how quickly it disappears!
9. BBQ Bacon Cheese Ball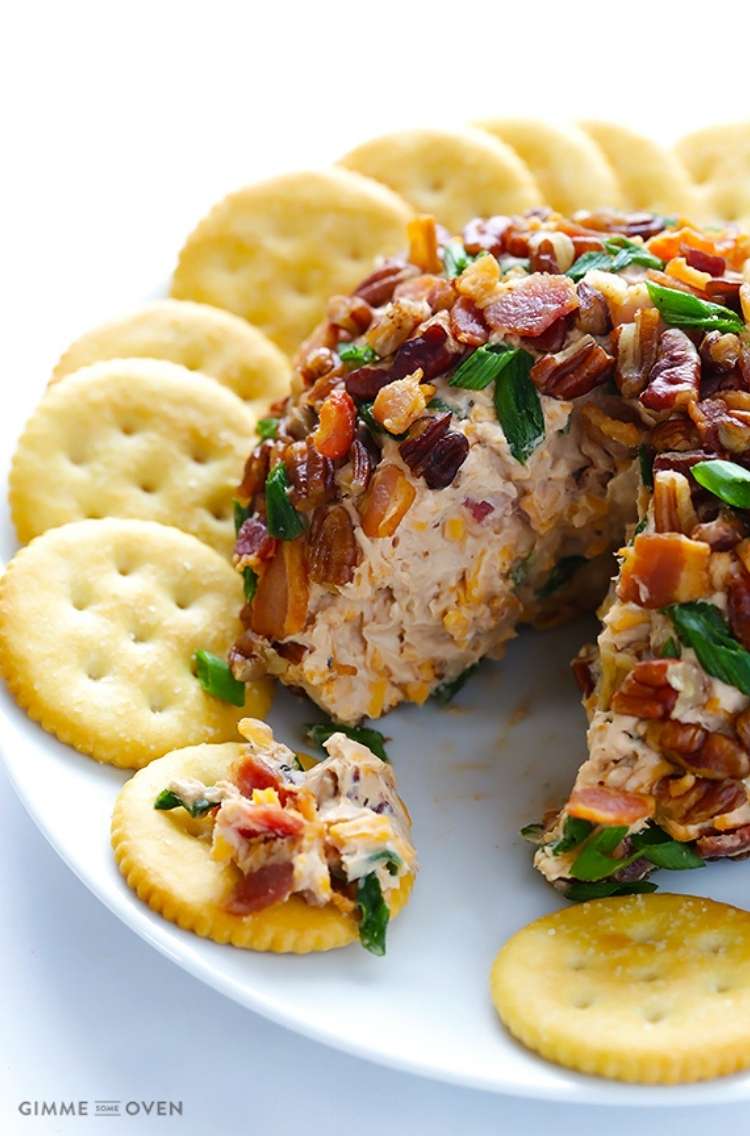 I am a sucker for anything that includes both BBQ and bacon. Literally, the world's best combination. All you need are 6 ingredients to make this sweet and savory delicious BBQ Bacon Cheese Ball. With only 10 minutes of prep time required, you always have time to throw together this delicious, can't-stop-munching-on BBQ Bacon Cheese Ball. Easy as pie cheeseball recipe with cream cheese and green onions is a sure-fire way to please a hungry crowd or tame hungry kids. Here's also a twist. This recipe adds bacon. Bacon makes everything better. 
Dessert Cheese Ball Recipes You'll Crave
And now, how about some sweet cheese ball recipes for dessert? You may not have thought of cheese balls as dessert items before, but after you see these recipes, you'll want them all the time. 
Every day.
10. Brownie Batter Dessert Cheese Ball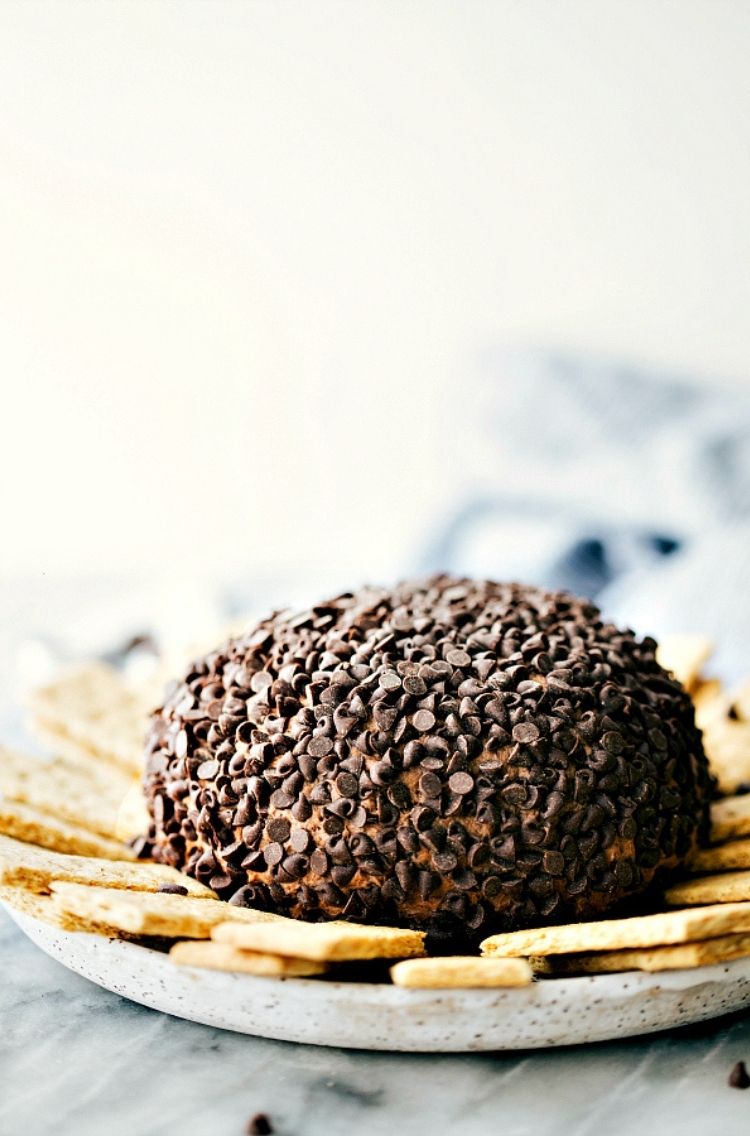 Brownies are my favorite dessert. Cheesecake is my second favorite dessert. So you can bet that this Brownie Batter Cheesecake Ball is at the top of my list! This Dessert Cheese Ball (brownie batter dip) is a no-bake dessert "cheeseball" perfect for an easy dessert or to serve when entertaining. Yummy, yum yum! That is all I can manage to muster up. Isn't your mouth watering too? No? Just mine, then?
In fact, I think I'm making this tonight. It's too good to pass up. This might be the best cheeseball recipe of them all.
11. Pecan Pie Cheese Ball Idea
Everyone's favorite holiday pie is now even easier to make in cheese ball form. 
Whip up one of these Gooey Pecan Pie Cheese Balls for Thanksgiving this year. Or anytime, really. There's never a bad time for pecan pie or cheese balls! An easy, sweet Turtle Cheeseball recipe with caramel, pecans, and chocolate chips! A great dip to serve with apples, animal crackers, or graham crackers. In my house, they're a hit. I'm willing to bet they'll be a hit in yours too. Prepare for a mouthful of goodness and bellies full of amazingness with this dessert cheeseball recipe.
An easy, sweet Turtle Cheeseball recipe with caramel, pecans, and chocolate chips! A great dip to serve with apples, animal crackers, or graham crackers.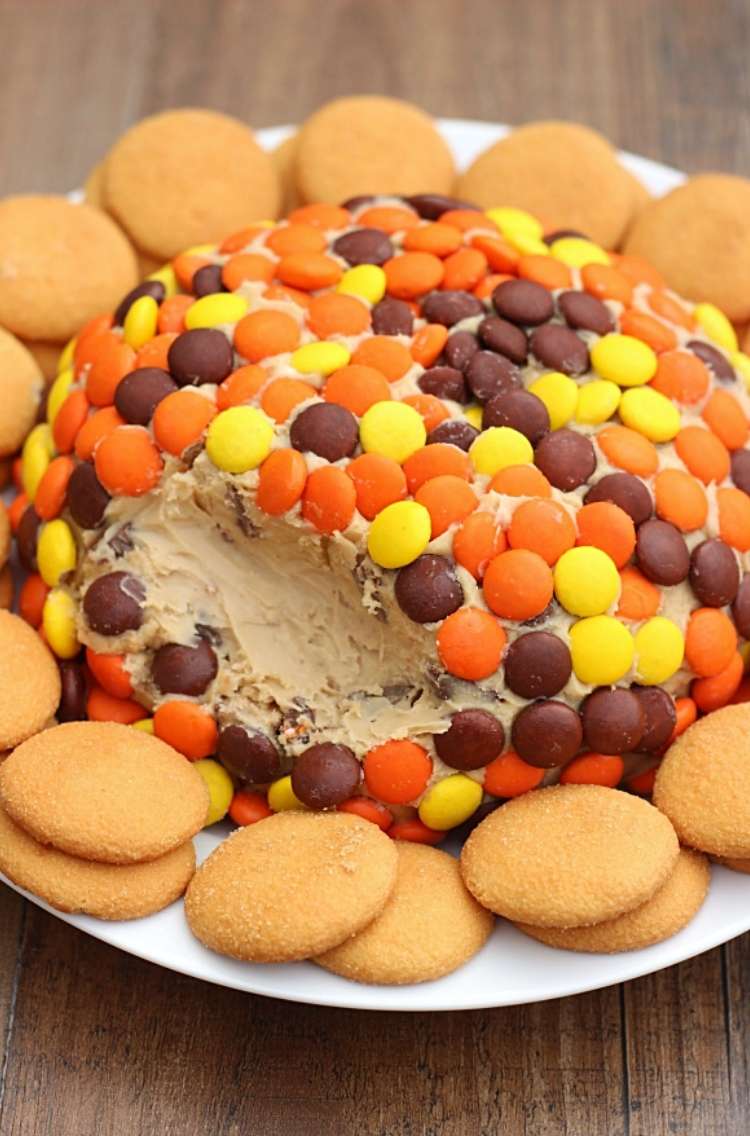 This recipe tastes like peanut butter cookie dough and pairs well with pretzels, graham crackers, vanilla wafers, or fruit! Just looking at it gives me a sweet tooth. In the best way possible, of course!
13. S'more Cheese Ball Recipe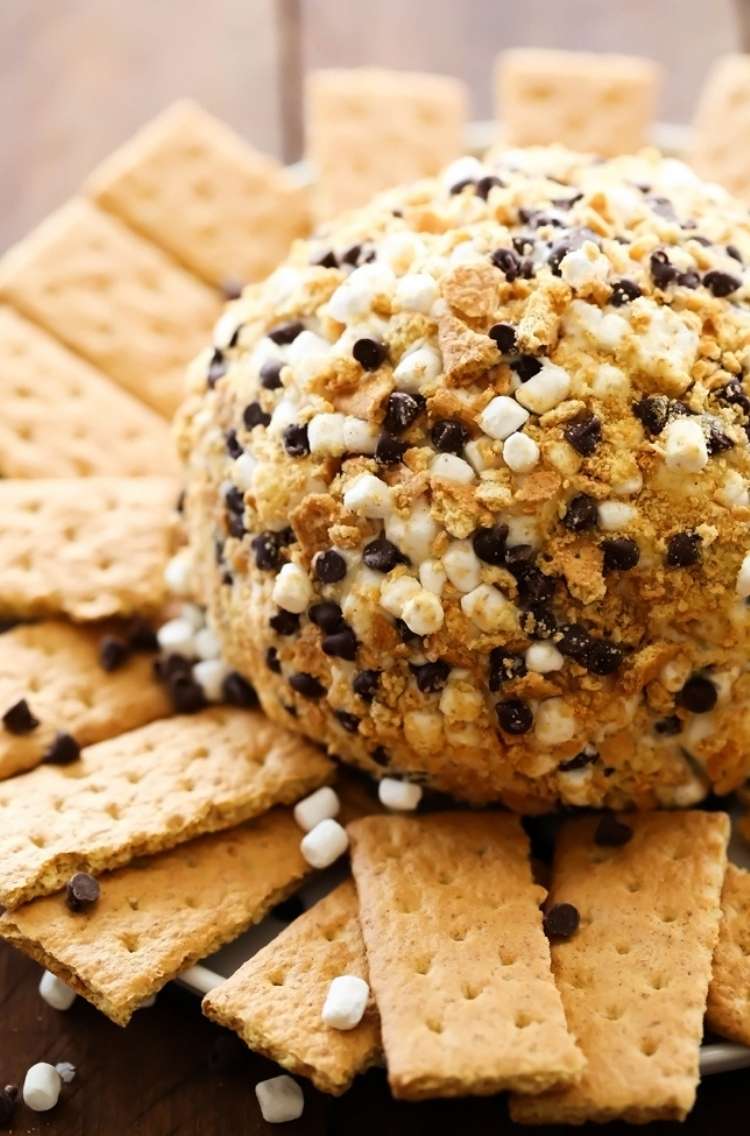 S'mores cheeseballs contain the mess and savor all of the deliciousness. You don't even need a campfire! Seriously, does it get any better than this? 
Everyone loves s' mores, but they can be a little messy and difficult to make when you're feeding a crowd. The solution? This S' more Cheese Ball, of course! Marshmallows, chocolate, and graham crackers combine to make one delicious sweet cheese ball. It is everything you love about s'mores wrapped up into one tasty dessert!
14. Chocolate Chip Cheese Ball
Easy and delicious, this Chocolate Chip Cheese Ball is one recipe you'll want to keep on hand for last-minute party foods. This chocolate chip cheesecake ball ALWAYS disappears and will have people begging for the recipe. Use cookies or fruit to scoop up that delicious goodness.
15. Chocolate Chocolate Cheese Ball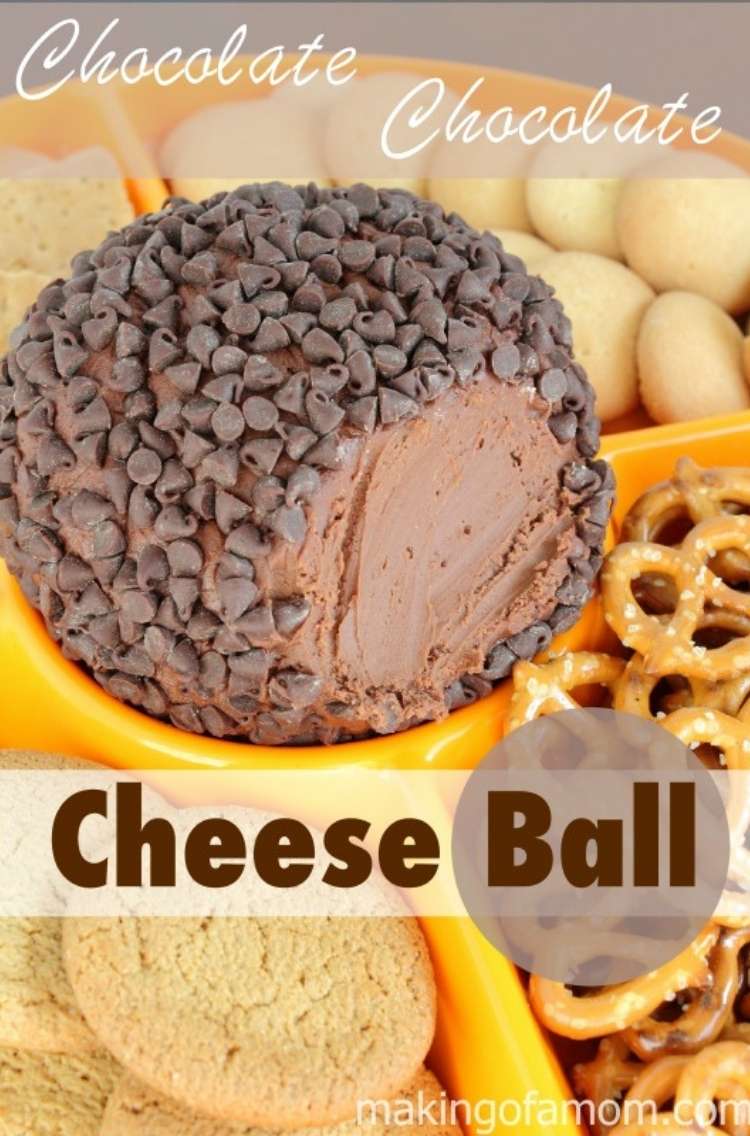 Chocolate Chocolate Cheese Ball! Calling all chocolate lovers! his Chocolate Chocolate Cheese Ball is perfect party food. Get the recipe and step-by-step directions. Serve with your favorite cookies or sweet crackers. What's better than chocolate? Nothing! Okay, wait. Maybe, Double the chocolate (did you really expect me to say anything else?)!
For anyone who loves chocolate, this is the best cheese ball recipe on this list. They will disappear in no time flat. Because it's DOUBLE THE CHOCOLATE! Everyone's, favorite! 
16. Turtle Cheese Ball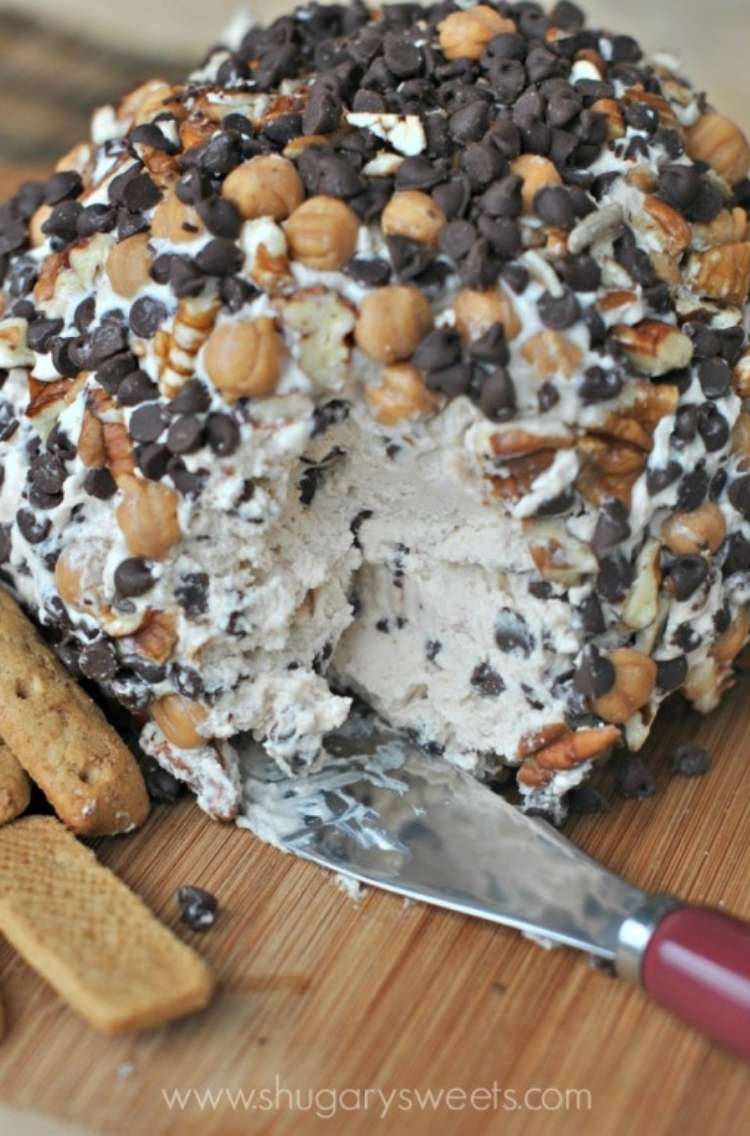 A Turtle Cheese Ball with lots of pecans, caramel, and chocolate chips is sure to win your friends over.
An easy, sweet Turtle Cheeseball recipe with caramel, pecans, and chocolate chips! A great dip to serve with apples, animal crackers, or graham crackers. Full of all the yummy goodness you love about turtle desserts, this cheese ball pairs well with graham crackers, animal crackers, or even apples.
Wow! Are you as amazed as I am with these easy cheese ball recipes? Whether you're going for savory or sweet, you won't find recipes better than these. No matter which recipe you pick, you can't go wrong!
Pick one or two and serve them at your next gathering since they work well as appetizers, desserts, or as part of a holiday meal.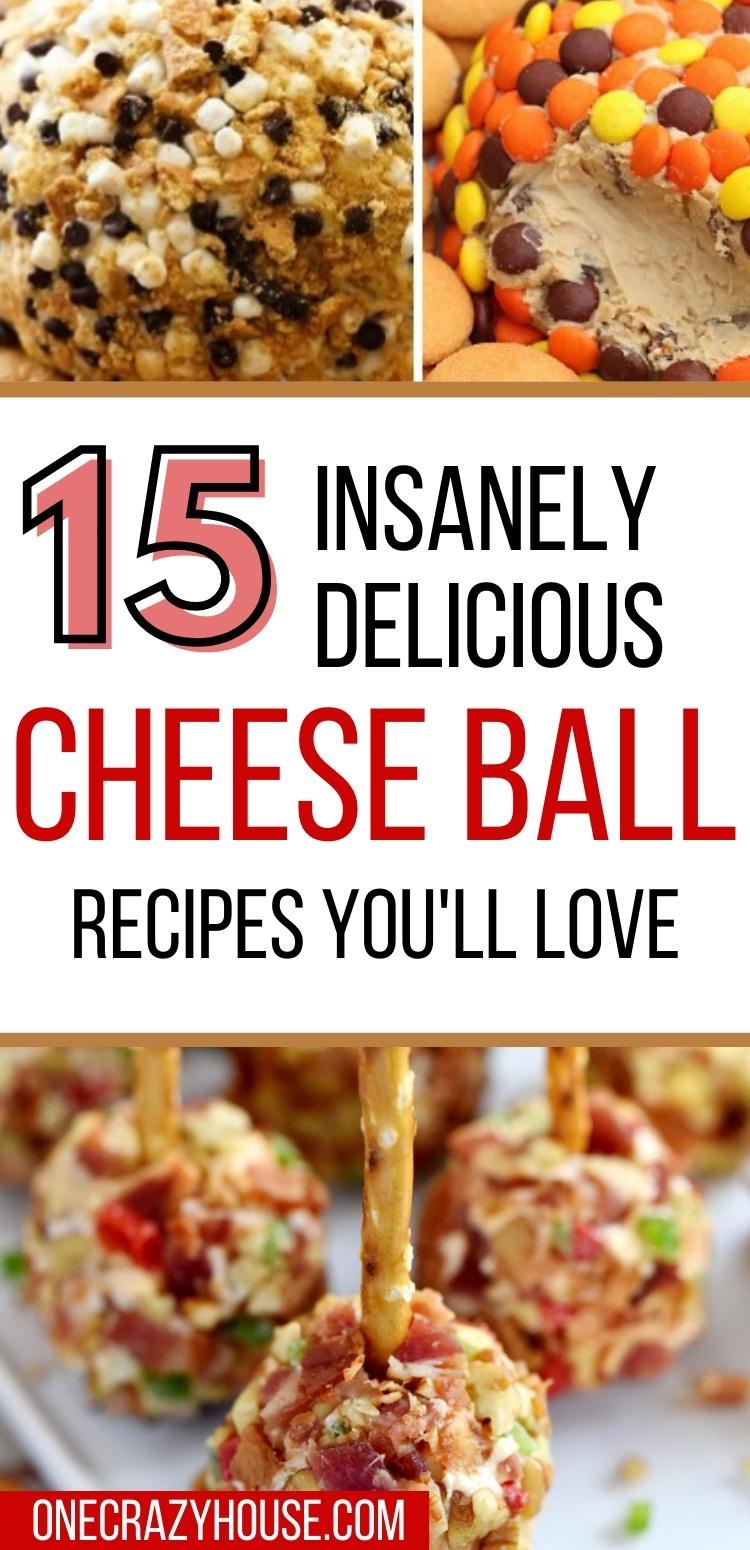 More From One Crazy House:
There's a saying 

"Good Food, Good Friends, Good Company"

-Anonymous
If that's where you too find your happiness, be sure to check out more of our food posts for an even more enjoyable evening with the friends you love.
Which cheese ball recipe will you try first?