I'm sure you've figured out by now that it's fairly simple to spend money, but not as straight-forward to save it. With all the hacks that we've shared on One Crazy House, did you realize that some of them are very easy ways to save money? Okay, hacks aren't the only way to save but just one of six simple money saving concepts that we think you'll enjoy.
Easy Ways to Save Money Without Stressing Out
Sometimes, you'll read through money saving articles and wonder how in the world am I going to do that. Don't worry this isn't one of those articles. It doesn't always have to be so difficult. The reality is the hardest part is leaving our savings alone to grow. But, first, let's focus on easy ways to save money. Every tip you'll read either reduces your spending or creates additional money that you can put away. So, let's get to it!
#1 Hacks We've Shared Can Actually Save You Money!
Some of your favorite life hack posts are hidden money savers. For example, in Clothing Hacks & Wardrobe Fixes we share 18 ways to avoid tossing broken or worn items. You don't need to go out and spend more money on new clothes or shoes if you can repair what you already have, especially if it's your favorite pieces.
We know kids can be hard on their shoes, but if it's just matter of cleaning them don't throw them out. Instead of spending $20-$50 on new shoes, grab a $1.00 tube of toothpaste and follow our Clean Old Sneakers hack.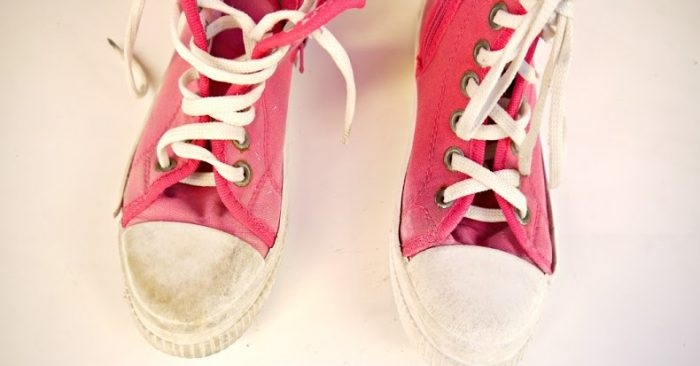 Stop spending so much on fancy household cleaners. Pocket that money, by using simple ingredients you probably already have on hand. Check out 15+ Housecleaning Tips to find out where you can save.
#2 "Re" Everything
You must be wondering what in the world I'm talking about. Reduce, re-grow, re-sell. Similar to the hacks, this savings concept revolves around spending less. Less money out, more money saved!
Premeditated Leftovers shares a number of vegetables that can be regrown. Imagine buying carrots, lettuce or onions and regrowing them 2 – 3 times. More importantly, no more worrying about harsh chemicals that might be used in the growing process. Amazing, right?
Build your rainy day fund, re-sell your previous loved items. Garage sales, online community groups, and sites like E-Bay and Amazon are great places to turn your items into cash again.
Are you crafty and love to re-purpose everyday items? Create an additional income stream by selling unique items that people will actually use. Or decorate your home for a portion of what it would've cost buying new items! Here are a few fun ideas to get you started.
#3 Shop Smarter – NEVER Pay Full Price
You don't have to be an "extreme couponer" to save money! There are tons of amazing money savings apps and shopping tricks that you may be missing out on. From groceries to clothing, these tips can reduce your spending tremendously.
Ibotta – Cash back app that you can use in addition to coupons. So, even if you use a store or manufacturer coupon, you can still submit your purchase for cash back! Once you hit the payout threshold ($20), you can request to withdraw your money.
Shopkick – So you're looking for easy ways to save money? This is probably the simplest app to use. Walk into a store and earn "kicks" or points, scan select items with your smartphone and earn "kicks." Redeem those points for gift cards!
Finally, make sure you take advantage of the multiple layers of savings. Combine weekly sales prices or clearance items with coupons, and savings apps. You don't even need to break out the scissors anymore. Many stores offer coupons that you can load onto your store savings cards.
#4 Plan Your Meals Around Weekly Grocery Savings
Meal planning sounds intimidating, but it truly isn't. It can actually reduce the weekly stresses of whipping up meals on nights filled with homework and extra-curricular activities. Pull out that weekly grocery ad and start with a protein that you can build a meal around. By creating a plan, you will reduce the amount of random items that suddenly appear in your shopping cart.
There are tons of free printables you can use to make your grocery shopping and meal planning a lot more manageable. So save yourself some time and money by mapping out a plan. No more last minute dining out trips!
#5 Review Your Services
When was the last time you compared the costs of your services like cable, mobile and insurance premiums? Take the time to contact your service providers or assess savings by comparing them with other companies. If you find savings elsewhere, let your current service providers know. Sometimes, they will reduce your rate to avoid losing your business altogether.
#6 Move that Savings Out of Reach
Having your savings at the same financial institution as your checking account makes it really convenient to move money back and forth. That's great, but does it make it too easy? Maybe it's time to consider having a secondary savings account, one that is a little harder to access funds immediately. There are tons of online financial institutions like Capital One360 or Ally where it takes a few extra business days to transfer money.
It takes very little effort to deposit money, but it takes a boatload of self-discipline to refrain from withdrawing it. Set up an automatic transfer to slowly save money. You will be less likely to touch it because you won't check it as regularly as your main accounts. Because it's less convenient, you won't tap into it as often.
With these six tips, you should be able to reduce your spending and put some extra money aside to build your savings. Do you have any easy ways to save that you'd love to share? Leave a comment, you never know who you might help.