We've all been there… you've pulled on your favorite pair of jeans or the comfiest sweater only to discover something's wrong. Maybe it's a stuck zipper or a loose thread. No matter what problem you faced when you opened your wardrobe, we've gathered a list of some brilliant clothing hacks to save the day.
And if you're looking for ideas on storing your clothes, we've got you covered, too. Some of these are actual life-savers.
1. Clothing Hacks You Wish You Knew Earlier – Use Ice Cubes To Remove Wrinkles
Hate ironing? Toss your clothes in the dryer along with a few ice cubes to get the wrinkles out.
Set your dryer to 15 min. While the ice cubes melt, the steam helps your clothes straighten up beautifully.
2. Mend A Pull-In Sweater With A Crochet Hook
You're in a hurry (because you're a mom, and we're always in a hurry). You need to change and go out of the house in a few minutes. You open your wardrobe. You pull out your favorite sweater. You put it on.
And, oh, the horror! A thread is sticking out of it! A big one no one can miss.
Feels familiar? Well, there's a quick solution! Use a crochet hook to quickly and easily mend a pull-in sweater. Works like a charm!
Remember to use a smaller hook for small-knit fabrics.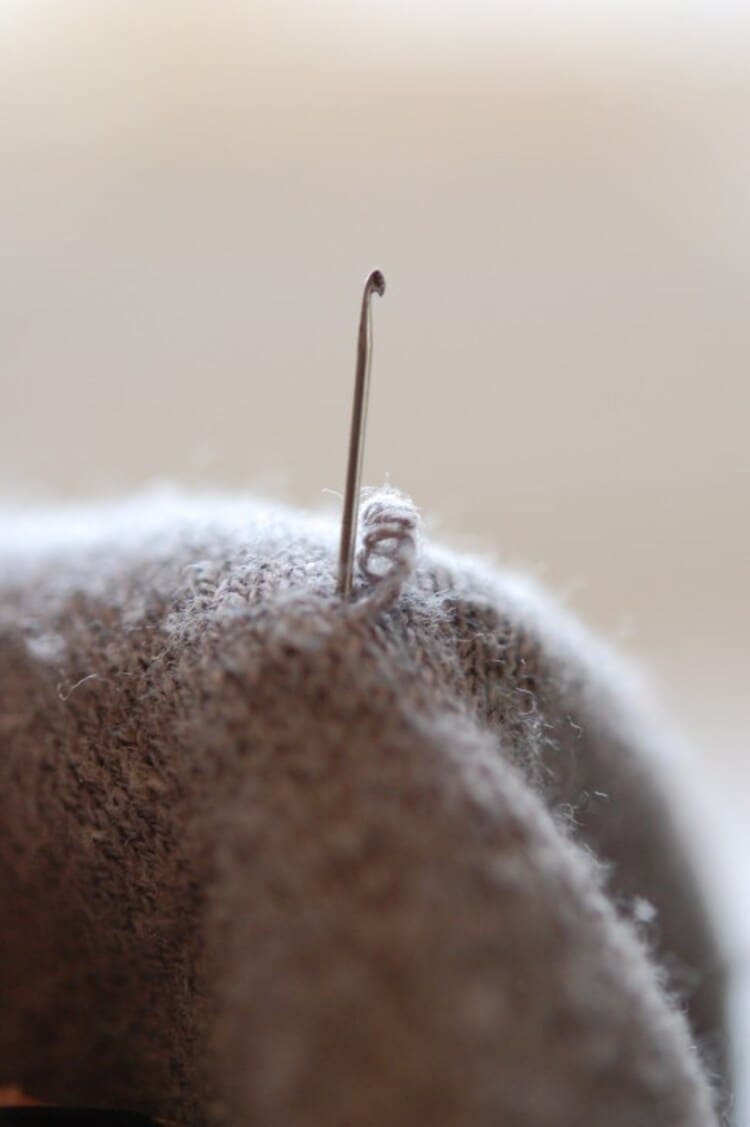 3. Unstuck A Zipper With Some Soap
Do you have a zipper on your favorite jacket that's playing tricks on you? Or worse! Does your kid's zipper get hard to zip? You need this simple, yet brilliant clothing hack to easily fix this.
Unstick a zipper with a bar of soap. You need to hold the fabric taut and rub the soap along the teeth of the zipper. Then, just pull it up and down and see how smoothly it moves every time.
You need to repeat this procedure after washing, too.
By the way, we have some more bar soap hacks here!
4. Clothing Hacks To Prolong Your Clothes Life: DIY Solution To Get Rid Of Oil Stains
If your kids are anything like mine, you deal with an impressive variety of stains on a daily basis. And if you're anything like me, you fear oil stains the most because they are SO HARD to clean!
But not anymore! This simple DIY solution helps to easily get rid of the stains! Use baking soda and peroxide to get rid of oil stains.
What Do You Need?
Clean cloth or paper towel
Cardboard
Hydrogen peroxide
Dawn dish soap
Baking soda
An old toothbrush / A small scrub brush
Remember to do this BEFORE you wash your clothes, and especially before you dry them. Once you dry an item, the stain is pretty much set.
And don't worry that hydrogen peroxide will bleach your clothes. It won't. 🙂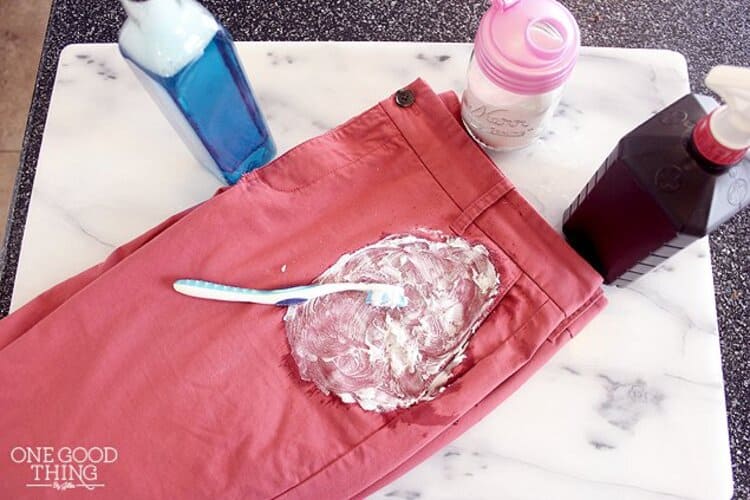 5. Put Your Old Razor To Good Use: Remove Pills From Your Sweaters…
Do you have this awful fluff all over your new clothes? I know an easy way to get rid of these!
Use a cheap razor to remove pills from sweaters, pants, sweats, and anything else that tends to get those horrible little balls.
But don't go too fast, as you may cut a hole in your clothes.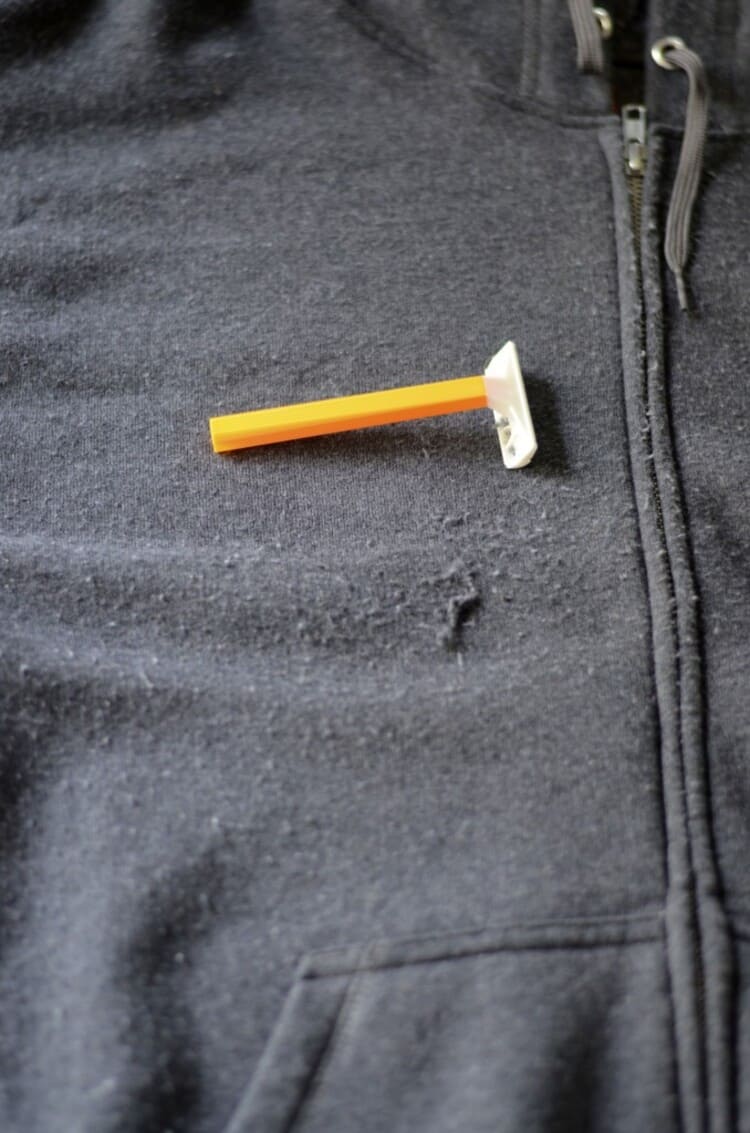 6. …Or Remove Them With A Pumice Stone
If these terrible pills are ruining another of your sweaters, and you don't have an old razor on hand, there's another hack you can try.
Pumice stones work well for de-pilling clothes, too. Just make sure you test it on the inside first, so you don't end up messing with your clothes instead.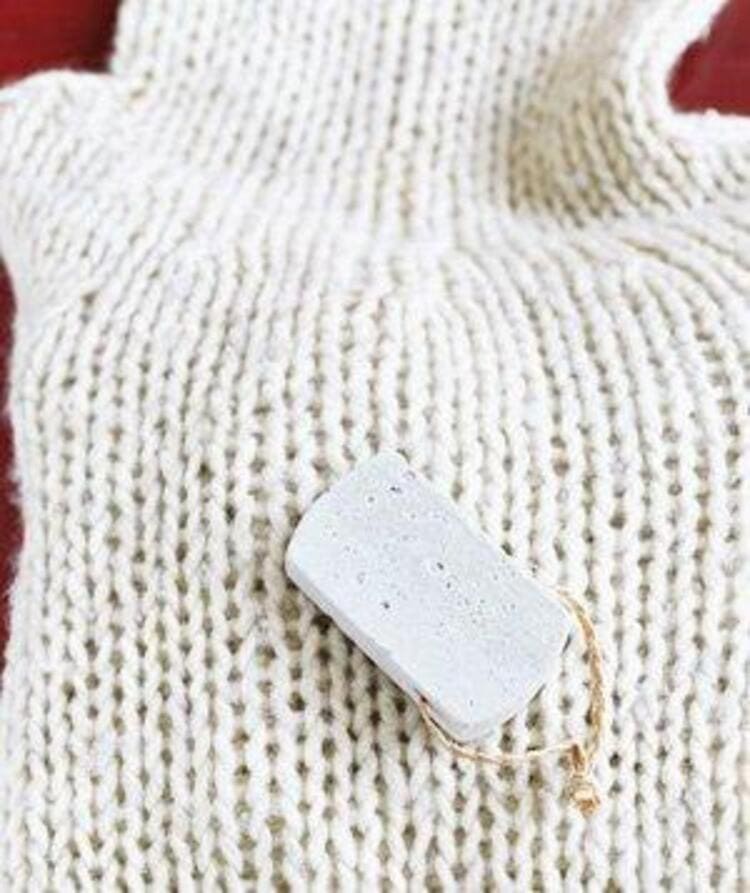 7. Erase Deodorant Marks Easily
Does your deodorant leave messy marks on your clothes? There's a quick hack you can put in use and easily get rid of them in a minute.
Remove deodorant marks by rubbing a dryer sheet on the stain.
By the way, we have a whole list of dryer sheet tips, too.
8. Easy Clothing Hacks You'd Love: Make A Garment Bag From A Pillowcase
Do you have some delicate clothes that need to be stored with some additional care in your closet? Well, you don't need to pull out your wallet and spend a fortune on garments.
Create a garment bag on the cheap with a simple pillowcase. Just cut a hole in the top to slide the hanger through, and voila! Simple and works perfectly!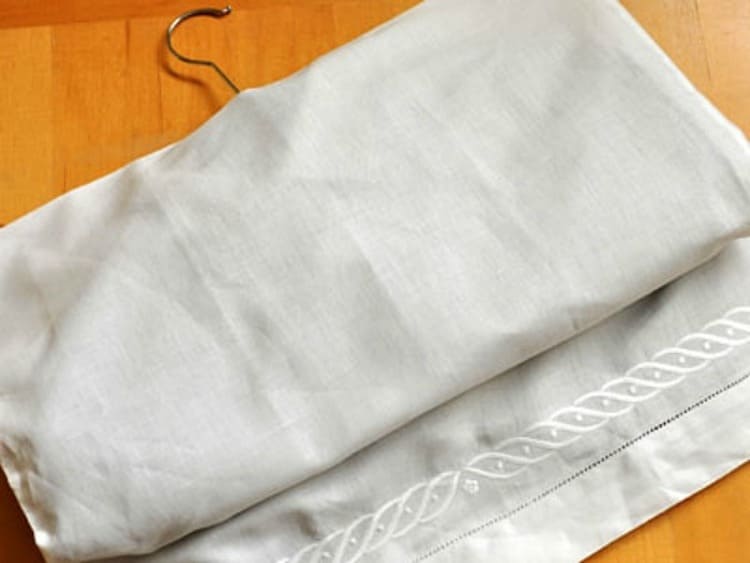 9. Brilliant Clothing Hacks: Fight Makeup Stains With Shaving Cream
Every woman needs to know how to remove makeup stains. And if you've messed up your clothes with some of your favorite foundation or concealer, you need to put this simple hack to leave them spotless again.
Use shaving cream to pre-treat makeup stains in your clothes.
How Do You Do This?
Apply a small amount of shaving cream to the stain.
let it rest for 10 minutes.
Wash in cold water.
And you're done! The spot is gone!
10. Remake Your "Classy" Heels For Everyday Wear
Did you buy a pair of heels for a special occasion that is too dressy for your everyday wardrobe? Yep, we all have a couple of these stored neatly. But have you ever thought you can give them a new life?
Give your heels a makeover with fabric and Mod Podge.
11. Clothing Hacks That Save Clothes: Repair Bleach Stains With A Permanent Marker
Bleach on clothes is pretty much a sure recipe for disaster. The darker the clothes, the bigger the disaster. Unless you're familiar with this awesome clothing hack.
Use a permanent marker to repair bleach stains in black clothes. It works like a charm and it takes on a few washes before you have to go over it again. So simple!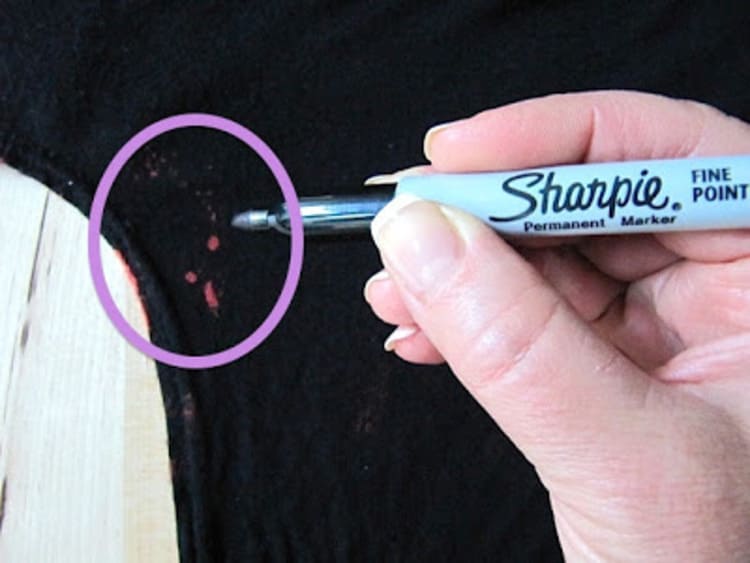 12. Clothing Hacks That Save Your Sanity: Unshrink Your Clothes
'm guessing that at some point in our lives, most of us have experienced the deep despair of having accidentally shrunk a favorite clothing item in the wash or dryer
My guess is that at some point in your life you had the awful experience of having clothes shrunk in the washer or dryer. Because who likes to read those nifty little tags, right?
Well, it happened to me with my favorite sweater. And I was determined to find a way to bring it back to its original size. So, after spending some time digging on the internet and performing tests, I finally found a recipe that worked!
Unshrink your clothes using this washing and stretching technique.
What Do You Need?
Bucket or sink
Baby shampoo
2 large, clean bath towels
The Steps You Should Follow:
Soak your shrunk clothes in a solution of lukewarm water & baby shampoo.
Absorb the water from shrunken clothing with a towel.
Gently stretch and reshape your clothes.
Leave on a towel to absorb the excess moisture.
When it's dry, you're done! Easy peasy!

13. Fix The Jeans Gap On Your Back With This Clothing Hack
If your body changed after the kiddos, you might be facing the "gapping back issue" on your favorite pair of jeans.
Want to fix that huge gap in your jeans in the back? Sew a piece of elastic on the waistband. Easy!
14. Clothing Hacks To Save Your Jeans From Gum
We've all sat in gum once or twice, right? If you have kids, you already rolled your eyes and know this is just a rhetoric question.
Remove chewing gum from your jeans by freezing it first. This makes it so much easier to scrape off.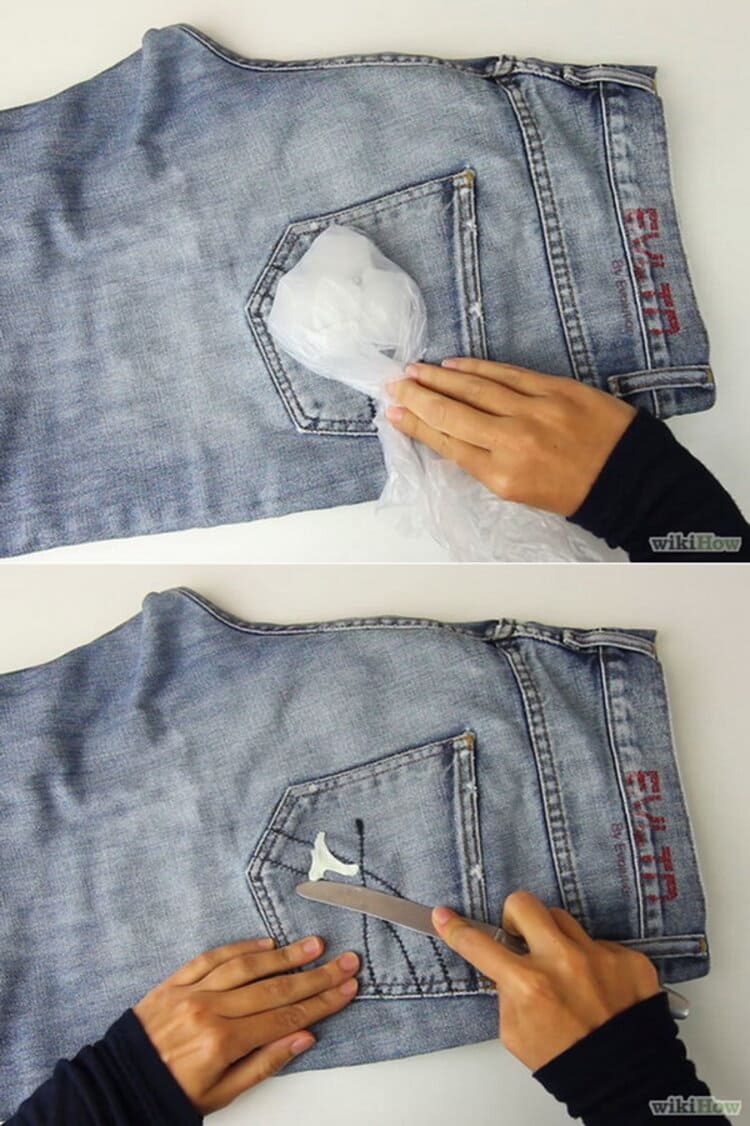 15. No More Static Electricity With A Safety Pin Clothing Hacks
Are your pants sticking to everything again? Is static electricity driving you nuts?
Tame the static electricity in your clothes with a safety pin fastened to the inside. This really comes in handy with dress slacks!
16. Clothing Hacks To Spice Up Your Style: Wear Scarves Like A Pro
Adding an accessory to your daily wear can spice it up and change it completely. Putting on a scarf can make the same outfit look totally different.
Want to get more out of your scarf collection? Here are 12 ways to wear them!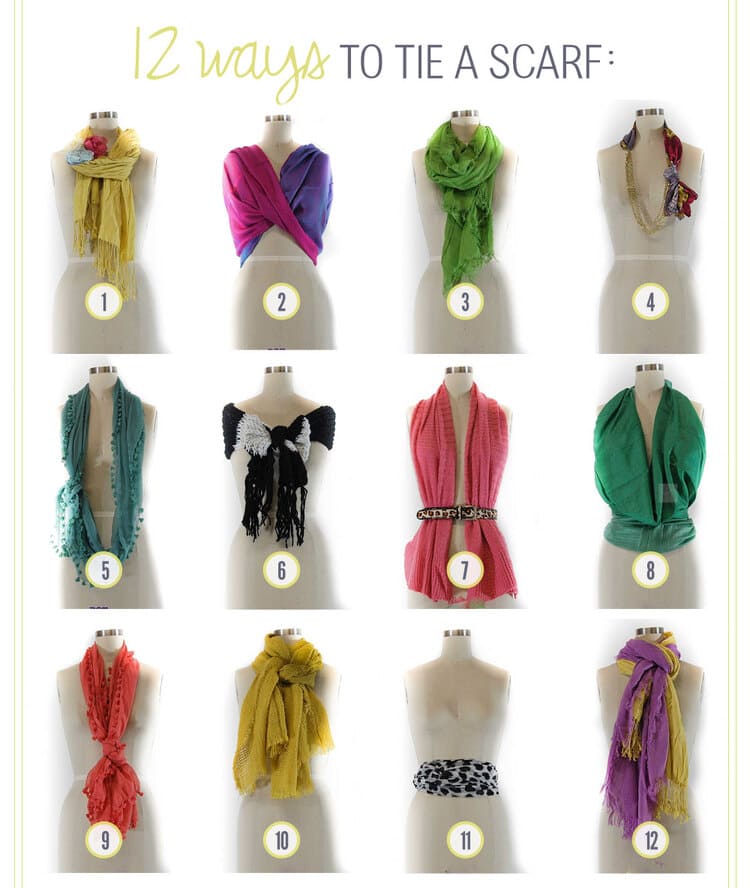 17. Clothing Hacks For Your Bra
Turn any bra into a racerback bra with a simple paperclip!
18. Modify Your Heels So They Never Ever Slip Again
Wearing heels can be a real pain when your feet slip all the time. Make your heels no-slip using this modification.
In Conclusion
There are so many things that can go wrong at the last minute with your clothes. Especially, when you're in a hurry and you have an important event you need to attend.
That's why it's important to know a few clothing hacks that can save you time, prolong the life of your clothes or just save you from a sticking thread when you're in a rush.
There are so many good ones on the list you don't want to miss! Like #8 – a DIY garment cover from a pillowcase? How could I never think of that?
Did you like these clothing hacks? Then, you're going to love these other ways to improve your wardrobe: