Housecleaning is hard – Parenthood is messy! –  and we need all the cleaning tips we can get. Here are 15 Housecleaning Tips for Parents.
Our tiny tots make big messes, spread their germs, and generally create a lot of extra work. They're totally worth it, of course, but these cleaning tips for parents may save you some time and a bit of your sanity, too. Learn how to do everything from speed-cleaning Lego blocks to getting mold out of their water bottles.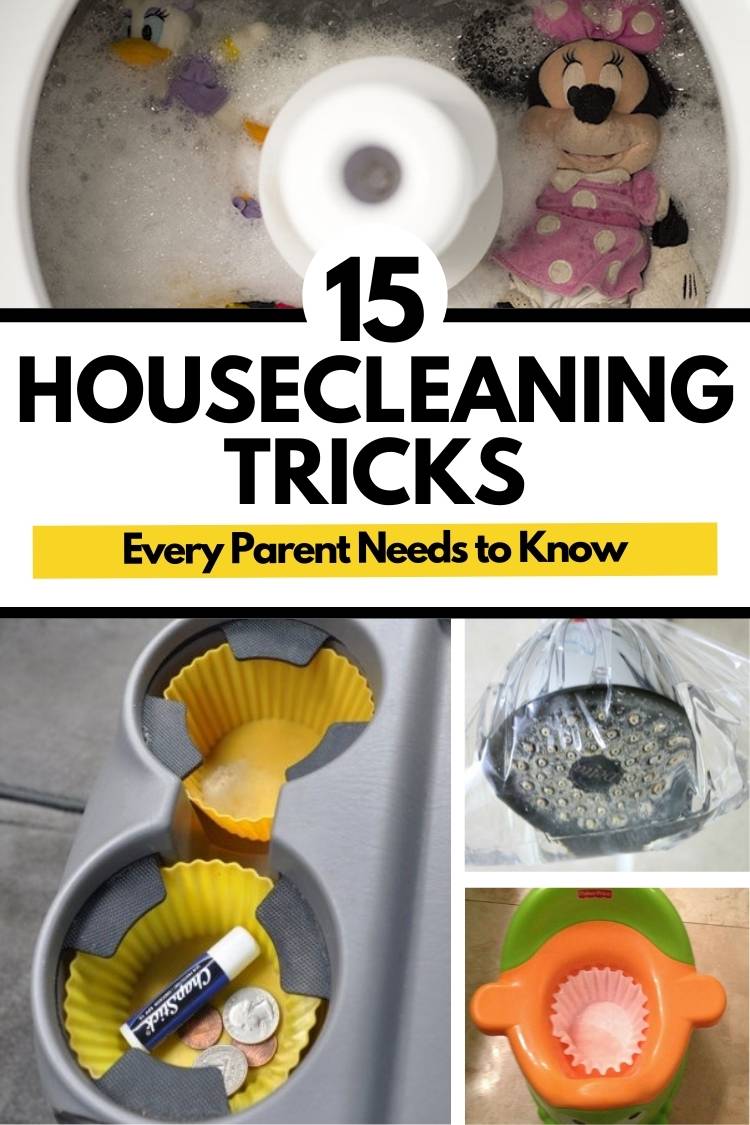 Helpful Housecleaning Tips for Parents
1. Teach 'Em Young
Put your kiddos to work! Giving your kids chores helps them become more independent and builds their confidence! This is a genius chore chart idea submitted to us by a reader, Stephanie. Make the list from a file folder. Use velcro dots to fold the chores up when they are done. Genius!
You may also wanna look at more of these cool tips to clean house fast!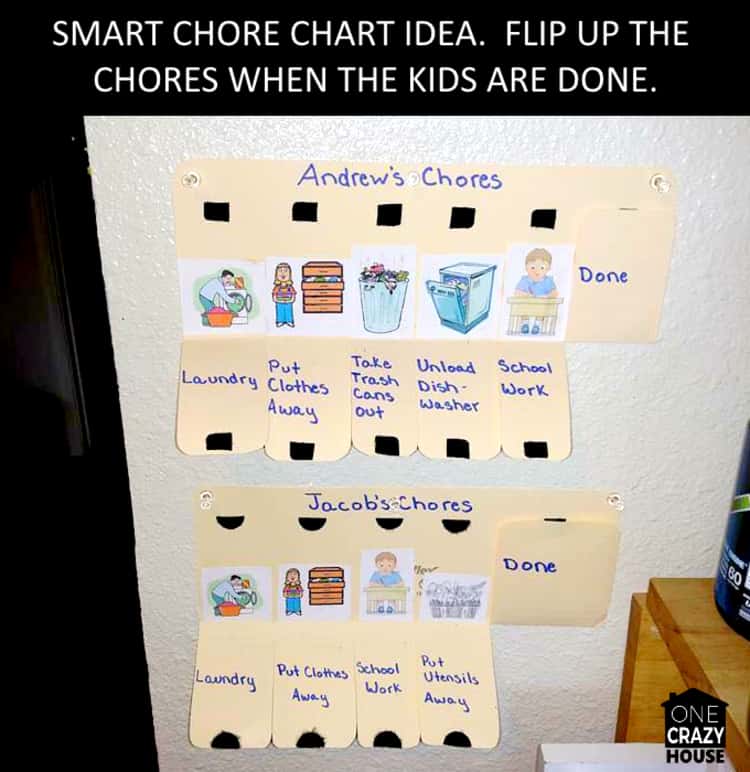 2. Banish Pee Stains With Easy Housecleaning Tip
Your kiddos have long been potty trained and you thought 'Phew! No more dealing with pee'. But let's face it, kids (and adults too) do have pee accidents once in a while. Knowing how to remove the pee stains (and smell) from a mattress is a skill that every parent should have in their arsenal, because, trust me, pee smell really knows how to hang around if not properly dealt with!
Don't use harsh chemicals with your kids – usually, baking soda and vinegar are all you need to do the trick! And it is safe enough for your kids to use too!

3. Clever Housecleaning Tip Parents Must Know For Clearing Moldy Messes
As a parent, the chances of you or your kids having left a water bottle, coffee mug, or sippy cup in the car, for who knows how long are pretty high. And I bet the water bottle a moldy mess! I know this too well because my daughter recently found my favorite water bottle she'd "borrowed" during one of those rare days she cleans out her room.
I was kinda sad because I couldn't imagine how I'd ever drink from it again. I didn't want to risk ingesting stomach-churning mildew and fungus. And don't get me started about the odor…
4. Housecleaning Tip For Removing Scuffs Every Parent Needs
Kids + hardwood floors almost always mean that you'll never miss scuff marks on your hardwood floors. They'll either come in with black-soled shoes or drag furniture even right after having a talk on why they shouldn't do that. Here's a trick you can borrow from any school janitor to remove scuffs with a tennis ball because they've dealt with more hardwood floors + kids than any of us will. Your hardwood floors will be looking like new in no time. (Check out more tennis ball hacks)
Put a tennis ball on a stick and vigorously rub off the scuff marks. The tennis ball's texture is just right – rough but not too abrasive on hardwood floors.
5. Age-old Housecleaning Tip For Parents
This mom of boys uses her grandma's all-purpose cleaner to get that stinky smell out of the bathroom. If you have boys, you know exactly what I mean.
For this age-old housecleaning tip for parents, you need only 3 ingredients, namely rubbing alcohol, liquid dish soap, and ammonia (go for the lemon-scented one for that fresh smell). Simply mix all 3 in a gallon and shake lightly to mix together, to avoid the dish soap bubbling a lot. This DIY homemade cleaner also stores well for a long time and you'll be sorted for a while.
Note: Be sure to not mix ammonia with bleach!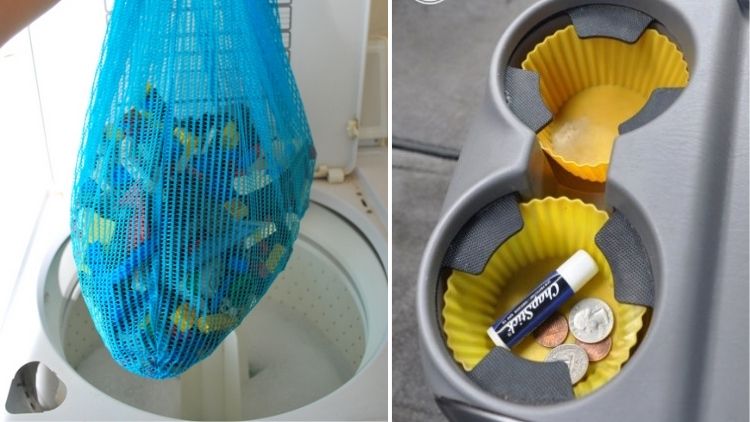 6. Simplest Housecleaning Tip For Parents – Stain Carpet Remover
The best carpet stain remover? Baking soda and vinegar. Use the chemical reaction helps lift stains out of the carpet fibers, making them easier to wipe up. Pretty simple and smart!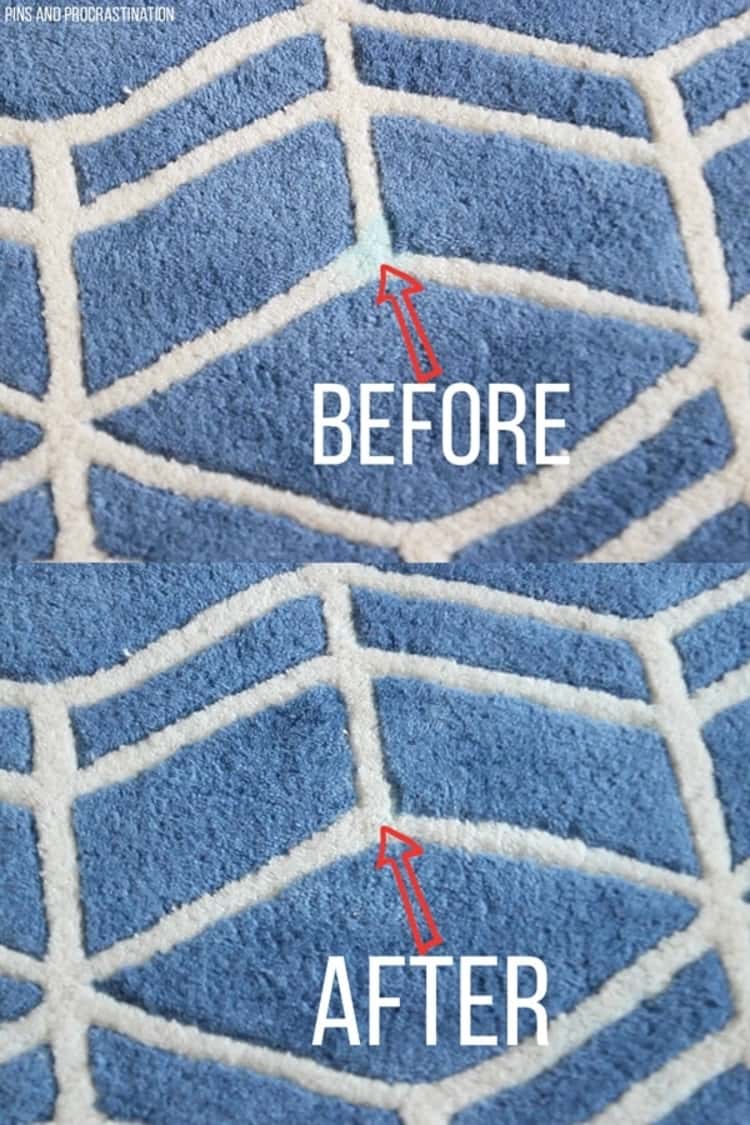 7. Stain Buster Housecleaning Tips For Parents
Kids and spaghetti are a match made in heaven. It's the one thing they'll eat. But, oh my goodness, the mess! It's best to always remove tomato stains out of clothes when they're fresh.
For the fresh tomato stain, scrape off as much sauce as you can using a paper towel or rag. Take care not to push it further into the piece of clothing. Next, run cold water on the back of the stain to push it out the stain and rub in dish soap in a circular motion (unless the piece of clothing is dry clean only, which means take the dry cleaners as soon as possible). Rinse out the dish soap and blot using a sponge to lift any stain that might be remaining. Finally, wash normally and hang the piece of clothing in the sun, with the stained side facing out.
And here are some tips for getting spaghetti stains out of carpet and upholstery.
8. Quick Housecleaning Tip For Squeaky Clean Lego Pieces
For the Lego-obsessed kiddos (and adults), can you imagine how many germs are on those little blocks? But who has time to clean them individually? Not me.
To easily clean all the dirty lego pieces, put them in a large laundry bag, drop them in the washing machine, and use hot water and some soap. If you're afraid that your washing machine will be too hard on them, you can try the dishwasher instead. Once clean, hang them out still in the laundry bag for a few days but remember to keep turning it so that they can get dry.
9. Neatest Housecleaning Tip For Parents – Save on Energy & Elbow Grease!
Speaking of the dishwasher, did you know you can put all sorts of things in there? This must be the neatest housecleaning tip for parents because we've tried it on plastic toys and shoes with great success.
10. Easy Housecleaning Tip For Parents
Let's not forget cleaning the stuffed animals. Don't worry: this one's so easy. You can throw most of them in the washing machine. Remember to use the delicate cycle, though, and if your kiddo is sensitive to detergents, use a gentle one.
11. Simple Housecleaning Tip For Your Microfiber Couch
Get a microfiber couch, they said. They're so easy to clean! Pffft. They're easy to clean before you have kids, but they show stains like nobody's business, especially if you're naive like us and bought a beige one. Yeah. But, rubbing alcohol, a sponge, and a good amount of scrubbing works wonders at lifting stains from microfiber.
12. Housecleaning Tip For Parents For Explosive Food Messes
Cover your food with a paper towel or loose lid before microwaving it. It's a simple tip that it seems no one seems to remember. If your microwave looks like a tomato exploded inside it, use warm water & vinegar solution to easily clean your microwave of all food messes. In case you don't like the vinegar smell, some water and lemon oil mixture works effectively too. You'll find this housecleaning tip easier than you'd think!
13. Nifty Trick For Preventing Drink Spills On The Go
We've all heard the cliche the prevention is better than cure cliche but it truly works. You can always save more time on cleaning by using prevention tricks such as this. Trust me, you'll never go back on this one after you start using silicone cupcake liners in your car's cup holders. If the kids spill a drink, just pop them out and put them in the dishwasher.
14. Easiest Potty Cleanup Tip, Ever!
Potty training is cool especially when it's going as it should but for sure the cleaning part isn't. Want in on a neat hack? Put a coffee filter in your kiddo's potty for easy cleanup for a #2. Here's some more surprising coffee filter uses!
15. Housecleaning Tip For Handling Your Little Picasso's Masterpieces
Ready or not, it's coming…your child's first wall art masterpiece. Heating up the crayon with a hairdryer makes removing it so much easier. Better still, enlist the little ones to help in scrubbing off the crayons because their artwork is just at the right height. Theirs.
And hopefully, they'll learn how hard it is to deal with their messes and opt for drawing in their books the next time they're inspired to create some masterpiece.
16. The No-Fail Housecleaning Tip For Parents
Finally, let the kids in on the cleaning prep and action. They are not likely to be super pumped about cleaning, but this is a no-fail trick.
Create baskets for each room. Or tag them along to the dollar store to get these cute baskets for them. In each basket, include all the cleaning supplies needed along with a chore list attached to the front. At least they'll get a feel of what it takes to keep a clean house and hopefully, they'll keep their respective areas cleaner for an easier cleaning time. We know there ain't a better incentive to getting the job done than making it seem they've got a shortcut. Easy peasy.
Found Your Favorite Housecleaning Tip For Parents?
There are Even More Cleaning Tips and Tricks Every Homeowner Needs: