Reuse old doors to make beautiful garden diy projects. Create a wine rack or beverage station for entertaining, or redo your bed on the cheap. Check out the best ways to reuse old doors that we've found!
If you have renovated recently then chances are good that you have an old door or two laying around. Or perhaps you see them often in thrift stores or garage sales. Either way, old doors are frugal treasures that you need to snatch up anytime you find one, as we are about to show you, they can be reused in many unique and functional ways.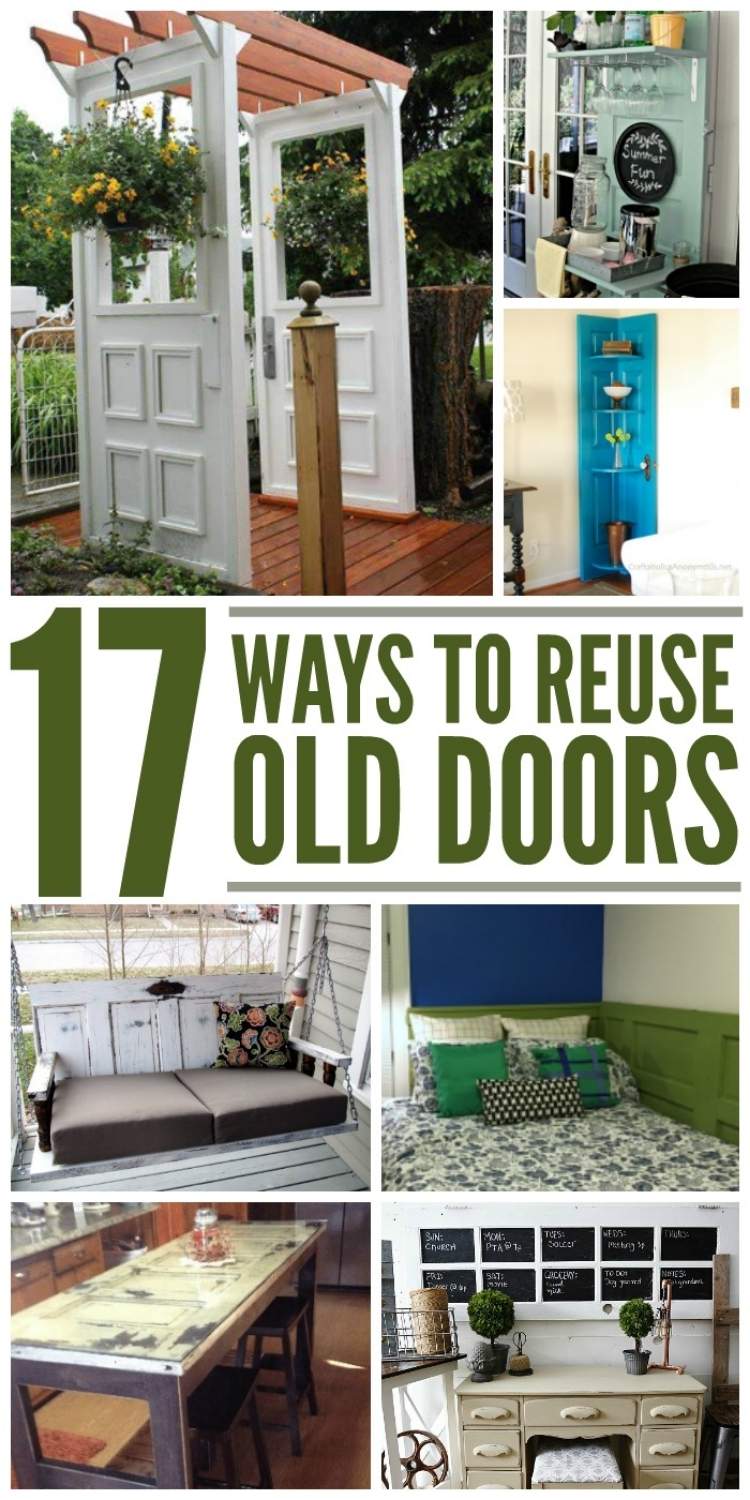 How to Reuse Old Doors for DIY Projects
1. Build An Eye-Catching Corner Shelf
Need something new to brighten up a corner or do you just need to fill an empty space?  You can build a brightly colored corner shelf to spruce up any room and add extra storage.  Not only will it give your room a whole new look and feel it will give you more space to showcase  your favorite possessions.  My favorite parts are the bright blue satin paint and that they left the vintage glass door knob in place!
3. Reuse Old Doors into Swings
Nothing is more relaxing than a comfy porch swing on a nice breezy day with your favorite drink of choice.  Morning coffee anyone? Can you believe this swing is made from an old door? So much to love from the paint, to the cushions to the pre-made chair legs that look like old spindles because it gives it so much character.  It just reminds me of the days of sitting on the porch with grandma sipping lemonade.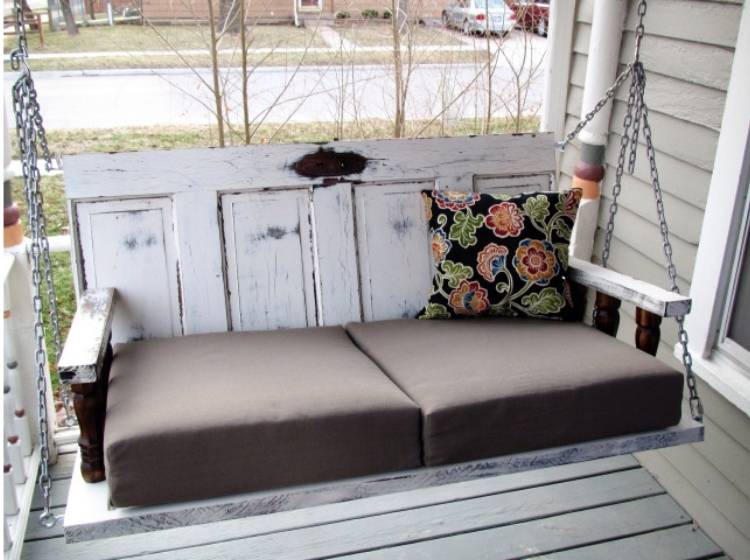 4. Make a Command Center
A chalkboard door calendar is so clever.  Turning a door sideways gives you a whole bunch of new options for repurposing.  A command center is the perfect choice for this door even though there are so many things you could do with one like this.   Make sections for your main focus every day and you will still have room to write errands and shopping lists. Great idea for a command center.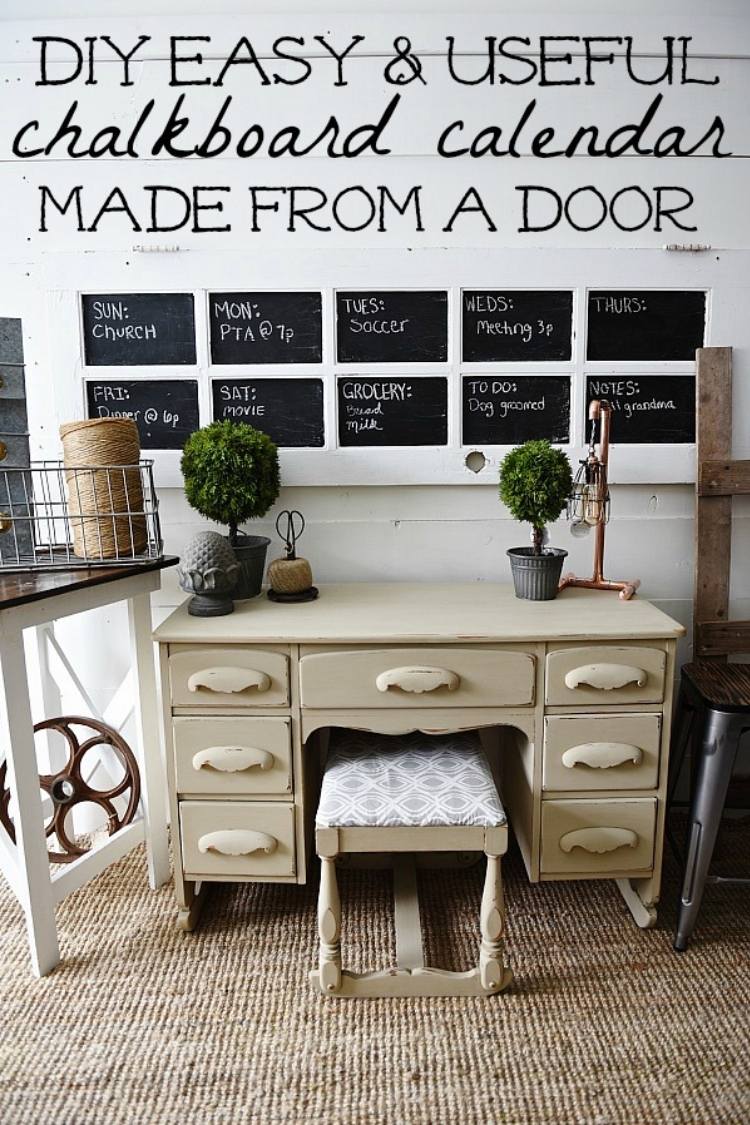 5. Make A One-of-a-Kind Coffee Table
One crafty DIYer turned an old door into a coffee table, leaving the knob, deadbolt and hinges. Even though this door looks like it was vintage you could easily make a coffee table with a newer door as well. The paint job adds a lot of character and we also like the way they chose to arrange the flowers on top.   The rug is also a great choice for this space.  Don't you love it?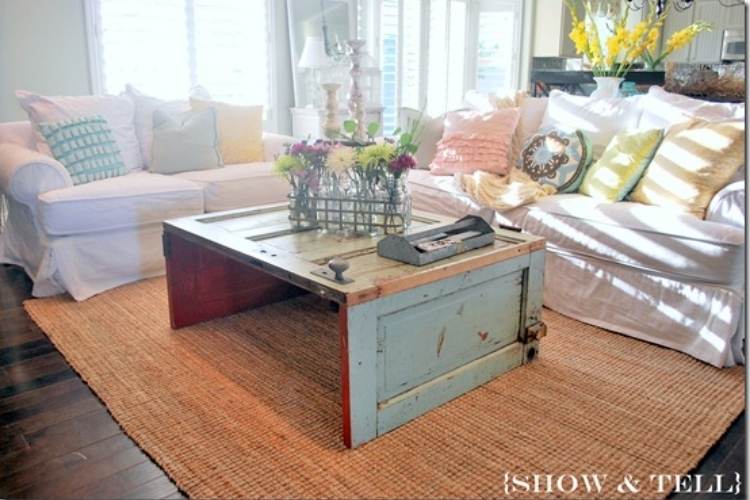 6. You Can Reuse Old Doors Outside
Even though this one was made for a wedding,  one of these hanging door tables would be a great addition to a backyard because it has such a romantic feel to it. Summer evenings, dinner parties, picnics and romantic dinners outside would be wonderful.  Above all you have a unique eating experience that you won't get anywhere else.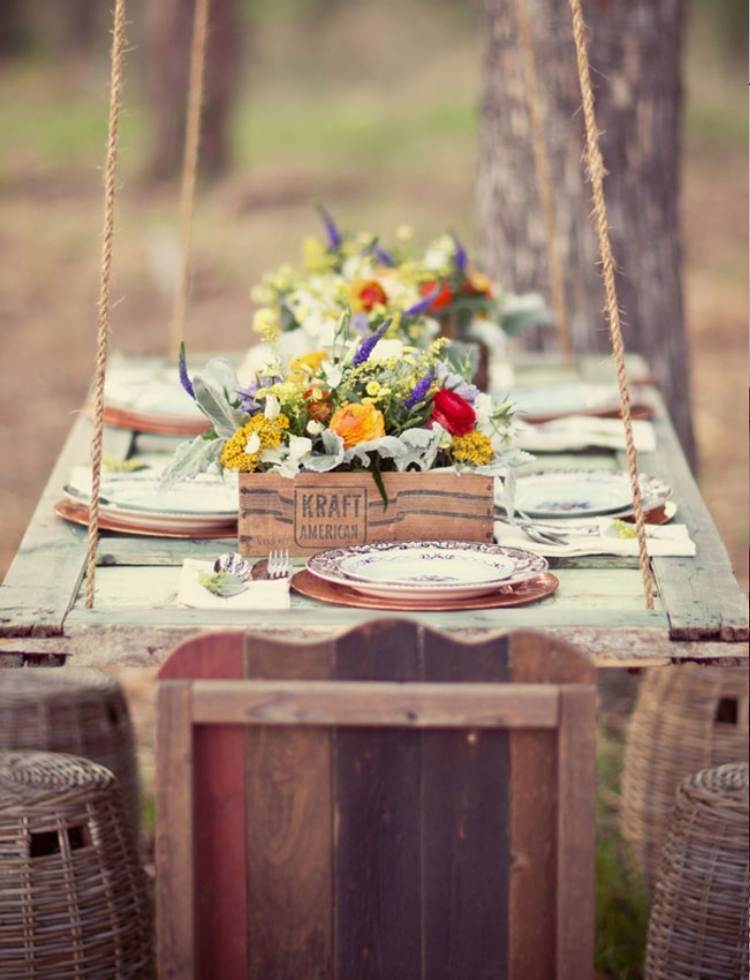 7. You Can Reuse Old Doors To Make Benches
DIY Hall Trees
One of these hall trees would look great in your mudroom or near your front doo and it will keep you organized too. What a neat way to add storage and hanging space to your home.  It wouldn't be hard to find a door for this purpose because this door still looks relatively new.  If you wanted to give it a vintage, re-purposed look, a different paint job would do the trick. We like this one just the way it is because it is neutral and would be a great addition to any home.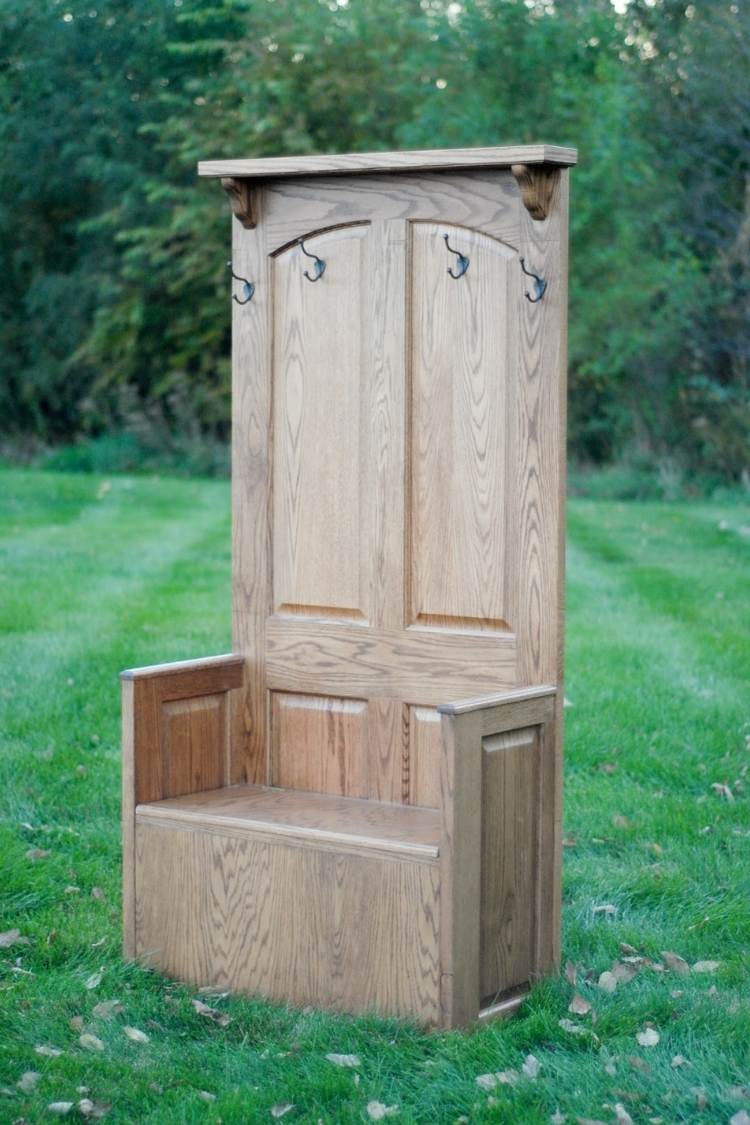 DIY Front Door Bench
Wouldn't it be handy to have a bench that you can sit down on to tie your shoes? Make one from an old door! The paint left on just gives it character, you would never think to paint it yourself like this.  The great thing about repurposing… furniture looks great from the years of use and you wouldn't believe it until you saw it.  Add a matching pillow and blanket below give a cozy feel to this bench.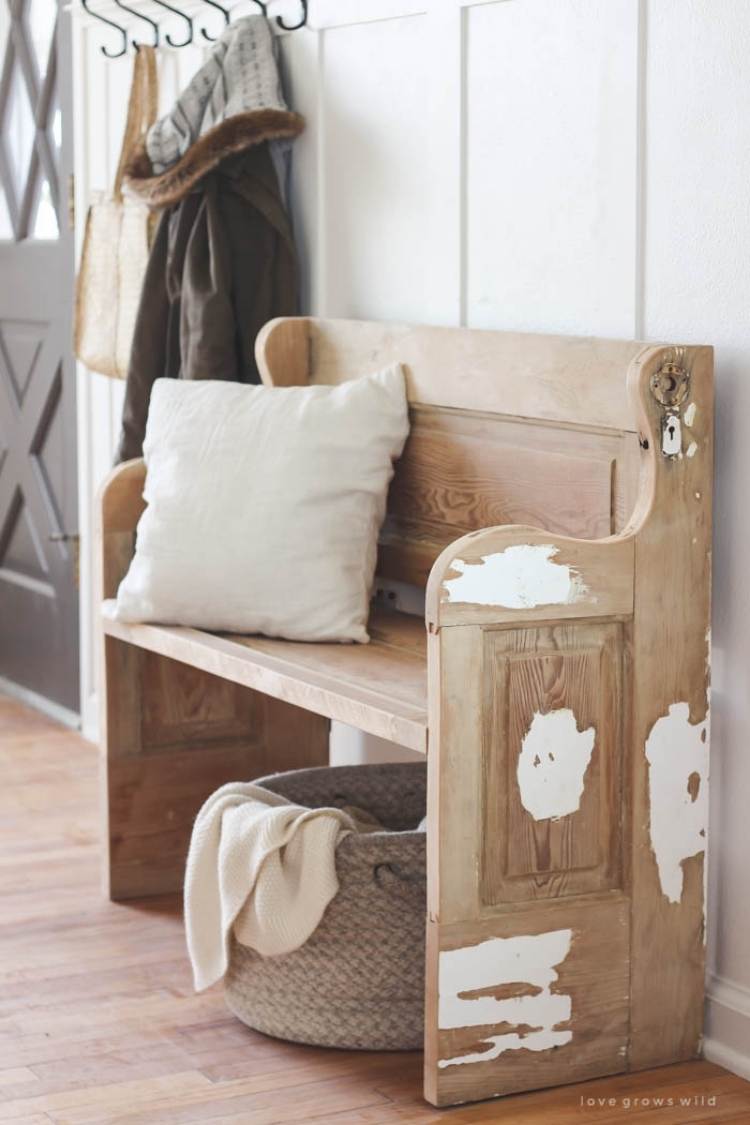 8. Make A Daybed by Reusing Old Doors
Build a daybed from old doors for a guest room or kids' room. Daybeds are a good choice because they are better with more character.  Paint the door green like this one because it stands out as a feature in your room.  We love how they pulled all of the colors from this room into the bedding.  You can put it in a corner and it'll still look great.  As a bonus it really saves space in a small bedroom!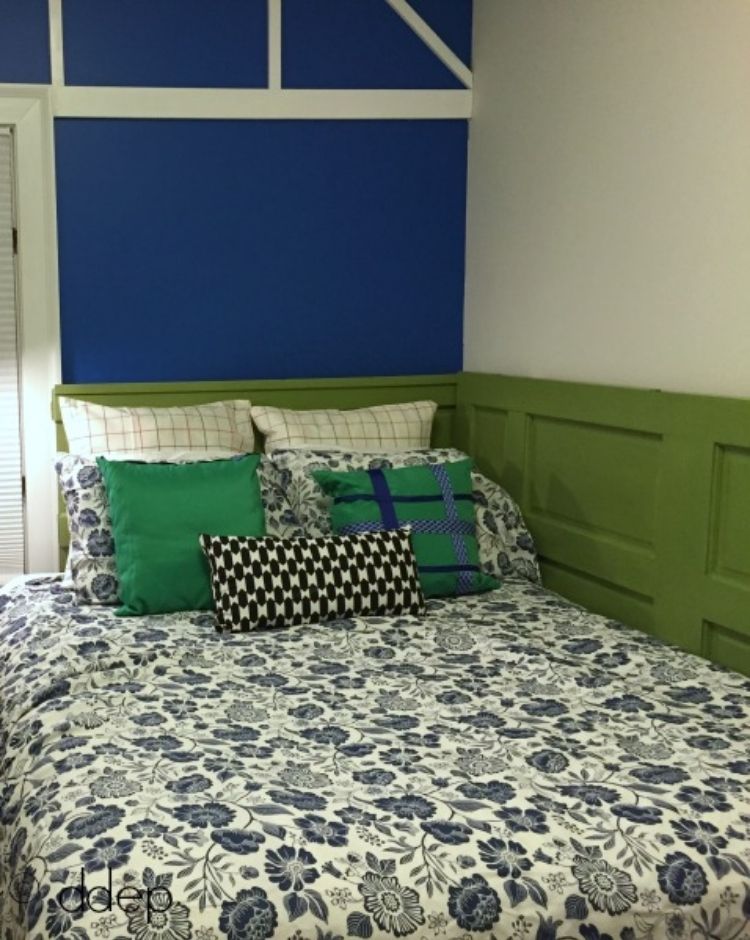 9. Old Bi-Fold Closet Doors Make Great Headboards
You know those louvered bi-fold closet doors that just drive you nuts? Well we have a great new use for them that is going to make you want to hunt them down again!  Easily turn one into a headboard!  How awesome is this?  I've just added this to my husband's project list because we have an old one in our basement.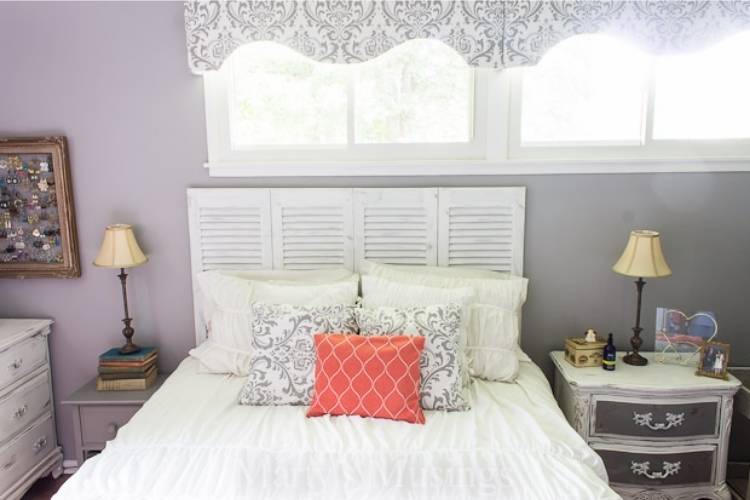 10. Reuse Old Skinny Doors
Skinny doors make great mirrors. Who Knew?  Isn't this a great modern look for a repurposed door that looks chic?  Nude paint on this one adds to its classy look because the room has such deep and rich walls. It would look amazing in a teen's bedroom or in a giant closet. You can never have too many mirrors, right?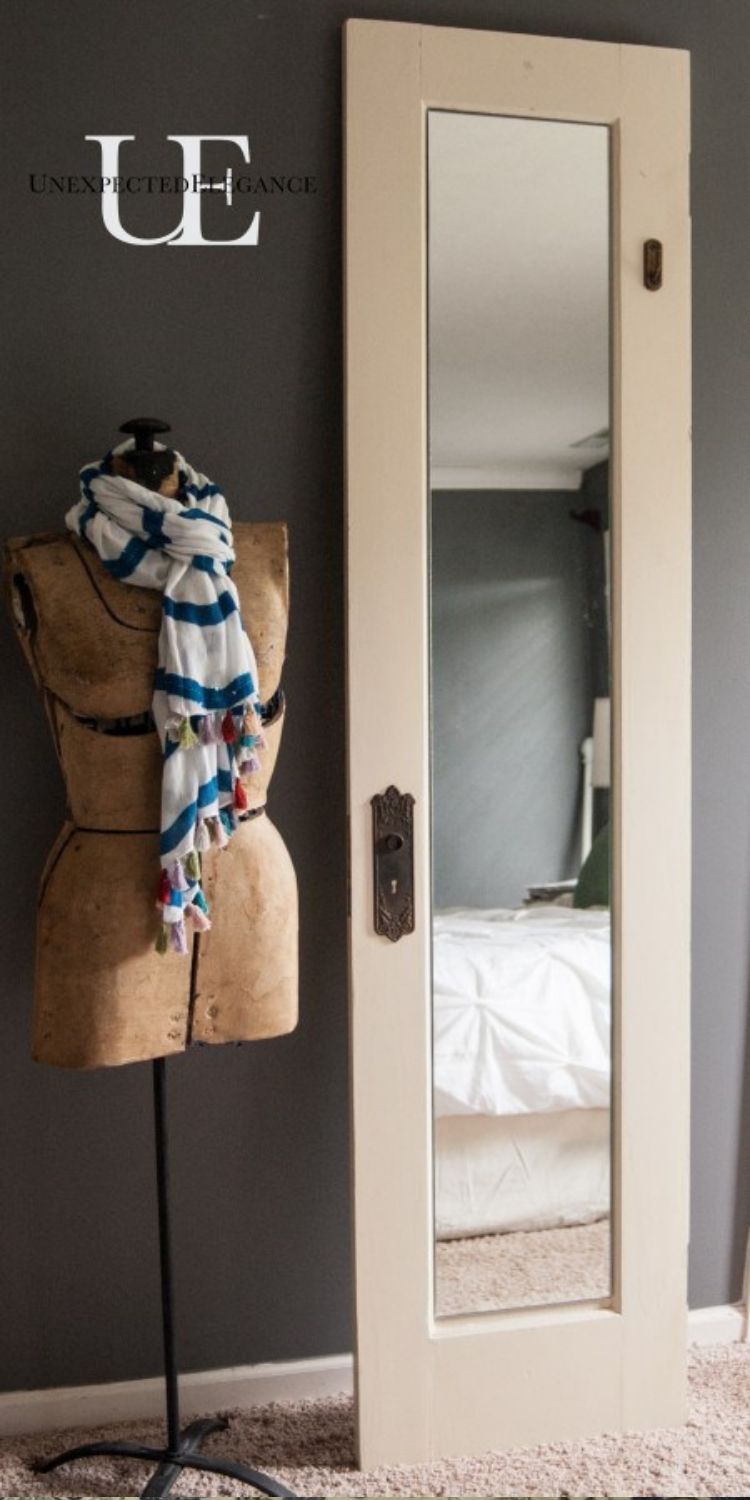 11. Repurpose Stained Glass French Doors to Make a Table
A French door turned table is one of my favorites because it looks like a piece of art.  Stained glass gives it some personality and add beautiful color that will be a great addition to any space! It is a conversation piece for sure, especially if you get to know the history and who might have stained the glass.  Don't keep this one inside though,  if you finish the wood with lacquer it would look amazing in a garden or on a patio.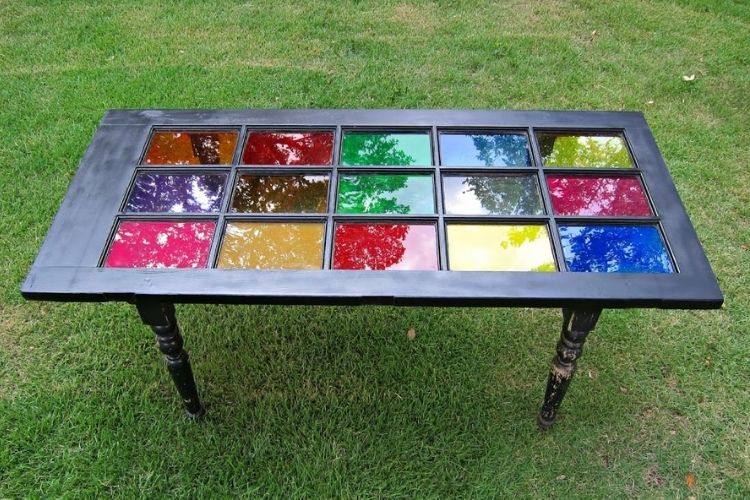 12. Reuse Old Doors For Kitchen Storage
Organize your kitchen with a door! Attach baskets, hooks, hangers and magnets to hold utensils, kitchen towels and more.  The yellow paint on this door makes it so cheerful, and y'all know how much we love bright kitchens.  It is so functional and keeps everyone organized, therefore making time spent in the kitchen is a whole bunch more enjoyable.  You can see lots more kitchen organization ideas, if you need them.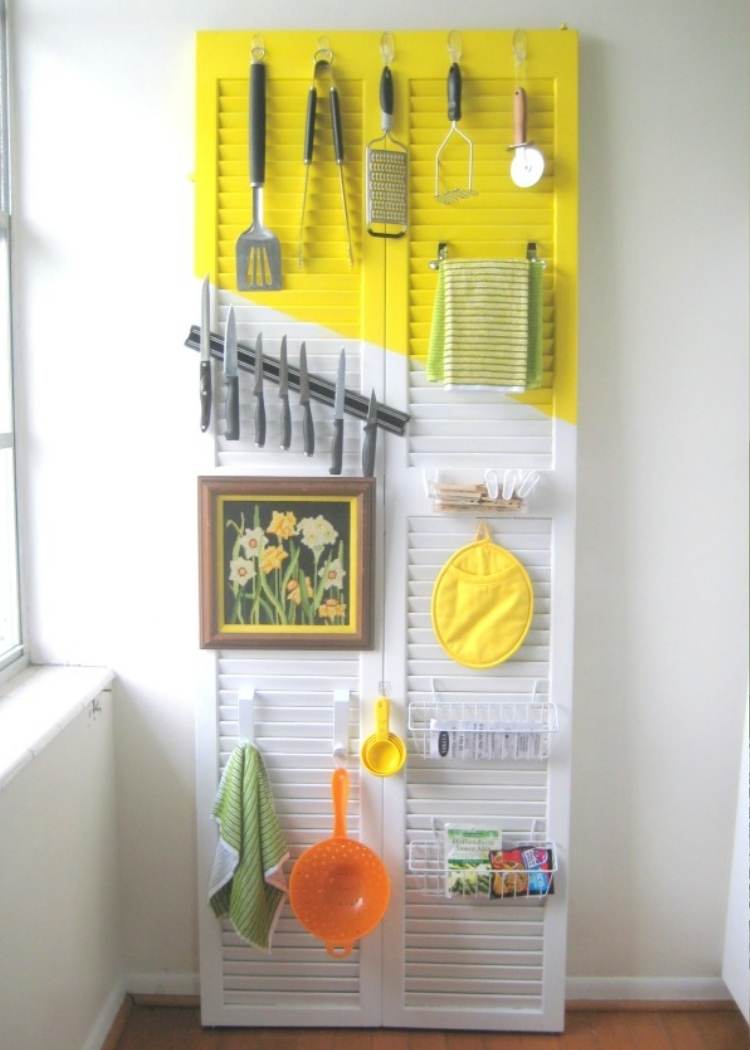 13. You Can Reuse Old Doors in Your Garden
Create an arbor for your yard or garden. The missing windows on each door really add to the look since it creates space for hanging baskets.  Simply add some beautiful smelling flowers to those pots you are going to feel like you are walking into a whole new world when you pass through.  Doorways are as fun as old doors because passing through a new door is a always a chance for things to look different when you get to the other side, especially if you add a smell that lights up your senses.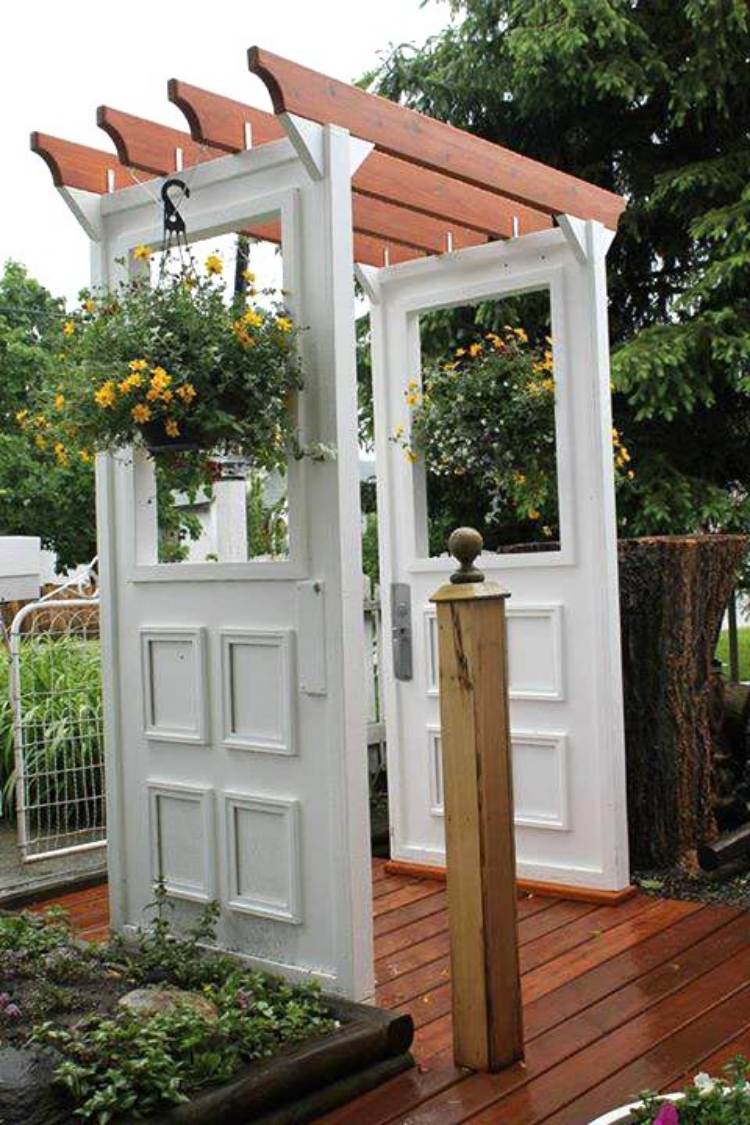 15. Reuse Old Doors for Beverage Stations
Easily build a beverage station for your deck or patio without much work.  Just add a couple of shelves to your door in addition to a couple of legs to help with the weight and BINGO!  You have a place to keep all of your drinks when you entertain in the summer.  However, you don't have to use it as a beverage station, it could be a snack station, a gardening station, or an outdoor decoration.  The possibilities are endless!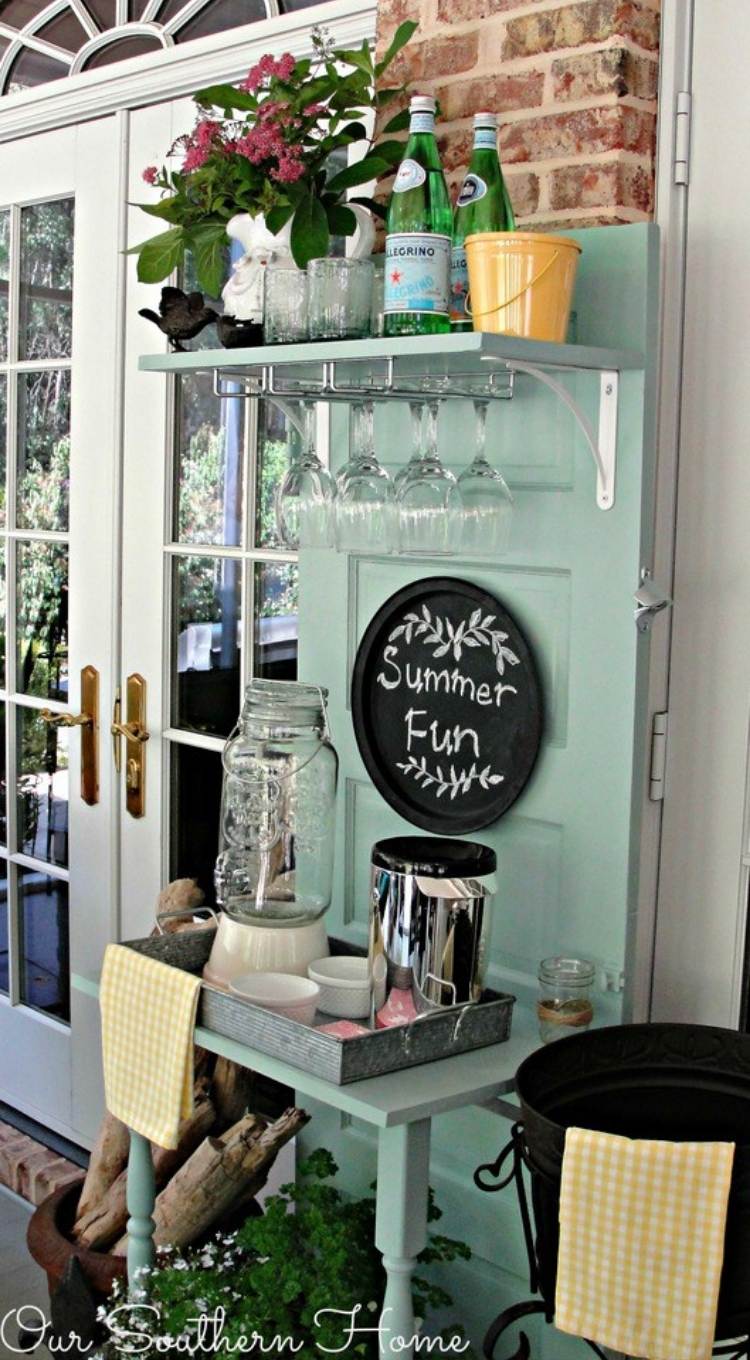 16. Turn Old Doors Into A Kitchen Island
Do you need more counter space in your kitchen?  Or have you always wanted an island? It's closer than you think because all you have do is grab an old door and use it as your countertop. No doubt about it, this old door turned kitchen island would look amazing in a farmhouse kitchen.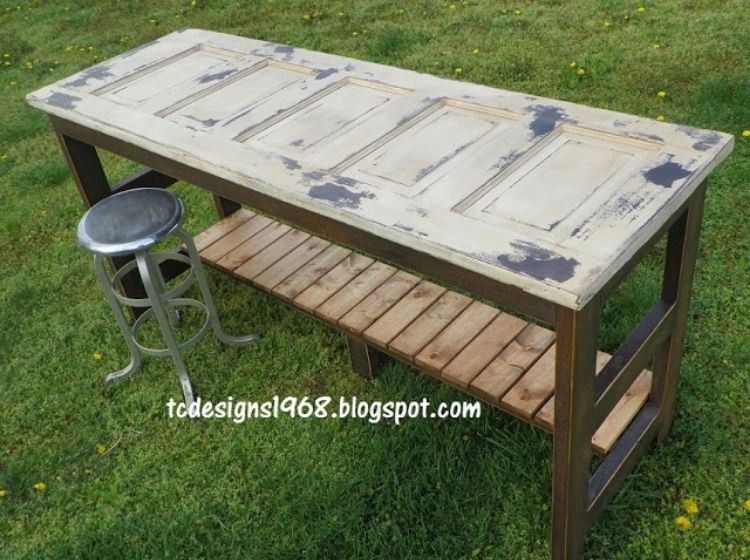 17. Reuse Old Doors To Display Your Wine
Why don't you create a wine rack to display your favorite wines?  That is, if you keep them long enough to display them!  All of the unique ways to display wine and this one is sure to be a piece that your friends will be oooh'ing and awww'ing over.  Have you seen one before?   You can make a game of trying to keep the open holes to a minimum, or see how long it takes before you empty it out!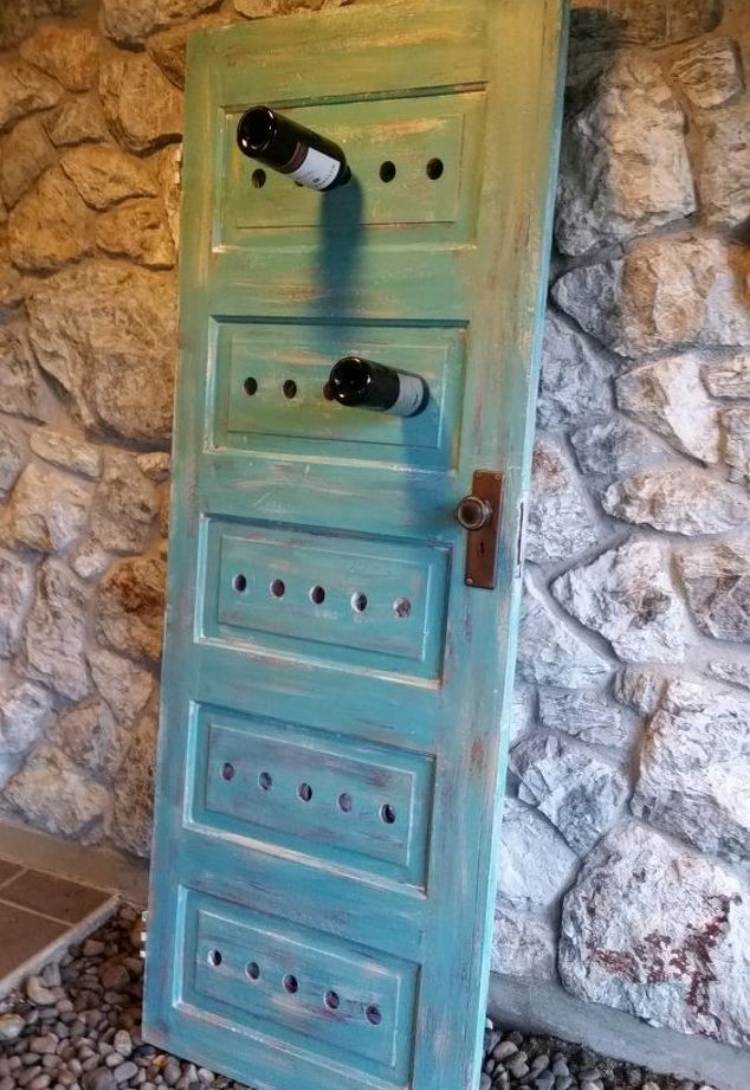 18. Reuse an Old Door for a Farmhouse Clock
There is something about a white clock with big iron numbers for the time pieces isn't there?  Have you seen one made from an old door before?   We love the character of this clock.  It would be a great addition to farmhouse themed decor.  Use a piece of an old door as the backdrop for an old fashioned clock. Wouldn't this piece  also look great on a porch or patio?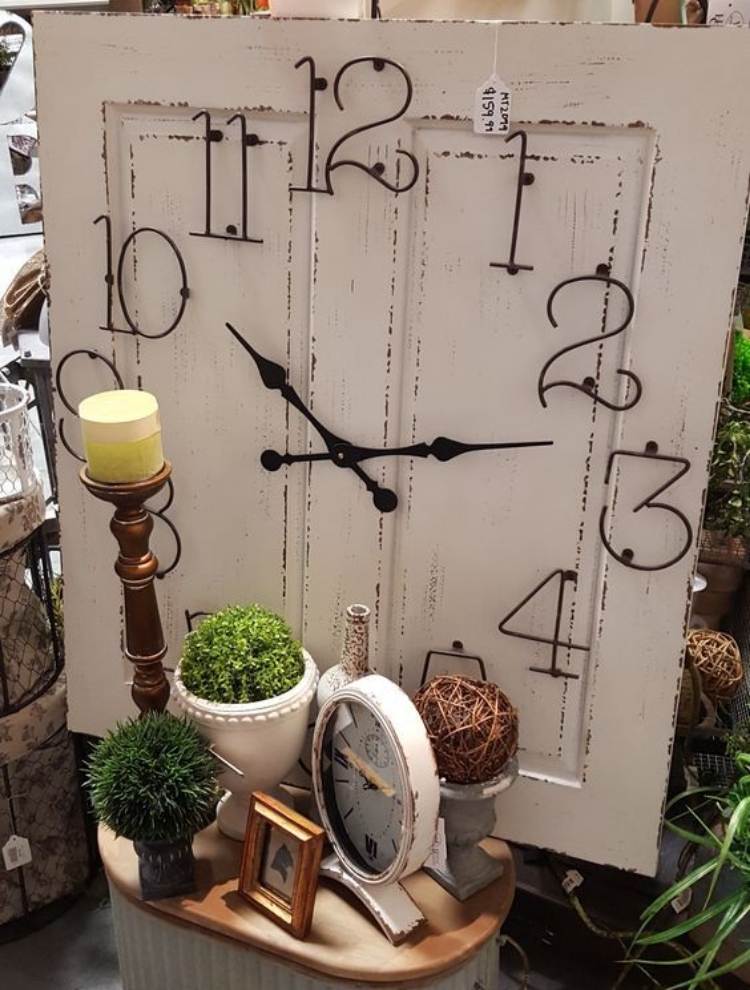 Best Places to Find Old Doors?
Buy and Sell Sites
Salvage Sites
Antique Stores
Old Storage Yards
Garage Sales
Thrift Stores
Flea Markets
Estate Sales
Reuse Old Doors To Add Charm To Your Living Space.
I hope these ideas inspire you to plan a few decorative doors around your home! Do you have repurposed doors you'd like to share? Send them to us or let us know on our Facebook page!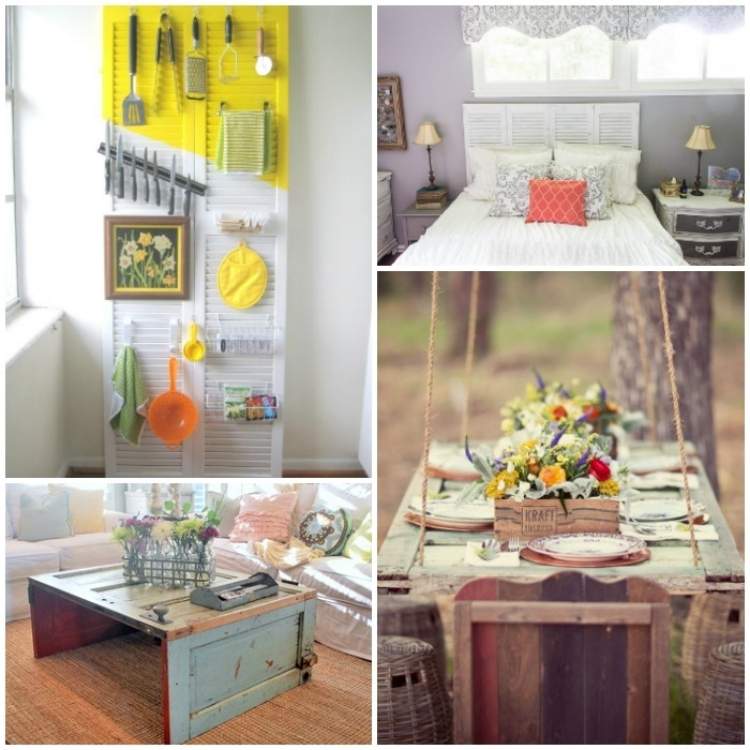 Did you like these Repurpose ideas?  Then you'll also enjoy: