How can we repurpose changing tables into something different we can use and love around the house? Whether you can't bring yourself to throw out your little one's changing table or you found one for a steal at a yard sale or thrift store, either way, you can repurpose changing tables to make them fit any season of your life that you're in… not just the baby phase. Here are 15 phenomenal ideas for converting your changing table to something totally cool and useful.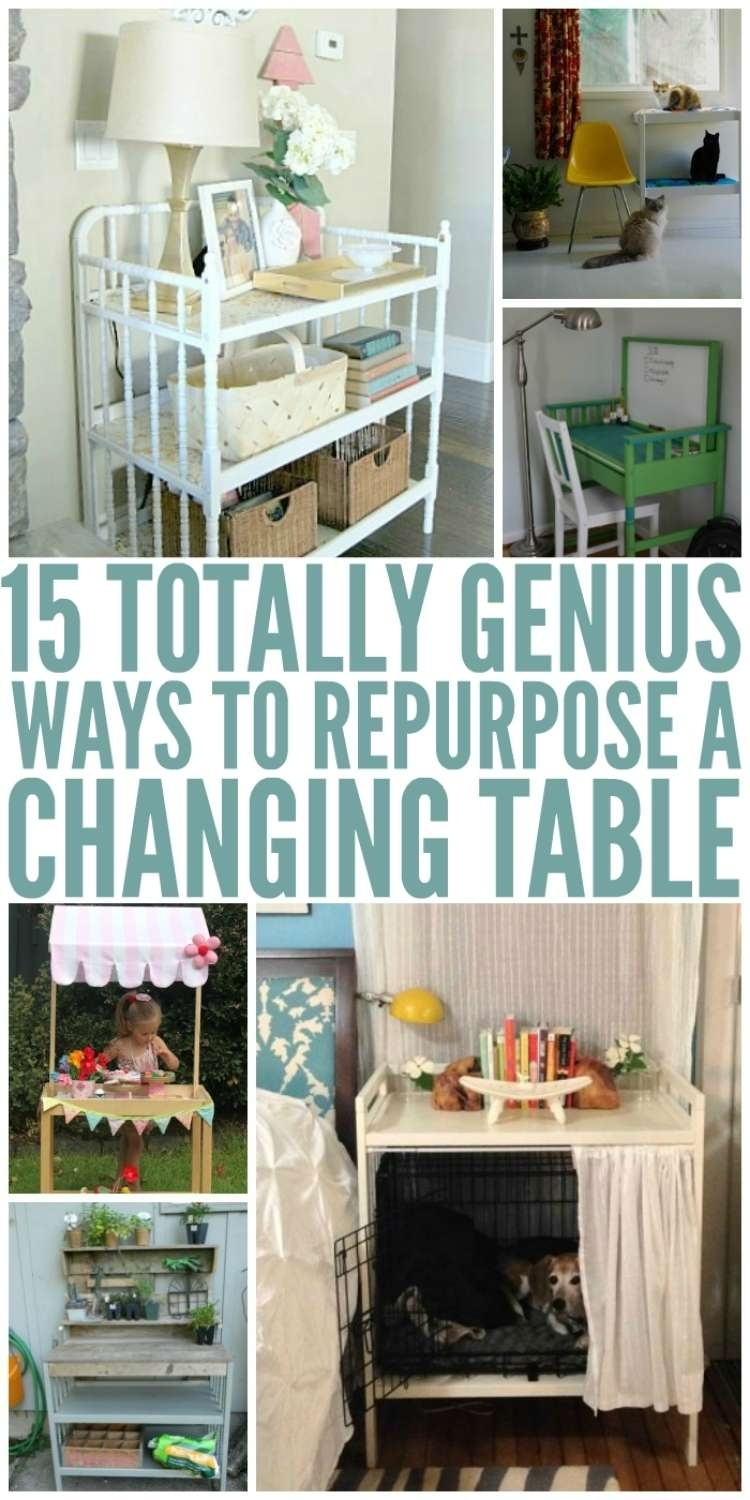 Best Ideas for Repurposing Changing Tables
It is incredible how quickly baby grows out of a changing table!  In fact, it is faster than they grow out of a crib or other baby gear.  Before you know it baby is climbing up onto the changing table indicating that it might be time to let it go on to a better use.  We have some super smart upcycling and recycling ideas to make that changing table into something amazing that can be used for years to come.
1. Up-cycle Your Changing Table into a Desk
With distance learning, homeschooling, and working from home growing in popularity these days repurposing that old changing table into a useful desk for school or to put into your home office isn't such a bad idea. Turn your little one's changing table into a desk they can use as they grow, or fix it up to match your new home office decor. Add all your favorite accessories to hold everything from crayons to paint. You can easily coat the writing surface of the desk with chalkboard paint to create a great surface for your kids to draw for hours. The best part about up-cycling your own desk is you can design it anyway you'd like. Smart!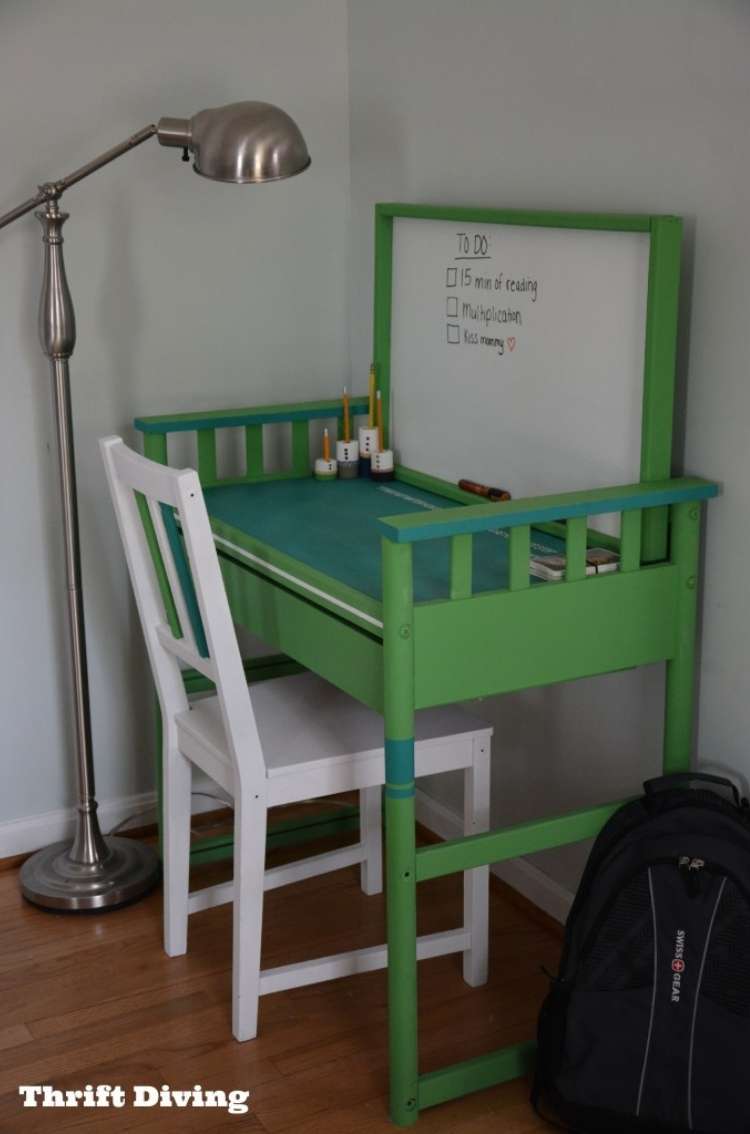 via Thrift Diving
2. Rustic Repurposed Changing Table Garden Cart
Do you love to garden? Pick up an old changing table at a yard sale and convert it to a charming garden cart for your porch or patio. Repurposed fence board slats or pallet boards will give your new project a rustic farmhouse look. You could repaint it or even sand down and stain this little project if you are looking for a more refined look. Add your favorite knobs, hooks or twine to give this piece that extra charm.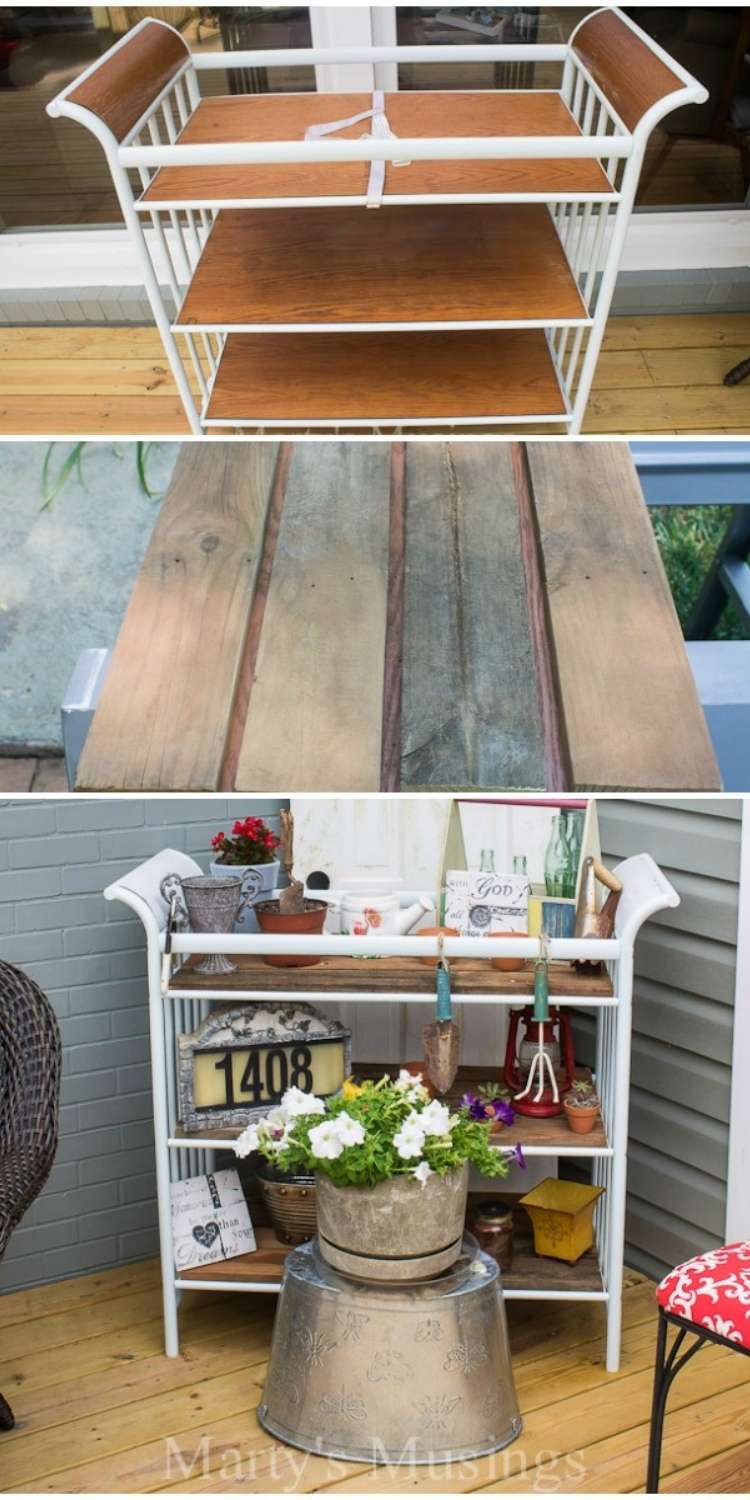 via Marty's Musings
3. Perfect Project Potting Bench
Speaking of yard and garden decor and furniture, let's not leave out all those great garden plants. Every great gardener needs a potting bench to house all their planting tools and seeds. What better way to add just the perfect project area to your home than by repurposing an old changing table into a potting bench for your potted plants, pots and seeds. You again can customize your bench to your liking by adding a fresh coat of paint or wood accents.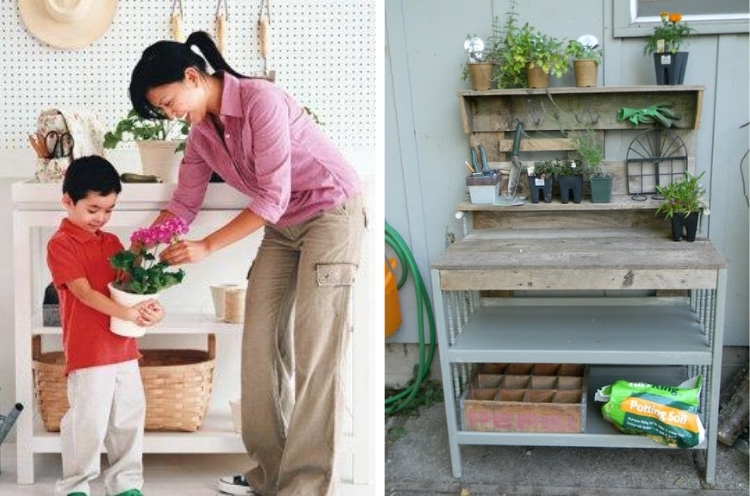 via Real Simple
4. From Changing Table to Driving Dresser
This fantastic idea is great for any home with car crazed kids that drive everywhere. Yes, moms with boys we are talking to you! Turn your old changing table into a fun driving dresser for the kids to drive their cars on (and store them out of sight when they are done playing). Get the kids involved with this great repurpose project sure to keep them busy for hours.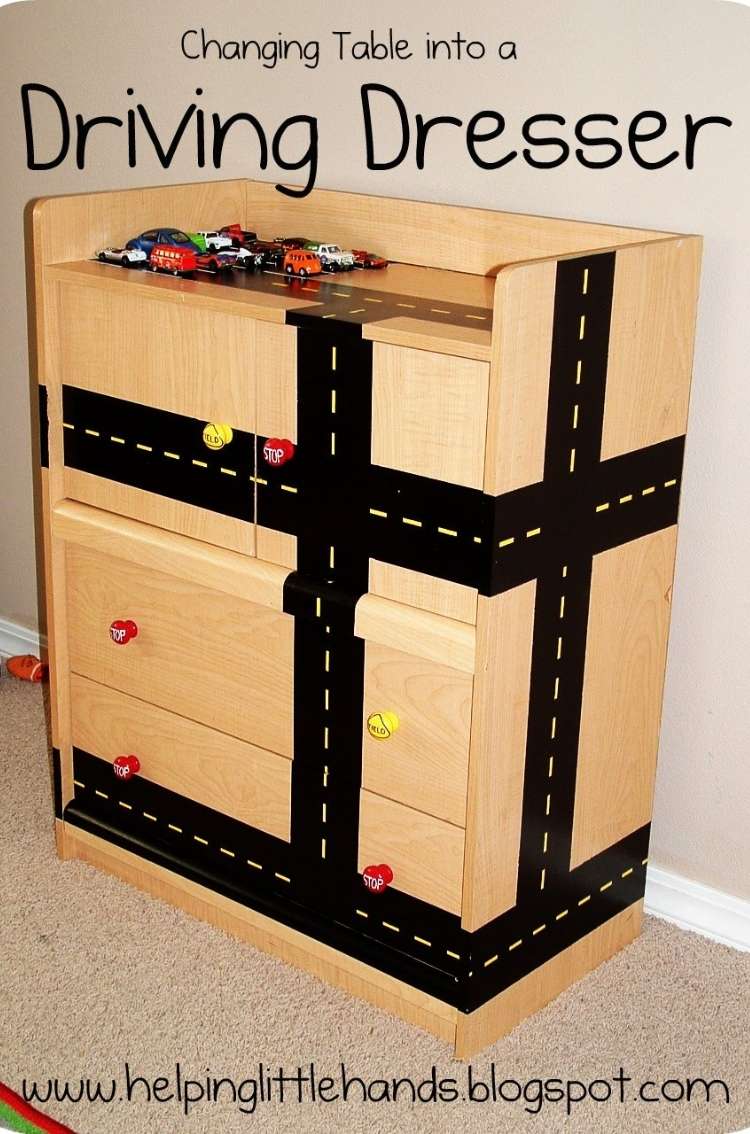 via Remodelaholic
5. D.I. Y. Changing Table Furniture
This lady picked up a changing table for $1 and converted it to a lovely entryway table by removing the front rail and adding some paint and wallpaper. How fun is this! You could add all kinds of personal touches to this great up-cycled furniture idea to make it the perfect piece to fit your home.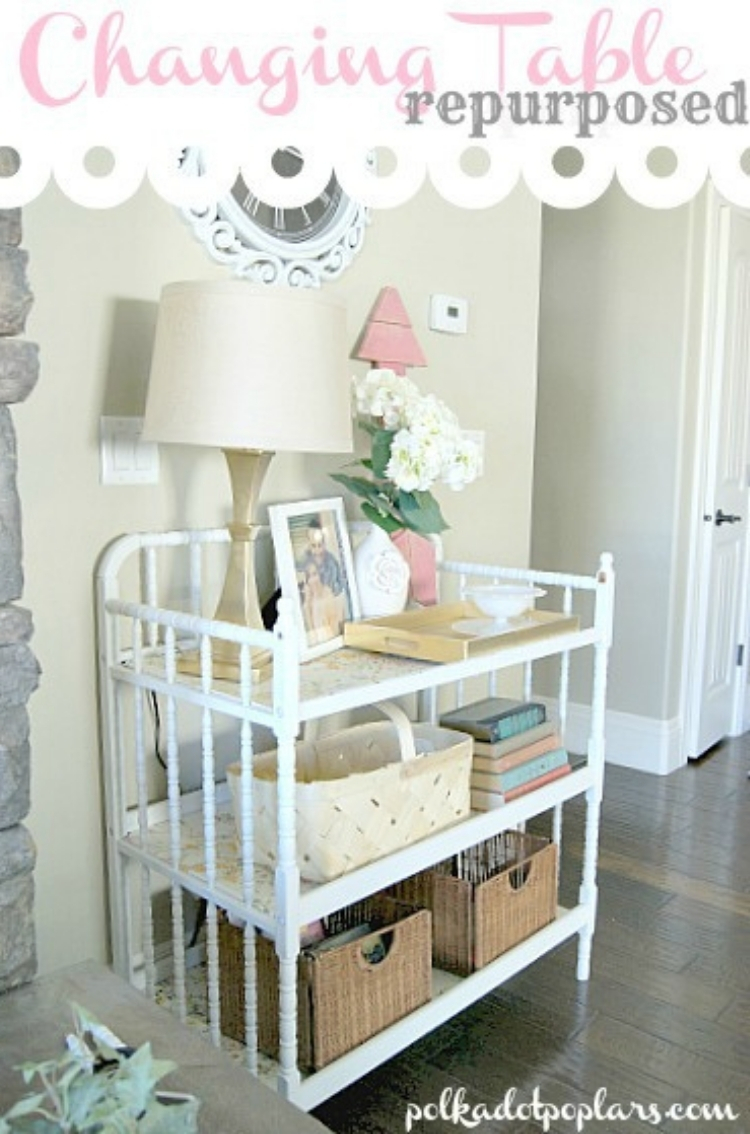 via Polka Dot Poplars
6. Changing Table Toy Kitchen
Every kid needs a kitchen! Help inspire your child's culinary skills by trying this changing table to play kitchen conversion? Your little chef will be mixing you up batches of cookies and cupcakes in no time. Paint it their favorite color and add fun accents like curtains and magnets. You could even go the extra measure and add your child's name on this project to really personalize it. How cool is this?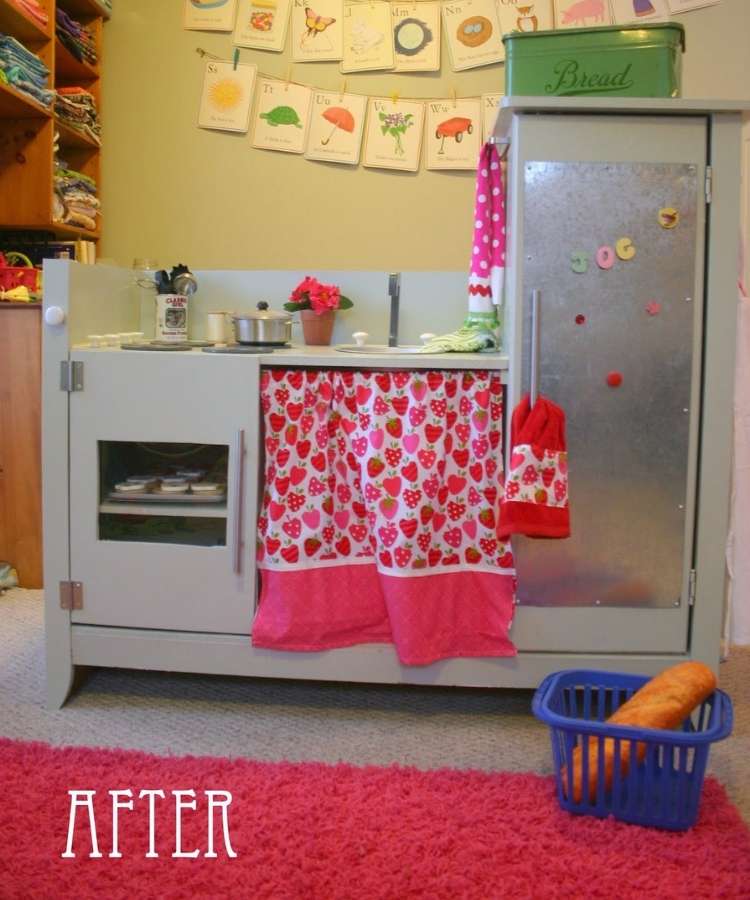 7. Ice Cream Anyone?
Toss on the sprinkles and a double scoop of fun with this clever little play corner addition. Take that dusty old changing table and recreate it into a cute ice cream parlor for your little one to enjoy during pretend play time. Get out the hot glue and glitter and create some fake ice cream shop accessories or even better, hit up the ice cream isle on your next grocery run. Grab the goodies and let your little one serve you this a sweet treat for family night from their custom play shop. This is adorable!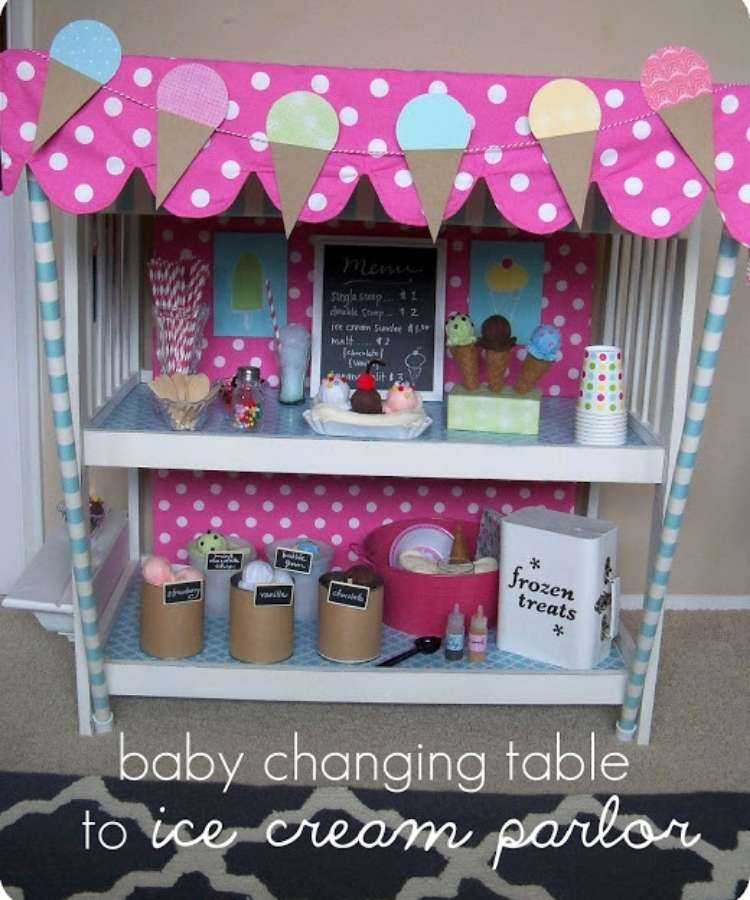 8. Outdoor Play Table
This outdoor play table repurposed from an IKEA changing table could spark all sorts of fun opportunities. This children's play shop via MondoCherry (private blog) idea is not only great for creative outdoor play with toys or sand, but could also be used as a lemonade or cookie stand when your child decides to blossom into entrepreneurship down the road.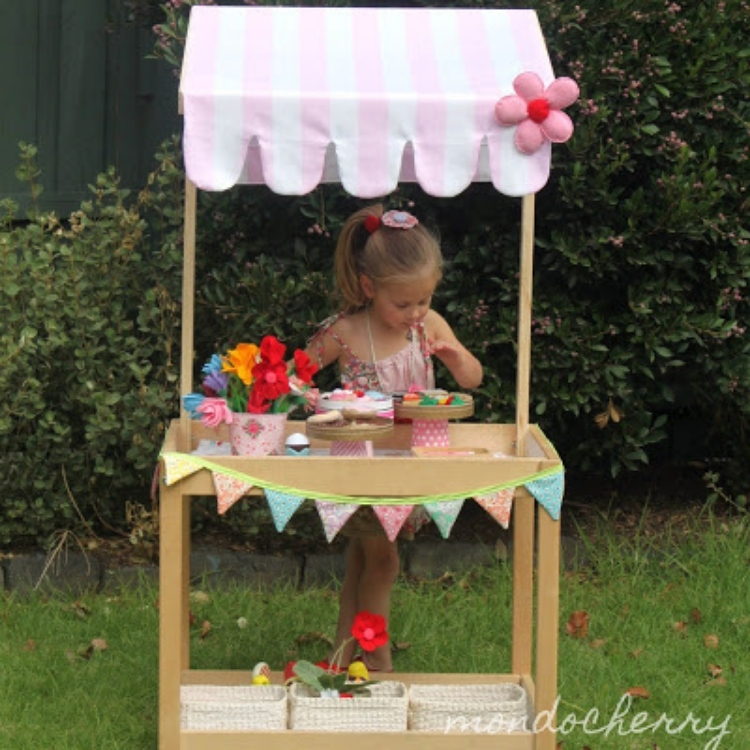 via Mondo Cherry
9. Changing Tables into Bar Carts
"It's 5 o'clock somewhere" – Alan Jackson
Cut the top shelf to hold an ice bucket, dress it up a little, and you have yourself an excellent bar. Add some wheels and you can roll this great repurposed piece right out onto the patio for evening cocktails. Customize this little cart with martini class holders, club soda tray, and even a lime juicer and you're ready to entertain. Just don't forget the olives and mini umbrellas. Cheers!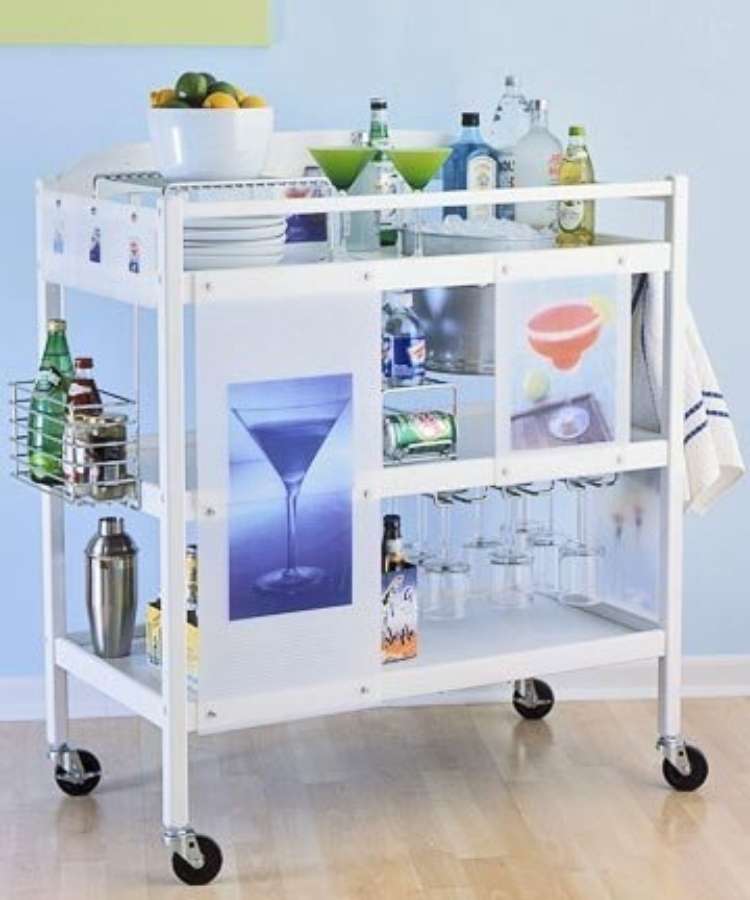 via Apartment Therapy
10. Outdoor Table / Rolling Bar
For the rugged terrain of the back yard here's a rolling bar cart with larger, sturdier wheels you can take right out to the fire pit or park next to the grill for holding all those extra grill master spices and tools. This one shows a great wine rack option as well. Hint, hint ladies, this would be a super fun project to work on and gift to your hubby.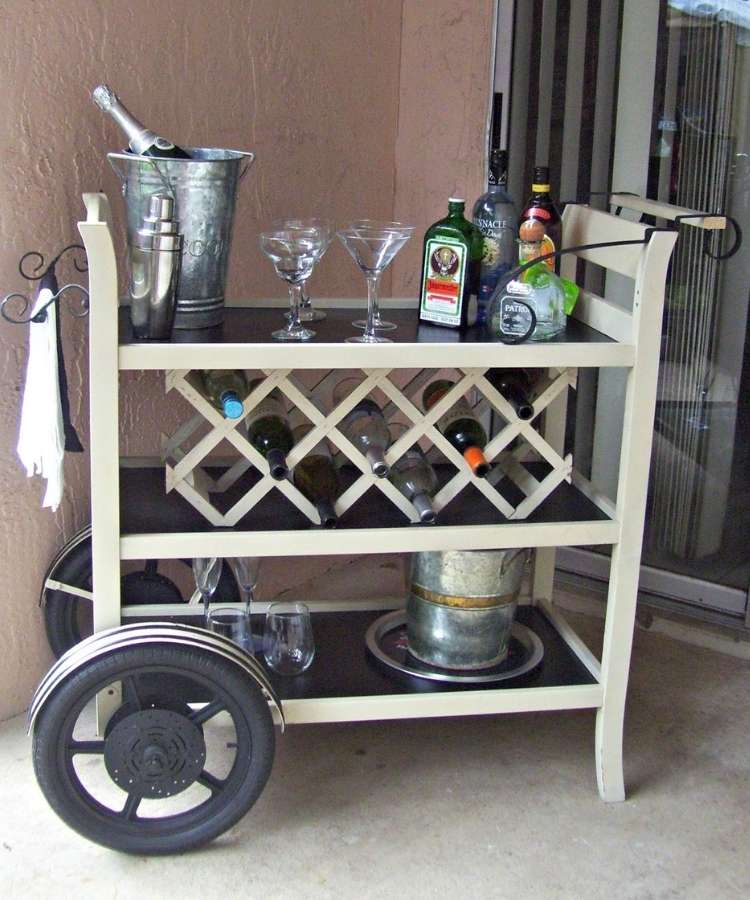 via Rustic Rediscovered
11. Clever Little Serving Cart
Extra counter space can be hard to come by, especially for large family gatherings or in small apartments. You can repurpose changing tables into custom serving carts to lend you some extra storage or serving space when you need it. The best part is you can stick wheels on the bottom and take it right to he table to serve a dish or carry extra plates, napkins or silverware. When you are done with it simply roll it out of the way until the next time you need it.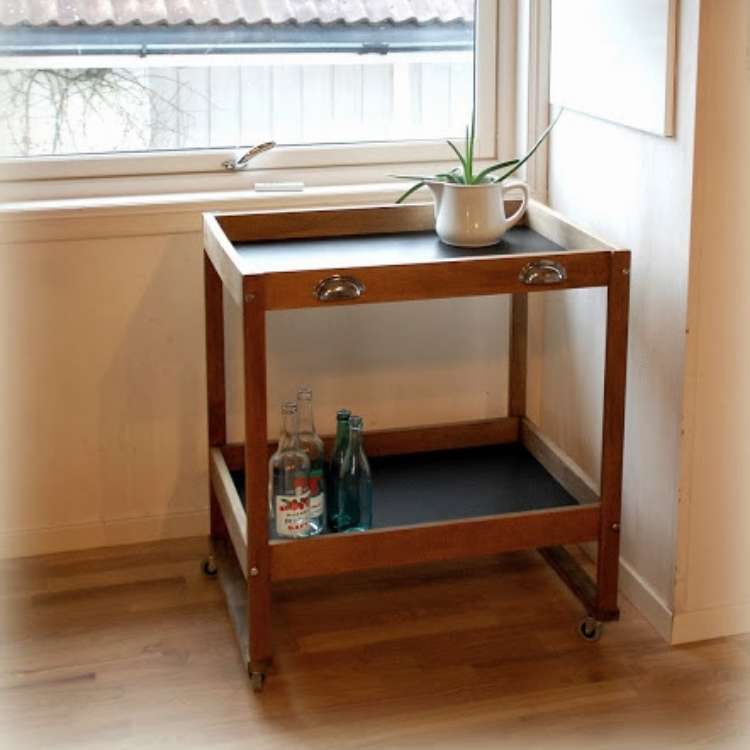 via Margitta
12. Dandy Little Dog Crate Table
Pamper that pooch. If you have a Gulliver changing table from IKEA (like this one here),  you can turn it into a custom side table dog crate! Just remove the middle shelf, insert the dog crate, and voila! This is great if you don't like your dog crate sticking out like a sore thumb in the middle of the living room or if your dog has anxiety likes to hide or keep peacefully to himself when guests arrive. Create a decorative and multifunctional furniture piece and a safe and cozy place for your fur baby all in one!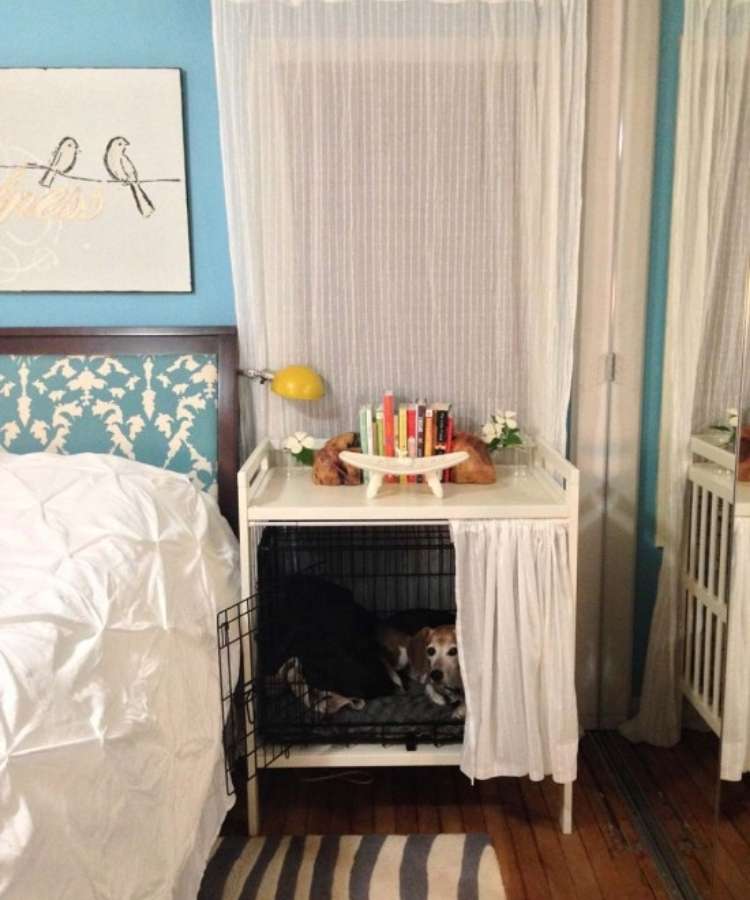 via IKEA Hackers
13. Cozy Cat Corner Nook
Check out this great idea for your feline friends. The IKEA Snigler allows you to repurpose changing tables into the perfect under-the-window cat perch. Add a few soft cushions for sun soaking or even wrap the legs in burlap to use as a great scratching post. For playful kitties you could even place a few hooks on the sides for their favorite toys. Hide away the cat toys in little baskets under the bottom shelf so they are out the way when company comes over. Genius!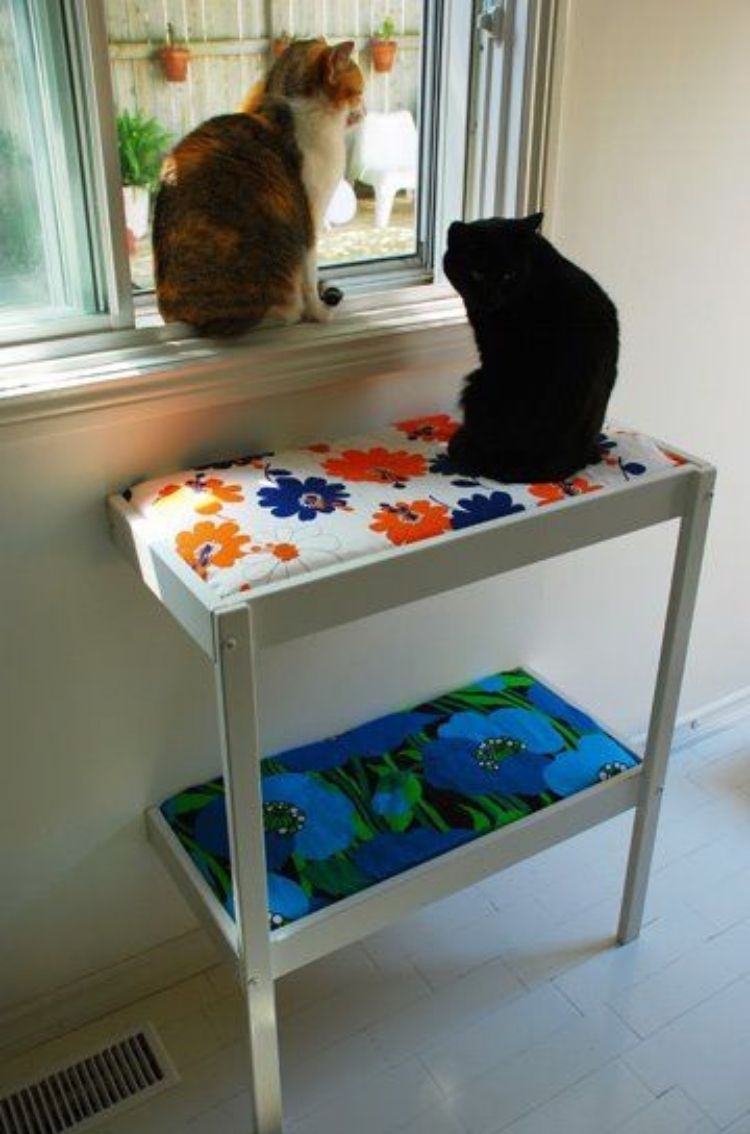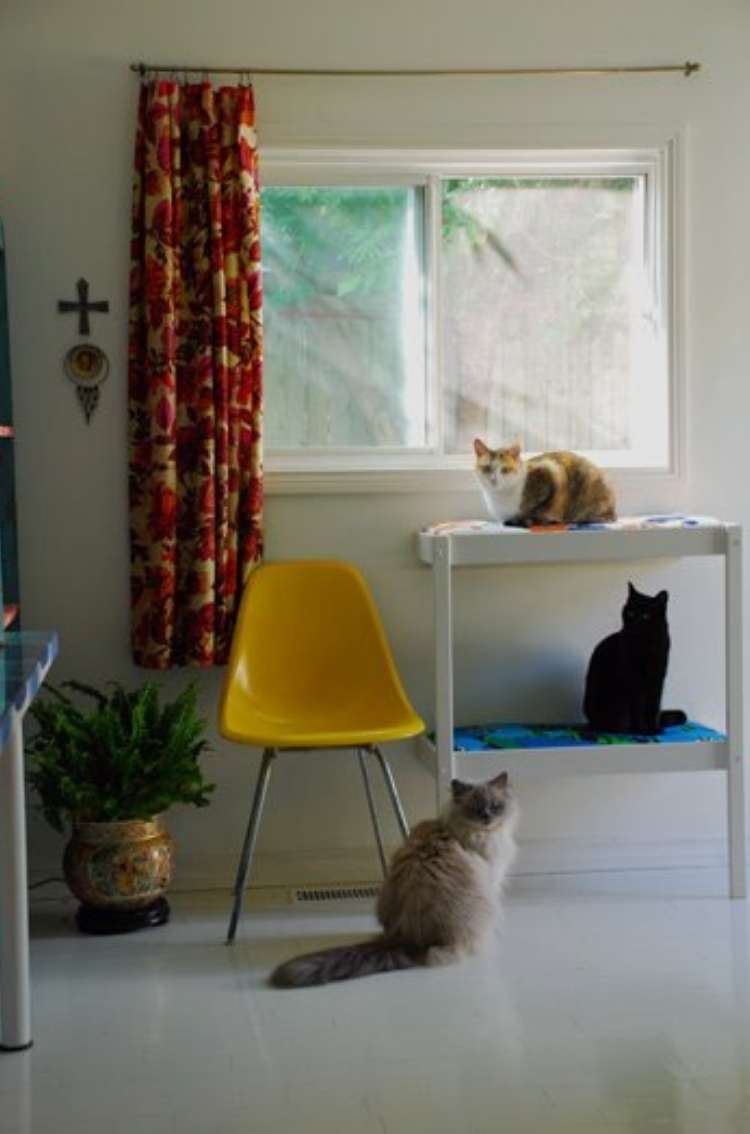 via Desire to Inspire
14. Cozy Book Nook Conversion
For all our fellow bookworms out there, repurpose your changing tables into reading nooks for the kiddos (or yourself). Store their favorite books in baskets underneath, lay a soft and cozy blanket on the back, and sit on the bench together to read at night. This would be a great addition to your calming corner for kiddos looking to take a break and find a relaxing activity.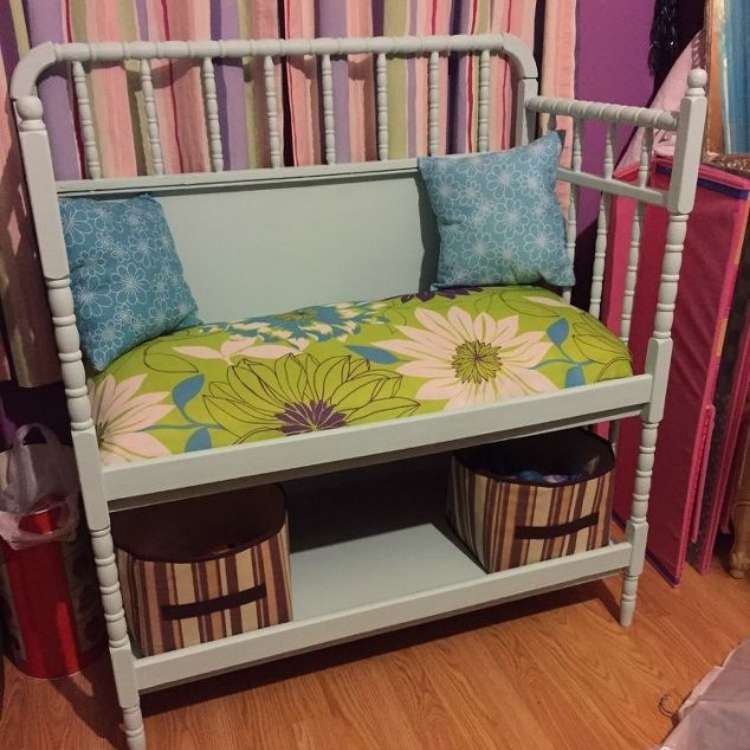 via Home Talk
15. Repurpose Changing Tables into Toy Storage
You can never go wrong with toy storage in your kids' room. Let your little ones use this changing table repurpose project as a car park for cars, trucks, dozers and other types of play vehicles. Add a little extra fun by giving each truck a marked out parking spot! You could always add a basket to the shelf to contain all the smaller trucks too.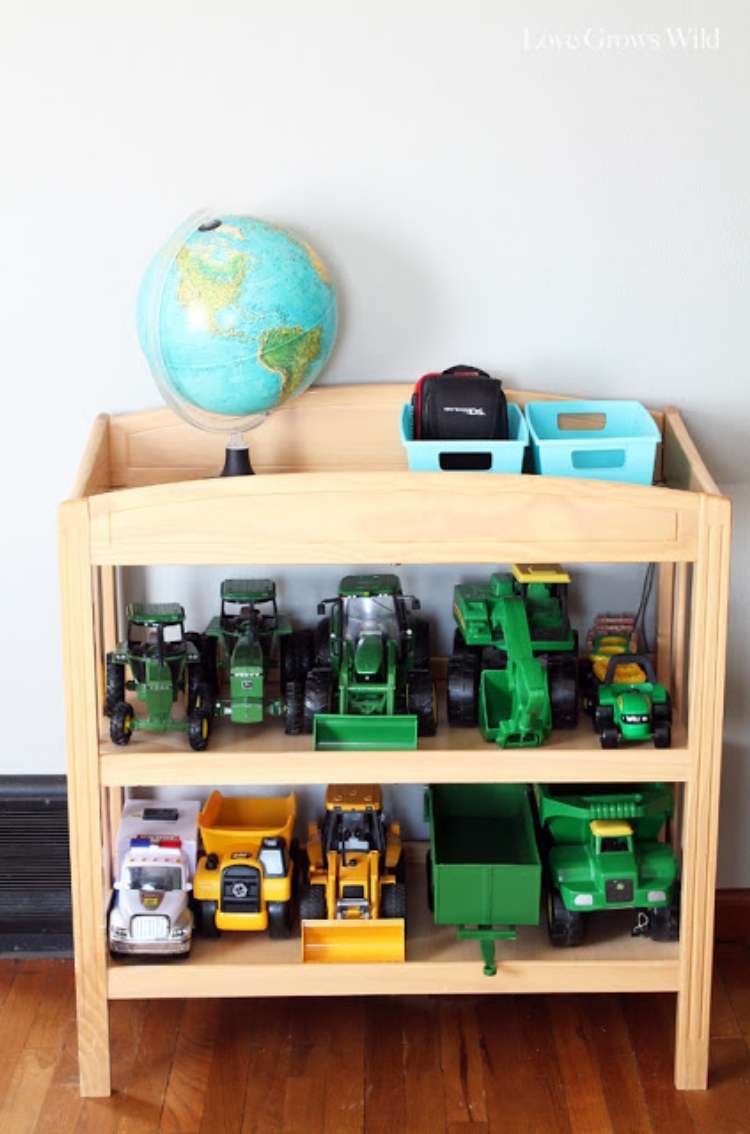 via Love Grows Wild
So, if you are debating if you are ready to donate or toss that old changing table collecting dust in the attic, stop and think if one of these repurpose changing table ideas would work great in your house. Not only is it crafty, these ideas are a great way transform your child's memories into a timeless keepsake.
Did you love these repurposed changing table ideas?
Try one of these other around-the-house repurpose must dos!