Looking for some super simple and delicious mocktail recipes perfect for the holidays? You'll love all the variety and flavors that you find here.
When celebrations are in order, you need a pretty drink to kick off the occasion. Whether it's the upcoming holidays, a promotion, or just getting through the day, a delicious cocktail can take the occasion from good to great.
But it's not required that you serve alcoholic drink in those occasions, right? If you're looking for an alcohol-free alternative (to serve to the kids or simply to avoid the stuff), a sparkling mocktail is a great substitute that still has pizzazz. Here are 19 mocktail recipes for your inspiration. Enjoy!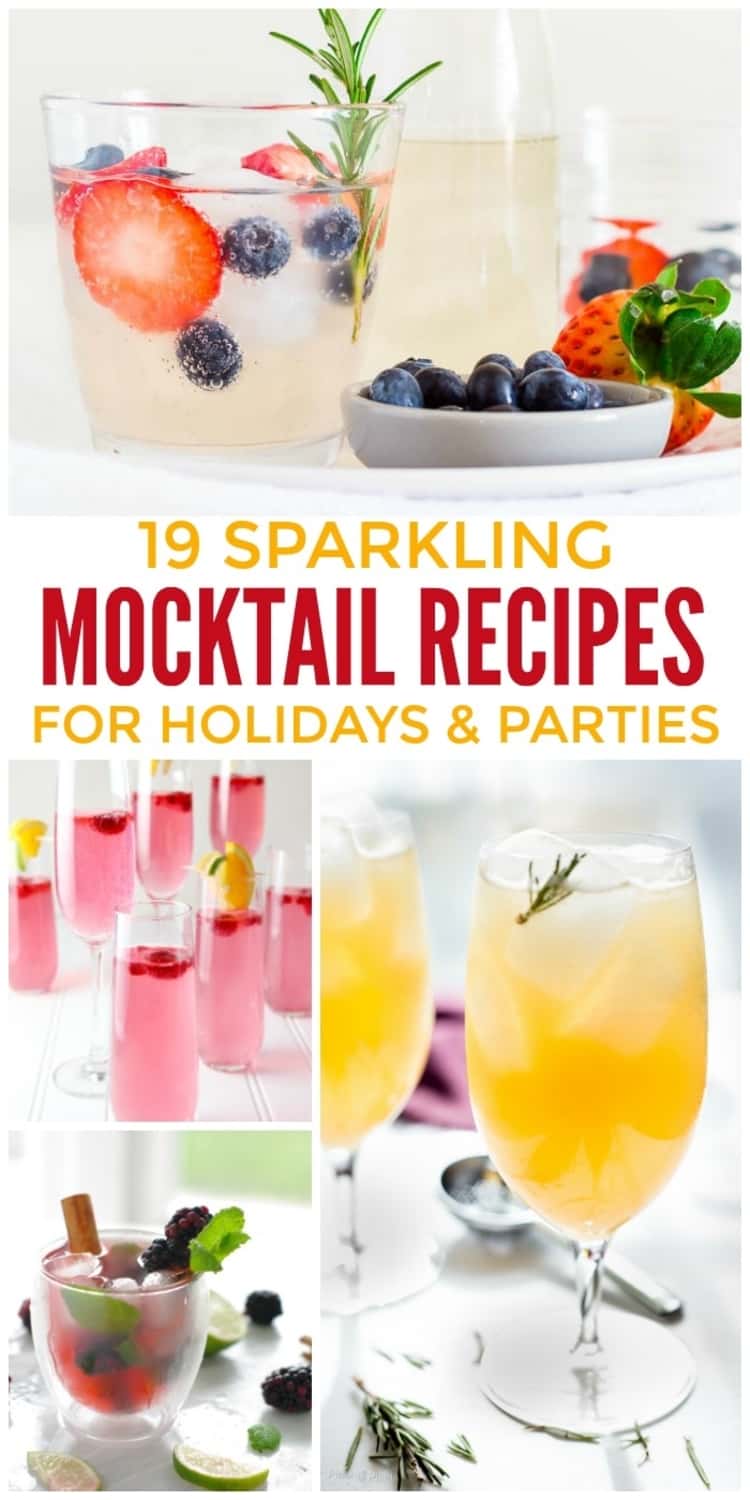 If you're looking for hot drinks to warm you up this winter, check out our list of Slow Cooker Drink Recipes. Delish!
Best Mocktail Recipes for Entertaining
1. Quick Mocktail Recipes – The Pomegranate Mojito Mocktail
You can make the best mocktails in an instant! In 5 minutes or under, set the mood by blending sweet and tart flavors together to get this gorgeous red drink for the holidays. This Pomegranate Mojito Mocktail is perfect for Thanksgiving and Christmas.
To make this pomegranate mojito mocktail, you'll need:
1/2 cup granulated sugar, 1/2 cup water, lime wedges, mint leaves, ice, 4 ounces pomegranate juice, 8 ounces club soda, pomegranate seeds,  and 2 highball glasses.
Procedure:
Make syrup by heating the water and sugar over high heat in a small saucepan. Keep stirring until the sugar is fully dissolved and the mixture comes to a boil and set this aside to cool.

In each glass, put in two lime wedges, five mint leaves, and half of the syrup and mix to infuse the flavors. Then add in the ice and pomegranate seeds. Into each glass, pour in two ounces of pomegranate juice, about four ounces of club soda, and stir well.

Use the extra mint and pomegranate seeds to garnish the tops of your glasses before serving immediately. Enjoy with crushed ice!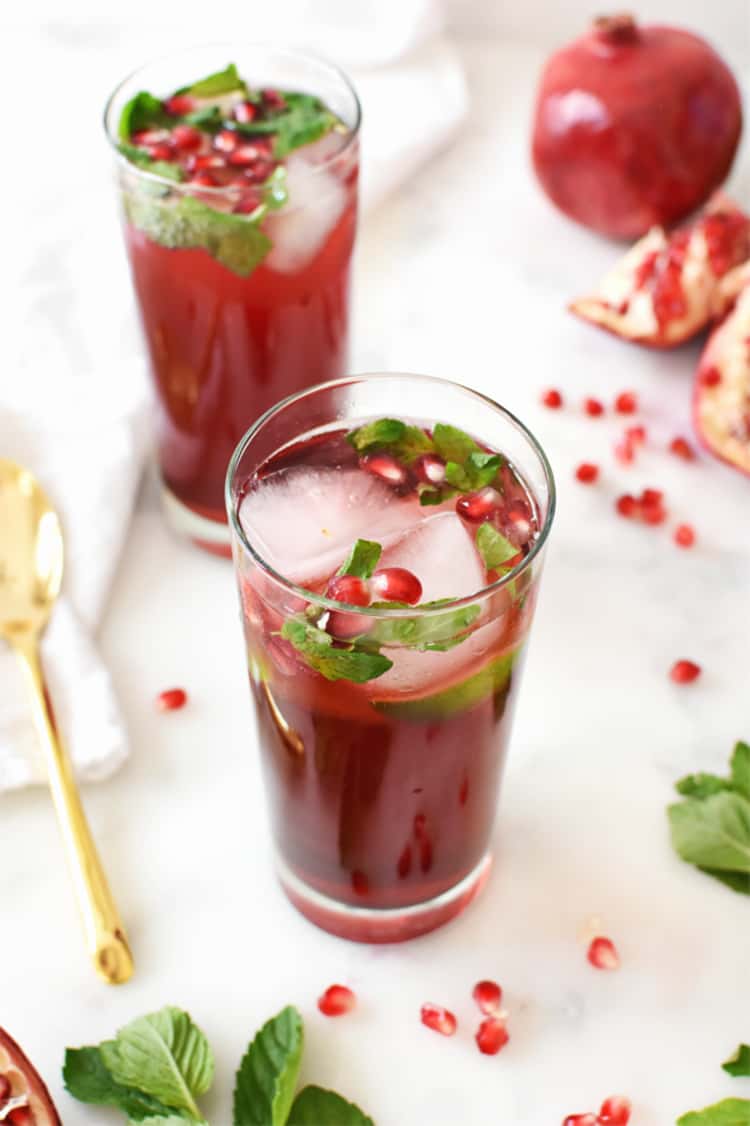 2. Delicious Mocktail Recipes You've Gotta Try – Sparkling Wassail Mocktail
To make this wassail mocktail recipe you'll need:
6 cups apple cider
2 cups orange juice (plus the peel of one orange)
3 cups Tropical Pineapple Dasani Sparkling
4 cinnamon sticks
1 tablespoon whole cloves
Pinch of ginger & nutmeg
Apples, oranges, and cranberries to garnish the mocktails.
Steps:
Combine the apple cider, orange juice, the peel of one orange, cinnamon sticks, whole cloves, and spices in a large saucepan and bring them to boil.
Allow this mixture to simmer for about 25-30 minutes with occasional stirring. Set aside and let it cool and then remove the cinnamon sticks, cloves, and orange peel.
Once cooled down to room temperature, pour into a pitcher and refrigerate.
When it's time to serve, you'll add the Dasani Sparkling Water and then garnish with slices of apples, oranges, cranberries, and a sprinkle of cinnamon. You may also serve this delicious mocktail on the rocks.
3. Got Bubbly Mocktail Recipes? Try This Sparkling Cranberry Lime Mocktail
Is there anything that spells celebration and fun more than bubbles do? I've not come across it yet. Full of bubbles with a yummy combo of cranberry and lime, this Sparkling Cranberry and Lime Mocktail will be a hit at your holiday parties.
This mocktail recipe starts off by making cranberry, a simple syrup one will do. Once that is done, fill up a highball glass with frozen cranberries and ice. Next, add in 2 tablespoons of the cranberry syrup you'd made earlier and top up with Sparkling Lime water (soda water will work fine, but lime works best). To complete the celebration look and feel, garnish your mocktail mixed drink with a slice of lemon or sugared cranberries, and enjoy!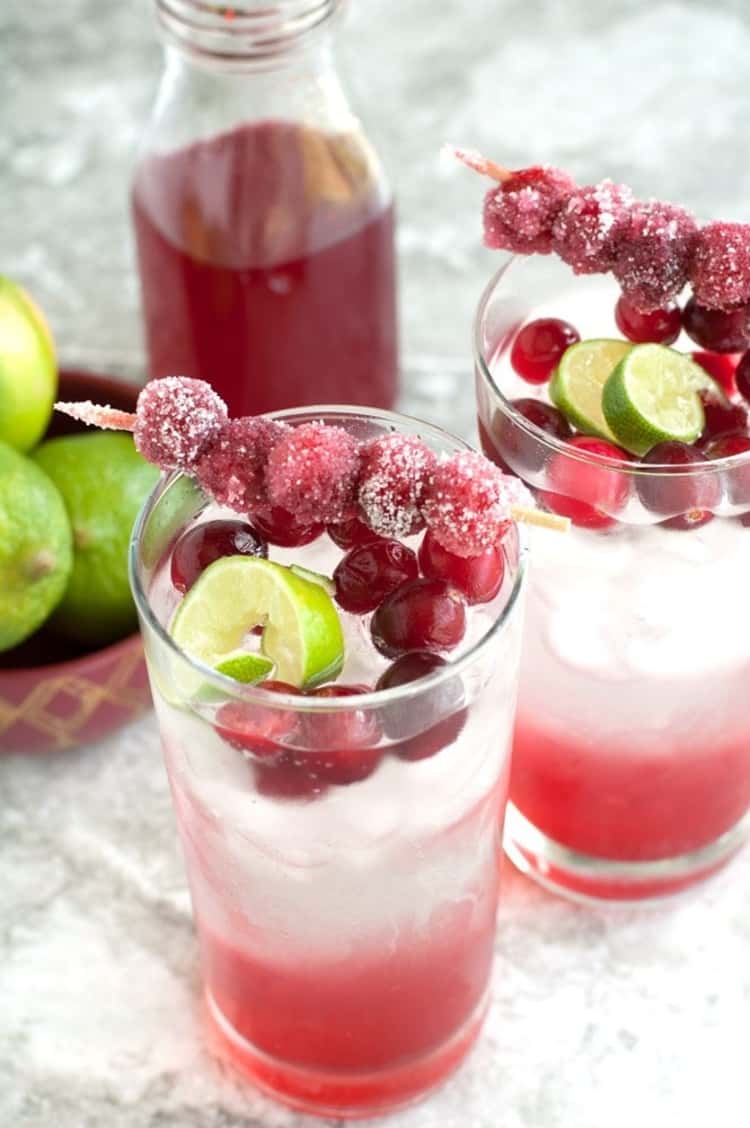 4. Slushy Summer Mocktail Recipes? How About Adding Some Mint Floats
Instead of your usual party punch or alcoholic cocktails, try these refreshing Mint Floats. Although mint is perfect for Christmas, it's great any time of year. This mocktail is simply what you need during summertime to beat the heat. Look at that cream on tip of the glass rim!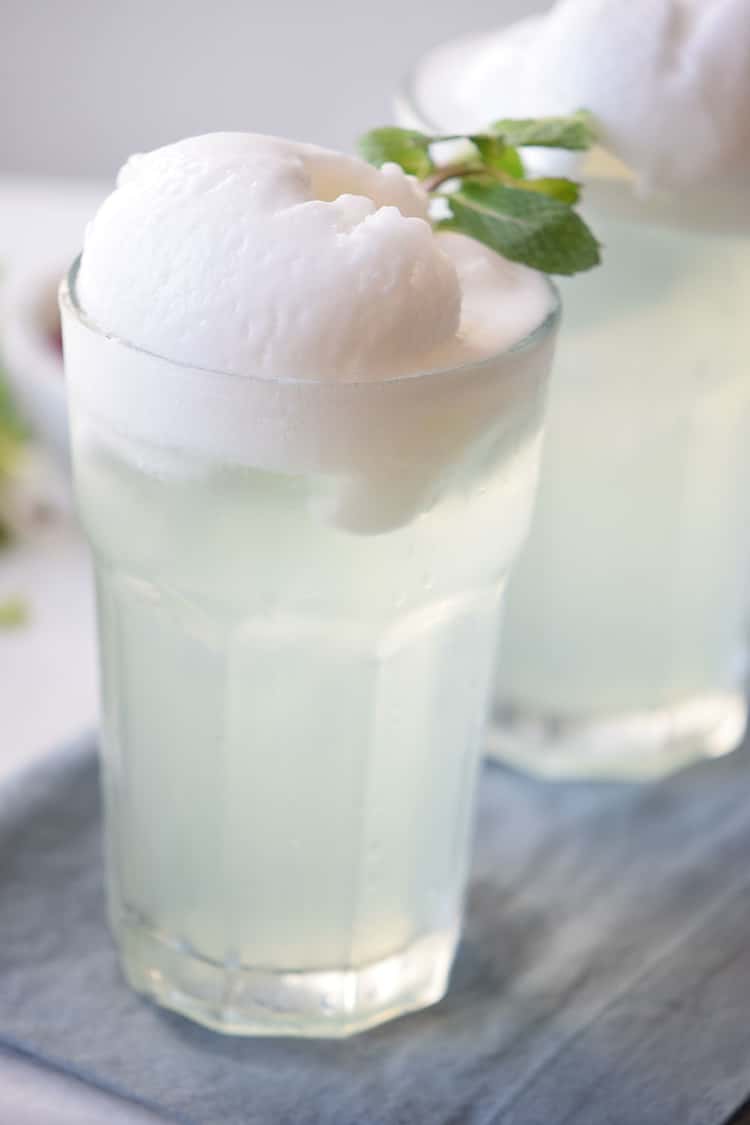 5. Don't Forget To Include Some Lemon Mocktail Recipes
If you're a fan of Arnold Palmers, you'll enjoy this Lemon Spezi, too. If you want, call this lemon mocktail recipe a carbonated Arnold Palmers – It's coke mixed with lemonade over some ice, and even though it may sound a little strange, it's pretty tasty (and fizzy)!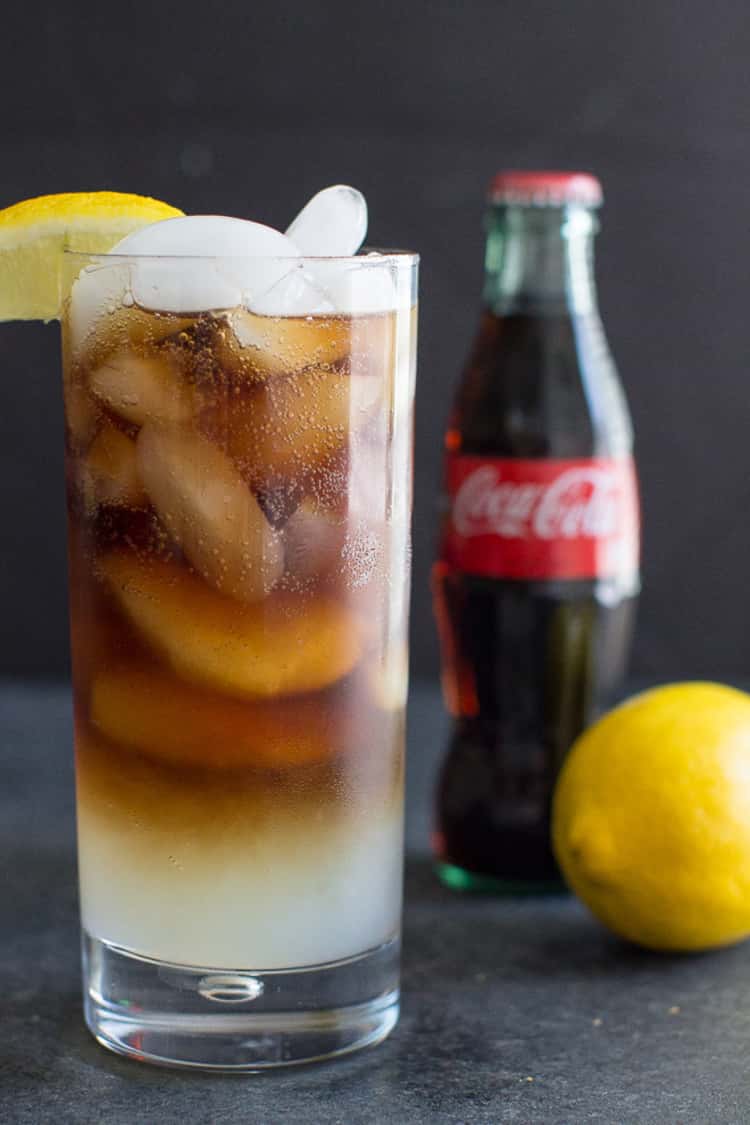 6. No Mojitos? Mocktail Recipes Can Also Be So Much Fun!
Instead of mojitos or virgin piña coladas, try these Pineapple No-Jitos. Even while you skip out on the rum, fresh pineapple, mint, lime, and sparkling water are such a delectable combination!
You may want to replace the sparkling water with Perrier lime, just to enhance that lime in your mocktail. Finally, garnish with some lime wedges and mint. Yum!
7. Seriously, Just Ditch The Vodka For A Seriously Refreshing Mocktail Recipe
Rosemary and lemon always pair well together, but when you add raspberries? Perfection! Add a little sparkling water to the mix, and you have yourself a lovely Raspberry Rosemary Spritzer. Garnish your mocktail with raspberries and a sprig of rosemary.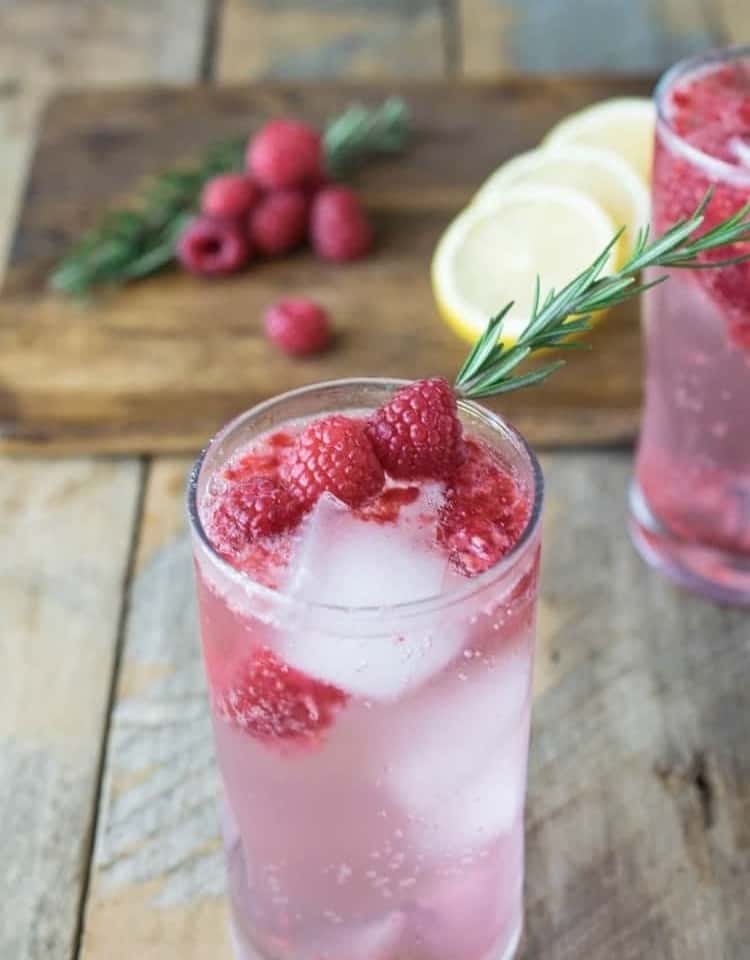 8. Be Sure To Include Some Bomb Summer Mocktail Recipes
The kids will go crazy for this Sparkling Cherry Limeade, and so will you! It's as tasty as it is pretty and yet so simple to make, using only 4 ingredients – cherries, limes, water, and sugar! That's all you need to keep everyone refreshed during summertime.
9. Save This For When You Want Refreshing Mocktail Recipes
For an interesting drink with a sharp bite, try Ginger Beer Mojitos.
Ginger beer is classified as non-alcoholic due to its extremely low alcohol content, but if you want to go completely non-alcoholic for this recipe, substitute ginger ale in place of ginger beer.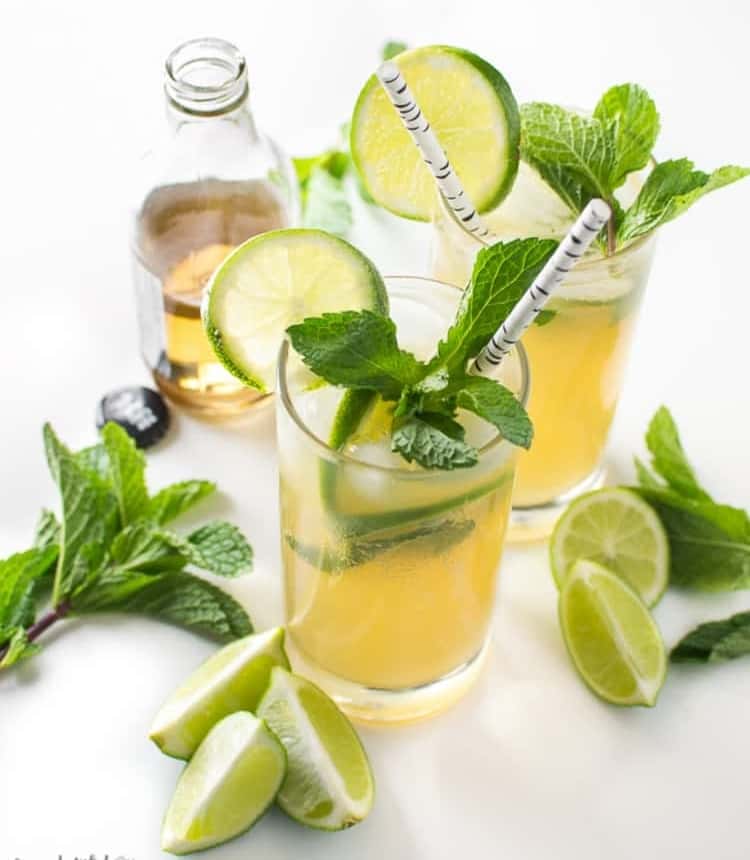 10. What About Fruity Mocktail Recipes?
And for another ginger beer option, try this Vanilla Lime Fizzy. It doesn't get any easier than whipping up this fruity Lime and ginger beer mocktail.
While this version is made with blueberries and strawberries, you can always use the fruits that are in season, such as peaches and cucumber. All you need is to throw in everything together, chill it in the fridge, and simply start serving when your guests start arriving.
It's so pretty and we just love how simple it is to make this mocktail!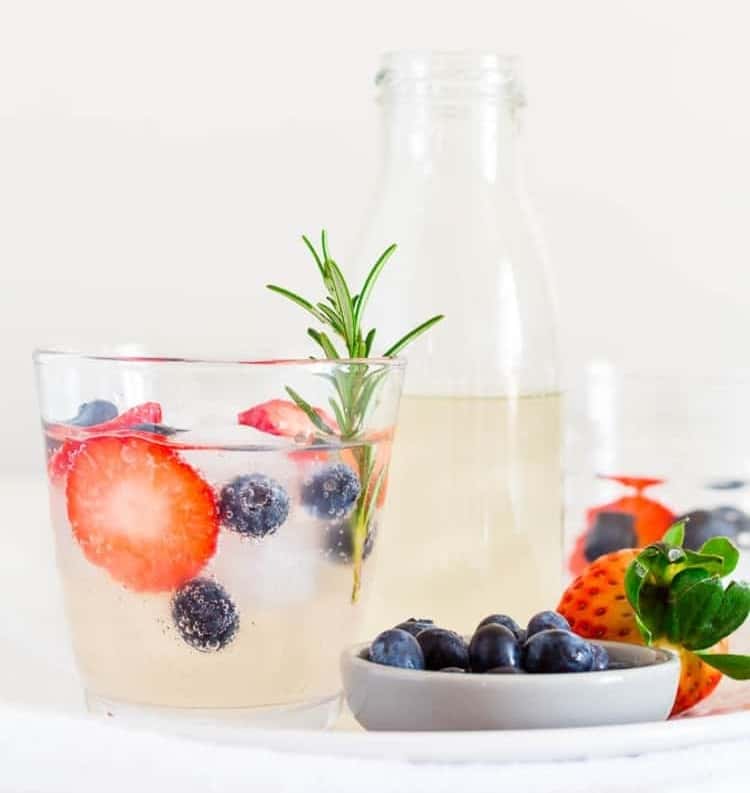 11. Ever Needed To Pull A Suprise In Mocktail Recipes? Well, Now You Can
A Cranberry, Raspberry, and Orange Sparkling Cooler makes for a nice New Year's Eve drink, don't you think?
And it won't be what everyone's expecting because you'll be throwing in the surprise element by using Ricola Swiss herbal sweets!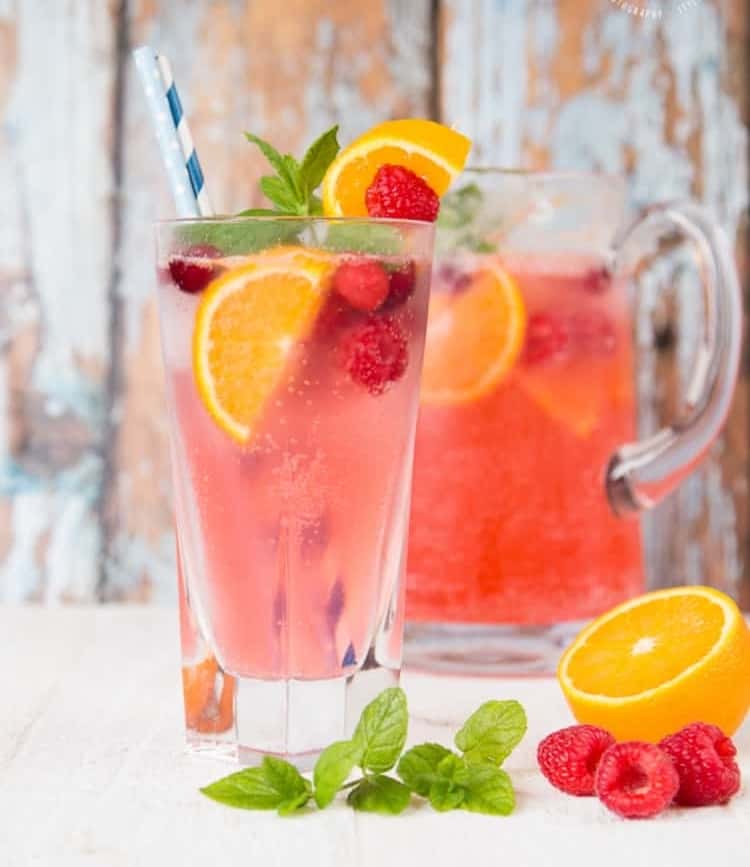 12.  Summertime's More Fun With Fresh & Bubbly Mocktail Recipes
How about a Plum Spritzer Mocktail? Just start off this mocktail with some fresh plums, add in some bubbly, put some zing with lemon slices, and that's it!
Perfect for poolside or snuggling under a blanket in front of the fireplace.
Here's another way to make it!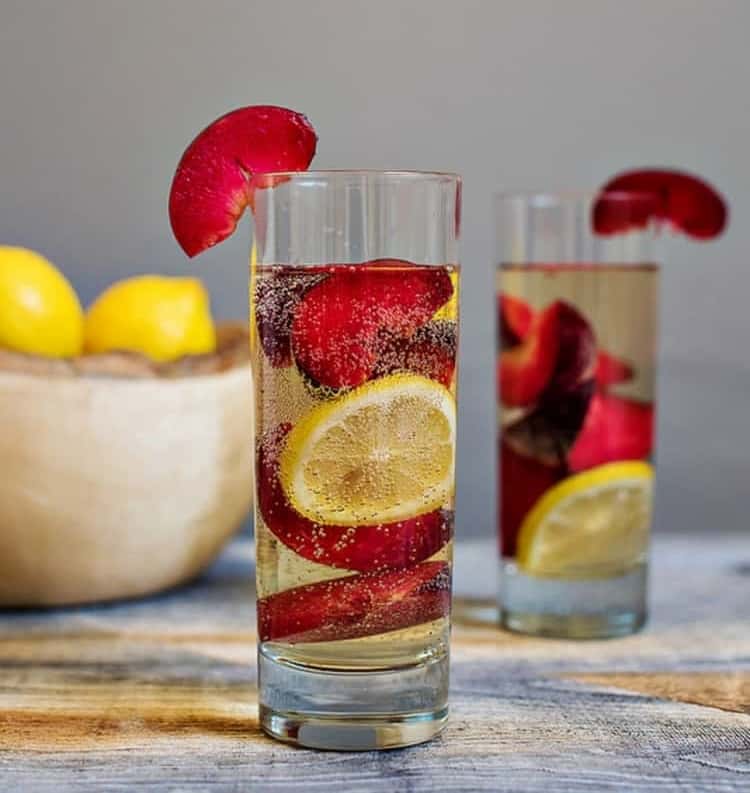 13. Hey You, Want More Crowd-Pleaser Mocktail Recipes?
Then you gotta have this mocktail recipe. Vanilla Lime Fizzy is just THE drink to serve and please a crowd.
Sparkling water, lime juice, and vanilla syrup are all it takes to get the crowd going gaga, and believe us, they just won't be able to get enough of this mocktail!
14. Who Knew Soda Pop Could Make Sophisticated Mocktail Recipes?
A sophisticated soda pop? Yep, we found one. Make this Raspberry Burnet Soda Pop to wow your friends.
All you've gotta have to pull this one are some fresh raspberries, burnet, fresh lime juice, sparkling water, and some lemon-lime soda – that's how easy it is to make a classy mocktail!
PS: burnet is a cool-looking herb similar in taste to cucumbers.
15. You've Gotta Agree, Tropical Mocktail Recipes Are A Must-Have!
I don't know about you, but I could drink Pina Colada Spritzers all year long. This is the ULTIMATE summer drink and I think I'll be needing one for each hand!
Coconut milk, pineapple juice, ice, and sparkling grape juice are all you need to have for this mocktail recipe. And you won't believe how simple it is to whip up – it's basically coconut milk and pineapple juice on the rocks and topped off with the sparkling grape juice. A quick mix gets it ready for you to enjoy.
16. When You Gotta Have Some Sweet and Sour Mocktail Recipes
For a wonderful sweet and sour combination, try this delicious-looking Blackberry Vanilla Mocktail. Simply muddle some blackberries, lemon juice, vanilla, and honey in a shaker. This mocktail even has a little fizz thanks to the ginger ale.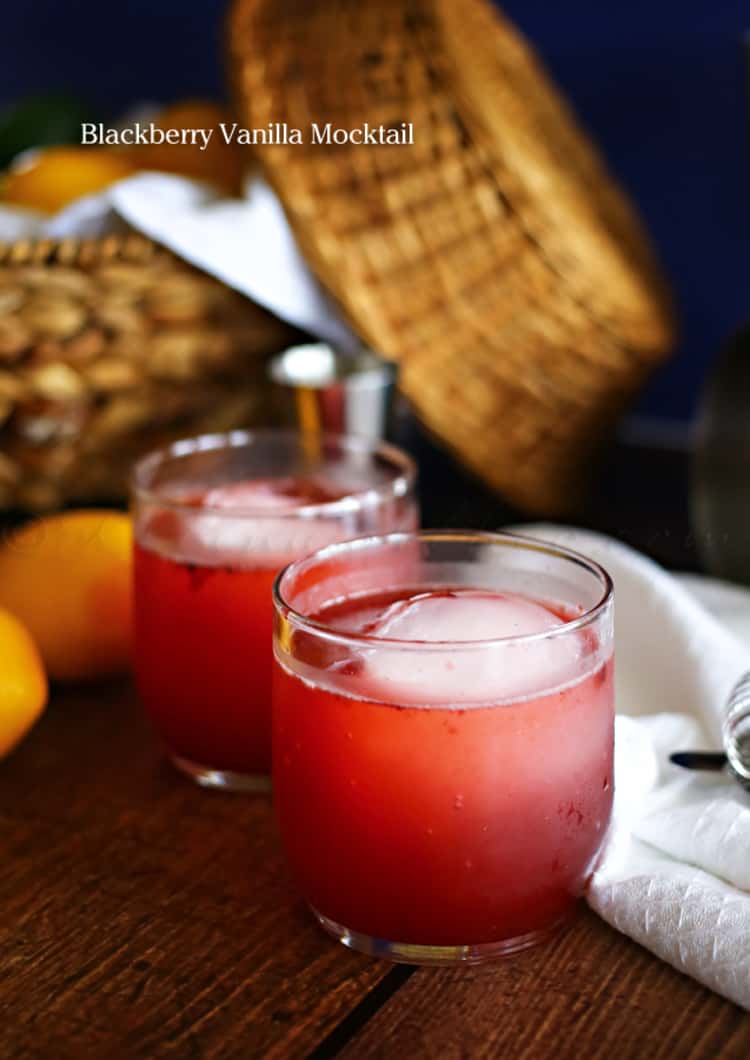 17. The Most Sparkling Ginger Pear Mocktail Recipes
This Sparkling Ginger Pear Mocktail is incredibly refreshing, and if you're making it just for adults, it's easy to swap out the ginger ale for your favorite vodka or white wine.
18. Pretty In Pink Mocktail Recipe
How perfect would this Pink Mocktail be for a bridal or baby shower? Just look at the gorgeous color! The pink lemonade and cranberry juice cocktail make for such a yummy pairing. Whatever the occasion, this mocktail recipe is bound to be a hit with your guests!
19. Mocktail Recipes Everyone Will Love – Gotta Have A Fruity Cinderella
With a total prep time of only 3 minutes, the refreshing Cinderalla mocktail is one that you gotta have in your arsenal of mocktail recipes. We can bet you this tropical mocktail recipe is going to be everyone's favorite, young or old!
For this mocktail, you'll need: 
2

 

tablespoons

each of freshly squeezed

lemon and orange juice

2

 

tablespoons

 

pineapple juice

1/2

 

tablespoon

 

grenadine

1/4

 

cup

 

ginger ale

, or club soda

Pineapple

 and orange 

slices

, for garnish
Combine the 3 juices and grenadine into a cocktail shaker full of ice and shake well.
Strain into a chilled glass filled with fresh ice.
Top with ginger ale.
Garnish using slices of pineapple and/or orange.
Your mocktail is ready to serve and enjoy.

What is a mocktail?
Just in case you're wondering what a mocktail is, it's a drink that doesn't contain any alcohol. And while they might have names like they do or even suggest that by the way they look, they're kid-friendly and okay for all to drink.
Can you make a mocktail with alcohol?
You can, but then that transitions it into a cocktail, which is a whole other drink in itself.
Although, it's pretty simple to transition a mocktail recipe into a cocktail one by simply adding in your favorite alcoholic beverage.
Out of all the ones listed above, which were your favorite mocktail recipes?
Did you enjoy trying out any of these mocktail recipes? Get even more drink ideas here: