Looking for some super simple and delicious mocktail recipes perfect for the holidays? You'll love all the variety and flavors that you find here.
When celebrations are in order, you need a pretty drink to kick off the occasion. Whether it's the upcoming holidays, a promotion or just getting through the day, a delicious cocktail can take the occasion from good to great.
But if you're looking for an alcohol-free alternative (to serve to the kids or simply to avoid the stuff), a sparkling mocktail is a great substitute that still has pizzazz. Here are 19 + mocktail recipes for your inspiration. Enjoy!
If you're looking for hot drinks to warm you up this winter, check out our list of Slow Cooker Drink Recipes. Delish!
Mocktail Recipes for Entertaining
Blend sweet and tart flavors together with this gorgeous red drink for the holidays. This Pomegranate Mojito Mocktail is perfect for Thanksgiving and Christmas.
Video: Fold Your Napkin As A Christmas Tree
Add some more festive cheer by folding your napkins as Christmas Trees! It's so much easier than it sounds!
Ring in fall and winter festivities with a Sparkling Wassail Mocktail. It's fruity, spicy and oh-so delicious.
Full of bubbles with a yummy combo of cranberry and lime, this Sparkling Cranberry and Lime Mocktail will be a hit at your holiday parties.
Instead of your usual party punch, try these refreshing Mint Floats. Although mint is perfect for Christmas, it's great any time of year.
If you're a fan of Arnold Palmers, you'll enjoy this Lemon Spezi, too. It's coke mixed with lemonade, and even though it may sound a little strange, it's pretty tasty (and fizzy)!
Instead of mojitos, try these Pineapple No-Jitos. Fresh pineapple, mint, lime and sparkling water combine in this delectable drink.
Rosemary and lemon always pair well together, but when you add raspberries? Perfection! Add a little sparkling water to the mix, and you have yourself a lovely Raspberry Rosemary Spritzer.
The kids will go crazy for this Sparkling Cherry Limeade, and so will you! It's as tasty as it is pretty, and it only uses four ingredients. So simple!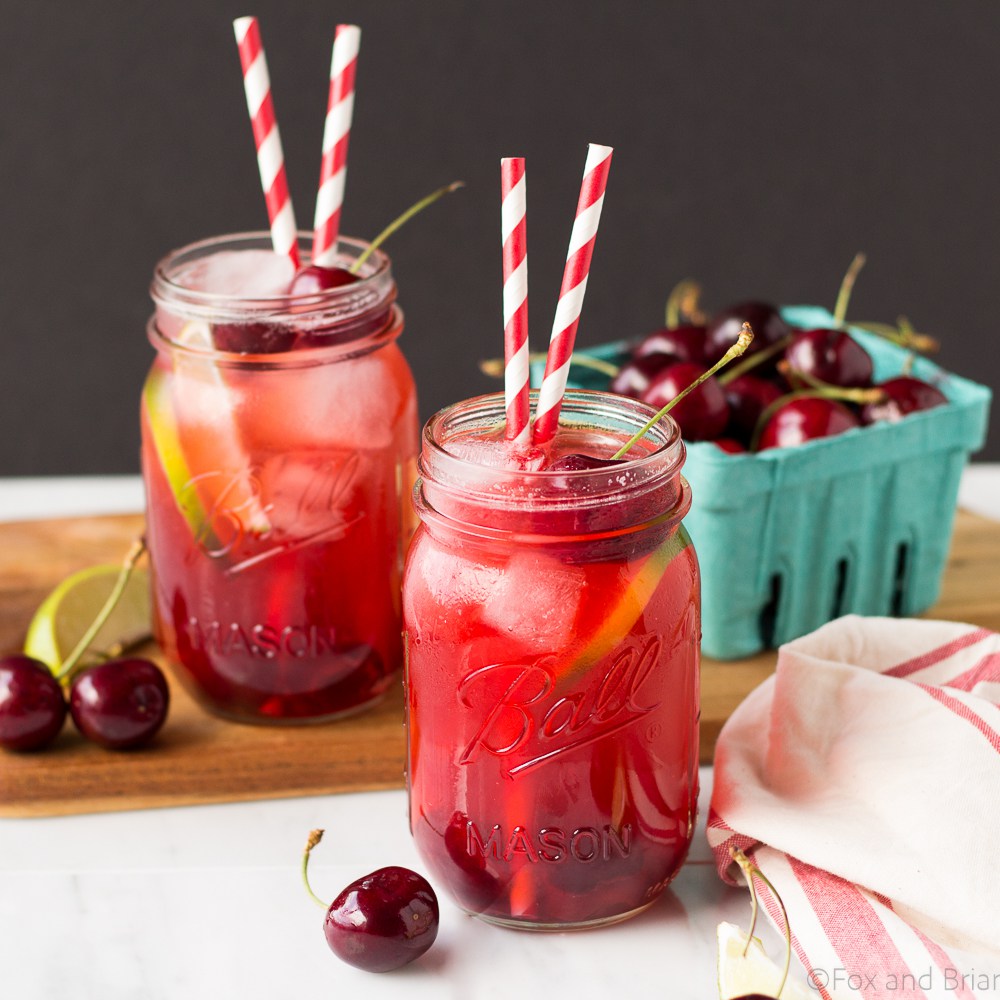 For an interesting drink with a sharp bite, try Ginger Beer Mojitos. Ginger beer is classified as non-alcoholic due to its extremely low alcohol content, but if you want to go completely non-alcoholic for this recipe, substitute ginger ale in place of the ginger beer.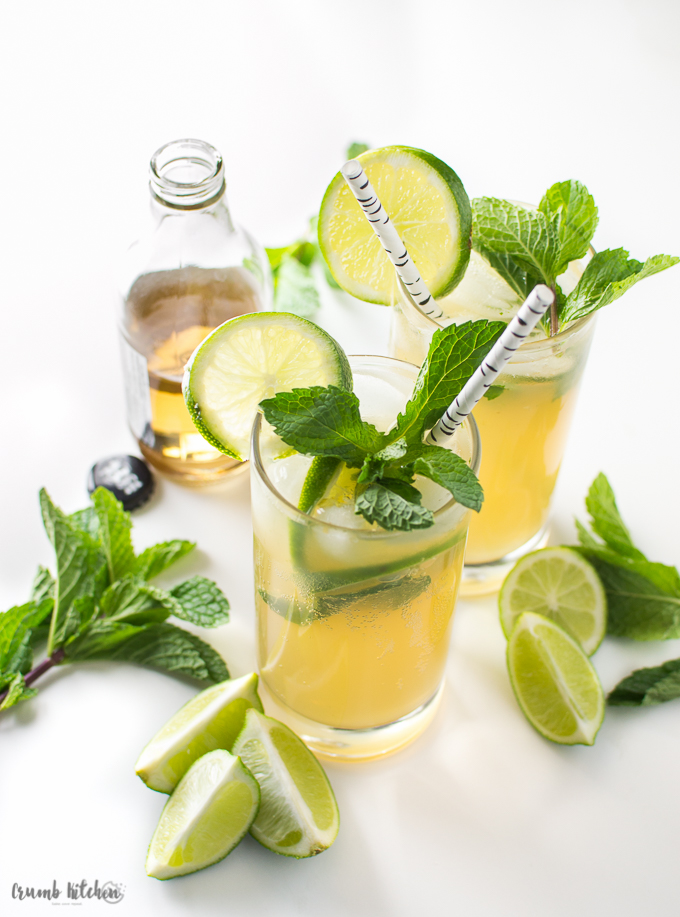 And for another ginger beer option, try this Vanilla Lime Fizzy. So pretty!
A Cranberry, Raspberry and Orange Sparkling Cooler makes for a nice New Year's Eve drink, don't you think?
How about a Plum Spritzer Mocktail? Perfect for poolside or snuggling under a blanket in front of the fireplace.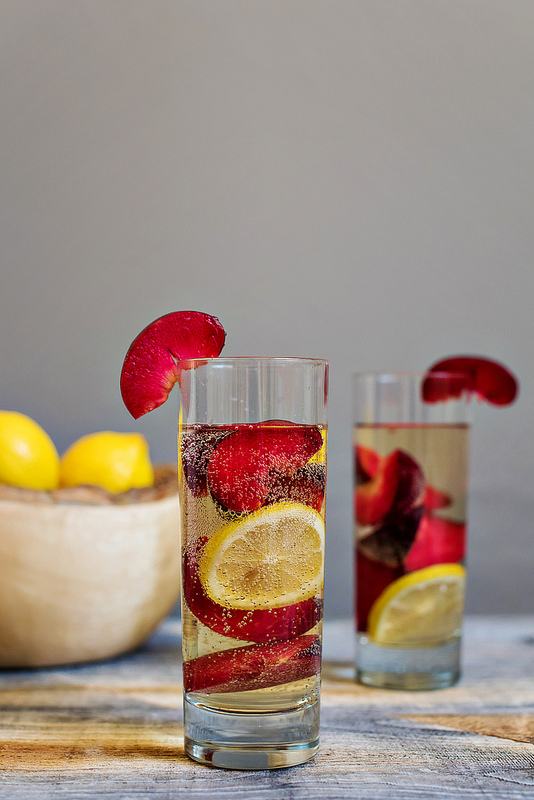 Vanilla Lime Fizzy is another great drink to serve a crowd. They won't be able to get enough!
A sophisticated soda pop? Yep, we found one. Make this Raspberry Burnet Soda Pop to wow your friends.
I don't know about you, but I could drink Pina Colada Spritzers all year long. I need one for each hand!
For a wonderful sweet and sour combination, try this delicious looking Blackberry Vanilla Mocktail. It even has a little fizz thanks to the ginger ale.
This Sparkling Ginger Pear Mocktail is incredibly refreshing, and if you're making it just for adults, it's easy to swap out the ginger ale for your favorite vodka or white wine.
And this Drink Pink Mocktail is perfect for a bridal or baby shower. Just look at the gorgeous color! The pink lemonade and cranberry juice cocktail make for a yummy pairing.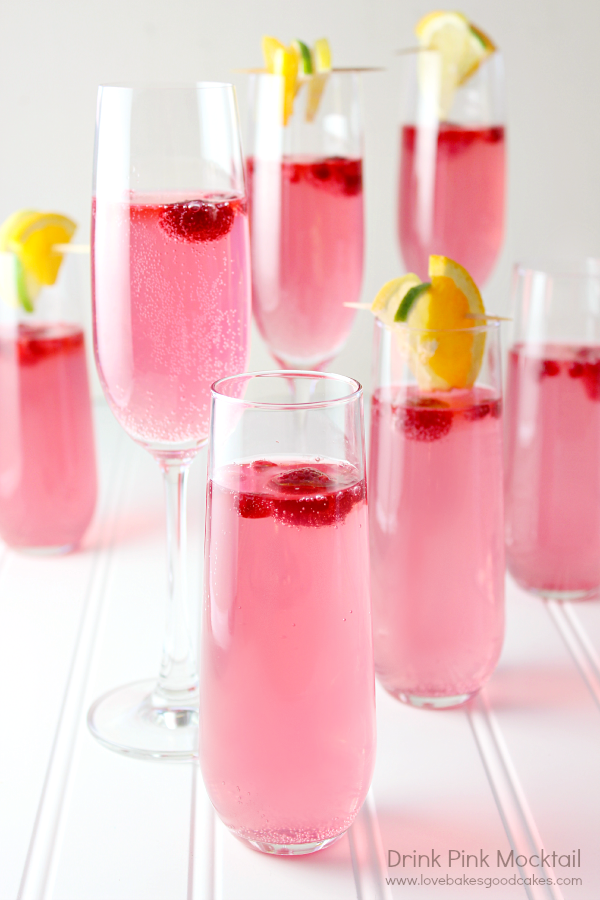 What is a mocktail?
Just in case you're wondering what a mocktail is, it's a drink that doesn't contain any alcohol. And while they might have names like they do or even suggest that by the way they look, they're kid-friendly and okay for all to drink.
Can you make a mocktail with alcohol?
You can, but then that transitions it into a cocktail, which is a whole other drink in itself.
Although, it's pretty simple to transition a mocktail recipe into a cocktail one by simply adding in your favorite alcoholic beverage.
Did you enjoy this list of mocktail recipes? Get even more drink ideas here:
Out of all the ones listed above, do you have a favorite mocktail recipe?