Wondering what to do with water beads?
Water beads are certainly one of the most popular sensory play items. They are so versatile and can create an amazing sensory activity for any child. Do your kids love the sensory experience that water beads have to offer but need a little inspiration in your sensory play? Water beads ideas are on your way!
Look no further! From freezing to adding fragrance and everything in between, you'll find lots of creative water bead activities here.
Best Water Beads Ideas and Sensory Ideas for Kids
These 17 water bead activities you have to make with the kids. Sensory play can help kids gain coordination, spacial awareness and allow them to experience textures and "feels" that can assist in organizing their sensory input. Just don't forget the choking hazard these water beads might have, especially the ones with the size of a marble. Keep an eye to your younger children!
1. Frozen Water Bead Sensory Play
Cool down the playtime on a hot day with this frozen water bead sensory play activity. Such a simple activity to create with only a few items needed. As you get the kids involved in the setup of this activity, they will practice their fine motor skills.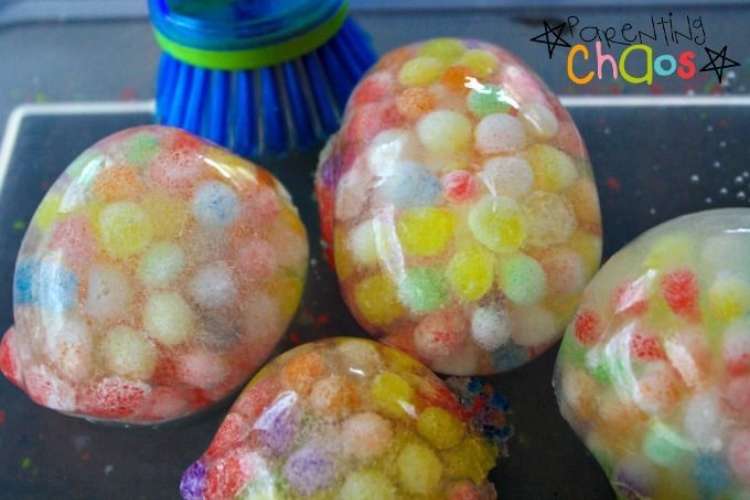 2. Water Bead Color Mixing
Here's one of the most fun play ideas you can do with water beads like marbles. Start with clear water beads in a large container or bowl and add food coloring for a simple color mixing activity preschoolers will love.  A fun family activity that mixes sensory play, learning, and science all in one.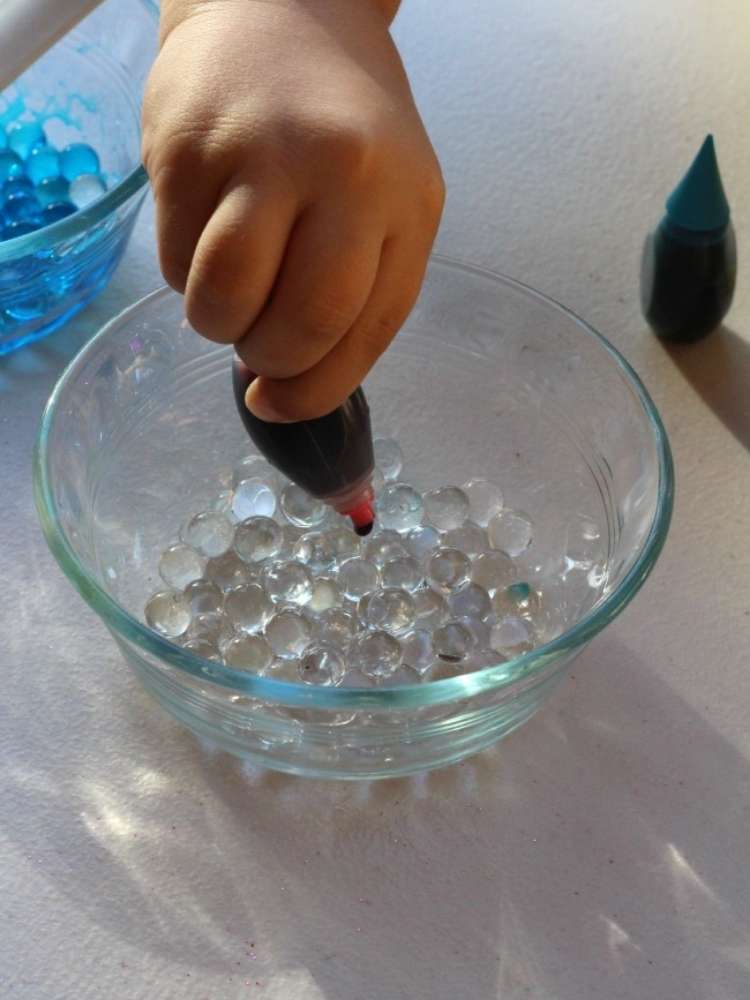 3. Water Bead Seaside Sensory Tub
Sensory tubs (also known as sensory bins) are always a hit with kids.  You've probably seen a lot of sensory bins coming up all over.  It's a great way to contain the mess while having lots of sensory fun!  To make this tub, grab some water beads, add some seashells, and a scuba diver to make a squishy seaside sensory tub.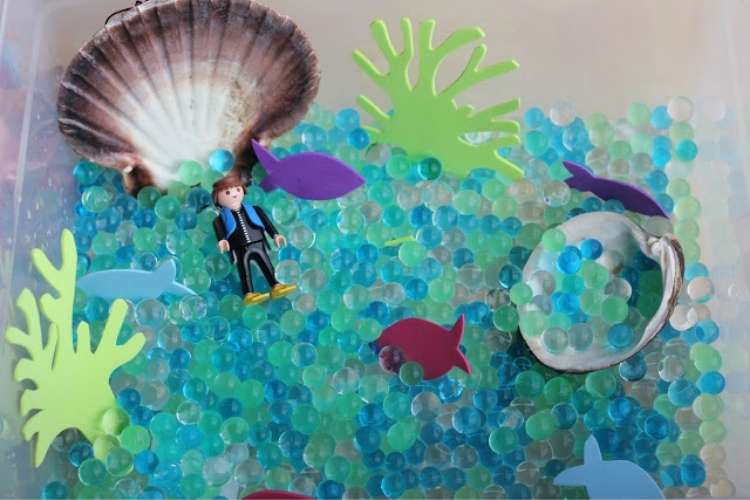 4.Sensory Play with Water Beads and Robo Fish
Toss a robo fish (or any other toy fish) in the bin along with the beads. Can you say hungry, hungry hawkfish?
What's a Robofish?  A Robo fish is basically a robotic fish that comes alive at the touch of water.  You can use it for sensory play in bins, in the bathtub, or in the pool.  They can swim in 5 directions, just like a real fish.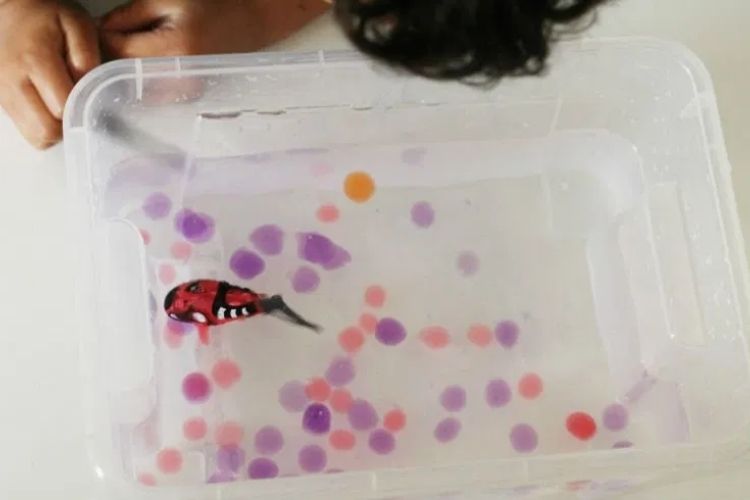 5. Sensory Water Bead DIY Light Box
Let the kids explore water beads on a diy light box.  No need to buy an expensive lightbox.  Simply use a clear tote (the lid has to be clear) and some lights – you have yourself a DIY lightbox.  Your child will be mesmerized by the lighted colored beads!  BONUS – you can use this DIY lightbox for many more activities.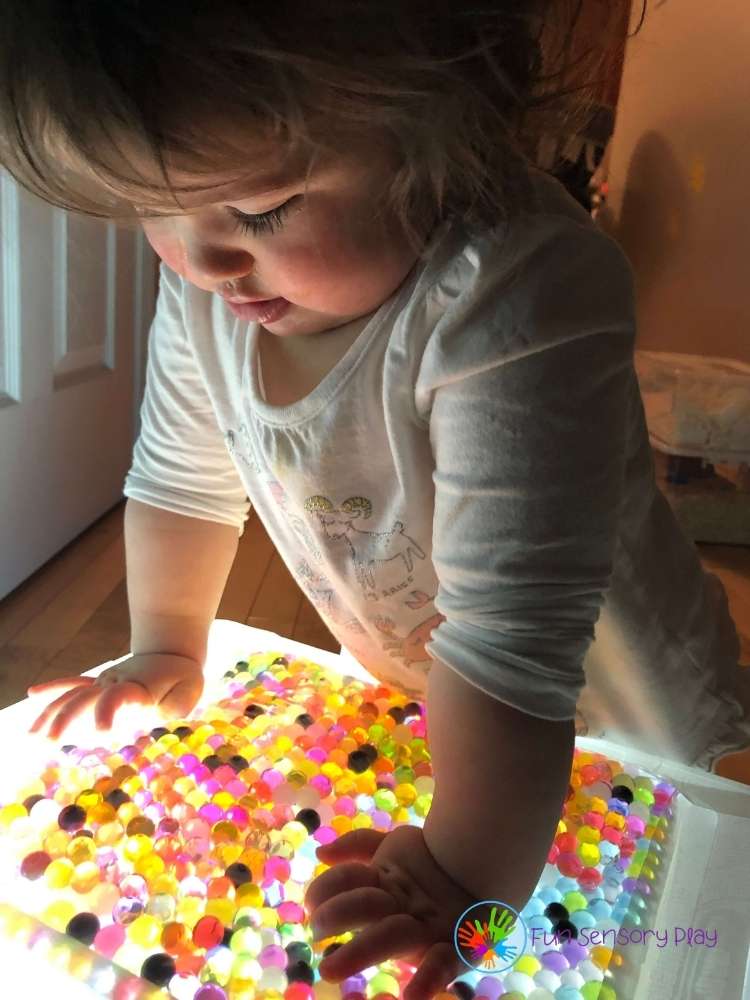 6. Water Beads Projector Light Show
Place water beads on a projector to make fun shapes and colors on the wall.  Once placed on a lighted surface, the water beads all light up like little gems. It is a great activity to build fine motor skills as they pick up the beads one by one to organize them into shapes, letters, numbers, and more.  Add some cookie cutters to help them create some fun designs!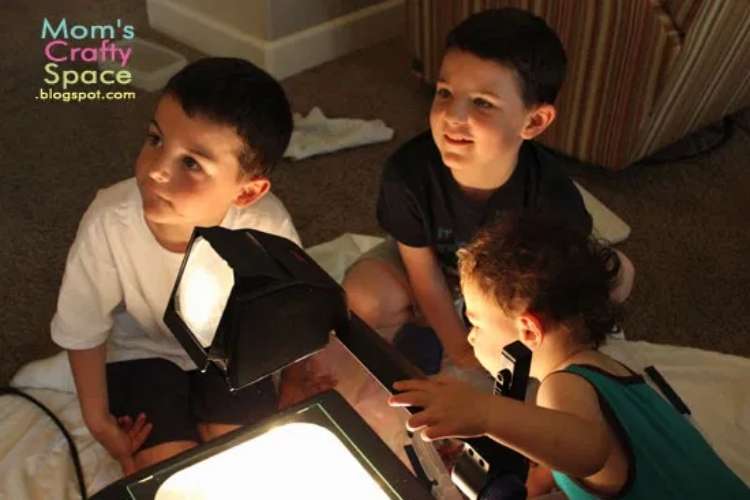 7. Stress Away Water Bead Play
Calm the kids down at night with soothing stress-away water bead activity. All you need is one drop of the Young Living Essential Oil "Stress Away" per cup of water to make this relaxing activity.  This essential oil mixture has a very calming effect due to the relaxing scent of lavender and cedarwood.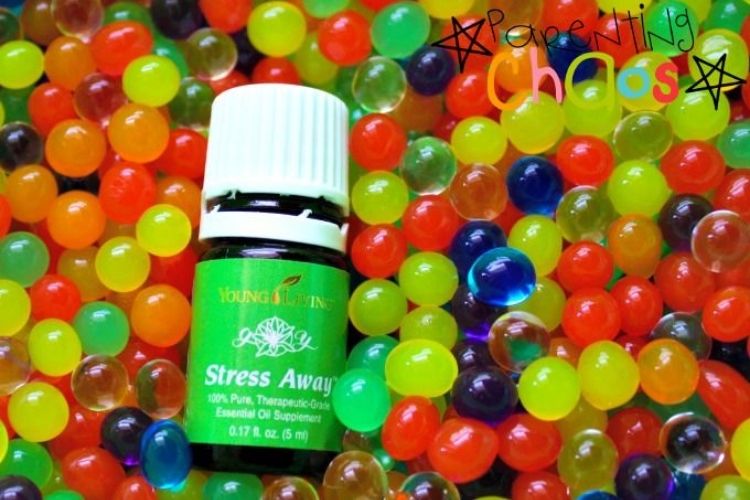 8.Water Bead Sensory Bottles
Sensory bottles are a great way to let babies and toddlers explore water beads safely. I also love that you can recycle any bottles you may have at home.  Want to make this activity even more fun?  Hide little objects like letters, numbers, shapes, animals and make it an iSpy Sensory Bottle!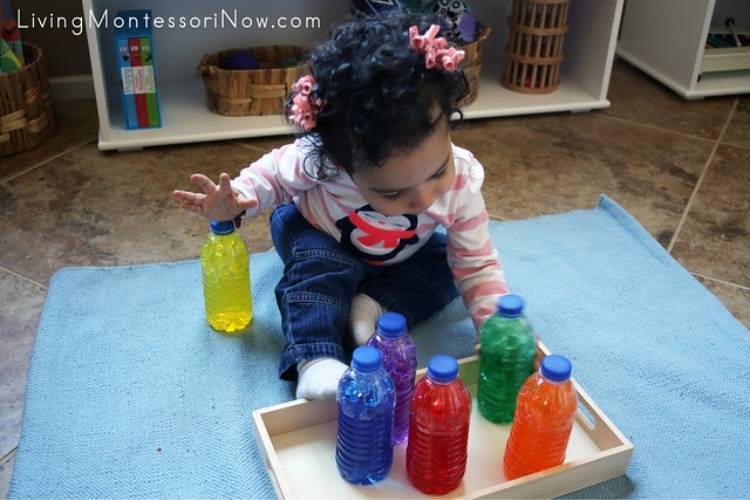 9. Glow Water and Water Beads
Create glow water in seconds!  Use the ink from non-toxic highlighters to make glow in the dark water beads. Once the water is done, simply add your water beads to the water mixture.  You'll get glowing beads in no time.  Be sure to wash the little hands after play.
10. Water Bead Slime
Kids just love the feeling of slime.  But what's better than slime?  Water bead slime!  It's stretchy and squishy fun for the whole family.  This will be a hit with the kids for sure.  Create a different sensory experience by cooling the slime in the refrigerator!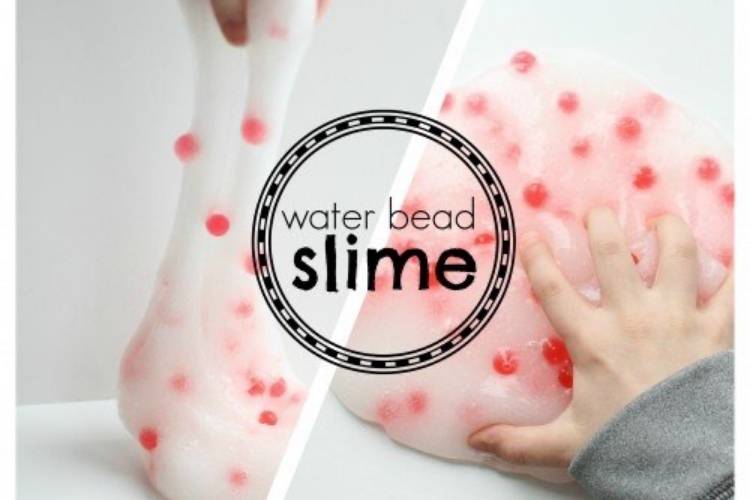 11. Water Bead Sorting
A color sorting activity is fun when you have lots of little hands to occupy.  You can practice fine motor skills by letting them use their fingers or add some little scoops and spoons.  Silicone muffin cups would also be great for this activity.   Transform it into a counting activity by adding specific numbers to each container.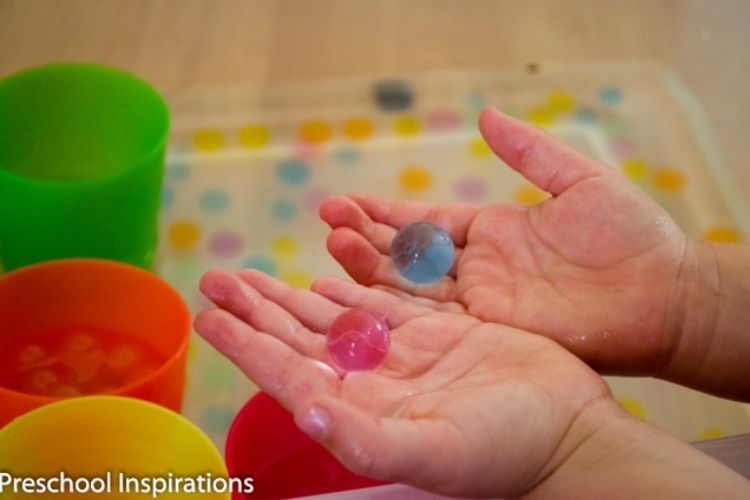 12. Giant Water Bead Play
I bet your child will love this giant water bead play activity!  Water beads are usually a hit with any child, but giant water beads just add more sensory stimulations.  They love to grab them and watch them roll around!  Fill up your bathtub or a blow-up pool for a fun sensory activity.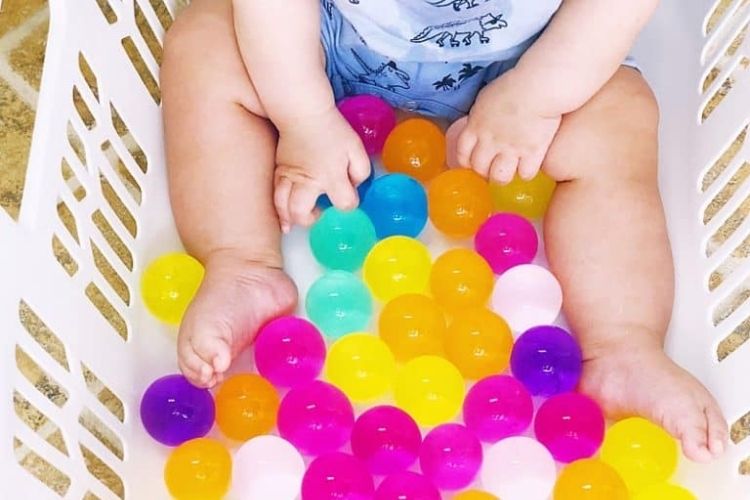 13. Shark Water Bead Sensory Bin
Learning numbers and letters has never been so squishy and satisfying.  This activity combines learning with play, with is the best way for kids to learn.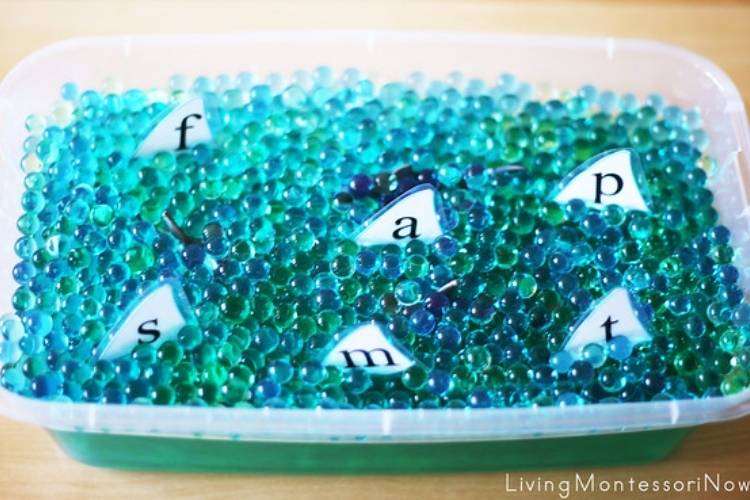 14. Shaving Cream and Water Bead Cupcakes
Your little baker will love making shaving cream and water bead cupcakes. Use edible water beads, such as Tapioca Pearls, and whipped cream for this activity if you think there's a chance of ingestion.  You could always add edible sprinkles too!  And why stop at cupcakes.  Let them build a sheet cake, add some food coloring.  So many options to create a sensory dessert feast!
15. Water Beads Search and Find Sensory Play
Simple activities are often the most fun. Hide some toys among the water beads for a sensory search and find.  Add some little plastic figurines, letters or numbers, or shapes.  Let them dig around with their little fingers or make it harder with some chopsticks!   Want more fun?  Blindfold them and have them guess the objects.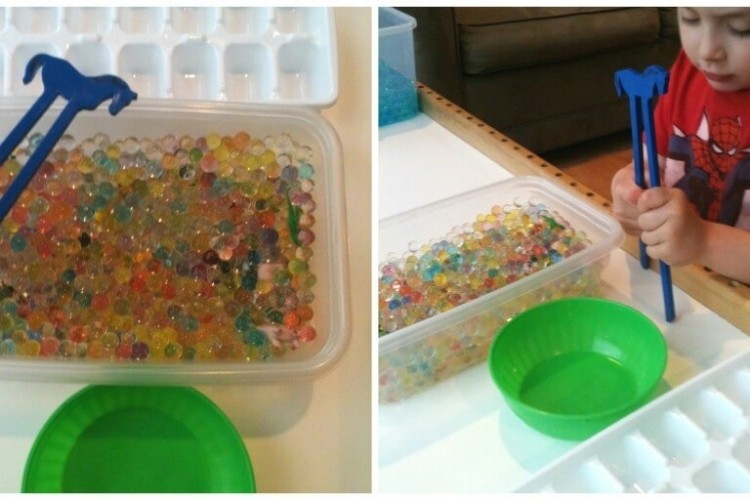 16. Rainbow Sensory Bags
One of the most recent trends includes making activities such as Sensory bags.  If you love them, you will love making a rainbow sensory bag.  An easy activity that is also inexpensive to make and requires very little clean-up.  Sounds like fun?  It sure is!  Your child will love squishing this sensory bag all while learning how to sort colors.  Great activity for fine motor skills and color recognition!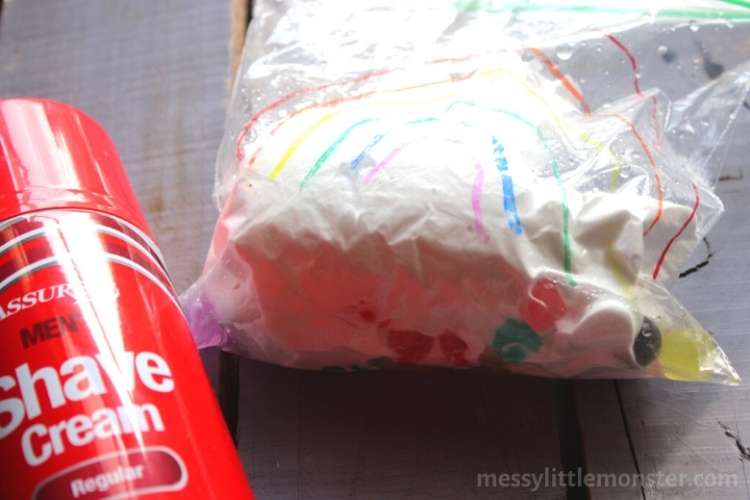 17. Water Beads Sensory Window Bag
Here's a great way to use water beads in a safe way for the little ones.  By creating a water bead sensory window bag, your child will enjoy the touch of water beads without the risk of ingesting them.  When the light hits the water beads, it creates a beautiful mosaic of colorful gems.  A great sensory experience to the touch as well as the sight.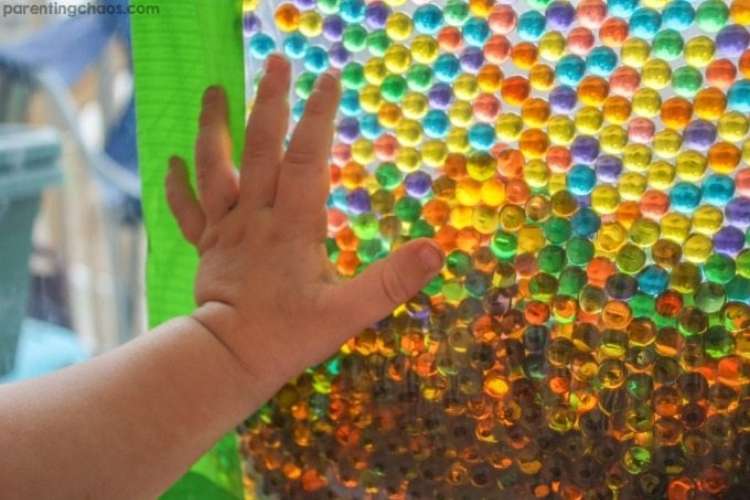 Supplies Needed for Water Bead Activities:
water beads
shaving cream
Ziploc bags
tape
bins
sorting containers
spoons and scoops
bottles
food coloring
balloons
Some common questions about water beads:
What are water beads made of?
Water beads are made of a water-absorbing polymer, the reason why the beads expand up to 200 times their original size at the touch of water.  They are non-toxic but should not be ingested.
How long do water beads last?
Depending on the type of water beads you purchase, most of them can last for a year (once used).  Sealed water beads (dry form or expanded form) can last a very long time.  For safety reasons, always follow the recommended guideline on the packaging of the manufacturer.
Once your water beads are expanded, they will remain in that state as long as they are in contact with water.  If they are removed from the water, they will slowly go back to their dry state.
Are water beads reusable?
Yes, water beads are totally reusable!  I'll admit – I had no idea and I may have thrown out a few batches myself!   Now that I know they are reusable, I let them dry out on a dry cookie sheet.
Once dry, they shrink back to little hard balls.  Simply store them away in a bag or container until you need to use them again.  When ready to use for play, you simply put them back in the water and let them expand.
Can you sanitize water beads?
After a play session, you can soak the beads in a mixture of 2 tablespoons of white vinegar with 1 cup of water.  Mix it well and then rinse under cold water.
You could also rinse them in soapy water, but I prefer the vinegar method myself.
Depending on the water bead activities being done, you may want to consider replacing the beads quite often.
What type of water beads are considered edible?
Yes, there is an alternative to polymer water beads.  The only option available as edible water beads is Tapioca Pearls, commonly used for Bubble Tea.  Here's an example of edible water beads.   You can also purchase clear ones and use the activity mentioned above to color them.  These are great for water bead activities for babies or toddlers who may try to ingest the beads.
How do you get rid of water beads?
You should never toss the water beads down the drain or the toilet.  Since water beads expand in water, they will likely grow and clog your drains & pipes.  Instead, use the water beads as a way to provide moisture to your plants or flower beds!  Or let them dry out and then dispose of them in the trash.
More Kids Activities You May Like:
Which of these water beads ideas is the favorite of your busy toddler?