Looking for glow stick ideas for kids? You just haven't lived until you've worn a neon glow stick (or several) around your wrist or neck. They're fun to wear and wave around, but you'll be amazed at all the things you can do with these luminescent toys.
Glow sticks add so much fun to the celebration, regardless if it's a wedding, easter egg hunt, glow stick pool party, teens dark party idea, or any special occasion. You can make tons of serious fun craft ideas like glow stick hula hoop, glow stick ring toss, glow stick chandelier, to glow stick games, to glow stick lanterns! So, gear up for some really fun ideas you can use for your next glow stick party!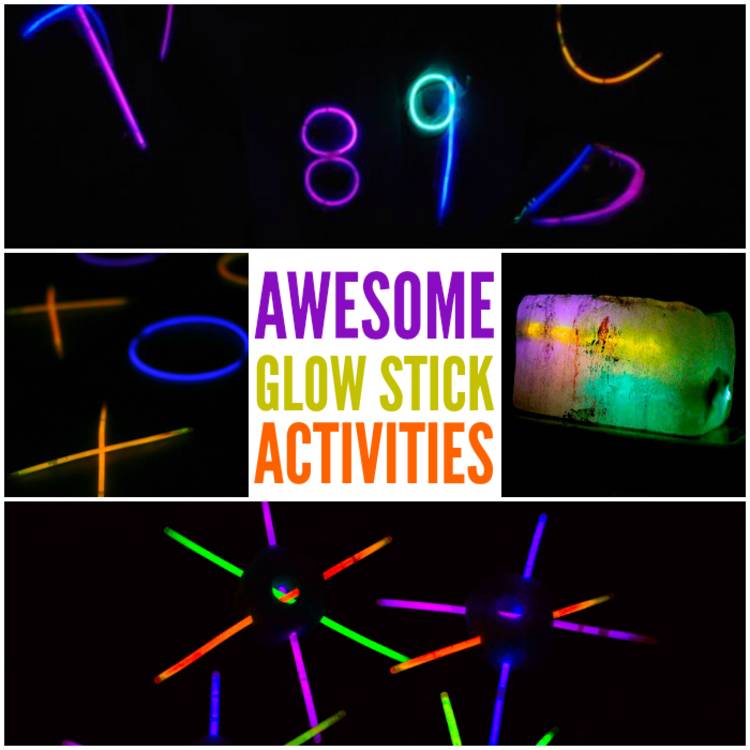 Fun Glow Stick Ideas and Activities for Kids
Glow sticks are plastic tubes that contain two different liquids separated for storage.  When you open a glow stick, you bend it causing the two liquids to combine which causes a glowing reaction.
The term for the reaction is chemiluminescence…glow sticks contain two chemicals; hydrogen peroxide and tert butyl alcohol, these mix with a fluorescent dye to achieve the coloured glowstick effect.
Other names for glow sticks include glowsticks, light sticks, snap lights and party sticks.  It is common to see glowsticks in the form of glow bracelets or glow necklaces.
1. We love glow sticks for the bathtub!
Do you have a kiddo who won't get in the bath? Or maybe you're just looking for fun things and ways to have new kinds of fun at home. This activity is great for any age! Just add glow sticks to balloons for a fun bathtime activity.
2. Take tic-tac-toe to the next level by using glow sticks as your game pieces
Such a great rainy day game. When the sun is hiding behind the clouds, it doesn't have to mean a gloomy day inside. Level up your tic-tac-toe game with tic-tac-glow! All you need is-
about 20 long glow sticks
a hard floor
tape (optional)
Just connect two long glow sticks for O's and cross two of them for X's. You'll need 5 of each. Use tile floor as the grid or use tape to make your own.
3. Have fun with glow stick activities in the pool!
This idea was born while looking for party supplies. LED balloons do exist, but are pretty expensive, so we made our own! You can use the light up balloons, but we've also used the punch balloons for different kinds of fun. Just inflate the balloon first, then insert the glow stick. We found that the long ones are great for this project, but the regular size ones or even a hand full of the minis would be great here, as well!
4. Use glow sticks to make a set of glowing eyes to peer out at you
If you're looking for glow stick activities for a great prank any day of the week or easy spooky decoration for Halloween, just grab some glow sticks, a toilet paper tube, and some scissors! Hide them under your kid's bed or stick a bunch in the bushes outside your front door. Easy and fun!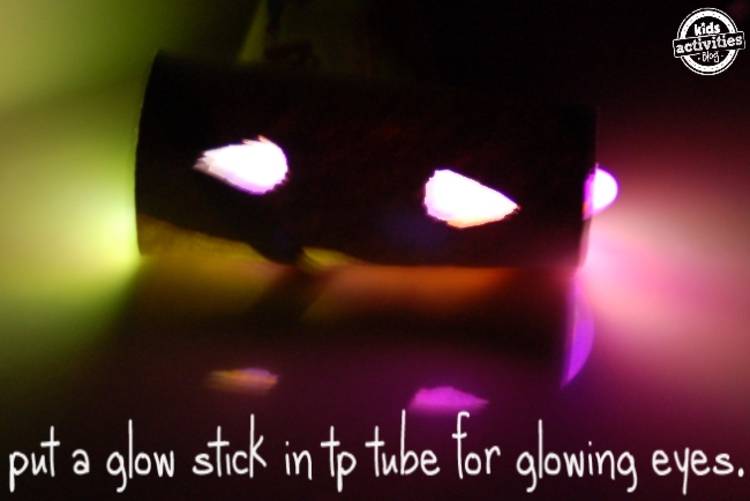 5. Make your own glow sticks for a fun and educational science experiment
Kids ages 5 and up will love this project– make your own glow sticks for a great educational activity! All you need is zinc sulfide powder, vegetable oil, and water. I'm sure you can gather these ingredients yourself if you know where to find the zinc sulfide powder, but make life easier and just buy a kit online. So much fun for your little ones who love hands-on activities!
6. Toss the glow stick balloons in the pool for a magical nighttime swim.
What a great idea to make an evening swim fun, or to jazz up your pool for a party!

Glow Stick Activities for the Whole Family
7. Spark your kids' imagination with fairy jars
They only last about 8 hours, but they make great night lights, calm down jars, or nighttime party decor. For this project, you'll need-
Mason jars
Glitter
Glowsticks
A knife or scissors
Pick one color glowstick per jar. Crack the glowstick to activate it, then have an adult cut it open since glowsticks contain glass. Dump the glowstick contents, then the glitter, into the jar. Screw on the lid and shake it up! So fun.
8. Make glow in the dark drum sticks or jingle bell bracelets
A great activity for toddlers would be to create glow-in-the-dark musical instruments. This is a way to expose them to so many concepts, like dark and light, or rhythm in music. Try stringing some pipe cleaners with jingle bells and wrapping them around a glow stick bracelet, or twirling a glow stick around a drumstick. Turn off the lights for some magical music time!
9. Slime is fun!
Make it glow in the dark, like the fun kids' activity below. This dark slime idea will be enjoyed by the older kids as well.
10. Make glow stick lightning bugs that are just adorable
Play with them or use them as a night light! The basic way to do this is-
Clean a 20oz soda bottle and let it dry out thoroughly. Remove the label.
Wrap pipe cleaners around the body of the bottle for feet.
Twist another pipe cleaner around the cap to create antennae.
Use construction paper to create a body and wings for the bug.
Slip a glow stick inside the bottle and you have a glow stick lightning bug!
11. Glow stick activities for learning letters and numbers
Is your kiddo tired of tracing and puzzles to learn their ABCs? Make them out of glow sticks for a tactile activity that they won't forget. Preschoolers learn with their whole bodies, so this one makes a lot of sense. Have them help you create the images, and then place each letter and number on the floor. Encourage them to reach and touch each part.
12. Bowl in the dark
Add glow sticks to empty water bottles to make the pins. Grab a bouncy ball and you have a fun twist on a classic game that kids and adults both will love!
Glow Stick Activities Your Kids Will Love
13. Power tools and glow sticks?
How can you combine power tools and glow sticks? With this glow stick ice painting activity, of course! Insert glow sticks inside an ice block, and let the kids paint the surface. What a cool way to decorate your driveway or sidewalk!
14. Add glow sticks to a water bead sensory bin for colorful sensory play
Water beads are already an afternoon of fun- amp up this great sensory activity with glow sticks. Place your water beads and water in a wide container, then add the glow sticks underneath We've used the clear water beads for a lesson in light refraction, but you can also find assorted colors or combinations at your local superstore or craft store. Try different color combinations for different sensory experiences!
15. Use glow sticks to create a glow-in-the-dark ring toss game
This would be a super fun idea for a sleepover, too! You could have a whole glow stick-themed party. This game will get your creative juices flowing-
wait till it gets dark outside
stick a bunch of the fat glow sticks into the grass so they are sticking out of the ground
connect the ends of the bracelet glow sticks so they make circles
have a great game of glow-in-the-dark ring toss!
16. Have a few hundred magnetic tiles laying around?
Bring new life to them by using glow sticks in your construction projects. Such a great way to add a new dimension to a toy that your kids probably play with all the time.
17. Combine shaving cream and glow sticks for a squishy sensory bag
Grab a few gallon-size freezer bags, some shaving cream, and a few glow sticks. Sensory bags are a wonderful experience for children ages birth to 2 years old- it's a great way to explore interesting materials in a way that is safe and not messy! Trying this fun twist will pique your baby's interest.
18. Make a sensory bottle with mini glow sticks
Like sensory bags, these bottles provide hours of fun for young children. Besides also being a great visual experience, they make great wind-down bottles for before bed because of the way the dish soap suspends the mini glow sticks and slows down their movement. You'll need-
water bottle (the Voss bottles work great)
mini glow sticks
3 parts clear dish soap
1 part water
The trick is to fill the bottle incorrect order- add the dish soap so the bottle is three-quarters of the way full before topping it off with water and dropping in a handful of the glow sticks. Then add the lid and just shake a little!
19. Make glowing ninja stars that double as flowers
Ninja stars or flowers, whichever your child prefers, all you need are pool noodles, long glow sticks, a serrated knife to cut the noodles, and duct tape, if your child tends to be rough on toys. Cut the noodle into medallions and let your child help you shove the glow sticks into the noodle piece so they create a fun ninja star that is harmless to wave around in the air or throw in the water.
20. Try glow-in-the-dark paint with glow stick handles
Try this new way to paint! Here's how you make it-
in ice cube trays, combine 1/2 water with 1/2 neon paint and stir to combine
Place foil over the top of the trays and punch glow sticks straight through so that the foil holds up the glow sticks while the paint mixture can freeze
When everything is frozen, turn off the lights, turn on a black light, and provide your little painter with dark-colored construction paper.
The ice takes about 6 hours to freeze. Your child will have loads of fun painting with the ice cubes, and the glow stick handles will be fun for their little hands to hold!
21. Make a glowing floor piano
Make a piano by grabbing a white sheet or shower curtain and folding it in half lengthwise. Cut sheets of black felt in half to create black keys and glue them on. Leave the ends of the sheet open to slip in glow sticks- one per "key."  There are many ideas that come to mind with this project. You could have piano students jump on different colors and call out the name of the correlating key. You could just use it as a fun way to teach colors to a younger child. Switching things up and using feet to jump instead of hands to point can be a great way to get kids more interested in learning concepts!
22. Create a glow stick firefly to go along with reading Eric Carle's "The Very Lonely Firefly"
What a fun way to end a themed lesson on this Eric Carle book! Simply use long glow sticks to create the shape of a firefly's body and wings and use clear tape to hold them in place on construction paper.
23. Be a glow stick figure for Halloween!
This costume is perfect for a dark fall night– you could even have the costume-wearer hold fat glow sticks for more safety! To pull this off, you need-
Black long-sleeve hoodie, pants, and shoes
Clear tape
Long glow sticks
You need a hoodie so you can create the stick figurehead and tape it to the edge of the hoodie. You could also outline a Trick-or-Treat bag with more glow sticks to complete the image. It looks so great in the dark!
If you enjoyed these activities, check out more creative fun to have with the kids!
Which of these fun glow stick ideas and activities is your kid's favorite?