Tired of seeing clutter and mess everywhere-living room, dining room, etc.? These helpful clever storage ideas will give you fantastic ideas for getting rid of excess and utilizing hidden storage for extra space. Keep reading to learn how to say goodbye to clutter for good!
Clutter is a part of life. We have stuff and that stuff often has accessories (think: printer and printer paper and cartridges or smartphones and charging cords). However, before you know it, you can start to feel like clutter is taking over your entire life – and your home. If that's the case, perhaps a lack of storage is your problem.
Unfortunately, you can't always take the "throw it out" approach to your belongings, but you certainly can stash your stuff out of the way. In short: when you can't just throw it (or give it) away, then it's time to find storage solutions.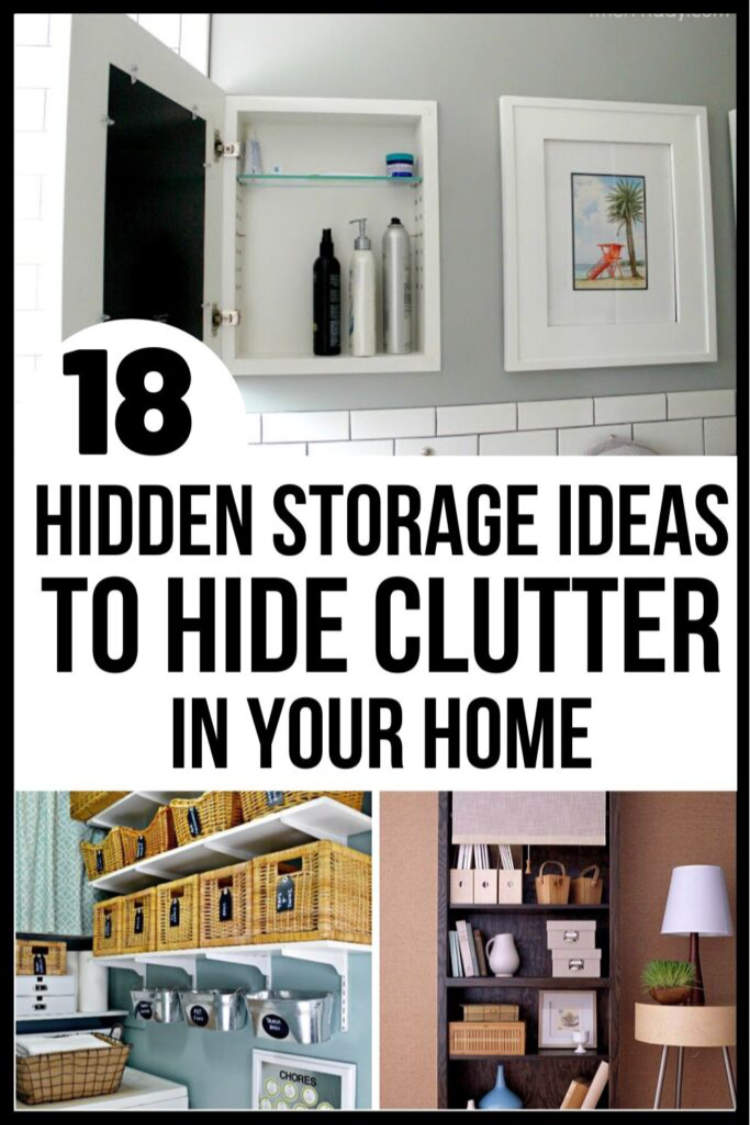 Clutter may be a part of life, but that doesn't mean that you have to look at it all the time. Luckily, there are lots of ways to make your home appear organized with everything properly stored away and decluttered without being any of those things.
We've found plenty of storage hacks to motivate you to get organized (or at least appear that way). 
How Can I Hide My Clutter? Use These 18 Clever Storage Ideas
Wondering where to hide things in your house? These ideas for hidden storage will help you conceal your clutter and keep your counters, floors, and home looking tidy and organized. Check out these 18 hidden storage ideas to help you hide clutter in your home.
1. Hide Away Unsightly Essentials on Your Bookshelves
Reorganize your bookshelves. Keep your most decorative items on display while adding a roller shade to hide the not so attractive items you don't want anyone else to see. I can think of so many cool ways I could use this in my home…especially for the kids' rooms! Doesn't it look elegant?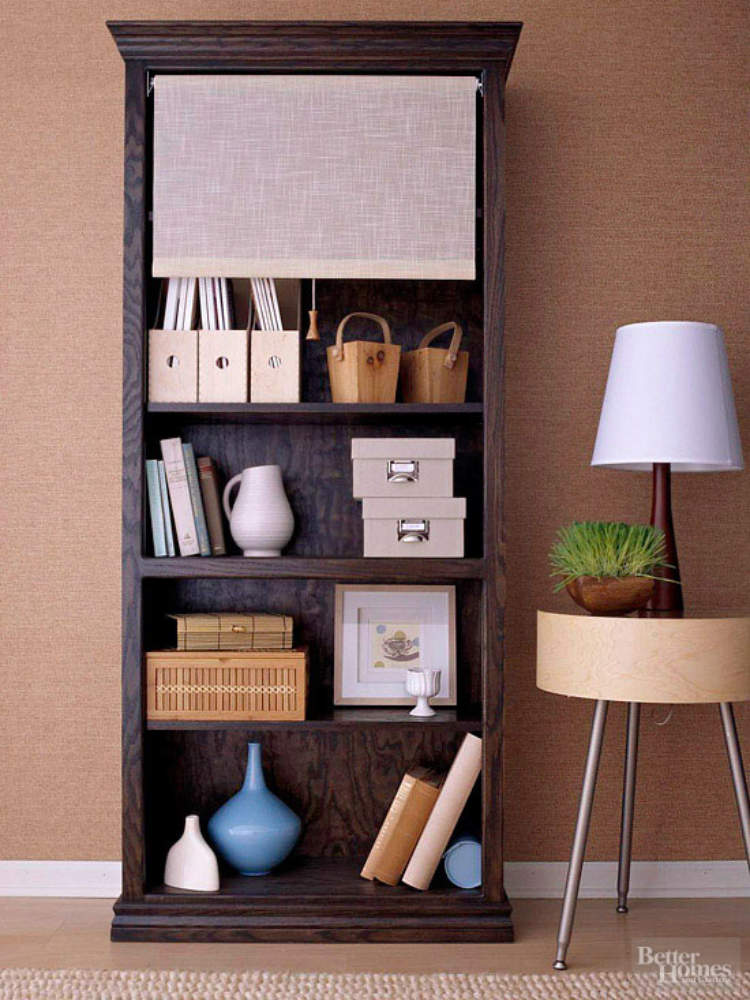 via Better Homes and Gardens
2. Conceal Those Cords!
I don't know about you, but my kitchen drawers are filled with a mass of tangled cords that just seem to grow week by week. I love this super simple solution of using toilet paper rolls to conceal phone charging cords.  Suddenly, that tangled, jumbled mess of cords is not at all daunting. How easy peasy is that?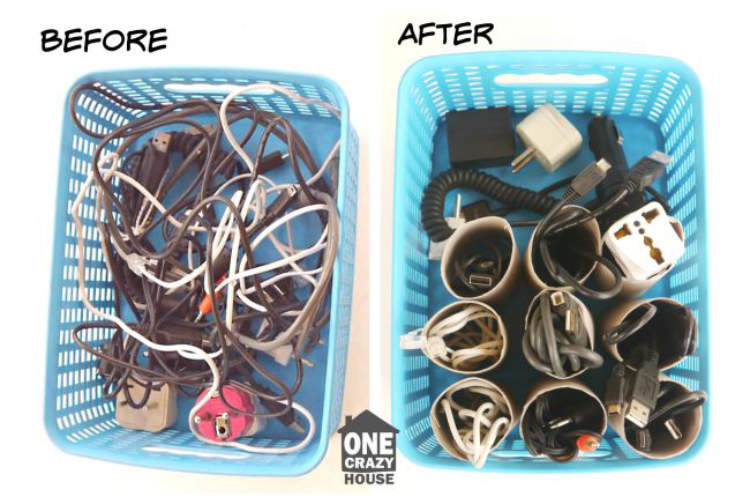 via One Crazy House
3. DIY Project – Create a Hidden Charging Station
Got charge cords taking up every square inch of your countertops? Yep, me too. Using just an old shoebox and some cute wrapping paper (you can match to your decor), and you can conceal phone charging cords with this gorgeous, easy-to-make charging station. How neat is that?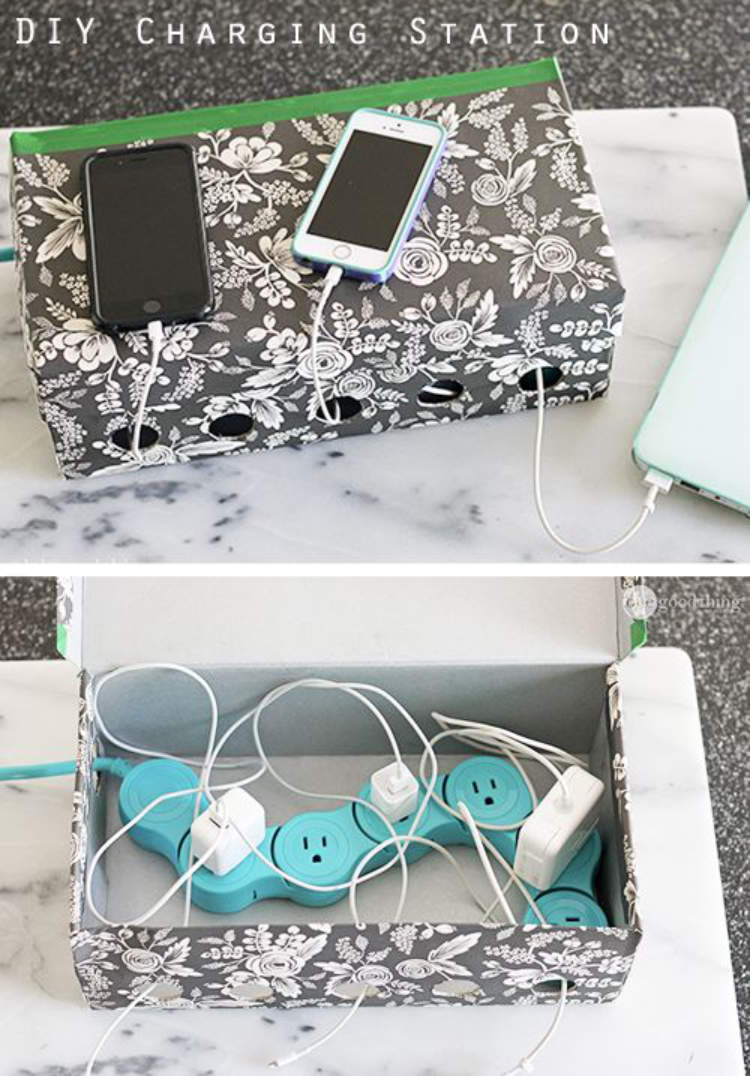 via One Good Thing by Jillee
4. Hide Unsightly Electronics Cords
Wall-mounted TVs look great, but they're not without their problems. The cords seem like they are everywhere and look terrible. Now you can hide those ugly cords going from your TV and other electronic devices to the outlet with a simple shower rod from the hardware store. A cost-effective solution to an ugly problem! 
via Fresh Crush
5. Behind the Curtain – Concealed Storage for Toys and Games
Does your family have more toys and games than you know what to do with? If you're using shelves to store them, as I do, no matter how neatly you try to arrange them on the storage shelves, they still seem to look like a bit of a jumbled mess, especially after your little darling pays a visit!  Covering up things that don't look organized behind a beautiful curtain can be a great solution for all those hard-to-keep-tidy items.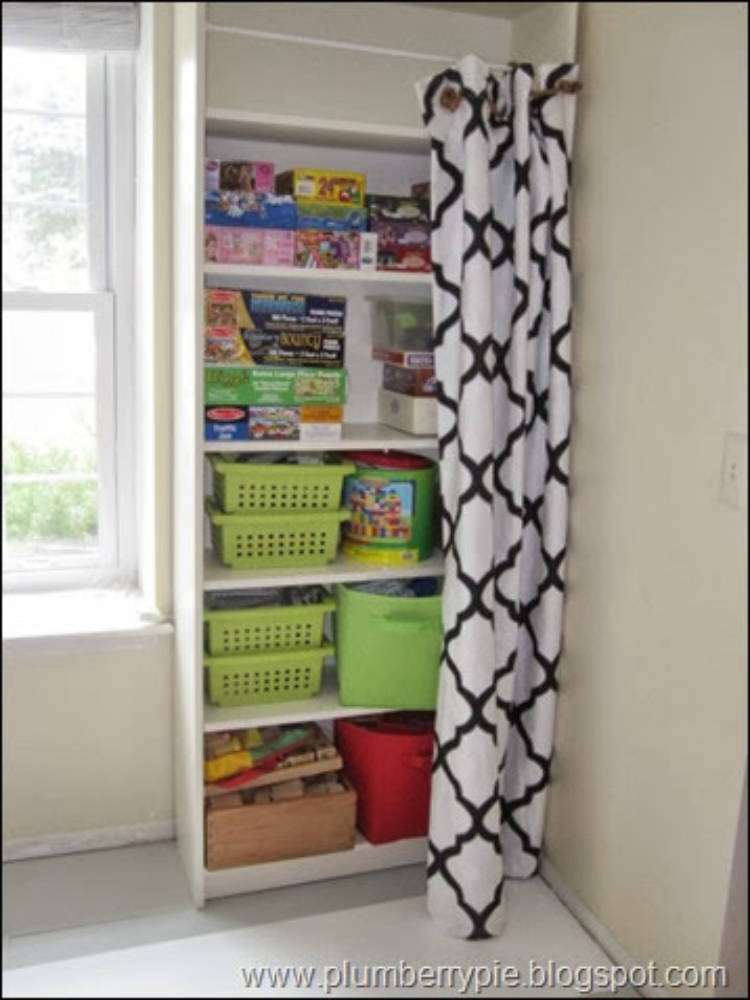 via Plumberry Pie
6. Conceal With a Tablecloth
A skirted tablecloth can give the illusion that you're neat and organized, even if you're not. This tip is great for coffee tables, end tables, and nightstands, too! With changing times, we often find that the rooms in our home have to serve more than one purpose. If you're looking for a stylish way to hide away things like work or craft items in multi-use rooms, this might well fit the bill.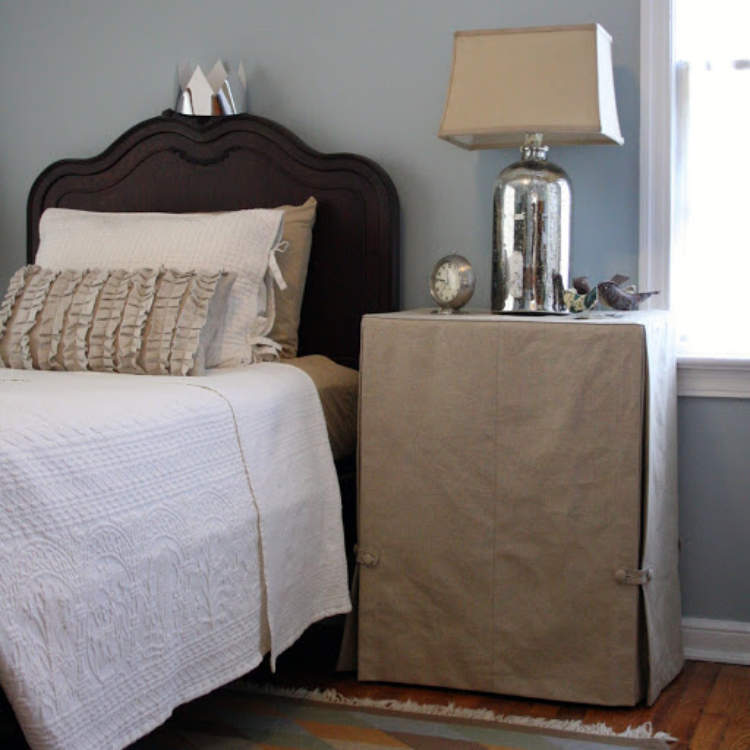 via ECAB
7. Create Hidden Storage in Old Books
Use old books to create hidden storage and compartments on your bookshelves. Hide clutter, or hide money, if needed. It's also a great way to bring new life to old books that might be damaged, or are no longer wanted. If you can't bear the thought of recycling any of your own books to a bookcase, there's never a shortage at local charity shops or yard sales.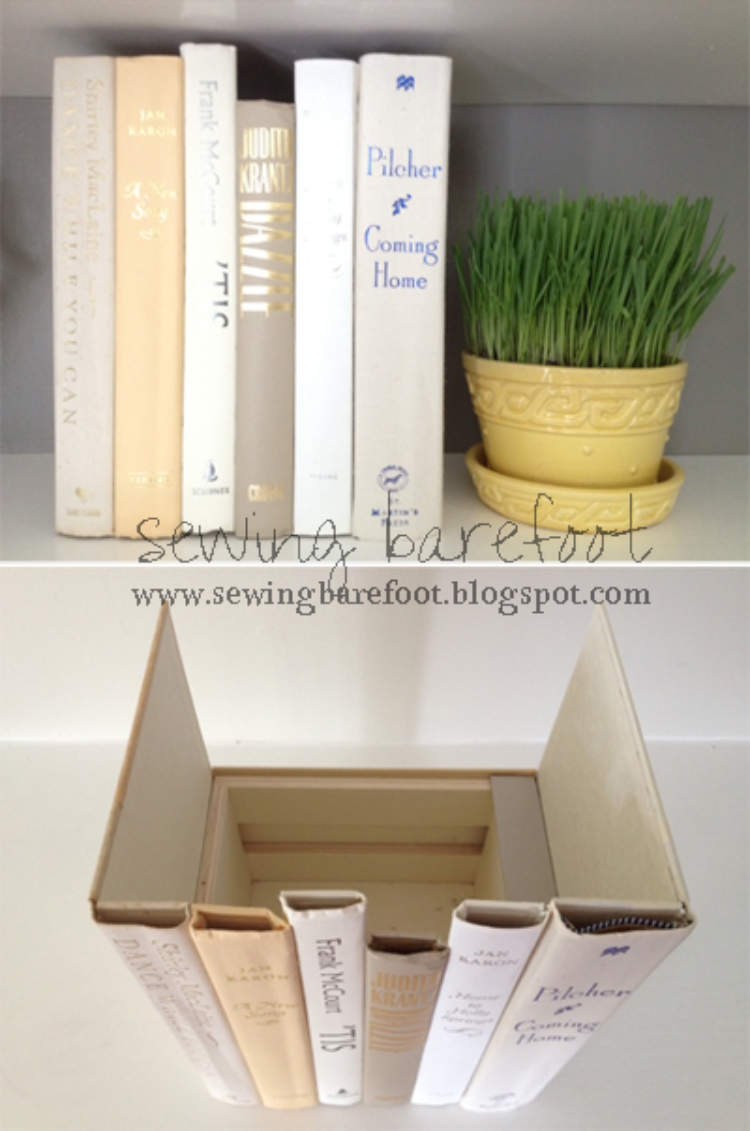 via Sewing Barefoot
8. Use Bins and Baskets to Hide the Clutter
Hiding clutter in a small space (like a laundry room) can be challenging. Utilize every square inch of space without looking messy, by hanging additional storage units (bins and baskets) to store everything, from trash bags to dog food. This creates extra storage space for items and makes things so much easier to find. Whenever I have a messy area in my home that's driving me crazy, my number one go-to is a cute basket!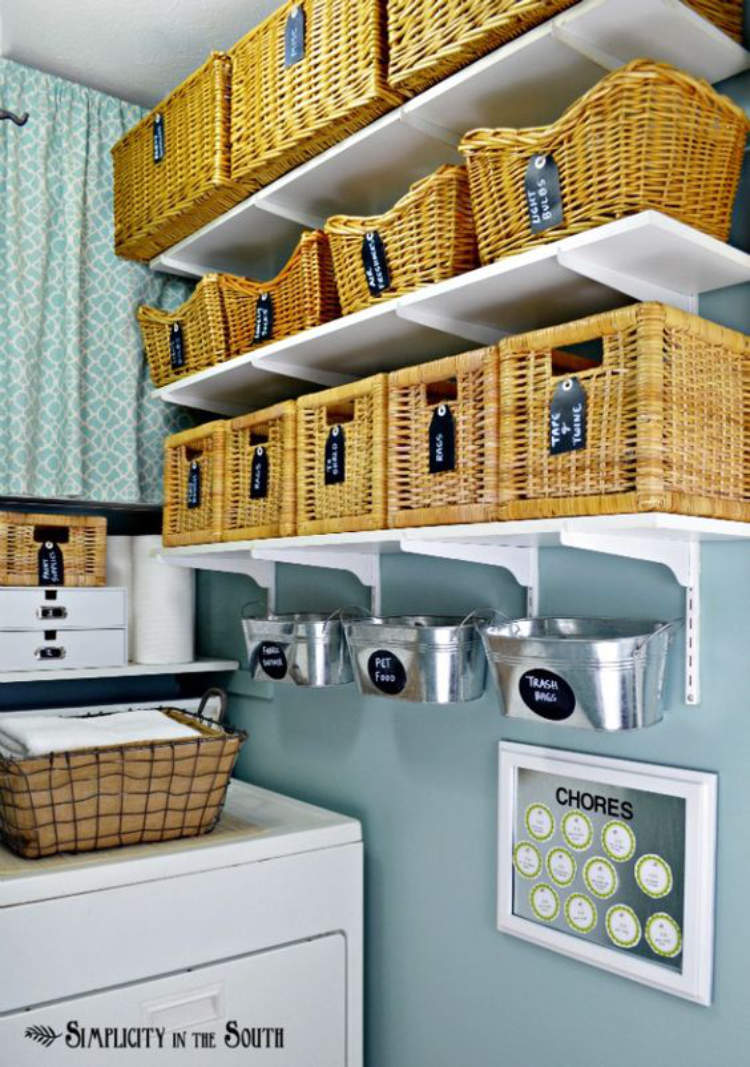 via Simplicity in the South
9. Secret Storage – Hidden Behind Frames
If you don't have a proper place to store your keys, chances are you spend way too much time searching for them.  These clever frames are a brilliant way to keep your keys in a convenient location, while also keeping them safely hidden. 
via Planq Studio
10. Keep Messy Laundry Baskets Out of Sight
Adapt a drawer to hide the messy, overflowing piles of dirty laundry no one wants to see. Laundry baskets are a real problem in my home when they're full, and even when they're empty (which sadly isn't very often). This clever way to stash your laundry baskets keeps them easily accessible while also wonderfully hidden.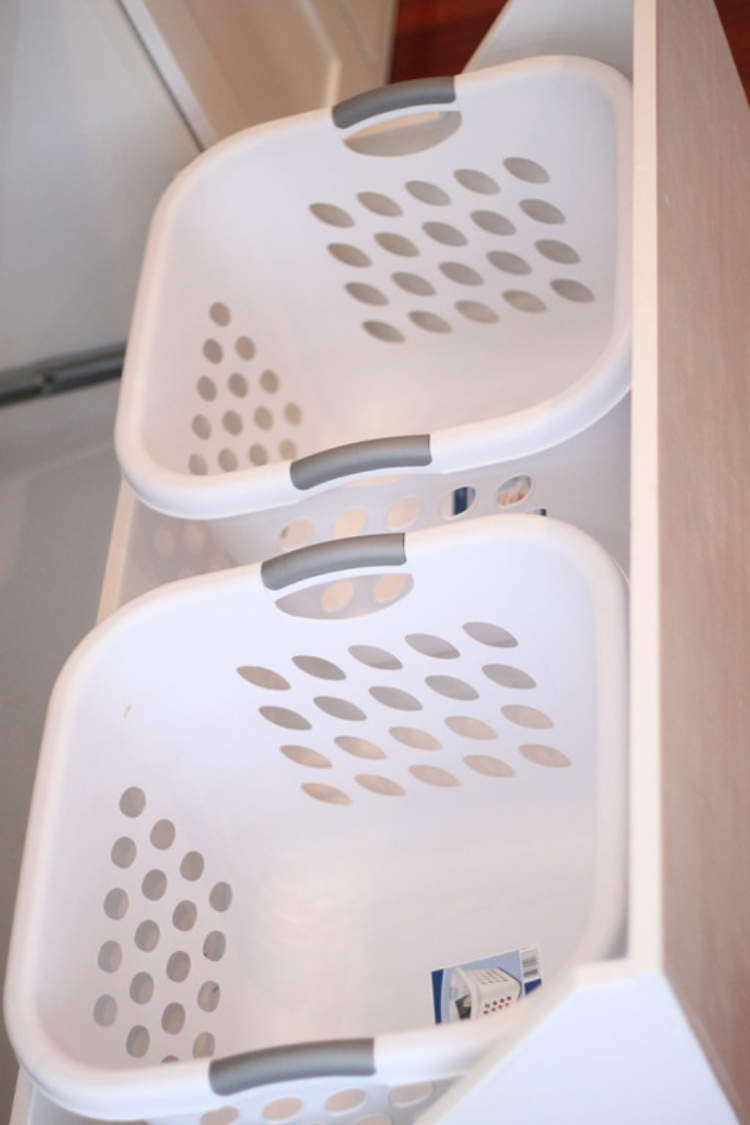 via Meg and the Martin Men
11. Maximize Your Space with a Roll Out Pantry
If you're lacking storage space in your small kitchen, it might be time to get a little creative. This roll-out pantry utilizes the space between your fridge  and the wall, and it's ideal for storing spices, cans, and jars. I really love this space-saving kitchen storage idea. (Get more pantry organization ideas here.)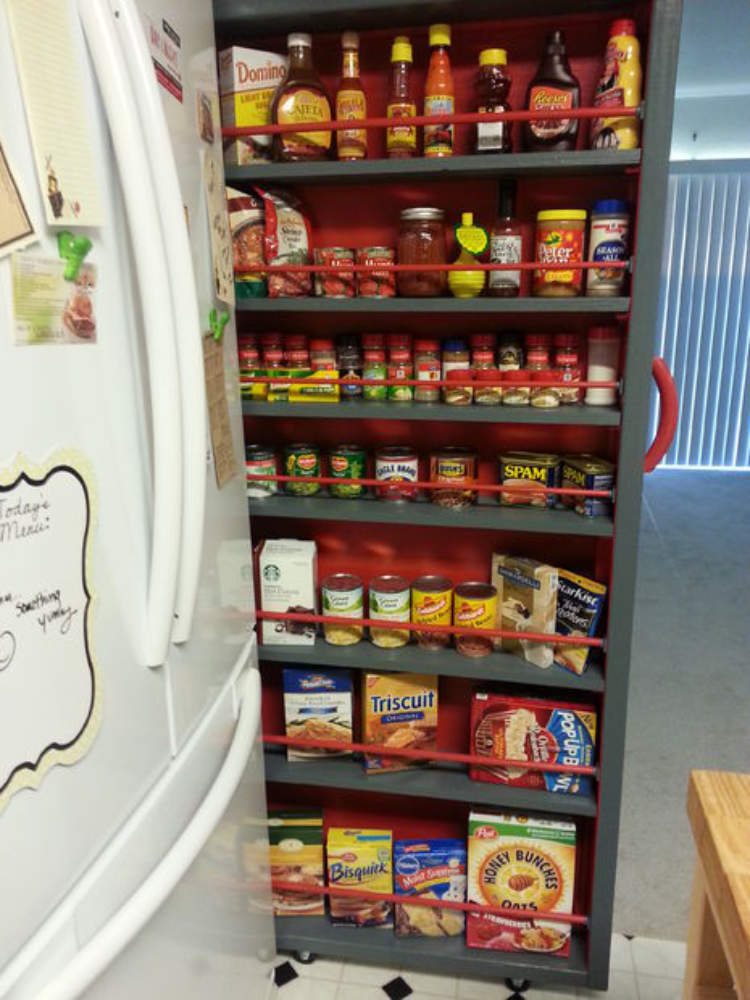 via Instructables
12. Add a Space-Saving Concealed Paper Towel Holder
Speaking of tidying up the kitchen, don't you hate those paper towel holders that take up valuable counter space? Grab one like this, and keep it right above your sink. It not only hides paper towels, but also provides a little extra shelf space for other knick-knacks! 
13. Under the Bed Storage – Hide Away the Clutter Out of Sight
Under the bed is prime storage space that's often wasted, especially in kids' bedrooms. Make the most of it with a DIY plastic under bed drawer or two. Even if your bed only rises a few inches off the ground, you're sure to find storage bins to fit. Adding the wheels to slide the drawer is super easy too!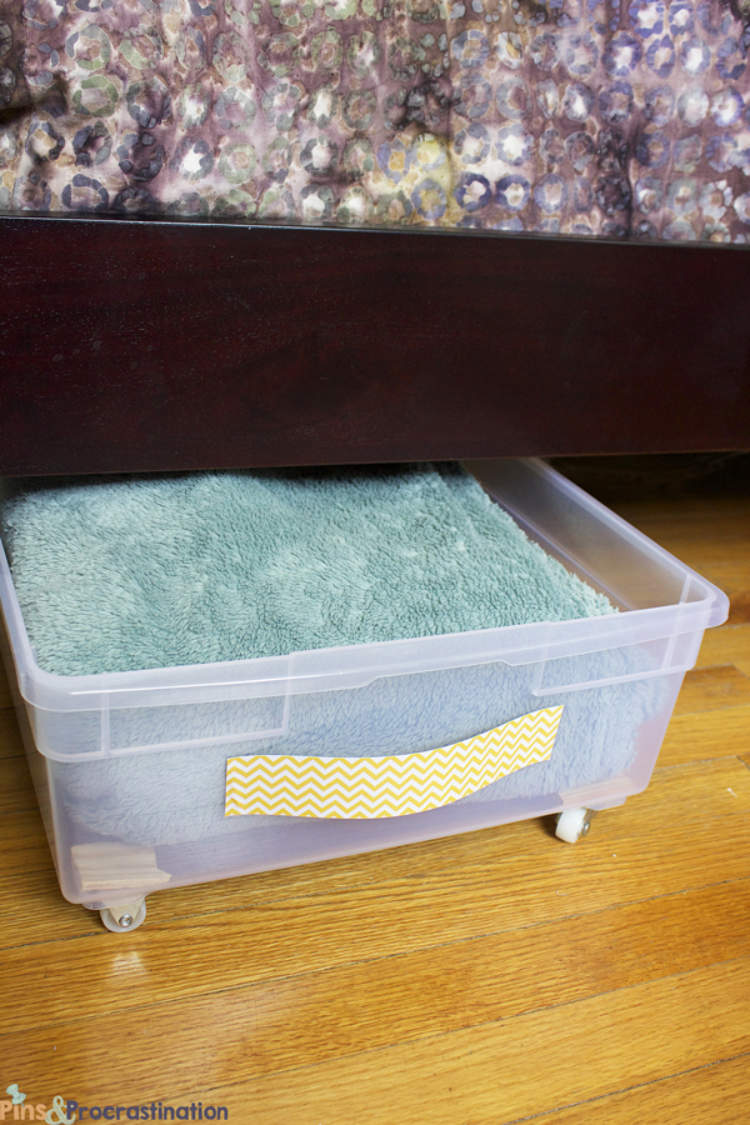 via Pins and Procrastination
14. Create a Concealed Work Area
This gorgeous foldaway desk not only hides clutter, but folds away to clear up floor space when you need it. If you're willing to tackle a little DIY built-in storage project, this one is amazing!  A great solution if you're short on space and find yourself working from home, or homeschooling the kids.
via Shanty 2 Chic for Ryobi Tools
15. Hide Your Printer – a Perfect Hidden Storage Idea
Why have I never thought to hide my printer in a drawer? It's a great hidden storage idea, and it only takes a bit of modification to make it happen. You can use other cabinet doors/ drawers for your printer accessories, like your ink cartridges and printer paper, to keep everything conveniently nearby.
16. A Clever Way to Disguise Your Router
Technology is wonderful, but it's not always pretty. Most of us probably have a wireless router in our homes these days, and it can hard to figure our how to cover cover the obtrusive flashing lights. Using a book cover to hide your router is a really clever disguise!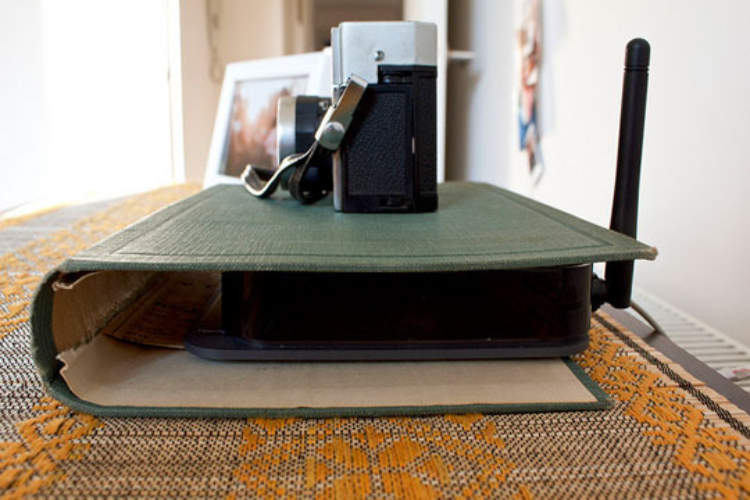 via Apartment Therapy
17. Wrapping Paper Organization – a Neat Trick for Clutter Free Gift Wrapping
If you're a wrapping paper hoarder like I am, you probably have way too many rolls lying around. The good news is that you can easily avoid the cluttered mess by simply hiding them in a garment bag and hanging them with a hanger in a closet. Genius!  (We have more wrapping paper storage ideas, too!)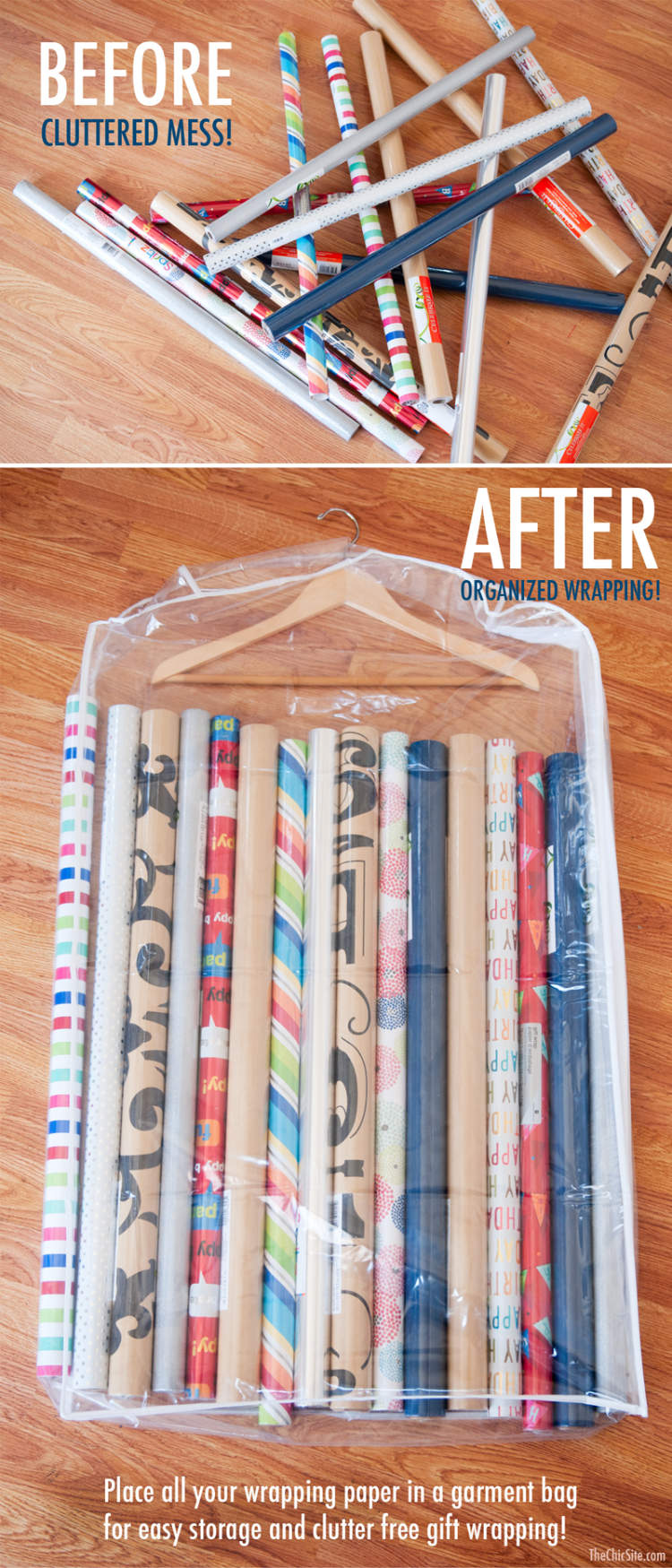 via The Chic Site
18. Create Hidden Cabinets for Concealed Storage in the Bathroom
I love these hidden storage cabinets behind adorable picture frames. Use the frames to display family photos, or kids' artwork, while also concealing hidden toiletries within the wall. A great idea to make the most of your wall space in a small bathroom!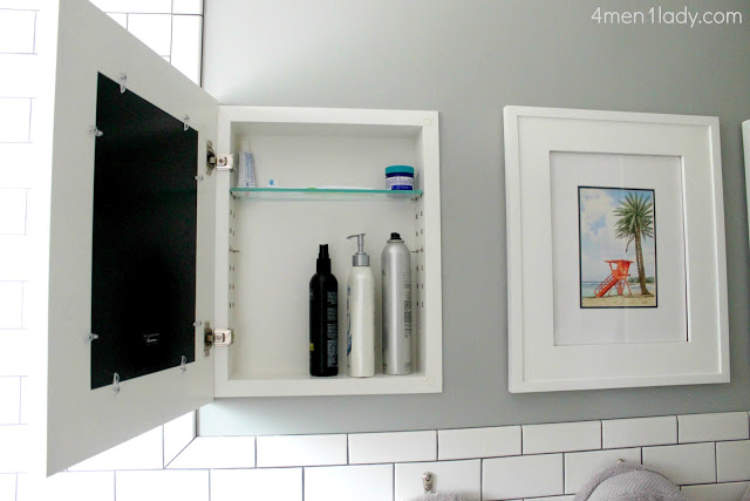 via 4 Men 1 Lady
Our home should be our sanctuary, somewhere that's calming and relaxing. As the saying goes…
"Tidy home, tidy mind"
As well as making your house look better, hiding the clutter can make you feel better, too! If you're anything like me, you can probably feel the stress building when there's lots of clutter around you, and you easily begin to feel like things are getting out of control. Think how much better you feel once things are neatly stored away! Putting some of these ideas into action in your home could make a real difference to your sense of well-being.
I feel calmer just thinking about it!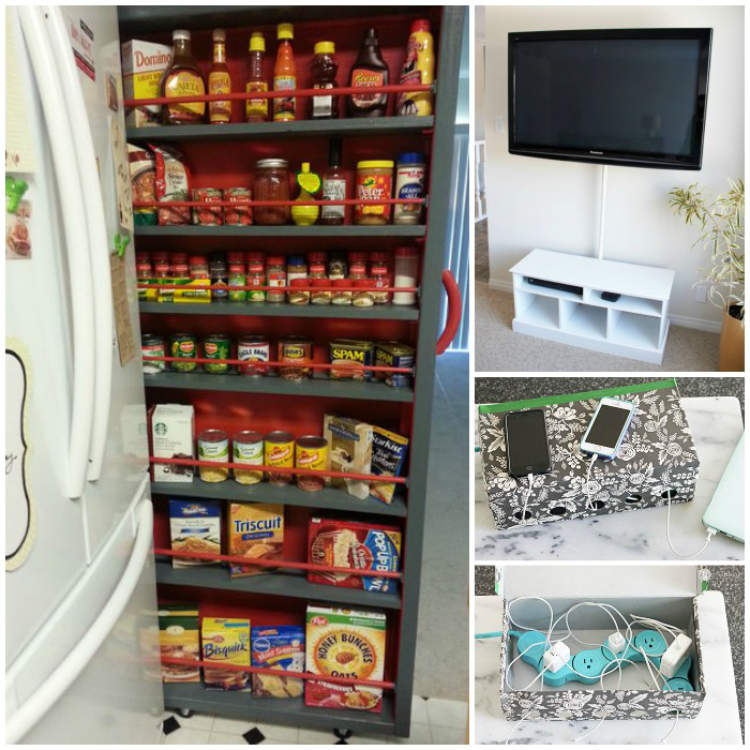 With these clever ways to hide clutter in your home, you can quickly make your home appear neat and orderly (even when it really isn't).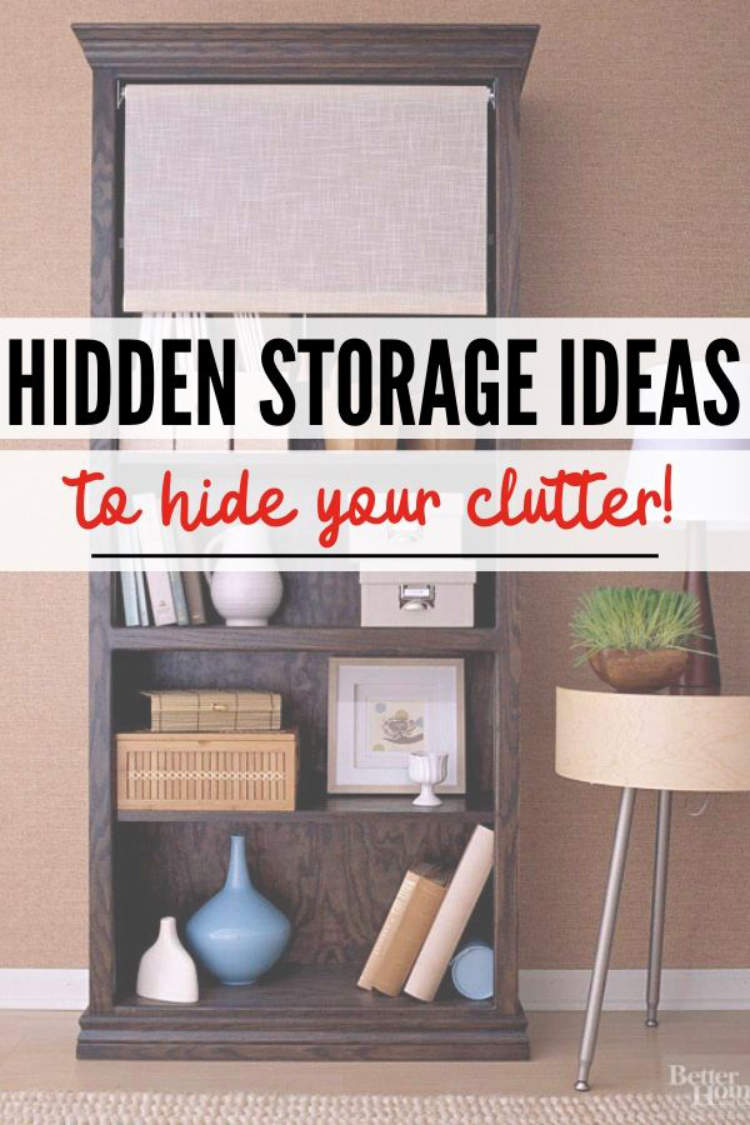 More Hidden Storage Ideas and Decluttering Tips:
How many of these storage ideas do you plan on trying?