Woohoo, summer's here- it's time for some genius pool storage ideas and tips! It's time to pull out the pool gear and get outside. It may be fun in the sun, but storing all that pool stuff is no picnic.
Here are some genius pool storage ideas from pool float storage, to pool toy storage, to pool towel storage – and everything in between to help you stay organized and maximize pool fun. We have also included some awesome ideas for having fun in the pool, so enjoy!
My kids love to go swimming in the summer, and I love taking them because it burns so much energy and wears them out (that's my goal every day!). Plus, they always have so much fun when they are swimming with each other or with friends.

The downside to summertime swimming is all the paraphernalia – the towels, the pool toys, the floats, and everything else that comes along with pool fun. I have spent many a summer with my house being taken over by pool gear. Well, no more! Whether you own your own pool or not, these pool storage ideas will keep your pool gear from taking over your house.
Best Pool Storage Ideas and Organization Tips
School's out and summer is in full swing (at least temperature-wise), and that means more pool fun time for the family – yay! But before you dive in, here are some pool hacks and organization ideas to get your pool ready for cool summer activities.
1. Use an old kiddie pool to Lay Under the Stars
Got an old kiddie pool? Make some fun memories by having them watch the stars come out in a makeshift backyard bed! It's awesome pool area fun without getting wet and another great use for your pool gear. This could also be a great bed for camping or to create a sand-free play area at the beach.
2. Repurpose your Kiddie Swimming Pool into a Sandbox
Your kids will have fun outside all year long!!  Kiddie pools aren't just for the summer!!  Fill the pool with sand to create a fun backyard experience for your kids.  Perks: it's easy to cover with a tarp to protect your sandbox from cats or even storms.  AND it isn't permanent!! Making the kiddie pool sandbox a perfect option for renters.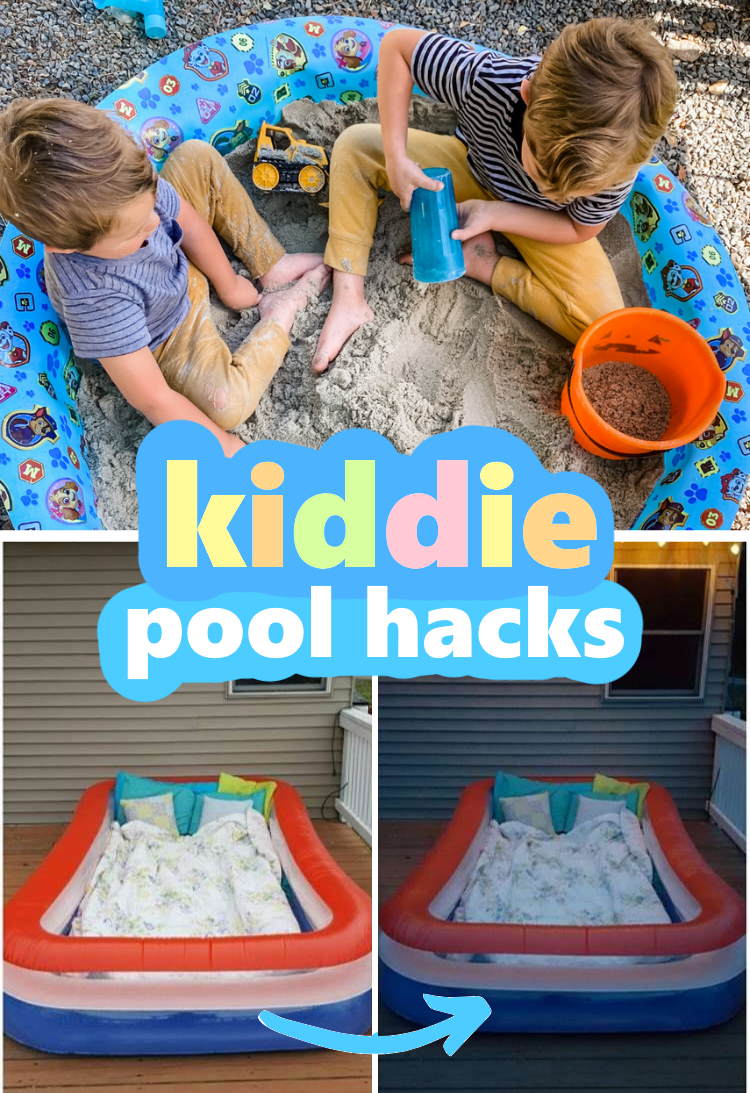 3. DIY Pool Towel Storage Door
At a loss for where to hang wet towels and bathing suits? Make your own pool towel door coat rack to keep by the pool and avoid messes. I love DIY projects that are both practical and cute. This allows all the pool accessories to dry off and provides a cute decoration piece when it's not being used.
Supplies needed to make this awesome towel door:
Door
Paint
Towel Hooks
Cricut Vinyl or pretty vinyl design purchased from the store
Wire Baskets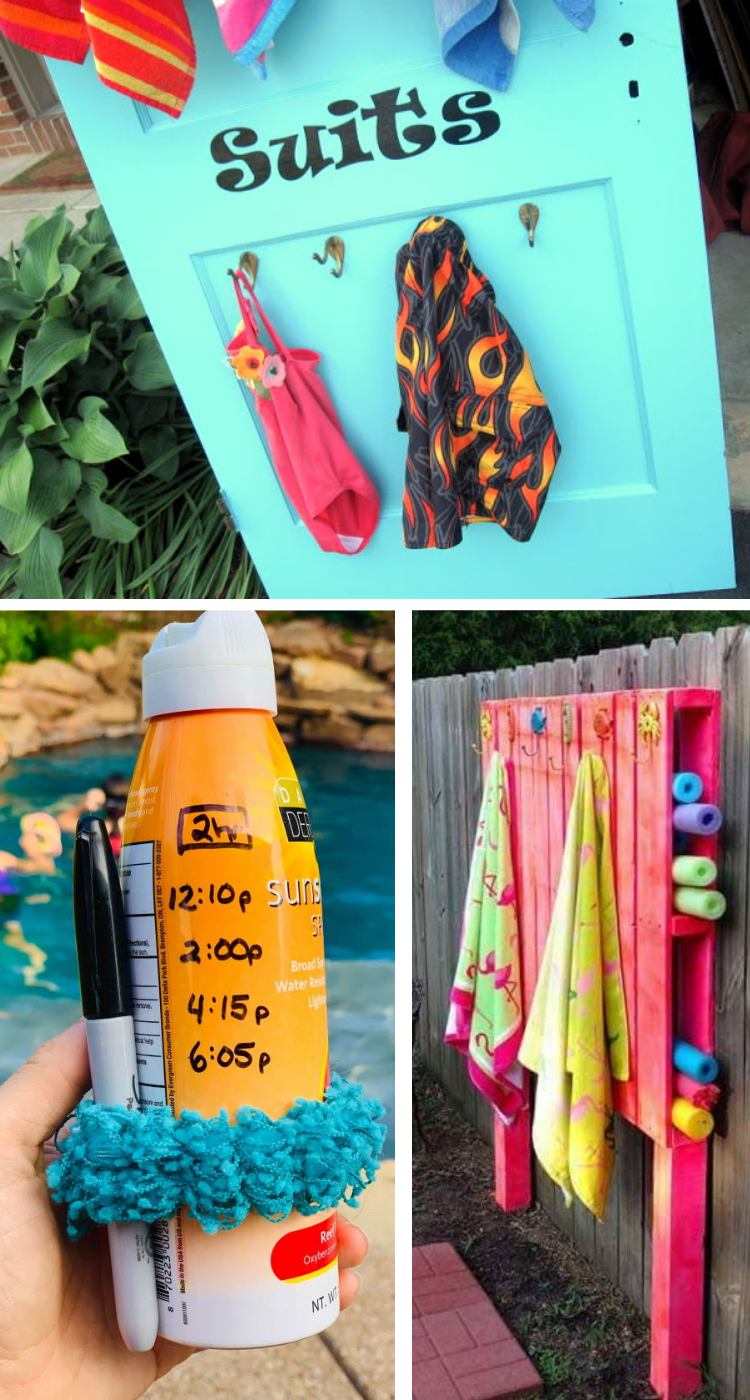 4. Track Your Sunscreen Use
This is the easiest way to protect yourself from getting sunburns (or if you are like me, protecting your kids from burns!!  I have forgotten to reapply sunscreen more than once, using a permanent marker will help protect you and your kiddos.
5. DIY Pool Towel Storage
What a great way to keep pool noodle storage organized along with your drying towels! This organizer was made from an old pallet! What a genius pool pallet hack! The pallet can be attached to the fence, patio, or even the side of the house. Add some hooks to the front for towels and bathing suits to hang, and use the sides to store pool toys out of the sun. Instant outdoor storage bin!

6. Create your own DIY Floating Cooler
Make your own floating cooler or wine rack out of a plastic container and pool noodles for just a couple of bucks. This keeps your drinks within reach while in the pool, as well as super organized. Such a smart idea and an awesome pool floats hack!
7. Keep track of Toys with a Laundry Hamper.
You can purchase a mesh hamper designed above ground pool, but frankly, any wide mesh hamper will work!  Add velcro straps and you can hook your pool toy storage to your pool fence.  Perk:  Toys, goggles, floaties, or many small items will air dry in no time flat!! No more mildew even in the rainiest weeks!
8. DIY Necklace That Keeps You Cool
Make a lei necklace to help keep you cool – once it's made, all you need to do is dip pieces of sponges or cushions in water then put on the necklace to stay nice a cool. It feels amazing on a hot summer day.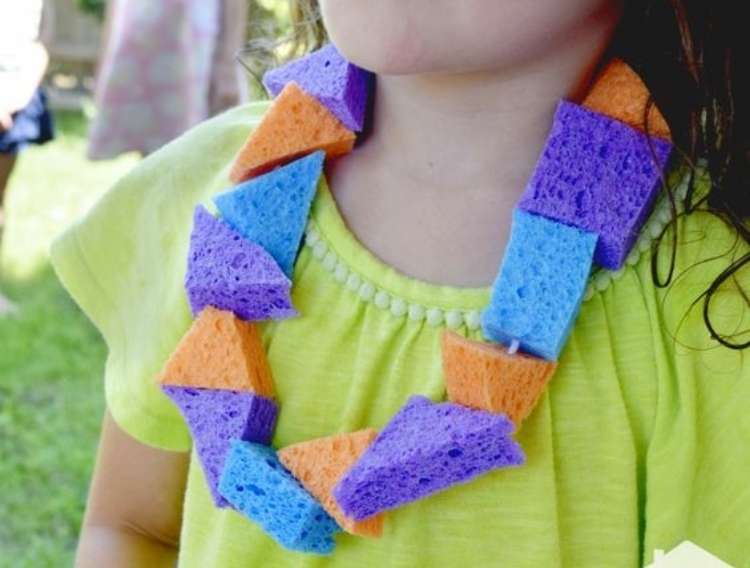 9. Use a Laundry Hamper for Pool Toy Storage
If you're anything like me and not great with DIY projects, no problem! A simple laundry hamper works well for keeping your pool toys organized, too. Make sure that the toys are dry when stored in the hamper, or drill some holes in the bottom to allow water to escape.
10. DIY PVC Pool Towel Rack
For under $35 you can make a towel rack out of PVC pipe pool storage bins. Brilliant for its durability, save you a ton of space, and helps keep your towels organized and your backyard tidy! Use it to hang towels and bathing suits to dry, as well as to dry off pool toys. Don't forget to take them out of the sun once dry them to keep the colors bright all summer.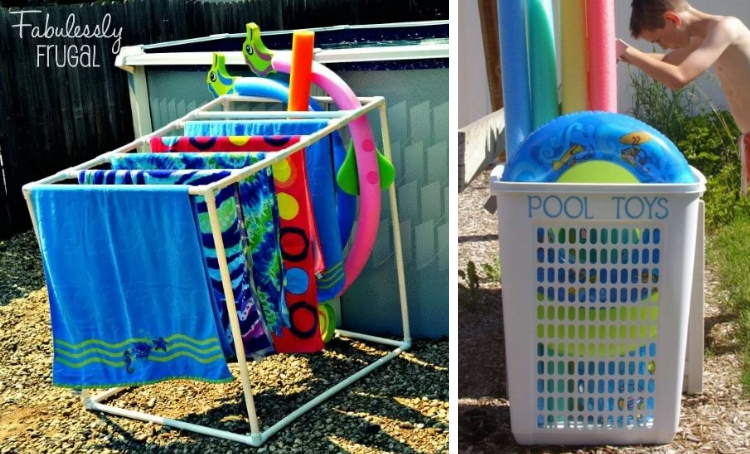 11. Never Lose Sunscreen or Bug Spray While at the Pool
Keep sunscreen and bug spray near the pool bench when you're having a party in case your guests forget to bring their own. Put some extra beach towels out, too! Hanging them in a cute bucket via command hooks, allows for easy storage when you're done, too! And when you need it again, just grab the whole basket and hang. Super easy and practical!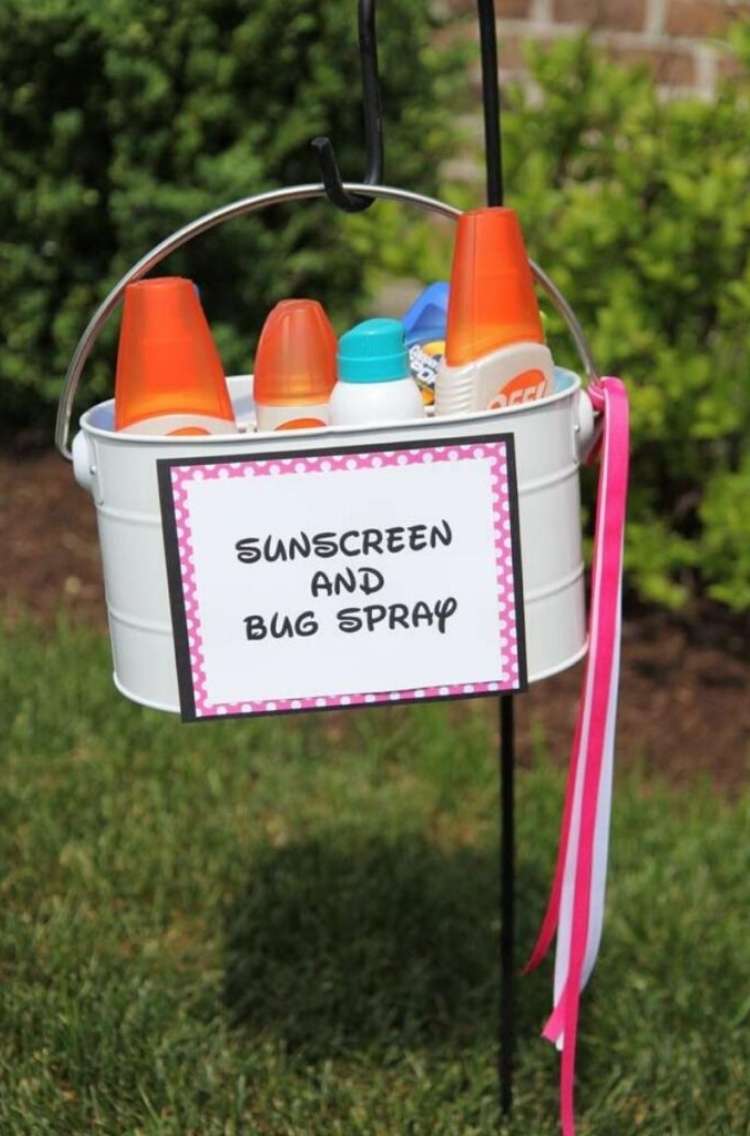 12. Protect Your Phone at the Pool
Put your phone or some smaller items in a plastic bag if you plan to keep it near the pool. The touchscreen will still work through the plastic, and you can rest easy knowing it's protected from splashes. Keep an eye on your phone though, as it can get pretty hot in the plastic with extended use, which can damage your phone. These bags are also great to use in the water to take pictures! Don't submerge them too deeply, and keep an eye out for any leaks.
13. DIY Summer Pool Robe
How cute is this DIY wearable pool towel just like pillows! This hoodie isn't just adorable – it is also 100% functional.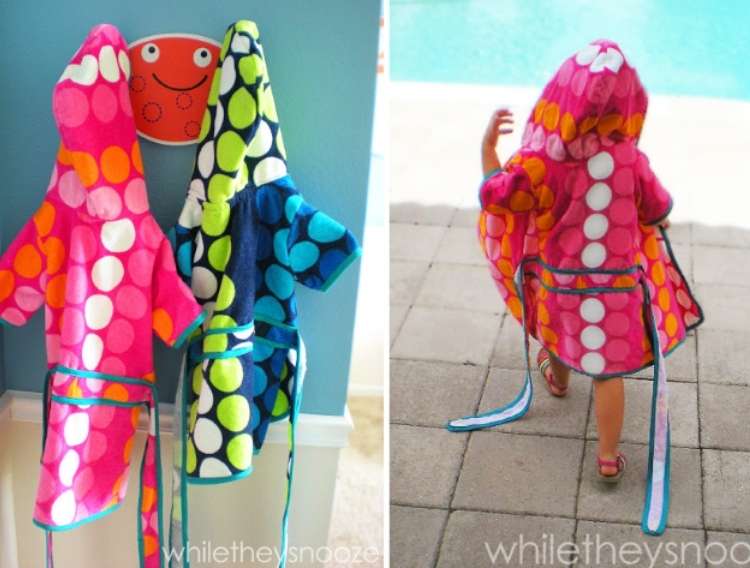 14. Mermaid Tails Pool Fun 
Ok, mermaid tails may not be a pool hack, but let's just say they were one of the best investments we made into our daughter's summer. This thing was in tatters by the end of the year and she still talks about "the tail". This is a fully swimmable mermaid tail and fin. Be sure to keep a close eye on kids when wearing these! Anything that restricts movement in water can be dangerous, so use with supervision!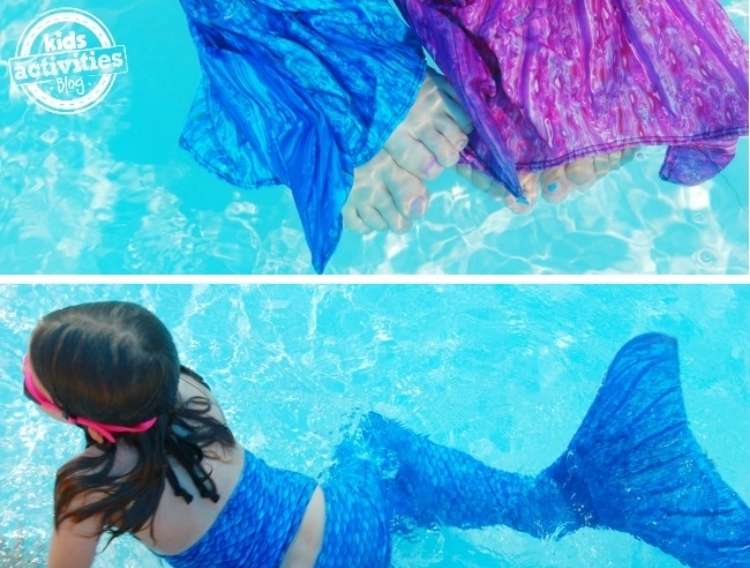 15. Not Pool Storage but still fun: Poolside Popsicles
Instant Popsicles!  Your poolside fun just became significantly more fun with this instant popsicle maker. Since this maker makes pops in mere minutes, all you have to do is fill it, plug it in, swim, and come back for a tasty pool-side treat.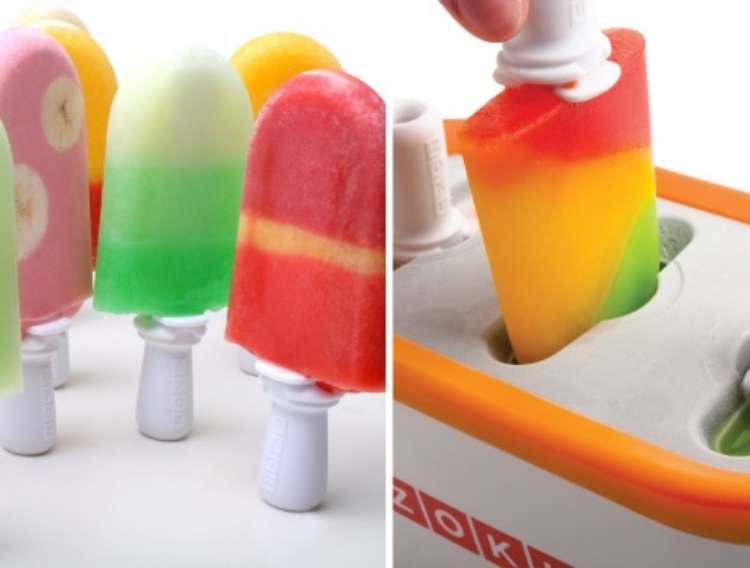 16. DIY Pool Noodle Lightsabers
Check out these cool, pool lightsabers for an epic battle with pool noodles. Or use them for making apple stamps (or pumpkin stamps) for fall! All you need are your pool noodles and some grey and black duct tape. Let the lightsaber battles begin!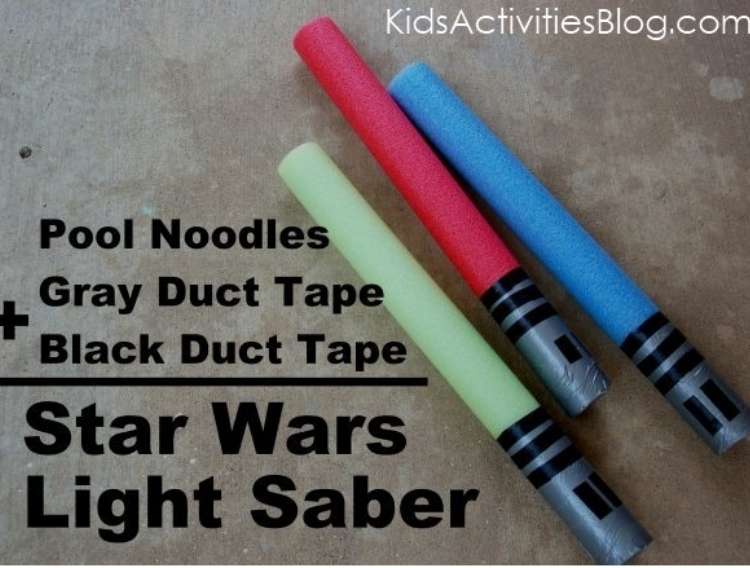 17. Use a pallet for Efficient Pool Float and Toy Storage
These poolside pallets are great for storing pool noodles and other swim toys. Pool storage couldn't be any easier than this! There are so many ways to upcycle a wooden pallet, but had never thought about this! Cheap & easy pool storage solution.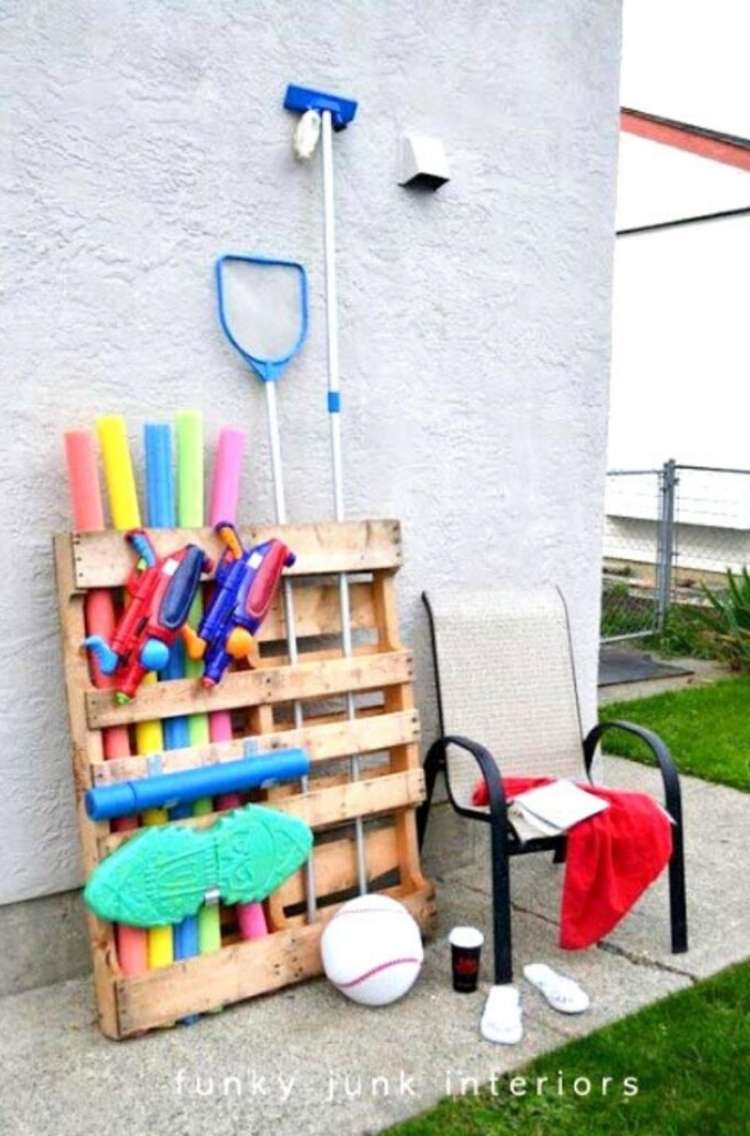 18. Pool Storage: DIY Pool Towel Storage Cabinet
We love this cabinet makeover! What a great way to store extra pool towels and swim diapers while keeping your towels organized and within reach.  I love that it can be closed and all the chaos can be shut away behind a cabinet door!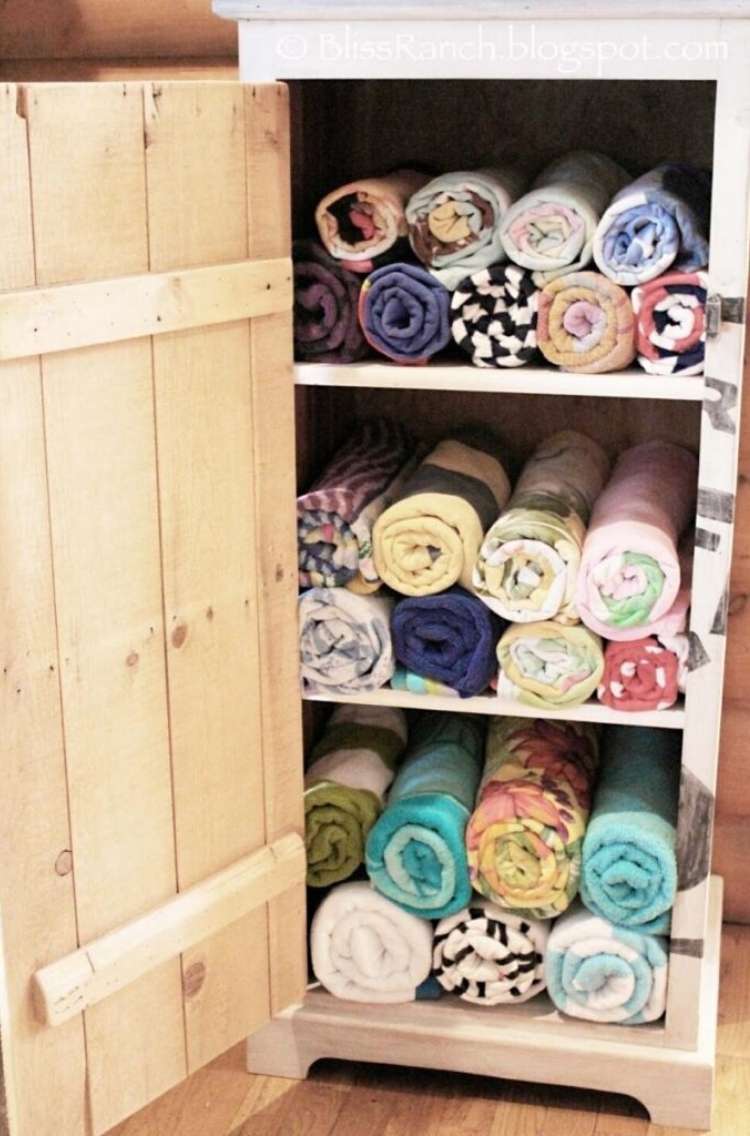 19. DIY PVC Pipe Pool Toy Storage
Create easy toy storage out of PVC pipes. Just make sure air can circulate to allow the toys to dry. It's quick and easy and keeps your pool storage space clutter-free. You can even zip-tie some baskets to the sides to dry and store smaller pool toys.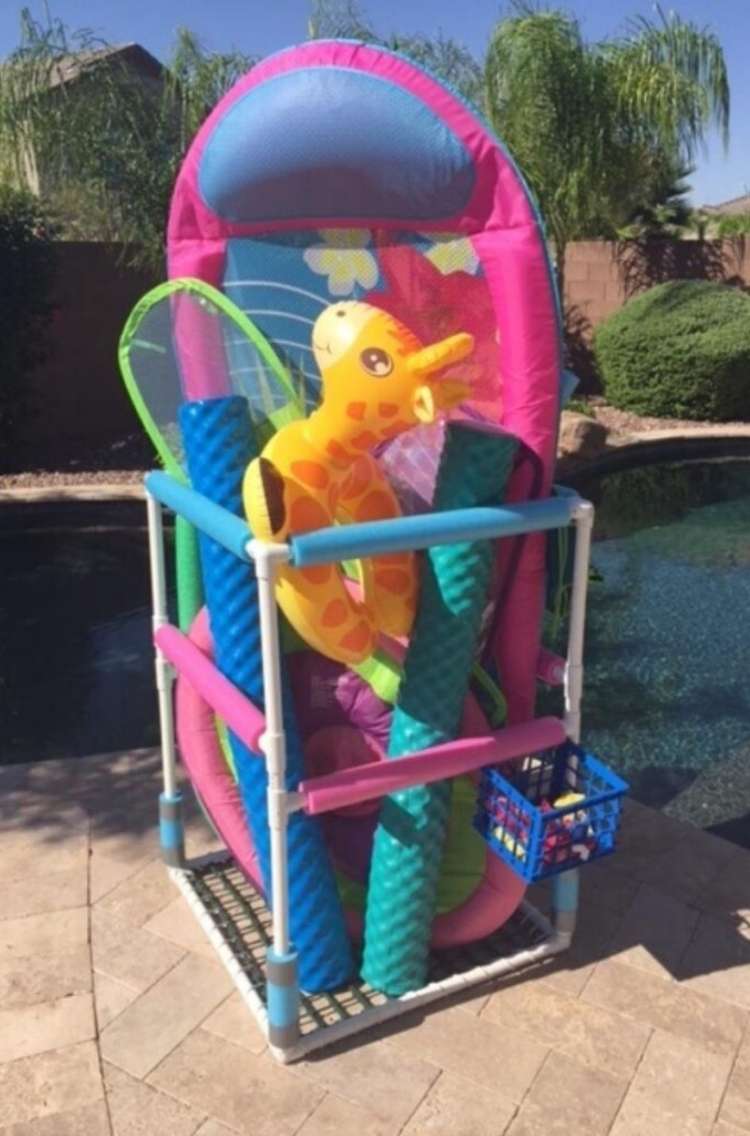 20. DIY a Pool Float with several pool noodles. Pro Tip: You will need more than one
Kids (and pets!) will love this DIY pool float, and you'll love how easy it is to make. Tip: you might want to make more than one…or everyone will be fighting over who gets to use it!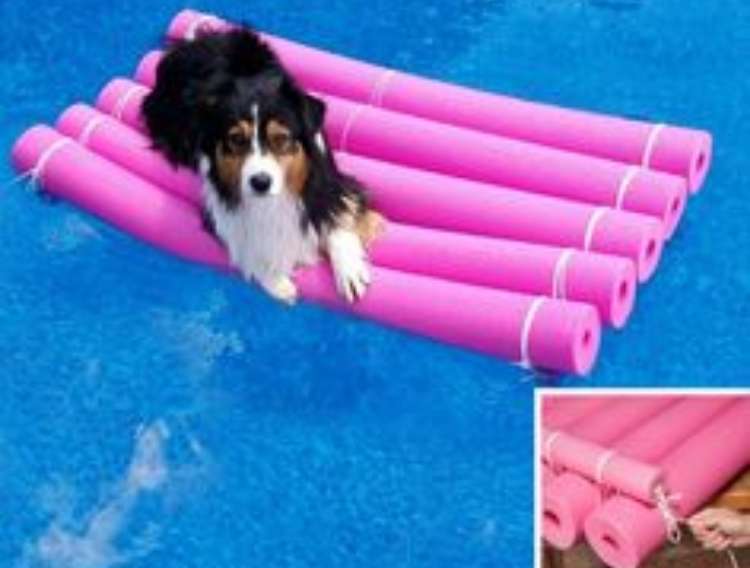 21. Create your own Pool Luminaries
Add some lighting for nighttime swimming with these DIY pool noodle luminaries. It creates fun nighttime swimming for both the kids and the adults! These make great decorations for a party even if the pool is not being used. They also make the pool feel fancy when you are swimming with them floating around.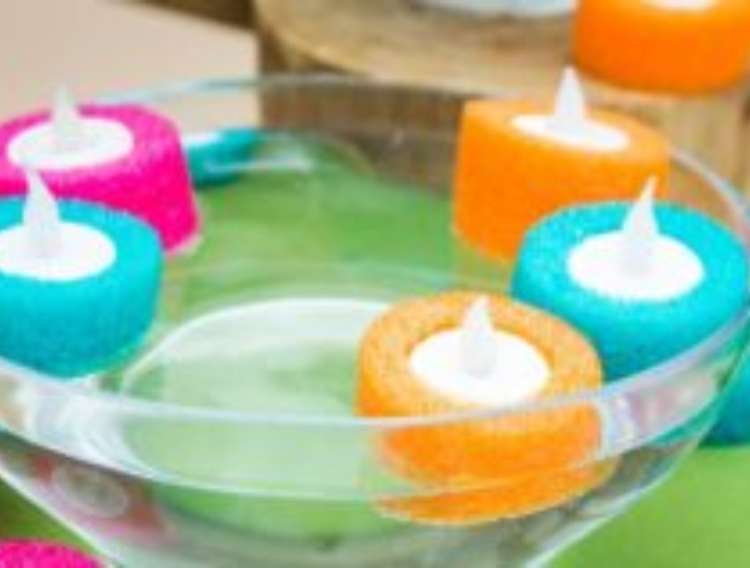 22. Add glow sticks in the pool for a magical night swim
Another way to add some lighting is to simply toss glow sticks into the pool. Kids will love it! Adults will love it, too! It is like having a pool party at night at a fancy nightclub…kinda.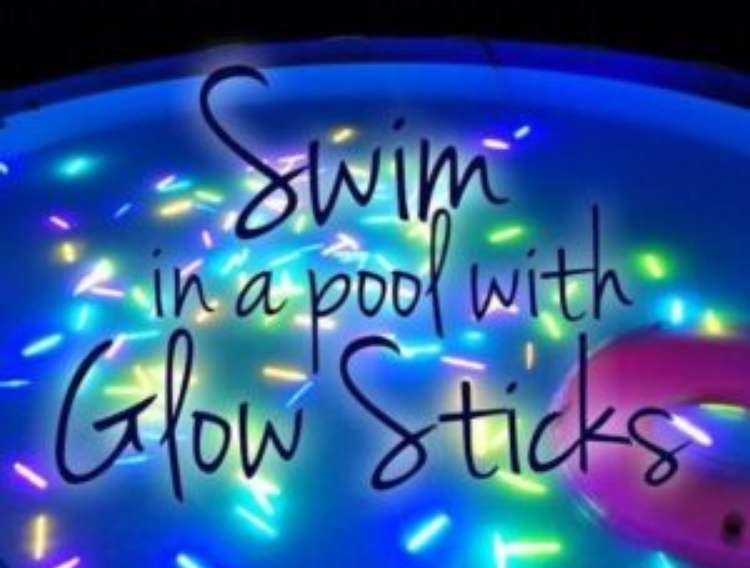 23. Pool Storage Tips: Create your own Beach Towel Bag
Whether you're in your own pool or going to your local pool for a swim, this DIY beach towel bag is pure genius. Everything you need for swimming or lounging poolside is right there! It's great for the beach, too.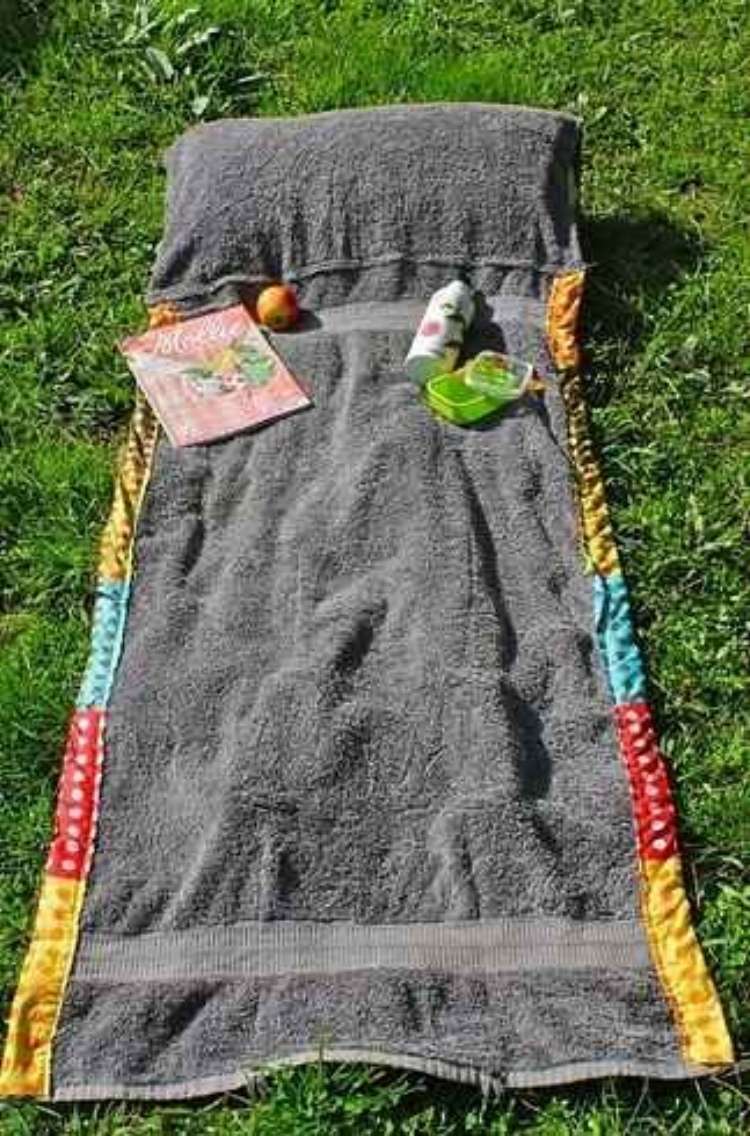 From DIY pool towel storage, to cool ways to light up the pool, your outdoor activities just got a lot more fun! These genius pool storage tips are a welcome site for moms and dads, too!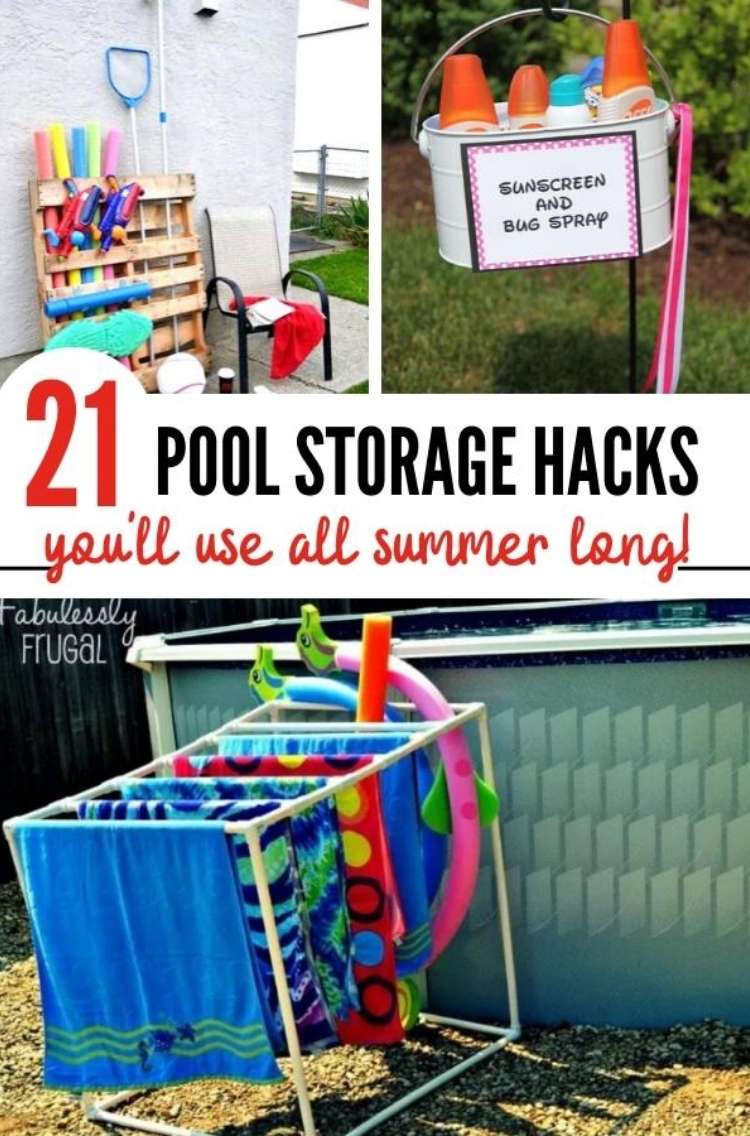 More Fun Pool Storage Ideas From One Crazy House:
Which of these cool pool storage ideas would you want to try? I like those free sunscreens!