We all carry our small supercomputers with us at all times. They are great – they make photos, they help us organize our calendars, they give us constant access to social media, and… they get old pretty fast. Multiple newer, better, faster, and prettier versions are constantly offered on the market. Gone are the days where you could snag a free cellphone every two years, but that doesn't mean you can't extend their life after you've replaced them. This genius list of 7 uses for old smartphones gives them a new purpose.
We all love a good hack that can save us time and cash, don't we? In fact, some of these old cellphones use ideas are huge money-savers! And even though some retailers offer trade-ins, you might want to think about doing it. If you don't have to trade them in, DON'T! Because there are different ways you might get more out of their use, in comparison to their trade-in value.
7 Genius Uses For Old Smartphones, So Don't Toss Them!
1. Mind-Blowing Uses For Old Smartphones: Transform Them Into Security Cameras
Do you have an old smartphone lying around? Don't just leave it there. Repurpose it into a security camera! You're surprised, aren't you? It's so awesome that you don't need to buy any expensive home supervision sets.
It makes sense, but I didn't realize there were apps to make them effective security cameras. Silly me! You just need to do your research and pick the app you like best for your Apple or Android device. There are plenty of good choices with high ratings and a lot of downloads in both of the app stores.
This hack literally saved me a few hundred bucks, because I stumbled on these apps while I was researching different in-home security cameras. I was pleasantly surprised by their reliability! And it works great, too! I've personally tested a few and they work great.
2. Don't Buy A Baby Monitor – Use Your Old Smartphone Instead
You can use them as baby monitors, too. Why spend $100s when you can just use an old phone! I have a few older smartphones that would work perfectly for this.
All you need to do is find the proper place to mount it. You can use pretty much any type of mobile holder (suction cups, magnet, long-handle, etc.) – whatever works for you will do. Just make sure you have close access to power. You just connect it to your WiFi and you're all set!
You could even hide them discreetly on a shelf – as a secret nanny cam. Fun, right?
3. Repurpose Old Cell Phones as Portable Gaming for Kids
If there is one thing I learned on time and saved myself (and the people around me) a lot of headaches, it was that I need to prepare in advance for longer trips with my kids.
If you have ever traveled long hours with your kids, you know that you need to be prepared to keep them occupied, or you risk having the worst trip ever. And you don't want that. It doesn't matter if you're traveling by plane or with a car – an old smartphone could be exactly what you need!
This has been my vacation sanity saver! Let's be honest, I'm just plain frugal. I don't want to spend $100s on handheld gaming devices.
While we are still at home, I download games and movies onto my old smartphone so my kids have something to keep them occupied for a longer period of time.
Just have in mind that older phones' batteries die pretty quickly, so bringing a power bank with you could be a good idea.
4. Brilliant Uses For Old Smartphones: Replace Your TV Remote With an Old Cell Phone
YES! Did you know that? I was truly amazed by the opportunity! So the saying is true, there's an app for everything.
There are quite a few paid TV service providers who have apps you can use to replace your remote control. There's even some for your television itself.
We all know we spend more time wandering around looking for the remote when we could've easily just walked over to the television. Well, this just made it that much better!
This is a brilliant idea for people with younger kids. As moms, we know small children tend to spill water, juices, soup, and pretty much anything that's liquid, no matter how ridiculously hard we try to make it for them to do it. We changed a few remotes when our kids were younger. If I knew I could use an old smartphone, I could have saved a few visits to the hardware store.
5. Use Old Cellphones for GPS (Offline & Online)
If you're like me, you like using your GPS whenever you're traveling long distances. I just love the convenience of seeing:
how far is our final destination,
how long do we have to travel,
where the turns are,
where the traffic is slow,
what alternative routes we can take, or
where we're having toll booths…
Imagine you are on a long road trip and you don't want to use your primary cell phone to act as your GPS. Of course, you could actually buy a GPS, but really? How many people buy those nowadays? That's like having a landline… sorry, Mom!
This is one of my favorite uses for old smartphones – to use it as the acting GPS. You can either download the directions so it guides you in "offline mode" or use your primary cell phone as a HotSpot.
What a great smartphone hack! Check out these other ideas we have on how to declutter and organize your phone, so you can make the best of it, too!
6. You Can Still Make Video Calls Using Old Cellphones
Smartphone cameras improved immensely for the past few years. It's just amazing that we're living in times, where we can record videos with very high quality with a small supercomputer we carry in our pocket at all times.
Some models of older cellphones have amazing video and camera specs, so why let them go to waste? I love repurposing things I own and put them into good use, so this is one of the uses for old smartphones that I was really happy to implement.
I have video conference calls fairly regularly, so having a dedicated device is AWESOME! It makes my life SO MUCH easier!
I set up my video space once and that's it. It's so much better than using my main phone or computer cam. No more worrying about having clutter in the background or making time to tidy everything up. Or not getting that important phone call from your kids' school…
I just love tips that help me simplify, simplify, simplify! 🙂
7. Brilliant Uses For Old Smartphones – Camera For Young Photographers
Is your child very much into taking photos of everything? Yeah, it's a fun phase. Make your old smartphone your kids' new favorite toy – a new camera!
They can learn how to use the different filters and settings that every camera phone has, no matter how old.
You can play "Picture Scavenger Hunt" with your little ones, too (especially, when you need to keep the kids busy for a while). Make a list of different items for your kids to find around the house, yard, or block and take photos of. The first team to shoot all of the items – wins!
What a great use for an old smartphone!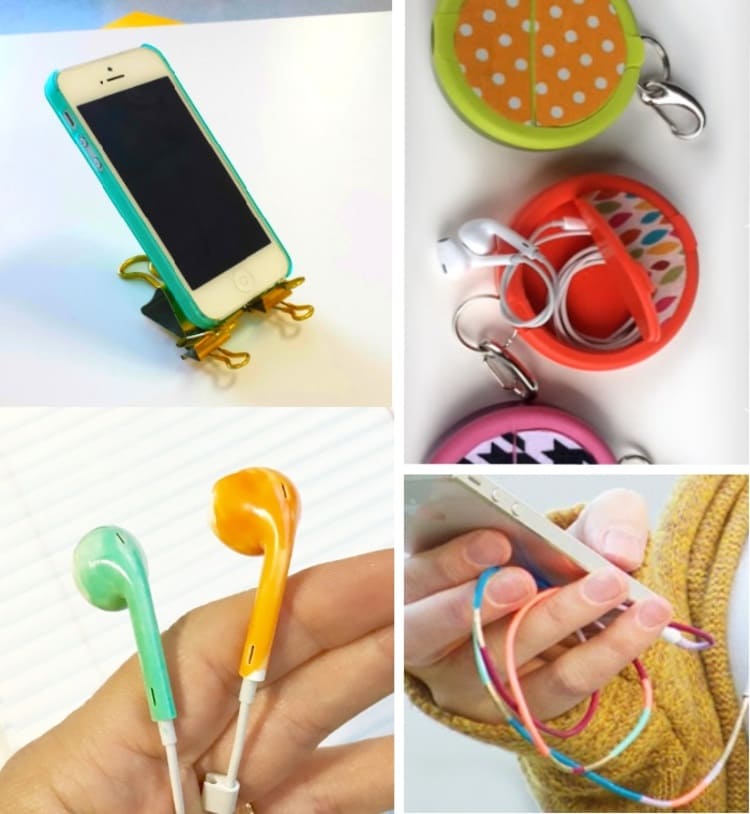 What about our primary cell phones? Here are 21 Phone Hacks You Will Wonder How You Lived Without! My favorite is turning your phone into a scanner idea, but check out the rest of the phone hacks while you're there. Which is yours?
In Conclusion
With technology improving so rapidly in the past few decades, we are building bigger and bigger piles of old, dated smartphones and other tech devices. And these piles are usually growing only to gather dust and clutter up our space.
But what if I tell you there are quite a few ways you can put your old smartphones into good use?
There are so many things you can do with an old smartphone! Who would have thought you can use them for a TV remote control (as tip 3 from this list teaches us) or a baby monitor (tip 1)? You just have to find an idea that works for you and tap into your old gadgets' full potential!
Is there a tip we're missing? Let us know in the comments below! We'd love to include your best suggestions for uses for old smartphones!
Did you like these 5 creative uses for old smartphones? Then you're going to love these other life hack posts we have: