Fall is almost here and it is the perfect time to start grabbing all of my favorite hot chocolate recipes! Is there much better than a cup of hot cocoa on a cold, windy day? There is just something so soothing about that.
As usual, the internet has surprised me and shown my recipes I would have never dreamt up on my own.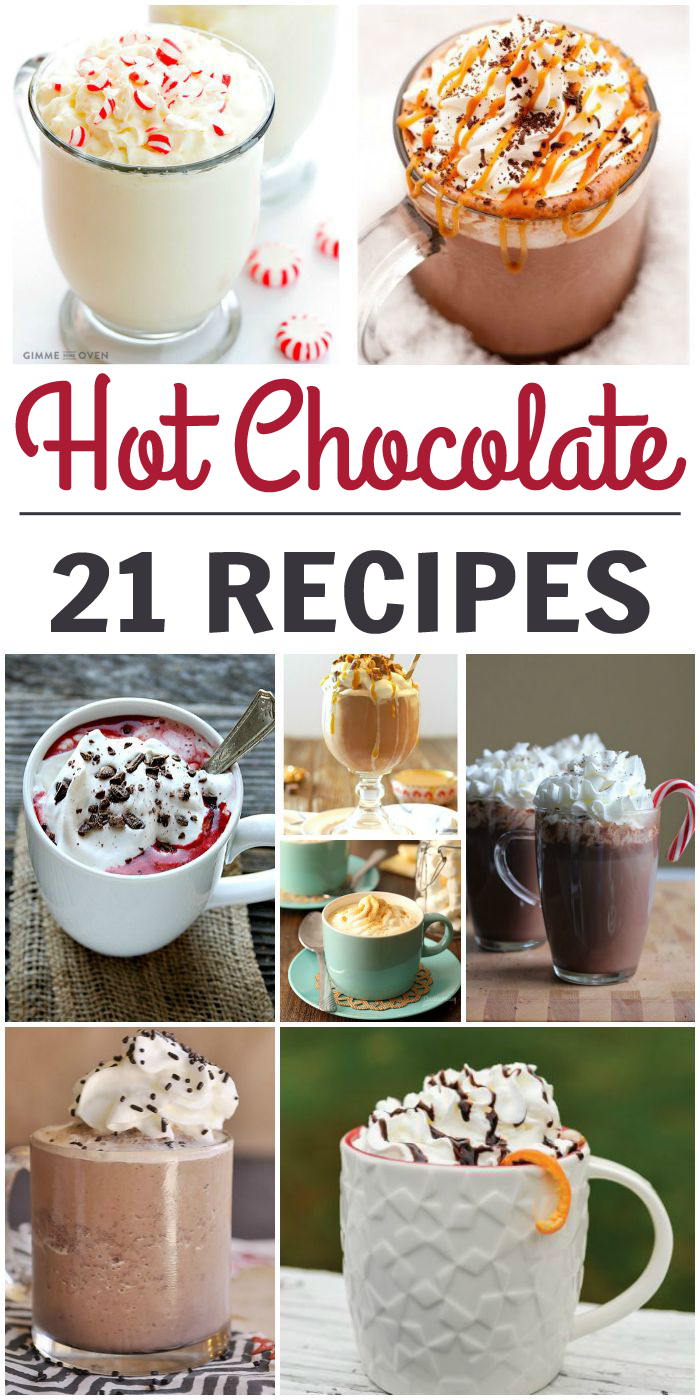 21 Delicious Hot Chocolate Recipes
Do you love Starbucks hot cocoa? Here is a copycat drink that tastes just like it!
If you're an Oreo lover like me then this cookies and cream hot chocolate is perfect for you.
Everyone knows that peanut butter and chocolate are the perfect pair. This peanut butter hot chocolate is so good.
The peppermint white hot chocolate just screams Christmas. Welcome, winter!
Everyone goes nuts for all things pumpkin in the fall. You're gonna love this pumpkin hot chocolate.
This salted carmel hot chocolate sounds amazing. I can't wait to try this one!
Have you ever seen hot chocolate on a stick? Such an incredibly creative idea.
Hazelnut hot chocolate is a great recipe to keep around for the winter.
A raspberry white chocolate is a perfect fit for fruit lovers.
This cheesecake hot chocolate combines my two favorite things. Yum.
I can't believe I haven't thought of this before – Nutella hot chocolate makes perfect sense!
Keep it simple and easy with this three-ingredient recipe.
Left-over Girl Scout cookies? Make thin mint hot chocolate!
Another fruity cocoa recipe, the orange hot chocolate is a major hit!
Who doesn't adore red velvet? This red velvet hot cocoa will warm your belly.
Frozen Hot Chocolate
Hot chocolate is not just for the winter! Try this delicous hot chocolate float with mint chocolate chip ice cream.
This basic frozen hot chocolate recipe is such a classic!
Here is another recipe for the peanut butter lovers! This peanut butter hot chocolate float is a perfect warm weather treat.
Ok this one just might be my most favorite. A frozen carmel hot chocolate sounds like perfection!
This pumpkin white chocolate frozen cocoa recipe is amazing when you want a taste of fall but the weather hasn't quite got cold yet.