It's the holiday season, and with it comes parties galore – with all it's party food and gala!
Maybe you love playing little miss hostess or maybe you're just the one with the biggest dining room in the family; regardless, wouldn't it be nice if this year you could just enjoy the party like everybody else? Even the most laid back hostess has her work cut out for her with having people over and serving them food. Add entertainment, drinks, and any kind of agenda–it's just a lot. So we're here to help you rise above the stress to actually enjoy your party!
Strategize. Space out your prep work throughout the week leading up to the party. Plan your menu and do your shopping about a week before. Within three days of the party prepare, cook what you can, and freeze or chill whatever possible. This guide will walk you through a party week. Calm and organized party planning will make for the happiest hostess!
Consider enlisting an attendee as a co-hostess before the big day. This is not in place of a husband who is also hosting. Just one more person who feels responsible for everything running smoothly is always nice. Someone who will show up an hour early and stay an hour late, someone you can ask to do a thing or two and you know she'll get the job done. Don't wait until the party to find this person, find someone beforehand! Try to have a little thank-you gift on the ready as she leaves too. A gift card, her favorite baked good, some bath soaps–anything to let her know you were glad she helped you out.

Make ahead dinners are your friend. Here are some great make ahead recipes, but never make a brand new recipe for a party! Always give it a dry run so you know it will come out well. There is nothing worse than serving a Pinterest fail to your friends. Make something you know you're good at and make it ahead of time.
If you get way too stressed about food, make it a potluck instead! No shame–potlucks are great because every dish tends to be someone's BEST dish. Use an online potluck planner to make sure you don't get eight plates of brownies and no salad (actually, on second thought that doesn't sound so ba–no, no, we're adults here, use the planner!)
Have food sitting out. Any food. Anything for people to munch on that will keep them happy while you put the finishing touches on dinner. Cheese and crackers, chips and salsa, fruit and veggies, or impress your guests with something fun like this delicious chocolate chip cookie dough dip or a doughnut cake.
Let your guests make their own drinks. It's an activity for them and it will save you the hassle of getting each person a drink as they come in. Set up a table with lots of fun garnishes. It's great for alcoholic beverages and it's wonderful for a juice bar, coffee bar, or hot chocolate bar, too.
While they're at it, ask that they write their name on their glass and use the same one all night. You save on dishes, they think it's neat! Find out how to make a chalkboard wine glass here!
Speaking of dishes, don't let them pile up all over the place. That makes the house feel dirtier and cluttered. You also don't want them crowding the sink either–then you can't use it when you need to! Instead, set up a dirty dish bin right next to a trash can. Your guests will know what to do and the mess will be both contained and mobile.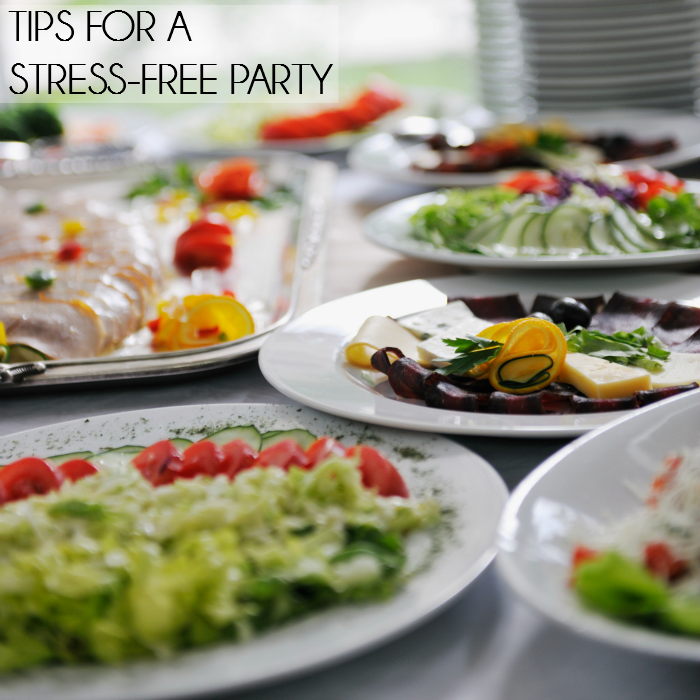 Photo booths are all the rage these days–and for good reason! They're fun, they get people out of their shells, and everyone wants to take photos anyway. So, set up a backdrop and find the appropriate props. Printables will make it super easy.
Stick with desserts that you can just pull out of the fridge. Bonus points if it is self contained (mini cheesecakes, cupcakes, dessert shooters) and doesn't require additional cutting or serving! Here are some delectable dessert recipes to get you inspired.
For every minute you're on your feet doing hostly things, spend fifteen minutes enjoying the party. Do all the things you worked so hard to set up. Make yourself a fancy drink, take a bunch of hilarious photos in that photo booth, sit on the couch and laugh it up with your pals, savor the dinner you spent a week planning. This is your party and it'll be history before you know it, so you better soak up the good vibes while you can.