As parents, we often struggle with wanting to make our spaces look pretty while still keeping them functional and practical for our families. The struggle is real, but it's not impossible to overcome. If you're looking for ways to make your main living area more family-friendly, check out these kid-friendly living and family room ideas to manage the chaos.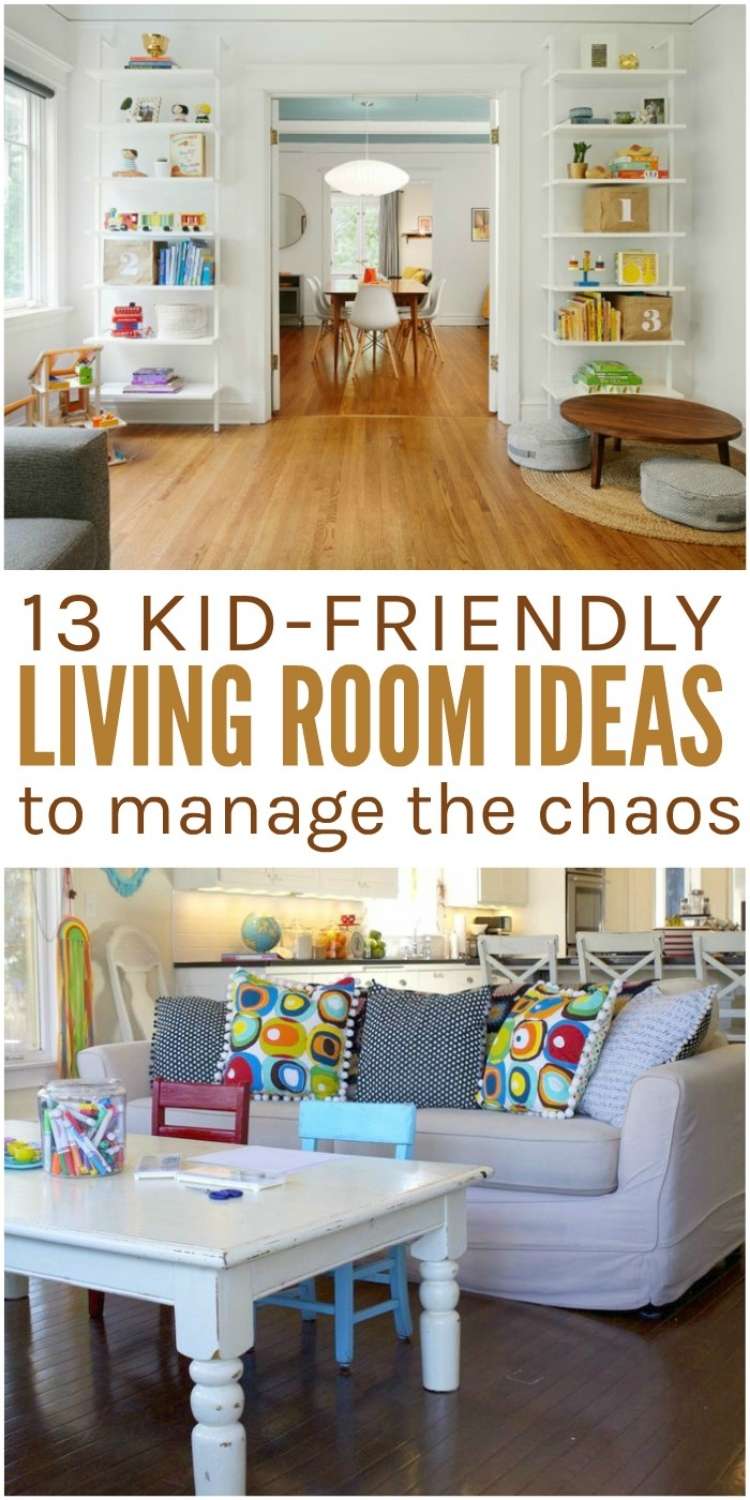 Smart Kid Friendly Living and Family Room Ideas
1. Slim table behind sofa to keep drinks out of reach for children
If you have toddlers, you know just how precarious a drink on the coffee table can be. Using a slim table behind the sofa like this keeps little hands from reaching drinks or the remote and knocking them over. With these tables, you can easily keep guard of your drinks as the toddler jumps around.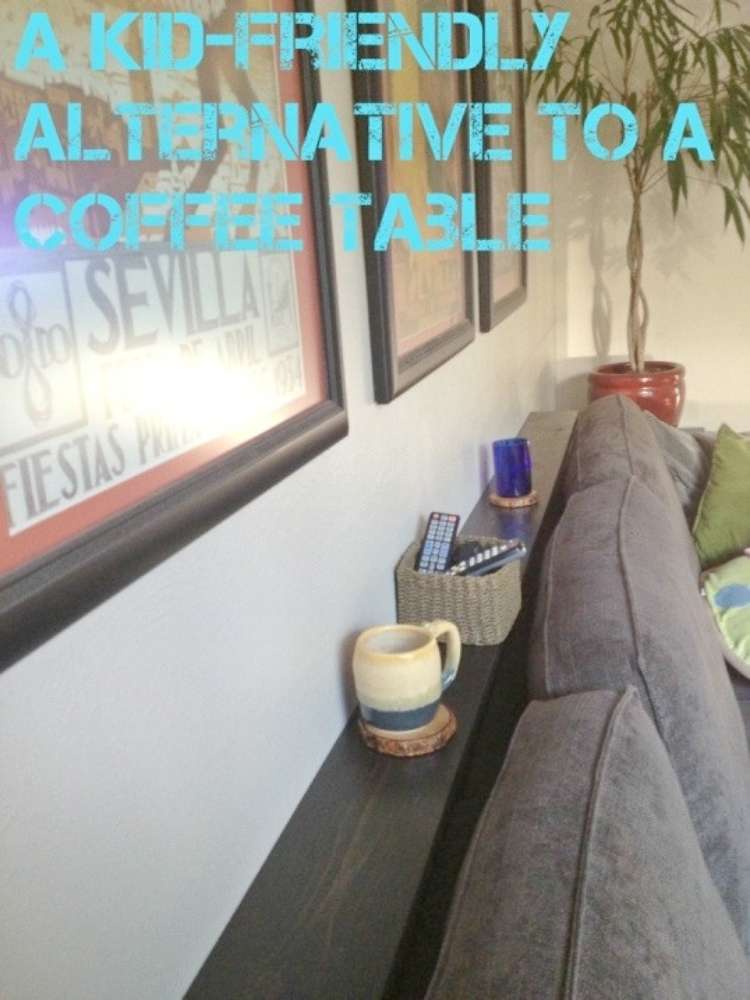 2. Hang baskets on the wall
To hide toys, blankets, and games when they're not in use, get some hooks and baskets and pin them on the wall out of reach of the toddlers. And when the kids want them, you can easily pull the basket off the wall to make reaching their things easier. It can also be fun having them help you collect the toys back into the basket once they are done.
You can also use baskets:
To organize your mail – make a command center behind a door with baskets.
Store blankets and off-season throw pillows – giant baskets are the best.
To contain all of the wires!!  We have a TV Remote "Basket" and another basket for all the wires.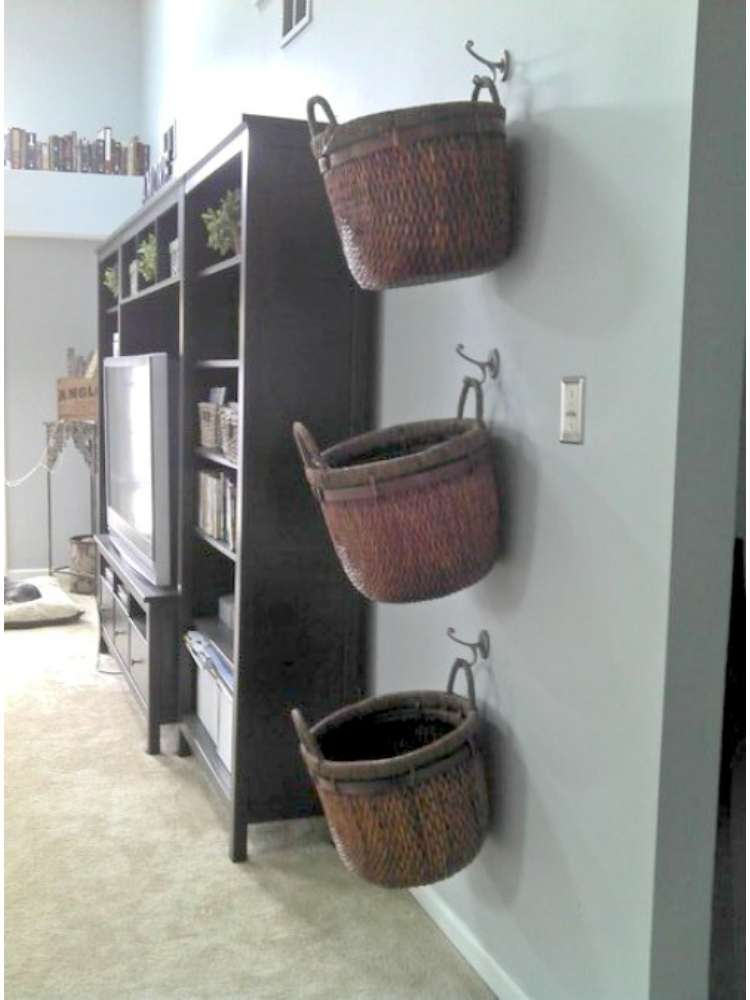 3. Kid-friendly cube storage
Cube storage works so well when your living room doubles as the kids' play area. The cubbies can hold books, puzzles, board games, etc., and you can add pretty baskets to some of the cubbies to contain smaller toys like blocks and dolls. They work well as a display so the toddler can 'window shop' for the toys they want to play with.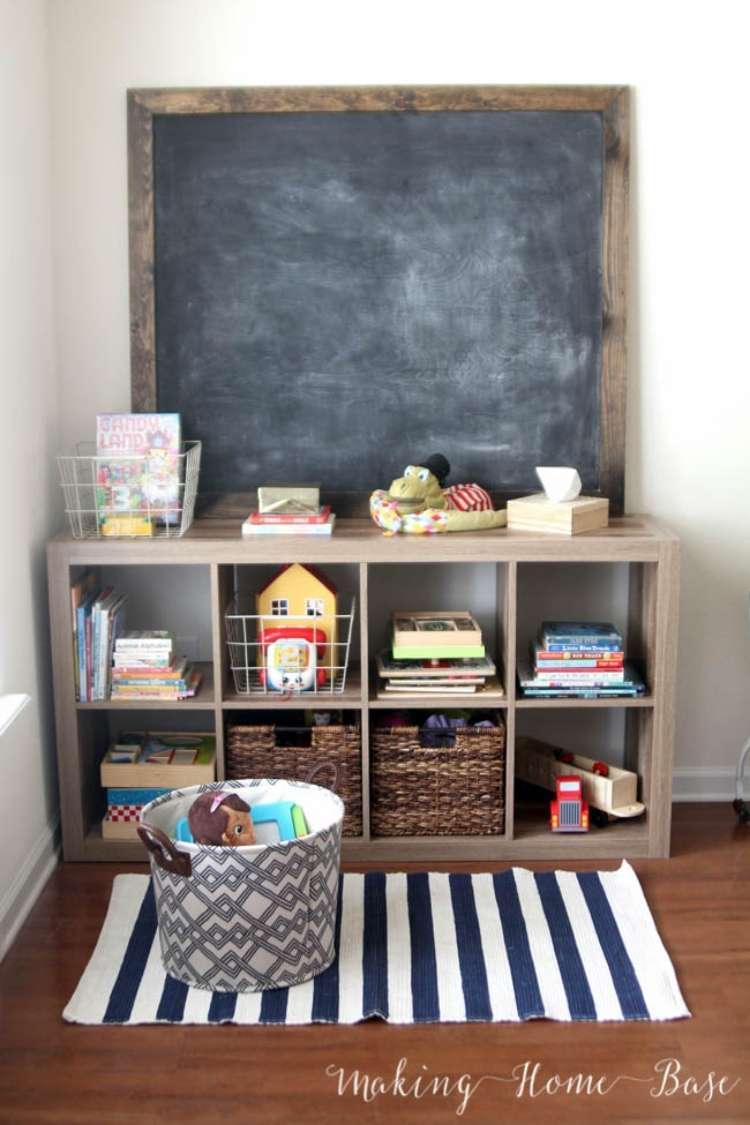 4. Have a dual-purpose coffee table
Add a couple of kids' chairs to allow them to color, make crafts or work on their homework while they're with the rest of the family. Use a kid-friendly coffee table that is will not have you worried over the mess and damage toddlers can leave in their wake.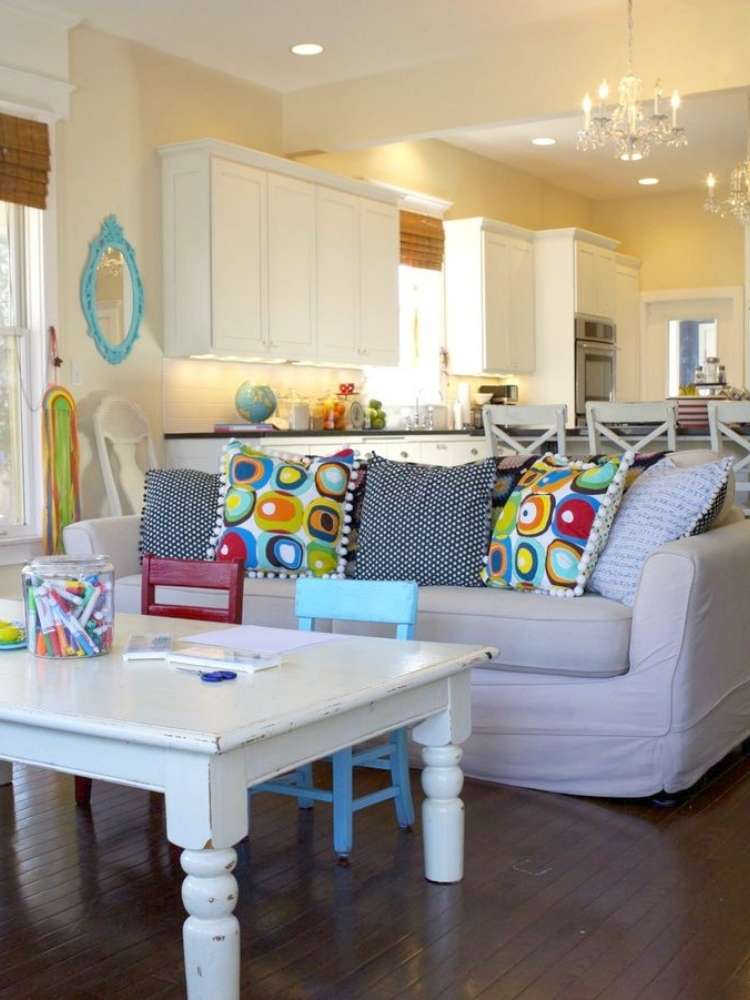 5. Bean bag furniture
These come in all shapes and colors to match your home decor. Bean bag furniture is also safe for kids to jump on and have a good time in the living room. The bean bag chairs and teepee in this living room make it so much more kid-friendly. Still, the neutral colors help it blend in seamlessly with the rest of the furniture and decor.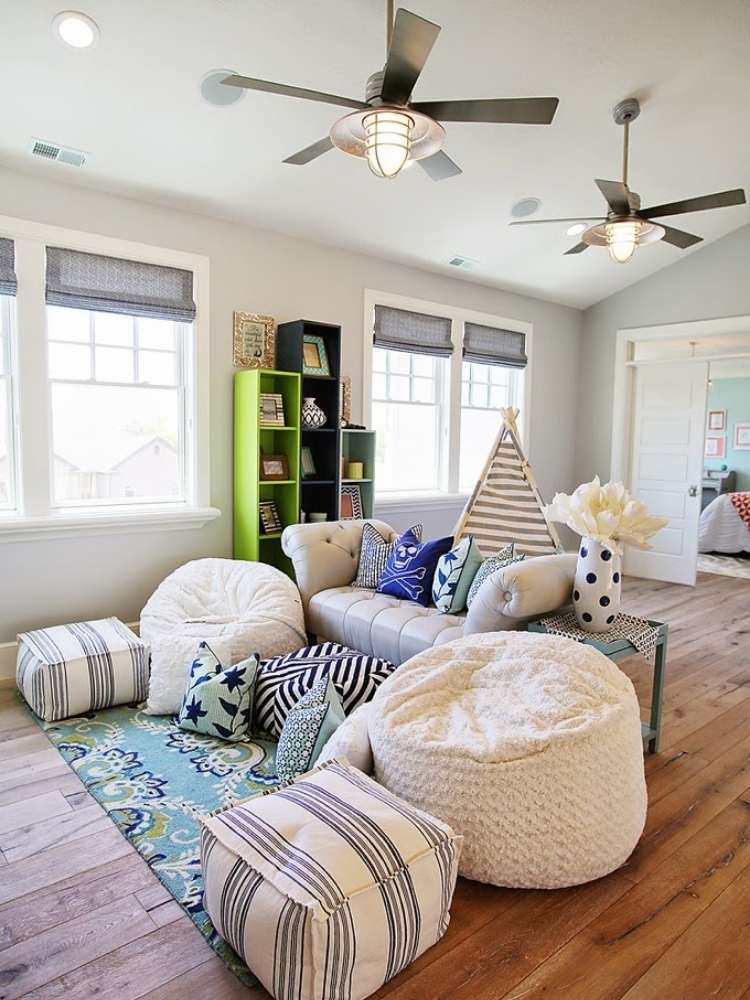 6. Kid-friendly framed cork boards
Your toddlers have become artists, they draw, they paint, they mold, and just like Goya, they deserve to have their works displayed. Make your living room a museum for their effort by blending your kids' artwork into the decor of your home. Here (at the St. Jude's campus), you'll find white framed cork boards where kids' artwork is rotated regularly. You can do the same in your home… the frames around the cork boards tie the pieces together and make the displays look so much neater and loads of fun.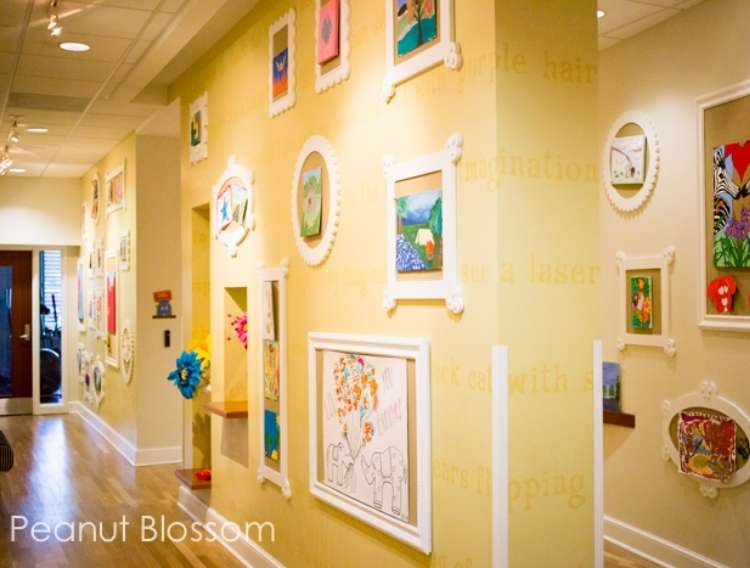 7. Hidden storage in your living room
There are all kinds of unused spaces in your living room that you can use to store up those toys. Use hidden storage wherever you can. This under-chair storage basket hides nicely under the armchair and is smart and attractive, and as long as the contents aren't spilling over, it'll look tidy.
8. Use plastic bins to organize your toy chest
If you keep a toy chest in your living room, you know that the kids will drag everything out to find that one toy (that somehow always happens to be at the bottom). Use plastic storage containers to keep your toy chest organized. You can try grouping them by size, type, or even according to the child's favorites. Keep the most used toys in the top plastic containers and the least used towards the bottom. This way, your living room won't be littered with legos and dolls.
9. Create a window seat storage area.
No matter how much space we have in our homes, w always seem to want just a little more space. That space under the window is perfect for creating a storage area for your toddler's toys. The space is usually large and easy to customize to match the rest of your living room decor. To keep yours a kid-friendly living room, you can even have lockable drawers to keep that toddler out for sensitive items.
What home couldn't use more storage and more seats? I know ours could!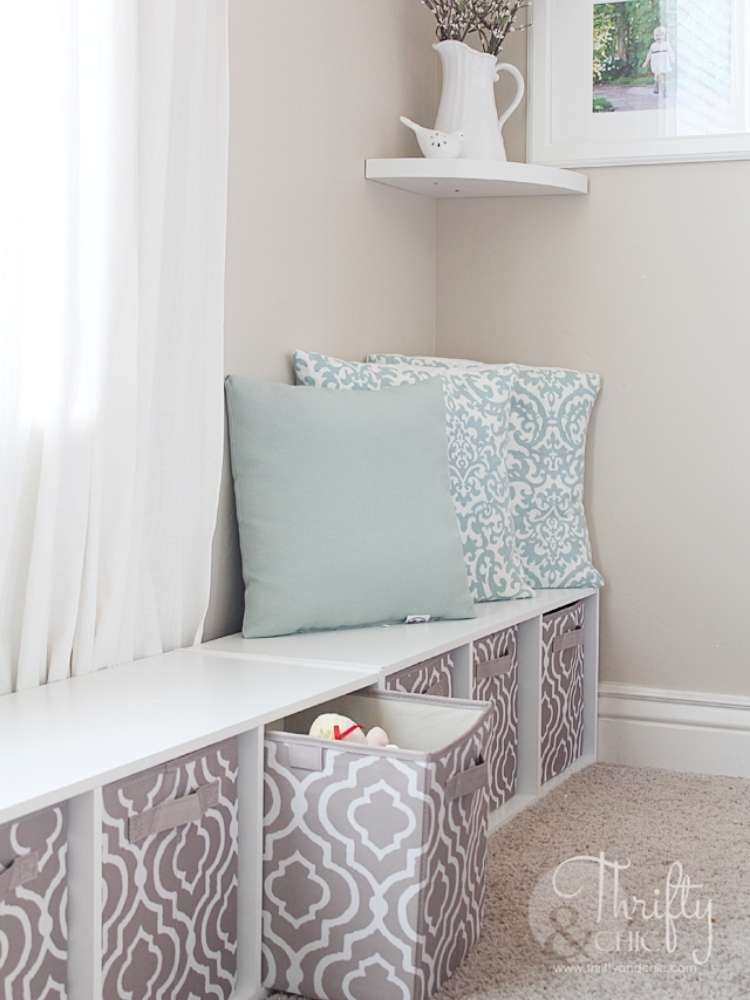 10. Let the kids draw on the walls
Does your kid like to take the crayons and use your walls as her canvas? Is the mess difficult to clean off the walls? Does the toddler need more space to express her newest drawing ideas? Don't worry… you can do this chalkboard paint on a small wall to contain the chaos. Take a small space on the living room walls and make it kid-friendly to draw on. The chalkboard is easy to clean becoming a never-ending canvas on which your little Goya can draw and draw and draw to her heart's content.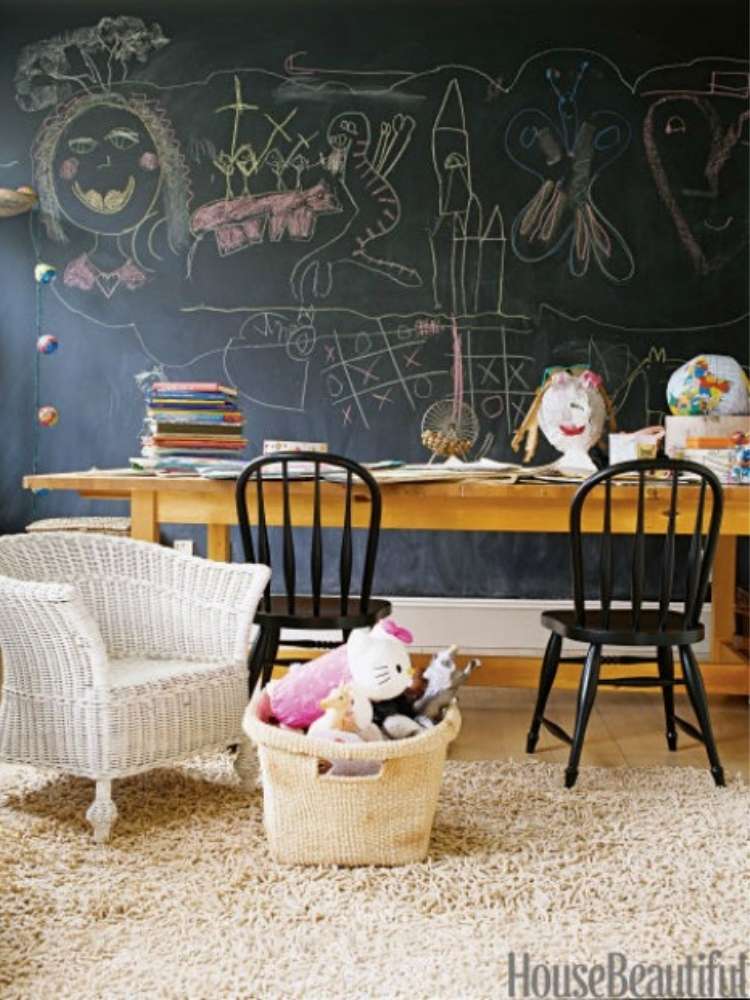 11. A rounded coffee table and kid-friendly bookshelves
Your toddler will run all over the house and from time to time, she will bump into your furniture. If you have sharp edges and corners, the boo-boo will hurt much more. Best to have furniture with rounded corners and if possible take some out to create room in your living room cum playground. To replace the lost furniture, best set up some shelves to take up some of the storage.
A rounded coffee table will protect your toddler should she run into it during her normal play. Shelves will remove the need for storage furniture on the floor of your living room to create more room for her to run about and dissipate all that kid energy.
Make this room so kid-friendly! The shelves hold toys for now and transition with the family as the kids get older. The rounded coffee table is more toddler and preschooler-friendly (no sharp edges, thank you!) and the little poufs offer comfy seating.
12. A storage ottoman
A storage ottoman is a bit like a swiss knife. With a fun interior design pattern, it is a great way to store kids' toys because it doubles as seating, too. These boxes come in many shapes, sizes, and colors. Pick one or two that will accommodate all those toys and blend in well with your living room decor. When the toddler is in the mood, the toys are only an arm's length away, and when it's time to put the games away for a sit-in around the family, you have ample seating space.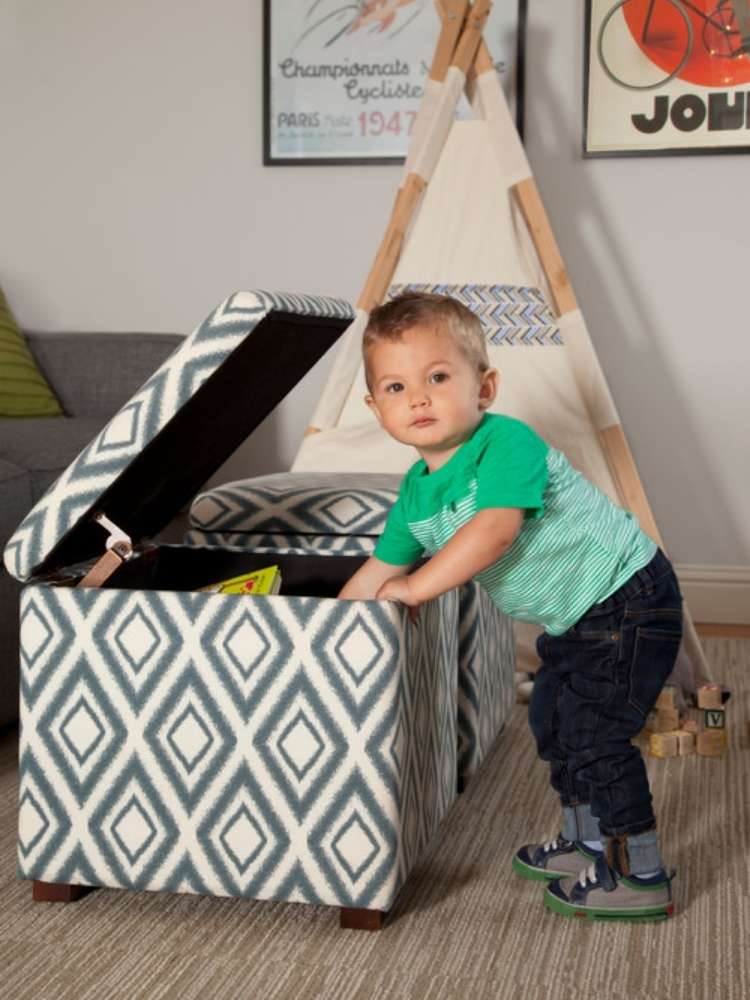 13. Kid-friendly rugs
Here is another of our kid-friendly living room ideas for you.
Thick colorful rugs for your living room will keep you unworried about the child scraping her knee as she crawls and plays on the floor. Brilliant colors will also engage the toddler as she traces that pattern of the rug with her fingers or tries to name all the colors she can see. That should keep her engaged for a while without having to take out all those toys from your clever living room toy storage spaces.
14. Slipcovers to make your living room furniture kid-friendly
Worried about that expensive fabric on your designer sofa, you have a good reason, toddlers can be agents of chaos. Don't just trade in that luxurious piece of furniture for a boring child-friendly just yet. Get slipcovers that match the vibrance that your child needs and put them on your furniture. They fit easily and cozily just like socks to your feet. You won't have to worry about your child soiling the furniture fabric, you can slip the cover right off and wash it again and again. When she goes to sleep, pour yourself a glass of wine and enjoy the furniture just the way you bought it, and slip them back on when the toddler comes around.
15. Bonus tip to make your living room kid-friendly
How about a bonus of our kid-friendly living room ideas?
Creating a designated play area for your kids where they can have all their toys in the living room may sound like it's going to crumple up your space. Look at it this way, the rest of the living room will be free for you to suit your taste. This way, you can have your bundle of joy play with her toys within your eye and earshot as you catch up on the news over the tv. You will have some training to do to teach her to keep her toys within that designated play area and she will bring a toy over to the grown-up side from time to time but it will all be worth it.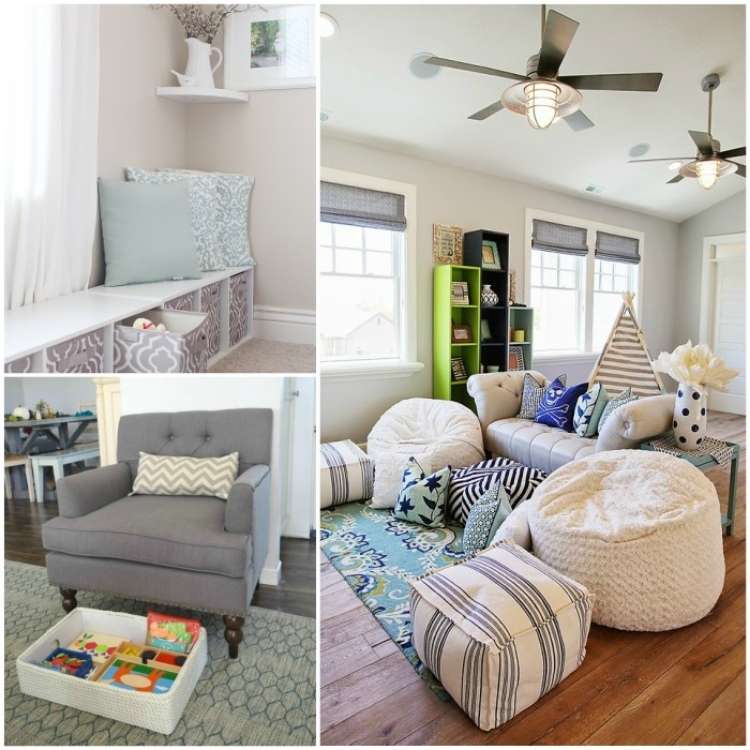 Did you like these kid-friendly living room ideas? Check out these other toddler parenting hacks
Which living room idea will you try?