Do you love doing DIY projects as much as we do? DIY projects don't have to be big. Small projects can sometimes have the greatest impact. Improve the look and feel of your entire home with these simple closet door ideas!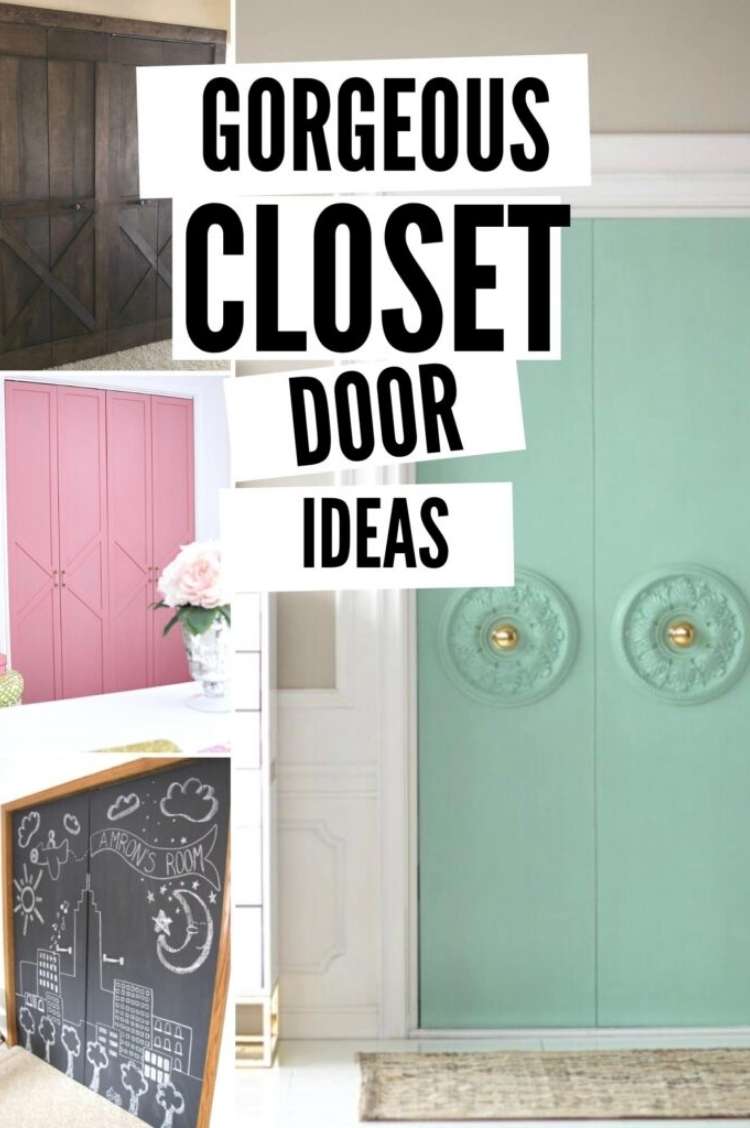 Thanks to home improvement networks, homes across the world are being updated with these simple closet door ideas.
Some people go all out and remodel the whole house, while others are perfectly fine with changing small cosmetic things here and there.
I don't know about you, but we don't have the time (or the budget) to remodel all of our rooms. However, we've figured there is one simple change we can make to improve the look of the rooms in our house: a closet door makeover!
We have plain bi-fold doors, and they're the worst! So on our quest to spruce them up, we've found 18 closet door makeovers that made us say "wow".
Some are easy (just paint tricks) while others require a little more DIY expertise. Either way you decide to go, you're sure to improve your entire room with these closet door ideas!
18 Closet Door Ideas That'll Add Major WOW Factor To Your Home
French closet doors, modern closet doors, wood sliding closet doors, small closet doors, and more. We've got DIY closet door ideas for all those and much more! Check them out these 18 amazing ideas for making your closet doors look like custom creations that were made just for your home!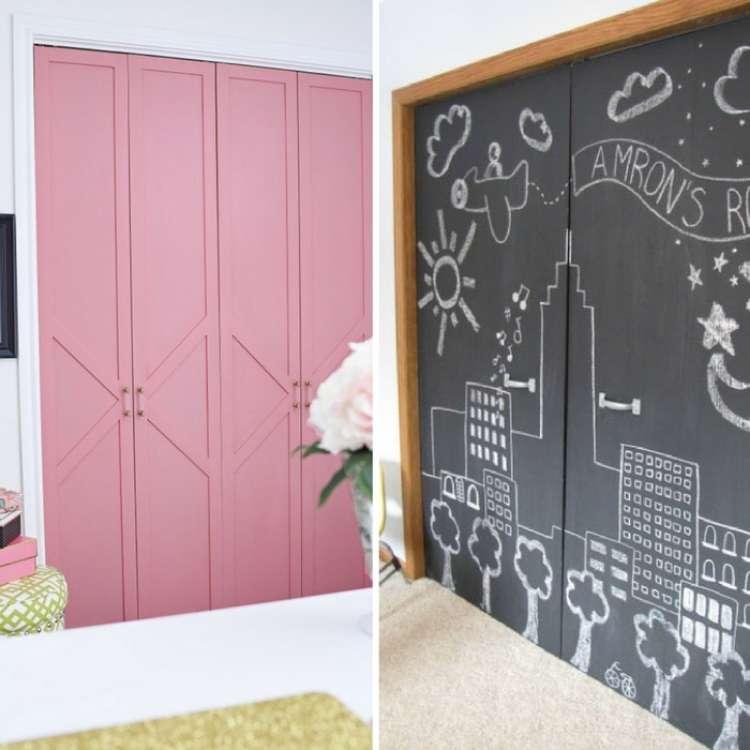 1. Add Sunburst Details To Your Closet Doors
If you want to add some wow to your plain bifold closet doors, we've got a great idea for you to try.
Add wood detailing to bifold doors. Not only do they add an interesting visual element, but they'll look amazing when painted in any color (even white!).
Really want to take it to another level? Paint them an amazing, bright color like these yellow doors!

This one will take some work, but the payoff will be closet doors that just POP!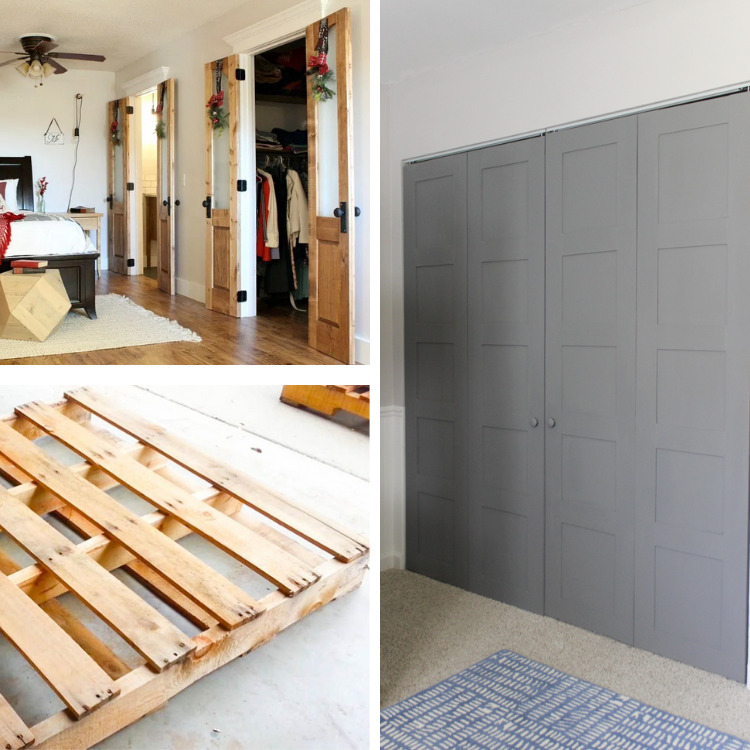 2. Sliding Doors a Bummer? Try Faux Panels
If you can't take looking at your plain, ugly closet doors anymore but don't have the money to replace them, use paint to make them look a little more interesting. 
This two-tone effect is a huge improvement and gives the doors a faux panel effect! Your closet doors will look more sophisticated and everyone will think you paid thousands for custom-made closet doors.
3. Add Trim Molding To Your Closet Doors
If you're looking for a slightly different custom panel look for your closet doors, here's an alternative.
These slab doors were jazzed up with panel molding trim and black handles. They're lovely and look much more expensive than they actually were.
4. Unconventional Closet Doors Look Just as Amazing
Curtains in lieu of doors are a nice touch in a girl's room. You can keep them simple or frilly and can change them out as often as styles and tastes change. They'd work especially well in a room with a small footprint and bifold doors. I'm honestly considering this idea for my own closet!
5. Add a Little More Flair to Your Closet Doors
For a completely different look, but with the same spin, check out the ruffled drapes on this closet. The layered ruffles make for a soft and dreamy feel. This easy DIY closet door idea is a simple way to add even more flair to your closet door makeover project.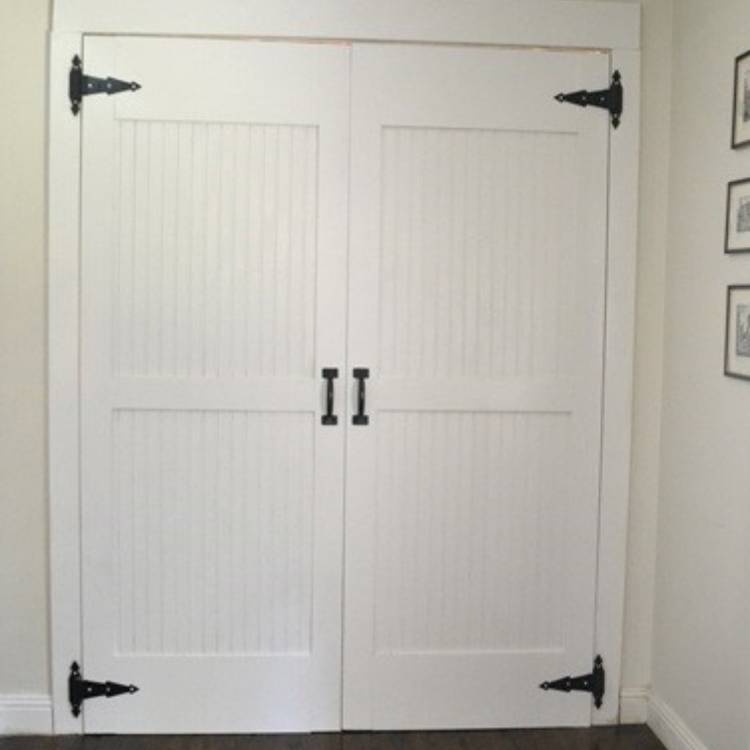 6. Doors That Go From Blah to Wow
These doors will require more effort, but the final product is beautiful! I don't know exactly how to describe these closet doors, but they give off a barn door/saloon type vibe that I absolutely love. The black handles and the gate hinges really make them pop and give them a certain finesse. They're simply gorgeous!
7. Barn Door Closet Door Love
Does anyone not love modern barn doors? Here's a stunning 4-panel barn door option for a small closet with a single door. These doors are made with four panels, but you could customize it to any number of panels that works with your home's style. Love this simple look so much!
8. Bi-Fold Door Transformation
To be perfectly honest, bi-fold doors drive me crazy. That said, I like this option of separating them and turning them into stunning French closet doors. It's an easy weekend project that looks so much nicer than bi-folds. When you've finished, you'll have gorgeous closet doors that look like new! 
9. Surprise Closet Door Idea
If you like rustic, this idea is for you. Old shutters look gorgeous as closet doors. They look so rustic! (The site is in Italian but Google can translate for you.)
This is a super smart way to repurpose and upcycle some old shutters if you have some or if you know someone who has some they want to part with.
10. Arches Make Everything—Including Closets—Look Amazing
I'm a huge fan of arched doorways – and doors! Make any closet a little fancier with French doors and make them even better by adding frosted glass arches. These doors are works of art! Absolutely gorgeous!
11. Craftsman Style Bi-Fold Closet Doors
This mom converted her sons' flat bi-fold doors into these beautiful craftsman style closet doors that really stand out. Panels just make any interior door look so much better. And again, you could customize the number of panels (and paint color) to suit any taste or style.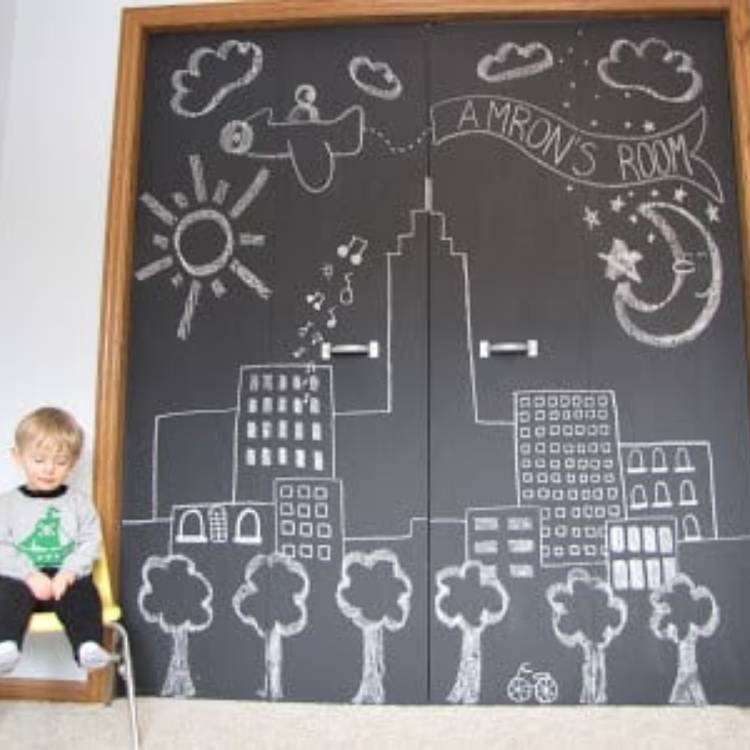 12. Encourage Art With Chalkboard Paint Closet Doors
Your kids will love this idea! Or really, any of the artists in your family.
Cover the closet doors in chalkboard paint to give your child a fun canvas on which to create and draw every day. This is a great idea for kitchen and pantry closet/cabinet doors, too, because you can write a menu, grocery list, etc. on them as needed. Then just erase when you've finished with the list.
13. Ornate Option European-Style Doors
A painted ceiling medallion gives these closet doors an ornate, European look that certainly no one would call boring. And it's an easy, no-power-tools-necessary makeover that anyone can do!
14. Bi-fold Barn Closet Doors
These are bi-fold doors that look like barn doors. In a room where it's impractical to have sliding or out-swinging doors, this is really an attractive option. It's a great, rustic look built on a builder's grade closet door. 
15. Shiplap Love for Closet Doors
Any Fixer Upper fan would love these shiplap doors with modern handles. Shiplap French closet doors look very chic and are a great closet door idea for transforming ordinary bi-fold doors into outstanding French doors that will look great on any closet.
16. Textured Fabric Covered Closet Doors
This is a really fun idea that combines the best of fabric and wood makeovers.
These fabric covered closet doors can add dimension to a room. See how the texture of the fabric just adds a really neat element of visual interest? Incredible. It's a simple way to completely change the look of the room and the doors. And the only tools you need are:
If some of the other projects seem a little overwhelming, this one is nice and simple.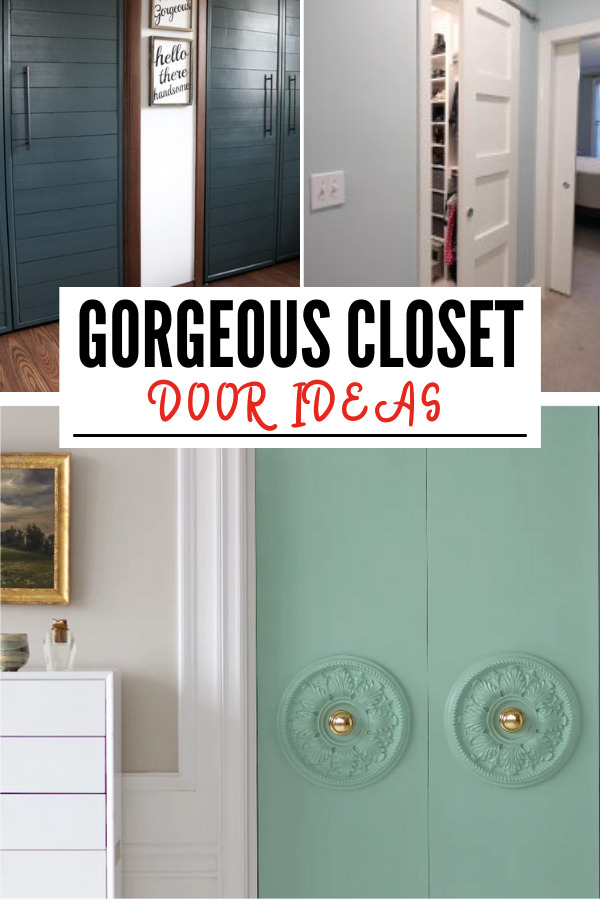 17. Add a Pop of Color on Your Closet Doors
Instead of trying to hide your doors or make them over, put them to work for you.
Turn your closet doors into an accent wall! The bold pop of color here is absolutely stunning, and you can re-paint them whenever you'd like to accent your room in a different color. It's a simple way to make a big change in the look and feel or your room.
18. DIY Pallet Barn Door for Your Closet
And finally, if you have an old pallet lying around, use the wood to create your own sliding pallet closet door. They're all beautiful ideas for creating closet doors that are a dream to have in any home. 
And if you love pallets (who doesn't? they are huge DIY projects that are so big right now!), you'll love these other pallet projects!
Closet Door Ideas and Hacks for Room (and Home) Makeovers That Wow!
I never realized how much of an impact the closet can have on a room. By changing the look of your closet doors, in your bedroom, in the hall, or where ever they are, you can change the feel of the whole room. Go from something sleek and European to a door that is classic Americana. The only limits are in your imagination.
Whether you just want to change the color of the door, or give it a completely new look, one of these ideas is sure to freshen up the feel of your home. You'll love the new look!
Get More Home Makeover Inspiration From One Crazy Horse
Pin for Later!