Have you fallen out of love with the dresser in your bedroom? Got a dusty dresser taking up room in your basement or garage? It's time to give it a dresser makeover! Turn your plain dresser into a kitchen island, or a tv stand, or just fancy it up for a fresh new look.
We rarely say trust us, but for these DIY dresser makeovers, you'll want to do just that. Trust us. Not only will you want to makeover almost every dresser in your home once you take a look at the tips we've collected for you, but you'll also go out looking for all the old, tired, and unsightly dressers to give them dresser makeovers. These tips are that GOOD.
Whether you've got an old Ikea dresser you want to turn into a random black dresser or into a French provincial dresser, the ideas here will give it the rustic but more modern look you've always wanted for your dresser's frame.
While at it, take a look at our outdoor furniture makeovers, too!
Dresser Makeover Ideas You can Do at Home
1. From Old Dresser To A Fancy Beautiful TV Stand
Want that fancy Amazon TV stand but you don't have the budget? Here's a hack: Almost any old dresser can make a beautiful TV stand. First, remove a few of the drawers to house your DVD player, game consoles, etc. Then add a coat of paint and update the hardware. While this might not be your easiest DIY, it will totally be worth the effort and trouble.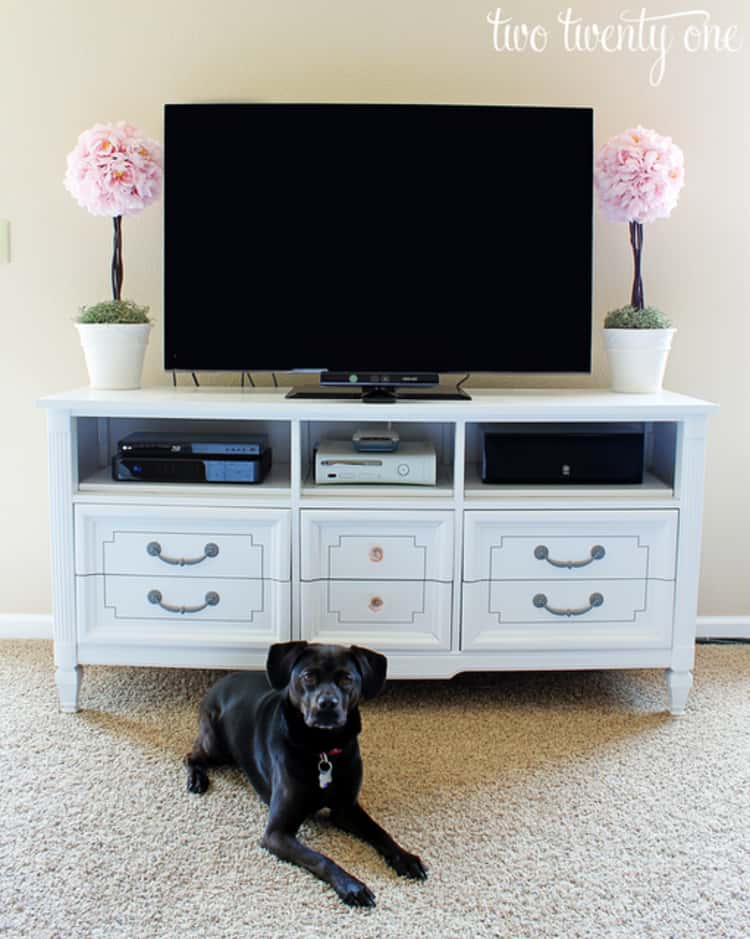 2. Dresser Makeover To A Kitchen Island On Wheels
Sometimes, we wish kitchen shelves can move. Well, this modern drawer pulls that idea together! Turn an old dresser into a kitchen island. Give it a fresh coat of paint, and add some hooks for utensils along with a paper towel holder. Just carefully paint color of your own liking. While we love love love this color, use chalkboard paint on one side to keep the kiddos busy while you whip up a meal for them. What a great idea!
3. Rustic Dresser Makeovers For Antique Furniture Pieces
How about a mid-century artwork in your dresser table? We love this herringbone dresser because it adds a pop of color but still allows the old wood to shine through on a couple of the drawers. This is a terrific way to update a piece that's been handed down through the generations. You get to have the dresser retain its character and still tie in with the newer generation's style and decor.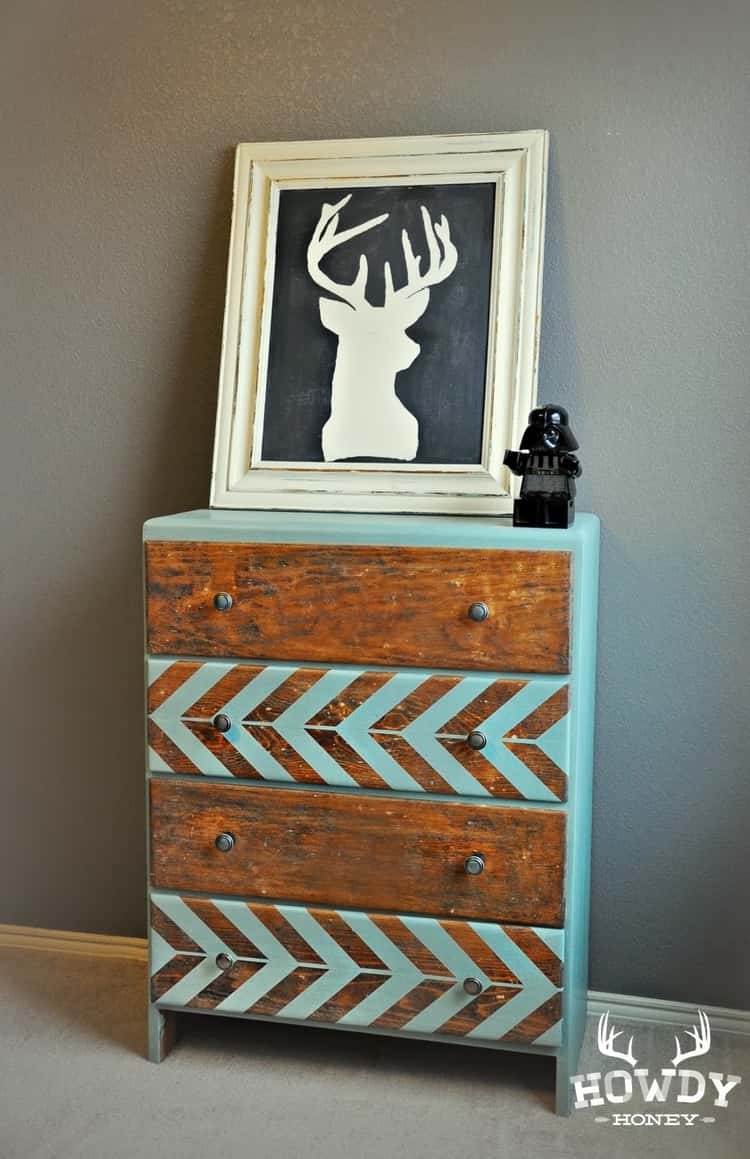 4. Get Yourself Updated Functional Dressers With Simple Makeovers
Do you have a dresser with those tiny drawers that are good for, well, nothing? So do we! Definitely, plan to try this DIY with baskets on either side. You can get those lovely baskets from garage sales, Facebook marketplace, or from a dollar store.
With a fresh vibrant coat of paint, new hardware, and roomy baskets, no one will ever know it was some ugly tired old dresser probably hidden in some corner of the basement because of its annoying tiny weeny drawers. Just a glaze of new paint and it's all new!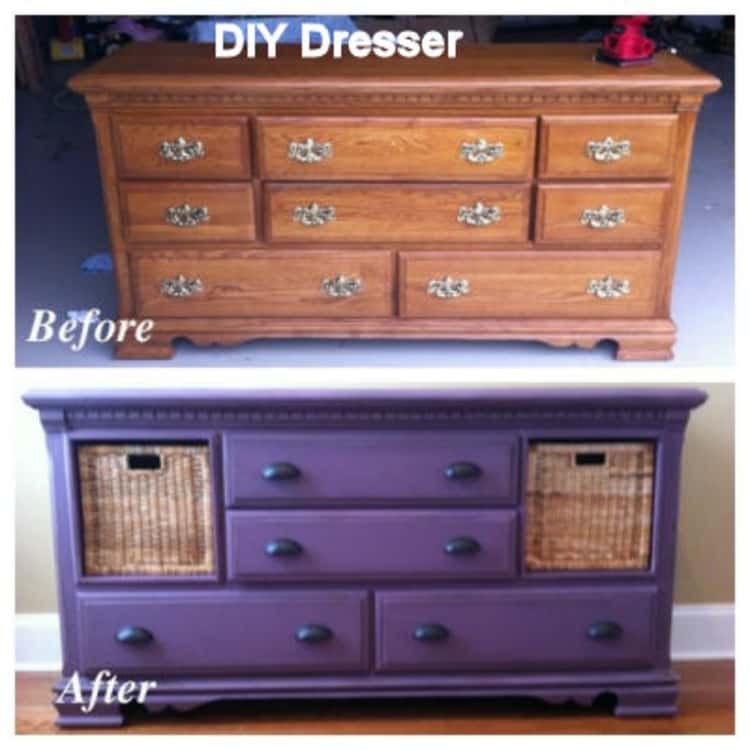 5. Cheap Restoration Of A Junkyard Find With Dresser Makeover
Lost all the knobs of your old dresser, and you can't find replacements in the brass hardware store? Worry no more! This is an amazing makeover for a junkyard find of an old dresser that's missing a few drawers or one whose drawers are too cranky for anyone's good.
Instead, get yourself a dresser full of baskets and this would be such a practical solution for a nursery. With all those baby socks, bibs, clothes, and baby products, baskets are just way easier to deal with than drawers. Don't you love the new look and feel of this makeover dresser?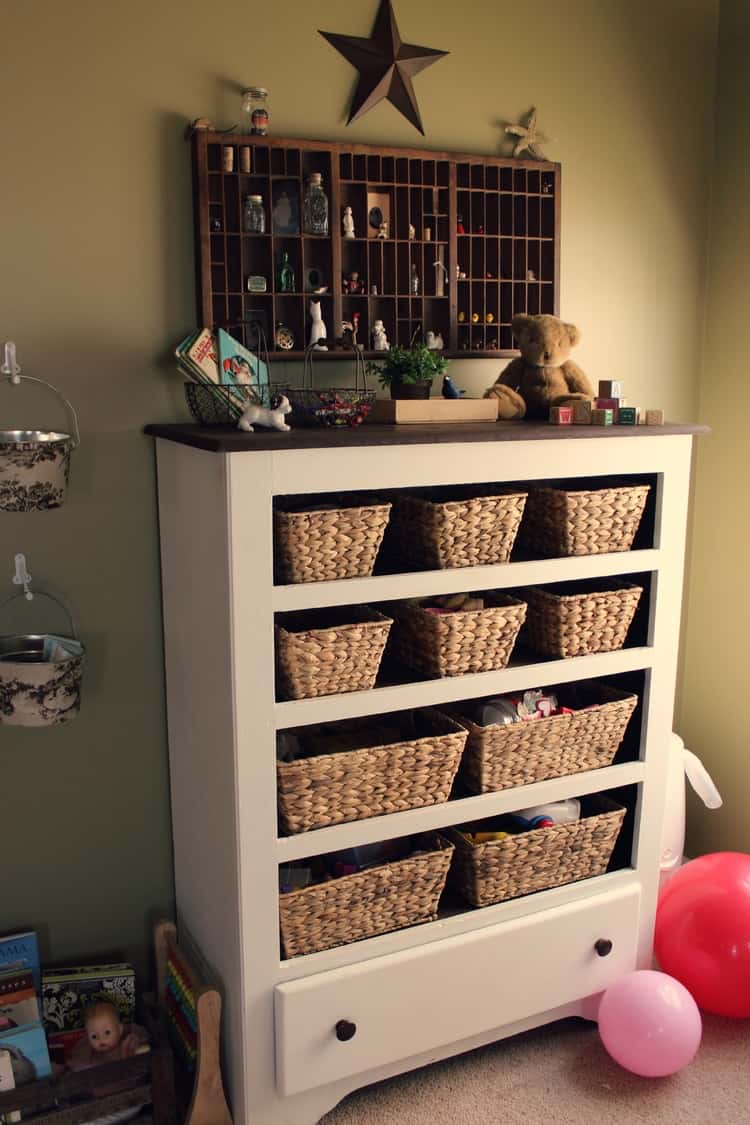 Give Them a Splash of Color with These Dresser Makeovers
6. From Ugly To Magazine-Worthy With Ombre Dresser Makeover
A little makeover never hurt nobody – Justin Tranter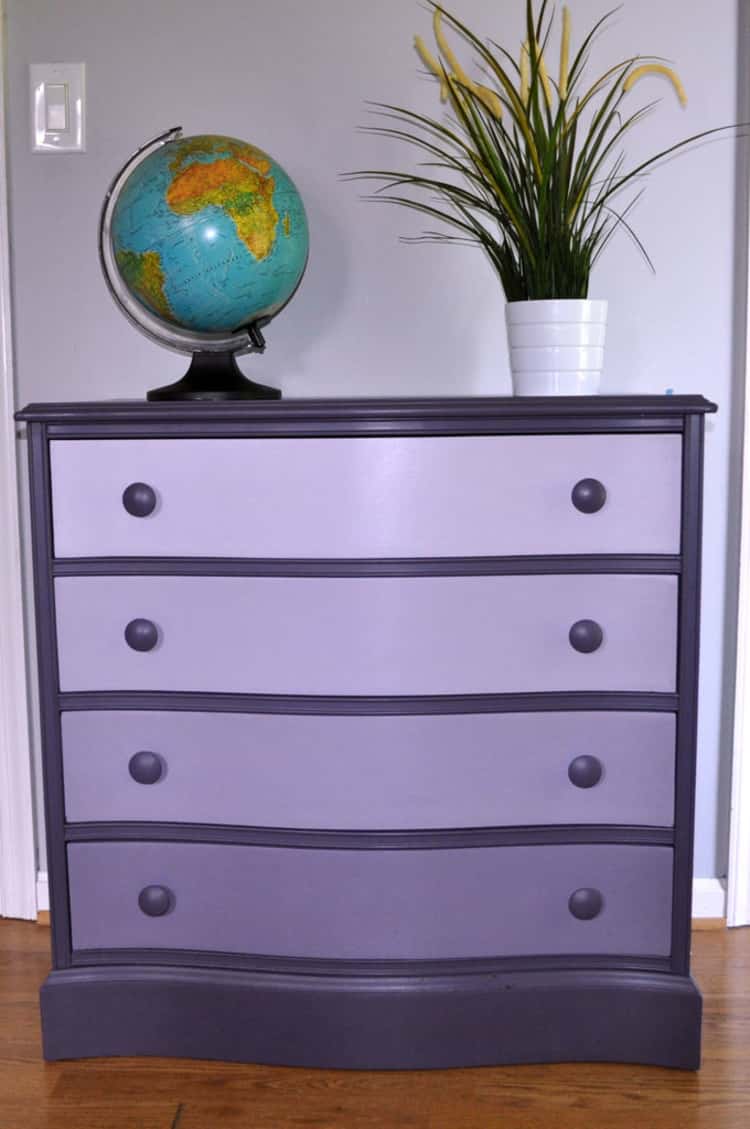 Have you always loved ombre dressers but didn't know how to get that look? Well, you'll almost always start off with an ugly piece of furniture that currently has no place or value in your home, but holds great potential to be a magazine-worthy dresser.
Ombre is the blending of one color hue to another, usually moving tints and shades from light to dark.
This dresser makeover is easier than you'd imagine it to be and here's how you'll go about it.
You'll need to have:
Sandpaper and/or orbital sander
A screwdriver
A mask and some eye protection
Wood filler
Paint and paintbrush
Airtight containers and tablespoon
New drawer pulls if needed
Topcoat which can either be polyacrylic or furniture wax, though I'd go for the latter.
Procedure:
Remove the old drawer pulls and store them safely if you'll be reusing them. Next, sand the entire dresser to remove the sheen so that the new paint cover sticks well. Be sure to sand the drawer fronts and sides.
In case you're using new drawer pulls and they aren't the same as the old ones, use wood filler to fill all the holes. Fill in any scratches and cracks before painting. Tip: At times, you'll notice all cracks after the first coat. Bear this in mind and you might need to fill again after the first coat.
Leave the filler to fully cure, sand down the dresser one last time, and wipe to remove all debris.
To measure the paint and get the gradient of the ombre, here's what you'll do: (each container represents a drawer and since there are 4 drawers, I'll be having 4 containers) Drawer 1: 1 tablespoon purple and 4 tablespoons white, Drawer 2: 2 tablespoon purple and 3 tablespoons white, Drawer 3: 3 tablespoon purple and 2 tablespoons white, and Drawer 4: 4 tablespoons purple and 1 tablespoon white.
Label each container to ensure you don't get the paints mixed up, and it's time to paint the dresser. Paint against the wood grain and an angled brush helps you do this.
Have 3 paints of coat on the dresser and drawers. For a smooth finish, sand lightly between each coat, and always wipe down with a damp cloth to remove all the dust before painting the next coat.
For this dresser, unfinished wood drawer pulls were used and painted in the same color as the dresser.
Protect your paint job with Polyacrylic and even though it dulls the sheen, it won't yellow as a varnish would. Also, use furniture wax to further protect your dresser.
7. Shabby Chic Dresser Makeover In Distressed Turquoise Look
Isn't it amazing what a few coats of paint and some new hardware can do? This turquoise dresser is amazing! And we love how nothing was done to structurally change it.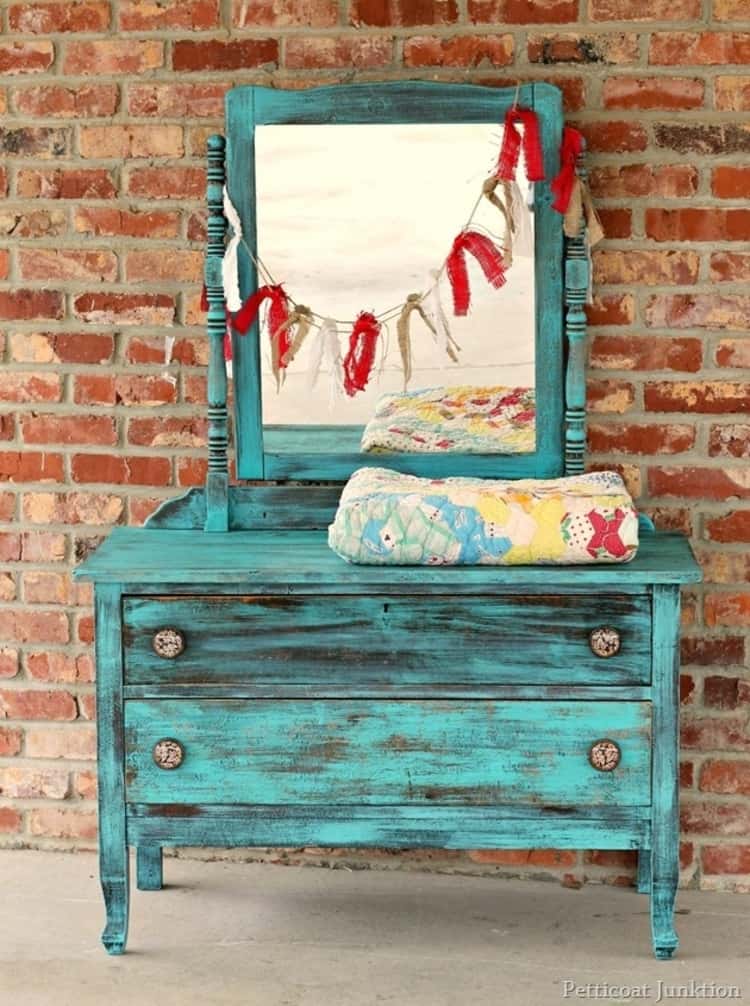 8. Fun Dresser Makeovers Thanks To A Few Spray Cans And Stencils
If you could say it in words, there would be no reason to paint – Edward Hopper
So, this is technically a desk, but you can absolutely do the same thing with your dresser. Peekaboo dressers are so much fun. Use a different color paint than the main color, and use stencils to create fun patterns and designs.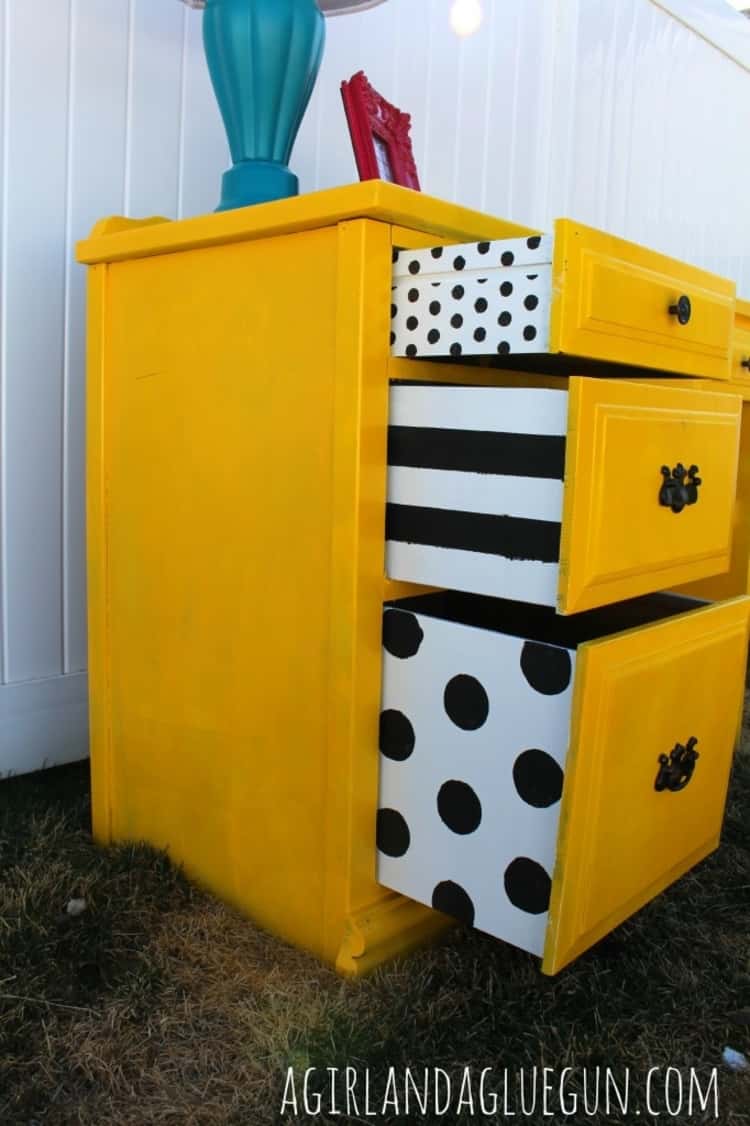 9. Hot Pink Dresser Makeover For Girls Bedroom
Pink isn't just a color, it's an attitude – Miley Cyrus
This pink and white dresser pops with color! It reminds me of that age when young girls are into everything pink. We're really digging that the drawers are a different color than the frame of the dresser.
10. Amazing Dresser Makeover Into A Mudroom Organizer
This dresser-to-bench conversion is fabulous for a mudroom organizer! It provides seating to remove and put on shoes, and cubby storage underneath for the shoes so you don't track dirt and mud into your home.
Tip: You could also makeover this dresser by cutting it in half and making an amazing window couch!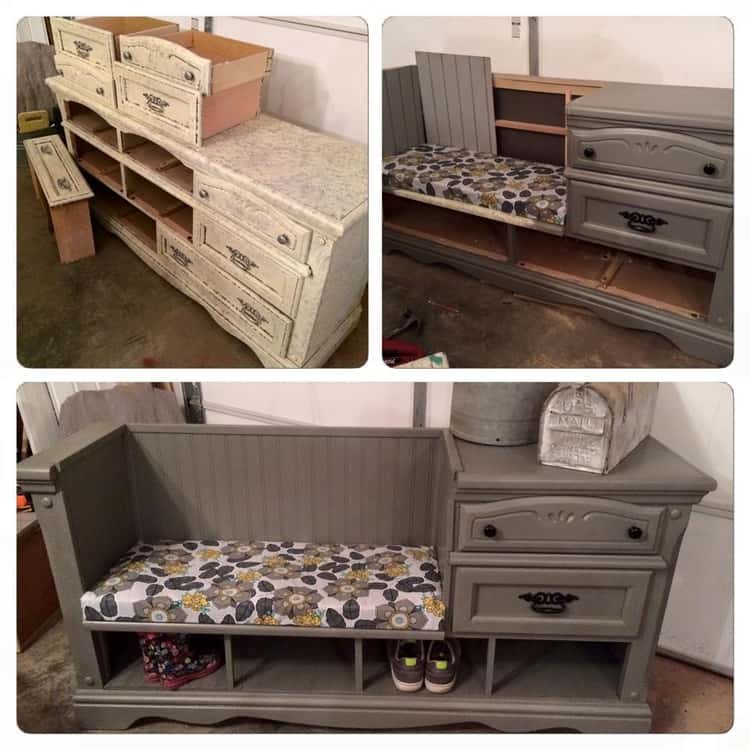 11. Dresser Makeover Into A Cute Day Bench
A smaller dresser can get a dresser makeover and be converted into a day bench to put near the window or in a kids' room. Only inspirational pieces of furniture such as this are allowed here…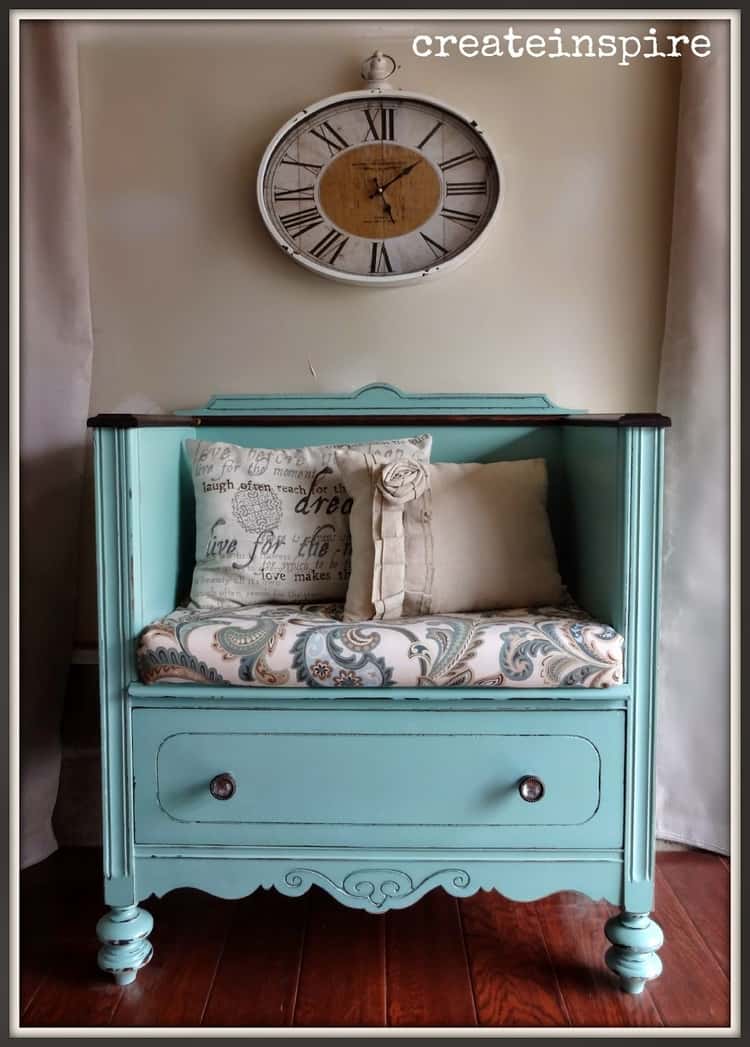 12. How About Dresser Makeovers To Update Existing Furniture?
It doesn't always have to be an unsightly tired old dresser that needs a makeover. Even your once coveted dresser could do with a makeover to keep up with the times, your changing tastes and preferences, or new decor.
For just a pop of color, paint the dresser frame, and leave the drawers in their wooden state. If they've already been painted over, a bit of sanding, a coat of stain to finish, and new hardware will make it look new again.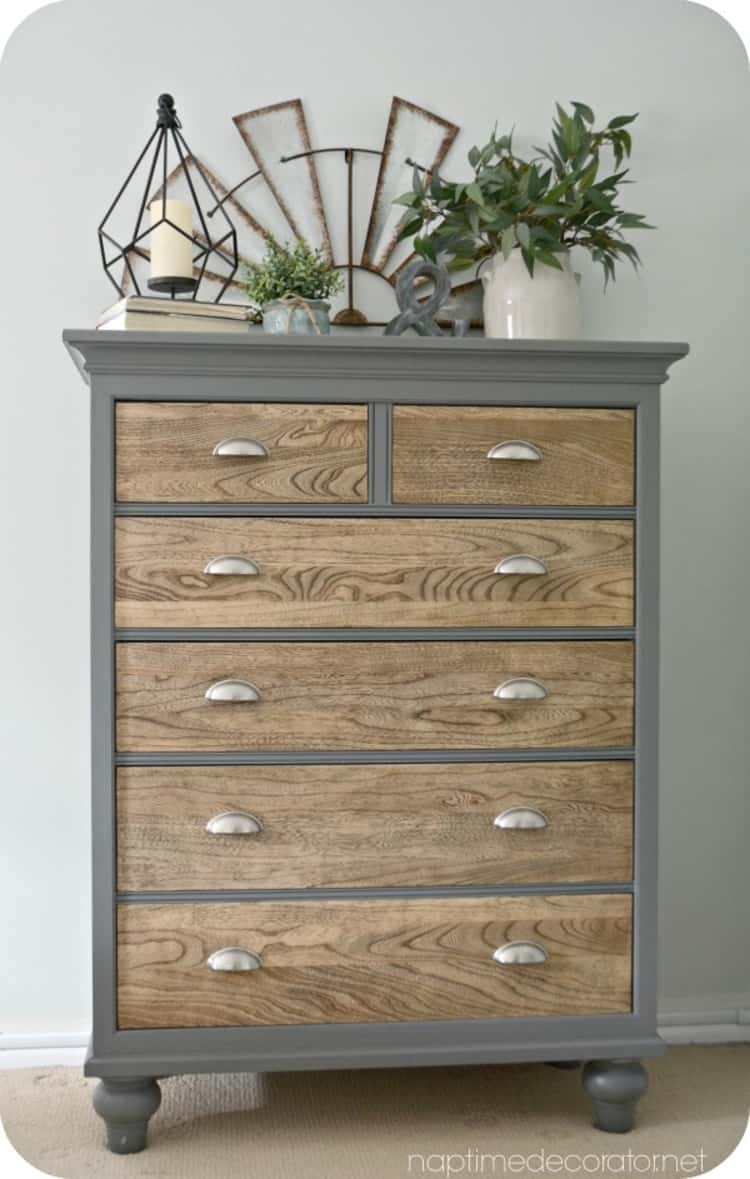 13. Creative Dresser Makeovers Into Lighted Wine Cabinets
Your family dynamics have definitely changed with time and you now find yourself with an excess of dressers. Before sending them on their way to the junkyard or thrift shops, how about giving some of them a dresser makeover to become a unique lighted wine cabinet to show off your wine collection?
From the look of things, repurposing dressers into lighted wine cabinets might be your next major hustle…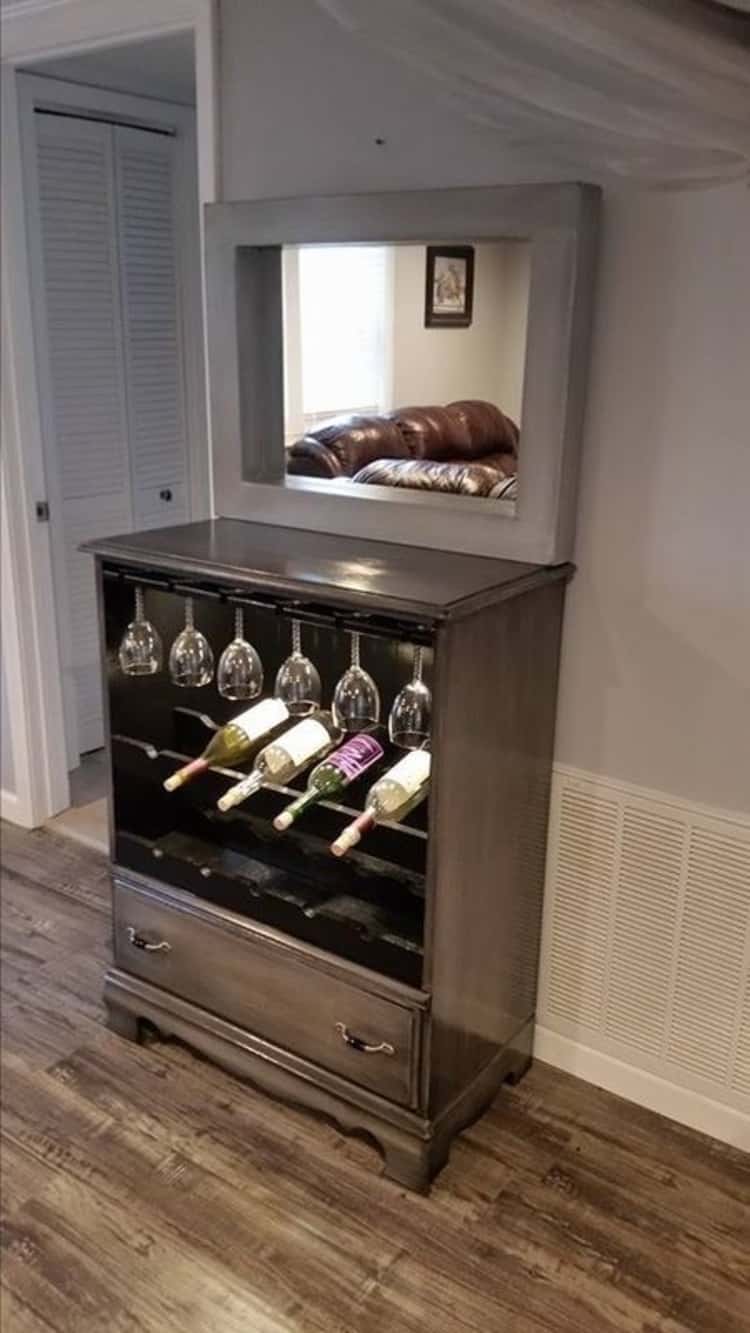 14. Use Lace For Stunning Dresser Makeovers On A Budget
Remember that old dresser you were about to throw out? Don't get rid of it just yet. There's a way you can transform it on a budget.
Get the look of lace! Apply a lace fabric over each drawer, spray paint in your chosen color and allow to completely dry. Once dry, remove the lace, and voila! A lacy pattern to adorn your dresser.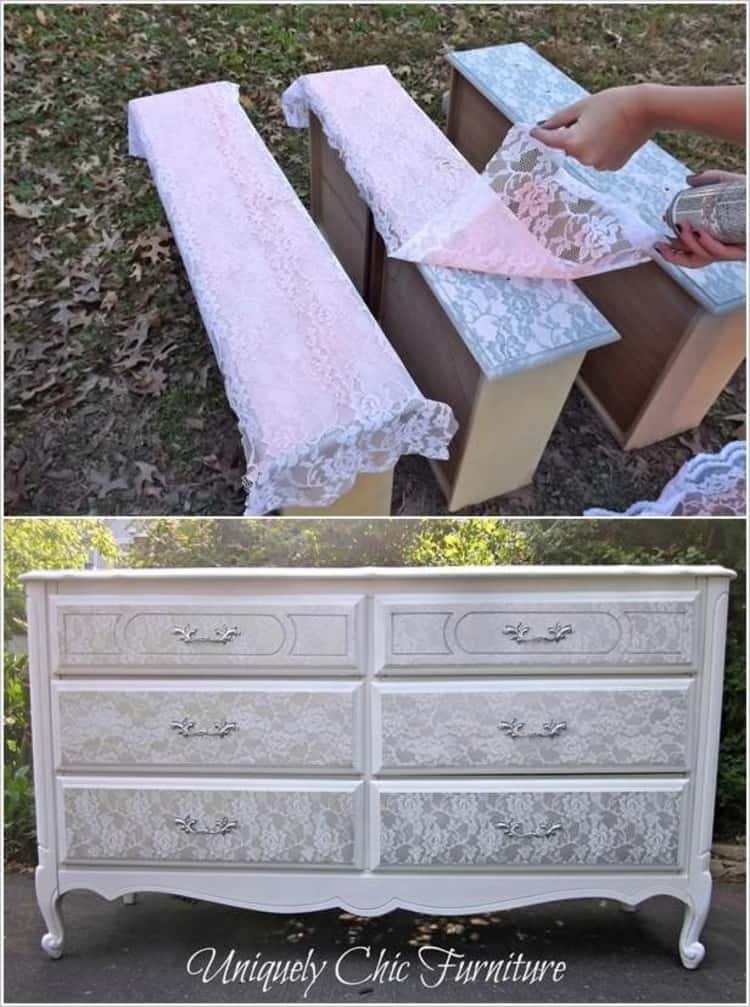 15. Fresh Coat of Paint & Artistic Drawer Pulls = Eclectic Dresser Makeovers
You won't believe this gorgeous green piece was once a dirty blonde dresser that has been made even more amazing by the arrow drawer pulls.
Notice how the drawer pulls aren't facing the same direction. I just love how eclectic this dresser has become. Now, this is what I call an artistic inspiration dresser makeover. So beautiful yet so simple!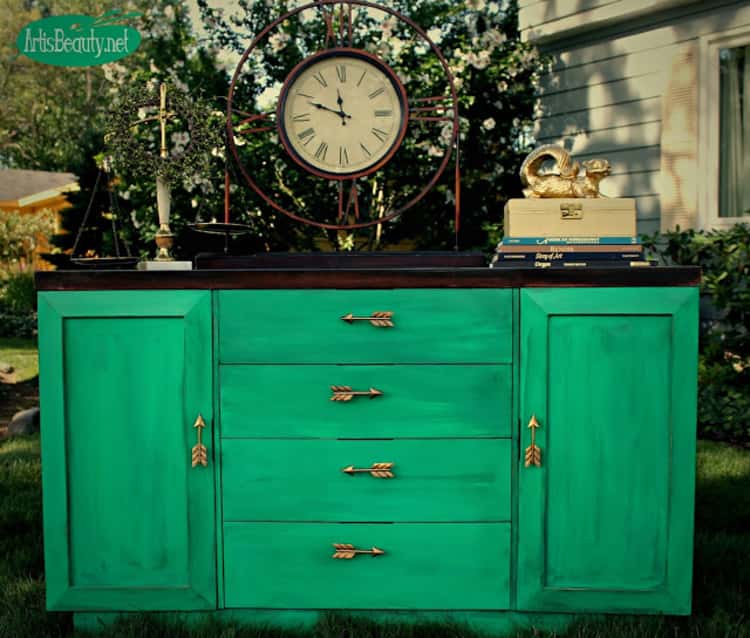 Loved these dresser makeovers? You may want to check out more makeover madness here: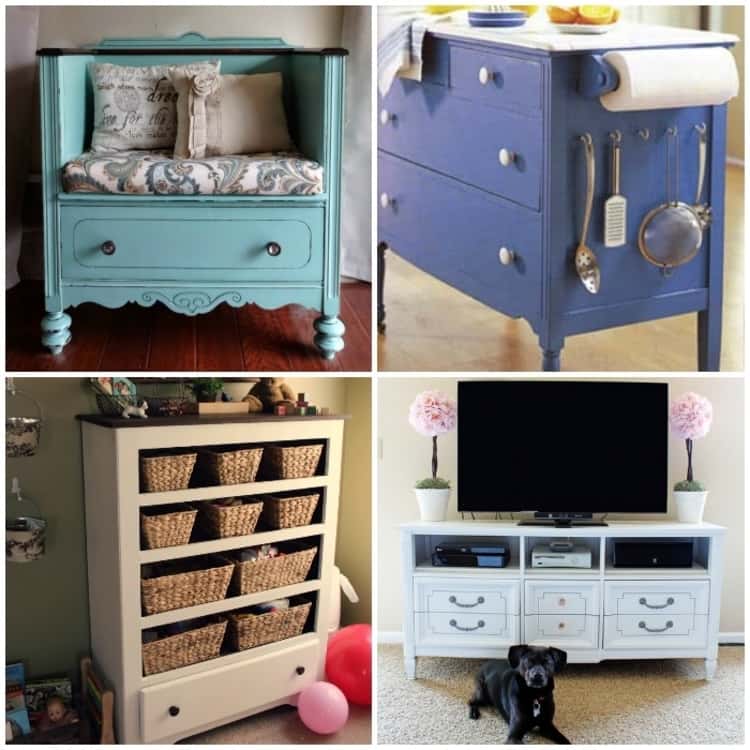 Which of these dresser makeovers is your favorite idea?