Leather is one of those materials that's incredibly durable but also incredibly difficult to upkeep. I mean, at first it seems super easy to clean but the truth is if you want to preserve it for a long time you really need to go the extra mile with the care. Unfortunately, most people are completely clueless about how to do it. This 5 ingredient leather cleaner will help you clean and preserve your leather goods like no other.
DIY Leather Cleaner
To honest with you, I had no idea that you couldn't use common household cleaners on leather. The reason? Things like alcohol and harsh chemicals dry up the leather, making it look awful while reducing its lifespan. I know it seems pretty obvious, but I had no idea!
So after a ton of research and testing I came up with a leather cleaner that works like a charm. It's oil based so it hydrates your leather goods like no other but at the same time, it gets rid of the spots and dirt really well.
I have used this leather cleaner on purses, shoes, chairs and even a friends couch, so I've pretty much tried it everywhere and each time it has been great. My leather accessories now look brand new even if they are a couple of years old. The oils really seem to restore the leather, making it look fresh and supple again.
How to Make Leather Cleaner
Ingredients:
3 Tbsp. coconut oil
1 Tbsp. olive oil
3 drops orange or lemon essential oil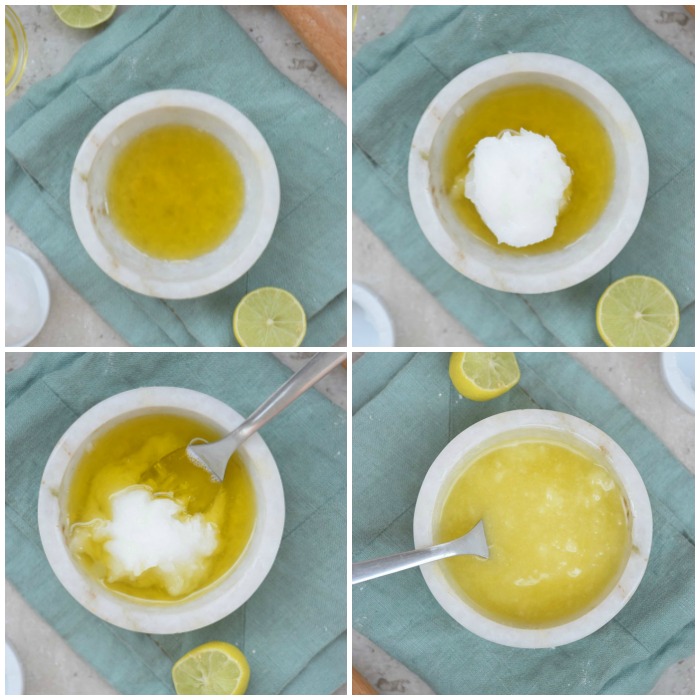 Instructions:
1. Combine the oils in a small bowl.
2. Use a soft cloth to clean and condition the piece of leather that needs treatment.
We recommend spot-testing a piece on the leather before applying it all over. If, after 24-48 hours the leather looks good, proceed to cleaning the entire piece.
If you find that you need more of a cleaner than a conditioner, combine one part of this leather cleaner recipe with 2 parts white vinegar in a spray bottle. The vinegar gives a cleaning boost while the oils still work to moisturize the leather.
If you liked learning how to make leather cleaner, try more of our diy cleaning recipes here: