If you have kids and pets, your furniture has likely seen better days. Upholstered furniture, in particular, seems to get the brunt of the damage, from stains to rips and tears and more. Rather than tossing your old furniture, try these diy upholstery cleaner tips and tricks to bring the fabric back to life. You'll be surprised at how much better it'll look with a little elbow grease and TLC!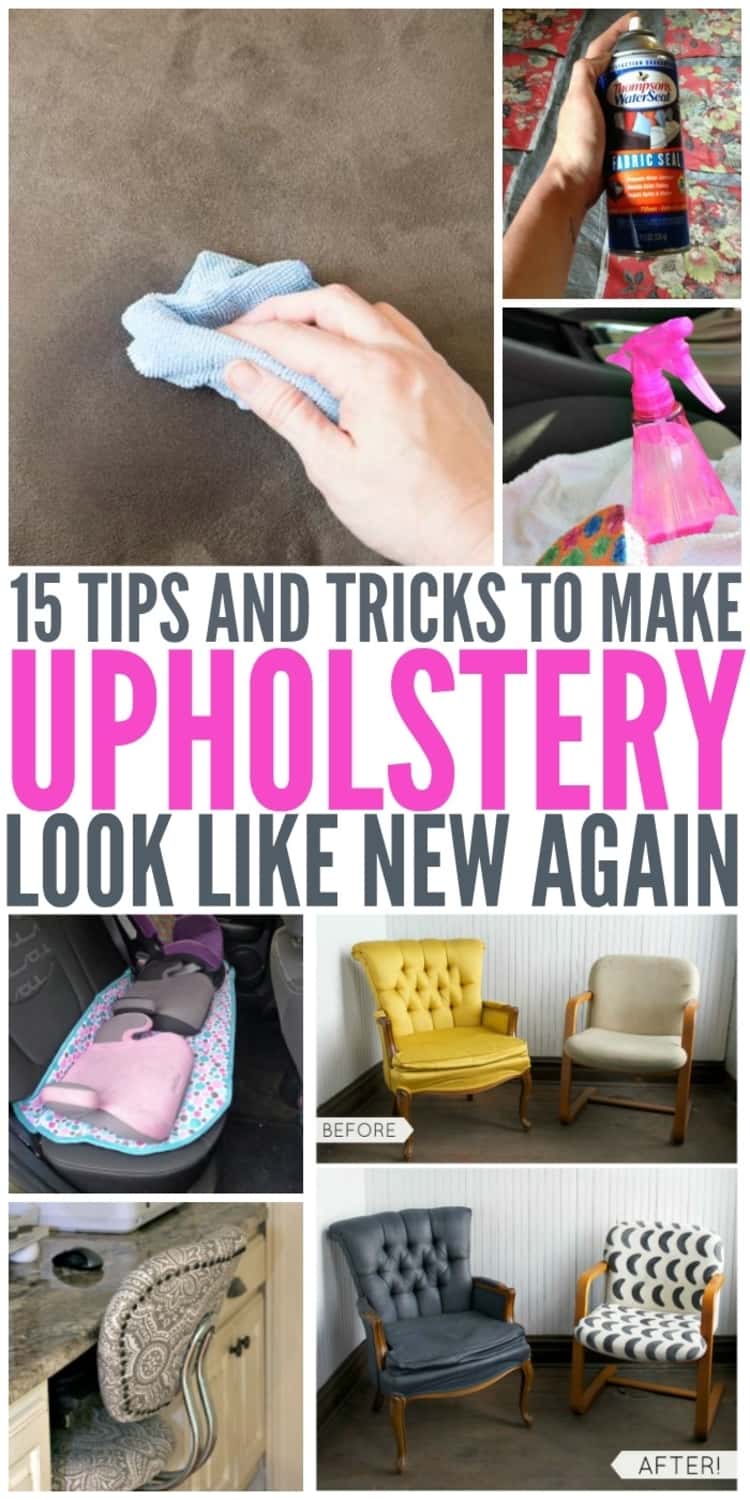 DIY Upholstery Cleaner Tips and Ideas to Revive Old Upholstery
This post may contain affiliate links that help support this blog.
1. Upholstery Tip: Have Homemade Upholstery Cleaner
Make your own upholstery homemade cleaner using alcohol, white vinegar, and drops of essential oils to make your upholstery not only smell nice but also remove stains and sterilize. It's so easy to make this homemade cleaning solution and all you need is 5 minutes.
Mix equal parts of the rubbing alcohol and vinegar with about 8 drops of the essential oil. Shake to mix well and you're good to go. For the first time you're using it, do it in an open space. The smell can sometimes be overpowering but no worries. It dries up in no time leaving you with the essential oil scent. Note to first try out in hidden corners of your upholstery just in case there's some discoloration.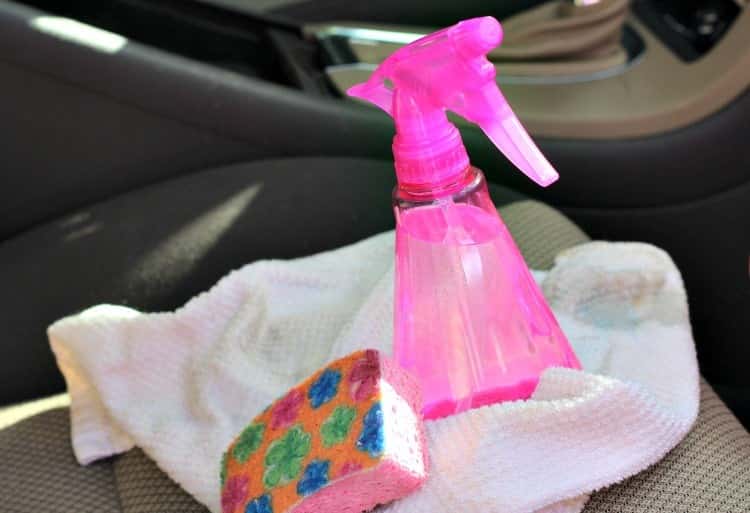 2. Tip: Use Squeegee and Water Only For Pet Hair-Free Upholstery
If you're a fur parent, you know your pet's hair seems to get everywhere the upholstery fabric and is somewhat stubborn to get out. Get rid of most of it using only a squeegee and water in a spray bottle mixture to pull pet hair off of foam and upholstery, and then vacuum up the clumps. That's it. No fancy-schmancy equipment needed to keep your upholstery mostly pet hair-free.
3. Upholstery Tip – Switch Up The Look With a Fresh Coat of Paint
You've tried every trick in the book but nothing works, or you're simply tired of the way your furniture looks. Before letting those pieces of furniture get on their way to the thrift shop, give their upholstery a fresh coat of paint. (Yes, paint!) You won't believe the transformation!
4. Upholstery Tip For Stinking Fabric Couches
Fabric couches are comfy and inviting though the downside is that they do a good job of absorbing smells, spills, and everything in between.  Sooner or later your couch will start stinking. Here's a tip to make your upholstery smell fresh again: sprinkle baking soda on the upholstery to get rid of bad smells. Let it sit for about 20-30 minutes, and vacuum it off and you're done. Spray some rosemary or lavender essential oils mixture for a plus scent!
5. Upholstery Tip For Microfiber Couch – Rubbing Alcohol and Sponges Work Like Magic
If you have a microfiber couch, you know how difficult it is to keep clean. Here's how you'll get the upholstery fibers looking like new again. It will seriously save your furniture!
Get a sponge and bristle brush in a similar color to your microfiber couch to avoid color transference during cleaning. Next, spray and saturate stained spots with rubbing alcohol and start scrubbing with the sponge in a circular motion as hard as you can. The dirt will start coming off and if your seat is too dirty, you may have to switch sponges.
Leave the couch to dry completely then use the bristle brush to re-fluff the spots you cleaned on your microfiber couch.
6. Upholstery Tip For Greasy Stains
Here are some tips on the removal of grease stains from upholstery. Although the instructions call for corn starch, any talcum powder (such as baby powder) should suffice.
Start by sprinkling generous amounts of cornstarch or talcum powder on the grease stain. Allow it to sit for a while to absorb all the grease. Using the hose attachment, vacuum to suck up all the powder from your upholstery. Next, apply about 3 drops of dish soap directly onto the stain and use your fingers to rub the soap into the stain.
Let this sit for about 2 minutes then using a moist cloth, blot out the stain to remove all the soap. Also, use a dry rag to blot out excess moisture and leave it to air dry. Should your upholstery still be stained, mix 1 teaspoon of household ammonia in a ¼ cup of warm water in a bowl, and using a rag dipped in the ammonia solution, blot out the grease stain severally. Scrub the spot with a soft brush and rinse the upholstery with a clean rag dampened in plain water. Blot out again with a dry rag or soft cloth to finish.
The upholstery should now be free of any greasy stains.
7. Upholstery Tip – Waterproof 'EmTo Keep Messy Stains Out
Sometimes the upholstery is beyond redemption and you just have to reupholster your furniture. If this is in your plan, how about waterproofing the pieces that get really messy (like your dining room chairs). You'll be so glad you did. (Get the Thompson's WaterSeal here)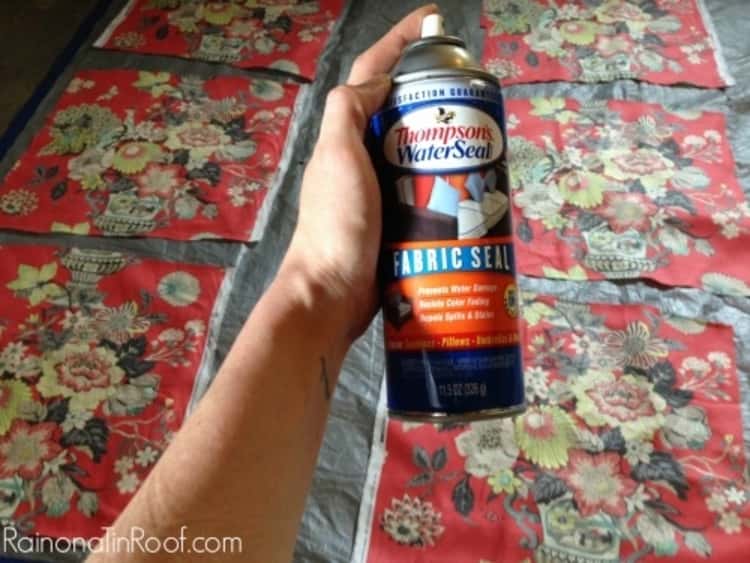 8. Sometimes The Only Upholstery Tip That Works Is A Makeover
It happens, especially for a piece of furniture you're not willing to let go of, yet. You've scrubbed, removed stains, and even painted but it still doesn't get to where you want it to. In this case, you have to conclude that the only thing you've not tried is a makeover.
A makeover is way easier than it looks especially for something like a chair, and if you can use a stapler, you're good to do this makeover.

For this makeover, you'll need:
The chair you're giving a makeover
1 to 1.5 yards of fabric
A pair of scissors
Pencil
Heavy-duty upholstery stapler/staples
Adhesive spray mount
A glue gun and glue sticks
Upholstery tacks
Hammer
Steps:
Cut your fabric to fit the seat and back. Leave some extra inches all around to leave room for stapling. If having a patterned fabric, be sure to center it on the seat.
Staple the fabric around the edge of the backrest while keeping it pulled tautly. Repeat the same for the seat bottom.
Hammer in upholstery tacks to adhere to the fabric on the backrest.
Reassemble your seat and you're basically done!
9. Upholstery Tip – Save Your Car Seats From Food Disasters
Any parent with kiddos knows food scraps, spills, and other debris will unite against you and your car seats by forming some impenetrable icky layer. Sorry to say this but you're being crazy if you don't have one of these seat covers in the back of your car to catch fallen food from the car seats. It'll save you so much scrubbing later.
10. Upholstery Tip – A DIY Seat Cleaner That Works Like Magic
Got stains that you never seem to get rid of with store-bought cleaners? Here's an upholstery tip that works like magic; A DIY seat cleaner. To make this you'll need:
1 cup of distilled vinegar
1 cup of club soda
1/2 cup of Blue Dawn dishwashing liquid
Spray bottle
Scrub brush
Mix everything together in a spray bottle and shake well. Spray on your seats, allow it to soak for about 10 minutes, and then scrub. You won't believe the difference in your seats after cleaning! I think club soda must be the trick to it… this is the first seat that I've seen get really clean, and club soda is the difference in the ingredients.
11. Upholstery Tip – Bring In The Big Guns
Sometimes regular upholstery cleaning tips and tricks work, and at other times they won't. Why not use your carpet cleaner to deep clean the upholstery in your car or home? It works pretty well and if it does the job right, then that's it!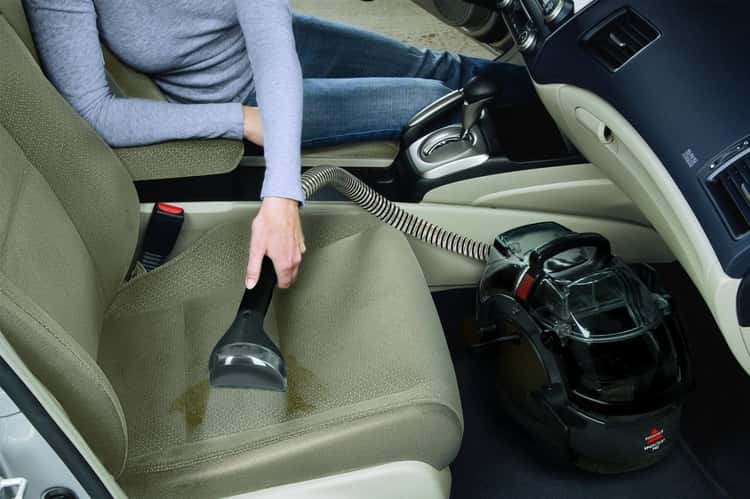 12. This Magic Stain Remover Could Be The Best Upholstery Tip Ever!
This simple carpet stain remover works well on upholstery, too. I've tried it myself! Make sure you test a spot first to make sure the fabric won't fade.
We love how simple this magic stain remover is. It uses only 2 ingredients – hydrogen peroxide, to break down the stains, and lemon essential oil to help release the sticky particles.
13. Upholstery Tips For Your Garage Sale Finds
It's always consoling to know that today's Christmas gifts are tomorrow's garage sales – Milton Berle
Some of us are addicted to garage sales though we have to be careful we don't bring in bedbugs, dust, pet hair, or allergens. Use this method to clean upholstered furniture that you've bought second-hand. It'll get out all the odors and stains so that it's ready for its corner in the new home.
14. Upholstery Tip – Just Patch Em Up
If some of your upholstered furniture has holes in it, you have to watch this tutorial on how to patch them.
15. Upholstery Tip – Get The Real Deal When It Comes To Upholstery Tacks
Use upholstery tacks to tighten loose fabric or when reupholstering furniture. Oh, and don't think these are the flimsy cheap DIY nailheads. These are strong, heavyweight, and built to stay bright and beautiful as you see them. Did we mention that they'll weather through all 4 seasons? Don't be surprised if you start being asked for upholstery referrals…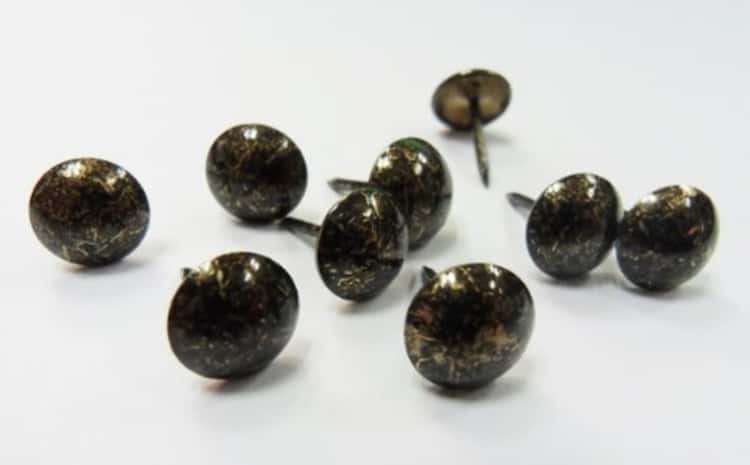 More DIY Upholstery Cleaner Tips From One Crazy House:
Which of these diy upholstery cleaner tips would you like to try first? Let us know how it goes!