Ah, shoes. You have a pair to go with every outfit and then some. Or maybe your kids do. Either way, shoes are taking over your house, and you need to get them organized… pronto. We can agree that shoe storage can be such a hustle unless you have a walk-in closet with ample space for every pair that you own. And the clutter can be such a headache for you with messy kids and no mudroom to put away dirty shoes in the entryway. With these shoes storage ideas, your mess can be worked on.
So worry not coz you're in luck because we understand the struggle! We are here to help you since we've found 15 super clever shoe storage ideas to fit just about any space. They are so easy to come up with and require little to no money for creation.  Let's dive into the ideas we've got lined up for. Hope you are excited. And don't forget to check out our shoe hacks while you're here!

Shoes Storage Ideas for You With Too Many Shoes
1. Shoe Storage Bin
Want your shoes out of sight in the mudroom or entryway but you've got no budget for that fancy shoe organizer? Build one of these shoe storage bins that you can slide under a chair. While it may be a challenge to find such a bin in stores, you can make a DIY project to work on over the weekend. The bin works well especially with kids in the house because it helps establish a designated place for shoes or boots. A huge advantage of using these shoe boxes method is that it enables one to maximize the small storage space.
2. Twisted Wire Cloth Hangers
Hanging shoe organizer? Learn how to twist wire clothes hangers to make custom hangers for your flip flops and flats. Genius! It's hard to think of summer without flip-flops and with so many lying around, you need a better way to manage them. With only cloth hangers and a closet rod, you can get that done in a neat, unique, and affordable way. A narrow space will look like a larger space. To make the hangers more appealing and attractive, you can play around with different ribbon prints. This way of organizing your flip-flops also creates a feeling of a spacious house because it gets rid of things on the floor.
3. A Basket by the Door
Keeping a basket by the door with small ventilation holes for flip-flops and flats is another impeccable idea of getting your flip-flops in order. It's one of the simple door shoe organizers in town. Best this is you can put the baskets in various areas of your home. You get everyone's shoes in one place without having to collect them all over the house. This works for families that have lots of children whose organization is below the bar. Also, it is easy to know which ones need cleaning when they are piled in one place.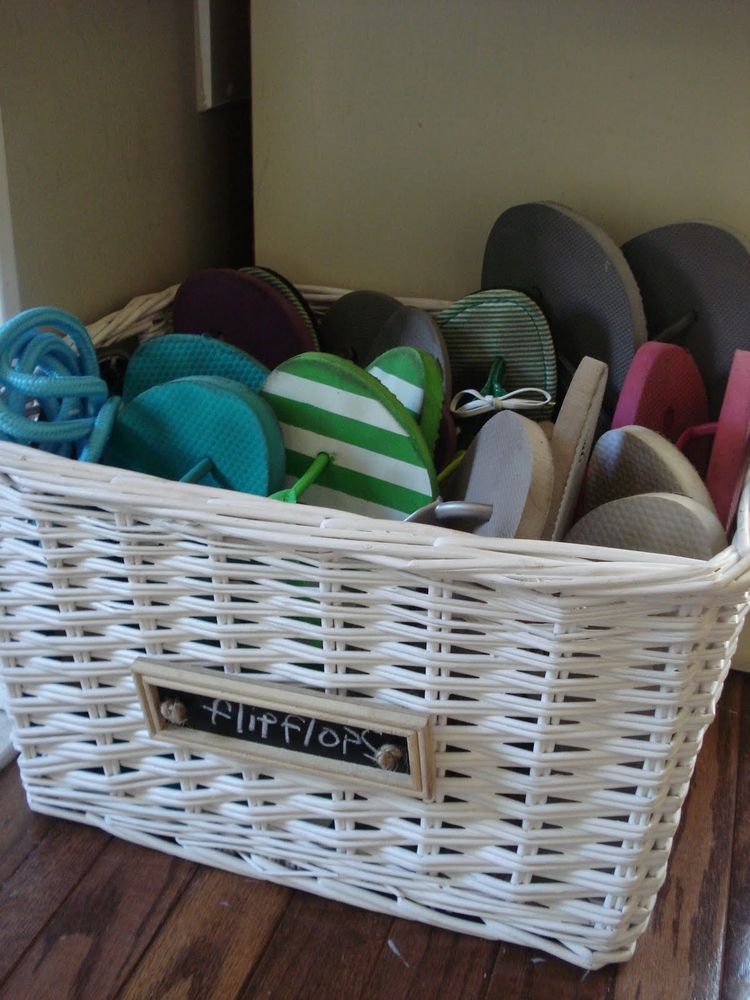 4. Bookshelf Turned Shoe Cubby
Convert a bookshelf into shoe storage! Mount handles on the front of each shelf to ensure the shoes don't slide off. We absolutely love this DIY Shoe simple Cubby system. Look at how many pairs you can fit in there! Each person can have their own row of storage. It sure is big enough to have that provision. And they look so cute! I'd say this is the best overall shoe organizer.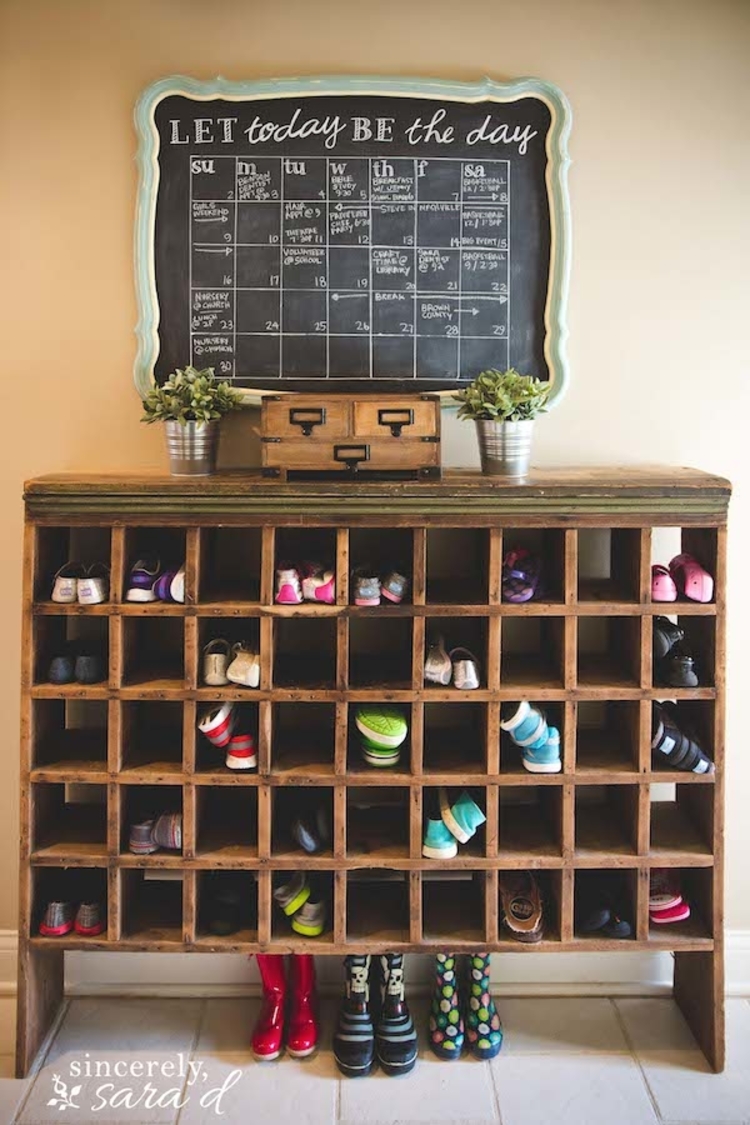 6. Wine Box Shoe Storage
I am definitely a lover of fine wine. Guess what? You can make shoe cabinets and shoe drawer out of them! To think that I can repurpose my wine boxes makes me a whole lot happier. Another brilliant storage idea is that you can keep shoes together in a wine box. This is a great solution for corralling shoes in the mudroom or in kids' closets. you can even put your chunkier shoes in it!. With as many wine boxes you can have everyone's shoes find a place to serve as their safe keep.
7. Entryway Shoe Rack
We all got shoes for every occasion. At least the majority of us do. Ladies especially. There's a heel for date nights, one for an office look, and others for weddings. The most common shoes are those that we feel comfortable in and can be put on any other day. They can fill the entire doorway or you can put it up at the foot of your bed if a proper place for their storage isn't available. So for the shoes, you wear most days, install a simple entryway shoe rack to hold a few faithful pairs of shoes.
8. Pallet Inspired Shoe Rack
With a pallet, one gets to explore a lot of DIY ideas. You can never really exhaust them. And your shoes can get their perfect spot with them. No surprise, this one gets my recommendations! A pallet makes a great shoe rack! You can be more creative and add a coat of paint if you want to dress it up for your entryway. Maybe your walls are colorful and you'd love to add more color as a décor. I would choose teal blue for my shoe pallet rack.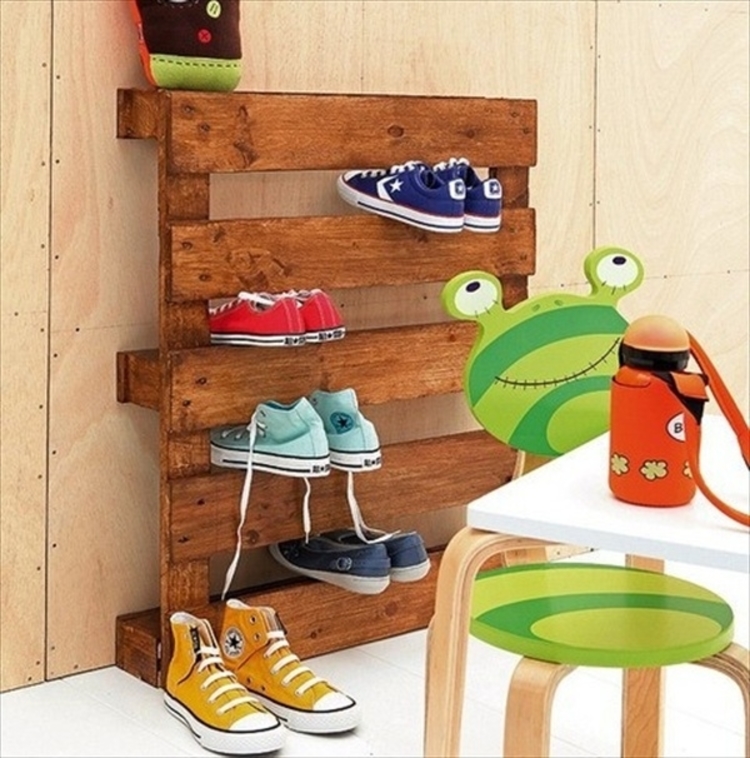 9. Shoe Rack Display
No need to hide your beautiful high heels or shoes with similar design underneath your bed or closet. They too can act as décor for your home be it in the entryway or bedroom way. Have a gorgeous shoe collection that you're really proud of? Create a shoe display out of cornice or pieces of a picture frame and then hang your pretty shoes on the DIYed frames. I can't wait to flaunt my shoes to my lady friends once I have this shoe storage idea come project done. You should join me in this.
10.Shoe Rack for Tight Spaces
You don't need professional organizers like strategist contributor Alison Freer to get your small spaces organized. If you don't have a mudroom, finding a place for everyone's shoes at the entry can be a real chore. Also being a minimalist is another advantage to having this shoe rack. So here's a brilliant shoe rack for tight spaces that should work for almost everyone. It honestly looks chic and fits in a small corner just fine. You could add more rows if you feel the need to.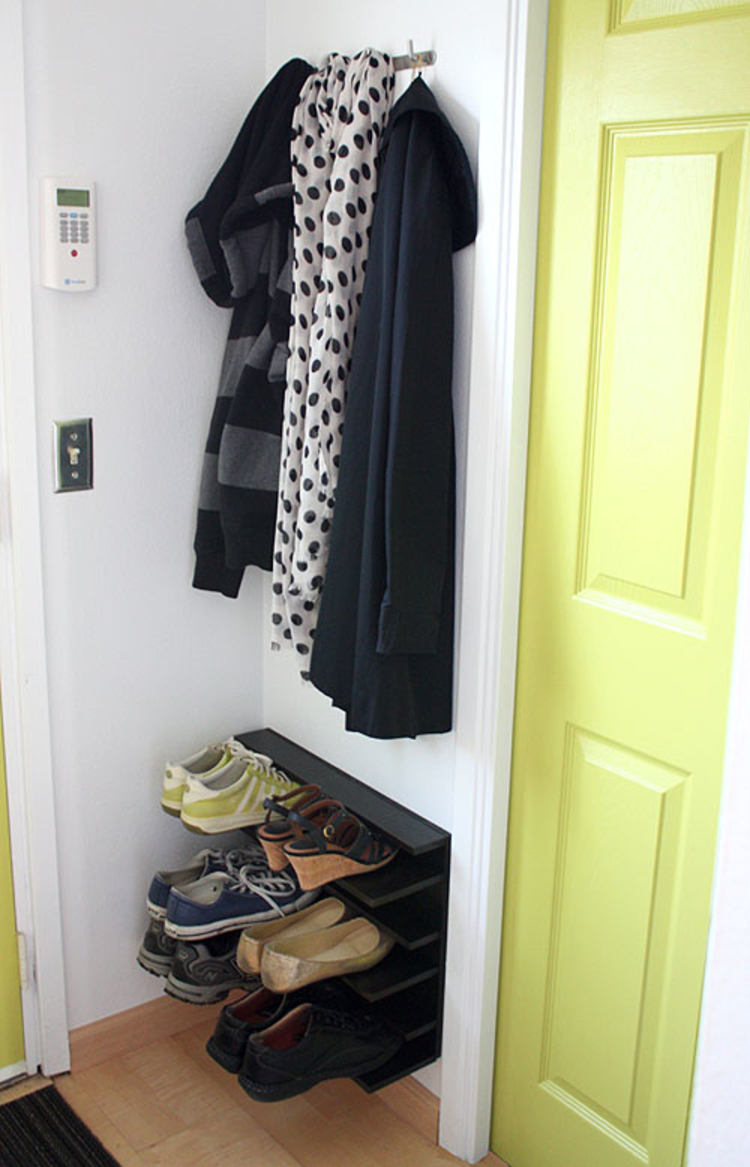 11. Shoe Storage Bench
Are those pallets I am seeing? Oh, my love for pallets! I could do pallets a day. And to know that these pallets underneath the bench could make good shoe storage is exciting. On to this shoe storage bench that would definitely make a wonderful addition to any mudroom! With the four pallet crates, each shoe type can have its spot or each family member can have their crate. Whichever option ogres well with you. Plus with this storage ottoman idea, you can sit while removing or putting on your shoes so it's a win-win. Feel welcome to get more mudroom ideas here.
12. PVS Shoe Rack
I once saw a family friend with these shoe racks and it interested me. I was curious how they'd made it look so creatively chic. And here is how. With PVC pipes, you can divide them into cylindrical sizes and stick them together with silicone glue. The whole family can store their shoes in this PVC shoe rack that looks like pockets on the wall. You can make it as big as you need depending on your family size and budget. It can be as cute as you want with colors defining it. Check out these other PVC pipe projects where the shoe dirt is not seen!!
13. Ladder For Shoe Storage
Ladies, whether you're from New York City or not, here is another great way to flaunt your favorite and gorgeous shoe collection. Preferably heels coz a ladder can't accommodate flats or sneakers. Hang heels off a pretty ladder that you can place against your bedroom or hallway wall. It sure is a great way to display your favorites! Marie Claire lovers or Red Bottoms lovers, don't leave those shoes to collect dust underneath your bed. This is a gem!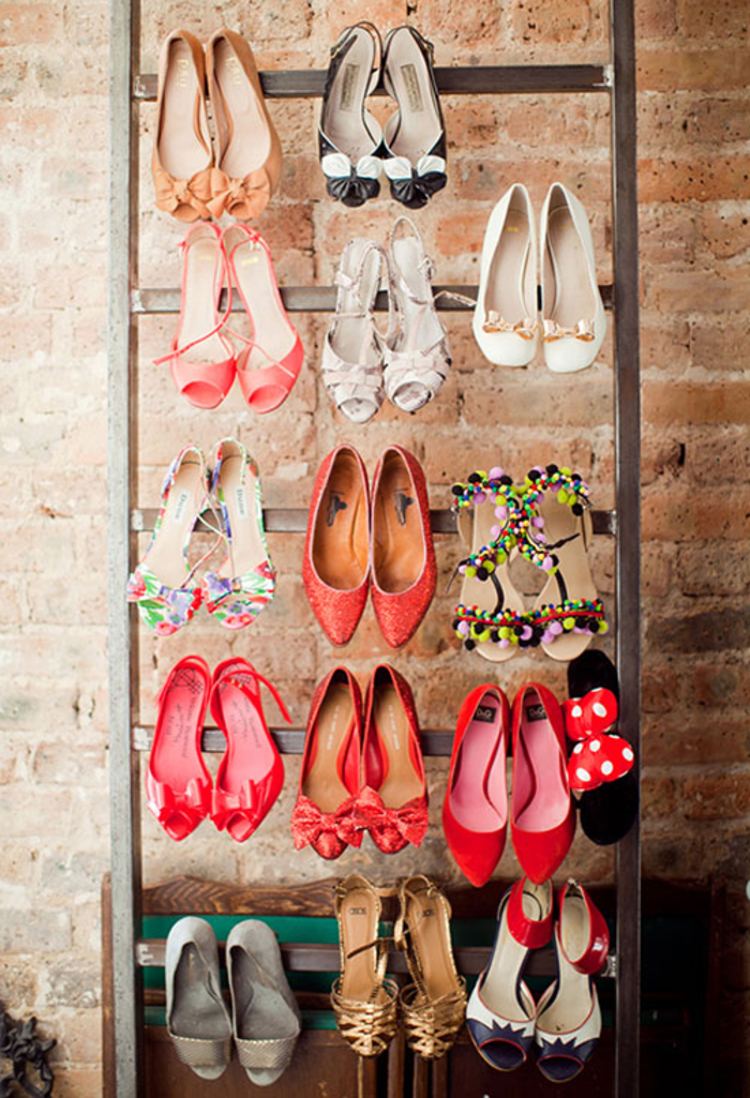 14. Drawers for Family Shoe Storage
If you can dedicate an entire closet to your family's shoes, this idea is genius. Here's a point of view from insiders of the house. Have pull-out shelves/drawers labeled with each person's name such that it is easy and convenient for the personal organization? No one will fight for space to store their shoes. You could also go further and paint the drawers with colors.
More interestingly each person can choose their favorite color. The one with many shoes can get two drawers. Adults tend to have more shoes than their kids so it goes out without say they'll have more drawers.
15. Coat Hooks For Hanging Shoes
For shoes that you always put on mostly, you can have a storage corner for them along your entryway. So simply hang coat hooks near the floor in your entry to hang your shoes on. Add a tray underneath to let shoe drip when they get wet. Plus this makes your mudroom more functional and convenient for all even small kids.
All the above shoe storage ideas are worth every try and will surely serve you well apart from solving your shoe clutter. If you have a big space you could have three to four of them. Coz why not! Feel free to leave a comment for us if you try any and let us know how the experience goes for you. We are so excited for you who need this information. So break a leg, folks!
If the shoe doesn't fit perfectly like Cinderella's, set it free. Haha.
Did you like these shoe storage ideas we took you through? Check out more storage and shoe ideas from us that you can DIY: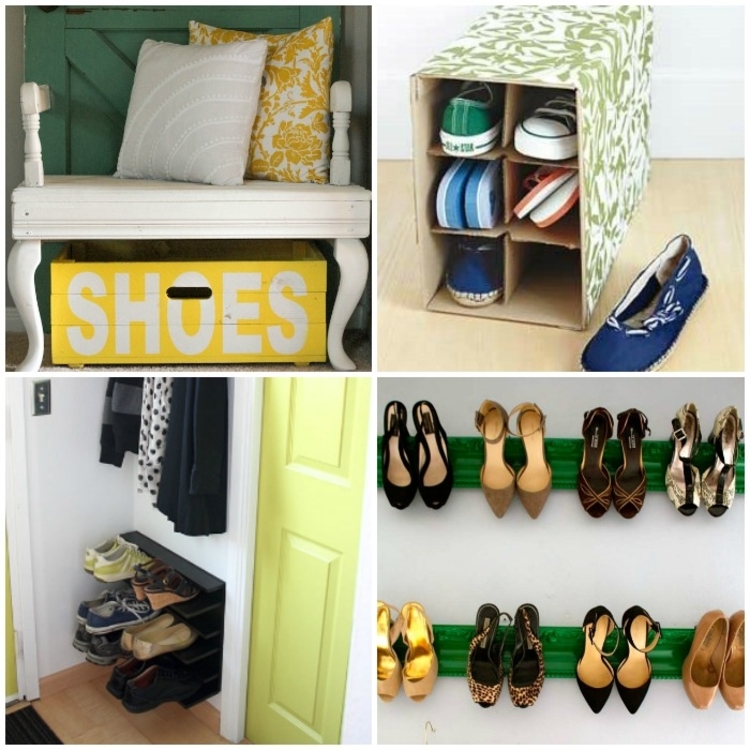 Which shoes storage idea have you tried in your home?