Shopping for a new maternity wardrobe might be a lot of fun, but it's hard on the wallet! Use these insanely helpful maternity clothes hacks to help you save money (and time!) while still looking cute and feeling comfortable as your body changes.
Your pregnancy is a beautiful time in your life. However, with all the many gifts that pregnancy brings, there are also a few challenges. One of the challenges you are sure to face is your maternity wardrobe. 
Your pregnancy will last several months (it may feel longer at times!), which means a whole new wardrobe as your body changes – and a crying wallet. With my first pregnancy, I bought all. the. things.
The full wardrobe, the belly band, the new shoes, and so much more!
However, as a self-proclaimed frugalista, spending that kind of money on a temporary wardrobe really ate at me.
My second pregnancy happened at a different time of year (which could have meant another entirely new temporary wardrobe). Thankfully, I gained some experience the first time around and used some maternity clothes hacks that saved me SO much money instead!
Sanity-Saving Maternity Clothes Hacks
Now, I'm sharing some of my favorite maternity clothes hacks with you!
Use these pregnancy clothes hacks to save yourself some cold hard cash while helping you to feel more comfortable (and even look stylish) at the same time. 
Use Bra Extenders
As your pregnancy progresses, your bra size will likely expand. Instead of buying brand new bras (so expensive!), buy bra extenders instead.
Trust me- You'll save a bundle.
Stretchy Sports Bras
In addition to using bra extenders, you can use sports bras to help you avoid the huge expense of purchasing maternity bras. Look for sports bras that will provide support without a lot of compression.
When you're looking for support for your growing belly, you can buy a belly band. Fortunately, using kinesiology tape is a terrific affordable alternative!
If you have never used it before, it's worth having a physical therapist or another professional show you how to apply it. After that, you can wear it for up to 5 days at a time with each application.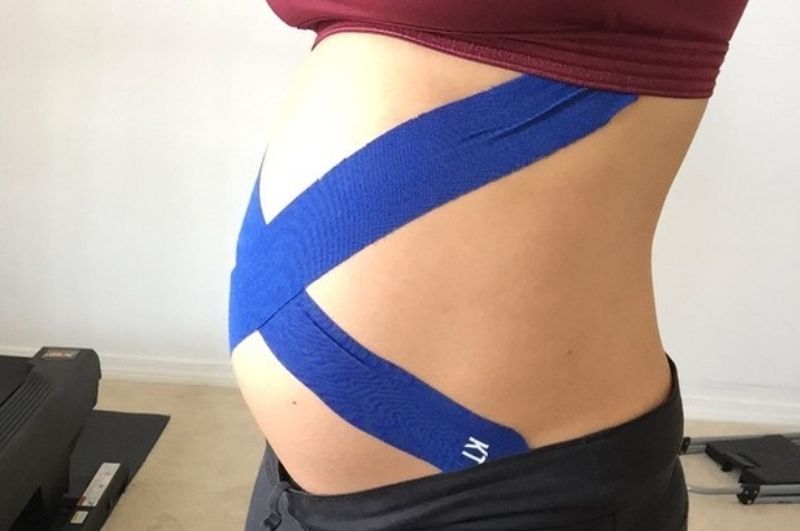 Pants Extenders
Love those favorite jeans? If you aren't ready to buy maternity jeans quite yet, this pants extender will let you keep wearing your favorite jeans long after you can no longer button them up. 
If you would prefer to DIY your own pants extenders, grab the nearest hair tie or rubber band and make your own with the help of this handy tutorial. It's quick and easy – and super cheap!
Eventually, your belly will extend to the point that this trick won't work anymore. Once that happens, check out the no-sew belly band maternity clothes hack down below.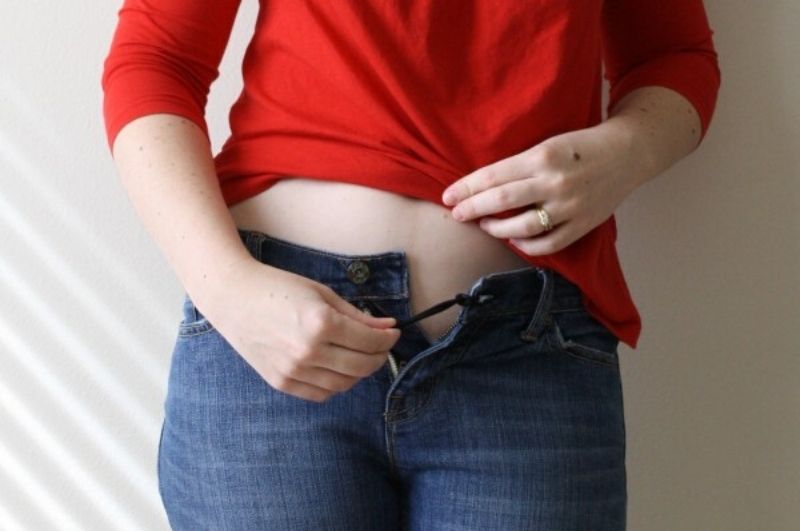 No need to give up wearing your favorite skinny jeans with this DIY tip for pregnancy clothes. Add stretchy pockets to your pre-maternity pants for a fabulously frugal pair of maternity jeans.
Yoga Pants & Leggings
These might just become your go-to pairs of pants at some point! They are comfy, stretchy, and don't crowd or pinch those expanding areas. If you're anything like me, you'll live in them postpartum.
Bonus: Anything with the word "maternity" attached to it will cost much more than the everyday version. You can find affordable yoga pants and leggings just about anywhere (including thrift stores!).
Simply buy a size up if you need a little more room.
Maxi Dresses Are Your Friend
Ah, maxi dresses. This will become your secret weapon, must-have maternity clothing item during pregnancy. They are long so your belly won't hang out as well as incredibly comfortable! 
And if that's not enough (trust me, it is), they work well to wear them after your baby is born too!
I love this maternity clothes tip! Take an old (or used) tank top and cut off the straps to provide an instant, cheap DIY belly band.
This fashion tip works wonders to provide support as well as a garment that keeps everything nice as tucked in (and your pants closed once the pants extender hack doesn't work anymore).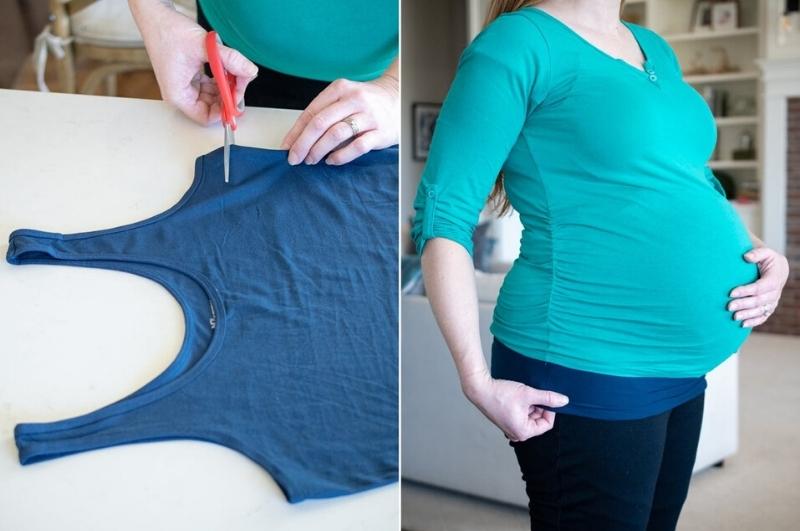 Compression Socks
When your legs and feet swell, wearing tall compression socks will provide great relief – especially if you stand for long periods of time. Plus, they are very helpful when flying to prevent blood clots!
At some point, your belly will get big enough that bending over will become difficult. Forget about tying your shoes and give your partner a break from tying your shoes by replacing your laces with these elastics like Hickies.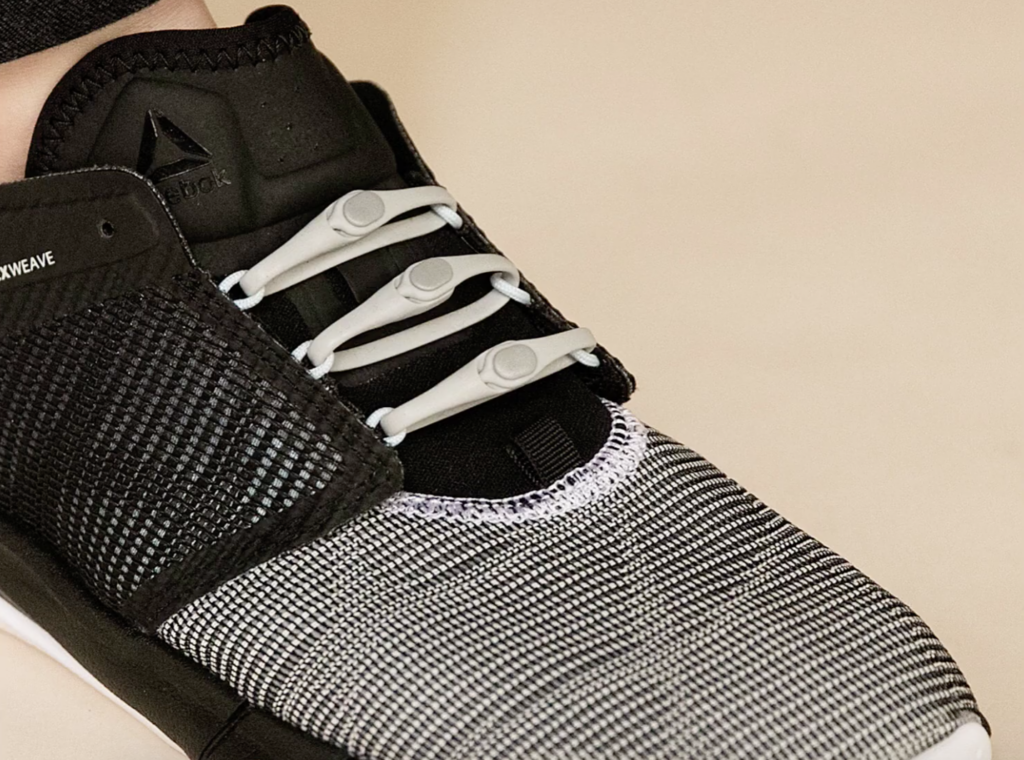 Slip-On Shoes
If you are pregnant during the warmer weather months, you may opt to wear slip ons like flip flops, Crocs, Mary Janes and more. For the winter, I recommend clogs, sock booties, or even lined Crocs.
Shoes that are easy to put on and equally easy to take off are a dream when it becomes hard to bend over!
If you have (or find for cheap) some long shirts that you love, by all means use them! As your belly expands, sometimes those fav shirts may hang down below your belly and look a little forgotten.
Put your sewing skills to work with this adorable hack. Ruche the sides of your favorite shirts to bring the bottom of your shirt closer to your body. It's easier than you may think!
Your pregnancy may be temporary, but that doesn't mean that you need to spend a small fortune on a brand new temporary maternity wardrobe. Use these clever pregnancy wardrobe hacks to save you tons of money!
I wish I had known them during my first pregnancy but now I get to help you!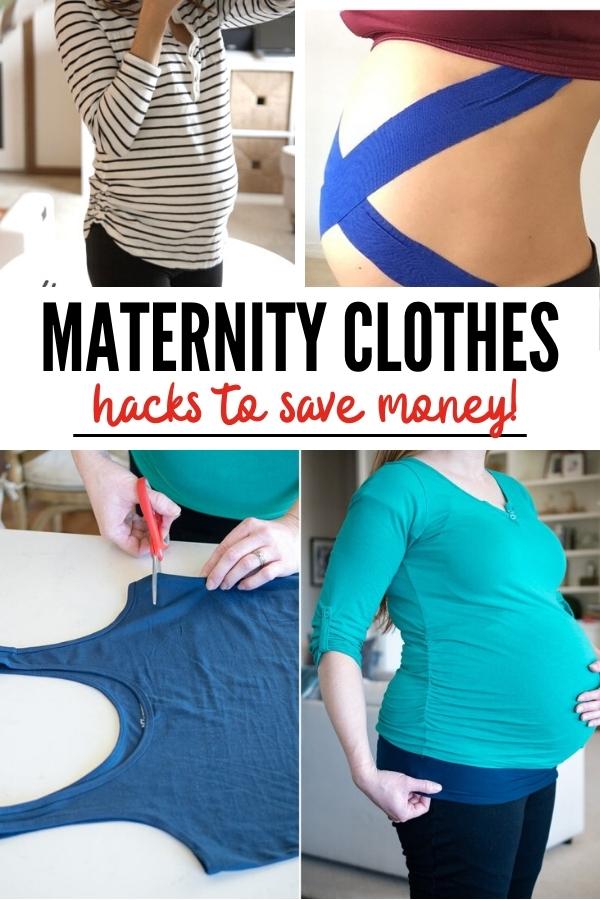 More From One Crazy House: