Come and get it. We have 14 no-cook dinner ideas right here! These recipes help you use the oven and stovetop less and less. They are especially great for the summer months when we are trying to keep cool. Who wants all that extra heat in the house? Not me! We're all about no-cook dinners in the summer, and we've found some fabulous recipes for you to try (two weeks' worth of recipes, in fact).
Check out these wraps, salads, sandwiches, and more… you will thank us for sure! These recipes are crisp, fresh, and delicious. And they are also fast and easy to prep for summertime picnics and cookouts. Maybe you should plan a get-together in your backyard so you can try out some of these ideas!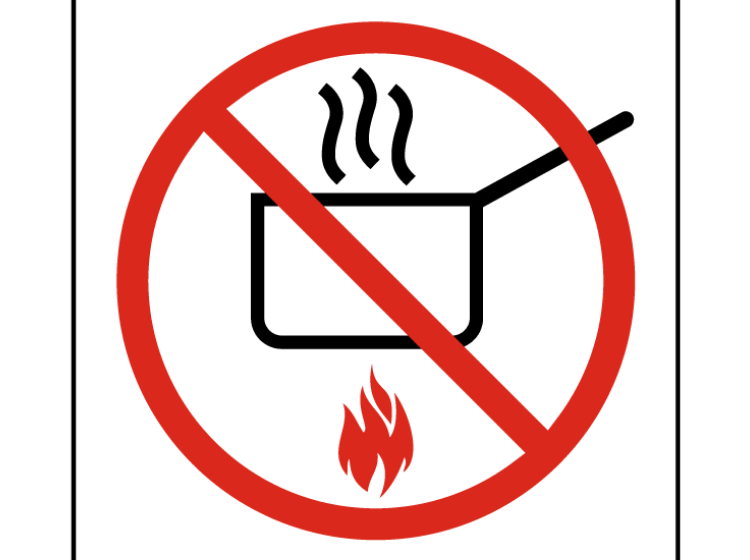 No Cook Dinner ideas… at your fingertips!
I love quick, easy, and fresh recipes, especially when the sun is out and I am spending more time outside. I want food that is light and healthy to nourish my family's bodies! We all need to be aware of what we put in our bodies, and these recipes are full of fresh vegetables.
When the temperature is high, no one wants to make it even hotter in their house by turning on the oven or stovetop. Undoubtedly, these recipes are the perfect solution to this hot weather dilemma.
The following recipes are perfect to prepare for a friendly pot-luck dinner or your next cookout. Incorporating lots of local veggies adds color and vitamins to each yummy no-cook dish! Eat the color of the rainbow at every meal to be healthy and strong.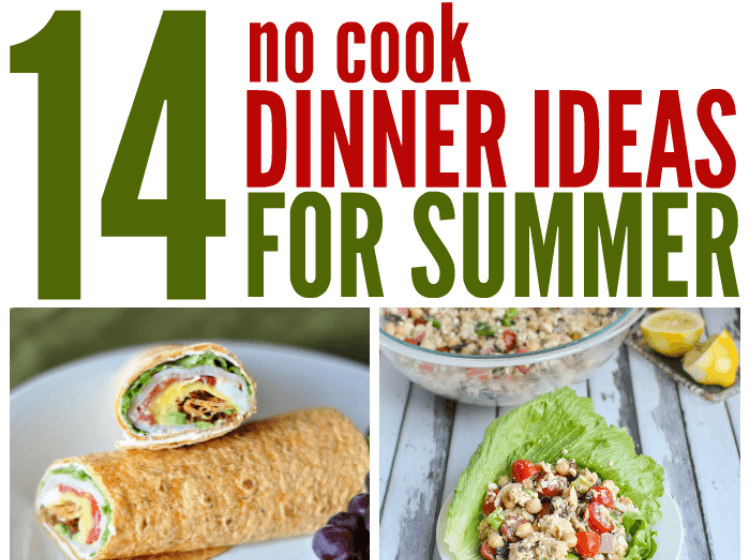 Best Summertime No Cook Dinner Ideas
Wraps make a great lunch or dinner option and the salad and noodle dishes can be served on their own or as delicious side dishes. These recipes are so yummy and can be made ahead of time while still staying fresh. In fact, many of the recipes get even better as time goes on!
Get your kids involved in the prep of these recipes. Kids can cut up the vegetables and put together the wraps and salads to learn how to make healthy food choices.
And feel free to substitute your favorite ingredients in any of the recipes to add your own flare. Check out the flavor options at the bottom of this page. These recipes are kid-friendly and make-ahead time savers, so be sure to add some of these ingredients to your shopping list today.
1. No cook dinner idea: Smokey Veggie Chicken Salad Wrap
Crunchy lettuce, creamy avocado, crunchy corn, beans, tomatoes, chickens trips, and more round out this amazingly delicious Southwestern Veggie Wrap with Creamy Smoke Dressing. Liquid smoke adds another level of flavor to all the textures in this tortilla. I just love having crunch in my wraps!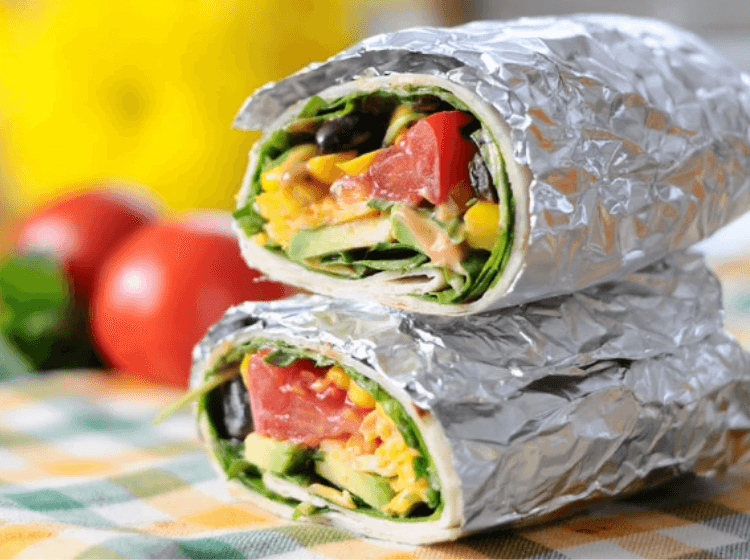 2. No-cook option: Lettuce Wraps filled with a Mediterranean Tuna Salad
Mediterranean Tuna Lettuce Wraps are yummy and diet-friendly, but you can add a wrap or tortilla chips if you are looking for a little more filling. Either way, this salad is fabulous! The mix of feta cheese, kalamata olives, chickpeas, and red onions with lemon juice dijon vinaigrette create an explosion of flavor in your mouth!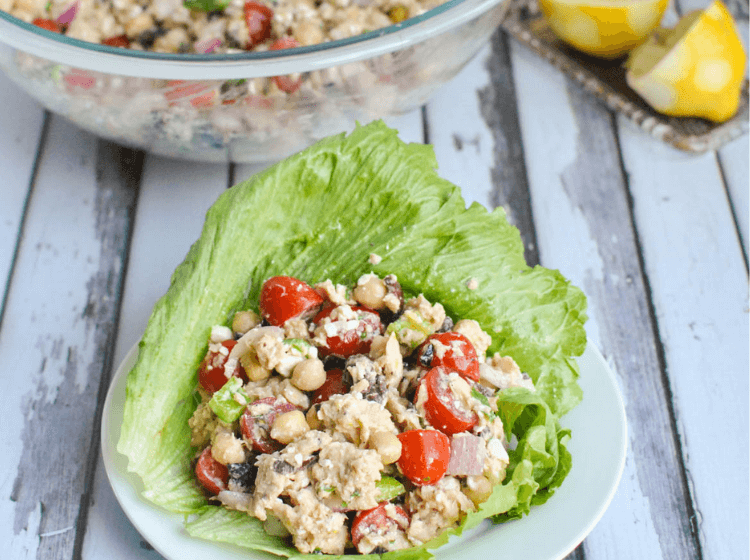 3. Raw no-cook meal: Veggies with Zucchini Noodles
Prepare this healthy and tasty "noodle" dish: Raw Zucchini Noodles with Fresh Veggies. Even the kids will love it! The hemp seeds add crunch and the chives add flavor. With this recipe, you are saying bye-bye to carbs and hello immune boosters. The raw tomato marinara is the perfect summer sauce. Make a double or triple batch of this sauce to freeze to use at a later date.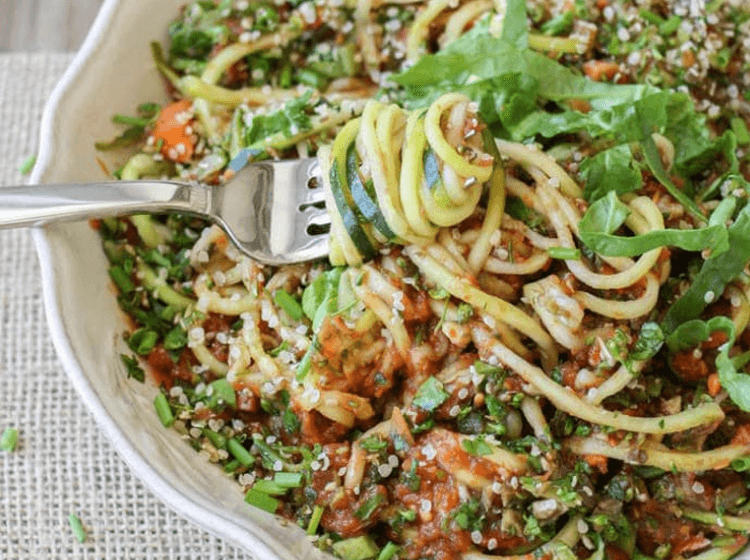 4. No-cook idea: Corn, Tomato and Avacado Salad
While it may be more of a side dish, I know I could definitely make a meal out of this No-Cook Fresh Corn, Tomato, and Avocado Salad. Then again, I can never get enough corn! The secret is to cut the kernels off the ears of fresh corn. Having this salad sit overnight before eating allows the flavors to meld together and become even more delicious.
5. No-cook idea: Tropical Shrimp Ceviche
For this recipe, the fish "cooks" not with heat, but just by marinating in lime juice for at least 30 minutes or so. Serve this Ceviche with Shrimp with a bunch of tortilla chips or crackers, or on top of some greens for a salad option. The fresh-cut mango and pineapple add another level of flavor than just regular ceviche. You could also make this with fresh fish if you prefer.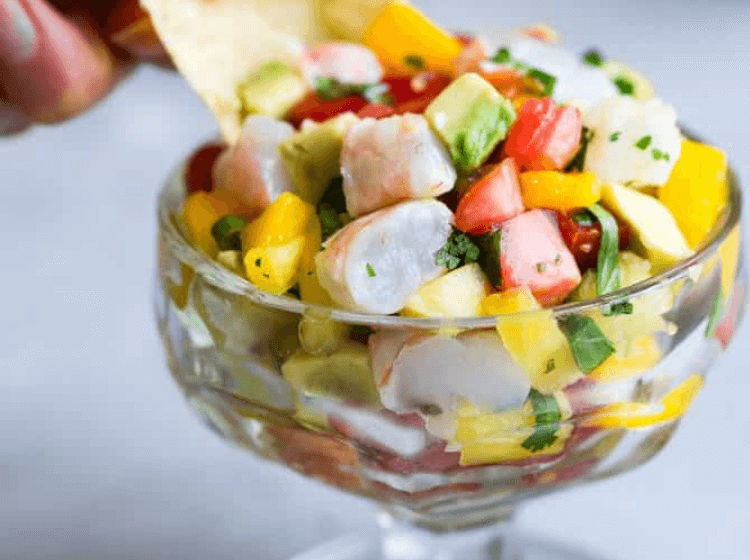 6. No cook recipe: Zucchini Noodle Pad Thai
Does your mouth water at the thought of Pad Thai? It is one of my favs!  If you are anything like me, you'll love this No-Noodle Pad Thai made with spiralized zucchini. You can also use your food processor if you don't own a spiralizer. The Peanut butter, lime juice, soy sauce, honey, fresh ginger add such depth to the sauce. Add the right amount of red pepper flakes depending on your desire for spice. Any Thia-hot fans out there?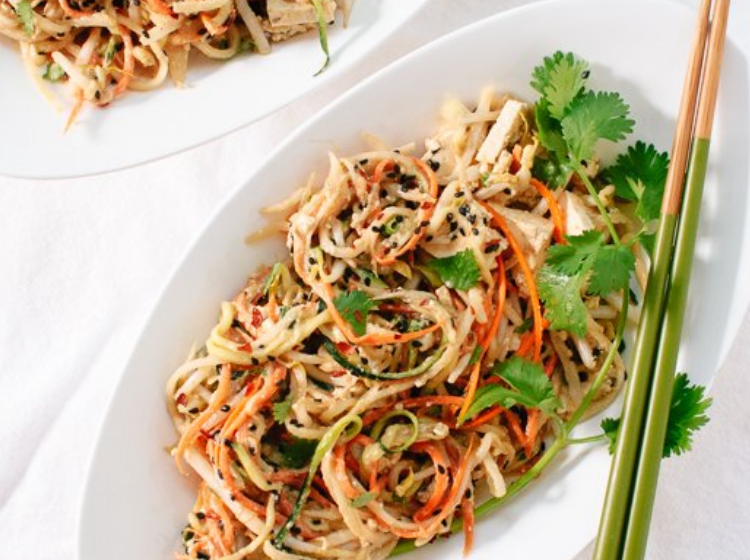 7. No-cook idea: Spice Pinto Bean and Tuna Salad
If you appreciate spicy flavors, you'll love how this Spicy Pinto Bean and Tuna Salad with Pepperoncini, Tomatoes, and Parsley comes together. It may sound like an interesting flavor combination, but it's a real winner in my house. It is also such a hit when I bring it to our neighborhood potluck. I definitely get requests for it every time. Sometimes I make it with tuna, but other times I substitute shredded chicken in the recipe.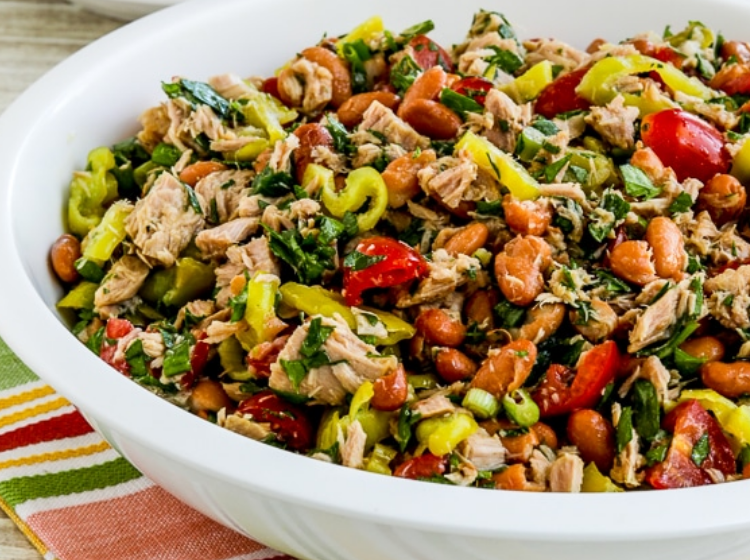 8. No-cook meal idea: Tuscan Tuna and Bean Salad
Speaking of beans and tuna, you'll want to take this Tuscan Tuna and White Bean Salad for a spin, too. Serve over mixed greens to add more veggies. Including fresh herbs like basil and oregano add even more yum and freshness to this dish. Without a doubt, this salad is served best with a glass of cold Sauvignon Blanc.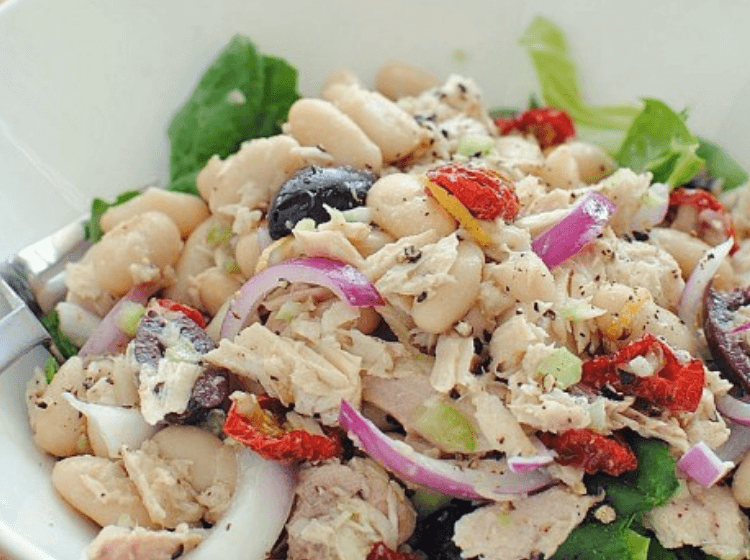 9. No cook dinner idea: Easy Pinwheels
Tortilla Pinwheels are really more of an appetizer, but if you eat enough of an appetizer, it becomes dinner. Right? They're as tasty as they are colorful! And the best part is that the options are endless. You can use any type of cheese, meat, veggies, or hummus you desire! The sky is the limit with this recipe! Kids love this food and can even make up their own flavor combinations.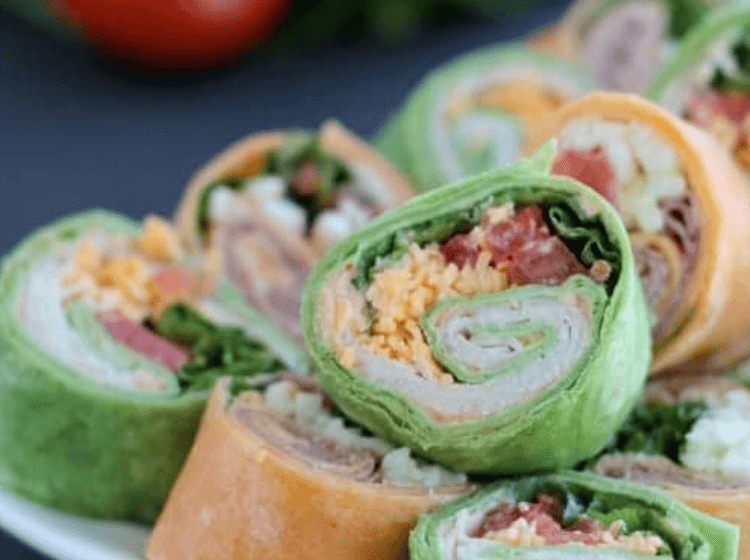 10. No-cook meal: Caprese Salad
Nothing says summer like a fresh Caprese salad. This version is chock full of white beans for added fiber and protein. Fresh mozzarella as well as basil pair together perfectly with cherry tomatoes. And the balsamic glaze adds another level of flavor and sweetness to this dish.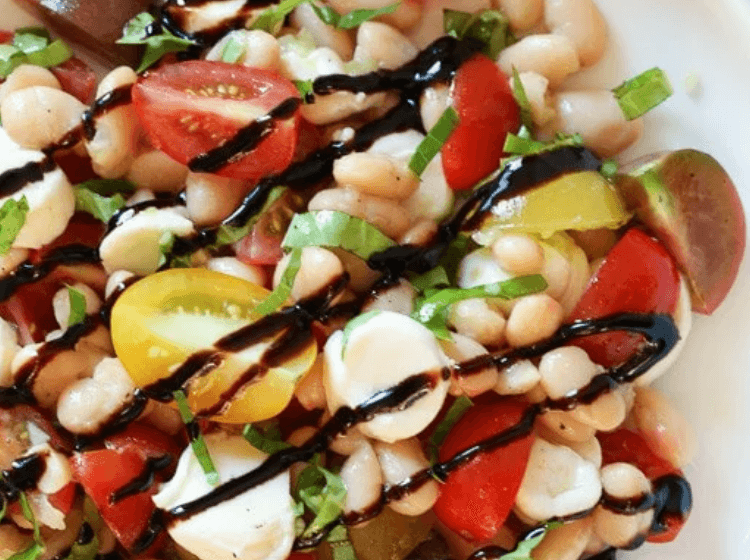 11. No-cook meal idea: Turkey Wraps
The cream cheese on these Smoked Turkey Cobb Wraps takes the flavor to the next level, yummy and creamy. The mix of hard-boiled eggs, avocado, bacon, red onion, and smoked turkey go so well together! You'll make them again and again!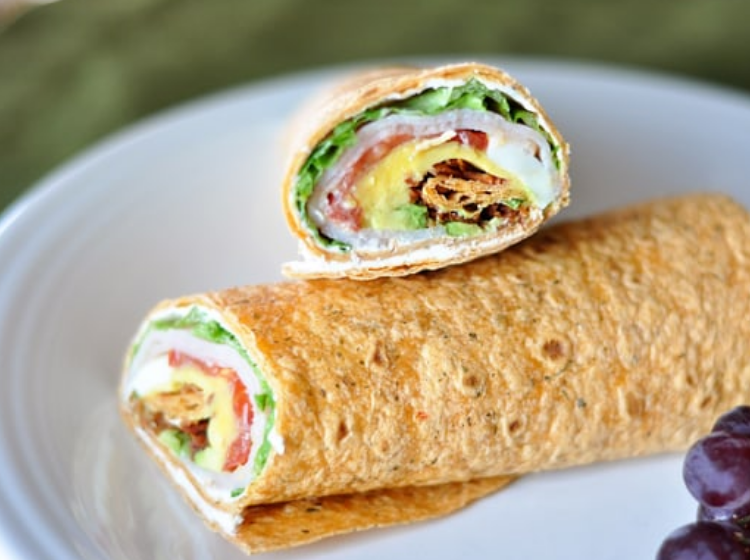 12. No cook dinner idea: Shrimp Noodle Bowls
These Vietnamese Vermicelli Noodle Bowls with Shrimp are fast and delicious. The sweet and tangy vinaigrette really brings out the flavors of the veggies, seafood, and peanuts. My family loves eating noodle dishes and this recipe is no exception. Be sure to buy precooked shrimp so there is no stove involved in the process and you can soften the noodles using just hot water!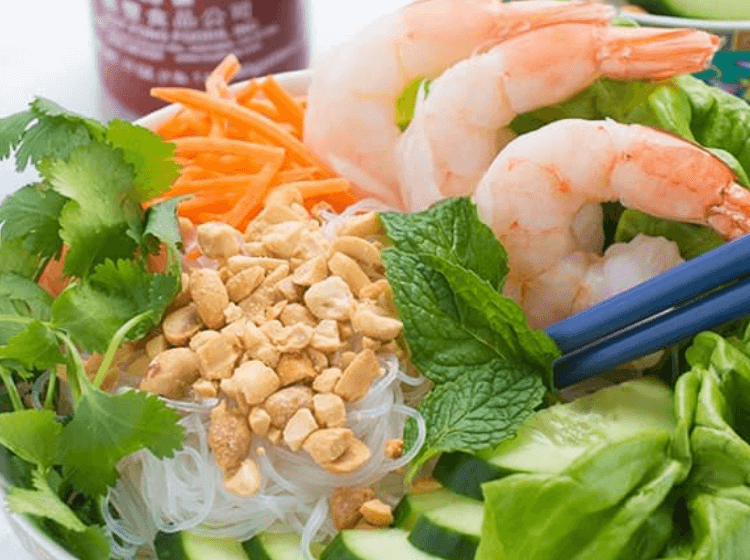 13. No cook dinner idea: Mexican Bean Salad
Mexican Three Bean Salad is delicious as is or served with a heaping pile of tortilla chips. I prefer making a big batch so I can eat the leftovers for lunch during the week. I grow cilantro because I love to use it in my summer salads.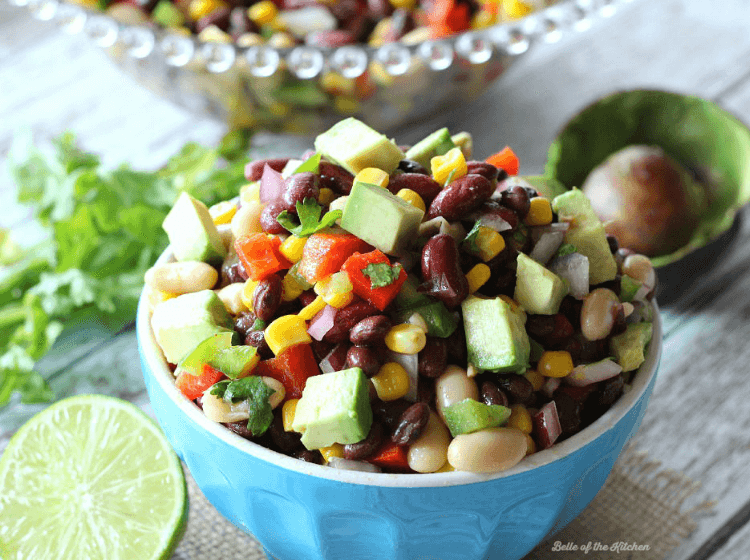 14. No-cook meal: Pressed Sandwich
Okay, so you know that sandwiches are pretty much no-cook, but this Pressed Picnic Sandwich is seriously one of the best sandwiches ever and holds up well for hours until you can eat your meal. It is key to use a ciabatta loaf and the mix of ham, prosciutto and salami are so delish with provolone cheese.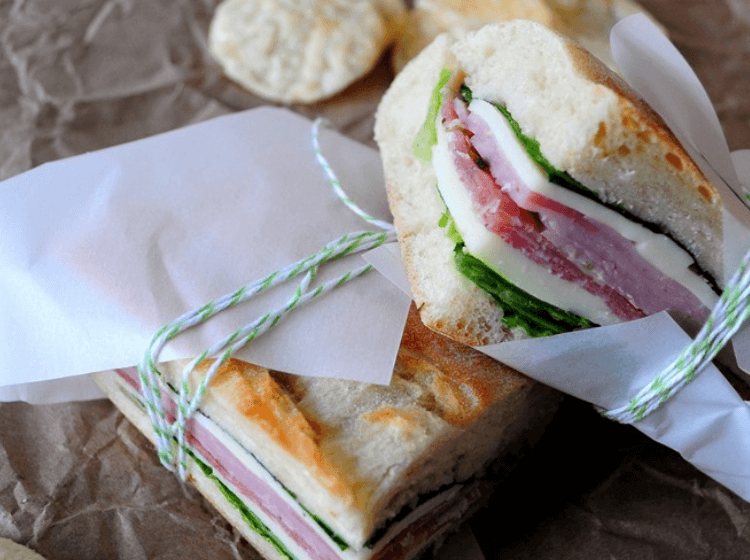 A little extra: Kitchen Cheat Sheet
Looking for a shortcut? Something to make cooking easier??
We LOVE having a kitchen cheat sheet handy – it is a fridge magnet and is perfect for those days when you can't find the tablespoon or need to remember what to use if you run out of oil or whatever! Genius! And it's FREE!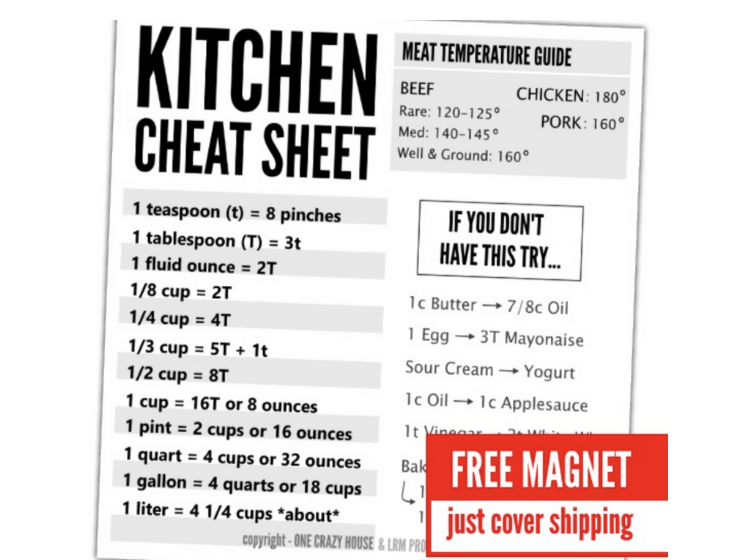 Flavor Cheat Sheet
Check out the different ingredients to add to the above recipes in order to create new flavor combinations for your dinner options. You get to decide what you like best. So play around with ingredients to find your family's top flavor fusions.
Italian no-cook dinner idea flavors
Fresh herbs: basil, oregano, parsley
Cheese: mozzarella, provolone, parmesan
Olive oil
Balsamic vinegar
Mexican no-cook dinner idea flavors
Fresh herbs: cilantro. Mexican oregano
Spices: chili powder, cumin, jalapeno
Lime juice
Cheese: fresh white, cheddar
Asian no-cook dinner idea flavors
Tamarindo
Soy sauce
Ginger
Lemongrass
Sweet chili sauce
Rice wine vinegar
More Easy No Cook Dinner Ideas From One Crazy House:
Which if these yummy no cook dinner ideas are the crowd's favorite? Let us know in the comments!