Even though my kids are out of diapers, I still have quite the stash of baby wipes containers. Here are some ways I've found to recycle those containers around my home!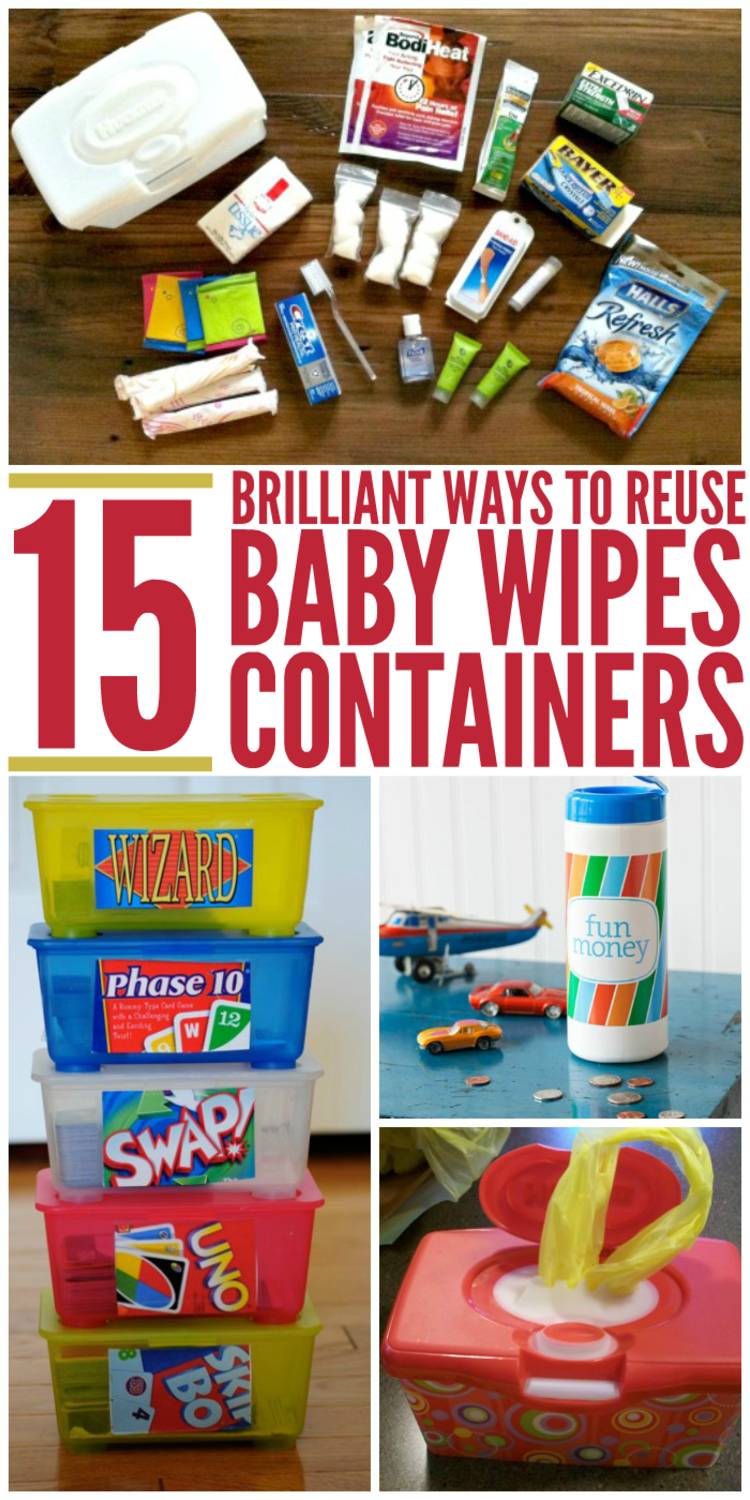 Looking for ways to reuse all of those baby wipes containers?
There are so many great ways to use baby wipes! If you're a parent of a small child, they are an essential part of your daily life. You probably have a favorite brand or scent. Perhaps you know which wipes travel best, or come out of the container the easiest so you don't waste five wipes when you only needed one (if you know, you know). Maybe you prefer structured wipe containers, or the soft plastic ones with the hard dispenser lid.
Whatever kind of wipes container you like best (who knew there were so many things to think about when it comes to baby wipes containers!), you've probably been left with one or several empty containers and wondered if there was a great way to repurpose and reuse them. We have some great ideas for you! Feel good knowing you're not adding more plastic to the landfill while also finding great storage solutions for your home!
Try one of these brilliant ways to use your empty baby wipes containers!
1. Make a sample-sized emergency kit to put in the car.
So handy for those bumps and scrapes that your kiddo gets when you're on the go! If you're anything like me, you have quite a stash of sample-sized products you've collected along the way. Instead of letting them clutter up a drawer, I know just what to do with them.
Baby wipes containers fit those mini products perfectly in this sample-size first aid kit! Just a few suggestions-
Band-Aids
facial tissues
deodorant
pain reliever
chapstick
sanitary napkins and tampons
hand sanitizer
You could probably fit a travel-sized sewing kit in there with everything, as well. The wipes container makes it easy to store under a seat and take in the house to refill occasionally. Just add whatever you think you might need in a fix when you're out of the house. The sky's the limit with this one!
2. Baby wipes lid turned chip bag lid? Genius!
This one is a little too easy! If you don't like getting cheese dust on your hands when you reach the bag, this handy-dandy chip bag lid is for you. The hard baby wipes lids that flip open, are perfect for saving you clean up, and it only takes minutes.
Just use a hot glue gun or disposable tape on the underside of the lid, and stick it anywhere you want to, on the chip bag of your choice. Then, open the lid and use scissors (or an Exacto knife) to cut a hole in the shape of the lid opening. Done! The best thing about this hack is that you can keep reusing the same baby wipes lid as many times as you want to with new chip bags!
3. Wipes containers are perfect for making personalized toy boxes
Maybe your feet have been ruined by one- too many Matchbox cars or Legos left on the floor after playtime. If it's been a challenge getting your kiddos to pick up toys, try these personalized toy containers made out of leftover wipes containers! With their names on the side and cute images, they'll want to pick up their toys!
4. Store your plastic grocery bags in a baby wipes container
Instead of buying a fancy wall holder for all of those plastic grocery bags, just store them in what you already have! Grab an empty baby wipes container and shove a plastic bag inside– but the key is to keep one bag handle sticking out of the top. The next time you add a plastic bag, just loop it through the handle of the last bag. That way, every time you pull out a new bag to use, you have another one ready to grab! So convenient!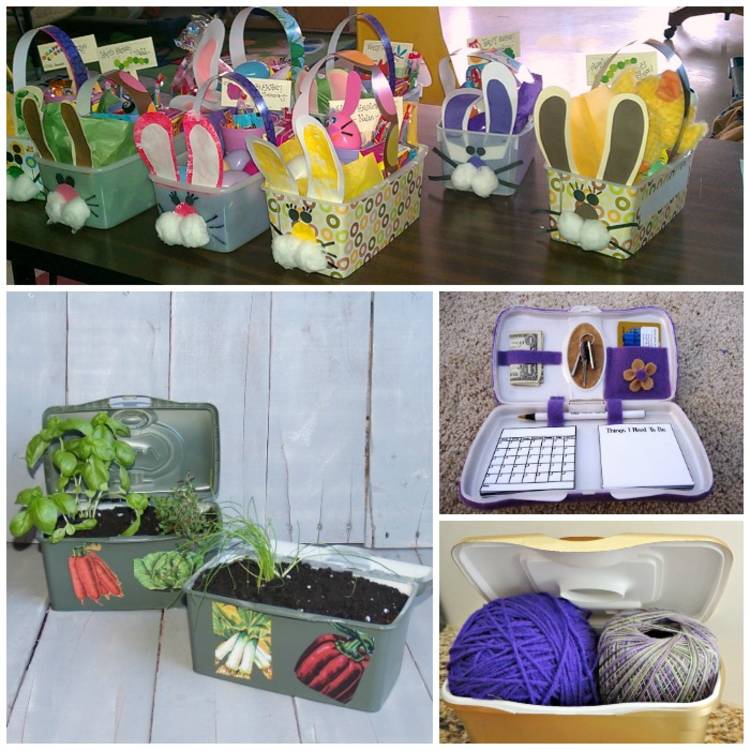 5. Did you know that breastmilk storage bags fit perfectly in baby wipes containers? Neither did I!
So you have a baby, and plenty of empty wipes containers and frozen breastmilk tucked into different parts of your freezer. Should you buy a fancy-schmancy, expensive storage container for all that milk? No, just use what you've got plenty of already! My Lansinoh milk storage bags fit perfectly in the bottom of a baby wipes container once they are frozen flat. Next time you need some room for that 2-for-1 on ground beef in the freezer, you know just what to do!
6. Turn baby wipes containers into planters for your herbs
Use those hard containers as an herb garden planter! They also work great for seedlings, because of the protective lid. All you do is cut several holes in the bottom, add decorative glass beads or river rocks to the bottom for proper drainage, then add soil, and plant your herbs. You can spray-paint the container and Mod Podge cute gardening images on the side, or not! It's up to you.
7. Organize your knitting or crochet supplies
Do you find your yarn balls getting covered with dog hair, or maybe they end up rolling away and unraveling? Use baby wipes containers as yarn holders. They fit beautifully inside, and you can poke the end of the yarn out of the dispenser, so it stays protected. Decorate them however you want, to make it pretty!
8. Turn travel baby wipes cases into stylish DIY pencil boxes
Sometimes going back to school can be scary, so make it fun by including your kids in the supply prep. These pencil boxes are fun to make and look so cute! You'll need–
child-safe scissors
scrapbook paper
white glue or Mod Podge
foam paint brushes
pencils
rulers
You can also use things like stickers, scrapbooking corner rounders, or glitter, to name a few suggestions. Help your little scholars trace or measure out paper to fit on top of the wipes container, brush adhesive to the top, and then apply the paper. Let them decorate their pencil boxes as they wish!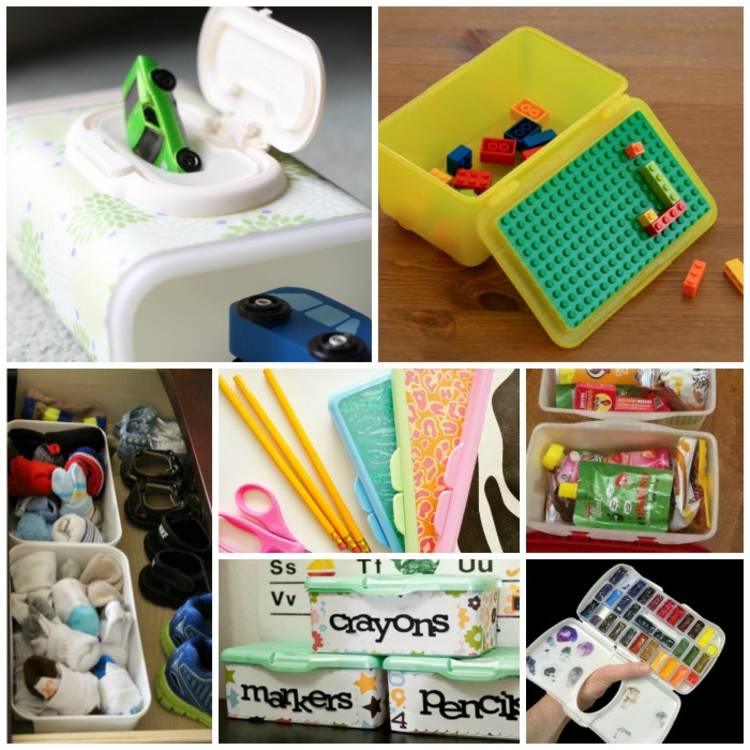 9. Print and store photos in an old baby wipes container
Apparently, 4×6 photo prints fit perfectly inside a wipes container, and you can store quite a few! This is a great solution for today when we rarely print photos. When was the last time you saw a photo album in the store? You'll be glad you printed them and have safe storage on those rainy days when you want to reminisce!
10. Make a Lego box your kids can use on the go
It only takes a few steps to make this traveling Lego set:
Flip over a Lego board and trace it to fit the inside of the baby wipes container lid
On a cutting board, use an Exacto knife to cut out the shape you traced
Hot glue it to the inside of the lid
Add Legos and get ready for a peaceful road trip!
11. Use a baby wipes lid to child-proof your outlets
Creating outlet covers out of baby wipes lids is as simple as removing the hard lid from a soft wipes container. Using hot glue or double-sided tape, apply the lid to your outlet. When you need to use the outlet, you can safely open it without removing the lid completely, and when you shut it, it's out of sight, out of mind for little curious hands and eyes!
12. Use it as a travel container for a few of the kiddo's favorite cars.
Are you tired of losing Matchbox cars every time you travel? Make a fun storage container that your little ones will want to keep their car in with these wipes containers turned toy storage boxes! I think this would work great for other small toy collections, as well! Littlest Pet Shop, Calico Critters pieces, and even more! Just cut the top (under the lid), so the toys can easily slip inside, and hand it to your kiddos so they can pick out a few of their favorite toys to bring on the road.
13. Make a travel watercolor kit out of a baby wipes case
Everything fits neatly inside! So cute and clever!
14. Create Easter baskets on the cheap by reusing your wipes containers
Do you need a last-minute Easter basket solution? Grab those empty baby wipes containers, some scrapbook paper, scissors, glue, and start creating! This one would be great for a playdate activity, or as a way to use up all those leftover classroom decoration scraps. Just don't forget fuzzy pompoms for the bunny's face and tail!
15. Keep snacks handy for each child in their own containers
Planning a long road trip? Pack a baby wipes container's worth of snacks for each child, write their names on the top, and stack them in a tote bag. Easy-peasy and you'll be ready when those tummies start growling.
Here are more great ideas on how to reuse and repurpose everyday items from around your home!