Let's chat outdoor party tips because entertaining outside is what makes the summer fun! You get all the joy from having people over and with these backyard or local park tips when your party planning and party clean-up will be easier than ever. We have collected the best Stress-Free Party Tips you can get ready now and in a weekend bring your deck from blah to ah-mazing!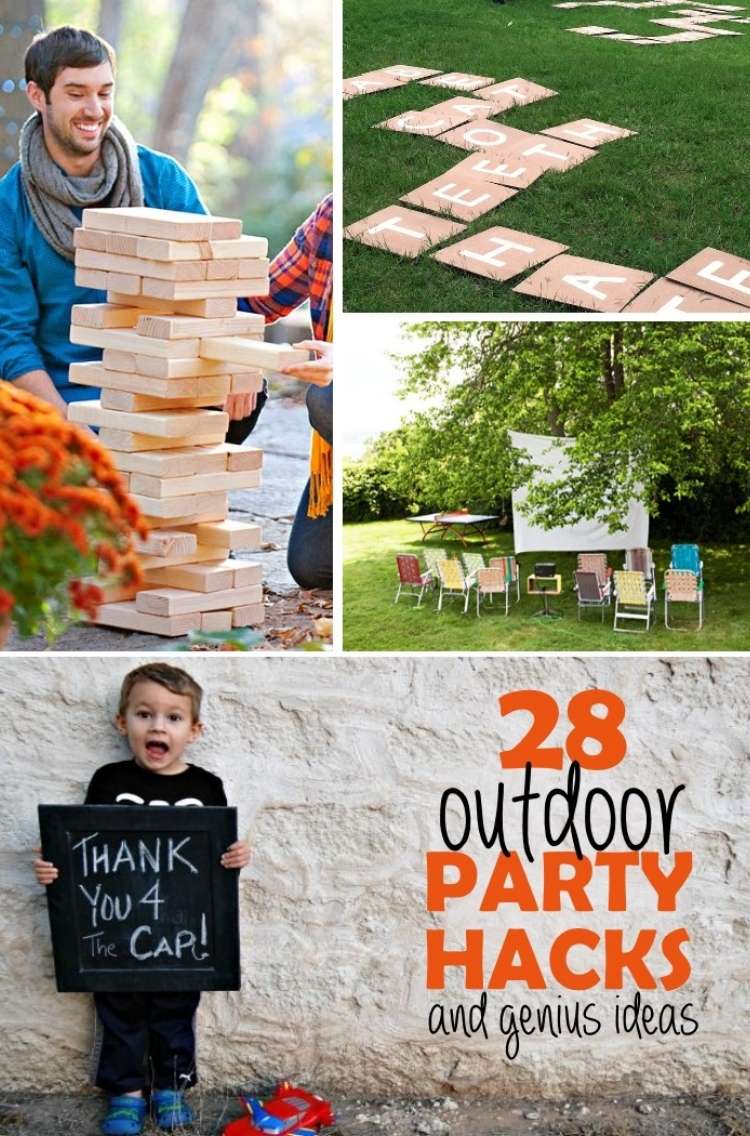 Best Outdoor Entertainment Ideas
1. Create Entertainment Zones in Your Backyard
Every party needs entertainment "zones". You can use your yard for games, the deck for food, even have a handwashing and trash station to help your guests feel more comfortable. You can redo your patio stones, your deck, even portions of your fence to make zones. Setting up your "zones" ahead of time helps your party go more smoothly! Zones to consider for your party:
Drink Zone
Food Zone
Sunblock or bug spray zone
Cooking zone (if you are grilling for example)
Dancing or activity zone
Handwashing Zone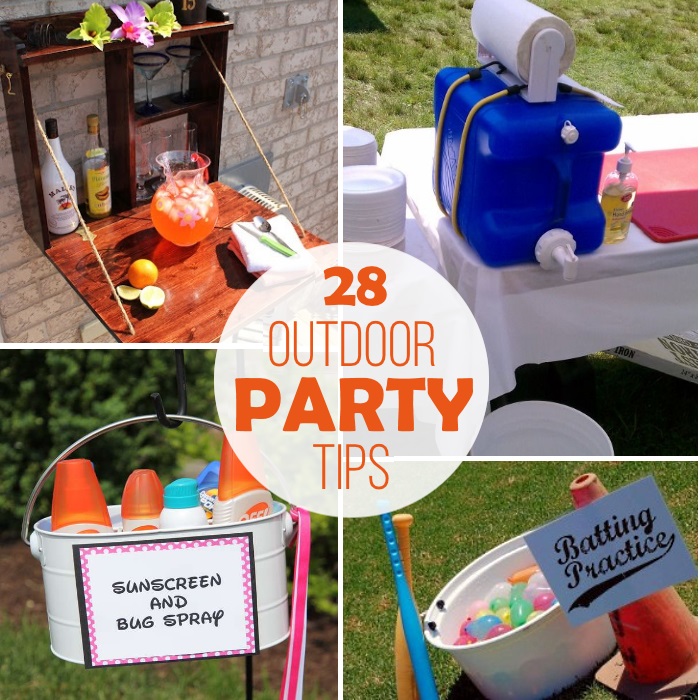 2. Make a Backyard Party Drink Station
Think outside the box. If you have a small deck, consider making a drink station on the side of your house or even your fence. A drink station can also be achieved on a decorated table. Don't forget to include some ice, the drinks you are using, cups and napkins so guests can easily refill the drinks and keep the party going.
3. Create a Bug Spray and Sunscreen Station for Your Party
Keep your guests comfortable outdoors even with the sun…and bugs. Create a station for your guest to reapply Bugspray and Sunscreen.  It's the little things that will bring your party from great to terrific. Gather your outside essentials and display them on a pretty tray on a table, or hanging in a pretty basket on the lawn.
4. Create a DIY Handwashing Station
Washing your hands before you eat is a necessity for most parties, but is also something most guests forgo. Make a handwashing station. The watermelon-covered hands will thank you. All you need for this awesome party hack is a large water cooler, some soap, and paper towels. This is a great camping hack, too!
5. Pro Party Tip: Don't forget the trash!
Don't forget the trash! Your trashcan needs to be in an easy to access location – check out this trashcan makeover.  Make sure there are plenty of garbage bags available for guests to use to make cleanup super easy.
6. Separate Your Drink Station Away from the Food
Think about placing drinks away from your food.  This will help guests mingle more and they won't need to worry about balancing their plates and cups at the same time. This will also help to keep the busy food area more accessible. It may also be a good idea to set up separate drink stations for the adult and kid beverages so everyone can easily find what they want to drink!
7. Set up a water balloon battle area
If it's warm out, consider having a water balloon batting game.  Set that zone up far away from the seating area. You can also use water balloons to play water balloon baseball if you don't like the idea of a battle. Just use the water balloons instead of the baseball/ softball.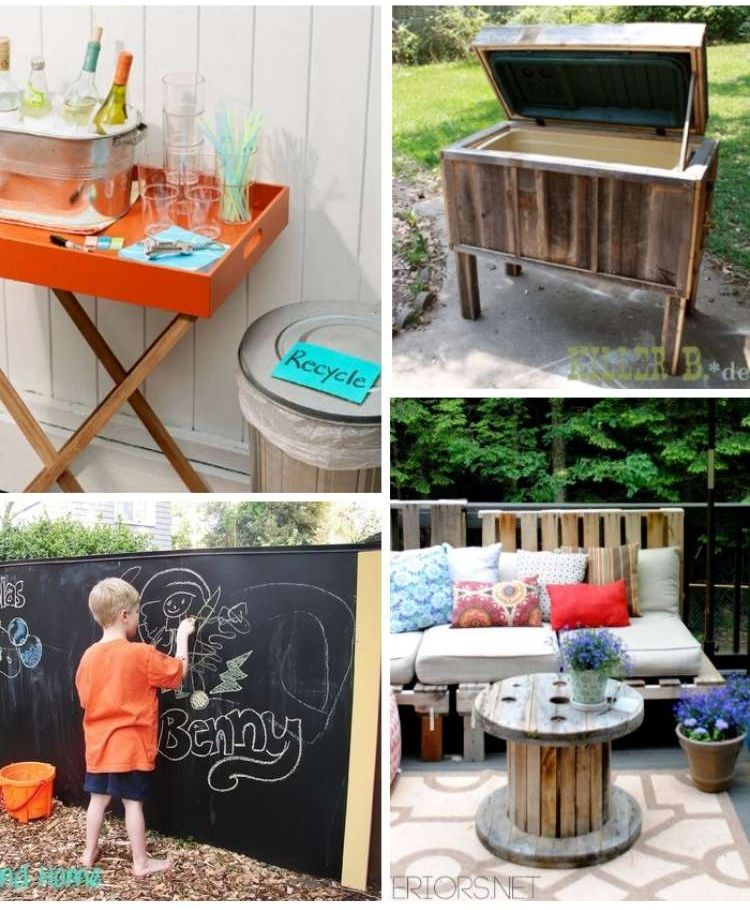 8. Set up some Yard Games for the Best Backyard Party
Plan some games.  Yard scrabble is a great way for your guests to use their words and enjoy each other. Cornhole is another great lawn game that doesn't require much setup. Just a rubber ball can make for an uproar of a kickball game!
9. Create a chalkboard in Your Backyard
Don't forget about the kids when you are redesigning your deck. Add some black chalkboard paint to a panel on your fence for the kids to color on – for a giant chalkboard.
10. Transform your ugly water cooler by building a cover for it
Do you have a giant UGLY water cooler? If you have scrap wood leftover from a deck remodel, consider using some of it to create a cooler. No more bending over.
11. DIY your outdoor furniture by making it out of pallets
So your deck is now gorgeous, time to upgrade the furniture, without breaking the bank. Make your own pallet lawn furniture.
Pallets can be fairly easy to find and grab for free, but you will need to hit the hardware store for some brackets, screws, and some sealant. After all that hard work you don't want your new pallet furniture to rot, so don't skip the sealant! And keep in mind that the finished product is probably going to be really heavy so plan accordingly.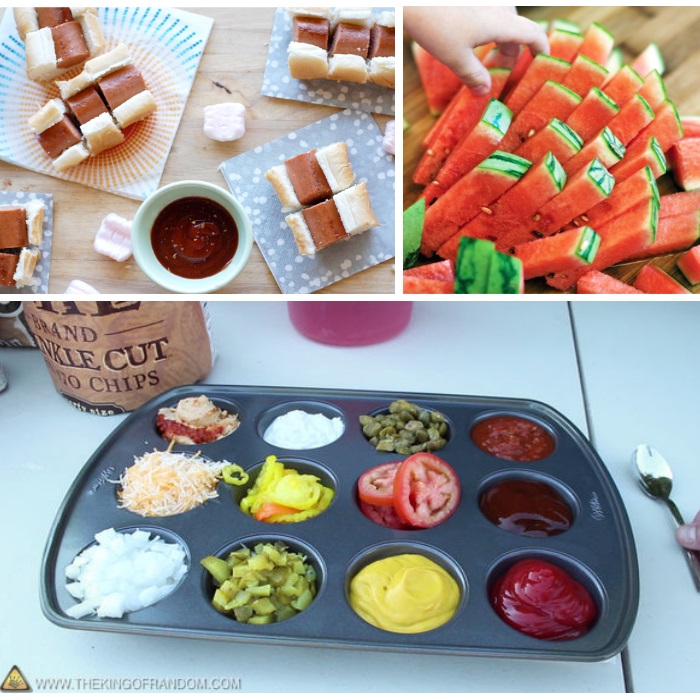 12. Set up grab and go finger foods
If you don't want to spend your time over the grill, consider cutting up a batch of hotdogs ahead of time, to be grab-and-go party finger foods.
13. Party Tips: Learn to cook like a grill master
Special moments are often centered around food and eating together! Become a grill master with this "How to Grill Food Chart".
The best grill "hack" of all might be learning the ins and outs of your grill so you can grill like a pro. This means knowing how to lay out the charcoal to create different heat zones, where to put different foods on the grill, why you should use an aluminum pan for more even grilling, and when to take foods off the grill.

And then there are other tricks, like:

grilling juicier chicken under a brick
spiral cutting hot dogs for more grilled flavor
getting steakhouse-quality crust with a quick freeze of the steak
improving grilled chicken wings by starting them on the cool side
grilling thick steaks by starting them at a low heat
poaching sausages directly on the grill
making beer can chicken
14. Use an egg carton to light your grill quickly and easily.
Get your charcoal grill started quickly and easily using this Egg carton Charcoal method. It's very important that you use a cardboard egg carton for this, as the platic-y ones will not work in the same way.
15. DIY Balloon Cooler
Instead of regular old ice, try freezing water in balloons for your cooler! This will save fingers from getting cold in ice water, and makes cleanup super easy!
16. Party Hack: Make easy s'mores with cones!
Enjoy some S'more Cones for dessert – these are such a hit with the kids! All you need for these amazing desserts is chopped fruit, like berries, chocolate chips, mini marshmallows, and waffle cones. Mix up your fruit, chocolate chips and marshmallows, then stuff the waffle cones with the mixture. Wrap your stuffed cone in aluminum foil and put it on the fire for about 5 minutes. You can eat it like you would an ice cream cone, or use a spoon to scoop out the gooey middle!
In the fall you can also make this with caramel chips and apples. Get creative with your mixins!
17. Party Tips: cut watermelon the mess-free way
Cut a watermelon, the right way and save your fingers from the sticky goo.

18. Pro Party Tips: Keep the bugs away naturally with some "climes"!
Protect your food table from the bugs! Make a set of "climes" – cut a lime in half and cover it in cloves. The bugs hate them!
19. Pro Drink Tips: Freeze fruits to use as ice cubes in your drinks
Forget watering down your delicious summer drinks! Freeze some cut-up fruit to use as ice cubes, and then enjoy a boozy snack just when you thought your drink was done!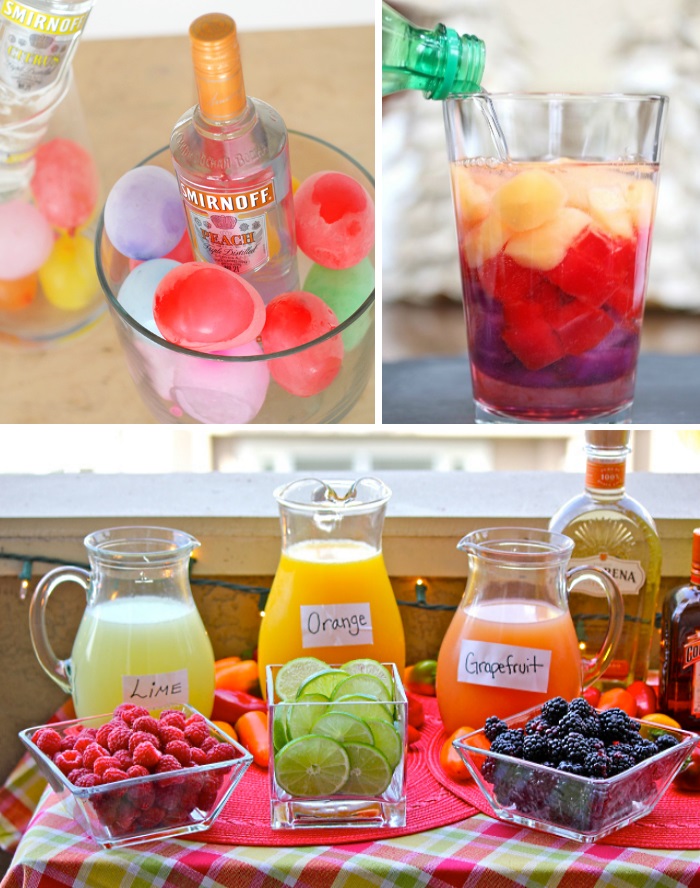 20. Pro Party Hack: Use water balloons as ice that double for cleanup duty!
Party Hack:  Fill up water balloons and freeze them ahead of time to fill a cooler bucket. Perk:  When the party is over your kids can have a water balloon fight on the patio to "clean" it off, bringing your DeckOver back to new.
21. Use chopped popsicles as ice cubes
Make drinks fun and personal in these party tips. Use chopped-up popsicles as ice cubes to fill your glass. Top off with club soda.
22. Fancy Party Tips: Elevate your drinks by infusing herbs
Liven up your drinks to make them memorable. You can add Lavender to your Lemonade, for example.
23. Elevate your drinks by infusing them with fruits
Or infuse your water with fruit. You can even have a mix-your-own bar.
24. Party Game Idea: Make a giant tower of Jenga Blocks with scrap wood
Get your Jenga on! Make a giant tower of Jenga blocks from scrap wood. You can even paint these a variety of colors using the Behr DeckOver product for a water-sealed game.
25. Party Game Idea: Create a giant game of scrabble
Yard scrabble is a blast!! You can make your own variation with giant wood letter cards.
26. Pro Party Hack: DIY theatre in your backyard
Make your own Movie Theater. Set up a sheet, some yard chairs, and have your very own movie screening. What a fun family tradition!
27. Throw a field day!
Ready. Set. Race! Set up an area for some quick sprints or bring out some potato sacks or big pillowcases for a whacky race!
28. Party Tips for Pros: Take pictures of the birthday kid with their gifts to easily send out thank you notes!
Don't forget to say "Thanks" afterward. If this was a party where gifts were given, have your child take a photo with each object while you are cleaning them up.
If you loved these outdoor party tips, be sure to check out our other tips to help you have stress-free parties!