Hosting or attending a gathering? Don't show up empty-handed! Share one of these incredible party appetizers and watch them disappear.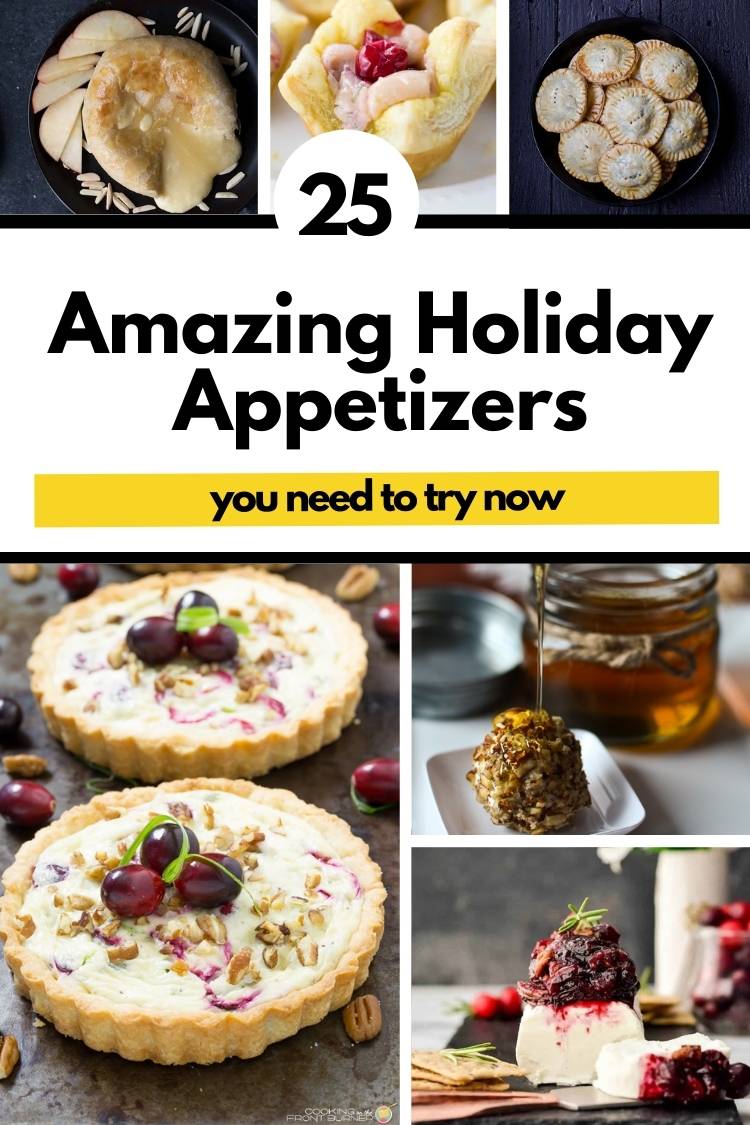 When you're hosting a gathering (or even attending one), having a good selection of appetizers available for the guests is essential.
Appetizers are the best food for parties because they're so easy to grab and go and eat while visiting with people. Almost any of your favorite dishes can be transformed into appetizers as you'll likely see in this list of ideas.
The Most Delicious Party Appetizers
Are you tired of the same old boring appetizers at get-togethers? Take your party game up a notch with these 18 fail-proof easy appetizer recipe.
You'll be the "hostess with the mostess' for sure! (people still say that, right?)
And while you're here, don't forget to check out 17 More Irresistible Party Food Ideas!
1. Individual 7-Layer Party Dips
These Individual Seven-Layer Dips are individually portioned dips perfect for parties. No double dipping here and always a party favorite! I'm sure I'm not the only one who's grossed out when folks double-dip, right? Eliminate that problem once and for all by giving all party-goers their own individual dip cups for their dipping sauces. You (and they) will love this recipe for 7-layer dip!  For maximum taste, you can add ground beef, salsa, olives, avocados to your dip.
Use festive ceramic ramekins to add some fun and reduce waste at the same time.
2.Yogurt-Dipped Frozen Grapes
Turn your afternoon snacks healthy with these simple yogurt-dipped frozen grapes. These also make terrific party appetizers. We've long loved frozen grapes, but here's another to try that'll be popular with kids and adults alike. Dip grapes in yogurt and crushed nuts and then freeze them.
Delicious sweet treats with only a few calories…we call that a win!
3. Pizza Cheese Dip
"A delicious dip that anyone who loves pizza will enjoy – perfect for a party! Everyone loves pizza, so pizza dip is a no-brainer. Serve it with pita chips or toasted bread like prosciutto or pretzels. It can also be paired with shrimp and chicken wings! This party appetizer is so good it will disappear faster than you can replenish it.
4. Video: Easiest Fancy Party Appetizer – Pull Up Bread
If you ever thought that appetizers were difficult to make, you'll change your mind once you watch this short video. Making puff pastry Pull Up Bread couldn't be easier (or more yummy)!
5. Crispy Ravioli Party Appetizers
An appetizer that's finger-lickin' good! If you have never tried crispy ravioli, you are missing out. And look how cute these individual portions are when served in spoons. Pretty and tasty – perfect for a party! Switch up the filling with veggies or sun-dried tomatoes to add some variety. Pair it up with spinach-artichoke dip too!
6. Melon Ball Ice Cubes
 You can make melon ball ice cubes with watermelon, cantaloupe, and/or honeydew melon. Melon ball ice cubes are fabulous in clear frozen drinks, but they're pretty tasty as appetizers, too! If you need a fresh option to add to your party appetizers, give these frozen melon balls a try. Also perfect for use in cocktails. 
7. Creamy Chicken Enchilada Roll-ups
These tasty roll-ups are pure goodness in every bite. Creamy Chicken Enchilada Roll-ups are the perfect finger food for any party. I kid you not – guests will gobble these things up, so make more than you think you need.
8. Baked Ham and Cheese Roll-ups
These Baked Ham and Cheese Rollups make for the best appetizer or dinner recipe! They are a crowd pleaser every time I make them. Speaking of roll-ups, Baked Ham and Cheese Roll-ups are very popular, too. The combination of crescent dough, Boar's Head SmokeMaster™ Black Forest Ham, swiss cheese, and finally, topped with a delicious mustard glaze is out of this world yummy. A truly classic ham delight. 
9. Pizza Party Pinwheel Appetizers
Pizza Pinwheels made with homemade pizza dough & delicious toppings! This is the perfect party appetizer or easy kid pleasing meal for any pizza lover! Hosting a kid-friendly party? You can't miss it with pizza pinwheels. Even adults will love them. Made with soft, homemade dough with delicious toppings inside and melted cheese on top, these will be your favorite appetizer (or weeknight meal)!
10. Stuffed Mushrooms
Stuffed Mushrooms are one of my favorite appetizers and gluten-free! This easy recipe for cream cheese stuffed mushrooms is always a potluck favorite. My favorite appetizer is Stuffed Mushrooms. And this easy recipe for mushrooms stuffed with cream cheese and sausage is always a potluck favorite. Plus it's low-carb and Keto-friendly – what's not to love? Our family certainly thinks it's one of the best party appetizers.
11. Bacon-Wrapped Jalapeno Poppers
These low carb jalapeno poppers are flavored with salsa verde and cheddar, then wrapped in bacon! Keto, Atkins diet friendly and gluten free, what's not to love? Spice up the party with Bacon Wrapped Jalapenos. They're baked and stuffed with salsa verde, cheddar, lemon juice, sour cream and cream cheese for more flavor. Plus, they're low carb, too, so bonus points for being diet-friendly!
12. Mini Taco Bites
Mini Taco Bites are a fun and colorful party food that will be gobbled up at your next party. A ground beef/refried bean filling is covered with your choice of toppings. Bite-sized appetizers are probably my favorite – they're cute and super easy to serve. Add green or red salsa options and fresh herbs and you're all set. They're perfect for eating when you're walking around socializing!
Bonus: These appetizers are so easy to put together that little helpers can help assemble them. Kids will love helping! Including kids in dinner-prep helps them feel connected and valued. Surprise your mini helpers with fun aprons. Don't forget to take photos, this is a team-effort you will want to remember for years to come. 
13. Bacon Jalapeno Deviled Eggs
Bacon Jalapeno Deviled Eggs are a delicious dish that adds a kick to the traditional spring, summer, or Easter appetizer! These aren't your mama's deviled eggs. Take basic deviled eggs to the next level with this recipe. Bacon Jalapeno Deviled Eggs pack a serious kick to your taste buds and will fly off the serving dish!
14. Delightful Sausage Party Appetizer
Easy savory bites made with sausage and cheese (e.g. goat cheese, blue cheese, cheddar cheese) that are perfect for breakfast, lunch, dinner, or as party appetizers. Sausage Balls are the perfect savory appetizer bite for a party. They disappear so quickly! Make some with mild sausage and some with peppers to suit different palates.
Need easy party prep? This easy party appetizer can be frozen before or after baking to make getting ready ahead of time a snap.
15. Buffalo Chicken Meatballs
These Buffalo Chicken Meatballs are easy to make, so full of flavor, and packed with a kick! Instead of traditional meatballs, try Buffalo Chicken cocktail Meatballs for a new twist and pair with salad of your choice. They make the perfect appetizer for any party or get together, and you can decide whether to use more or less sauce to change the spiciness!
16. Mozzarella Cheese Bites
These mozzarella cheese bites make a great appetizer for parties and they are something that everyone is sure to enjoy. These mozzarella bites couldn't be easier. Cut string cheese sticks into bite-sized pieces, roll in a breadcrumb mixture, and deep fry. Roast garlic and onions, stuff tomatoes and drizzle with olive oil, and blend to create a yummy sauce to go with these bites. Seriously, make this for your next get together and be the talk of the town. 
17. Taco French Bread Pizza Party Appetizers
This Taco French Bread Pizza is so versatile that it can be served as a meal, a side, or a delicious party appetizer. Taco French Bread Pizza is a delicious dinner, but it can easily be turned into an appetizer to feed a crowd by simply cutting it into small pieces. Doesn't it look incredible? Add jalapenos for some extra spice. 
18. Mini Bacon Ranch Cheese Ball Bites
These mini bacon ranch cheese ball bites are loaded with everyone's favorite ingredients, and they are incredibly simple to make! Instead of one big cheese ball, try Mini Ranch Bacon Cheese Ball Bites. No one has to stand in line for the cheese ball and crackers!
Plus, they're loaded with everyone's favorite ingredients, and they are incredibly simple to make.
Related Post: 15 Crowd-Pleasing Cheese Ball Recipes for Your Next Party
19. Bacon Cheeseburger Party Appetizer Dip
We thought we'd give you a fun bonus party appetizer. This is our favorite crowd-pleasing surprise and we hope you enjoy it as much as we do. 
Cheesy Bacon Cheeseburger Dip -the perfect game day dip recipe with your favorite flavors of a bacon double cheeseburger turned into an addicting appetizer! You've probably noticed bacon in a lot of our picks here, right? We love bacon (what's not to love?)! Our final favorite appetizer is this Bacon Cheeseburger Dip. It's cheesy, creamy, full of cheeseburger goodness – and bacon!
There you go! From individual dip cups to sausage balls to deviled eggs and more, this list of easy party appetizers is so diverse that you can't help but find a new favorite recipe to make.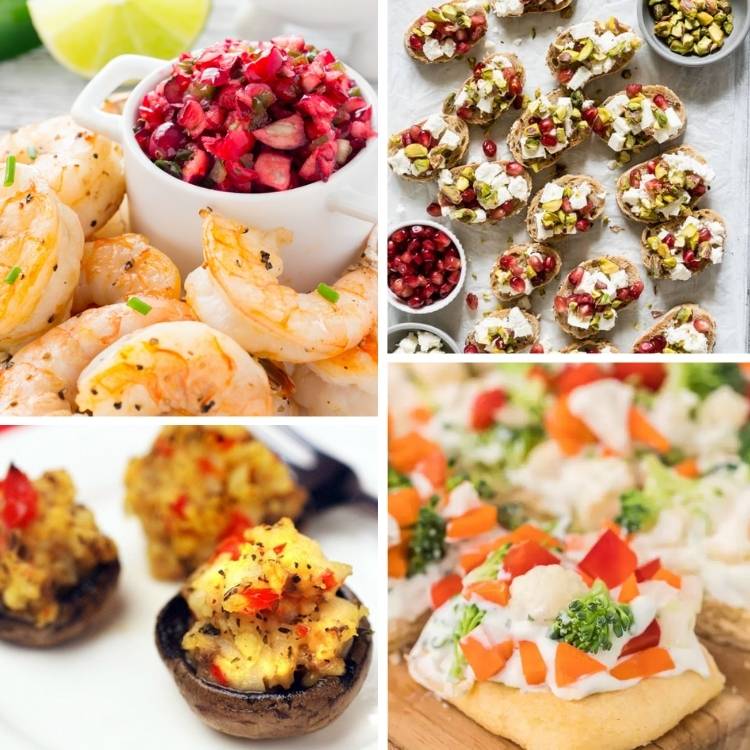 Need More Party Tips? Check Out These Posts!
Which party appetizer are you making today?