Must-try pumpkin spice dishes that will make your soul sing and tastebuds dance. From pumpkin spice muffins to pumpkin spice lattes and everything in between, we have your next favorite pumpkin spice recipe right here!
Warm sweaters, giant piles of leaves, and pumpkin spice recipes are some of the best parts of fall!
Related: Check even more interesting food dehydrator recipes that are lip smacking!
If you have an addiction to everything that is pumpkin spice, you're going to be in heaven with today's post! These recipes have wonderfully decadent flavors that scream "the holidays are coming!"
Not only will your taste buds be thrilled, but the fragrances that will fill your home as you make these recipes are delightful and cozy. They make my house smell just the way I want it to as the leaves start to fall.
I recommend making each one at least once because – really – you can never have too much pumpkin spice in your life!
Each recipe has a unique flavor that is going to blow your mind. But prepare yourself, because, after you serve these amazing dishes, your family will put you in charge of pumpkin recipes forever.
While you're here, be sure to check out these awesome ways to make your home smell like fall.
19 Extraordinarily Delicious Pumpkin Spice Recipes
It's practically unheard of to have a holiday gathering and not have some tasty pumpkin spice dishes to serve. Get your gameplan together now by checking out these decadent pumpkin pice recipes.
Your friends and family will thank you when you serve them with any of these delicious treats!
Gluten-free vegan pumpkin muffins are the absolute easiest grab and go breakfast or a quick snack. You're just 35 minutes away from pure perfection!
You can enjoy this homemade pumpkin spice latte at home instead of running to the nearest coffee shop. You will be impressed as you take a sip of just the right amount of spicy goodness.
These pumpkin spice cookies are going to please your palate with their soft and chewy goodness. Bonus: they're even gluten-free! My mouth is watering.
Fall is often marked by warm days and crisp evenings. Take advantage of the warm days by enjoying this easy and healthy pumpkin smoothie bowl that is paleo, vegan and Whole30-approved.
It's so yummy and you can feel good about eating it any time of the day!
One morsel and you are going to want to devour every bite of these pumpkin spice pancakes with cream cheese glaze. They are seriously unbelievably good.
Once you start it's hard to stop eating these finger-licking spicy pumpkin pie candied pecans.
I love candied nuts – you get your sweet tooth fix on something healthy. This recipe has just the right amount of sweetened crunchiness!
Crowd-pleasing pumpkin cranberry fudge is decadent, creamy and gives a stunning presentation.
It tastes so amazing – and looks so pretty that everyone will be begging you for the recipe.
These fantastic pumpkin spice donuts are the most fantastic way to start the day. Children and adults alike will go crazy for these little nuggets of deliciousness.
Guilt-free low carb pumpkin cheesecake bars that are so flavorful, creamy, and lightly sweetened that there won't be a single crumb left. They make enough for a crowd, so be sure to make these for your holiday gathering.
Here's a twist on breakfast.
If you love pumpkin as much as we do (and I know you do!), enjoy it for breakfast guilt-free with this healthy and delicious Pumpkin Baked Oatmeal.
It's easy to make, filling, and perfect for making ahead to make busy mornings easier! Add a dollop of Greek yogurt to round out the flavors and add an extra protein punch.
Packed with protein these paleo pumpkin spice cookies are scrumptious. The best part is you can enjoy these and not hurt your healthy diet.
Simple to make pumpkin spice latte chia pudding can be made ahead of time, so it's perfect for meal planning. You will be shocked by how yummy it is!
Everyone needs some easy mini pumpkin pies in their life! These are adorable and great for holiday parties or potlucks.
Pumpkin spice cookie dough dip can be thrown together in only ten minutes! Serve with fresh fruit, cookies, or graham crackers. People will think you slaved over it!
Only five ingredients to make these delightful no-bake pumpkin cheesecake balls. They look as impressive as they taste.
Pumpkin spice cream cheese muffins are sinfully decadent, and you can't stop at just one. You will "fall" in love!
Get it?
You haven't lived until you try this gluten-free slow cooker pumpkin pudding. Satisfyingly sweet and a real game-changer. You can't go wrong with this easy dessert.
Every list of pumpkin spice recipes needs a pumpkin pie recipe. And since I'm all for recipes that save me time but still taste amazing, this no-bake pumpkin pie had me at…well, "no-bake!"
Of course, no pumpkin spice recipe is do-able without pumpkin pie spice itself. Believe it or not, you can make your own very easily! The key to great pumpkin pie spice is the proper ratio of spices. Grab the recipe.
Pumpkin spice recipes are all the rage in the Fall, but every one of the recipes on this list is so amazing that it can be enjoyed all year long (I'm all for that!).
Which pumpkin spice recipe will you try first from this list? We would love to hear in the comments!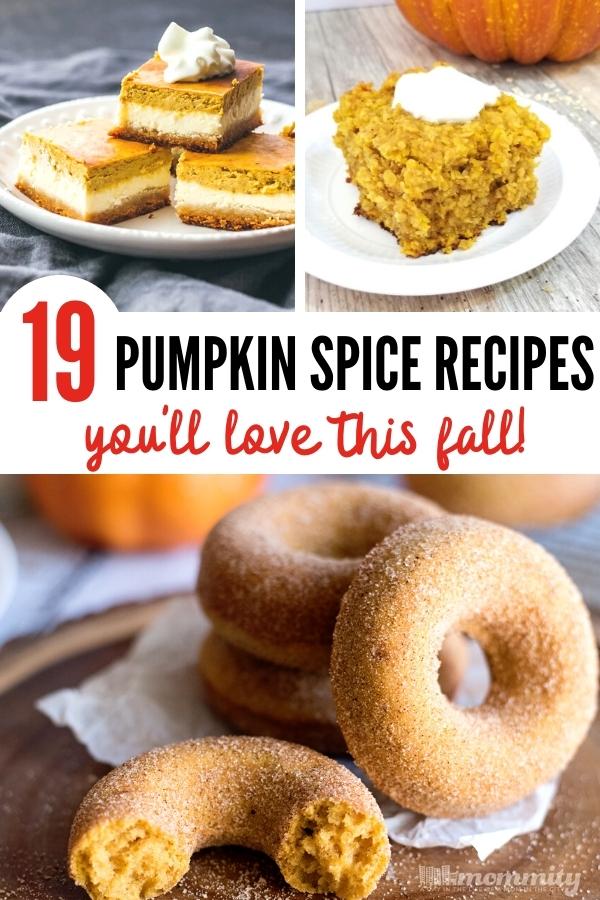 More From One Crazy House: