You reach under your kitchen sink only to knock over three cleaners in your search for the sponges. Sound familiar? Too often, we don't take advantage of that under-the-sink storage space. Here are 16 brilliant ideas for under sink storage ranging from ways to use vertical space to interesting installations and fixtures.
Under Sink Storage Ideas to Implement in Your Home
Under this sink, you'll find a pull-out drawer with two trash cans, and above that, an area for paper towels and a drawer for dish towels. It's elegant and functional.
Make the space under your kitchen sink a little prettier with these tips and organizing ideas. Divided baskets are a great idea!
via Clean and Scentisble
If you're a fan of open shelving, you'll love this vanity for the bathroom. Once you add your baskets and towels, you can't even see the plumbing!
via Better Homes & Gardens
And find out how to build your own open-concept bathroom vanity with these building plans.
via Southern Living
The vanity in this mini bathroom houses a compact washing machine. Brilliant! The site is not in English, but they do offer a technical description in English found here. If you're great at DIY, you may want to try to replicate this!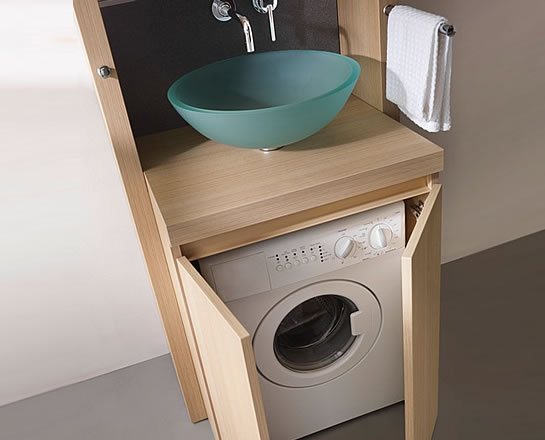 via Kitchoo
Modify the faux-drawer under your kitchen sink to create the ideal place to store sponges and dishwashing brushes.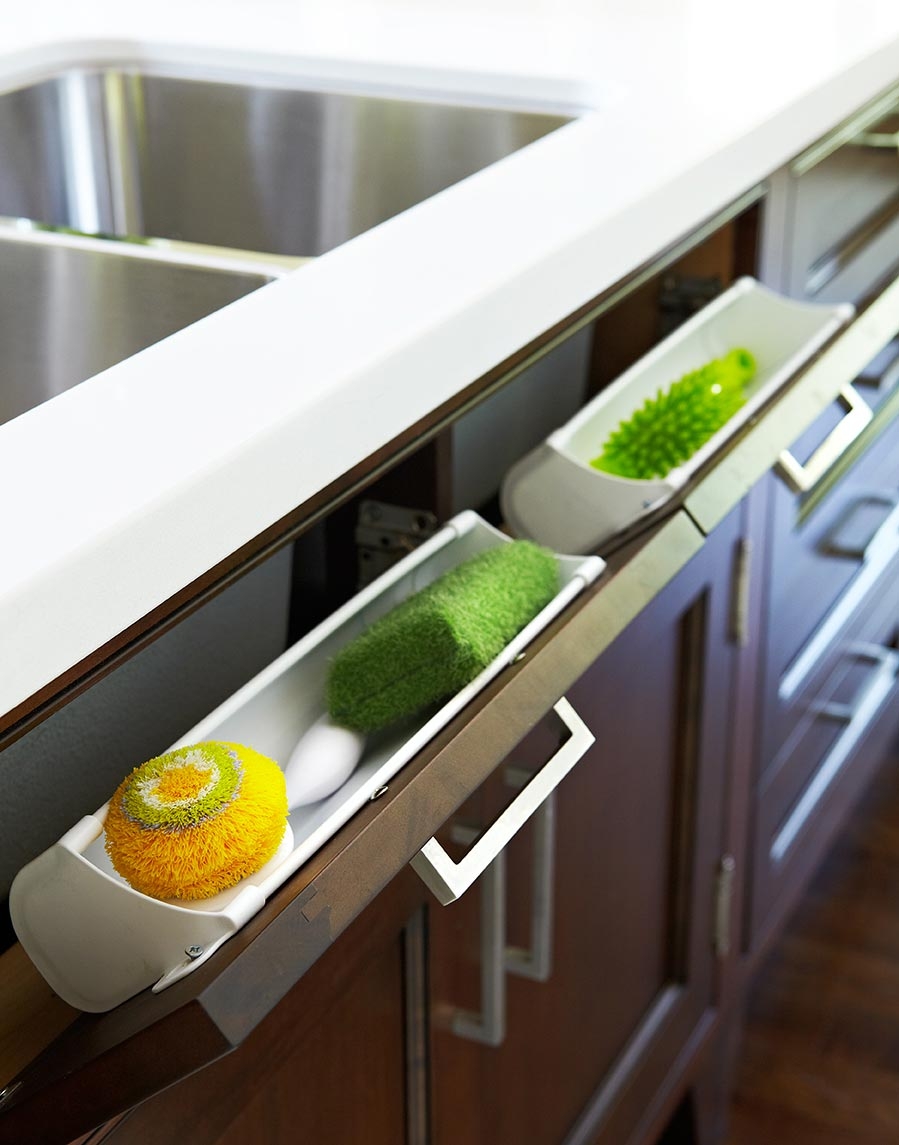 via My Design Chic
Here the faux drawer in the bathroom cabinet was altered to house the hairdryer and curling iron. What a great way to use that space!
via Studio Gray House
Alternatively, hang a basket on the back of the cabinet door to put your hair styling tools.
via A Bowl Full of Lemons
Imagine how convenient this setup is: a chopping block right over trash cans.
via The Farm Chicks
Tired of dealing with clunky trash bag boxes? Install wooden dowels underneath your sink to hang the rolls of trash bags from. Smart!
via Simply Organized
Add baskets to the cabinet door to hold cleaners if you're using a cabinet interior for something else, such as towels.
via Designed to Dwell
This crafty blogger turned a dresser into a bathroom vanity. Love all that handy storage space!
via An Oregon Cottage
Rather than cabinets, opt for drawers under your kitchen sink. It's much more practical; you won't have lots of empty space like you normally do in the tops of cabinets.
via Attic Mag
If you have a traditional under-the-sink setup, though, you can make it tidier by taking advantage of the vertical space. The bar for hanging cleaners is a brilliant idea!
via Jen Thousand Words
Two-tiered organizers help you do the same thing.
via Iron and Twine
Don't be afraid to add a floating shelf under your vanity if you need a little extra storage space. If done correctly, it won't ruin the look at all!
via Three Scoops of Love
More Organization Ideas You'll Love:
17 Clever Ways to Hide Clutter in Your Home
Toy Organization and Storage Ideas That Will Keep You Sane
15 Super Easy Kitchen Organization Ideas