You reach under your kitchen sink only to knock over three cleaners in your search for the sponges. Does this sound familiar? Too often, we don't take advantage of that under-the-sink storage space. We can easily declutter our spaces and have everything well organized for us to easily retrieve. Maybe it is time we learned how to make proper use of any and every little or big space we've got. Coz organization is what our houses crave for though unsaid! I tried to be funny here. Haha!
Here are 16 brilliant ideas for under sink storage ranging from ways to use vertical space to interesting installations and fixtures. And to know that all the hacks and ideas are budget-friendly sparks lots of excitement in me. Walk with us and see how beautiful you can have your kitchen and bathroom spaces looking like!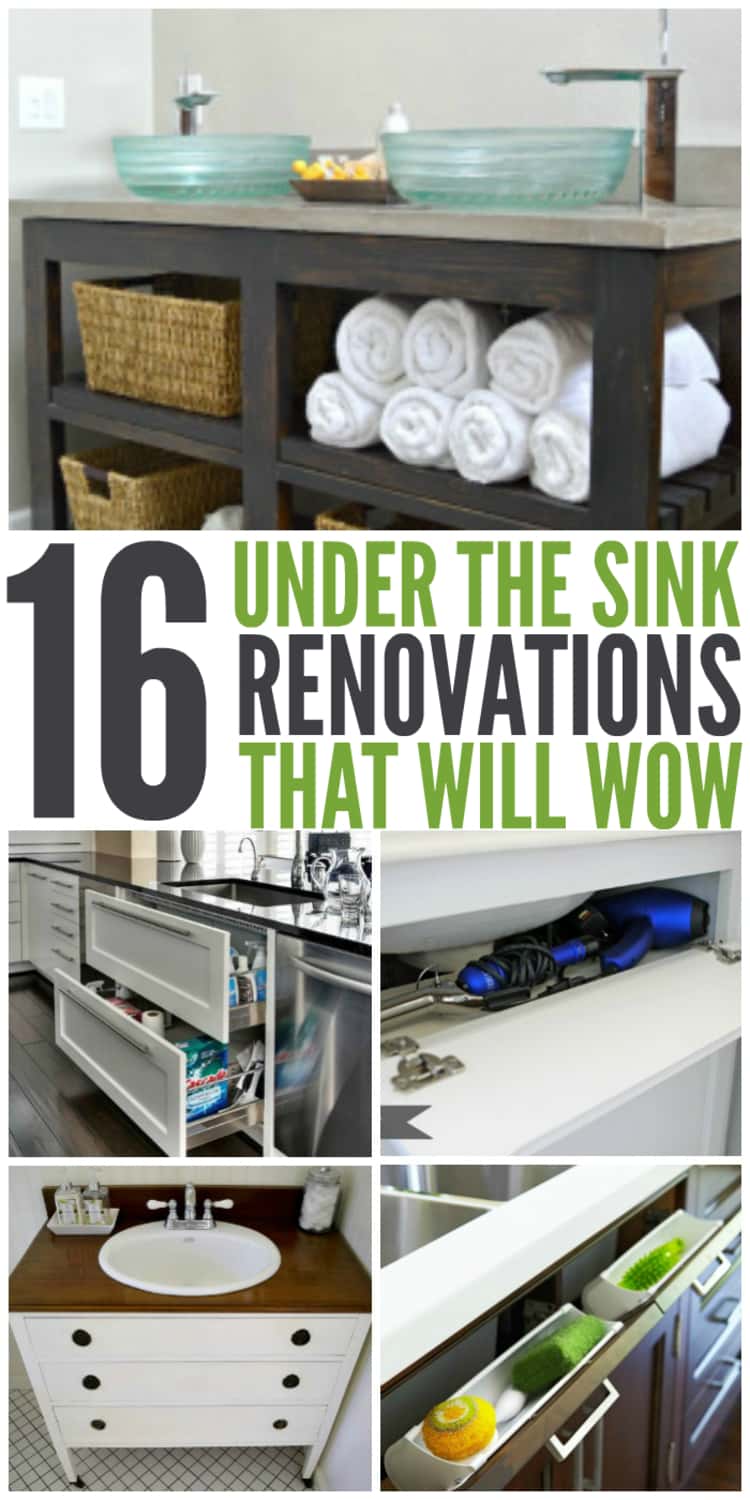 Under Sink Storage Ideas to Implement in Your Home
1. Pull-Out Drawer For Under Sink Storage
Under this sink, you'll find a pull-out drawer with two trash cans, and above that, an area for paper towels and a drawer for dish towels. It's elegant and functional. Your favorite kitchen towels have their hanging spaces and your trash can gets its own spot. That space that you have been wondering what to do with it now gets to serve you well. You said trash cans don't need to look good? We aren't buying that here. So go ahead and pamper your trash can with our genius idea.
2. Divided Baskets For Under Sink Storage
Make the space under your kitchen sink a little prettier with crazy and creative tips and organizing ideas. Divided baskets are a great idea and accommodate a lot of stuff dividing them into groups. You could have all the dish soap in one basket and the scrubbing items in another and any other kitchen supply you need. Interestingly you can match the basket colors with the color of the drawer.
3. Under Sink Bathroom Vanity Storage
If you're a fan of open shelving, you'll love this vanity for the bathroom. Once you add your baskets and towels, you can't even see the plumbing! The organizational levels of this vanity are just on another level. You can't see this and not want to try it out! Having all your towels and toiletries in one place and at the same time utilizing unused space is the magic you just need.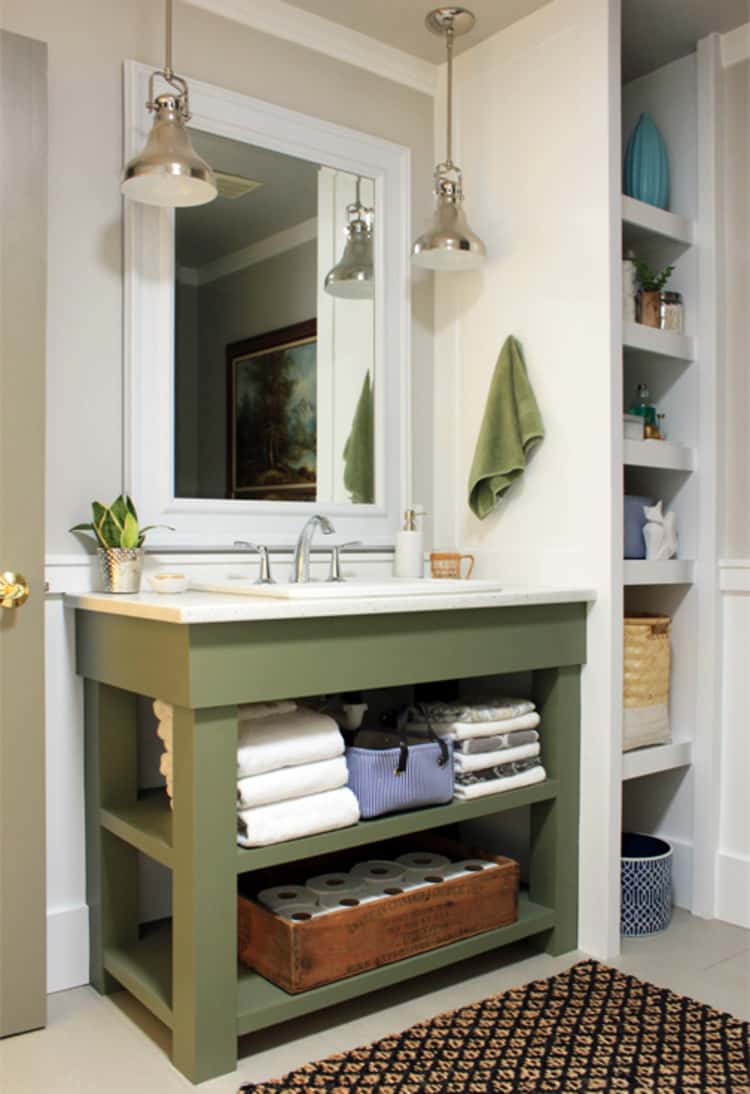 4. Open Plan Vanity Under Sink Storage
Your bathroom can be beautiful and a very serene place to be in. This does not have to go beyond your budget and space.  Simply build your own open-concept bathroom vanity with these building plans. All your towels can be in one place underneath your his and hers sinks. I love the entire look of this vanity and the wooden vanish is just the in thing for me. Even if you don't have a big bathroom this can fit right into a corner.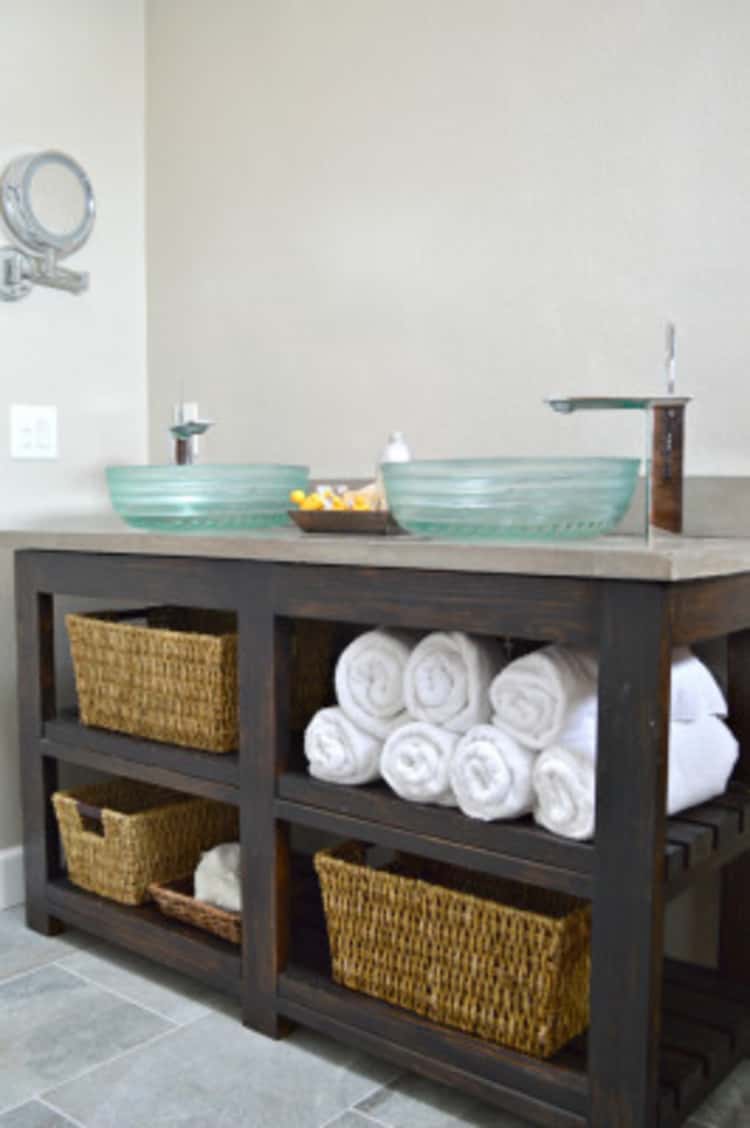 5. Under Sink Washing Machine
The vanity in this mini bathroom houses a compact washing machine. Brilliant!  If you're great at DIY, you may want to try to replicate this! Those with no laundry area are greatly saved with this hack. Where are the minimalists in the house? You need this idea for your space asap.
6. Faux-Drawer Under Sink Storage
Modify the faux-drawer under your kitchen sink to create the ideal place to store sponges and dishwashing brushes. This becomes way convenient when doing dishes as everything is within reach. Plus does it not just look presentable and wowing to look at! I already picture this as an addition to my kitchen. The colors really compliment the white layout of the kitchen countertop and the drawers. Lovely indeed!
7. Bathroom Faux Drawer DIY Storage
Here the faux drawer in the bathroom cabinet was altered to house the hairdryer and curling iron. What a great way to use that space! Now every piece you need for your hair can be in the same room and at the same time your house is decluttered. I am already picturing my tongs getting their own space right now. It could even be a spot to hide them from snoopy hands.
8. Under Bathroom Sink Basket Hanger
If you feel like fixing a faux drawer is too much work, you can alternatively hang a basket on the back of the cabinet door to put your hair styling tools. Just do this under your bathroom sink and become more organized. It sounds simple coz it sure is that simple. You certainly create more functionality for your cabinet doors.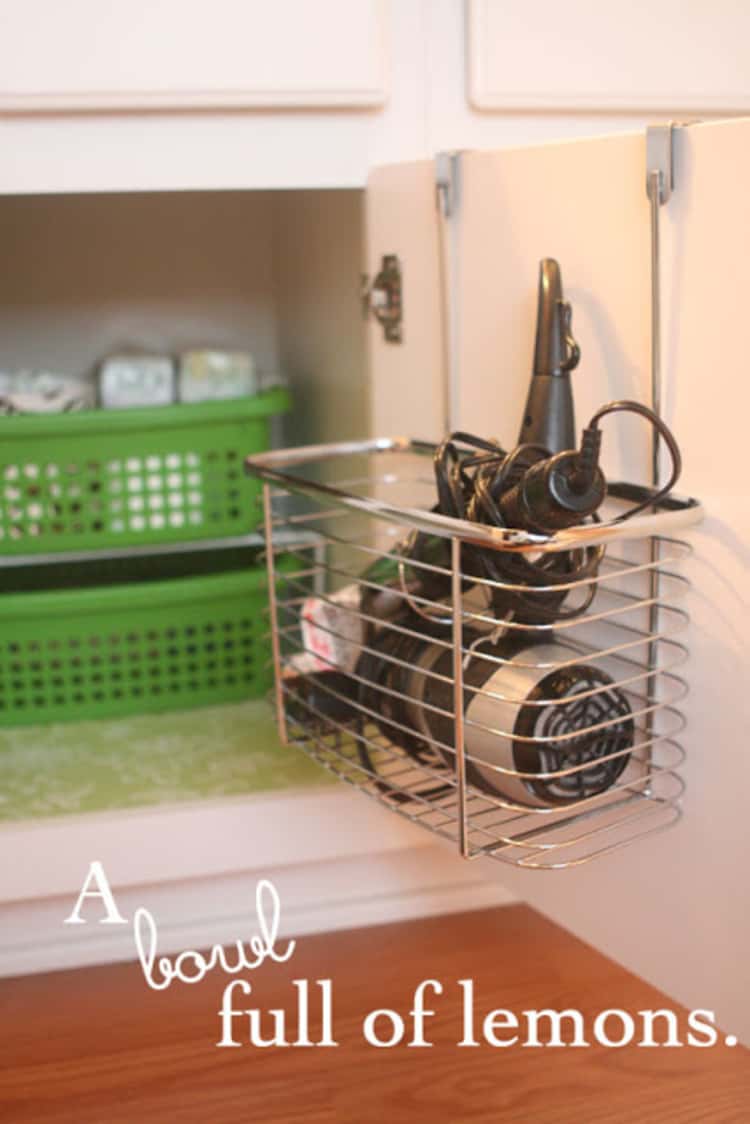 9. Chopping Board and Trash DIY
Imagine how convenient this setup is: a chopping block right over trash cans. I wouldn't ask for anything else if I had this. Having to clear my kitchen working surface effortlessly would be a dream come true. I am loving this whole idea that definitely makes my work easier. Anyone who loves cooking will have this DIY set up calling out on them to actualize it in their homes. The beauty of it is that you need not have a big kitchen to get this look.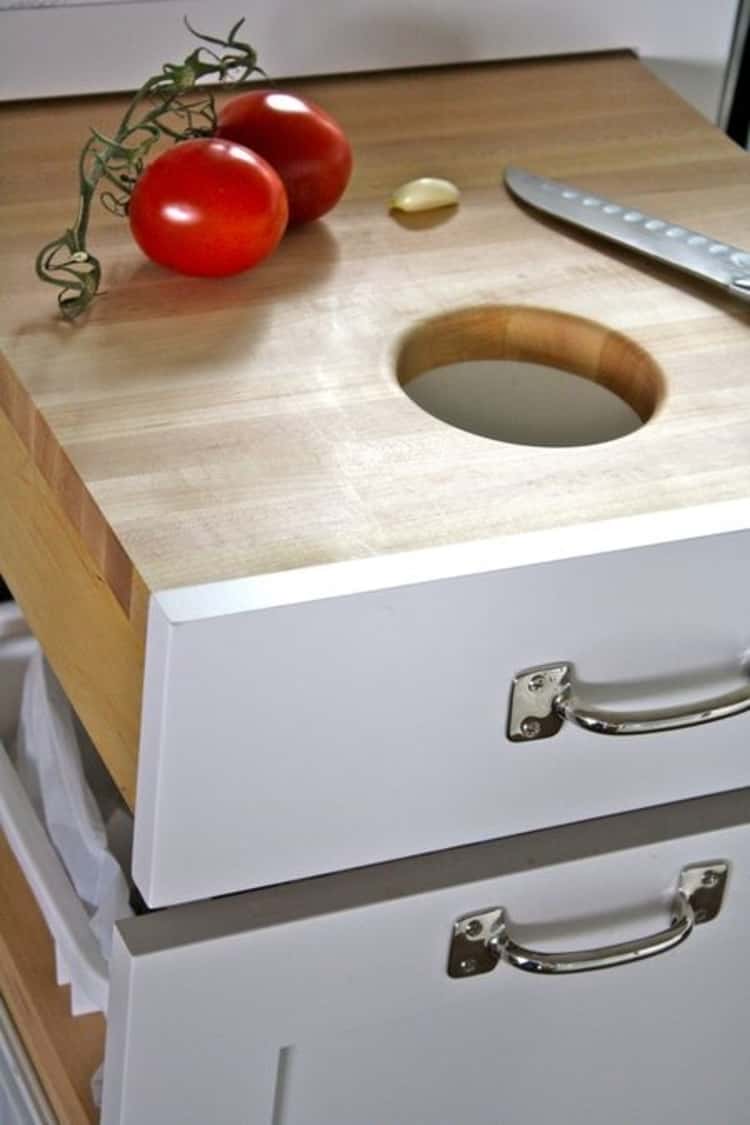 10. Under Sink Trash Bags Rolls Hanger
Tired of dealing with clunky trash bag boxes? Install wooden dowels underneath your sink to hang the rolls of trash bags from. Smart and cool idea for you to have a neatly organized kitchen. And what more fun way than to come up with a DIY project for your home! This is so much easier than taking the long walk to the garage to pick up a trash bag.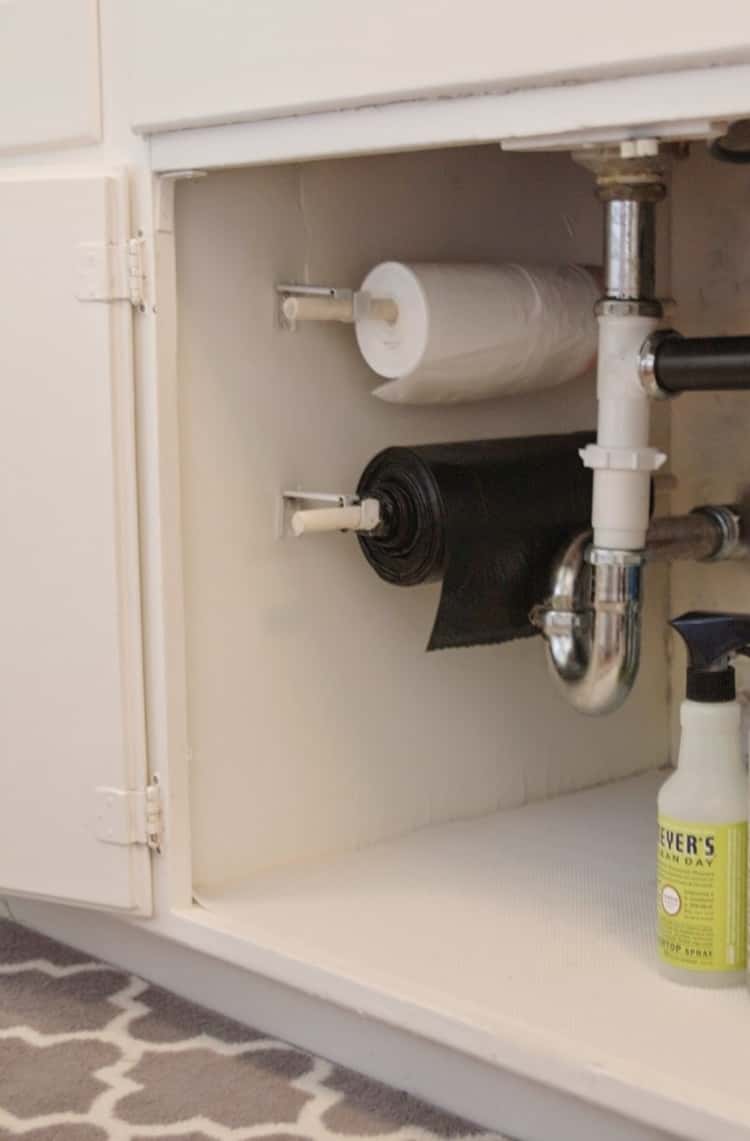 11. Cabinet Baskets to Hold Cleaners
Another under-the-sink storage idea that you definitely need is this. Simply add baskets to the cabinet door to hold cleaners if you're using a cabinet interior for something else, such as towels. Your space beneath the sink gets all the more used and helps you in being organized. The baskets themselves are quite affordable and easy to install. You can do also small wooden basket-like shelves on the door.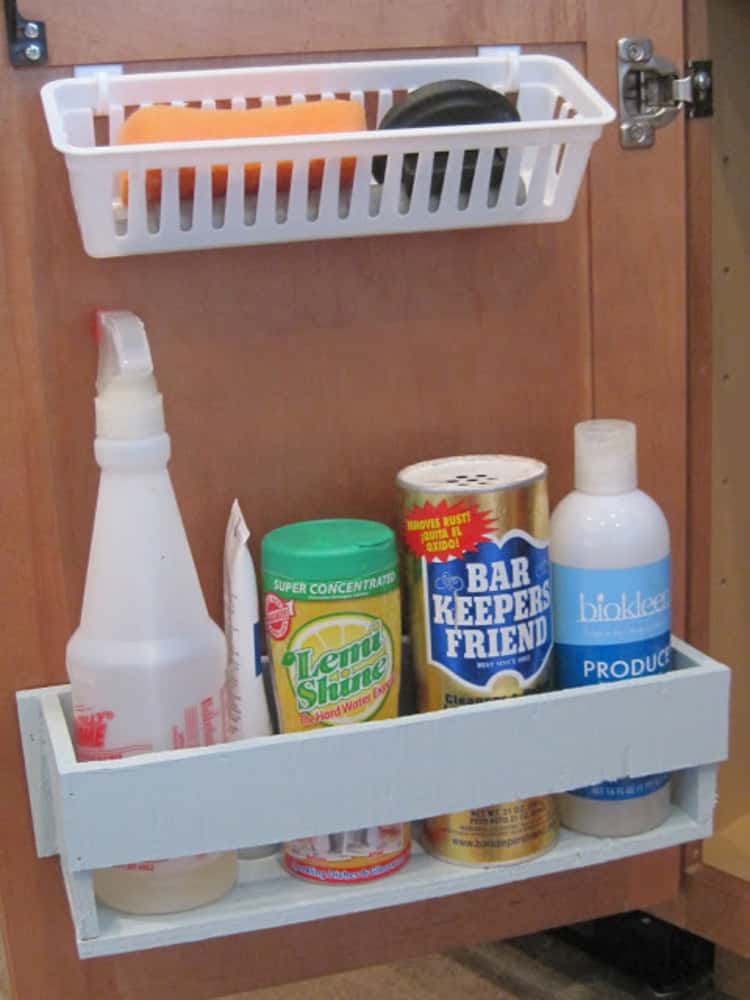 12. Dresser Turned Vanity
Is your creative genius calling you out? Yes? If so you will be amazed by what this crafty blogger did. They turned a dresser into a bathroom vanity and got space plus a sink to use in their minimalist space. Love all that handy storage space! Does it not just look cool and chic! Those with old and unused dressers here is an idea you could definitely try out and save on costs while achieving beauty at the same time.
13. Beneath the Sink Drawers
Coz it's a free world and we can change the norm, rather than cabinets, opt for drawers under your kitchen sink. It's much more practical; you won't have lots of empty space like you normally do in the tops of cabinets. Organizing your cleaners and kitchen supplies gets easier with these drawers that just need a simple pull and push. The silver and the white-out look is such a vibe and an eccentric theme for the kitchen in addition to having these drawers underneath your sink. I can't help but just stun!
14. Cleaners Hanging Bar
If you have a traditional under-the-sink setup, though, you can make it tidier by taking advantage of the vertical space. The bar, from a tension rod, for hanging cleaners is a brilliant idea to hang your cleaners on and leave space for baskets to hold other cleaning stuff! A not-so-fancy space can be still useful in great ways. This space is so neat that you wanna grab all your toiletries and just set them up in such a manner,
15. Two Tier Under Sink Organizers
Two-tiered organizers help you have a more organized space underneath your sink. Get rid of all the mess and have more space for your cleaners by using a two-tier organizer. You can't help but stun at how your space will turn out once you decide to get rid of that clutter you have down there. Plus whenever you need to retrieve anything it becomes so easy since all things are seen and are within access.
16. Rustic Floating Shelf Under Vanity
Don't be afraid to add a floating shelf under your vanity if you need a little extra storage space. If done correctly, it won't ruin the look at all! You can place your toilet paper and another toiletry you feel like adding. Getting a rustic look like this one is worth it. I love the vibe the old wood brings to this bathroom. This is like old meets new coz of the modern framed mirror and the vintage-looking vanity.
Summer is here! Remember how beautiful it is to declutter!
I bet you loved these under sink storage tips from us. Here are more organization ideas you'll love: