These RV Hacks and RV Living Tips are sure to make life on the road easier! You will find not only genius storage solutions but also clever DIY projects you'll love.
The invention of the RV brought about a new era of camping. Now people can enjoy the great outdoors during the day while enjoying the comfort of A/C (and a bed!) at night. Although living and traveling in an RV has many advantages, it also has a few challenges. Overcome those challenges and take RV living to a new level of enjoyment with these clever RV hacks.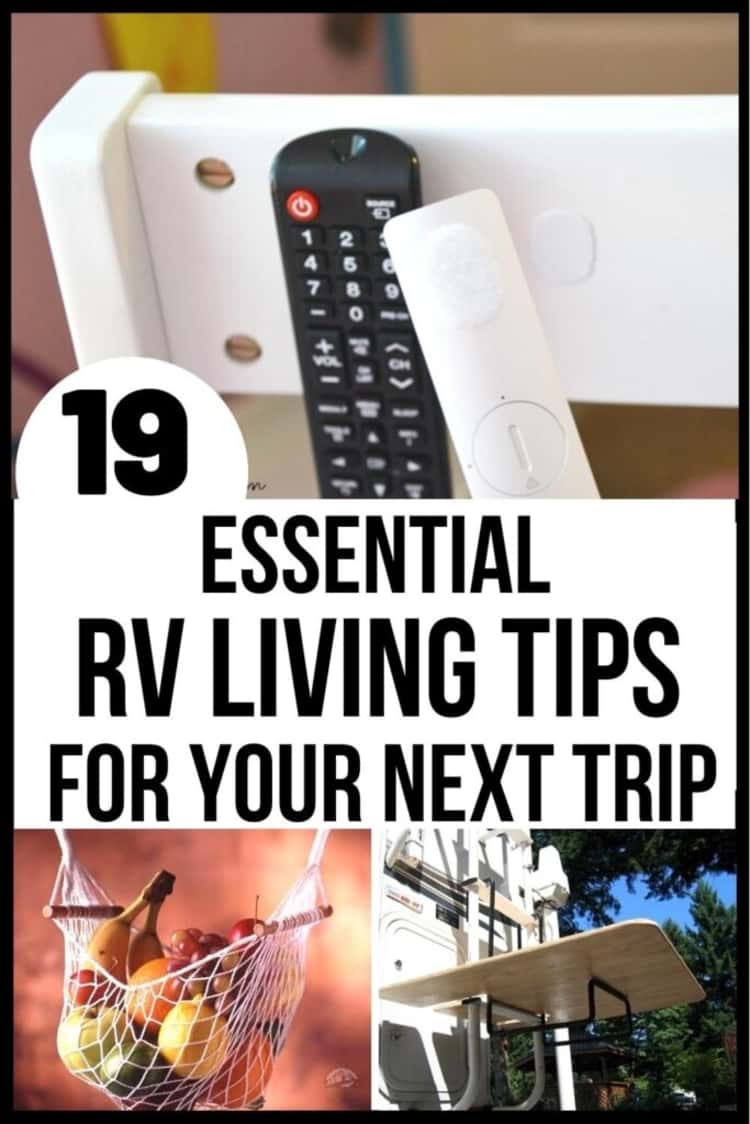 But, it's still not quite all sunshine and rainbows…living in a camper has a few flaws. For example, it lacks space…and whatever you store in it can get tossed around while you drive to your destination. If you find yourself asking how you can make the most of the space you have while Rving  and still maintaining some order and sanity, we're here to help!
We've pulled together the top RV living tips from some smart RVers to help you easily streamline your RV living arrangements and keep everything in place in your RV lifestyle or travel trailer.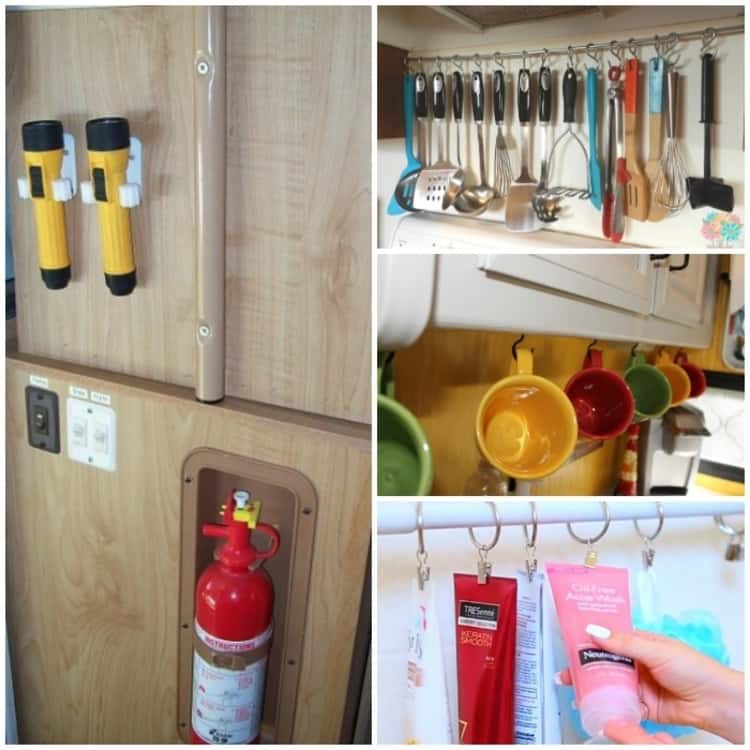 RV Living Hacks For Beginners to Make Living in a Camper Even Better 
Living in an RV is much different than your typical road trip. Check out these terrific tips to help with everything from adding extra sleep cots to keeping your toiletries in place.
1. Build This PVC Children's Cot To Create Space In Your RV
Looking for more space in your RV? Create a bed over your car seats.  These folks made them with PVC pipes and some fabric. These car hammocks are best for kids. You'll be surprised how much they'll love these beds!   I love how the PVC pipes create a bed frame that is easily tucked away.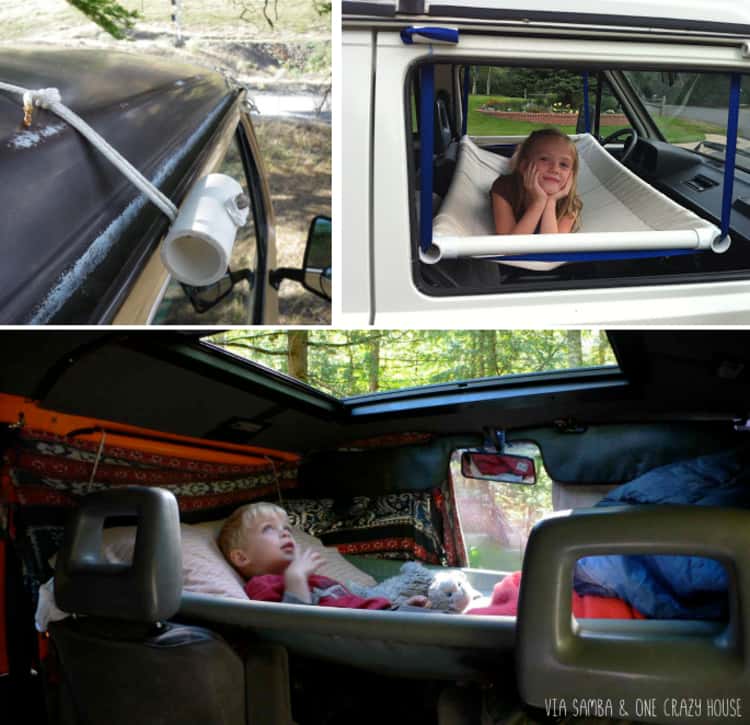 2. Plan for RV Living
Never just look at each other and wonder what to do!!  The Camping planner includes not only ALL the checklists you could need to make sure you don't forget the important necessities, but also a GIANT list of roughly 50 memory-making activities  to enjoy while you are RV living or camping… and the best thing is it's only $7!!
3. Store Your Paper Goods In A Magazine Folder – Takes RV Living To A Whole New Level 
Store paper goods in your tiny kitchen inside a magazine file which takes up less space. Add velcro on the bottom and on the shelf to hold everything in place while you're on the move! Way to make use of vertical space and corral paper goods?!  Love RV camping hacks!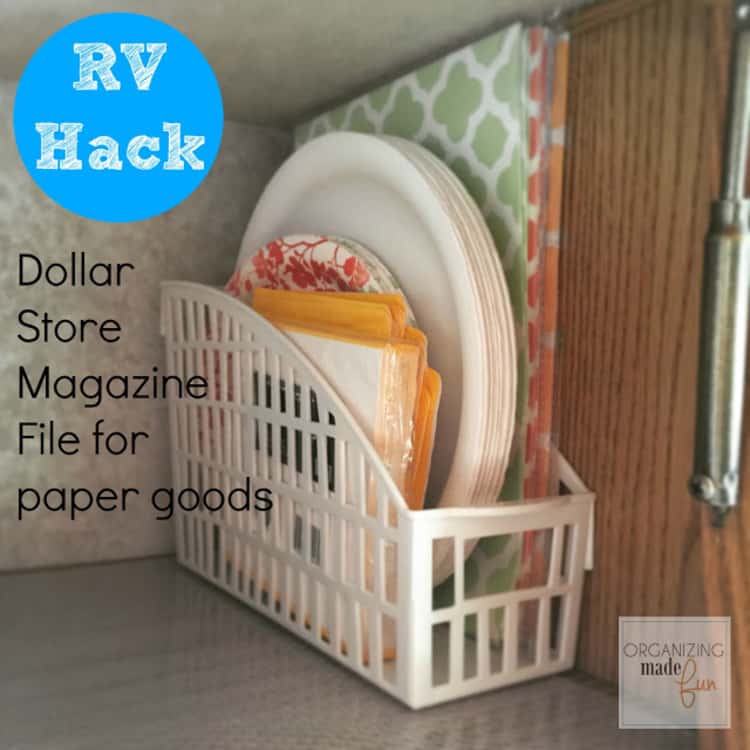 4. This DIY Ladder-Mounted Table Will Make RV Living a Whole Lot Convenient
A lawn chair carrier holds a sheet of plywood to create a makeshift table. This is perfect for those days when you just want to enjoy a meal outdoors or you need a little extra space. It's also fairly easy to make if you're not exactly gifted in handiwork. Maybe you can even enjoy a romantic dinner in the woods. RV love! Fancy, huh?
Simply cut a slot to fit around the ladder rungs into one side of a 1/2 inch sheet of finished plywood and use a lawn chair carrier to support the sheet of plywood. 
5. Create Ambient Lamp in Your RV Experience
Create a table lamp with just a headlamp and a gallon of water. How simple is that? It's perfect for tent camping too if you need it. I must say, this is pretty darn creative!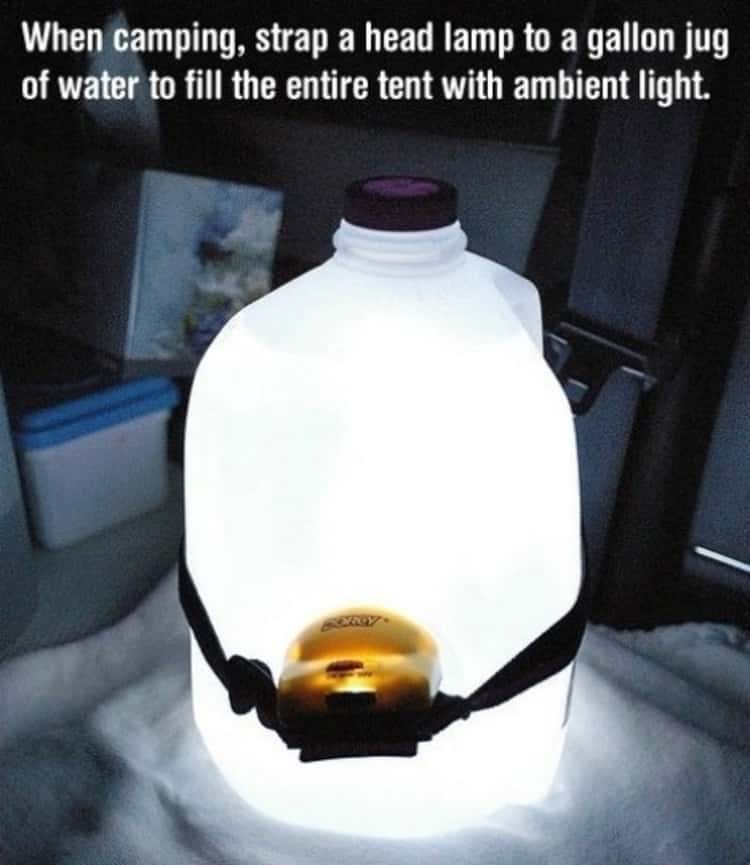 6. Keep Your Trash Can in Place
Attach your trash can to the inside of a cabinet door to keep it in place and out of sight. Talk about a space saver! It also makes the room look so much better, without a trashcan lying about in an already cramped space.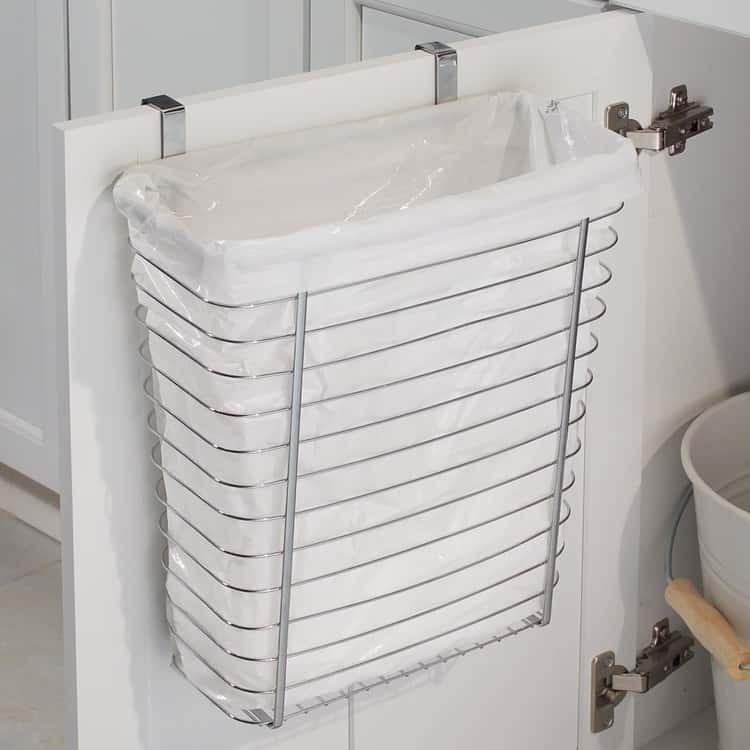 7. Never Lose the Remote Control Again 
Use velcro to hold your remote controls in place. Not only will they have a specified "home" so you know where to find them, but they won't slide around as you drive down the road. This is a great idea for your home as well, especially if you live with many people or have toddlers around. Now you don't have to keep asking everyone, 'are you sitting on the remote'?
Another option is to use command strips.  Both have advantages for anywhere in the RV including the RV bathroom.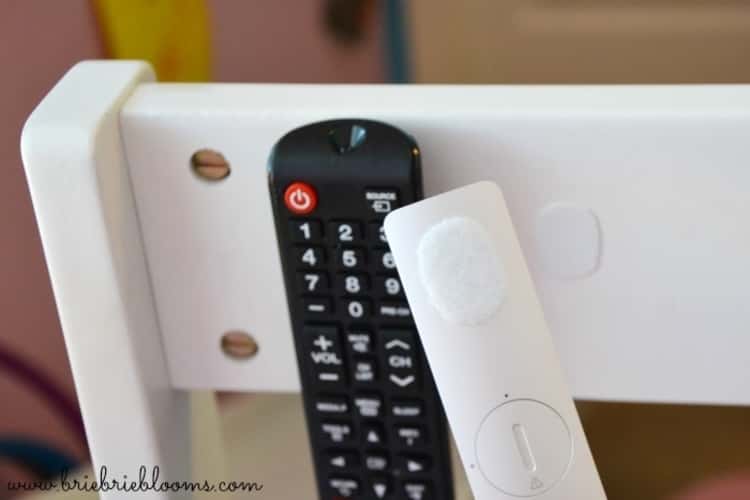 8. What's RV Living Without Flashlight Holders?
Install broom clips (broom holders) near the door (or on the inside of doors) to hold your flashlights by the handle. That way, you can grab one any time you need one (in the dark, of course). You no longer have to scramble in the dark looking for a flashlight which makes this one of the most useful tips!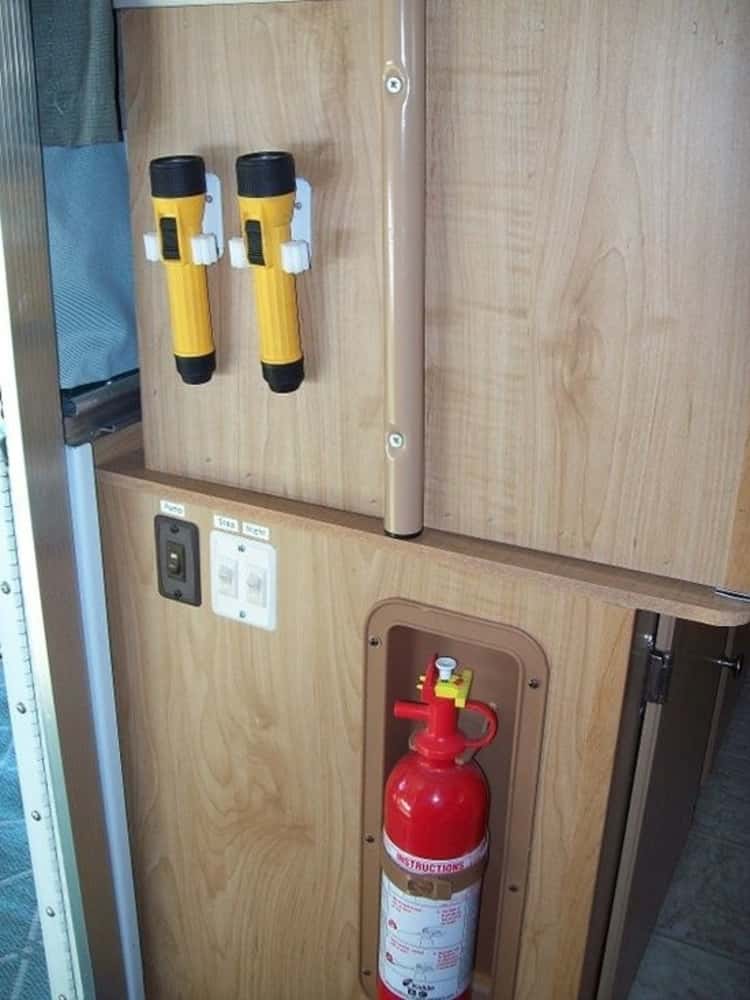 9. Hang Shower Products For Easy Accessibility 
Hang your shower products from a curtain rod or expandable towel rod. They will stay organized with no bending over to reach your bath products – soaps, shampoo, conditioner, lotions and so much more.
And (maybe) best of all, there will no longer be a worry about them falling over or sliding around while you're on the road. Also, it's a much better substitute for those tiny shower caddies.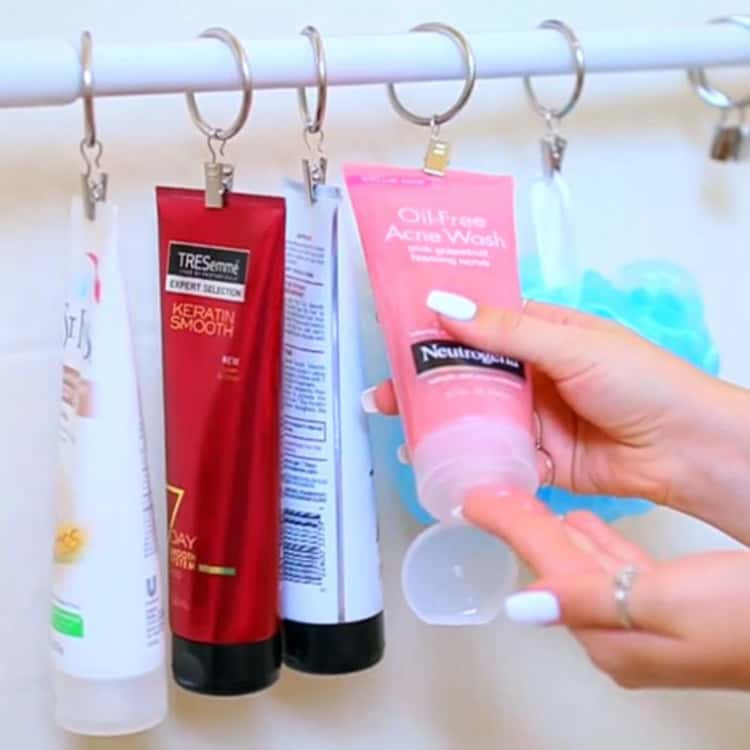 10. PVC Pipe Toothbrush Holders – Organized RV Living
PVC Pipe Toothbrush Holders are a nice alternative when you can't leave your toothbrushes sitting out on the countertops. These are hung inside the cabinet door to help keep them in place and keep you organized. They're also easy to reach for kids who aren't tall enough yet to reach the shelves. 
What You Need:
1 inch PVC Pipe
PVC Pipe end caps (one for each holder)
Command hooks
Vinyl or stickers
PVC Pipe cutter
Drill/ drill press
How To:
Cut the pipe into 4 1/4″ sections.
Drill a hole about 1/2″ from the end, making sure it's where any printing is.
Wash the pipes and cut vinyl initials (or stickers) for each holder.
Add end caps.
Install command hooks on the inside of cabinet doors and let sit for one hour before hanging holders and toothbrushes.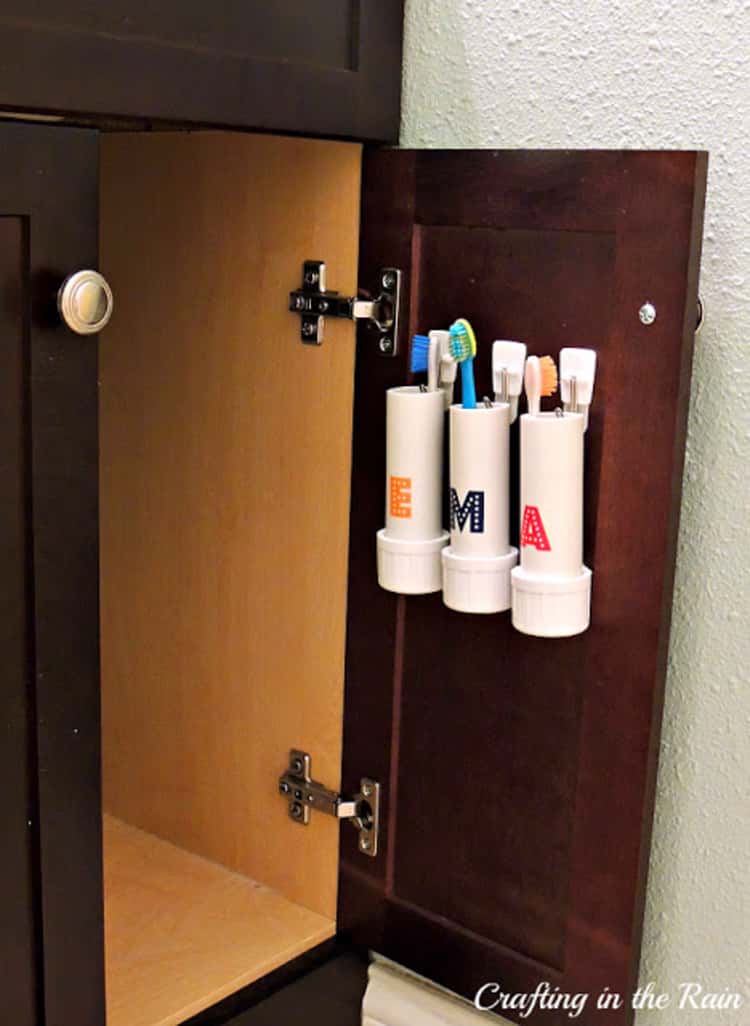 11. This DIY Canned Goods Rack Might Be All The Pantry You Need
Turn closet racks into cabinet organizers for your canned food. You can see everything you have at a glance this way! Plus, there's no sliding around as you journey down the road.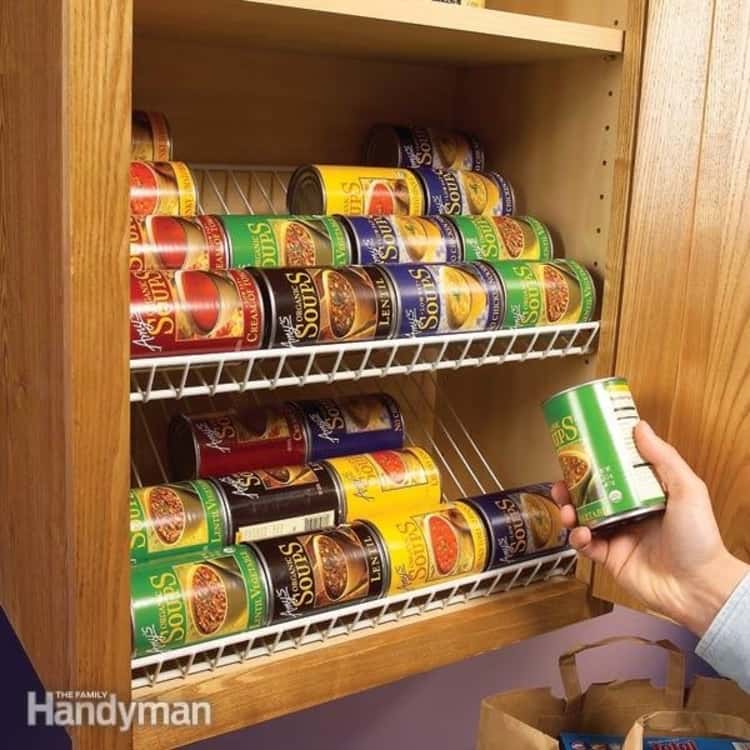 12. Hang Measuring Spoons and Cups 
Hang your measuring spoons and cups on the back of a cabinet door. This is particularly helpful in an RV since there's very little storage (and often very few drawers)! You might even want to do this for all your other spoons! Depends on how creative you can get and how many cabinet doors you have.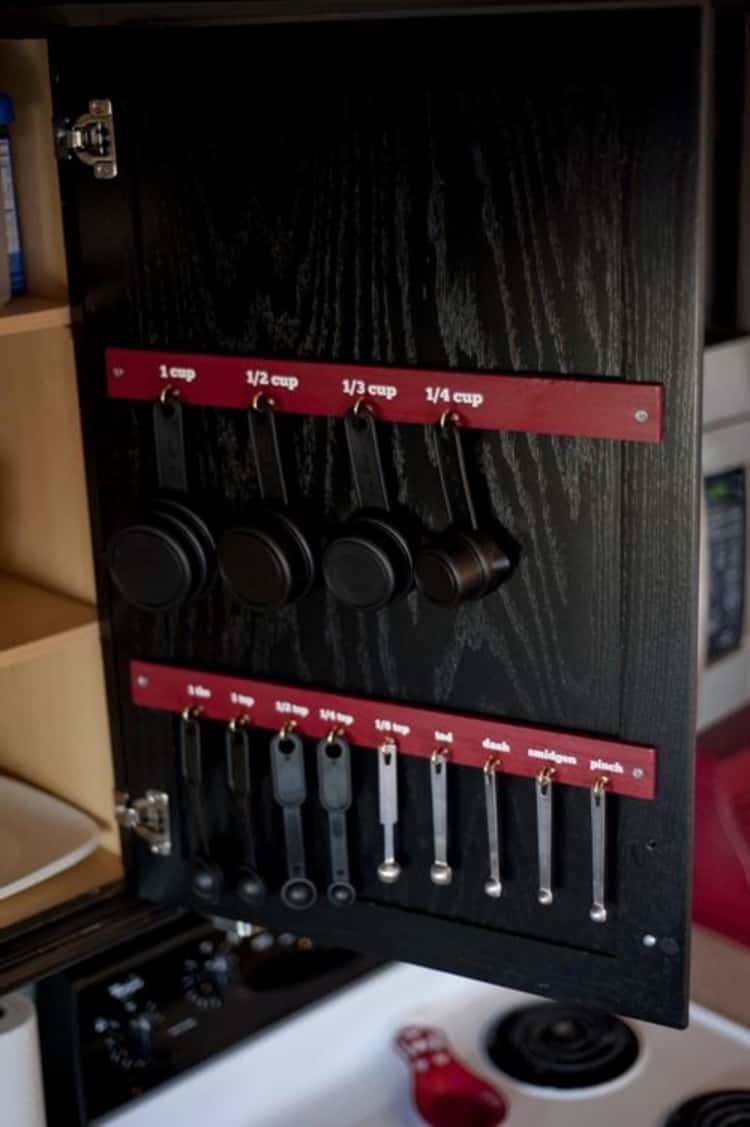 13. Hang Utensils Using S-hooks – It's All Part Of RV Living
Measuring cups and measuring spoons aren't the only things you can hang up. Install a rod between your cabinets (or attach it to the wall), then use s-hooks to hang your utensils. It's a pretty easy-to-do project, looks sharp, clears up counter space, and empties drawer space.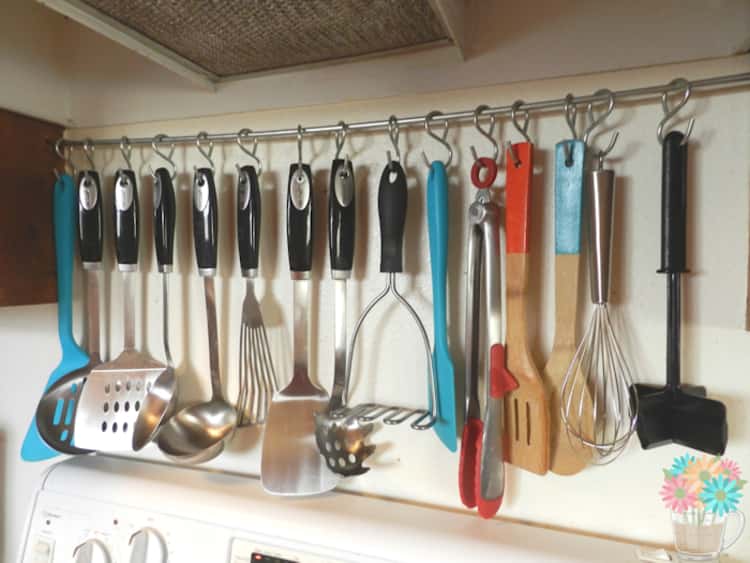 14. Secure Toiletries Using A Coat Hanger And Binder Clips
Use a coat hanger and binder clips to make a toiletry holder and secure all your meds and toiletries in place as you travel down the road. You do not want to be looking for a toothbrush in an RV. Trust me. Creative, right?!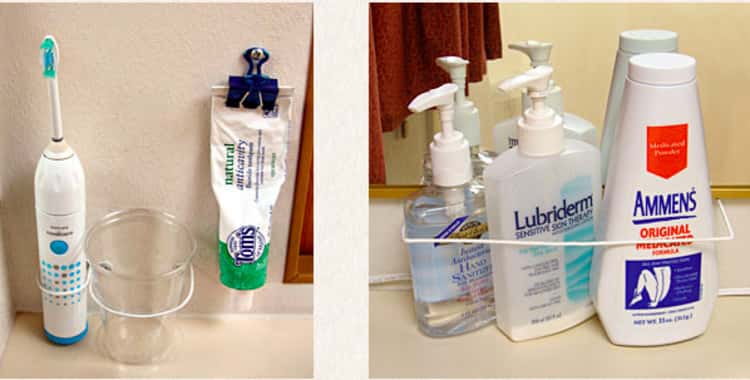 15. What's RV Living Without A PVC Shoe Rack?
A PVC shoe rack allows you to store shoes in a tight space. Storing them upright is a huge help allowing them to dry when you've been out on adventures all day. It's not a lot of handiwork and you can cut the pegs long enough to get your shoes up and off the floor. 
16. Create Storage in Your Stairs – How Creative Is This!
These RV enthusiasts hacked their stairs! Each step now serves as valuable storage space for things like dog food. All this with a few tools and a few easy steps. Amazing how much DIY-ers can get done. You could be one of them too!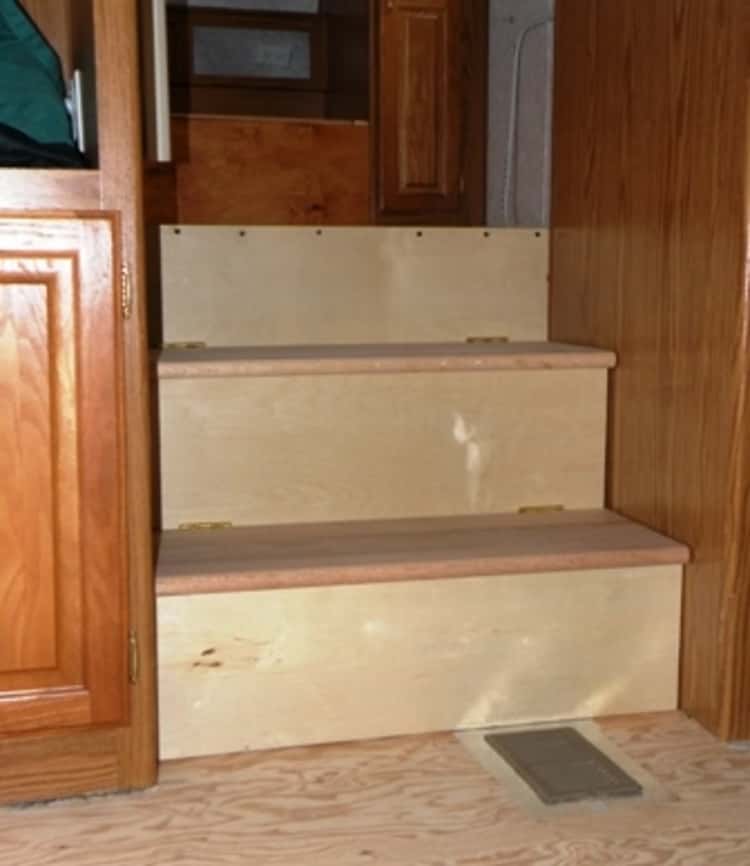 17. Use a Towel Bar To Secure Your Toiletries Instead of Hanging Them
If you would prefer not to hang your toiletry items, secure them in the bathroom or shower with a towel bar instead. It's cute, simple, and pretty effective.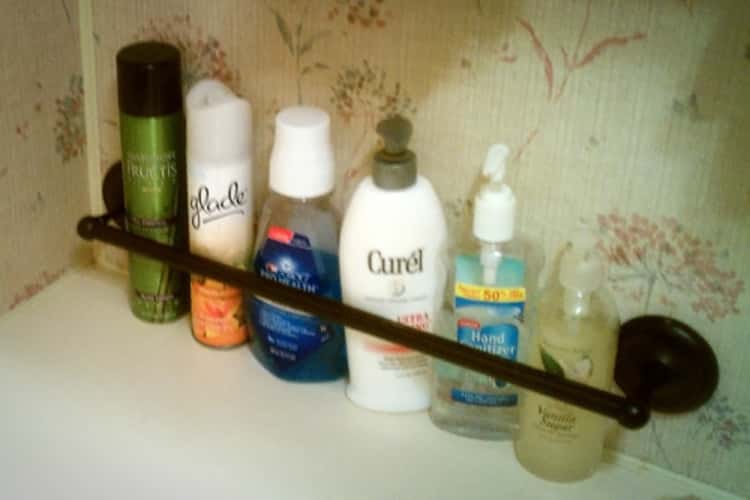 18. Hang Your Coffee Mugs On Hooks – Talk About RV Living! 
Kitchen cabinet storage in an RV is a precious commodity. Instead of taking up cabinet space with storing coffee mugs, install hooks under the cabinet to hold all your coffee mugs. Don't worry — they'll stay in place! Keep the hooks 6 inches apart to keep them from clanging against each other while driving.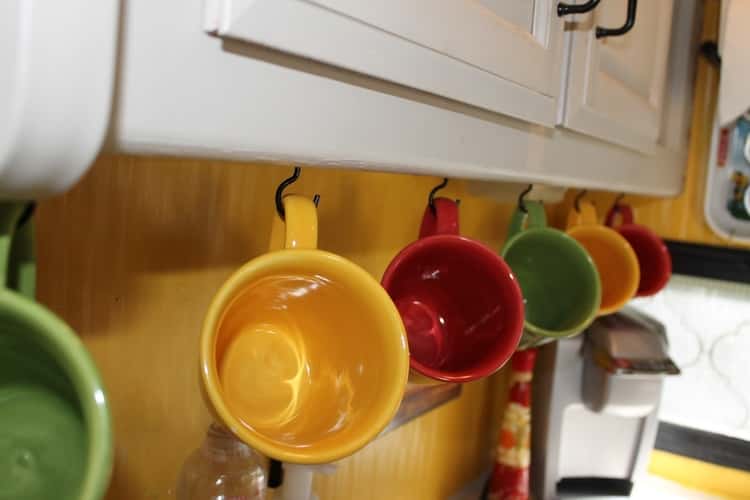 19. Fruit Hammocks Are A Cute Way To Store Fruits And Veggies
What better way is there to store fruits and veggies than to hang them up in a cute mini hammock? Since refrigerator space in an RV is limited, fruit hammocks are a brilliant way to keep fruits fresh because they allow air circulation, encouraging more ripening and less rotting due to humidity and moisture build up. It also keeps them away from exploring ants or other crawling bugs.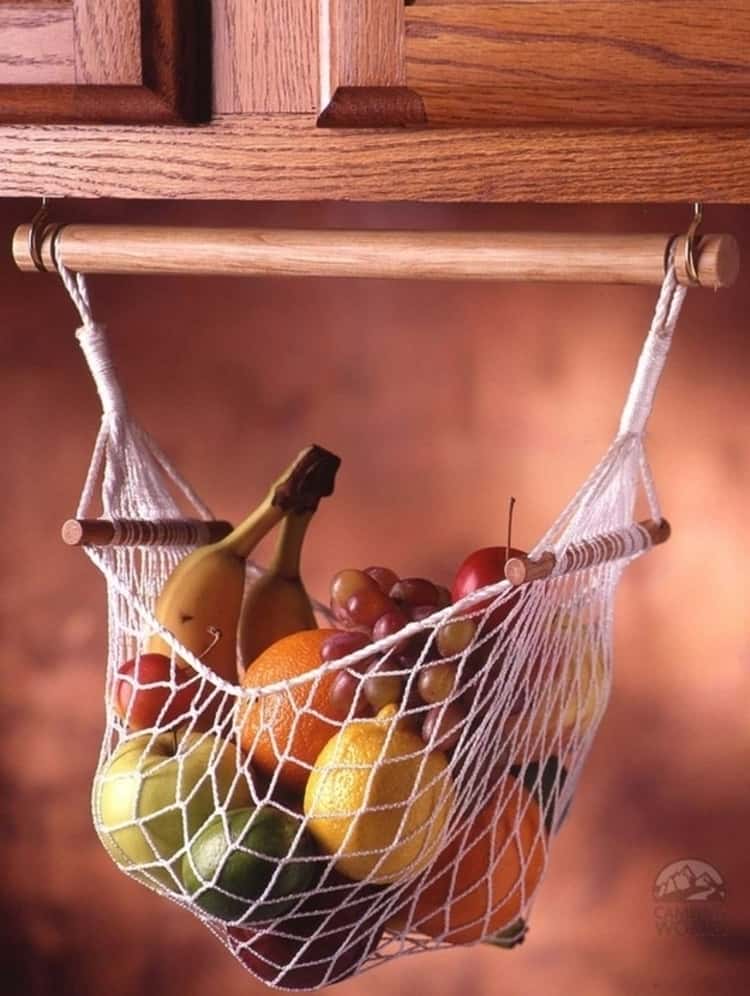 20. Under Seat Storage Hack – Everyone Likes Multi-purpose
Make your seating pull double duty by serving as storage, too. I love this idea for RV life! It saves a ton of space and allows you to maximize! It's also a great way to put stuff you're not using at the moment to clear up room in the RV.  We love creating small packs of items that are grouped together for use at a later time like bungee cords, extra tape, extra strap and twine, etc.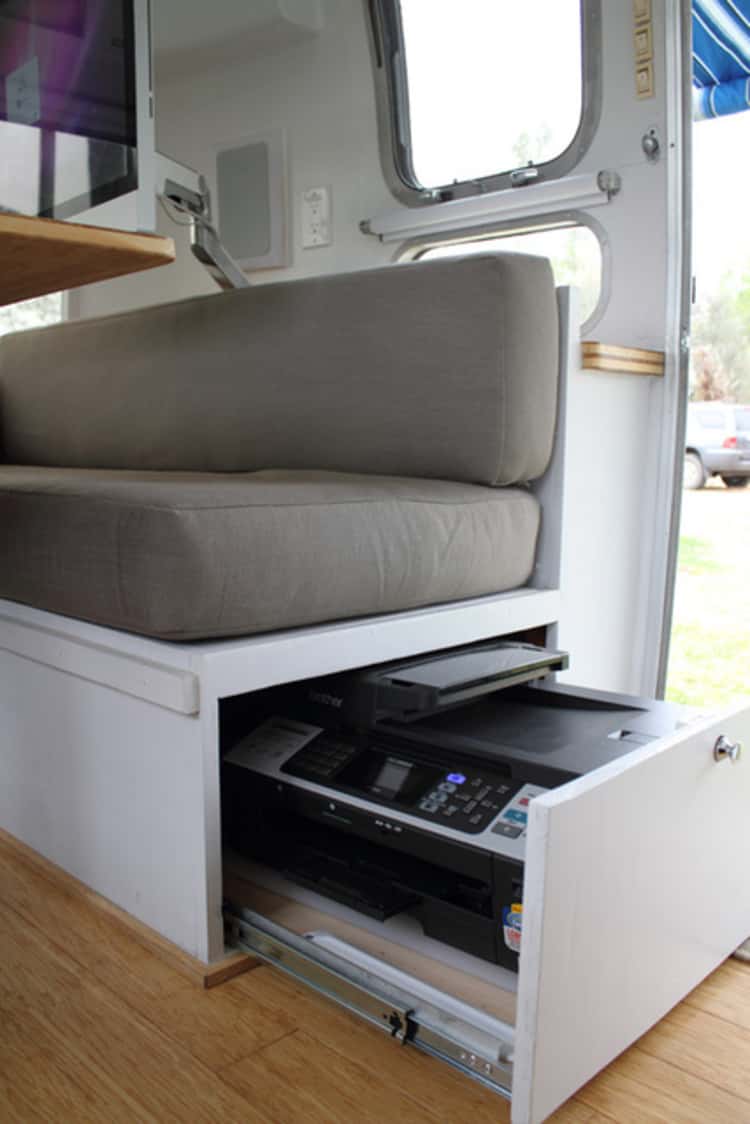 Don't waste your time rummaging through drawers to find what you need or spend precious time reorganizing your stuff after you drive your RV around!
With these tips, you won't feel like you need to duck and cover when you open a cabinet door. Even if you only take a few of these suggestions, I promise it will make your trip much easier and enjoyable for campgrounds when you are out enjoying the fresh air!  So, let's climb those RV steps and get this show on the road!
Share pictures of your trip with us on our Facebook page!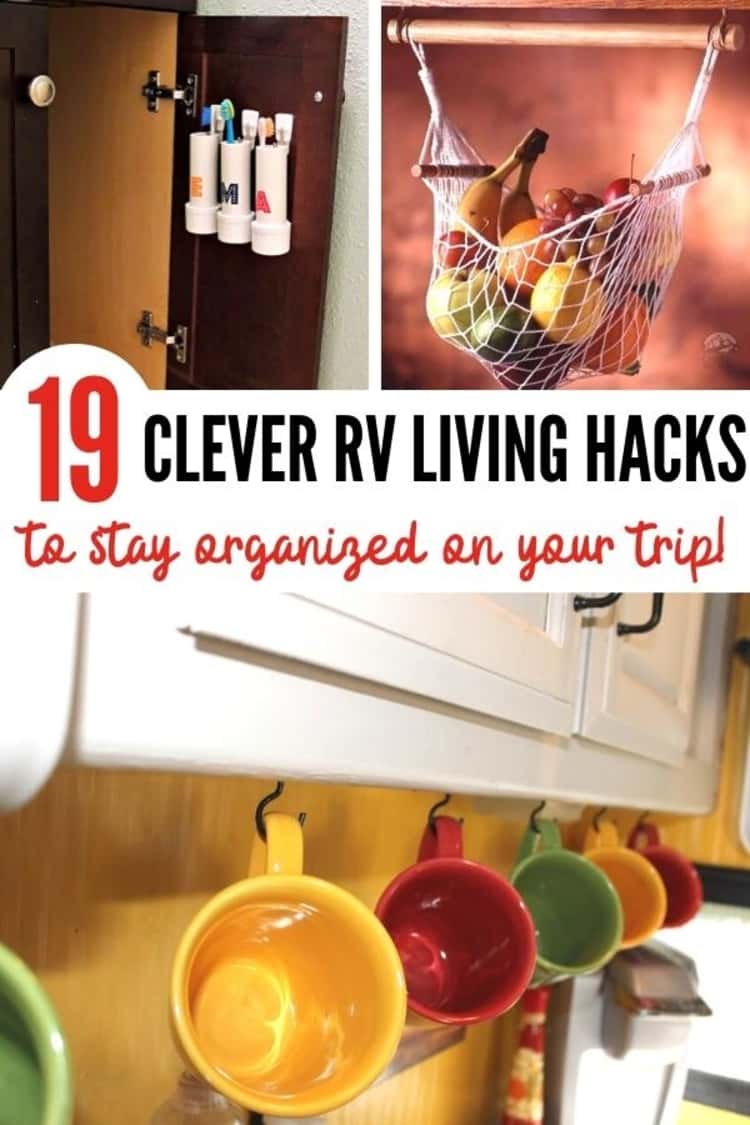 Loved These RV Living Tips? Here Are More Amazing Road Tips & Tricks You Might Want To Check Out Too: