Must-have genius road trip tips to make car travel around town and long road trips with kids so much easier – and even fun!
If you've been a regular here at One Crazy House, I'm sure you've become accustomed to our lists of hacks. Parenting is a challenge, right? Our goal with providing hacks and helpful tips is to help make it just a little easier for you.
With the busiest travel days ahead of us, we figured it's time to get prepared with a few road trip tips. As any parent who has ever ventured on a long road trip can tell you, road trips with kids can be a challenge – unless you use these tips!
For more travel tips, make sure to check out our Traveling Tips to Make Your Next Trip a Breeze, it's full of incredible tips and tricks you'll definitely want.
Road Trip Tips To Make Traveling With Kids Fun
Road trips are a part of growing up, they truly are.
Fun fact: I was born and raised on an island so my version of a road trip was, well…let's just say it was limited. When my husband and I first moved to the Continental U.S., planning our first road trip together was an interesting experience.
We decided to drive from Arizona to Vegas, Los Angeles, and a couple of other places. From that experience, we became road trippers. Now two kids later, we've racked up countless miles on the road.
So how do we maintain our sanity? We have learned some incredible road trip tips that make the journey so much easier. I hope you love these hacks for experiencing fun road trips with kids.
Stay Clean and Organized
Getting mud in the floor, or crumbs or all. the. things. is one of the things that both decreases the cleanliness of the vehicle, but also decreases the value! But, typical car floor mats don't always fit or offer the coverage AND STYLE that we know you want!!
Outdoor-front doormats to the rescue! They are easy to cut with a utility knife and you have custom and stylish car mats, that truly work.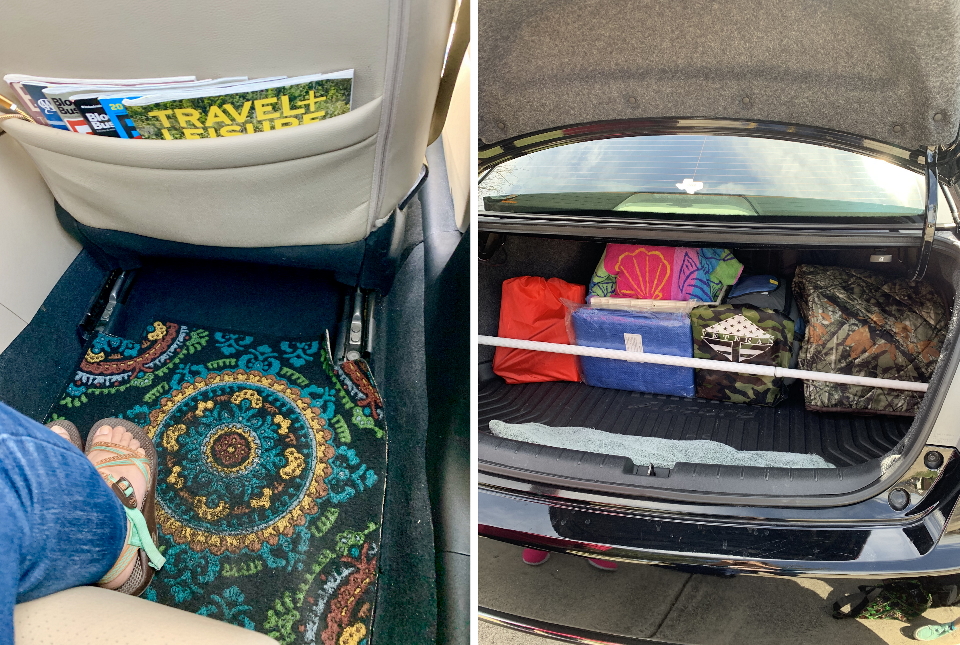 Another genius tip we have to help you make the most of your trunk space is to use bins, totes and a shower curtain to help make "sections" of organization.
Your trunk becomes usable when it's not a pile of items bouncing around. This allows you to put the items you need occasionally, towards the back of your trunk freeing up the easy-to-access space.
15 Clever Car Hacks and Car Organization Tips for Moms
Looking for even more BRILLIANT car organizing hacks? We've got you covered! These car hacks can save your sanity.
Read more here.
Safety First
This is SO important. Nothing can derail your road trip plan faster than an unexpected mishap. Although we don't have control over everything, we have to do our best to take preventative measures.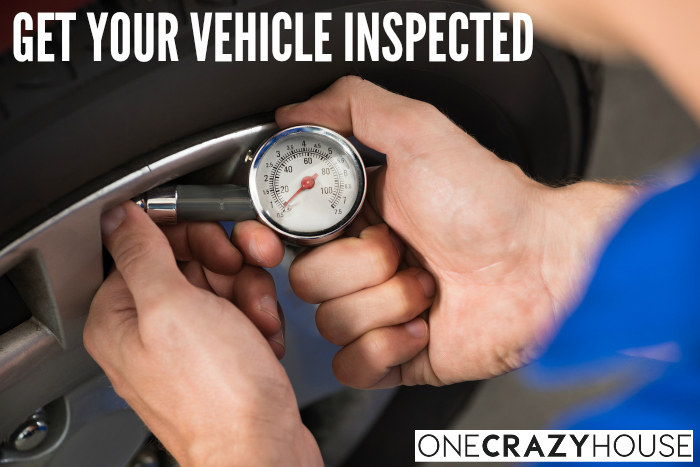 Before you hit the road, make sure to get your tires checked and your vehicle inspected. You don't need any surprises along the way if you can avoid them. There are many tire shops that are willing to do an inspection for free, so there's no excuse not to take this preventative measure.
When renting a vehicle, make sure your auto insurance transfers over to the rental car. Some insurance policies won't cover them unless it's being used as a replacement vehicle while your insured car is being repaired.
Map out your route ahead of time and double-check for road work & possible closures. If you're rocking an older GPS, it may not have LIVE updates. So taking this extra step may save you from a massive headache later.
EASY Car Repairs You Can Totally Do Yourself
Does auto repair scare you? You'll want to know how to take care of these issues should they arise on a road trip.
Read more here.
Car Hacks to Help You Survive Winter
If you're traveling in the winter, you'll want these winter car hack tips if you have to deal with snow. As someone who doesn't deal with snow often, these hacks are genius!
Essential Winter Car Hacks
Driving in winter conditions – and the problems that can arise – are different from warm weather conditions. Use these hacks to be prepared.
Read more here.
Traveling with Littles
First, I have to share this Kids Travel Kit Binder from Living Well Mom. My littles have their own Kindle Fires, but getting them unplugged is important too.
This binder is full of free printables and extremely easy to put together.
Free Printable Road Trip Games
Try this easy DIY activity travel binder and free printable games for your next road trip and turn a long drive into fun family time for kids and adults.
Read more here.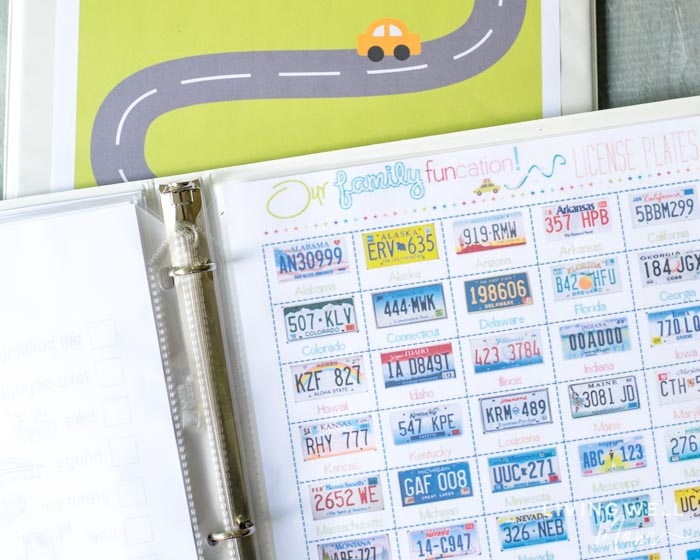 Duct Tape to the Rescue
I thought this cleaning hack was hilarious! But, it makes complete sense. If the kiddos are snacking then crumbs are inevitable. Now, they can clean it up too!
You Won't Believe This Genius Hack
Anyone planning a road trip with kids any time soon should learn this simple yet amazing hack for road trips! I never would have thought of something so simple!
Read more here.
Tips From a Teen's Perspective
Do you have a tween or teen? Have them check out YouTuber Sunny and her show Life Hacks for Kids.
Road Trip Hacks For Kids
From a handy snack shaker and kitty cat cord organizer to a creative and comfortable seat belt pillow, Sunnyu2019s got all the travel tips you need.
Read more here.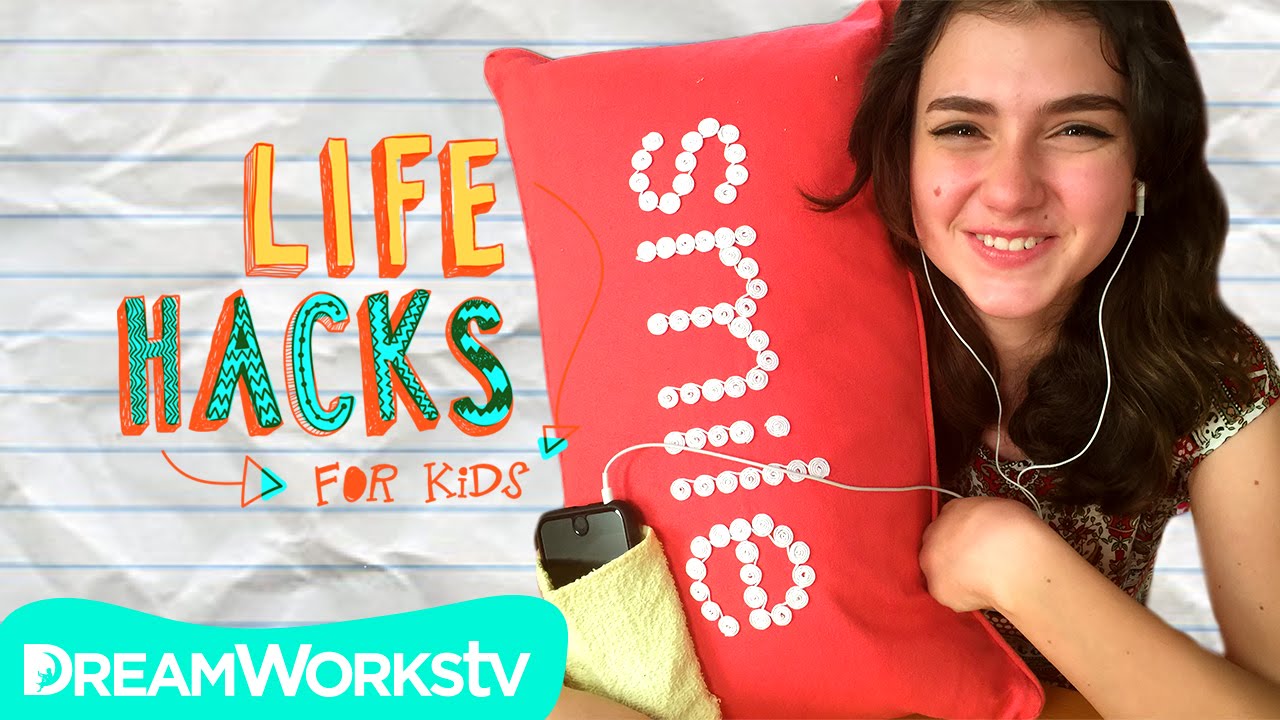 Post-it Notes for Something Special
Write down specific times on Post-it Notes stick them on the dash just below the clock. When the clock displays each time written down, give the kids a surprise. It will give them something to look forward to at regular intervals.
Clever Car Hacks for Moms
When youu2019re hauling kids in the car, things can get messy. These car hacks can save your sanity. Get organized and enjoy a better traveling experience!
Read more here.
Keep Them Busy
This next idea from Kids Activity Blog would be PERFECT for my son since he is completely obsessed with clips and zippers. Check out their tutorial for this DIY Clipping Toy.
Road Trip Sanity with a Toddler
Homemade toys don't have to be fancy. This DIY buckle, clipping toy kept my toddler entertained for hours!
Read more here.
Budget-Friendly…Need I Say More?
Skip the fancy cell phone mounts, Mama Say What has a brilliant hack to get your phone mounted, while staying cool.
Save Tons on Eating Out
Eating out along the way can be very expensive, especially if you have the whole family in tow. Finally, here's a realistic way to bring real meals along with you!
How to Pack Real Food for a Family Road Trip!
How to shop and pack for a family vacation – with real food, high quality, healthy, choices that the whole family will love.
Read more here.
Odor Eliminator
If you have kids, you have trash in the car and odors you would probably prefer not to smell. Use these hacks to keep those odors in check.
Stinky Car Solutions
Sometimes you just have to eat in the car when you're on the road. Use these hacks to keep that trash and those crumbs – and the resulting odors – under control.
Read more here.
Organized Packing
There's no need to stop for snacks along the way, it adds up real quick! Use these incredible tips to pack on your road trip, including storing snacks from home.
Road Trip packing hacks!
Tips for organizing everything from kids activities to snacks.
Read more here.
Stretch Your Dollar
Get better gas mileage by using your cruise control feature and making sure your tires are inflated at the optimal PSI. I know it's tempting to get to your destination faster, but keeping a steady pace will save you from filling up more frequently.
Hacks Parents Can Use to Stretch a Dollar
These money-saving hacks are too fun to pass up. And they really work to help save money!
Read more here.
I hope you found a few helpful ideas for your next family road trip. No matter what chaos may occur, remember you're making memories and that's the most important thing.
They might not always seem fun at the time, but they will always be memorable. Happy travels!
More Inspiring Posts from One Crazy House