Traveling for the holidays or enjoying family vacation? Road trips with kids can get crazy. Use these must-have sanity-saving road trip tips!  We have found the must-have genius road trip tips to make car travel around town and long road trips with kids so much easier – and even fun!
If you've been a regular here at One Crazy House, I'm sure you've become accustomed to our lists of hacks.  Our goal with providing hacks and helpful tips is to help make it just a little easier for you.
Road Trip Tips To Make Traveling With Kids Fun
With the busiest travel days ahead of us, we figured it's time to get prepared with a few road trip tips. As any parent who has ever ventured on a long road trip can tell you, road trips with kids can be a challenge – unless you use these tips!
1. Stay Organized with Front Doormats
Getting mud in the floor, or crumbs or all. the. things. is one of the things that both decreases the cleanliness of the vehicle, but also decreases the value! But, typical car floor mats don't always fit or offer the coverage AND STYLE that we know you want!
Outdoor-front doormats to the rescue! They are easy to cut with a utility knife and you have custom and stylish car mats, that truly work to contain the mess.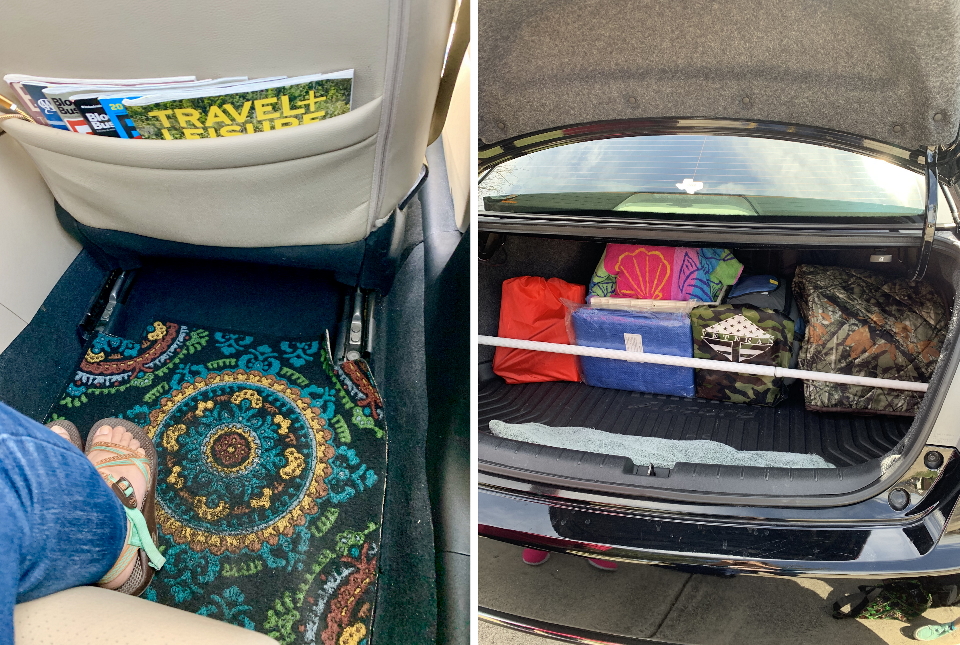 2. Make Sections with Shower Curtain Rods
Another genius tip we have to help you make the most of your trunk space is to use bins, totes, and a tension shower curtain rod to help make "sections" in your trunk. 
This part of your car becomes usable when it's not a pile of items bouncing around.  Put the items you need occasionally towards the back of your trunk, and keep the easy-to-access space up front for things you need to grab quickly.
3. Plan Your Road Trip Like a Prep Pro
No matter where your road trip is taking you, preparation can make it stress-free and adventurous.  I love using a planning guide and this camping planner can help guide you through the process even if you never spend one night in a tent! The $7 spent on the Camping planner is well worth it!!  Your sanity is worth it!!
3. Get Your Car Inspected
This is SO important. Nothing can derail your road trip plan faster than an unexpected mishap. Although we don't have control over everything, we have to do our best to take preventative measures.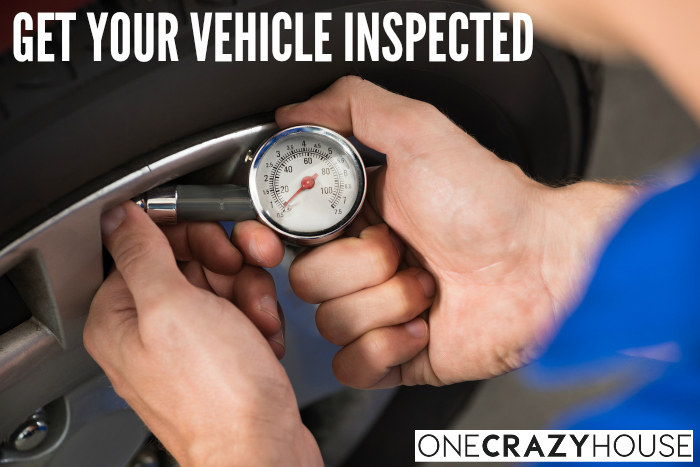 Before you hit the road and pack the car, make sure to get your tires checked and your vehicle inspected. You don't need any surprises along the way if you can avoid them. There are many tire shops that are willing to do an inspection for free, so there's no excuse not to take this preventative measure.
If the worst happens and you DO need some car repairs, you may be able to take care of them yourself! Here are 11 easy car repairs that you can do on your own.
4. Plan for Seasonal Conditions
This is particularly true if you're traveling in the winter! You'll want these winter car hack tips if you have to deal with snow. If you are like me and don't deal with winter often, these hacks are essentials!
5. Pass the Time with Post-it Notes
Write down specific times on Post-it Notes stick them on the dash just below the clock. When the clock displays each time written down, give the kids a surprise. It will give them something to look forward to at regular intervals.
6. Get Crafty to Keep Toddlers Busy
This next idea from Kids Activities Blog would be PERFECT for toddlers since they are completely obsessed with clips and zippers. Check out their tutorial for this DIY Clipping Toy. Your kids will stay busy with clip after clip…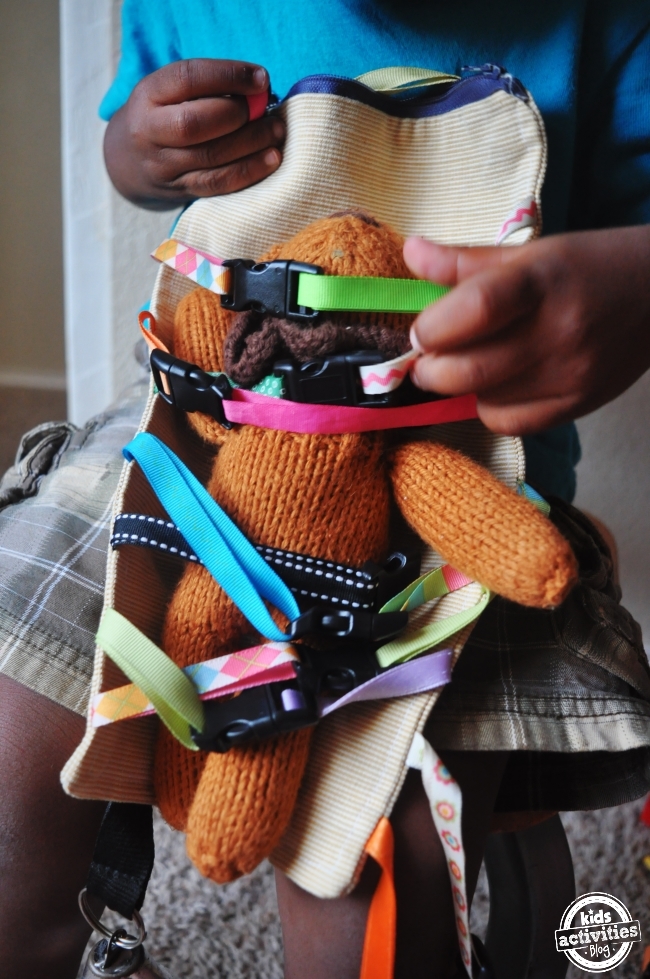 7. Save Tons on Eating Out
Eating out along the way can be very expensive, especially if you have the whole family in tow. Thankfully, meal prep for the road doesn't need to be hard!
A good cooler will get you a long way on your meal planning goals. Fill it with bottles of water, and healthy snack foods such as:
hardboiled eggs
cheese sticks
grapes
apples
baby carrots and/or cucumbers
pre-packaged containers of hummus
deli meat or shredded chicken
juice boxes
water bottles
Then, in a separate bin, keep food items that do not need to be chilled. I like to pre-package everything into small ziplock bags so all I need to do during the trap is pass them out to everyone. I put:
homemade trail mix
crackers
tortillas (these are great for a quick meal – just fill them with hummus and shredded chicken and cheese from your cooler!)
protein bars
beef jerky
I try to keep our food within the car fairly healthy and lower in sugar. It only takes a few hours with hyped-up children trapped in the car to clean up my diet! 
Pssst…don't forget the napkins and eating utensils and an extra supply of wet wipes.
8. Buy a Car Trash Can – or Two!
I seriously did not realize how life-changing a simple car trash can would be for us! This is one of my favorite road trip tips! I recommend getting 1-2 smaller trash cans that can fit plastic grocery bags as the liner or use a cereal container. Whenever you stop for gas or to eat, simply grab the bag and toss it in the trash.
9. Turn Any Mug into a Spill-Proof One
We're somehow always running out of travel mugs – thankfully, this simple hack will let you turn any cup into a spill-proof one!
10. Stretch Your Dollar
Get better gas mileage by using your cruise control feature and making sure your tires are inflated at the optimal PSI. I know it's tempting to get to your destination faster, but keeping a steady pace will save you from filling up more frequently.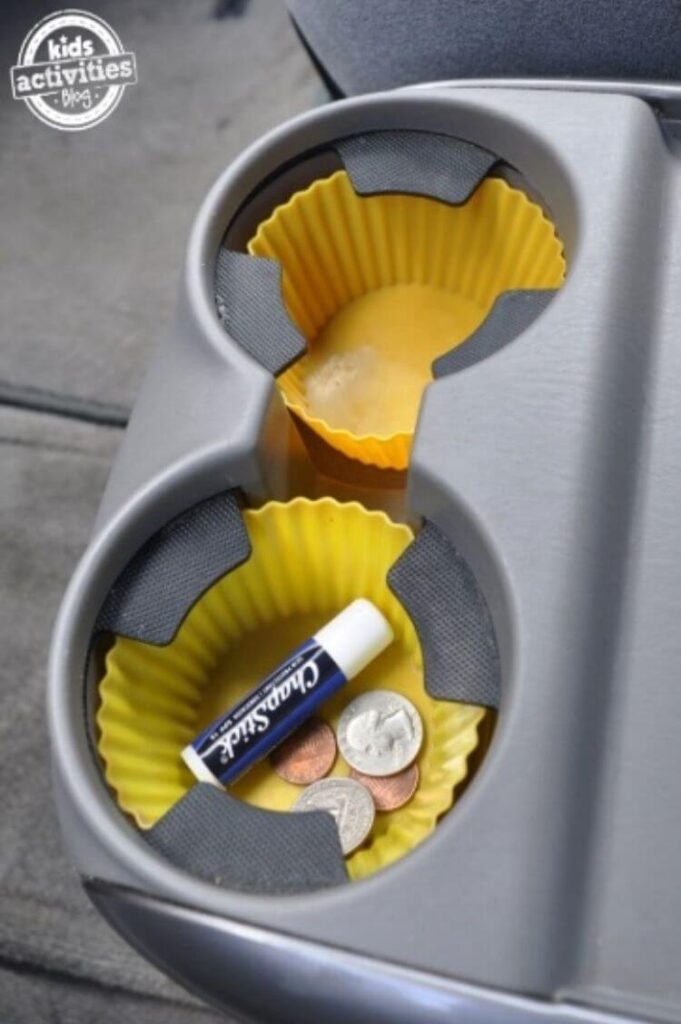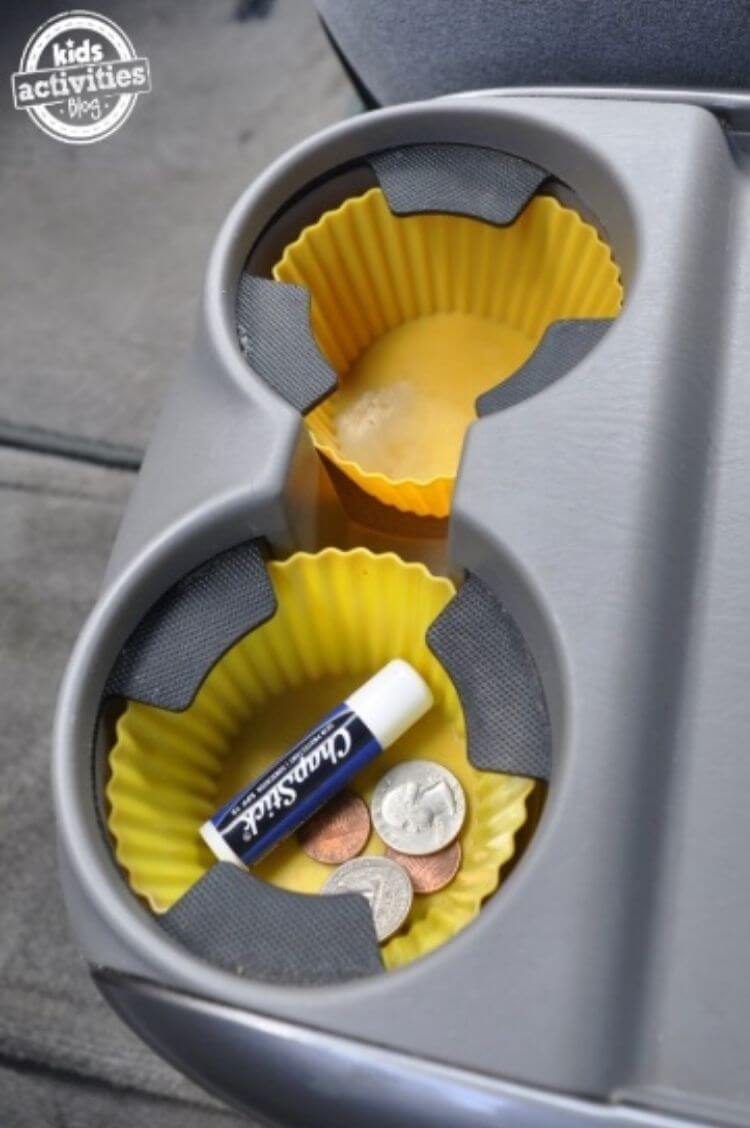 11. Use Cupcake Liners to Keep the Cupholders Clean
This is one of my favorite car hacks of all time for cup holders. If you always end a road trip with sticky cupholders (bleh!), this is one of the road trip tips just for you! Line your cupholders with silicone cupcake liners. Once they get gross, simply take them out and wash them before putting them right back!
12. Make a DIY Car Sick Bag
Got a child (or adult!) who gets car sick? Make a car sick kit by gathering up plastic bags, Dramamine, an electrolyte drink, some saltines, and disinfectant. Keep them at the ready…just in case!
5 More Car Trip Tips to Try
Stock up on Shower Caddies
Shower caddies are seriously awesome, particularly in the car! An inexpensive shower caddy with a suction cup can be placed on the car window and act as an extra holding spot for toys and snacks. Genius!
Read more here.
Duct Tape to the Rescue
Anyone who has roadtripped with kids knows that the backseat is guaranteed to be filled with crumbs by the time you get home. Well, no longer with this brilliant hack! Wrap duct tape sticky side out around your kids' feet and let them play footsies to see who can pick up the most crumbs!
Read more here.
Play iSpy or the License Plate Game
Keep your kids unplugged and entertained in the car with a printed sheet of license plates from each state. Once they have found it on the road, they can check it off and keep searching for the rest!
Read more here.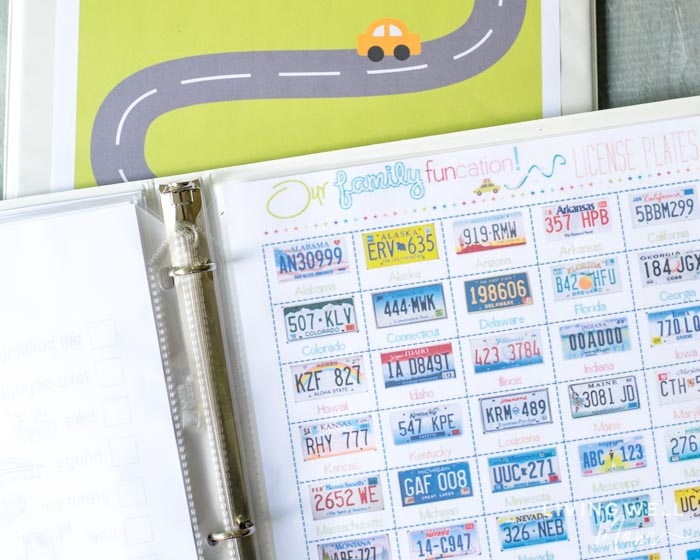 Use a Tackle Box to Make a DIY First Aid Kit
I love this idea! Use a tackle box to put together a portable emergency kit that can join you on all your road trip adventures.
Read more here.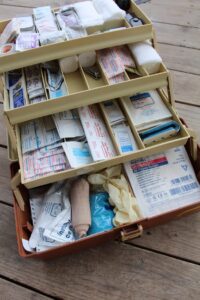 Use a Shower Caddy to Hold Your Food
I love this smart solution that uses a shower caddy to hold food and snacks.
Read more here.
I hope you found a few helpful ideas for your next family road trip. No matter what chaos may occur, remember you're making memories and that's the most important thing.
For more travel tips, make sure to check out our Traveling Tips to Make Your Next Trip a Breeze, it's full of incredible tips and tricks you'll definitely want.
They might not always seem fun at the time, but they will always be memorable. Happy travels!