When you go on vacation, doesn't it seem like all "healthy eating" habits go out the window?
Road trips, particularly, seem to be the worst when it comes to eating healthy. You can forget bananas or apples, because if I'm stopping at a gas station I'm definitely getting a candy bar and for sure a Slurpee!
Don't get me wrong – I'm all for enjoying a little less healthy food and eating a little more than I normally do while I'm on vacation. However, I still want to maintain some resemblance of normal.
I've learned that if all I eat is junk food, I'll spend my vacation feeling less than optimal – which means a bad vacation.
What are good snacks to bring on a road trip? Something that is portable, non-perishable, and easy to eat as you are putting miles on the highway.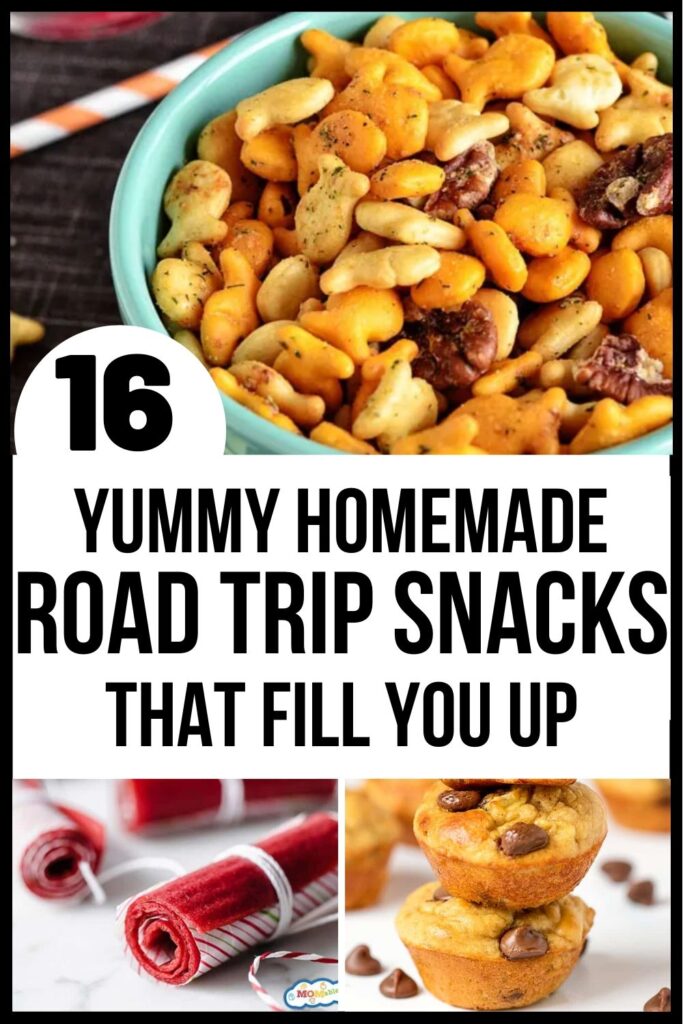 Homemade snacks are a great option and a lot of times a great way to save money, instead of buying convenient store priced items.
Check out this list of 16 satisfying homemade road trip snacks that will keep you feeling full, nourished, and enjoying your trip. Not to mention they will taste yummy and are sure to please the entire entourage.
Best Road Trip Snacks
Looking for a protein-packed snack, consider this oven jerky. You'll get that salty and smokey flavor of chewy jerky all made in your oven – no dehydrator's needed for this satisfying snack.
This super easy recipe will fuel your body and tide you over until your next meal. Change up the flavors by adding cinnamon, spices, garlic, cumin, maple syrup, honey, and more.
Ranch popcorn gives you that salty factor that helps curb your appetite with a nice high fiber snack. Make this ahead, and then put them in sandwich bags for single servings so everyone has a bag to eat.
Sink your teeth into these perfectly sweet cowboy cookies. If you have never had a cowboy cookie you are missing out. Chopped nuts, coconut, chocolate chips and more.
Lower in sugar, these healthy protein-packed banana muffins taste like the banana bread of your childhood but will fill you up. The entire family will love these.
Whole Grain Chewy Granola Bars |
Texanerin
Whip up a batch of these whole grain chewy granola bars to take with you. Store in a sandwich bag and then when you want one you can easily grab and start munching on them.
If you have little kids riding along, consider this slow-cooker Chex Mix for them. I love that you can use the crockpot to make it ahead of time while you're getting ready for your trip.
These skinny strawberry shortcake bites are vegan and gluten-free, so it's perfect for anyone who has dietary restrictions. This on-the-go snack will boost your energy and convince you that you had a sweet treat.
Crunchy baked sweet potato chips will give you a nourishing and crunchy satisfaction like no other! So simple to make and mighty tasty.
Peanut Butter Banana Protein Muffins |
Kitchen Sanctuary
Peanut butter banana protein muffins are really tasty and miniature in size. I love bite-sized items for traveling, because in a bite or two they are gone and I'm not stuck holding onto a full-sized muffin.
Dr. Pepper Jalapeño Smoked Jerky |
4 Sons 'R' Us
A savory option that has some sweet is this Dr. Pepper Jalapeño Smoked Jerky. Make this at home and then just pack up what you want to take for your road trip. It travels well.
Sweet lovers will enjoy this irresistible lemon lime trail mix. Crunchy and sweetened corn Chex, sour candies, and a drizzle of chocolate to complete the mix.
Seasoned Oyster Crackers |
Thrifty Jinxy
Seasoned oyster crackers are crackers that have been cooked with various seasonings. Affordable and so easy to make in your slow cooker – they are delicious!
Spicy Ranch Goldfish Snack Mix |
Tidy Mom
Looking for a snack that packs some heat. This spicy ranch Goldfish snack mix makes a good road trip snack option. A good mix is always good, and this one has different crackers, pecans, and seasonings for a savory snack option.
Need a chocolate fix, then whip up these mini brownie bites. You get the same flavors from a brownie but in a bite-size form. They are perfect for traveling and munching on during a road trip.
Homemade Fruit Roll-Ups |
Momables
Here is a simple fruit leather recipe you can make to get some sweetness when you're traveling. These are also great for kids who want a little sweet treat when they travel.
I hope you were able to use this list of the best road trip snacks for your next road trip!
What is your favorite snack for eating when you travel?
Speaking of traveling, I have some great packing tips you might find helpful before you head out on the open road. Also if you have kids, consider these road trip printables to help keep them busy as you are traveling along the way.
Prevent hearing the cliché, "Are we there yet?" by having printables to save you from hearing that a gazillion times.