When you go on vacation, doesn't it seem like all "healthy eating" habits go out the window? Road trips, in particular, seem to bring out our worst when it comes to eating healthy road trip snacks. You can forget bananas or apples, because if I'm stopping at a gas station, I'm definitely getting a candy bar, some chips, and for sure a Slurpee for my best road trip snacks!
Don't get me wrong – I'm all for enjoying myself, indulging in slightly less healthy food, and eating a little more than you might normally while on vacation. However, for myself, I've learned that if all I eat is junk food, I'll spend my vacation feeling less than optimal – which means a bad vacation.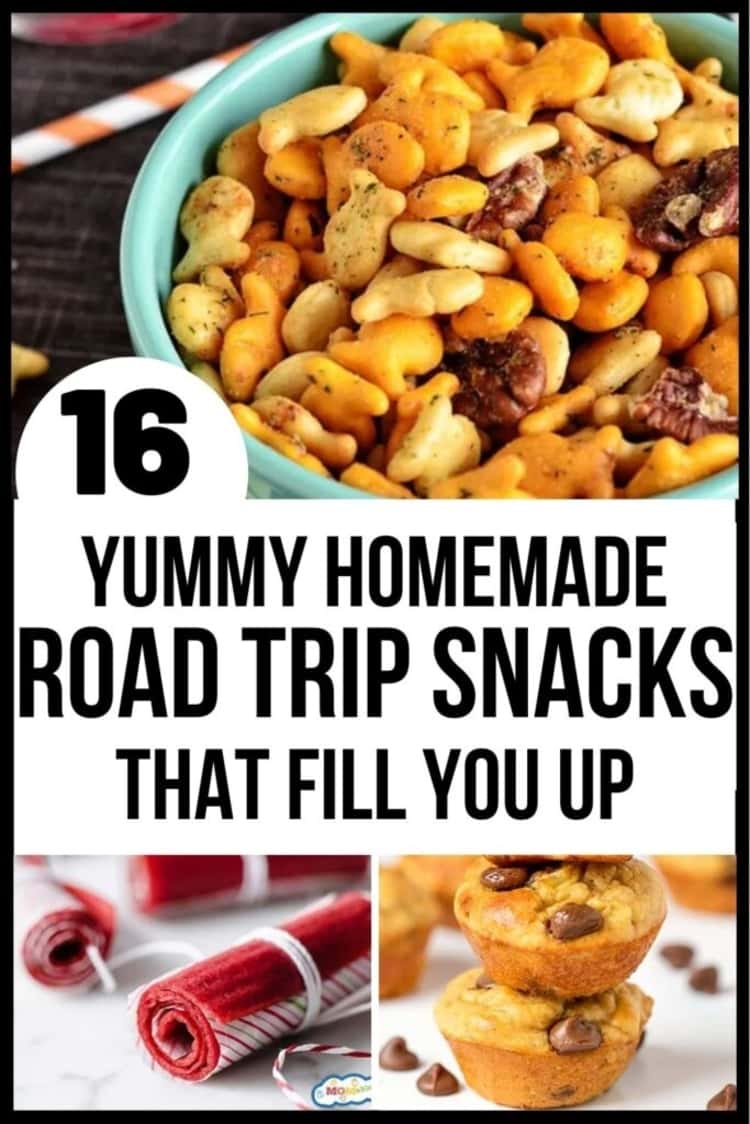 Best Road Trip Snacks
If you're like me and still want to maintain some resemblance to normal while on long car rides, the key is just a bit of planning. There are tons of options you can plan and make in advance that will save you the health costs of eating junk food and have you feeling energetic and great for your entire trip. Homemade snacks are a great option, and a lot of times also a great way to save money, instead of buying convenience store items that tend to be overpriced and full of ingredients that aren't great for your body.
You might be wondering, what makes a good snack to bring on a road trip? Well, I'm here to answer that for you!
The road trip snack should be:
Portable
Non-perishable
Easy to eat as you are driving – items or things that require utensils make eating a mess while putting on those highway miles too dangerous! You need grab 'n' go.
Homemade Snacks for a Road Trip
And don't worry about scouring the web for good recipes – I've compiled this list of 16 satisfying homemade road trip snacks for you that will keep you feeling full, nourished, and enjoying your trip. Not to mention they all taste yummy, rich with vitamins and nutrients and are sure to please the entire road trip entourage. Read on for all the ideas!
1. Protein-Packed Oven Beef Jerky Road Trip Snack
If you're looking for a protein-packed snack to keep your energy up for the drive, consider this oven jerky from Saved By Grace. You'll get that salty, smoky flavor of chewy jerky all made in your oven – no dehydrator's needed for this satisfying snack. Plus, jerky can be great for calories control, as it takes a bit longer to get through a piece than a handful of light chips, for example.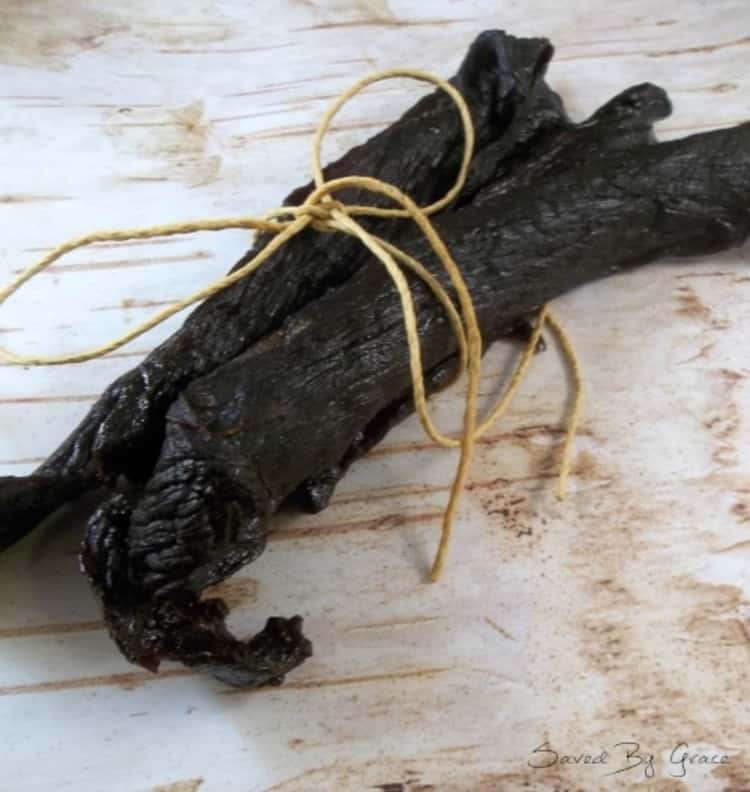 2. Easy Crispy Chickpeas Road Trip Snack
This super easy recipe for crispy chickpeas from The Decorated Cookie will fuel your body and tide you over until your next meal due to its good number of grams of protein. Change up the flavors by adding cinnamon, spices, garlic, cumin, maple syrup, honey, and more. The possibilities for personalization of this yummy snack are endless!
3. High Fiber Ranch Flavored Popcorn
Road Trip Snack
Are you someone who puts ranch on everything? I'm with you. And this Ranch popcorn from Tastes of Lizzie T not only satisfies that ranch craving, it gives you that salty factor that helps curb your hunger with a nice high fiber snack. Make this ahead with your microwave, and then put them in sandwich bags for single servings so everyone has a bag to eat.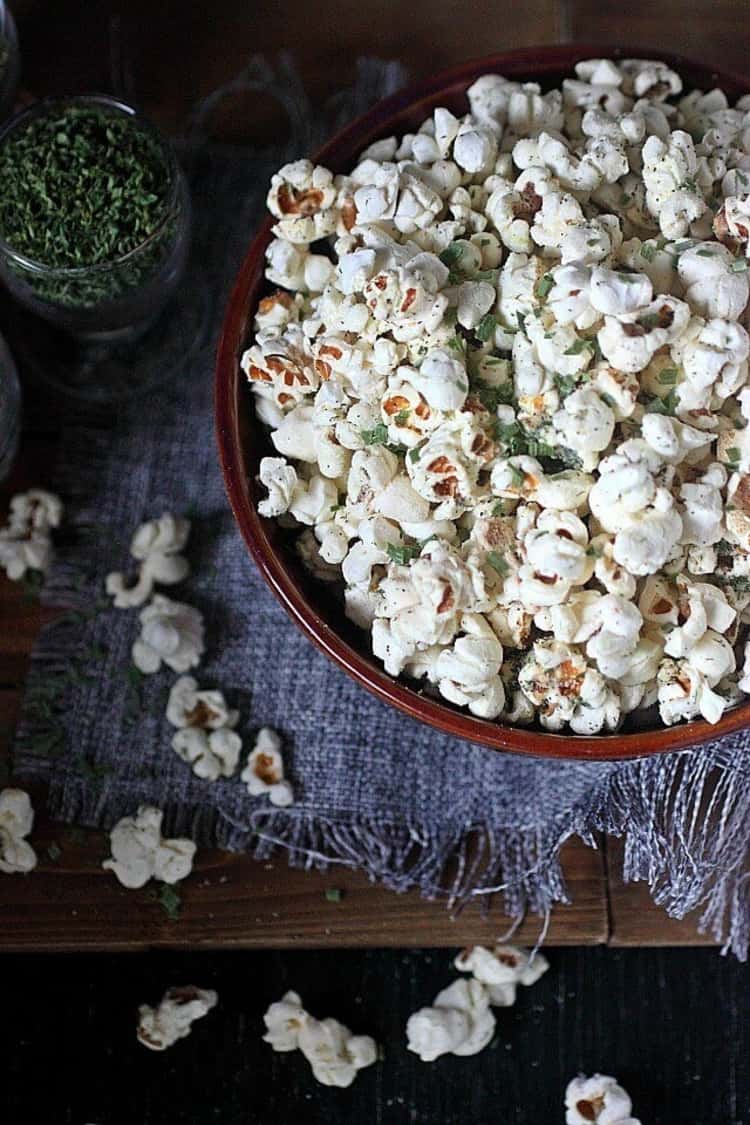 4. Sweet & Nutty Cowboy Cookies
Road Trip Snack
Searching for something a little sweeter? Sink your teeth into these perfectly sweet cowboy cookies from The Typical Mom. If you have never had a cowboy cookie you are missing out, and you need to make this recipe ASAP, whether road tripping or not. Chopped nuts, coconut, dark chocolate chips – what more could you possibly want?! There will surely be no complainers in the car that have these cowboy cookies in it.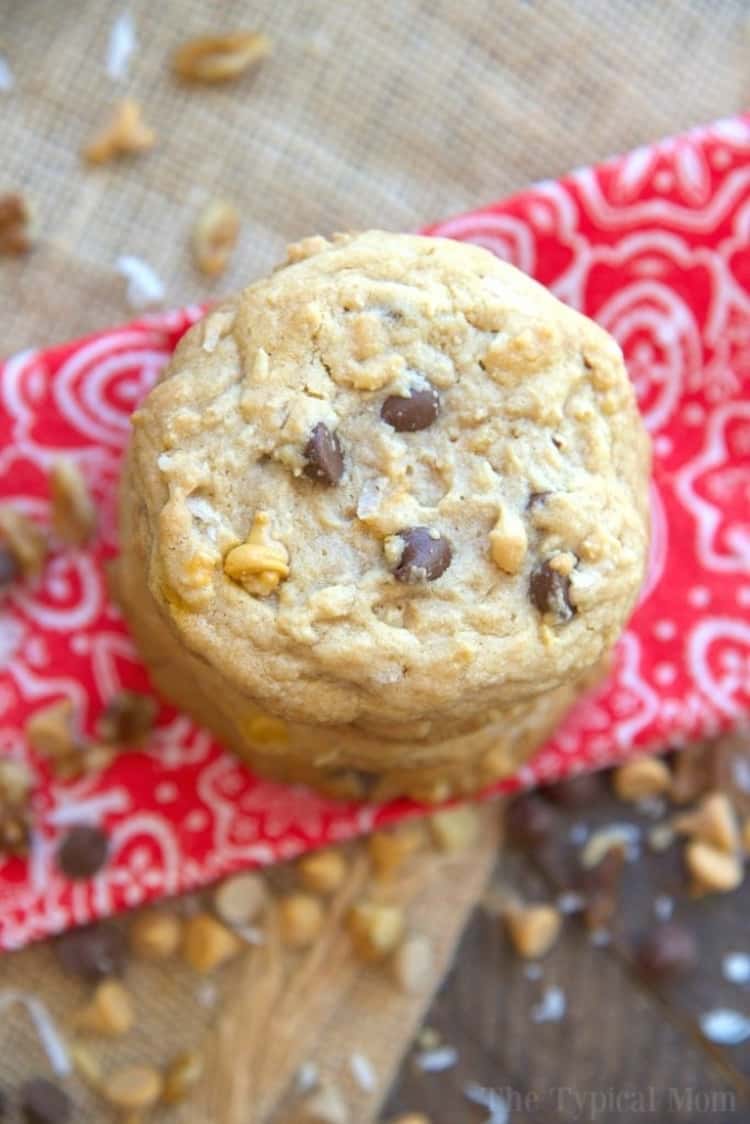 5. Healthy Banana Protein Muffins
Road Trip Snack
Lower in sugar, these healthy protein-packed banana muffins from Made in a Pinch taste like the banana bread of your childhood, but will fill you up in a bit of a healthier way. The entire family will love these, and the kids will have no idea they aren't eating something sugar-packed and bad for them!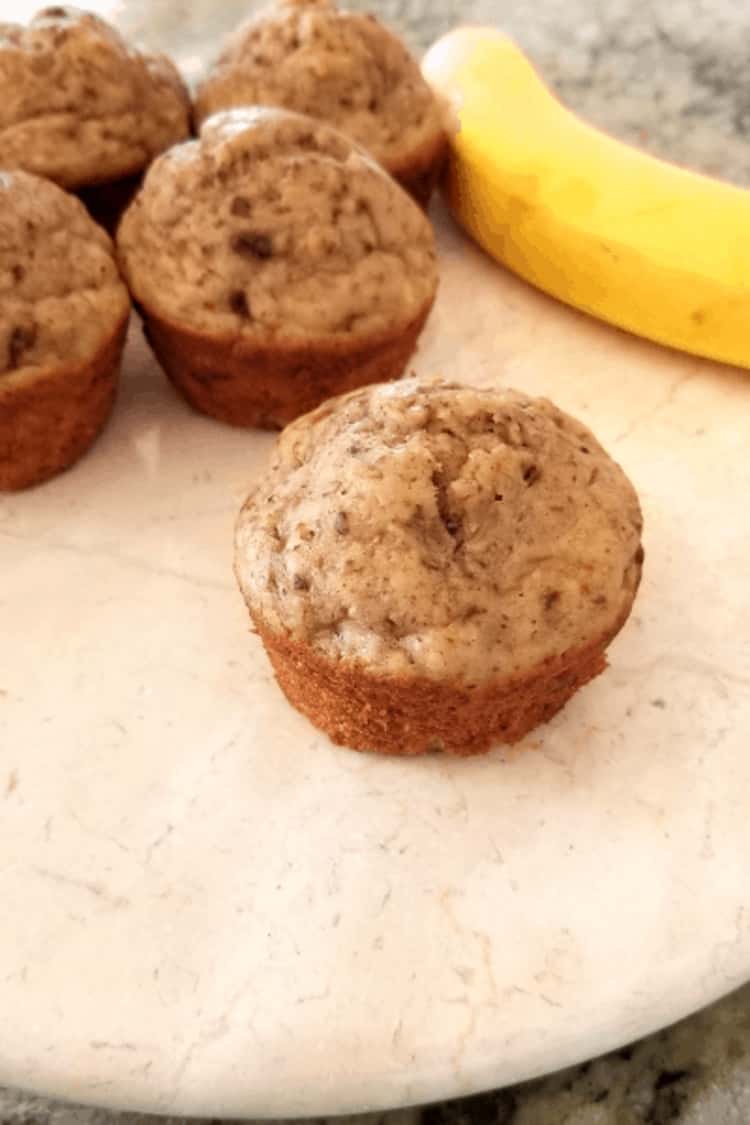 6. Whole Grain Chewy Granola Bars
Road Trip Snack
For another healthy option kids will love, whip up a batch of these whole-grain chewy granola protein bars from Texanerin to take with you. They're like the chewy grocery store kind the kids inevitably love – but BETTER. Store them in a sandwich bag, and then when you want one you can easily grab them and start munching on them.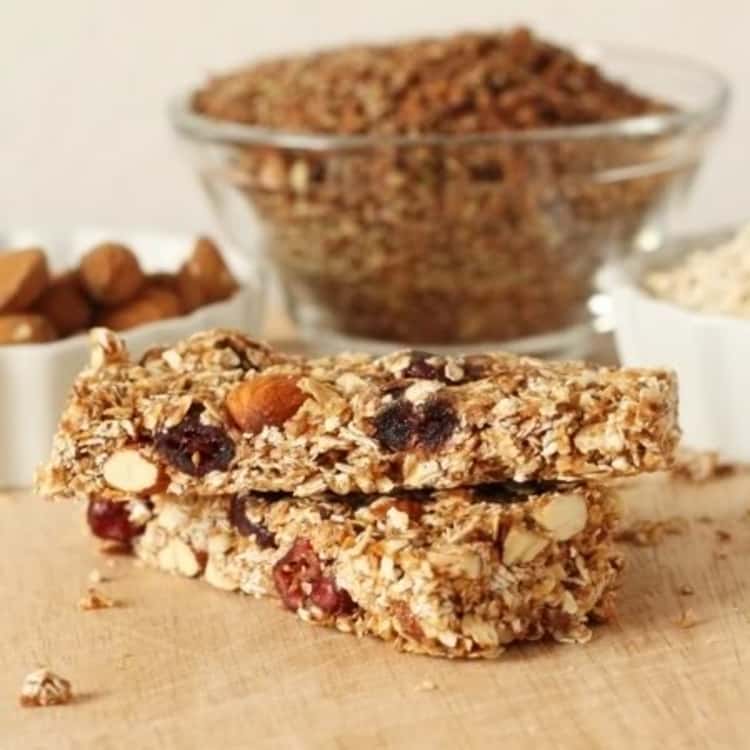 7. Make-Ahead Crock Pot Chex Mix
Road Trip Snack
If you have little kids riding along, consider Spaceships and Laser Beams' slow-cooker Chex Mix for them. I distinctly remember eating Chex Mix with pretzels as a little kid, picking out my favorite ingredients and eating them first. This homemade version doesn't include all the preservatives the manufactured kind does, and I love that you can use the crockpot to make it ahead of time while you're getting ready for your trip. Easy peasy!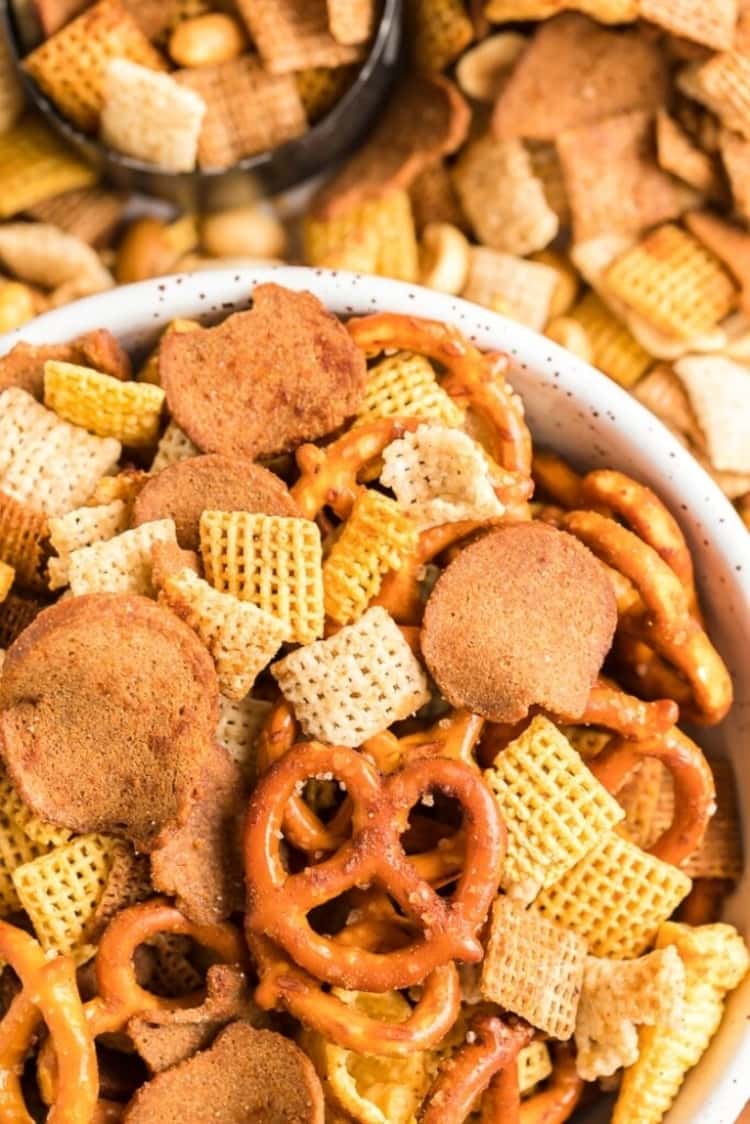 8. Vegan & Gluten-free Strawberry Shortcake
Road Trip Snack
Bites 
Can't do gluten or animal products? Never fear. These skinny strawberry shortcake bites from Bake Me Some Sugar are vegan and gluten-free, so they're perfect for anyone with dietary restrictions. Not to mention – absolutely delicious. This easy-to-handle on-the-go snack will boost your energy and convince you that you had a sweet treat.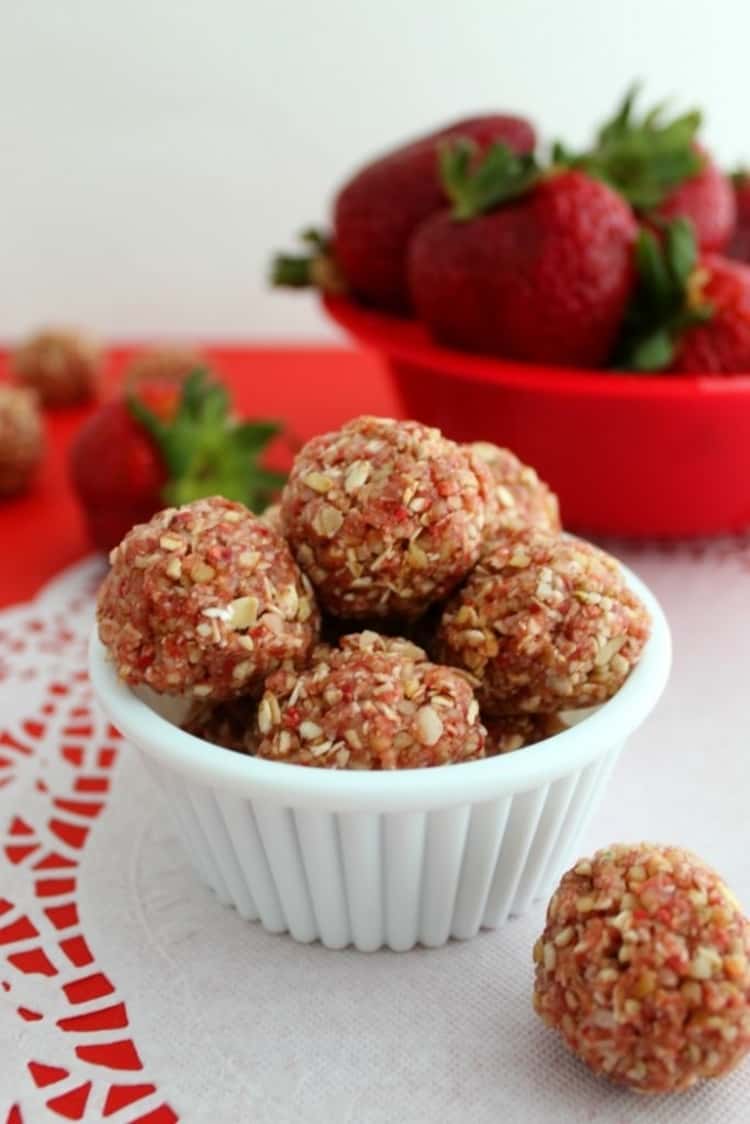 9. Simple Baked Sweet Potato Chips
Road Trip Snack
Can't get over the craving for chips? It's okay. I get it. But don't settle for those gas station bags. These crunchy baked sweet potato chips from Living Sweet Moments will give you nourishing and crunchy satisfaction like no other! It's so simple to make and mighty tasty. Simply sprinkle a little salt or you may dip it in hummus or your favorite dressing!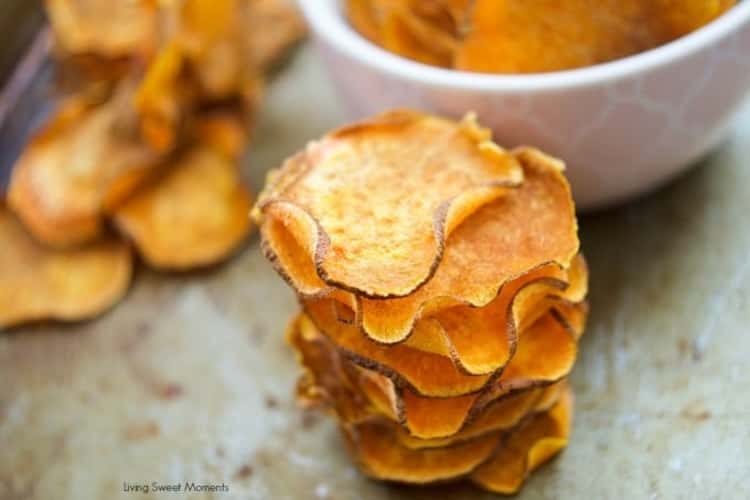 10. Peanut Butter Banana Protein Muffins
Road Trip Snack
Peanut butter banana protein muffins from Kitchen Sanctuary are really tasty and miniature in size. I love bite-sized items for traveling because in a bite or two they are gone and I'm not stuck holding onto a full-sized muffin while trying to drive and focus on the road. Plus, who doesn't love a good peanut butter banana combo? Yum! 
11. Sweet & Savory Dr. Pepper Jalapeño Smoked Jerky
Road Trip Snack
A savory option that also has some sweet notes (plus a little heat!) is this Dr. Pepper Jalapeño Smoked Jerky from 4 Sons 'R' Us. It might sound like a strange combination, but trust me…it works. The Dr. Pepper infuses the meat with a delicious flavor, and the jalapeño adds just the right kick. Make this at home in advance, and then just pack up what you want to take for your road trip. It travels well.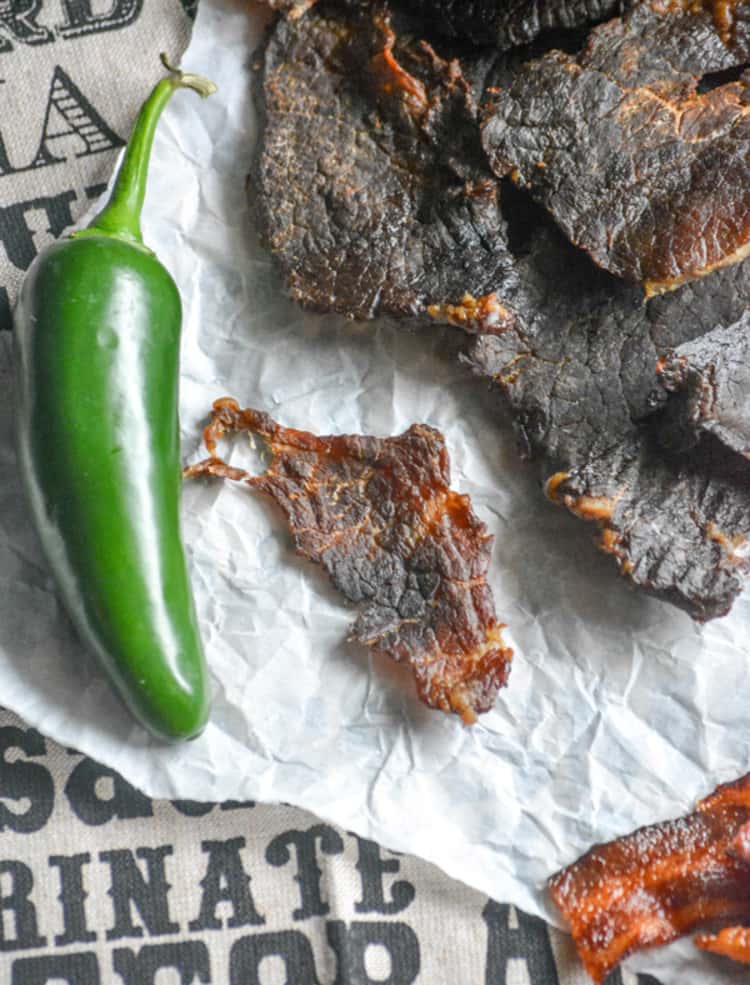 12. Sweet & Sour Lemon Lime Trail Mix
Road Trip Snack
Speaking of sweet combinations, Sweet & Sour lovers will enjoy this irresistible Lemon Lime Trail Mix from Lemon Lime Adventures. It involves crunchy and sweetened corn Chex, sour candies, and a drizzle of chocolate to complete the mix. Is it just me that's drooling just thinking about this!?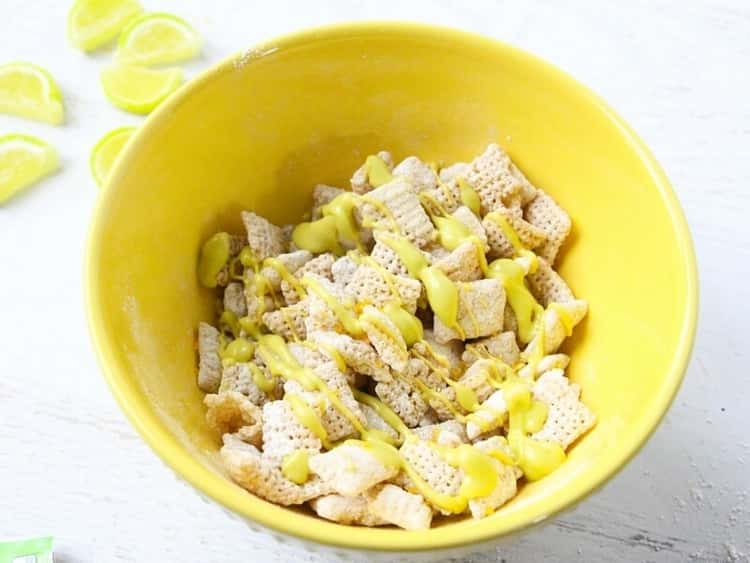 13. Affordable & Delicious Seasoned Oyster Crackers
Road Trip Snack
Seasoned Oyster Crackers from Thrifty Jinxy are crackers that have been cooked with various seasonings. They're affordable and so easy to make in your slow cooker. Bonus – they are delicious!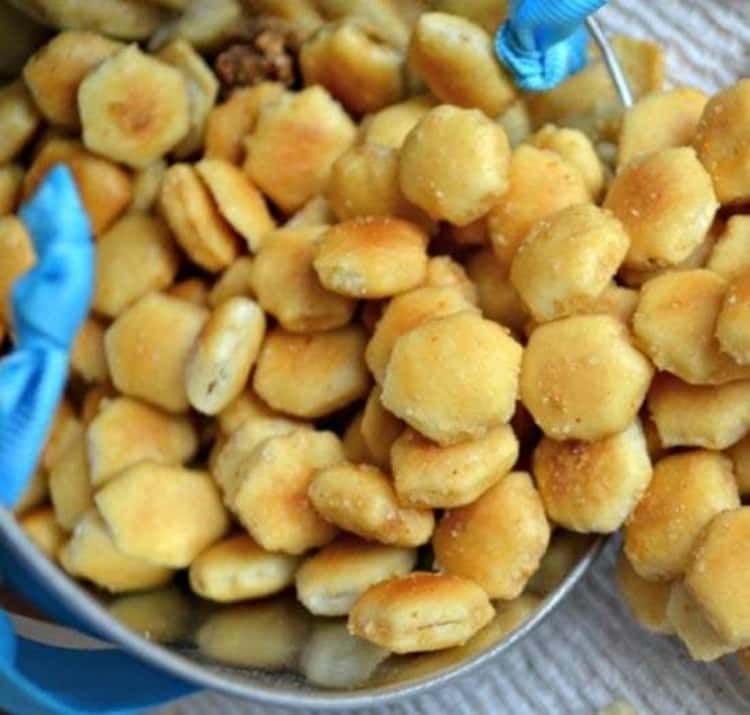 14. Spicy Ranch Goldfish Snack Mix
Road Trip Snack
If you're looking for a snack with a little extra zing, this spicy ranch Goldfish snack mix from Tidy Mom makes a good road trip snack option. A good mix is always good, and this one has different crackers, pecans, and seasonings for a spicy and savory snack option with a crunch.
15. Chocolate Lover's Mini Brownie Bites
Road Trip Snack
I know you're out there, chocolate lovers! I haven't forgotten about you. If you know you'll need a chocolate fix on your trip, don't go for the candy bar or fast food brownie. Whip up Eating on a Dime's mini brownie bites before you leave. You get the same flavors as a brownie, but in a bite-size form. They are perfect for traveling and munching on during a road trip.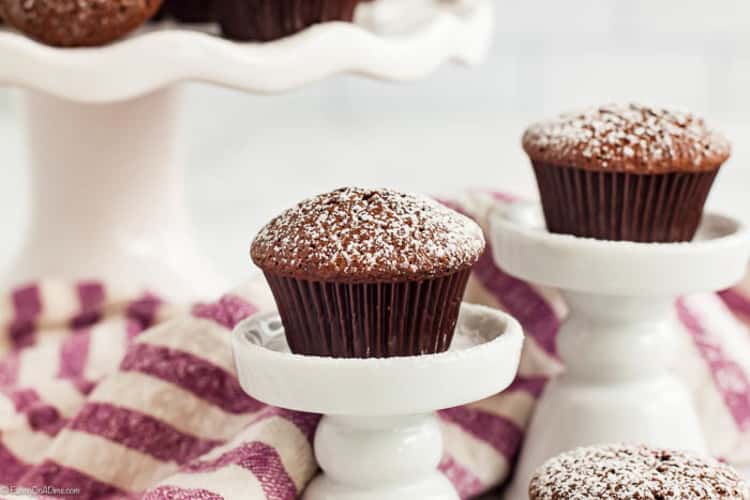 16. Homemade Dried Fruit Roll-Ups
Road Trip Snack
Do your kids love fruit roll-ups? Do YOU? It's okay. I won't tell. But rather than getting the store-bought kind that's full of sugar and other not-great-for-you ingredients, why not try this simple fruit leather recipe from Momables? They'll give you that delicious sweetness you sometimes crave when you're traveling. These are also great for kids who want a little sweet treat when they travel – and may even provide a bit of entertainment for a bit while they unroll the deliciousness.
I hope this list of the best road trip snacks helps you plan and prepare for your next road trip and keeps you and your crew satisfied and feeling good!
More Travel Snacks & Road Trip Tips
Speaking of travel, in addition to these road trip snacks, I have some great

packing tips

you might find helpful before you head out on the open road. Planning ahead really makes everything easier.

Also, if you are traveling with kids, consider these

road trip printables

to help keep them busy as you are on your way. Keep yourself from having to

hear the cliché, "Are we there yet?" a gazillion times.

What to pack on a road trip makes life much easier.
Road trip games make the miles go faster.
Check out these healthy snacks for kids because they are a big win-win!
Oh, and don't forget to check out our road trip hacks!
What is your favorite road trip food?