Being a mom is awesome. It's beautiful. Wonderful. Lovely. And downright exhausting. Can we all agree on that one?
And while it's so much fun to welcome a new bundle of joy into the world, it's also as though the world can come crumbling down as well. If you're looking for some new mom tips, you're going to find them here.
I'm blessed to have two beautiful girls, but man…I'm still tired. And while I wouldn't give up any blown diaper, poop duty or midnight feedings, I truly do wonder if I'll ever catch up on my sleep.
So, let's get down to some simple sanity savers for new moms that literally saved my brain from overload so many times! I hope that you'll find great success with some of these as well.
Simple Tips for Parenting Bliss
First things first…let's all agree that babies just aren't going to be happy all the time. Seriously, look at that face. Not only is she mad, but she's also directing all that pint-sized anger right at me.
(and secretly, I now find it adorable but back then, I was searching for the earplugs. Who knew that such a little girl could scream so very loud?!)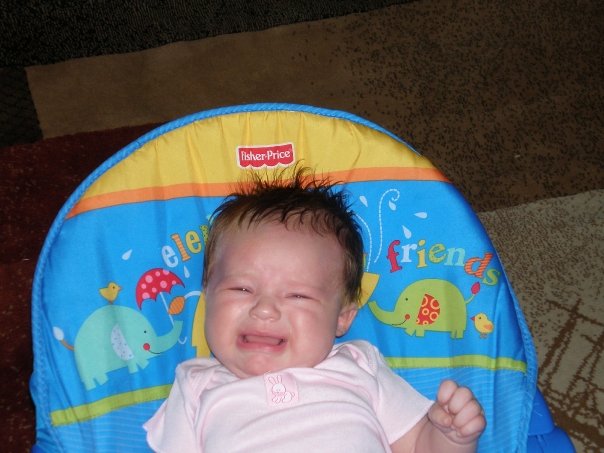 But then…then there are times like this. That smile still gets me every single time…and can you blame me? She's stinkin' adorable. There is so much personality that I can hardly stand it.
So now that we've seen the good and the bad, let's talk about everything else that can happen in-between and ways that you can be prepared!
Momma's, just remember that being a mom is a race, not a sprint. We're all in this together and there isn't any type of reward for getting to the finish line first.
As you can see above, there are so many stages of mommy hood. You'll have to get through them all to truly appreciate everything you have.
Hold that baby like a tree frog
Didn't you know that babies are like little frogs? They're all arms and legs when they're born and they just like to wrap those little limbs right around your body. LET THEM. It doesn't get any better than this.
(and it will let you sneak in a much-needed nap or two as well!)
Cherish all the silly faces
Is it gas? Poop? Burps? Who knows…and honestly, who really cares? If your baby is taking the time to show off their personality, sit down and enjoy.
I can still remember one night when our oldest went through about 10 different looks in a matter of five minutes. From happy to sad and even some startles, she nailed each one like she'd been doing them all her life. (and honestly, she had!)
Sleep when the baby sleeps
This might be the best advice you'll ever get. And also the most annoying at the same time. It's one of those no-brainer tips that you want to work, but sometimes, it just doesn't work that way.
If you can sleep when the baby sleeps, do so. And if you can't, don't. It's just as simple as that. If you would rather spend your time reading, read. Or if you'd rather be sewing, so.
Because honestly, you deserve to do whatever it is that you want to do. Leave the piles of laundry and dishes alone and instead, put up your feet (that are probably still swollen and sore) and have fun doing whatever you want to do.
Let them express their fashion
Fashion is fun for everyone. And if your daughter (or son) wants to go out the door in their latest princess shoes wearing a sword and cape, so be it. Who are you to deny their inner fashion?
After all, this is where creativity and imagination start. Our oldest wore high heels, masks, cat tails, and cat hears almost everywhere during her toddler years…and to top off her look? Fairy wings. And I couldn't have been more proud of how she rocked that look.
Live in the moment as well
I'm guilt of this 100% and is something that I try to tell myself every single day…but instead of trying to catch that picture perfect photo to blast all over Facebook, just stop and live in the moment.
What you might see will warm her heart so much more. While I have a ton of photos of big brown eyes starting at me, they don't warm by heart as those looks in real life do.
My memory is something that I can take with me and I don't have to worry about charging up a battery or losing it with it full of all my pictures…it's okay, momma. Put down the phone and live in the moment.
Rock the homemade gifts that were given to you
Homemade gifts are the best. So if someone gifts you and your baby a homemade bib or blanket or something along those lines, use it and use it often.
Because the truth is, that "homemade gift" took a ton of time, effort and money. Anytime you receive a blanket that someone crotche for you, you can be certain that it costs them at least $50 or more.
Even if it doesn't go with your baby decor or you feel that it's outdated, use it and show it off to your family and friends. Because what that means is that you have someone in your life that thinks extremely highly of you and your newborn child that they took a ton of their time and effort to make you something from the heart.
The best part about these sanity savers is that they take away the stresses. Be you, love your babies and have fun watching them grow!
Do you have any sanity savers for new moms?