Do you have a shed that's seen better days? Maybe it's just drab and boring. Or perhaps you have space in your yard that you know could be turned into something magical. It's time for some amazing shed transformations! Sheds can be an amazing addition to your home – they help you create extra space (needed, or just a splurge) and can help get you organized, but only if space suits your needs. So if you have a shed or blank space in your yard that needs an intervention, check out our collection of amazing shed transformations!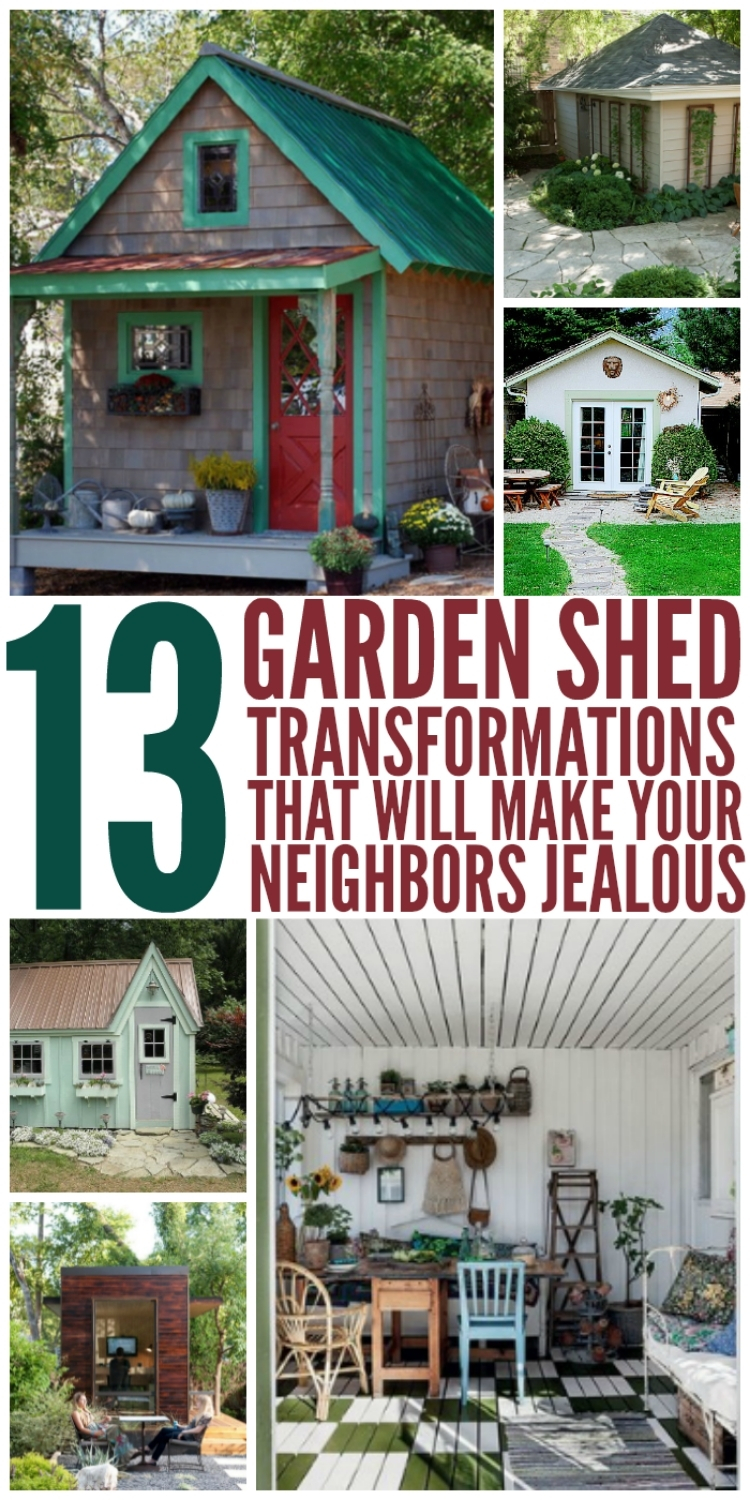 Best Garden Shed Transformations We Have Seen
1. Play Cottage Shed Transformation
What little girl wouldn't love to have a whimsical cottage of their very own? If you don't need to store garden tools or equipment in your shed, paint it with a bright color, add a few small pieces of furniture, and let their imaginations run wild! Having an outdoor space for your little one that they can play in rain or shine is an amazing asset to any parent's arsenal. This little shed transformation will bring years of joy to the kids and they can keep renovating it as they grow.
Source: Hometalk
2. Creative Garden Centerpiece
Use a small shed to store your gardening tools, and then showcase your green thumb. For each season, change out the greenery and flowers to compliment what grows naturally during that time of year. Add a few garden gnomes out front or hanging lights and you've got one cute yard attraction. Come with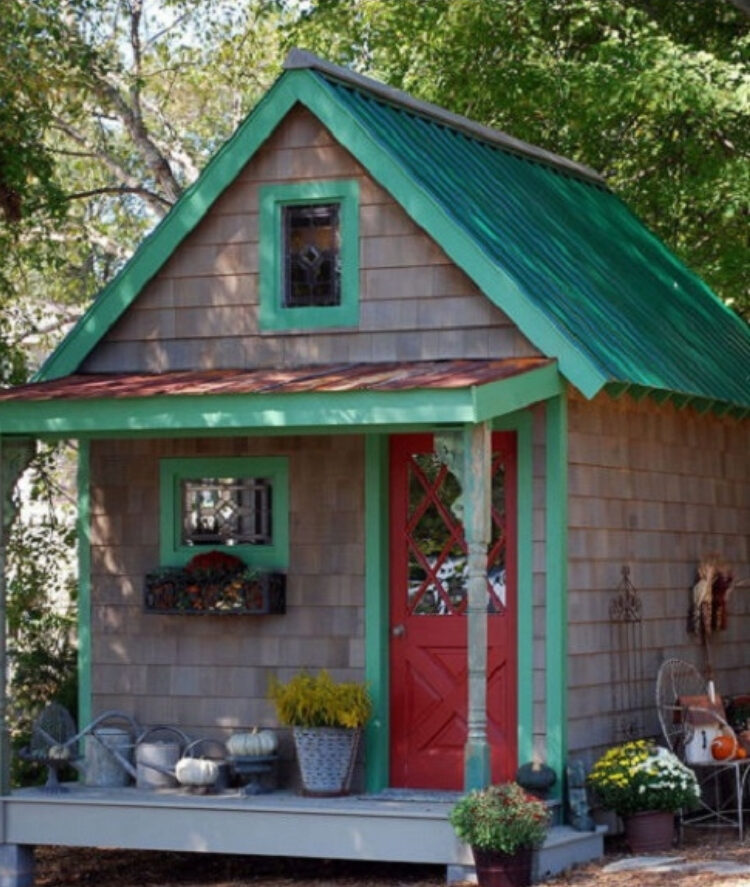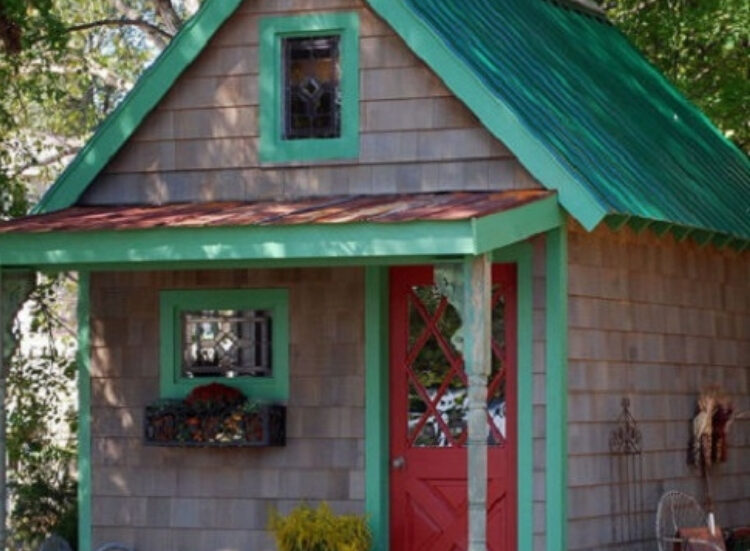 Source: Country Living
3. Amazing Theater Shed Transformations
Movie Night just got a major upgrade! What better way to enjoy your favorite movies than in your very own movie theater? Plug in a mini-refrigerator and install a popcorn popper. Turn your backyard shed into the movie house of your dreams! No more waiting in line or having to shush the guy behind you all night. Enjoy your favorite movie in peace and without anyone kicking your seat. Not only is this a fantastic family night idea, but hubbies you could get some serious creative points with the Mrs. for this shed transformation on date night!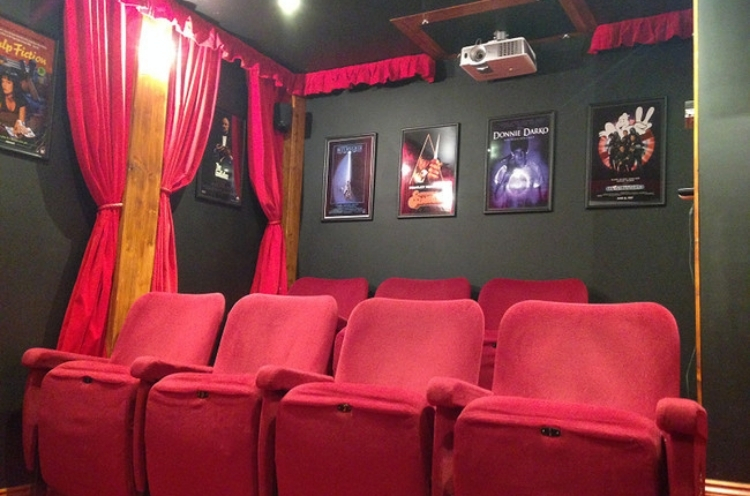 Source: wimp.com
4. Make it a Makeover
If the inside of your shed is perfectly functional, but it leaves a bit to be desired on the outside, take a few steps to dress it up. Fresh paint, some garden trellises and some pavers creating a walkway around the perimeter are a great way to spruce up the exterior. Sometimes simply changing up the foliage, adding some colorful roses or tulips, can really cheer up the drab area quite a bit. Not to mention, this is a great excuse to go get that outdoor furniture you've been eyeing.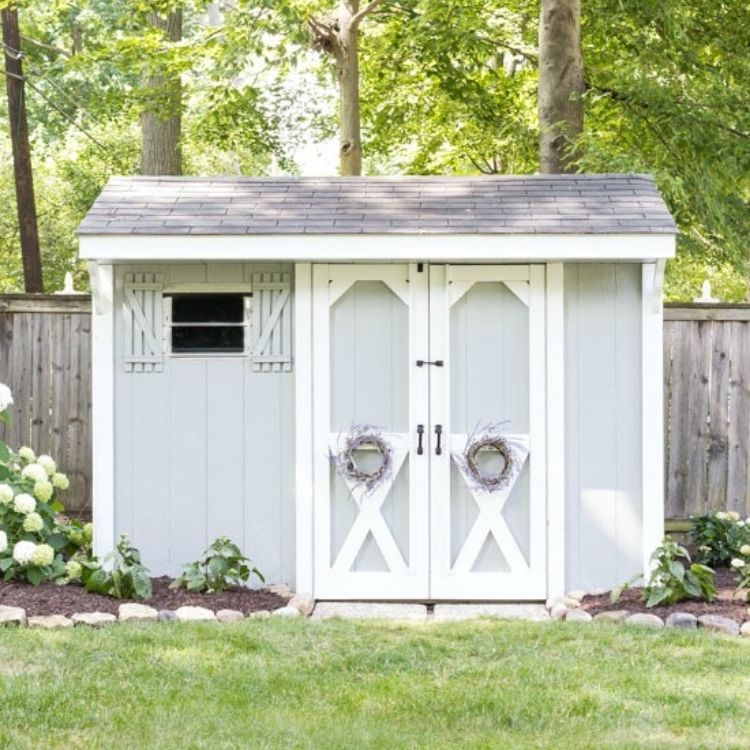 Source: On Sutton Place
5. Space-Saver Walk-In Cooler Idea
This one is pretty clever. It's sure to excite just about anyone! From party hosts to hunters to those of us will larger families, this is a great way to make that shed transformation pay for itself. If the one thing you need is extra cooler storage, look no further than your backyard shed. Following these steps, you can convert your shed into the perfect cold storage unit! Free up your garage space or your back porch from those traditional freezers and move it outback. What an outstanding idea!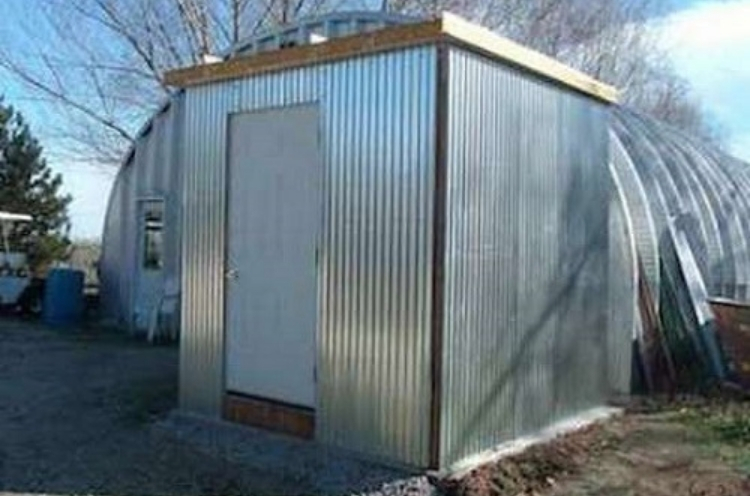 Source: Homestead and Survival
6. Turn Your Shed Transformation into a Mini House
In-Laws visiting? Turn a large shed into a separate living space. It's always a good idea to have an extra room for guests and if you don't have the space available inside- why not look outside. With the recent interest in tiny homes and living, there are all kinds of furniture, appliances, and space-saving gadgets available for such a space as this. The end result could be a beautiful living space for family or friends when visiting.
Source: PopSugar
7. Build Yourself a Shed Bar
Any host or hostess will jump on this fun shed transformation opportunity. You can easily turn your shed into a bar for backyard barbecues. Add some bar stools and string some lights for the perfect ambiance. You can design this project as simple or elaborate as you like. This little gem is sure to be a party pleaser.
Source: Wide Open Country
8. Lovely Garden Room Shed Transformation
Sometimes we all just need a place to find a little peace and quiet. What better place to relax and unwind than a breezy garden room? On a rainy day with a good book or maybe sitting in the sunshine with a cup of tea. A retreat like this one offers the best of both indoors and outdoors. These little rooms are great for all kinds of activities. Whether entertaining friends or digging into a new craft with the kids, there is something wonderful about being out among the open yard space and fresh air to lift your spirits.
Source: Huffington Post
9. Design a Garden "Casita"
If you are an HGTV addict you are likely dying to bring out your inner contractor you know is hiding in there somewhere. What better starter project than your own little backyard casita. Run some electricity, put up some interior walls, and add some flooring and furniture to create a multi-functional space that can be used for anything. Not only is it a fraction of the cost compared to adding an addition to your home, but it's a great project to test your skills before you jump into ripping your kitchen apart.
Source: Tatertots and Jello
10. Design the Ultimate "She Shed"
Move over, man cave! Every woman needs her own get-away oasis and what better way to start than right here! Transform a plain shed into a she-shed with just a few feminine touches. You can use your new space for crafting, working, entertaining, or hey maybe simply taking a nap. Make it your own. Add a wine rack or espresso machine, a snack bar or a painting table. You name it, this is your space ladies, so go all out!
Source: Daily Leisure
11. Transform into and Office Space
As long as you have electricity and your furniture will fit, there's not much else that you'd need to do to transform your shed into a usable office space. Working from home has hit an all-time high in the past year and many people are transforming unused areas in their homes into full-time offices. When you don't have the square footage in your home, what better place than outside with fresh air and sunshine to designate for your workspace.
The best part about having your own home office space is how you get to design it just how you like it. You can create the perfect area for you to feel productive and motivated to get all that work done. There really are no rules.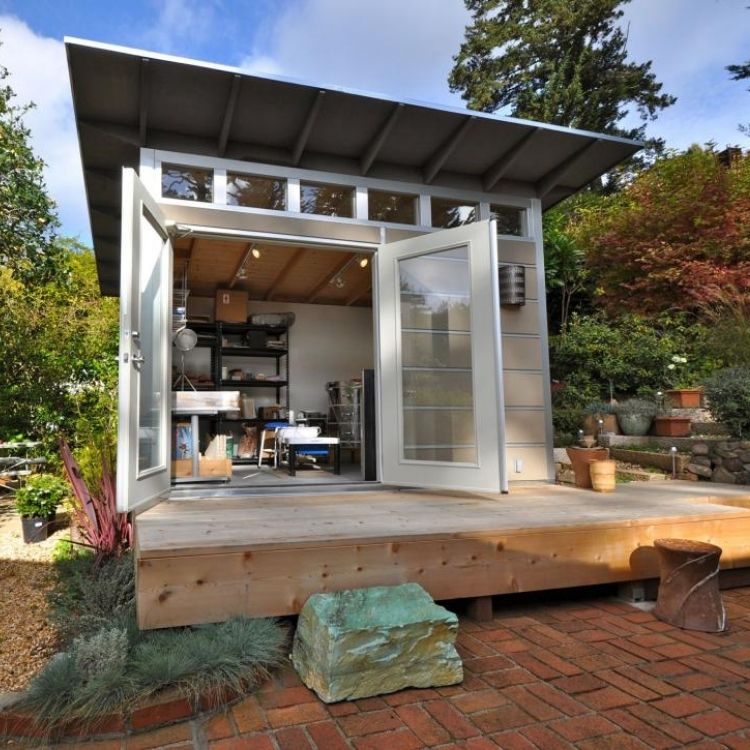 Source: Studio Shed
12. Greenhouse Shed Transformations
Gardening, organics, and self-sustainability are big right now and the popularity is only growing. Every pro or novice green thumb will need a greenhouse in their growing space. A greenhouse is very similar to a shed but simpler. No need to worry about floors or walls! Simply build your structure (or take down your existing shed except for the frame) and add some plastic to make a simple but usable greenhouse. Greenhouses work great in the city or country and allow you a controlled environment to protect and cultivate your fruits and veggies.
Here are just a few things that grow great in greenhouses:
Carrots
Green Onions
Tomatoes
Asparagus
Kale
Eggplants
Turnips
Strawberries
Cucumbers and Zucchini
Okra
Bell Peppers
Lettuce and Salad Greens
Let's not forget about flowers! They love greenhouses too.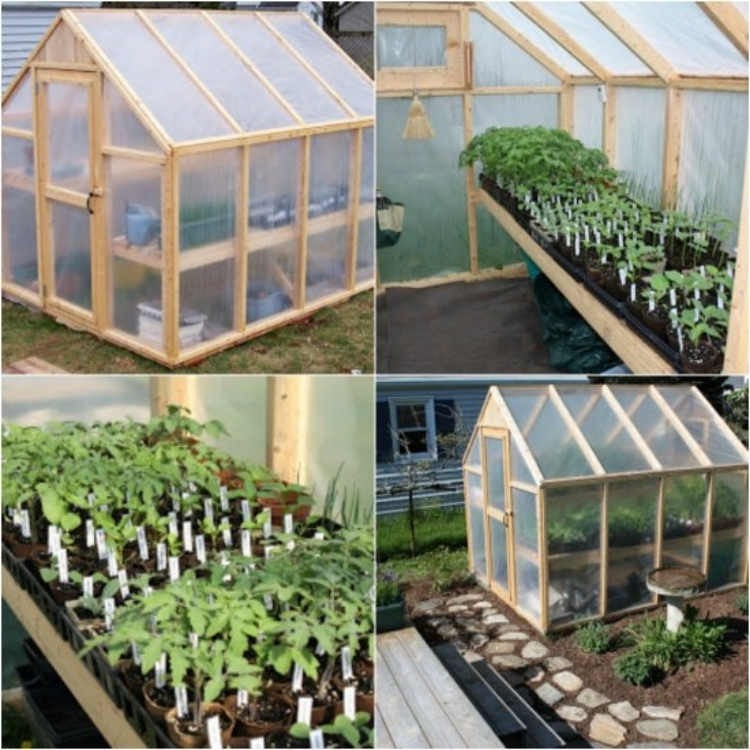 Source: Homestead & Survival
13. Create a Reading Nook Shed
"The more that you read, the more things you will know. The more that you learn, the more places you'll go."

―Dr. Seuss, I Can Read With My Eyes Shut!
Book lovers, looking for a cozy and quiet spot to shut out the world and dive into a good book for a few hours…or days? Create a book nook. Add a couch or love seat, a comfy rug, some shelving for your favorite books, a blanket or two and some pillows to create a dreamy reading nook. Open up the doors to bask in the sun on warm days or snuggle up with your book and coffee cup when the rain comes down all day. It's the perfect escape for getting lost in a good book.
Source: House Beautiful
So there you have it! Whether you have an old run-down shed that needs some creativity thrown at it, or you're starting from scratch, there are a ton of ideas to make the most out of your shed – there's a perfect solution for everyone! We bet you will be looking at that old shed in your yard a little different from here on out. Go get to creating!
Share with us. Which idea is your favorite?
Done with your Shed Transformations? Dive into these other great hacks for future projects!