That file cabinet sitting in the corner of your home office – it's not exactly pretty, is it? No doubt file cabinets serve their purpose, but their utilitarian look doesn't exactly flow with the decor. Well, it's time to give that ugly piece of office furniture a new look. Here are some file cabinet makeovers you will love to try to give that file cabinet a fresh new life! Decorating a file cabinet has never been this fun! (These DIY home improvements can be applied to wood cabinets or those steel ones almost covered with rust.)
Want some ideas? We've found 15 fabulous file cabinet makeovers to get your creative juices flowing! These DIY projects of easy file cabinet makeover ideas will surely give you more space to breathe in after doing them. Check out our home office organization ideas blog while you're here.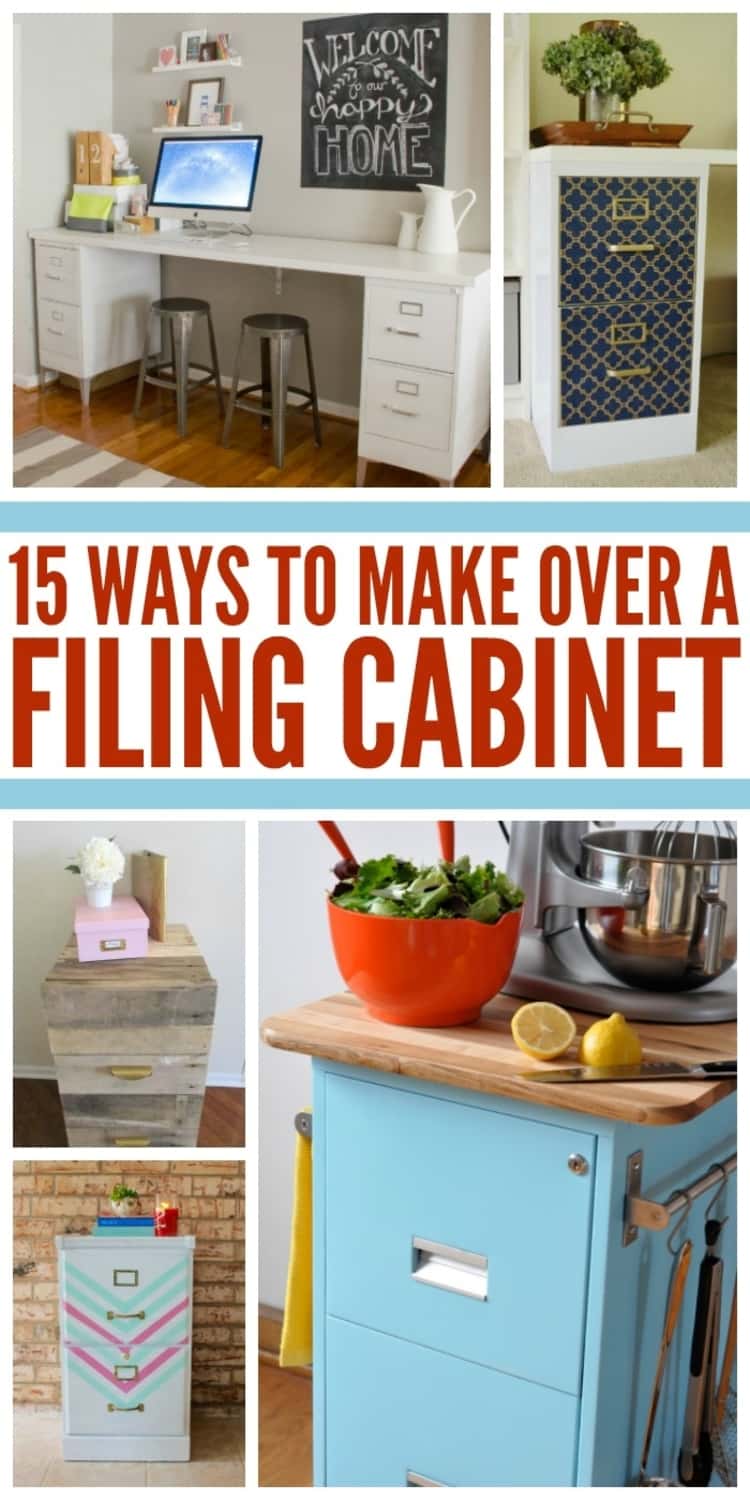 Creative Ways on Decorating a File Cabinet You Have to See to Believe
1. Upscale File Cabinet Makeover With Fresh Coat Of Paint
If you have two old file cabinet drawers and you're wondering how to give them a new lease of life, paint them white. (Remember to apply some primer first before putting the first coat and the second coat of paint for best results!) Then add a wide piece of wood plank, also painted in the same white color between the two filing cabinets to create a makeshift desk. Don't we love how softened up this utilitarian look is?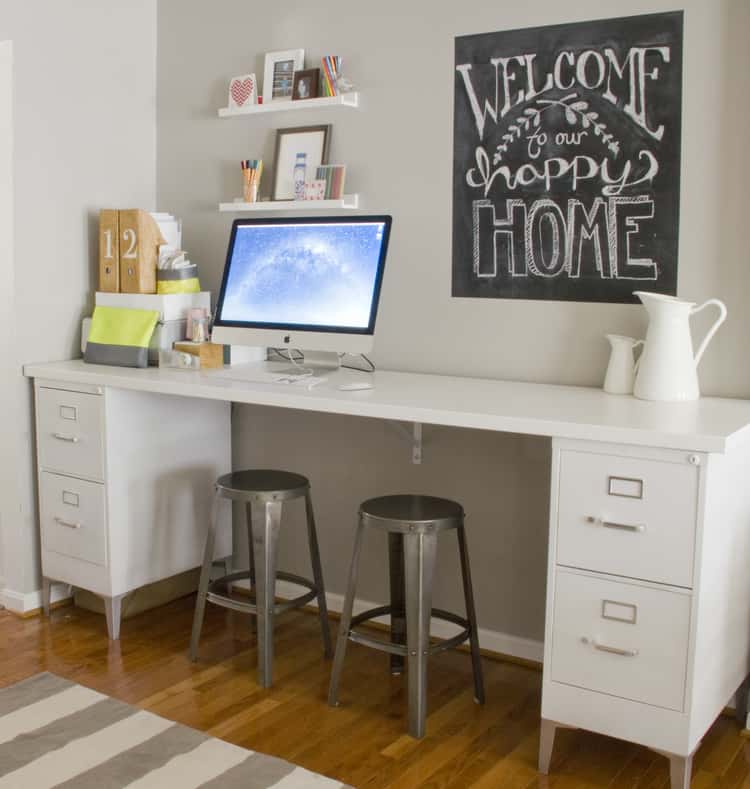 2. File Cabinet Makeover Reporting For Kitchen Duty
I don't about you but I could always use more storage and kitchen counter space. Got a rolling cabinet somewhere that needs to change its workstation? Here's an amazing DIY filing cabinet makeover that is not just for craft room, but perfect in the kitchen! Paint it a light airy blue color, add a cutting board on top and some hooks for hanging your utensils, and you have yourself a gorgeous kitchen cart for prepping food.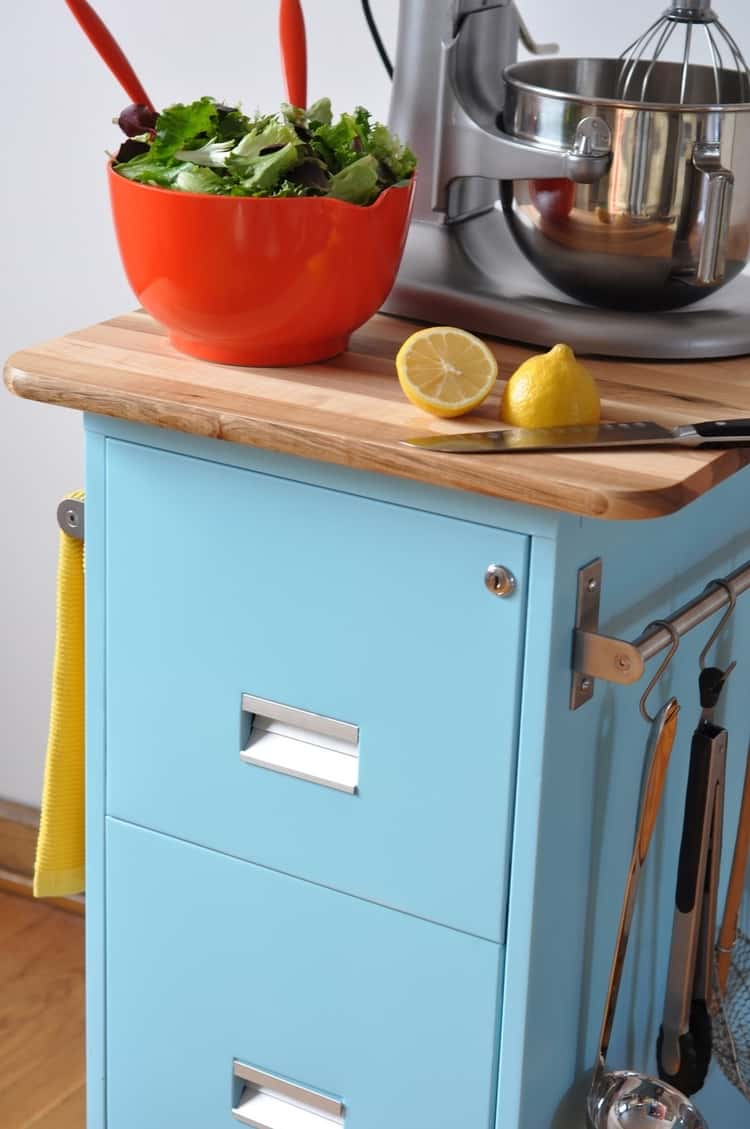 3. Garage Makeover From Old Filing Cabinet
You've probably had a messy garage as I've had at some point, and I now know the best way to bring it to order is by repurposing and making over an old file cabinet. It doesn't matter if you have one lying around or not, ask around amongst friends who may be having one they aren't using, or you could make a trip to the junkyard to get one for dirt cheap. This garage storage idea is one of our favorites. This old file cabinet has had a makeover by turning it over on its back, removing its drawers, and adding pegboards for hanging storage. It's genius!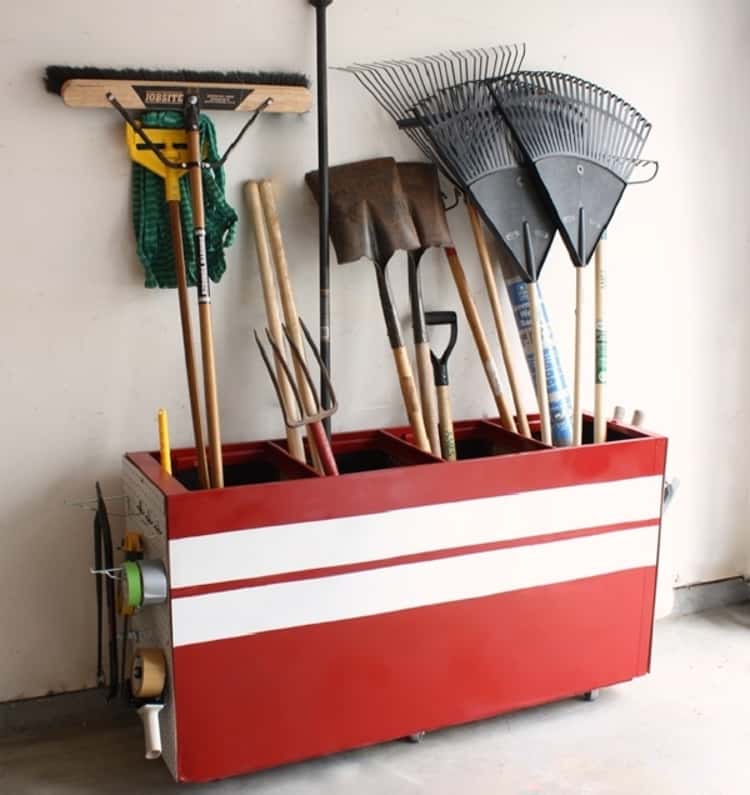 4. From Old To Rustic File Cabinet Makeover
There's always an old, hideous, beat-up file cabinet that's still in use for storage whose vibe is the not-so-cool mismatch with your other furniture pieces. Don't lose hope or hide it away yet. Give it a chic makeover for free or dirt-cheap with pallets. This rustic cabinet would look great in just about any room.
5. Roomy Storage From A DIY Metal File Cabinet Makeover
Do you seem to always run out of storage drawers? Here's a hack that will set you up for a while, fingers crossed. Enter metal filing cabinets. I know, they look cold and dreary. And yes, they do remind me of government offices, a look no one ever wants for their home. The upside is that they will give you amazing support and lots of storage space.
Here's what you need:
2 metal filing cabinets and don't worry if they don't look alike.
2 sheets of 1/4" MDF
saw, nails, and hammer
sanding paper or machine
builders adhesive
to get these two cabinets to look alike.
paintable caulk to fill in cracks and crevices
semi-gloss black paint
4 sets of similar drawer pulls
With some good amount of measuring, cutting, sanding, gluing, and a little TLC, you'll end up with a matching set as seen below for stylish roomy storage.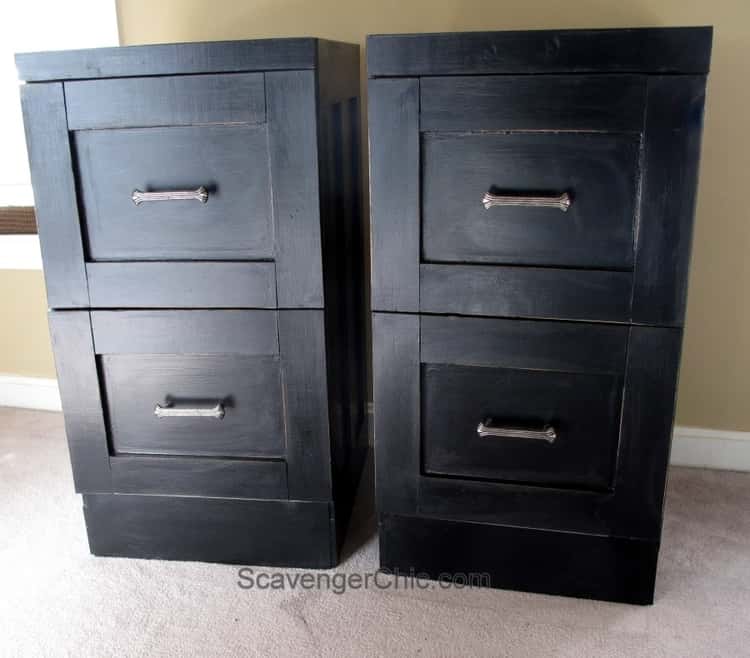 6. ChalkBoard Paint Hack For File Cabinet Makeover
Here's a nifty DIY hack using only chalkboard paint to give your file cabinet a makeover. Paint one side of your file cabinet taking care to leave a white trim or border. You can easily change cabinet contents without worrying about pesky labels (just erase and write), and it's handy keeping a to-do list or shopping list right by your desk.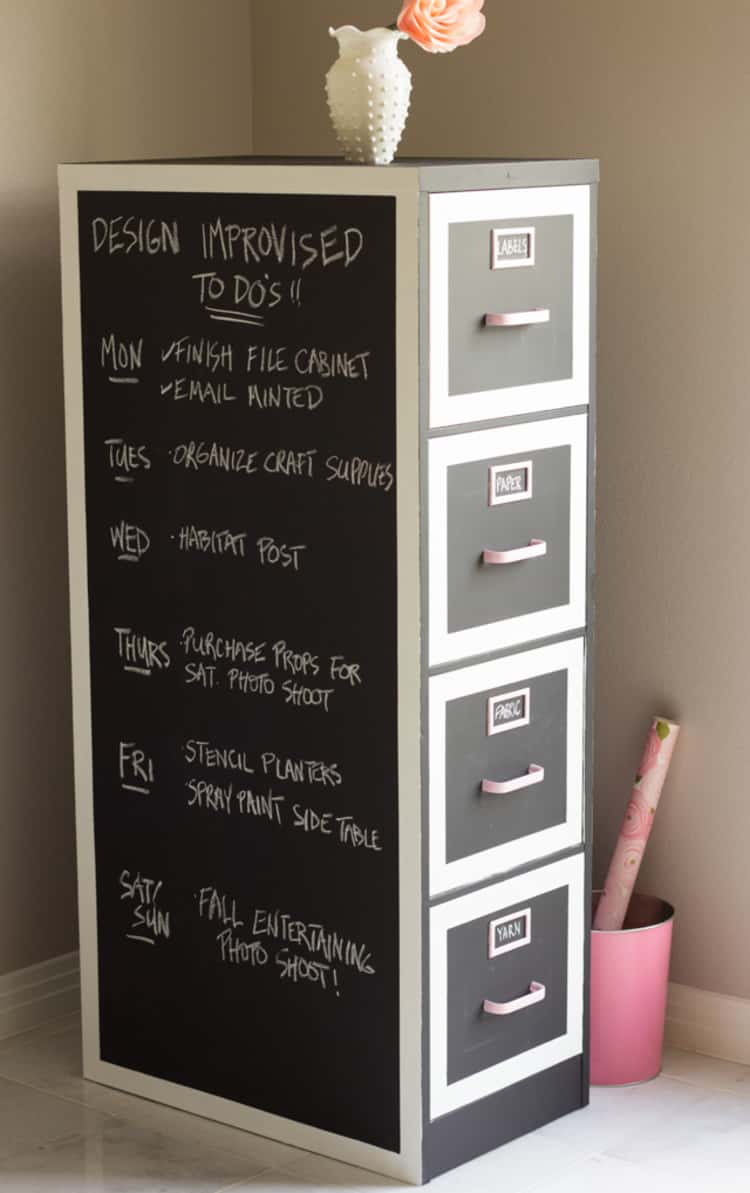 7. The Ugly File Cabinet Makeover Into A Classy Dresser
This one will blow your mind – an ugly old file cabinet makeover that transforms into a chic, classy, and expensive-looking dresser. I especially love how the brass hardware pops on this navy file cabinet-turned dresser making this DIY makeover slide right to the top of my favorites list!
The best part is that this is an easy DIY that makes use of chalk-style paint, and the only prep needed is cleaning the surface of the old file cabinet. Use a natural bristled painting brush for a surprisingly smooth finish!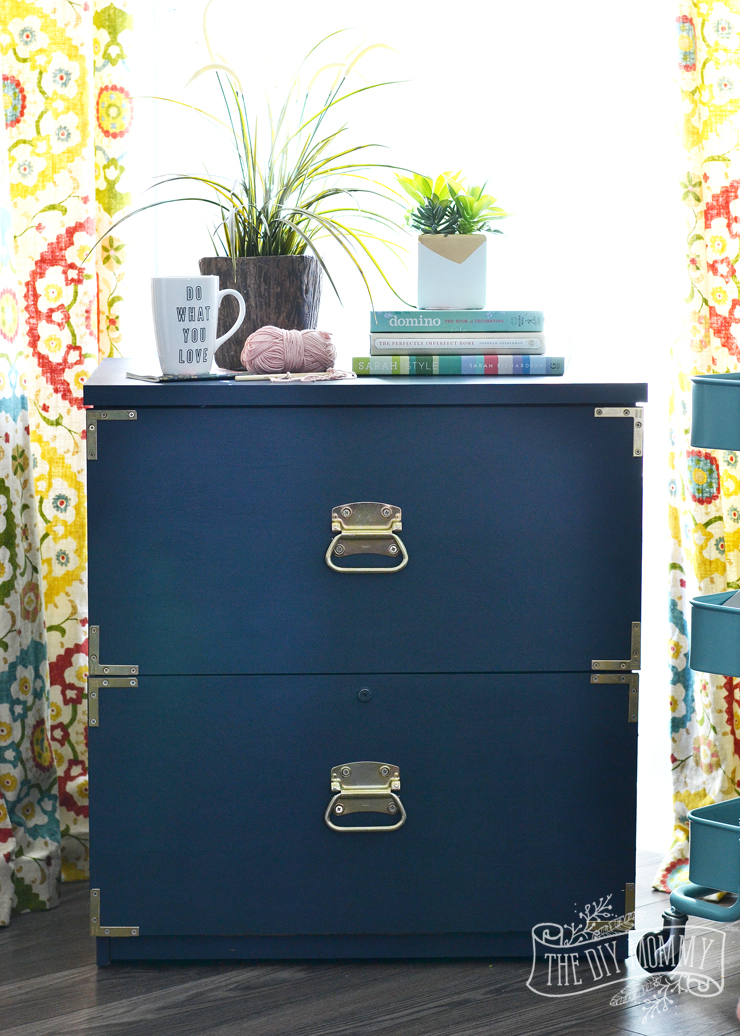 8. Let Me Upgrade You, Old Cabinet
Now that you've probably started humming on those Beyonce lyrics, get down and give your metal file cabinet a brushed steel look that's way nicer than your typical gunmetal gray cabinet!
Crank up the volume because you'll need the energy and an upbeat tempo to sand down the entire filing cabinet. Just be sure to remove the shine, not the paintwork. Then, using a wash (watered down paint), give your file cabinet a brushed look by running parallel brush strokes before leaving it to dry. Next, to enhance that brushed look as well as to protect it, wax with a very light coat, otherwise, it will never get dry. Finish with a buff still in the direction of the brush strokes to give it that brushed steel look.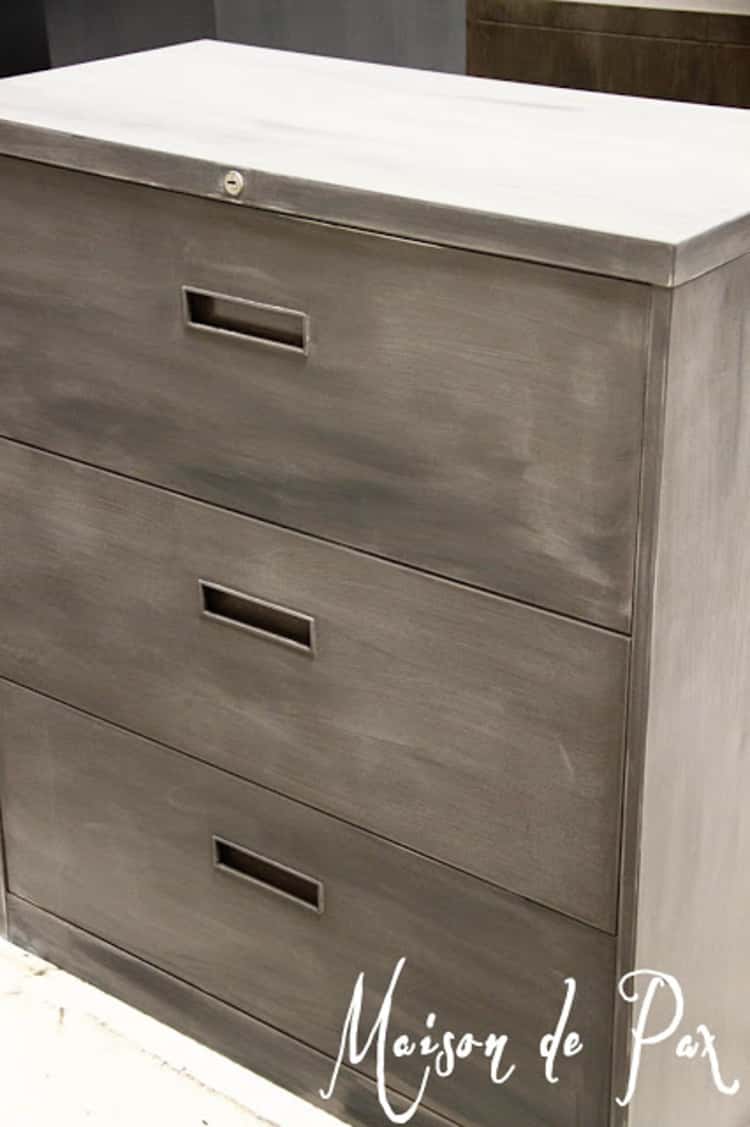 9. How About A Curbside Find DIY Makeover?
With just 3 cans of spray paint (2 purple, 1 gold), plastic light diffusers, liquid nails, and some bit of time investment, you also can achieve this gorgeous look to give your free curbside find a 360° file cabinet makeover!
First, remove all the drawer pulls, sand down the entire cabinet, and then give it a beautiful coat of glossy paint.  Next, measure out all the draw fronts, cut out the light diffusers based on those measurements, and also paint them. They beautifully diffuse light with their tiny prism shapes. Drill through the light panels taking care to line them up with holes for the drawer pulls and attach them using liquid nails. Spray paint the drawer pulls with the gold paint and once dry, assemble all the parts to complete your file cabinet makeover project.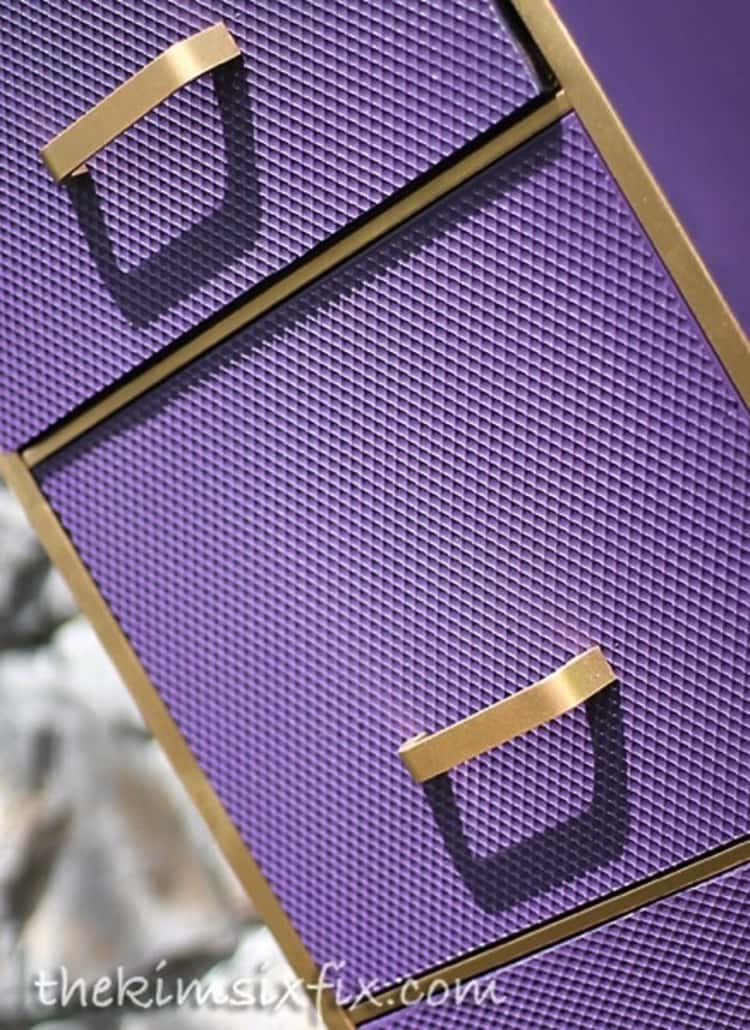 10. Feeling Artsy? Try This File Cabinet Makeover
Art was one of my favorite subjects and I couldn't wait to try out this decoupage for my filing cabinet makeover. Découpage is an art where one decorates something by sticking pieces of paper cutouts in a combination of maybe special paint effects, gold leaf, or other decorative elements and often used on things like small boxes or furniture items.
This pretty much describes what anyone needs to make any filing cabinet go from drab to fab for sure!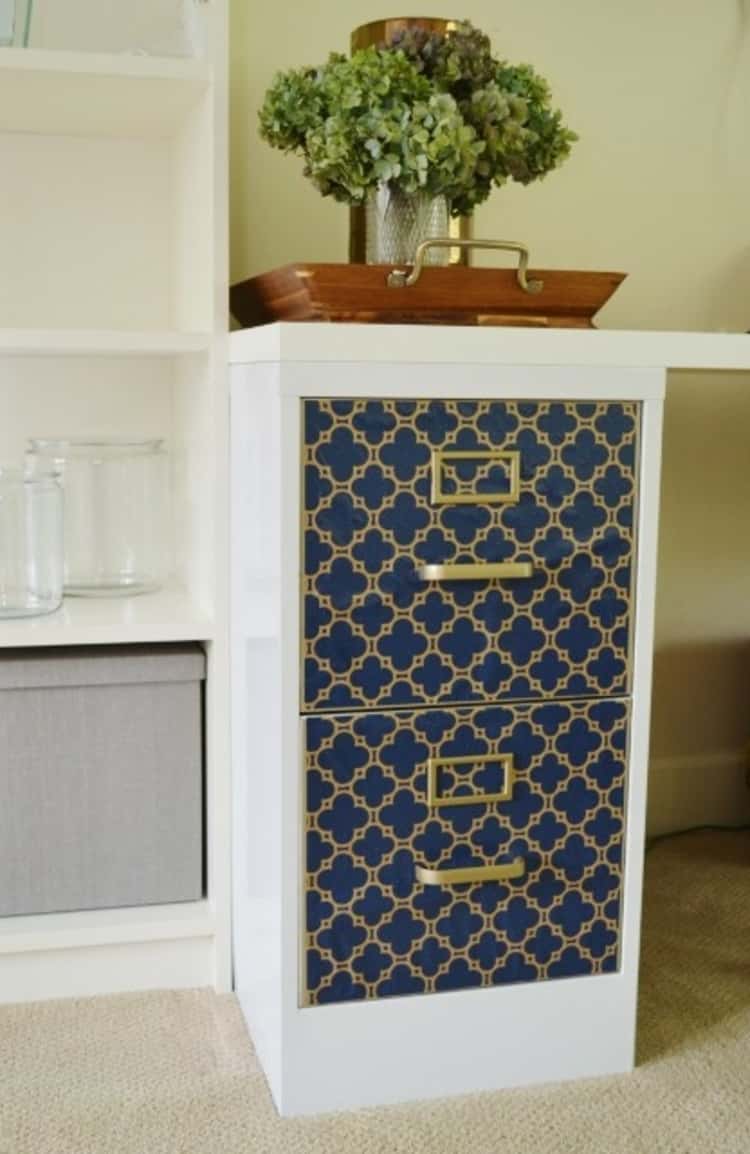 11. A Pretty Pink File Cabinet Makeover
You may have seen the 'Thank You' craze on restaurant trash cans that sold like hotcakes. Honestly, I didn't get the craze but I sure loved the Thank You message. Someone thought so too, made it pretty and used it in a filing cabinet makeover. The result is this pretty in pink "Thank You" filing cabinet that's been calling my name.
You too can achieve the same look with some paint and letter stickers. I know it will be an exciting DIY makeover but be sure to give each of the 2 coats of paint enough time to dry completely, plus extra care when removing the letter stickers.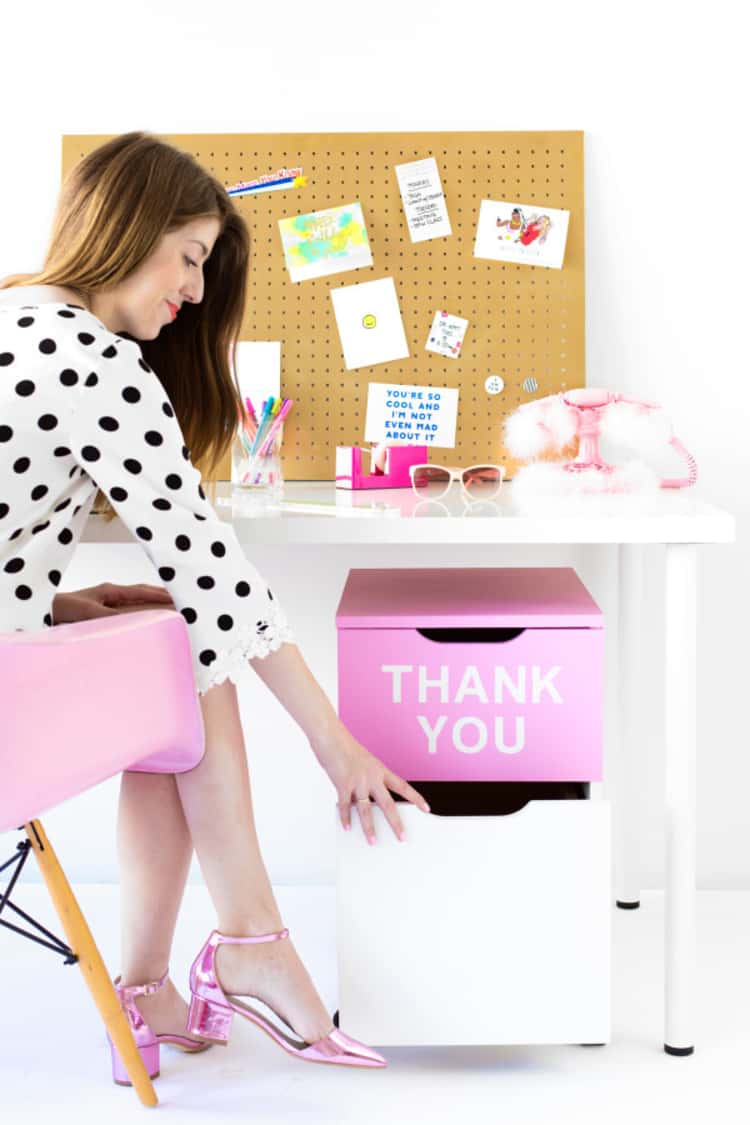 12. Marble-Look For That Unique File Cabinet Makeover
Marble is adored because it always comes with unique designs, giving you your own distinctive beauty to admire. And there now ways to achieve that same look without weighing down your file cabinet. After using marble paper for this makeover on your filing cabinet, no one will easily guess this is a DIY!
Remember to also give the drawer pulls a makeover with a coat of metal leaf adhesive to compliment the new look for your file cabinet makeover.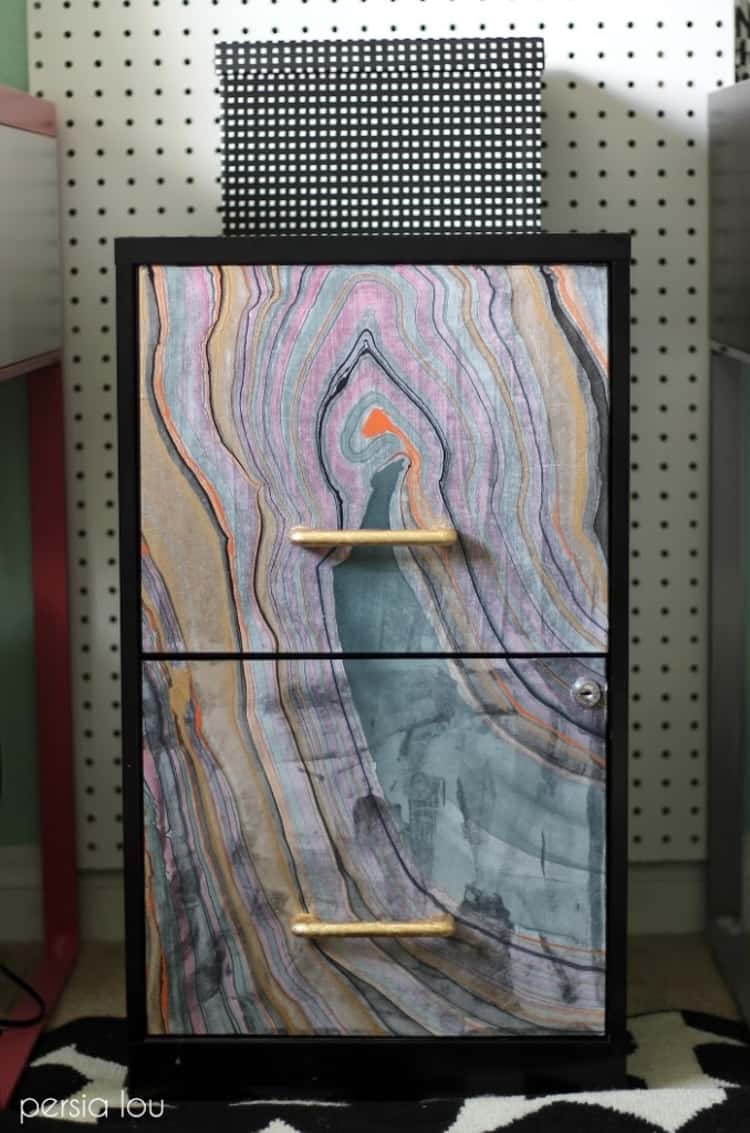 13. File Cabinet Makeover – Brilliant Junkyard Save!
Before letting that old filing cabinet head for the junkyard, give it a new lease of life with this simple makeover.
Give it some good sanding, 2 coats of paint in your favorite color, then create some modern and simple design using Washi tape and DecoArt chalk paint. I promise you won't believe it's the same filing cabinet that was headed for the junkyard. See how easy and beautiful this makeover is!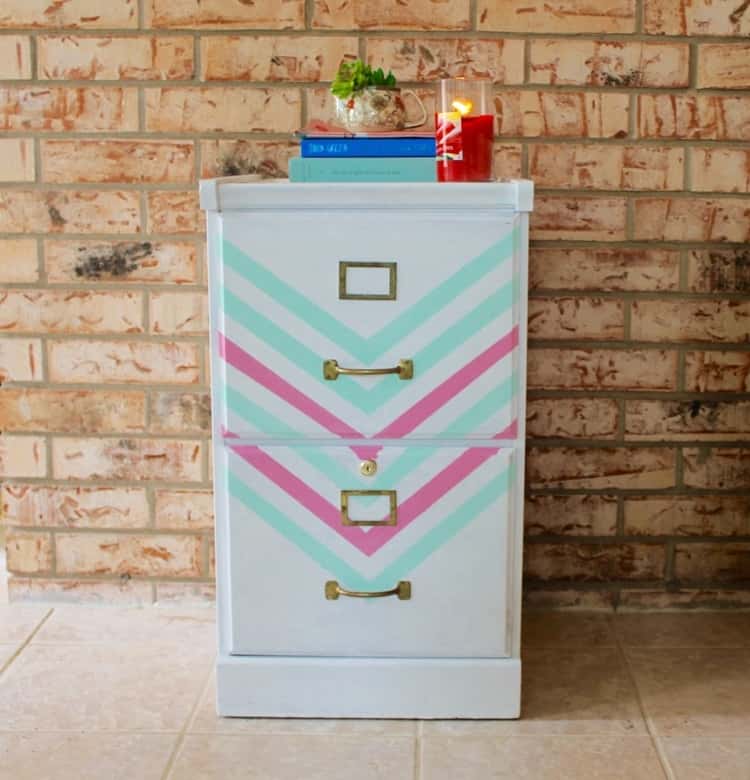 14. An Inspirational File Cabinet Makeover
Hate 'em, love 'em? Metal file cabinets, at the very least, have something going for them  – roomy storage, steady support, and durability.  However, they almost always need a makeover because they're drab, and come with that uninspiring gray color. With some little time and work, you can easily give any drab-looking metal file cabinet a makeover with some stencil designs and an inspirational quote. See how it blends in beautifully!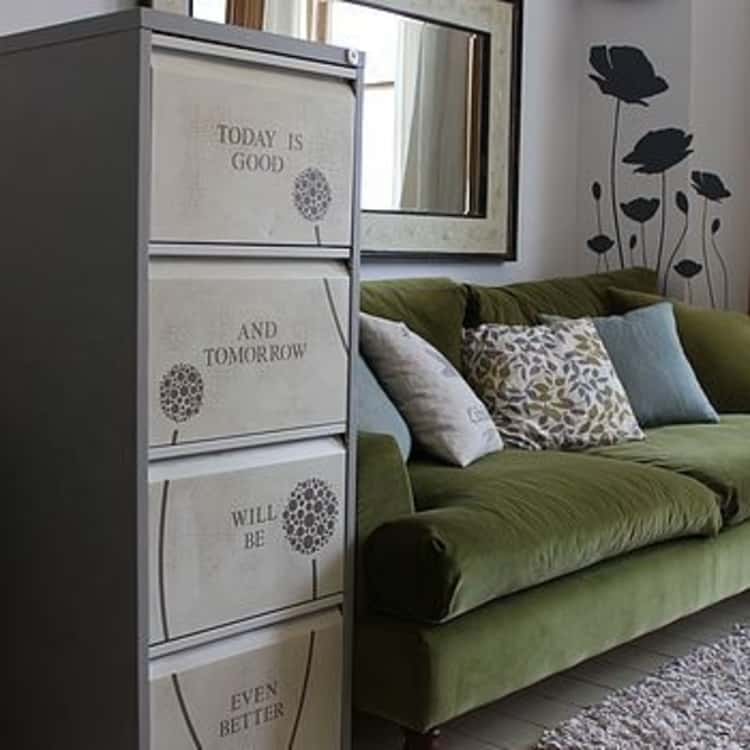 15. Another Fresh Metal Filing Cabinet Makeover
With very little time and some light arm workout, you can transform any dreary metal filing cabinet using wallpaper or contact paper.
First, give the metal filing cabinet a wash. Once dry, update its face with a fresh coat of paint and hardware. Next, decorate the sides and back using your wallpaper of choice. We love how this white and green leaf wallpaper gave this metal filing cabinet a fresh makeover.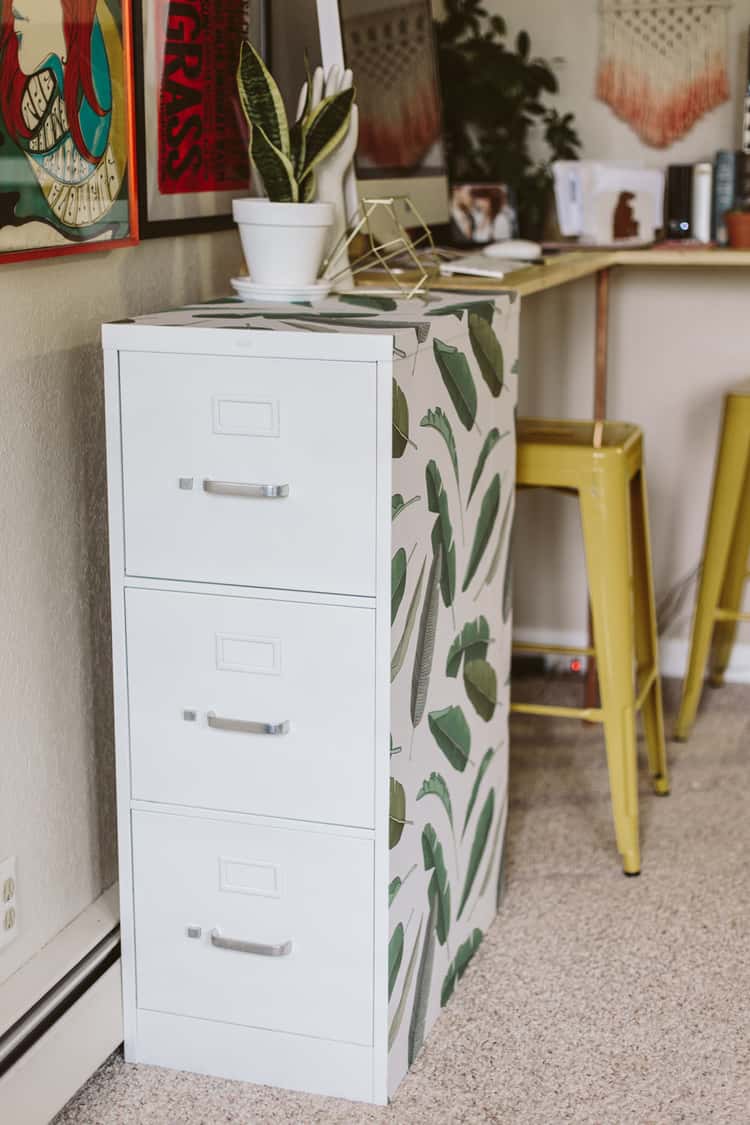 Had fun trying out these file cabinet makeovers? Here are other makeovers to check out!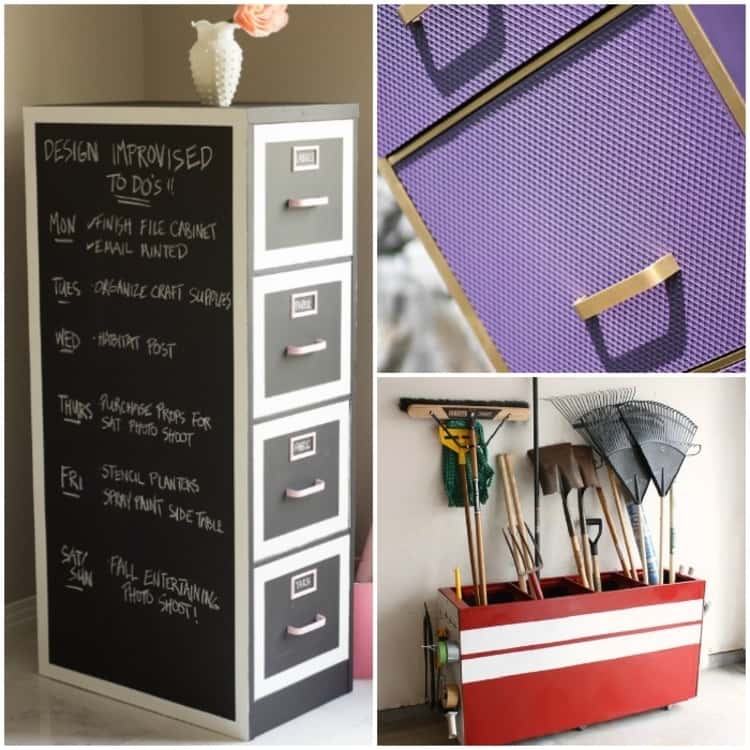 Which DIY filing cabinet makeover project are you doing today?