Who doesn't love a good shopping spree? Especially in the clothes and shoe section! I am a shoe lover who ensures to get a new pair every time I am out shopping. And guess what? With nearly every pair of shoes you buy, you receive a handy dandy shoebox to go along with it.
I want to believe you do keep the boxes. Why would you not keep them when they're incredibly useful for organization and play? More so you get to explore your creative side and do-it-your own hacks that turn out to be helpful and fun. Here are 16 ideas for shoeboxes to get you started. Your eyes and mind will be amazed by these genius crafty ideas.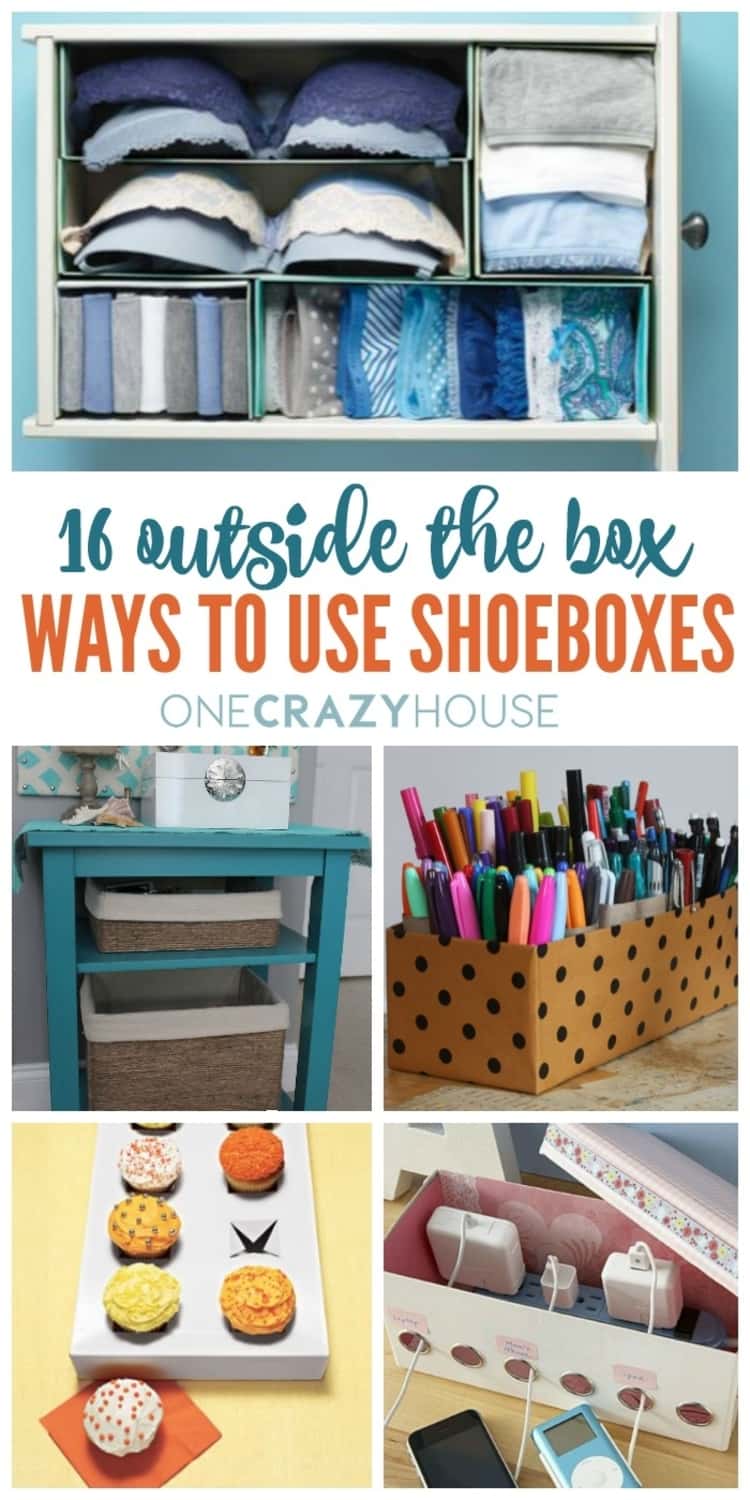 Clever Ways and Ideas for Shoeboxes
1. Drawer dividers from shoeboxes
Organization comes out as a struggle to many but with shoeboxes, this could be history. Easily cut shoeboxes in half, and insert them in your underwear drawer. They make excellent drawer dividers for your t-shirts, lingerie, and some hygiene items too. More to this you can use them for your socks and ties. Just like that, you get to say bye to clutter and disorganization in your chest of drawers.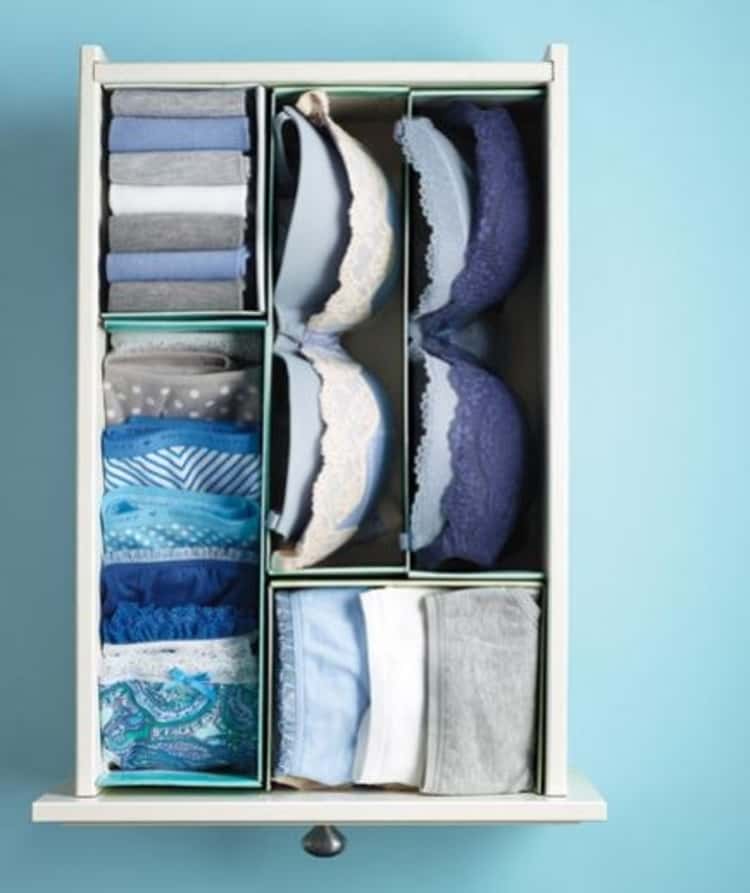 2. Shoe Boxes as Storage Containers
For operation Christmas child shoeboxes are by creating beautiful storage containers. You'll want to keep it forever by covering the boxes and adding leather embellishments. How gorgeous of an idea. These embellished boxes make your home classy in addition to creating more space by having things stored in them. One could stick them together in order of size and be able to come up with more room for other stuff.
Here's another way to make them!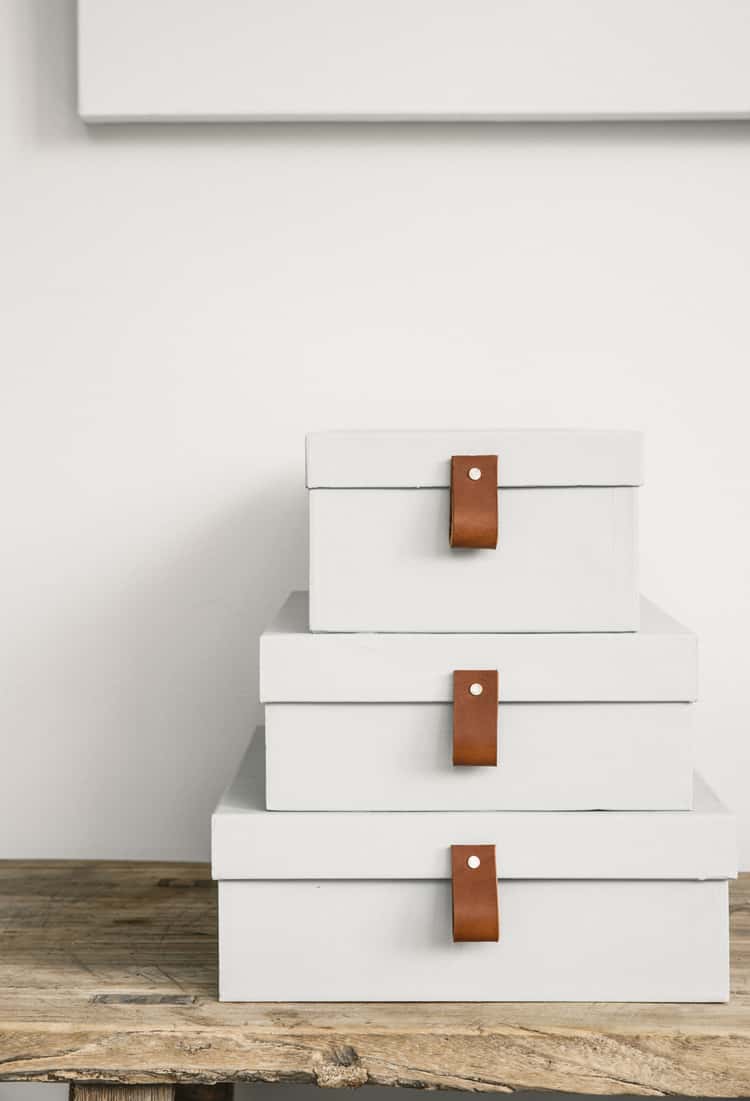 3. Shoeboxes as Charging Stations for your Phones.
Cables can be messy and a hazard in a home especially with kids around. There's no need to worry when you've got your unused shoeboxes with you. A few holes and metal rings easily create a pump charging station for your phones. The shoe box keeps the mass of cords hidden, so your countertop is no longer an eyesore. How great of an idea to beautify your spaces!
Here's another way to make it!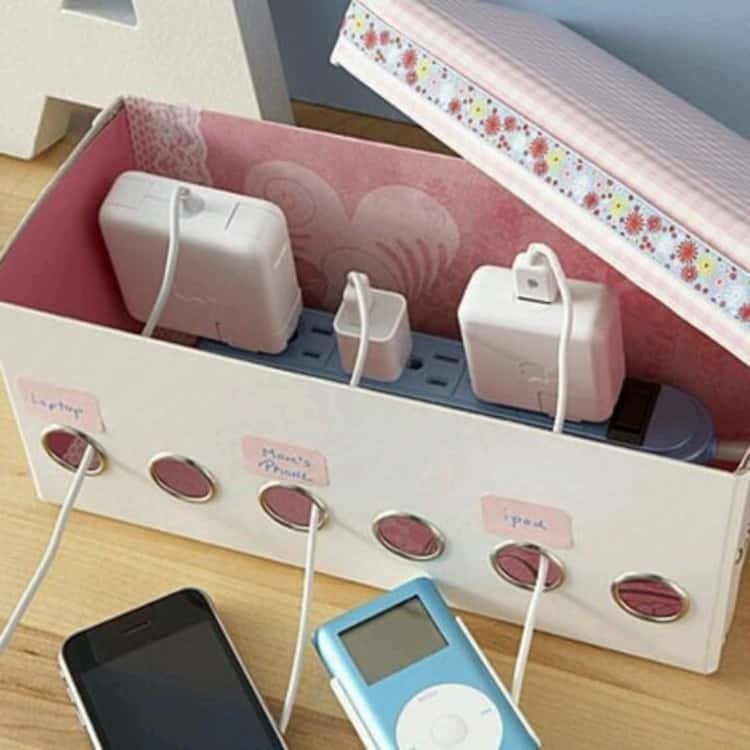 4. Storage for Cords Crafted from Shoeboxes
Seeing wires or cords everywhere can be pretty much annoying. Also, them being placed anyhow predisposes them to damage and wear.  You could just use a shoebox to keep your cords tidy between uses. Plus this makes them easily accessible and safe from tears. Your home certainly needs this cord organization idea that is costs no dime. Just a shoebox lying idle could turn out to be your DIY crack for your electronic cords.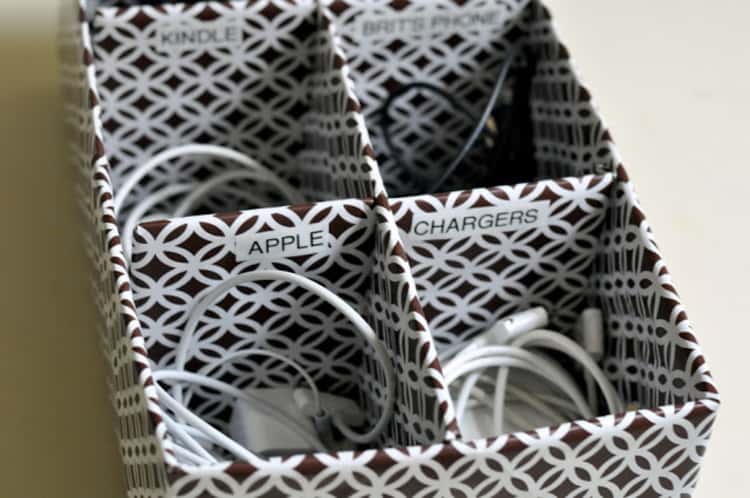 5. DIY Ribbon Organizer From a Shoebox
If you're the crafty type, make a ribbon organizer out of a shoebox. I particularly love to play with colors and here is one opportunity for you too who fancies ribbon crafts. And what better way than to make all this with a box idling in your home? And the colors are just magic on their own. You could do the same thing with twine. You could have as many holes as you'd love depending on the number of ribbons you have.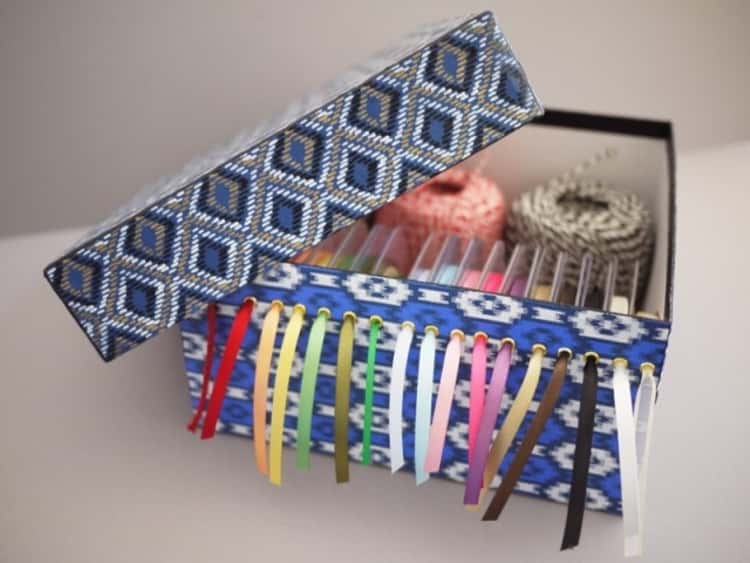 6. DIY Garage for Toys Out of Shoeboxes
Another exciting idea of the ways to use shoeboxes is to make a garage for toy cars! This is an adorable replica of Tow Mater's garage, so Cars fans will love it. Especially kids who are car fanatics and have tons of them in the house. This would be the perfect way to store their toy cars and at the same time learn and enjoy a DIY idea. Is that an Alexander Macqueen I am seeing? I am already excited to start this project with my kids and teach them this crazy idea I came across.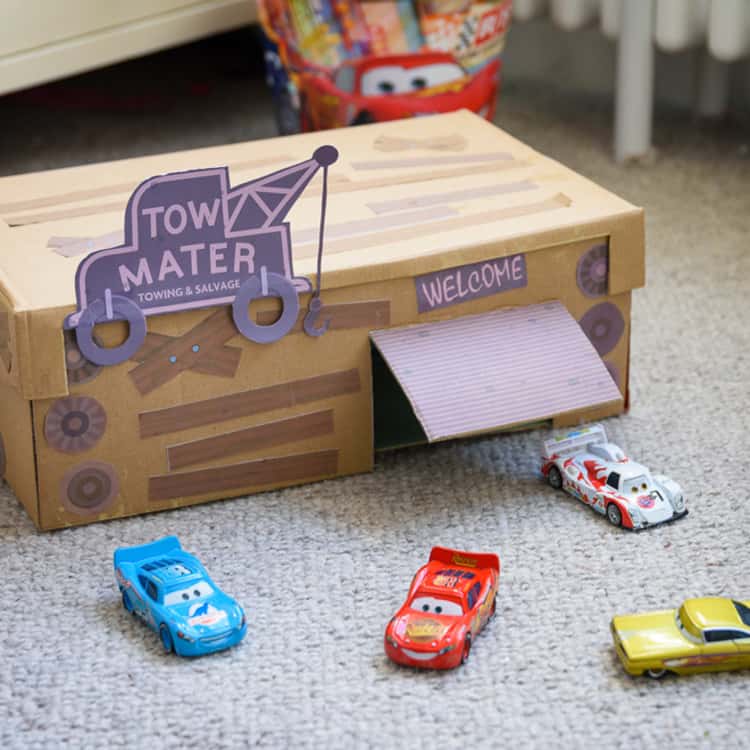 7. Shoebox hack of a pens organizer and holder
Toilet paper rolls plus a shoebox equals a smart way to organize school supplies. If you have tons of pencils, scissors, sharpeners, glue stick, and colorful pencils,  as I do, yes, you need a pen organizer this big. Your work areas and study tables don't have to look crappy when you could do an organization this simple. This is one of my favorite crafts ideas that I picked a couple of months back. I can comfortably work knowing my space is clean and all my pens and crayons are within reach.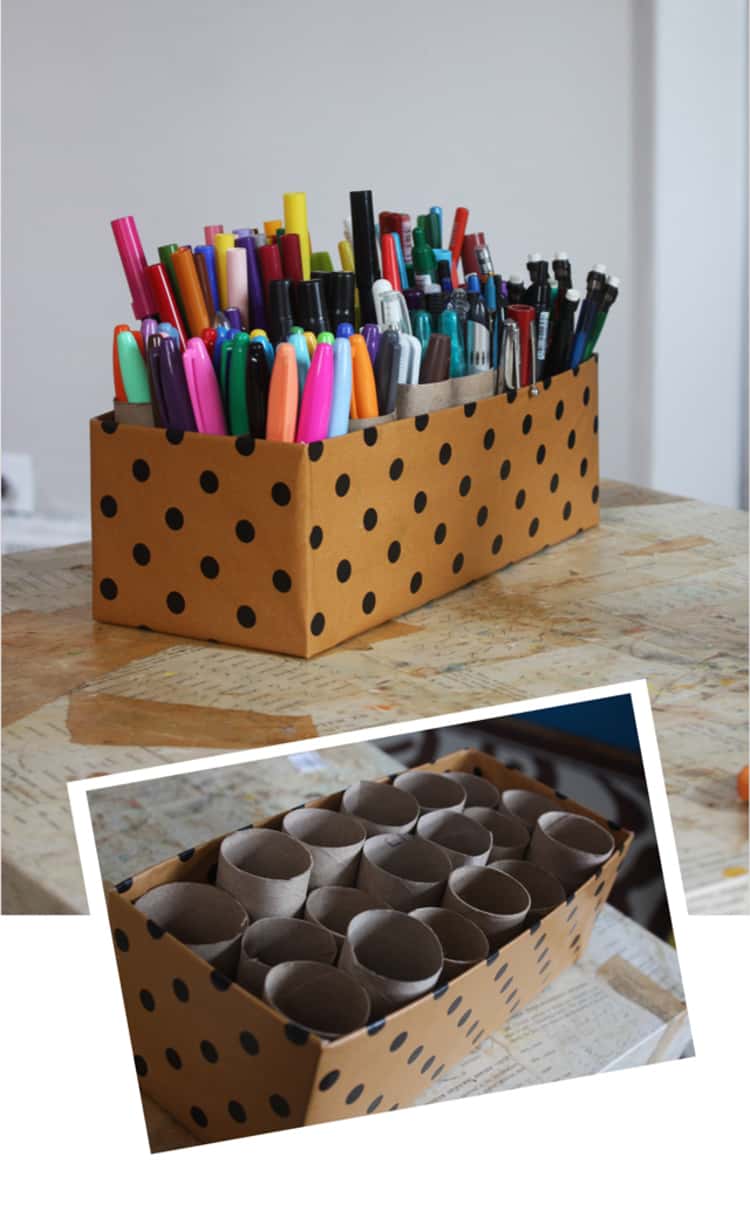 8. Beautiful Decorative Shoeboxes Wall Art
Tired of glaring at your bare walls at home or office setup? We've got you. Worry not. With your old shoebox lids, add fabric and studs to the shoe box lids, and hang them on the wall. When paired with other decorative elements such as printed fabric. They really do look like legitimate wall art. You can even come up with letters from the cutouts. Your home décor is made this much better and you could floss with it.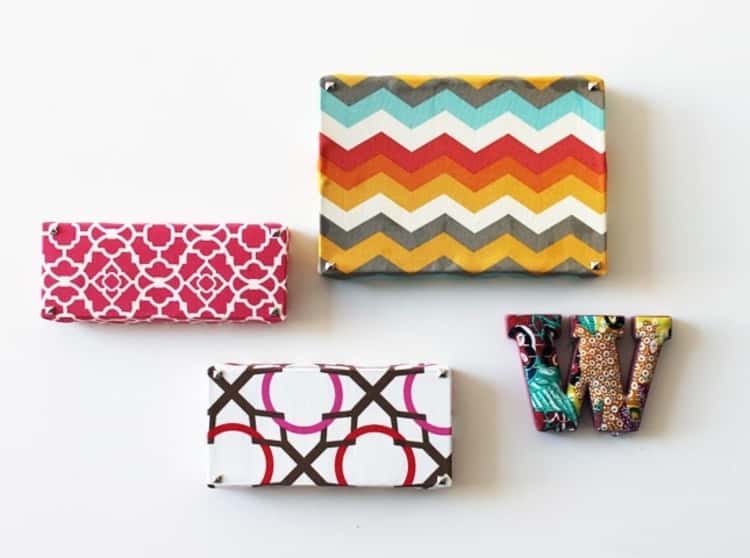 9. Shelving Units Crafted From Empty Shoeboxes
Shelving ideas are right here. Simply spray-paint the interior and exterior of the bottoms of your unused shoeboxes and stick them on your walls by use of a glue gun so as to create these beautiful and simple wall shelves. Remember to only place lightweight and no breakable items like snow globes or glass containers on the "shelves."  You could become creative and play around with the orientation of the boxes and the colors on them.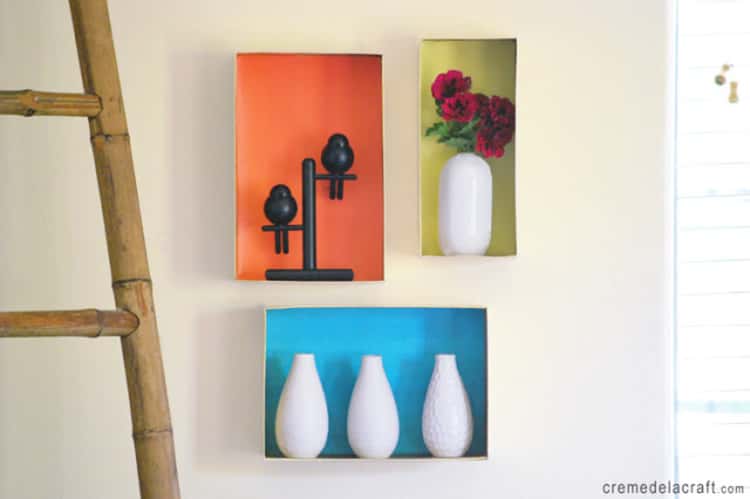 10. Shoeboxes Turned Into Picnic Baskets
Make a cute little picnic basket pack with candy, gum, chocolate, fruit snacks, drink mixes, liquids, and fruit rolls. Your DIY genius will be screaming out of joy when you are done creating this beauty. This basket is the perfect size for a picnic for two, or the kids would enjoy taking it on a backyard picnic. Your picnic dates don't have to be dull with this magical idea of ways to use shoeboxes. And on top of this, the red ribbon brings that extra touch of aesthetics.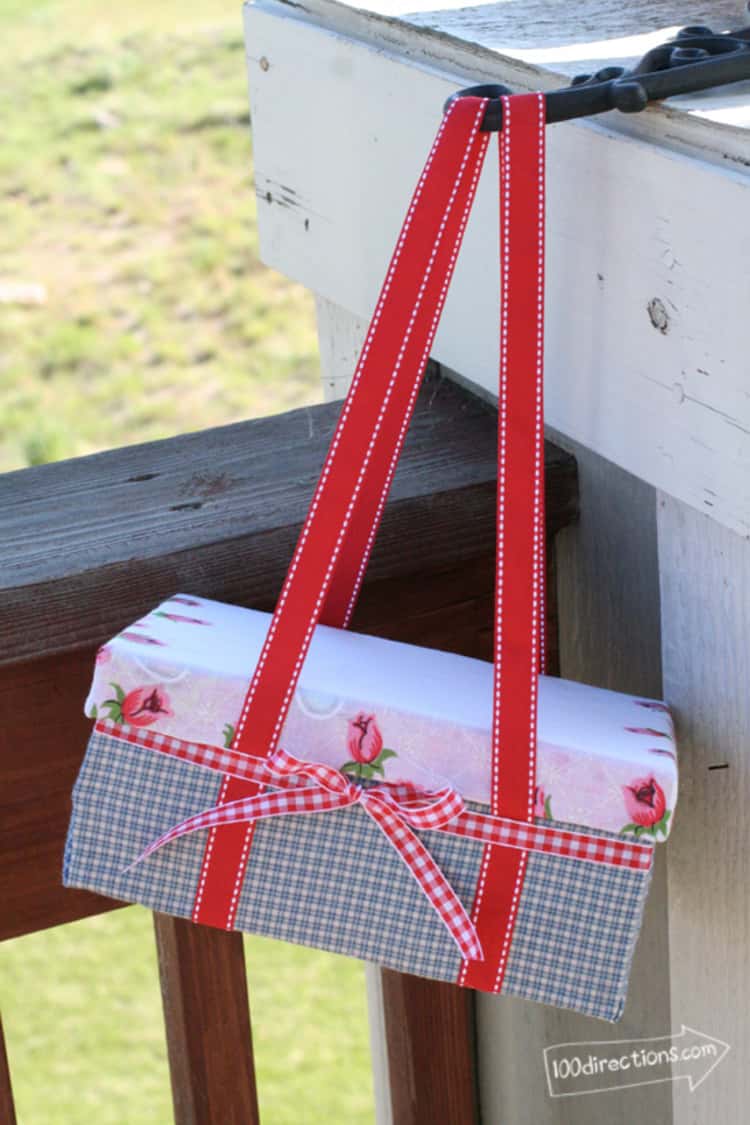 11. The Box Way of Cupcake Carrier
Wondering how to do this? Just cut x's in the top of your shoebox to make your own cupcake carrier shoebox gift. Once done you can place your baked cupcakes in the cut spots and your cake will be intact till when it's to be eaten. This idea is so handy when you have to transport cupcakes to school, a bake sale, or to a friend. You can be sure that your cakes won't get out of shape or be smudged.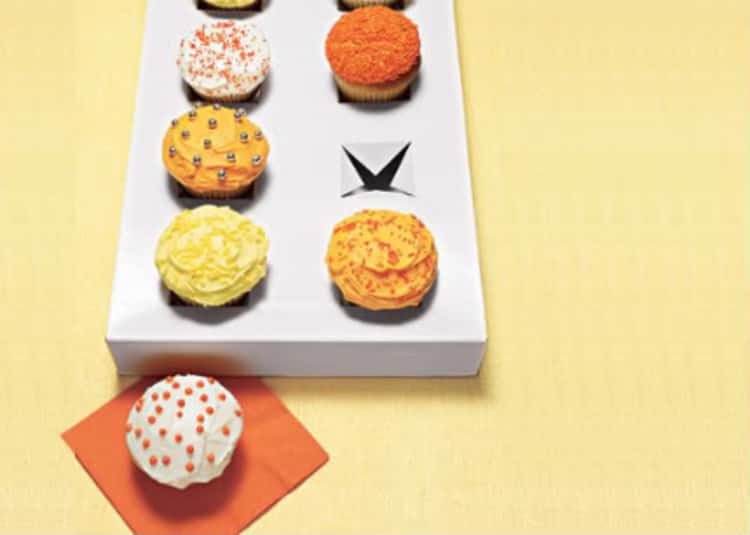 12. Portable Dollhouse or Café for Your Girl from an Empty Shoebox
Create a portable doll house or bakery for your daughter. This could be a good distraction for them and play toy whenever you need your me-time. Also, it is an excellent bonding idea for mum-daughter moments as you get crafty with this superb way of using shoe boxes. Boys could also take part in this creation as a café is a unisex play idea, you can just add military figures.
13. Decorative Cloth liners on Shoebox
Jute and a hot glue gun can work wonders for a shoebox! Just drop in some drop cloth liners or washcloths, and you're all set. You could use them for the storage of items in your home such as combs, extra batteries, flashlights, lotions, medications, toy guns, some extra knives, extra toothbrush, and toothpaste, extra bar soap, or even vitamins, notebooks, or picture books, musical instrument, solar calculators, aerosol cans, as they act as aesthetics for your space as well. This project allows you to give life to your shoeboxes and also organize your space.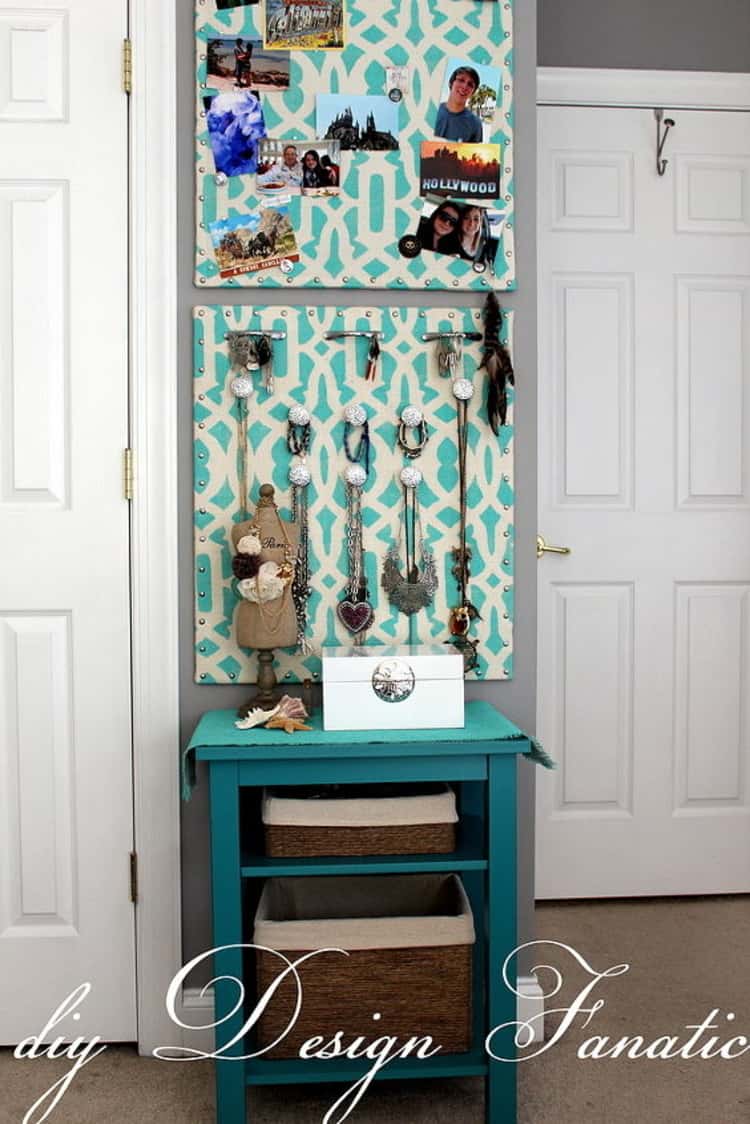 14. DIY Shoebox Compartments For Your Yarn
Are you a yarn lover? Keep balls of yarn from rolling across the floor or being tangled while you knit by creating these easy-to-make shoebox compartments. Why didn't I think of that? Lemme head to my yarn corner and pick all my rolls and place them inside this divided-up shoebox with holes on the top.  So excited for this escapade. Will you be a darling and join me from where you are?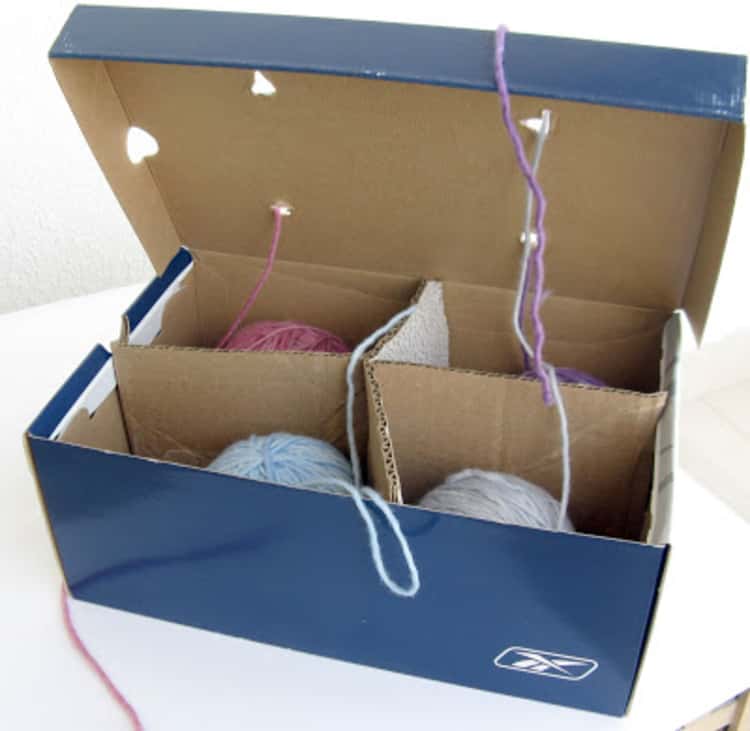 15. Shoebox Projector Hack For Your Smartphone
For those of us who love film and videos, this is a super crazy way to turn our smartphones into a filming device. And you don't have to struggle with the images being small as you can easily project them on a wall or cloth. Just build a projector for your smartphone from a shoebox that you can't find a use for and some office supplies. This is a neat project to do with the kids! And later after it cuddles in the living room and enjoys popcorns while filming your favorite movies or animations. Small budget tricks for you and your loved ones.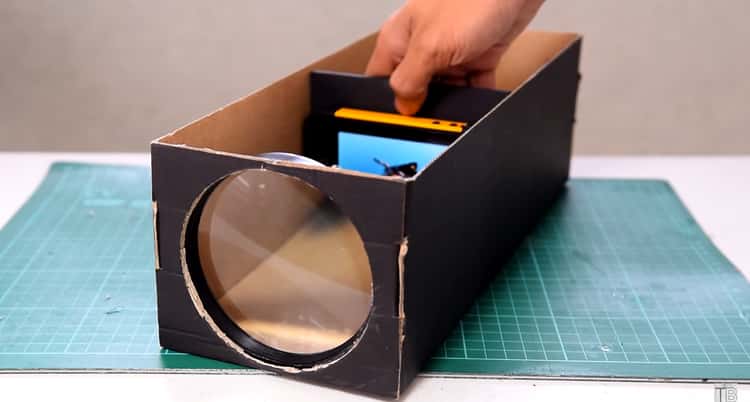 16. Gift box from an old Shoebox
This is a very beautifully crafted gift box. With just a no-longer-used shoebox you could make this gorgeous suitcase gift box. This would be an amazing way to gift a trip to someone! It is so uniquely embellished to look like an actual suitcase. My! I would love a surprise trip to Paris given from this box. I am certainly crafting this to give a surprise to my best friend and husband. Keep it for national collection week too!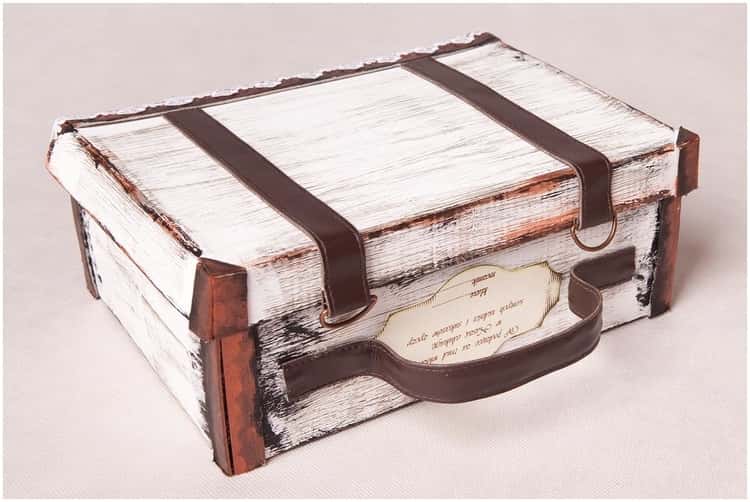 Enjoyed these 16 ways to use shoeboxes? You'll also like:
Clutter is nothing more than postponed decisions – Barbara Hemphill.