Have some old cookie sheets that have seen better days? Repurpose those old, rusty pieces of metal into something practical or beautiful for your home — perhaps a kitchen command center or an activity tray for the kids! Of course, you should make a batch of homemade cookies on your cookie sheet while you're at it.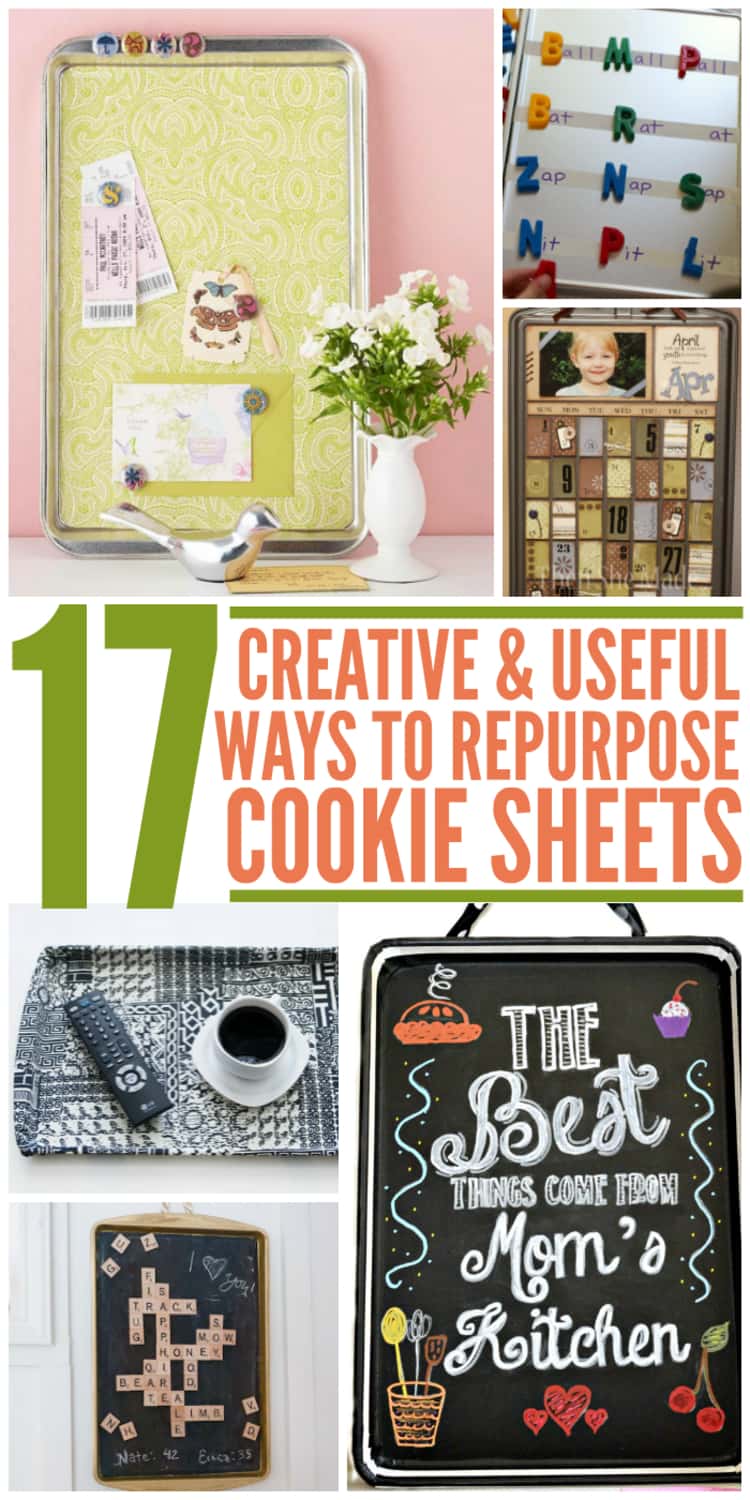 Fun Ways to Reuse Your Cookie Sheet
1. Keep The Kids Busy On A Road Trip With A DIY Travel Tray
One thing I've learned when dealing with kids is that they get restless pretty fast. They are constantly in need of excitement or constant activity or they'll get bored. Their restlessness grows worse if you decide to take a road trip and they have nothing to do but watch cartoons or listen to boring adult music the whole way.
If you know what I'm talking about, you'll love this idea. Make a travel tray the kids can use whenever you take a road trip. You only need a cookie sheet, some fabric, and spray adhesive for a simple travel tray. The more creative of us can add some flair with a cushion to make it more comfortable for your child. The last thing you want to deal with after an 8-hour road trip is a whiny child.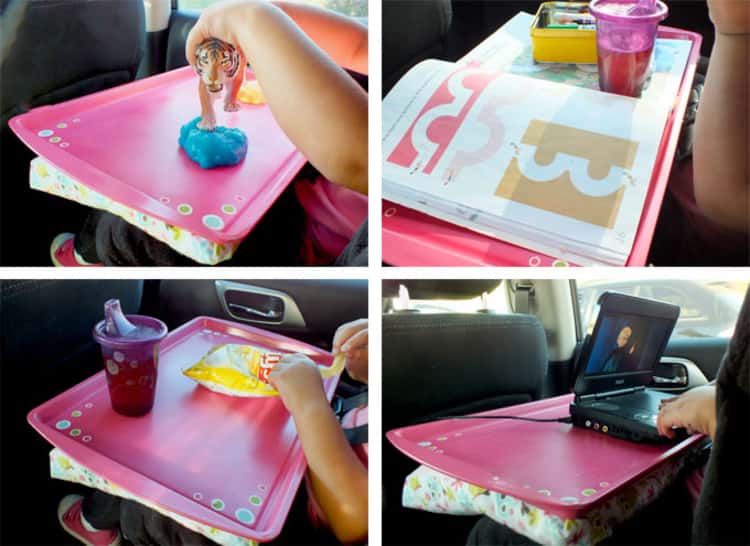 2.Got A Message For The Kids? Pin It Up On A Cookie Sheet Bulletin Board
This DIY bulletin board is so easy to make you don't have to think about it. Set up a colorful board that everyone in your home can use to leave notes and important reminders.
What You Need:
Old Cookie Sheet
Wrapping Paper
Glue
Magnets
How To Do It:
Cut out wrapping paper the size of the inside of the cookie sheet
Glue wrapping paper to the inside of the cookie sheet
Use magnets to stick mementos, photos, reminders, etc
Yes, guys! It is literally that easy to make your own bulletin board. Get that old cookie sheet out and get creating!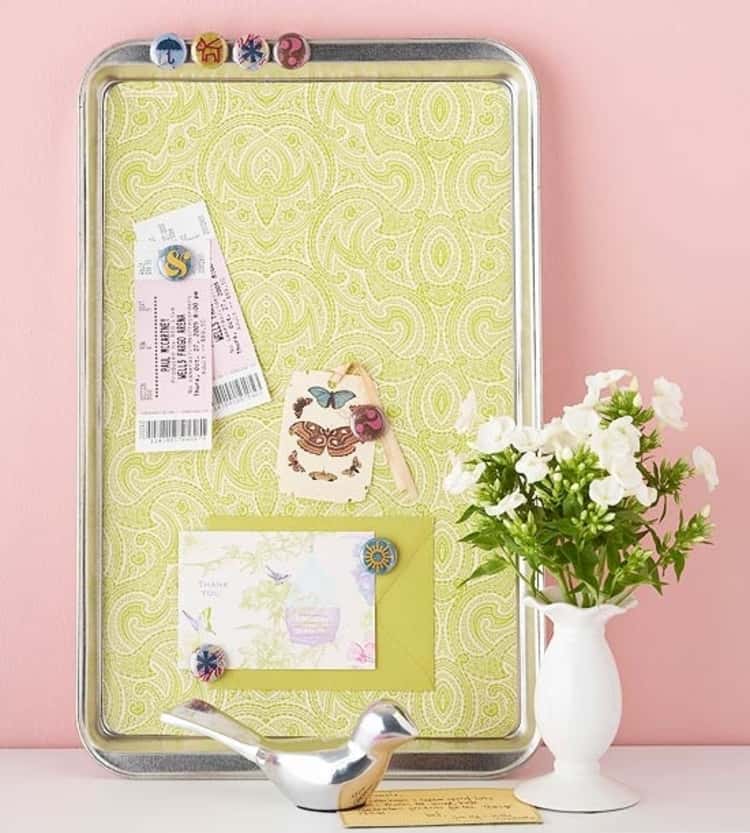 3. Easily Make A Chore Chart From Using A Cookie Sheet
Found a way to get your kids to help out without making a fuss? I couldn't think of a better way to do this than making an adorable chore chart with magnets. It's so easy that even very young children can understand the symbols on each magnet. Genius!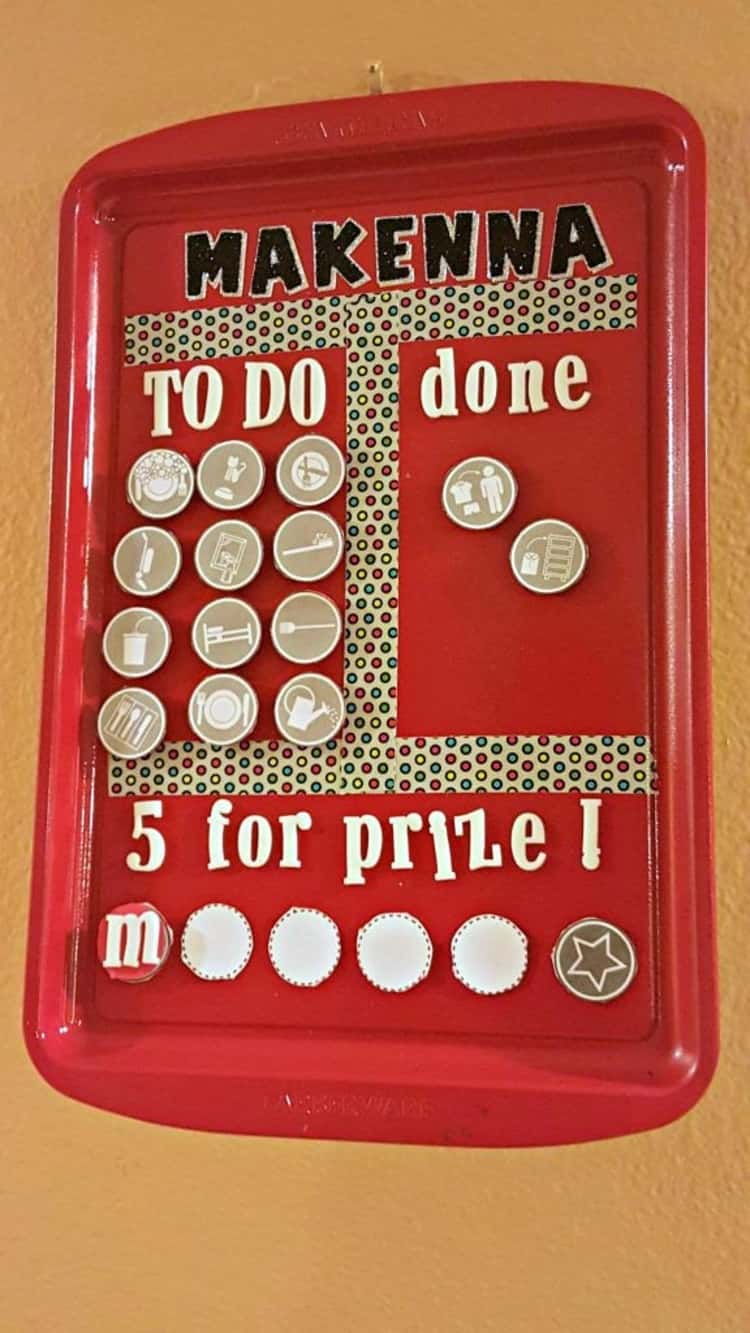 4. Why Not Chalk It Up With A Cookie Sheet Chalkboard?
Your kitchen could use a chalkboard, couldn't it? You can write the menu on it each week or leave fun messages for the family. You can also gift it to someone special with a special message on it. And it's incredibly easy to make!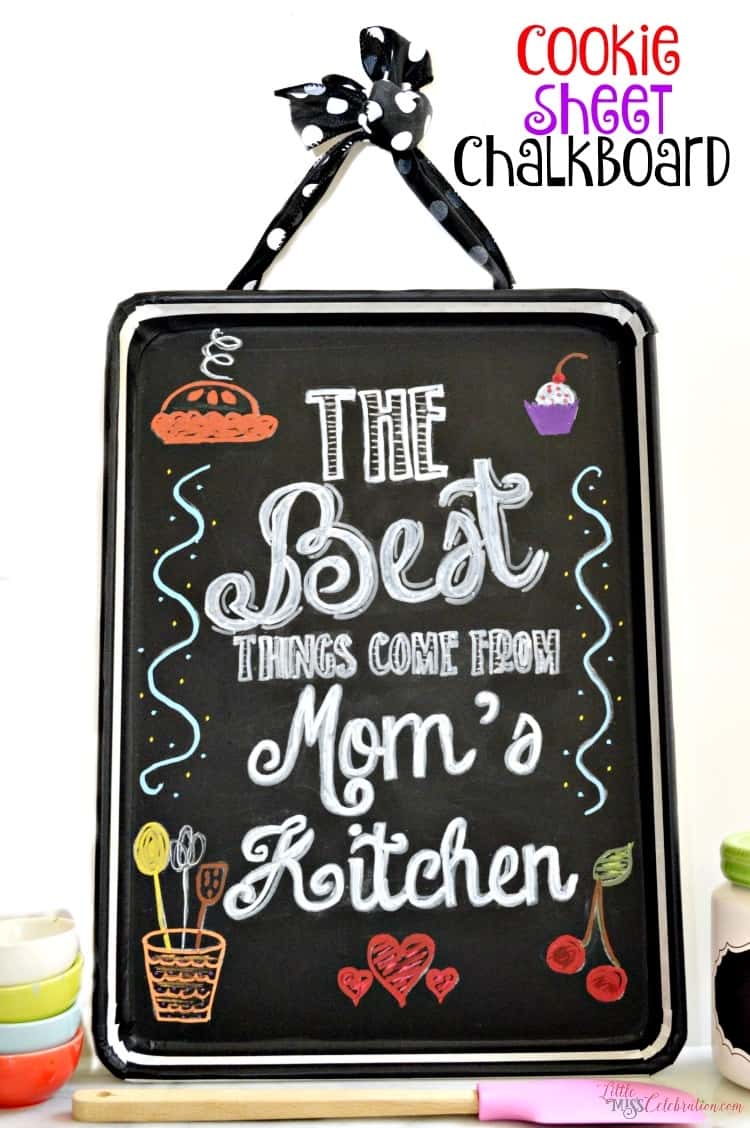 5. The Kitchen Command Center – Where Good Food Lives
Food is important for our general well-being. Good food is crucial to a healthy and happy family. We end up opting for the not-so-healthy but quick alternatives to making a wholesome, home-cooked meal because most of the time we can't think of something to cook fast enough. With a simple 'meal timetable', you're able to better plan meals for your family and maybe, avoid the 'what's for dinner?' question.
This kitchen command center is exactly what you need for a simple and accessible meal plan. Since you use chalkboard paint and chalk to write on it, you can choose what aspects are permanent and which ones are subject to change. After all, who wants to eat the same meals for a whole month? You can decide how frequently you'd like to change your 'meal timetable' along with other great ways to customize this amazing craftsy piece.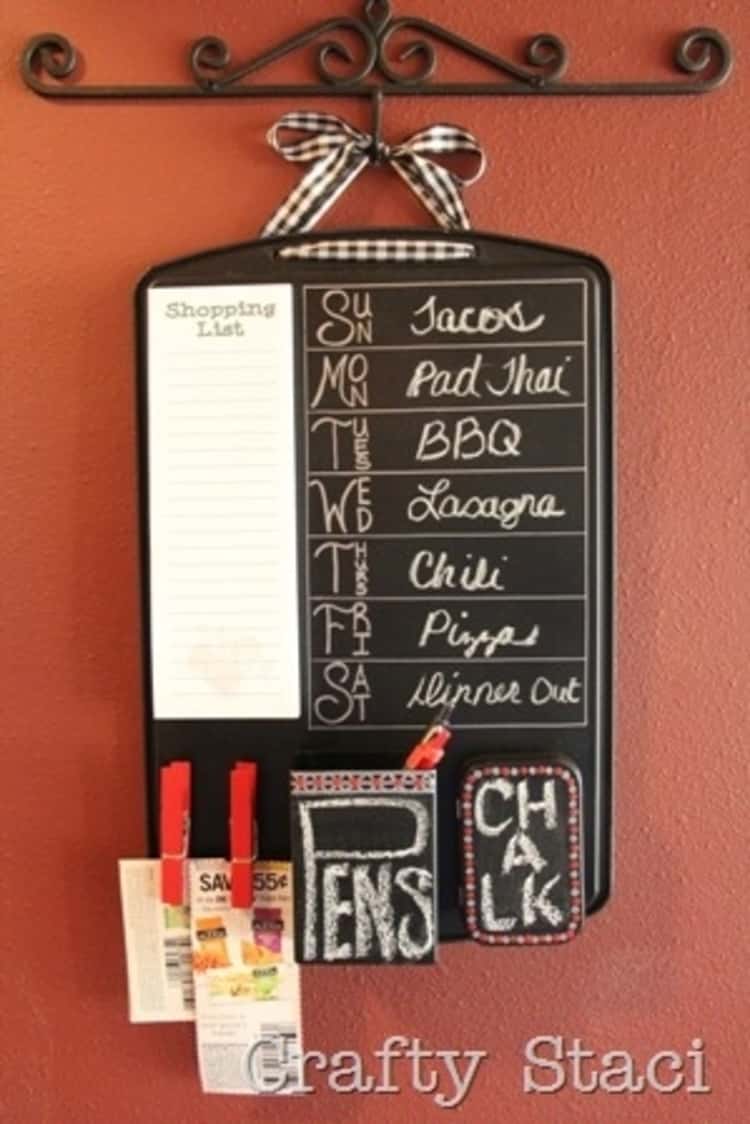 6. Help Your Little Helpers Build Words On A Cookie Sheet
Monkey see monkey do. This phrase does not just apply to monkeys. It applies to kids. Children are kinesthetic learners and most of what they absorb they learn by doing. Therefore, there is no better way to help kids improve their grammar than with this simple activity. Help little ones with a fun word-building activity. Smart! All you need is masking tape, a cookie sheet, markets, and magnetic letters to make this fun activity.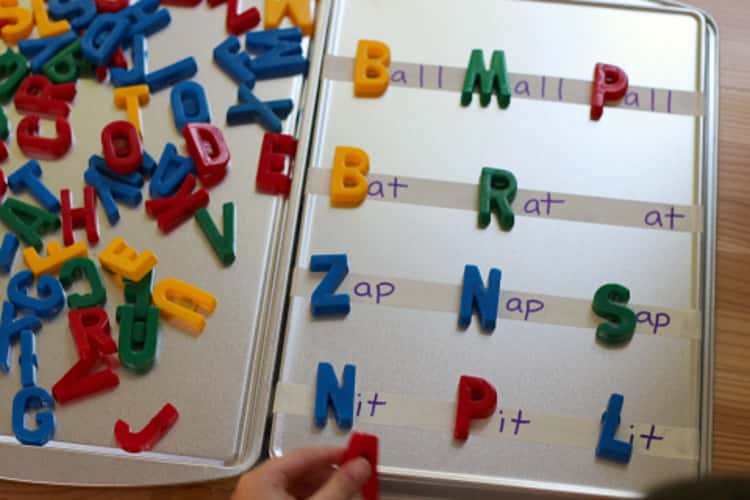 7. This Cookie Sheet Hack Is The Ultimate Upcycling Trick
The rainy season is never too far away and if you have kids, it can be a nightmare. Cleaning up muddy floors is no fun chore. That's why this cookie sheet hack is exactly what you need. Make a pebble boot tray to drain wet boots on when you come into the house.
You literally just need rocks and a cookie sheet. You can wrap the cookie sheet in saran wrap to make it easier to clean but you can skip the saran altogether. Ever found a better way to upcycle?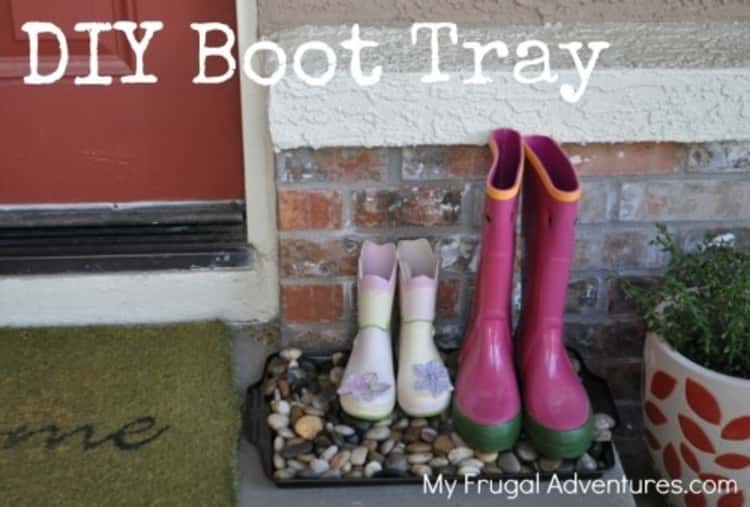 8. What's Cooler Than A Cookie Sheet Magnetic Makeup Board?
Is all your makeup taking up a ton of space on your bathroom counter? Here's a cool DIY hack to try. It is super easy to make, the monogram gives it a unique touch and you can have your makeup more organized and easier to access. No more losing mascara tubes and eyeliners!
This monogrammed magnetic makeup board would make a great DIY gift!
You Will Need:
A magnetic cookie sheet (stainless steel or other magnetic material will do)
Mesh pen holder (optional)
Spray paint
Vinyl
Sandpaper
Magnets
Do It Yourself:
Sandpaper your items -cookie sheet and mesh pen holder- to sand away any protective coating. This will help the paint stick
Spray paint your items in an open or ventilated space. Be sure to follow the temperature and drying time directions on the spray paint
Let your items dry and in the meantime, cut out your monogram from the vinyl
Once the paint is completely dry, stick on your vinyl sticker
Use the magnets to secure your makeup onto the tray and stick the tray on the wall using sticky-tack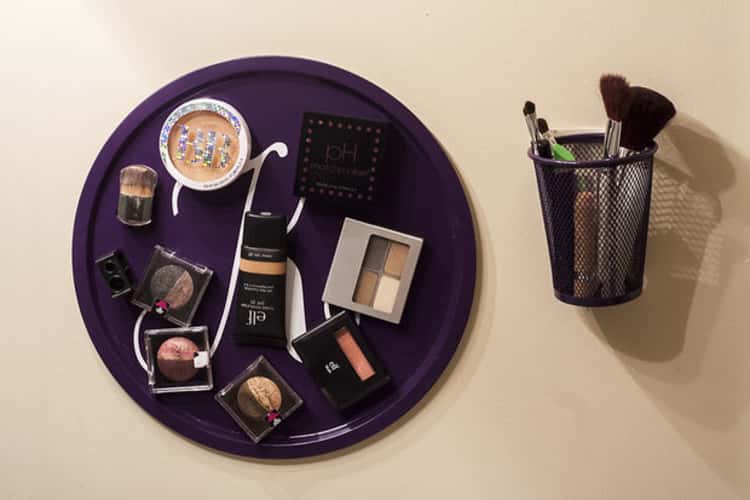 9. This Personalized Cookie Sheet Makeup Tray Has All The Pizzazz!
Still on makeup, here's another amazing idea to help you organize your makeup. Make a simple makeup tray for your vanity. This All-American Girl version is so fun and pretty low-budget to make. Whether it's your gift to yourself or a gift to others, you've gotta love how easy it is to personalize!
10. This DIY Cookie Sheet Activity Board For The Kids Will Be A Hit
Got kids who adore cars yet you struggle keeping them entertained for long bouts of time?  Make a board for the kids' toy cars. Draw a road, add some traffic signs… lots of fun!
Besides using these boards for their toy cars, carry along some chalk with you for the kids. When bored with racing their toy cars they can draw and write on the chalked-up boards. Road trips will never be a misery again for everyone involved.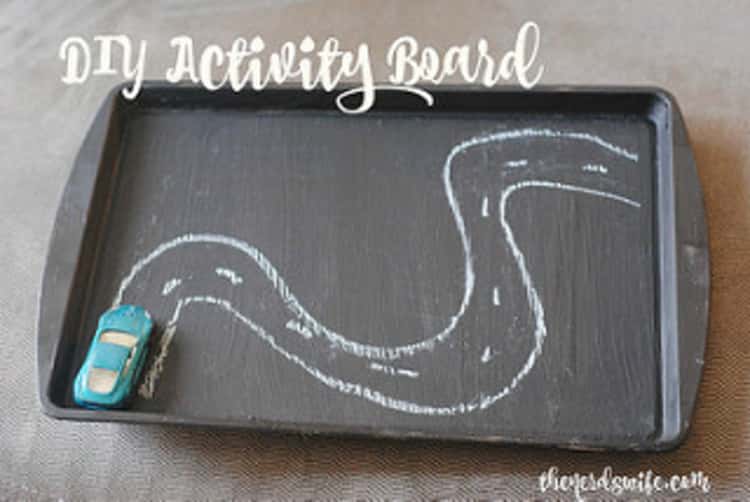 11. Transform Boring Cookie Sheet Into A Functional Beautiful Serving Tray
Breakfast in bed? Or you just need some central place to keep all your remotes? Why not turn an old cookie sheet into a lovely serving tray with some fabric and spray adhesive. It's that simple. Just make sure the fabric matches or complements your house decor and you're good to go.
We simply can't wait to make a few ourselves because breakfast in bed is such a heavenly idea, any day, and I wouldn't want to be competing with my remotes for one tray, lol!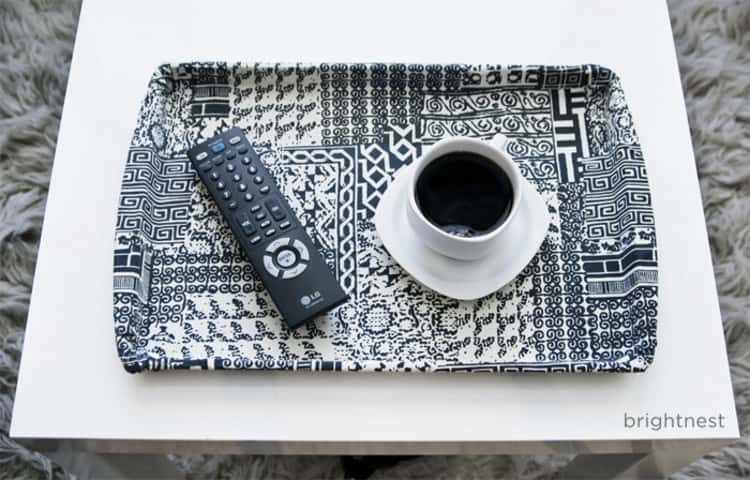 12. Save Your Summer With Cookie Sheets
Put together a couple of sets of travel games on a few cookie sheets for your next trip with the kids. It'll save your sanity.
And the best part is that the magnets holding the games in place also doubles up as the play pieces.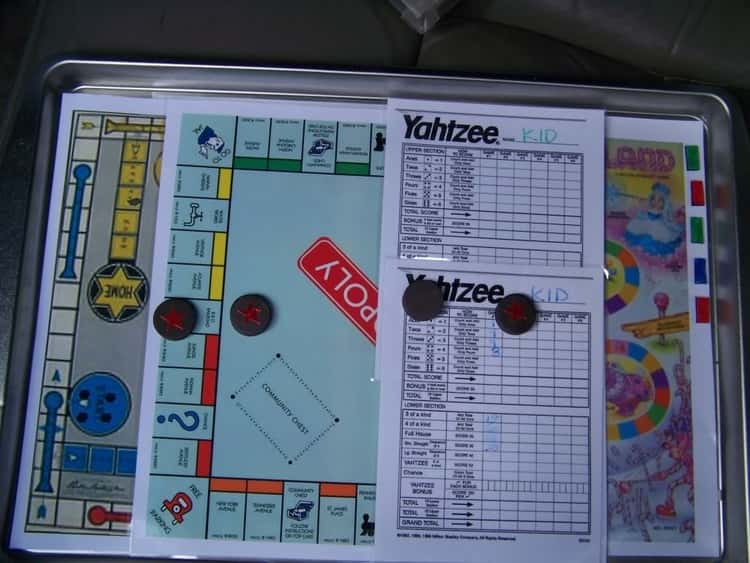 13. Now That's Another Handy Use For A Regular Cookie Sheet
There's always that scrabble game that doesn't seem to come to an end and were it not for other parts of life to be lived, we'd be at one scrabble game for days on end. So here's how we sorted things out: We made a magnetic Scrabble board to leave each other messages (and to beat each other in a word game, because we're the competitive types).
14. Who Knew Cookie Sheets Could Make Such Wonderful Gifts!
Aren't these cookie sheet calendars gorgeous? They make practical and useful gifts, so get started making them early for the holidays this year!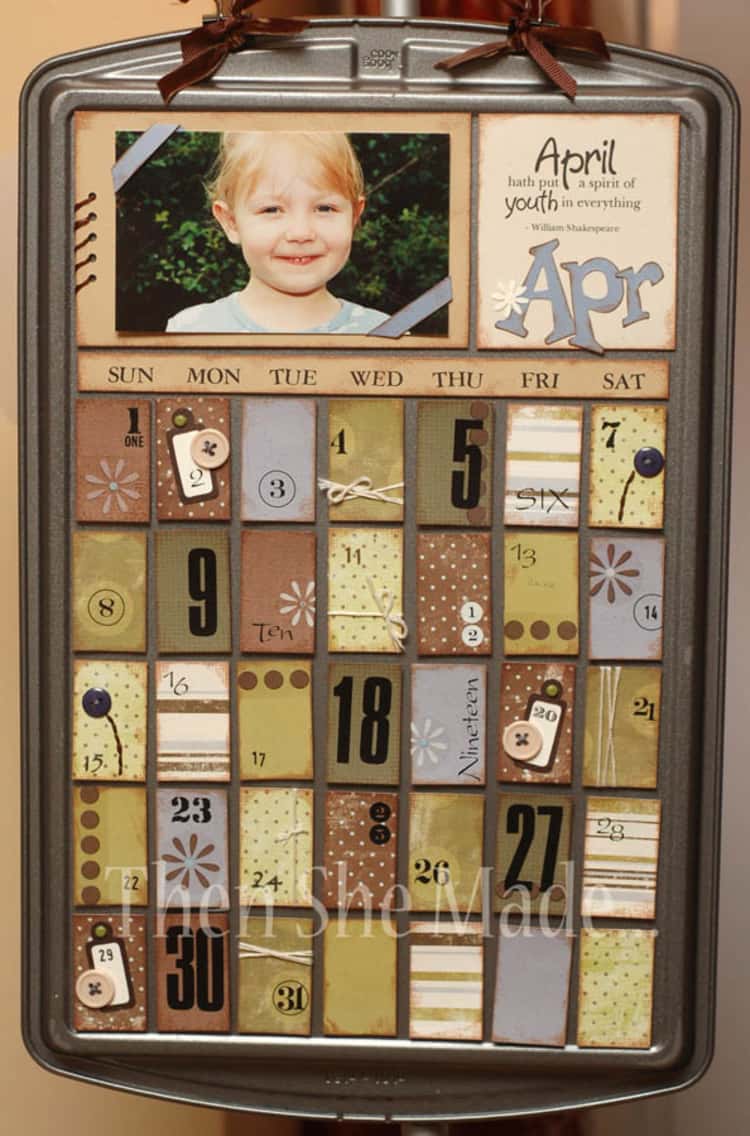 15. Nifty Baby Food Jars And Cookie Sheet Calendar
Speaking of calendars, Christmas just isn't complete without an advent calendar. Here's one with magnetic fillable tins. Now that's a nifty way to recycle and put to good use all those bazillion baby food jars you've got stacked away for no good reason.
16. How About A Cookie Sheet Art Gallery For Your Busy Resident Artists?
Your little ones are cranking art pieces every single day, sometimes multiple pieces a day. Wanna keep up with their artistry? Put their artwork in a folder and then designate a wall for your kids' artwork. Using magnets, you can easily change out which pieces are displayed.

17. Swap Cookie Sheets For Pizza Pans For Equal Hours Of Fun!
When you've run out of cookie sheets or you need to jazz up things a little bit, go for pizza pans instead. Spray paint them in different colors, and put them up on a board in your kids' play area or room. Isn't this magnetic board project adorable? Add some car magnets, and your child can have hours of fun!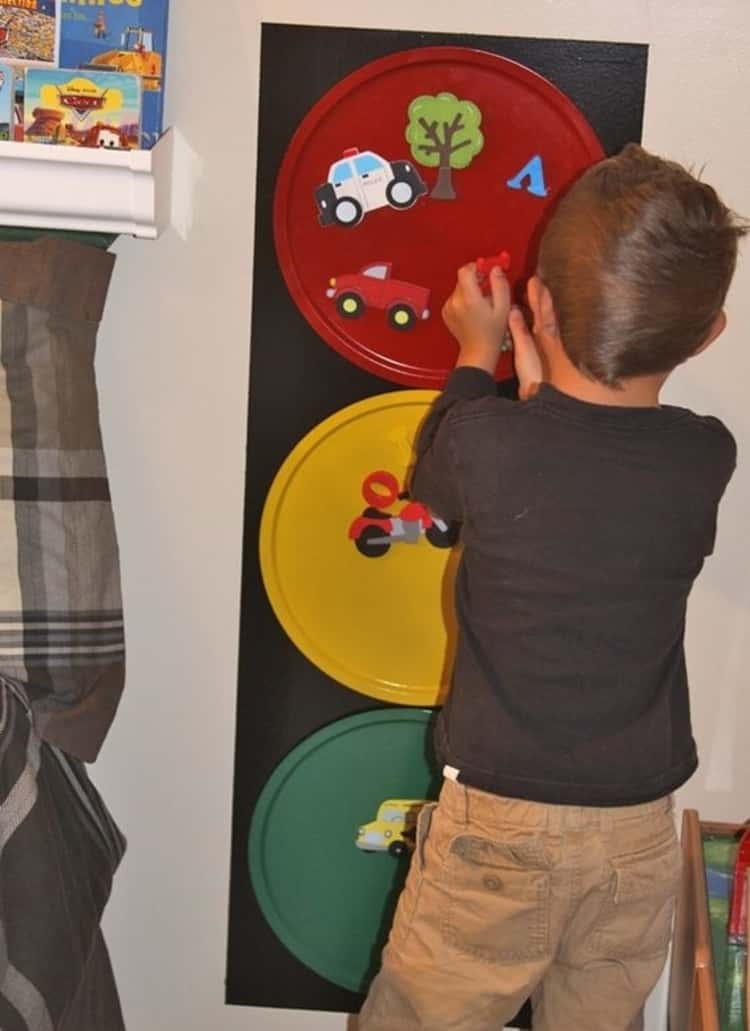 Enjoyed trying some of these creative ways to repurpose cookie sheets? Check out some more ideas to repurpose other everyday items!