Having a great-looking patio can help the warm summer be way more enjoyable. From DIY furniture projects to creative lighting these DIY patio ideas will help brighten your big or small backyard even if you are short on time or have a small budget.
If you are looking for summer projects and instructions these backyard patio ideas are sure to make you the envy of your neighborhood.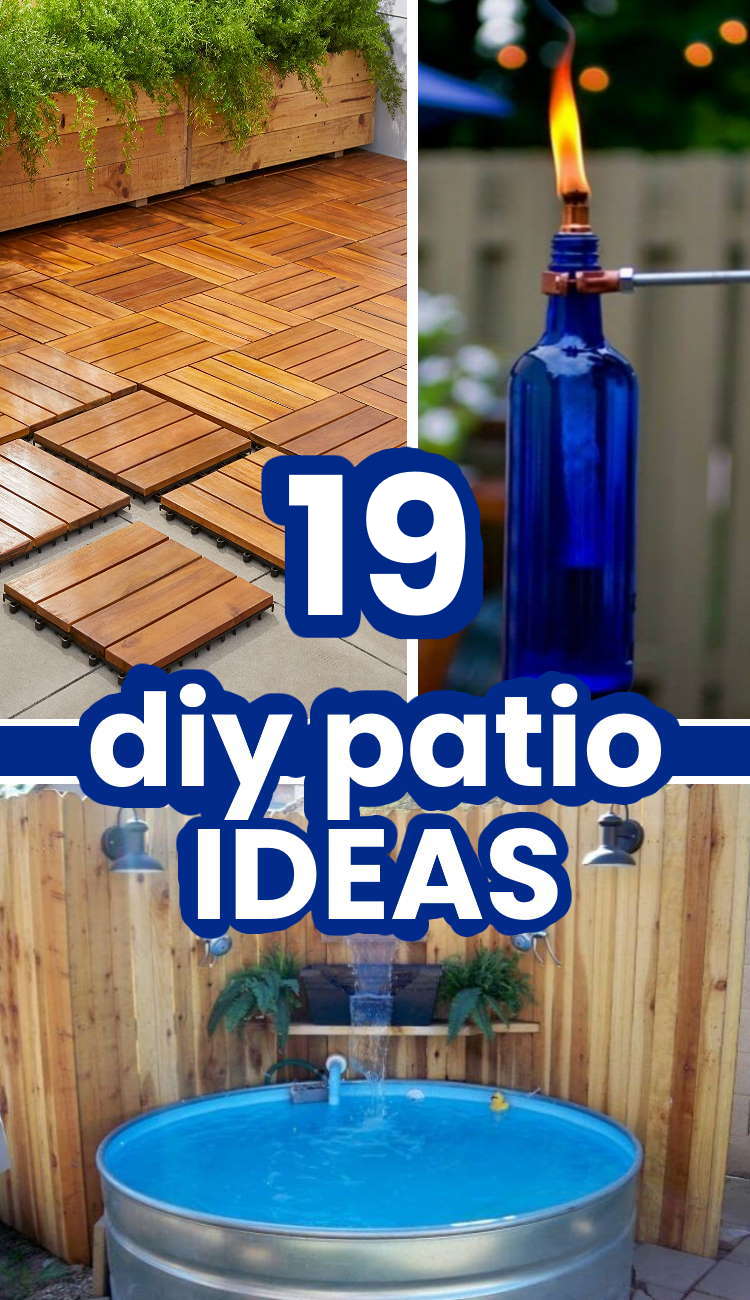 DIY Patio Ideas To Help You Love Your Backyard
1. Create a Patio Plunge Pool
How about a fun little patio pool to take a dip in when the weather is just too hot? How fun it would be to relax with the kids (or with a glass of wine, no judging) after a long day. This patio DIY idea provides a lot of fun without taking up a lot of space!  Use a stock tank, coat it with a thick layer of vinyl pool paint, and add a pool pump with a water filter – and viola!
2. Use Outdoor Patio Tiles to Create Spaces
This is a genius 30-minute project tutorial (or less)!!  You can completely upgrade the whole look of a plain concrete pad, with these super simple to install outdoor floor tiles.  Instant back-yard appeal – use the tiles to help break apart "zones" in your backyard or help create separate "spaces".
3. Wine Bottle Tiki Torch – a stylish alternative to outdated tiki torches
Put your empty wine bottles to use with this fun patio DIY idea. Wine bottle tiki torches create another lighting fire pit option for the patio (especially when you're having parties). Along with being another lighting source, these wine bottle tiki torches help keep pesky mosquitoes away. These are best attached to a fence or brick/rock or a live wall… don't put them too close to vinyl siding.
Here's another way to make them!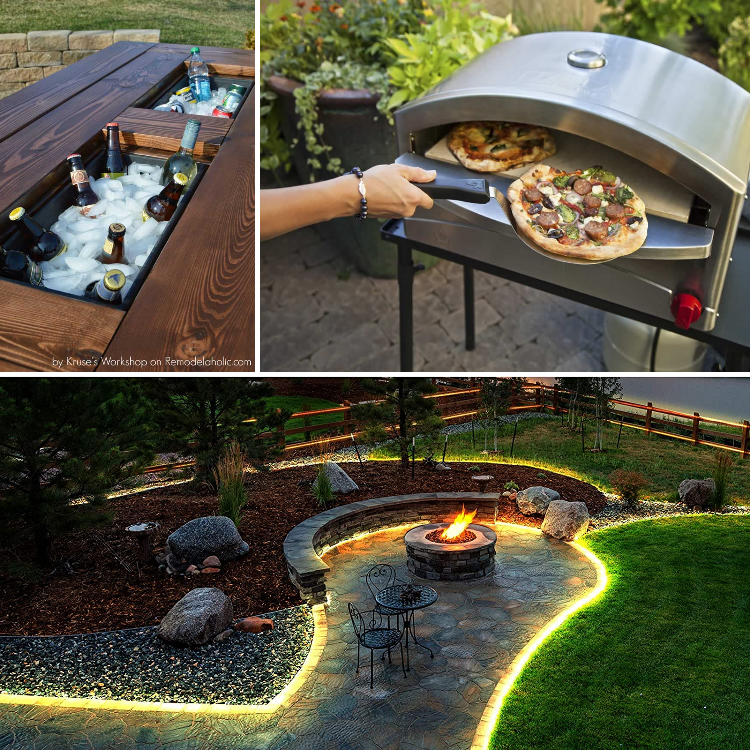 4. Patio Table With Built-In Ice Boxes – awesome way to keep drinks cold
Talk about GENIUS… this patio table with built-in ice boxes is such a clever piece. You can keep your stash of drinks cold while entertaining without going back and forth inside to fetch them. This patio diy idea combines outdoor bench seating, entertaining, and extra ways to enjoy your patio deck space. When the cooler is not in use you can slide covers over the space to make more room on the table!
5. Install a Pizza Oven
Even if it is a tabletop pizza oven – you will have an instant "fun factor" added to your patio outdoor living space!  Not only will your pizza be done in half the time (as a mom of six, this is a big deal to me!!) but it also tastes WORLDS better than anything made in your kitchen.
6. Rope Lighting Patio Walkway – easy way to brighten your outdoor landscape
Great lighting can really set the mood in an outdoor space. Consider adding some rope string lights to the walkway or around the perimeter of your patio to achieve a gorgeous glowing atmosphere at night.
7. Wire Basket Side Table – quick and easy patio DIY idea on a budget
This quick and easy wire basket side table is quick, easy, budget-friendly, and requires no power tools! Once you find a wire basket you spray paint it the perfect color to match your backyard patio decor. Next, stain or paint the round wood top. Last, you attach the wood round using low volt staples. It's as easy as that! You have a perfect side table on your front porch to hold plants, drinks, or anything else you need.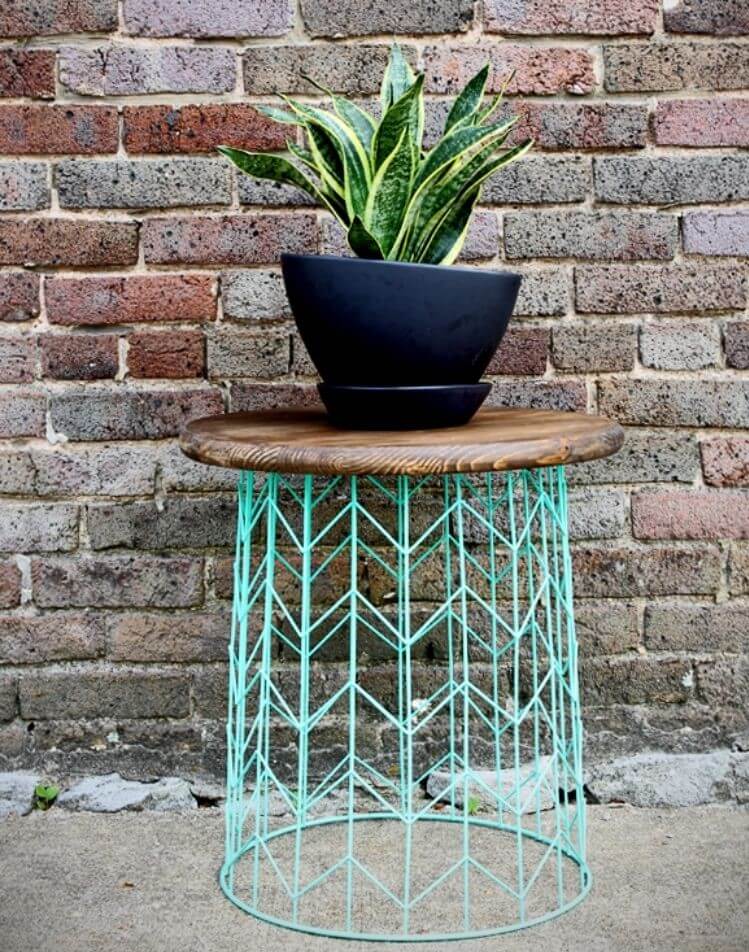 8. Rope Ottomans – outdoor furniture built from repurposed tires
Can you believe these rope ottomans are made out of old tires? Not only do they add visual interest to your outdoor space, but you can also use them for extra seating, lounge chairs, or tabletop space when needed. Here are the materials you will need:
An old tire
150′ of 3/8″ thick sisal rope
50′ of 3/8″ nylon rope
Hot glue gun & glue sticks
Scissors
Sealer & paintbrush (optional)
9. Cinderblock Outdoor Seating – easy DIY patio idea
Having a place to sit and enjoy your backyard patio is a must! This cinderblock outdoor seating is a creative way to add backyard furniture on a budget. To make this patio diy idea you need 6 concrete blocks, 4″x4″ posts, concrete adhesive, and cushions. Spray painting the concrete blocks and/or the lumber is a great way to personalize this project to match your outdoor space.
10. DIY Ladder Shelf – a fun patio DIY idea to add character to your outdoor space
Adding creative finishing touches to your outdoor patio space will build so much character to your backyard decor. This diy ladder shelf provides lots of opportunities to solve backyard organization problems while still looking super cute! A great way to use this ladder shelf is to display lots of different plants and flowers. You can also use it to organize outdoor items like kids' toys or gardening tools. Using just lumber, screws or nails, and paint makes this diy patio idea makes an easy project.

11. Grill and Bar Cart – sure to make summer entertaining a breeze
This grill and bar cart makes entertaining on the patio fun and easy. It offers a cooler, plenty of shelf/storage, and even a prep surface for cutting or chopping foods for the grill. The wheels give you the opportunity to move the cart where ever it is needed.
12. Create a DIY Patio Herb Garden
A terraced herb garden not only adds some greenery to your patio, but you'll enjoy being able to walk out your door to pick fresh herbs anytime you need them. The smell will also make this patio diy idea a great addition to your yard.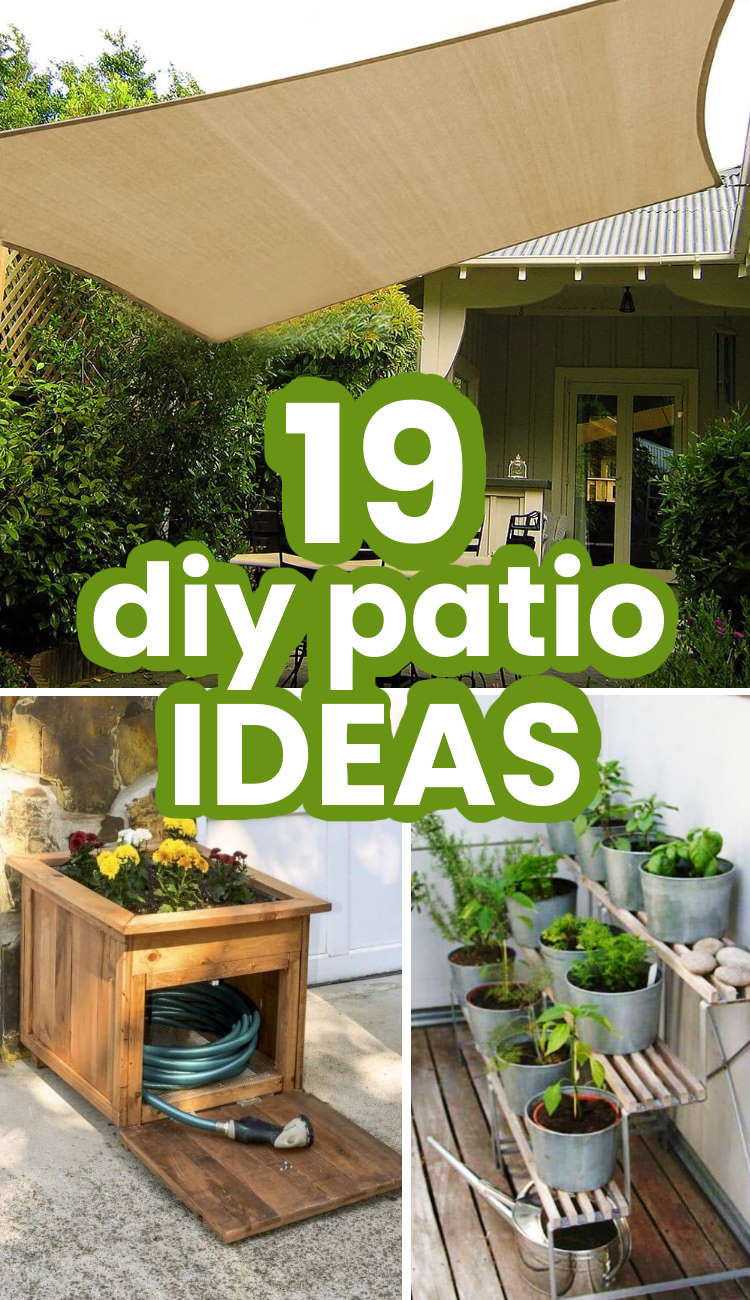 13. Summertime Floating Citronella Candles – a beautiful addition to your patio DIY projects
One of the easiest ways your time outside enjoying your patio can be ruined is by insects. Being swarmed by mosquitoes and other bugs is absolutely no fun. These mason jar citronella candles are an easy and beautiful way to keep pests away and enjoy your backyard. To make these you need:
a mason jar
liquid citronella bug repellant
scents that you enjoy like mint, rosemary, lemons, or limes
floating candle
Combine all of the ingredients into the jar and light the candle. It's as easy as that! The candles add a bonus light source and create a magical environment. Keep your sanity and set the right mood with this super easy and quick patio diy idea!
14. Wire-Hung Canopy – a patio DIY idea to add shade from the summer heat
The summer sun can easily send you back indoors at times. These diy canopy patio covers are under $50 and offer additional shade – it's another fast 30-minute project with instant results. Adding a rope pulley system can turn opening and closing the canopy panels a breeze. This is a gorgeous option that doesn't need to cover your entire patio.
15. DIY Hose Holder and Planter – a patio diy idea made from pallet wood
Keeping a hose handy is important in the summer. There are often flowers that need watered, kids stuff that needs washed off, and let us not forget running through the sprinkler on hot summer days! The hard part is how ugly hoses can be hanging or laying around the yard. This diy hose holder and planter is the perfect patio diy solution to hiding your hose while still keeping it close by. A bonus to building this diy planter is that it is made out of pallet wood, making your lumber free or very inexpensive!
16. Terracotta Pot Table – an easy patio diy idea to add extra storage
This is easy, quick, and can be customized to fit your outdoor seating. The key is to pic a pot that is tall enough to work as a side table and allows the base to fit on top without sinking inside the pot. Using a pot that is at least 12″ wide is usually a good fit. Also keep in mind to get the paint to last longer you can either use outdoor paint or regular paint sealed with polyacrylic. This terracotta pot table not only offers space to sit your drinks, but you can store things underneath too. You can never have too much storage! Over all, this is a unique diy patio project that is sure to add lots of character to your space.
17. DIY Patio Pergola – a relaxing way to enjoy your patio all day long
Can you believe this DIY pergola cost less than $200 to build? Using an outdoor fabric for curtains softens up the look and gives you some privacy when needed.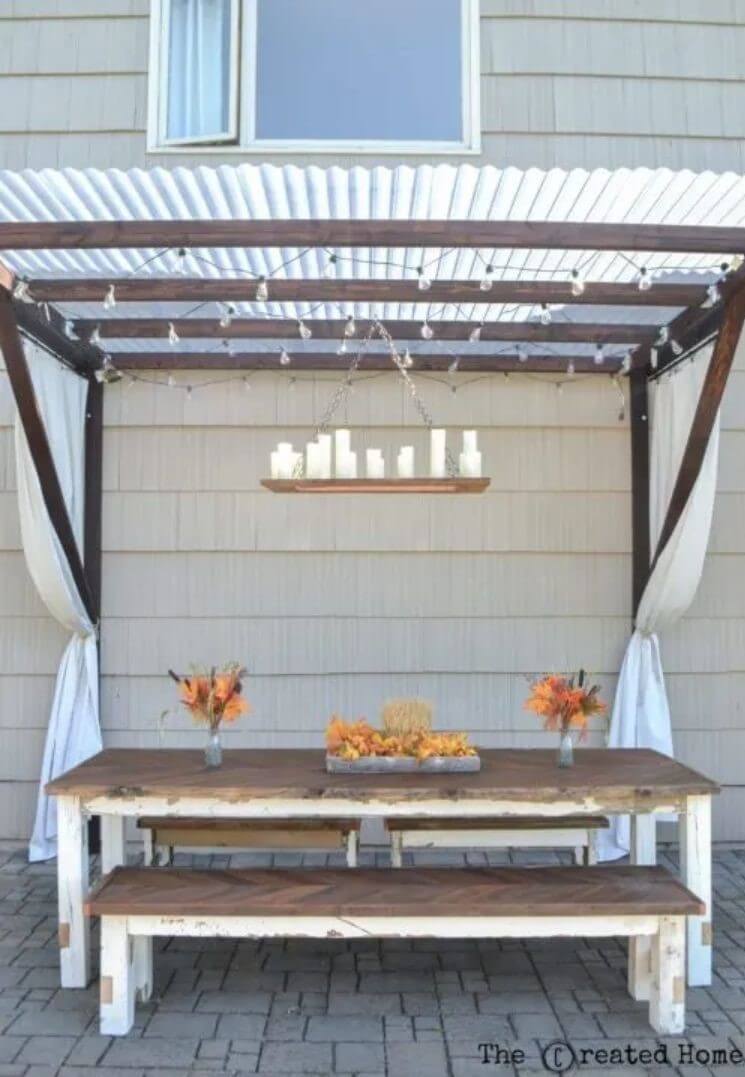 18. DIY Macrame Hammock – a fun diy to spruce up your patio
Try your hand at macrame with this DIY hammock. It looks simple enough, and you don't need any crochet tools… just your fingers will do! Macrame is very trendy and will add a relaxing boho decor style to your outdoor patio.
Here's another cute way to make a macrame hammock chair…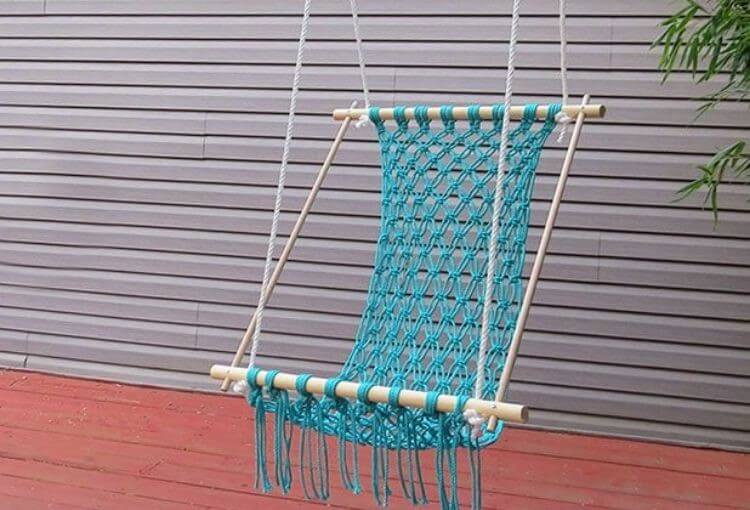 19. Outdoor Storage Box – can be used as a storage box, bench, and side table
An outdoor storage box is a must for the patio. It is a diy patio project that will last for years. You can use it to store so many things like kids toys or outdoor cushions when it gets really windy. We have really high winds on our street! Plus, the box can double as extra seating when you need it. Along with being a storage box and bench, it can also be used as a side table to hold drinks. You can't go wrong with this patio diy project!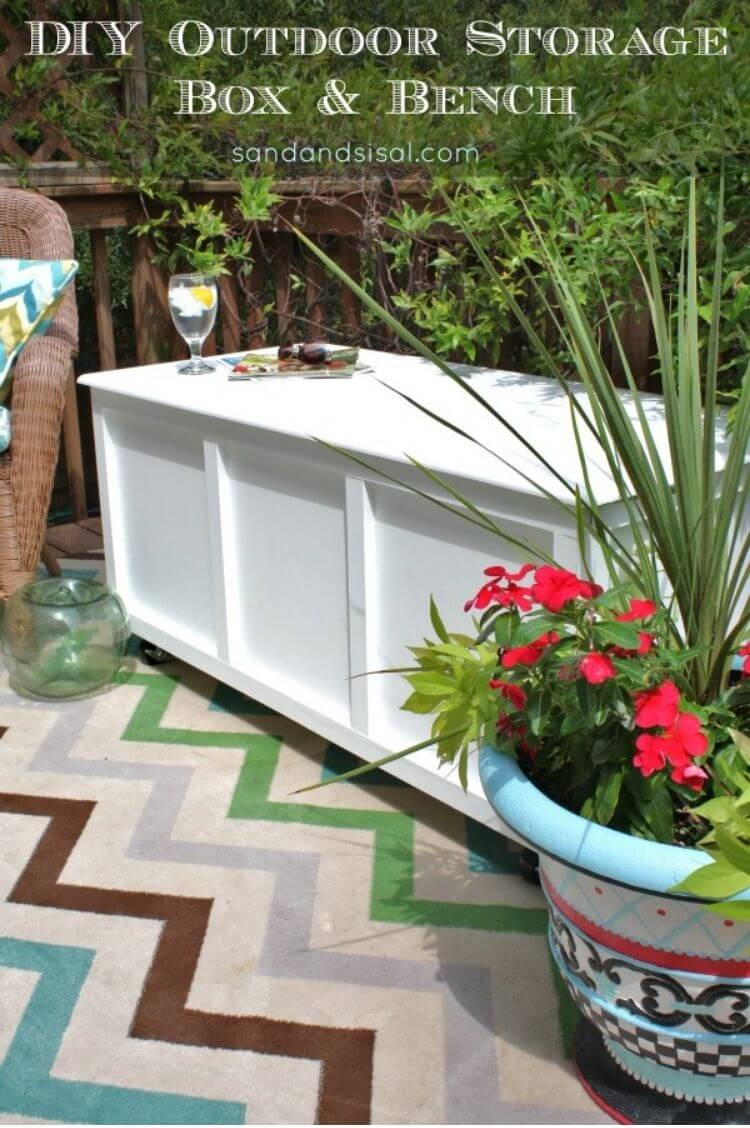 20. Freestanding Potted Torches – an updated version of tiki torches
Get rid of those old boring tiki torches and replace them with these freestanding potted torches! To make them you pour concrete in the bottom of a planter and place the spray-painted torches in the concrete. Once the concrete hardens you can add flowers to make each planter beautiful. Best of all, these freestanding potted torches can be moved anywhere you need some extra light while entertaining.
Patio DIY Ideas Sure to Create a Space, You Will Love
We hope these 19 Patio DIY Ideas help you not only spruce up your outdoor space but also turn it into a place you love. When you have a place to relax, entertain, and have fun during the summer it makes life a lot more enjoyable. Whether the project you pick off this list is big or small you are sure to create a beautiful backyard space.
More DIY Patio Makeover Ideas To Explore From One Crazy House:
Great Ideas for Outdoor Furniture Makeovers and DIY Patio ideas. From how to recover patio chairs to how to dye wicker, this post will leave you stunned.
Whether you are looking to get an outdoor space started or you have a landscaping project you have been putting off for far too long, these DIY projects can help you get started on your dreams.
Small space spaces can be the most challenging to decorate and design. In this collection of small space patio DIY ideas, you'll find unique ways to make the most of every inch of space.
Do you have stacks of cinder blocks cluttering your yard? There are creative ways to use cinder blocks to make a patio or a decorative garden planter.
The Pallet Patio adds a stylish and modern twist to rustic and traditional decor. Learn how to make a Pallet Patio here!
Liven up your porch with these Christmas decorations and some DIY patio ideas.
Makeover a closet, add a bookshelf, or install a door, DIY fixes for common problems in the bedroom. Also, get patio ideas on how to make a small space seem bigger.
Which of these DIY patio ideas do you love the most? I'm so hooked on DIY closet makeovers!