If you can find one, you can turn a wooden spool into a creative, rustic DIY project for the home. Can't find one? Try looking at your local home improvement store. Lowes and Home Depot sell several products that come on the large wooden spools, and if they're empty, they'll give you the spool for free in most cases. Electricians may also have some stashed away! Once you get your hands on one, try one of these wooden spool ideas to add rustic charm to any space.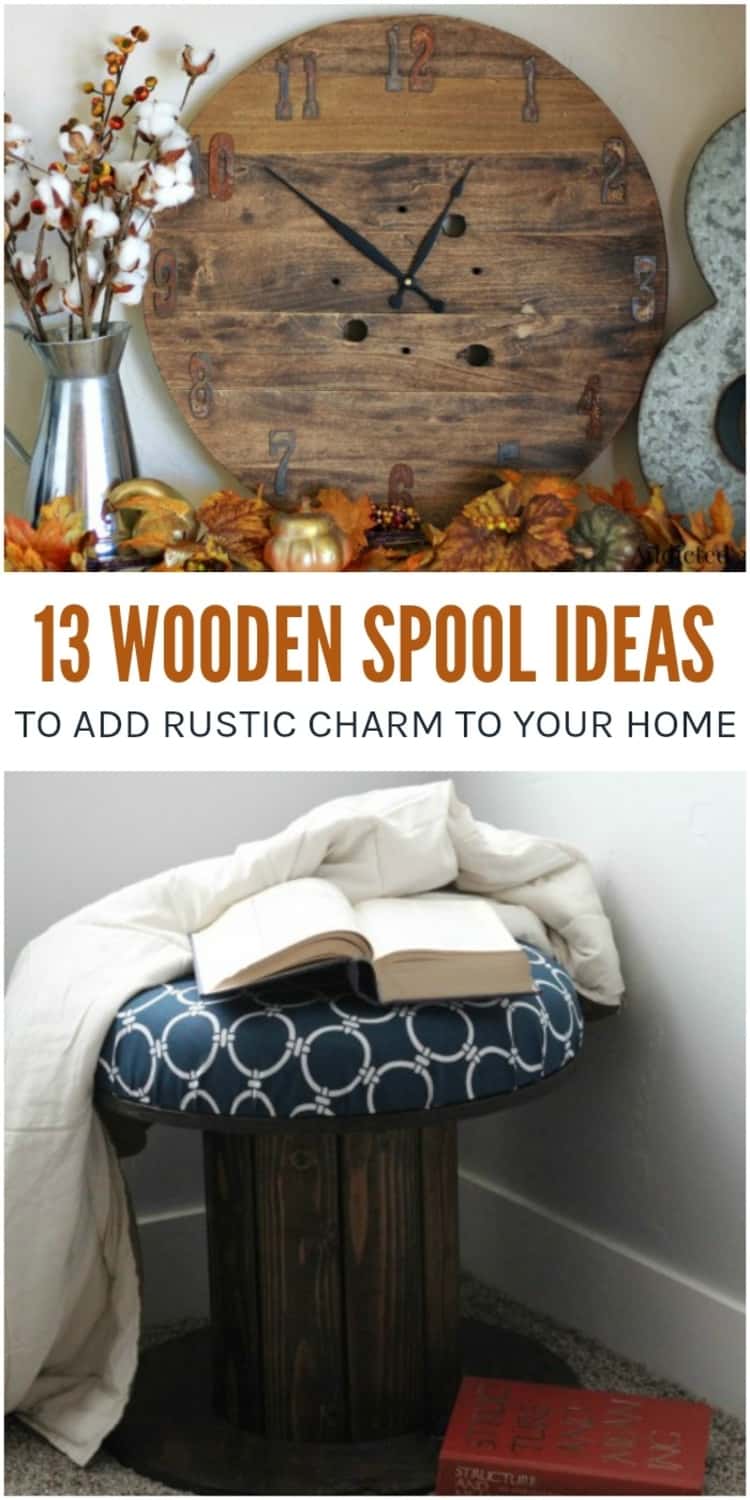 Easy DIY Wooden Spool Ideas
Wooden spool furniture ideas are simple to make and they can add a lot of rustic charm to any home. Use them as decoration or storage. Don't throw away those recycled wooden spools; you can find a multitude of creative ways to repurpose them around your home! From plant stands to trivets, check out these rustic DIYs that use spools to add charm and personality.
All these DIY wooden spool projects started with unfinished wooden spools which can be salvaged.  Wood Spools come in all sorts of different sizes with different heights and diameters.  Use the reclaimed spools for fun DIY projects and furniture crafts.
1. Wire Spool Stool
Need extra seating without taking up a lot of space? A wire spool stool makes a nice addition to any room, and you can tuck it in a corner if you're in a small space.  I love wooden spool furniture and this one works so well in so many different rooms.
You will need two wire spools for this project and some foam from Home Depot. You may choose to stain the wood for a darker look.
This can make a cozy reading corner on a quiet evening. In a larger house, you can place these spool stools in different rooms around the house with different fabrics.
Additionally, the spool stool can be staged with some pot plants if you have an empty corner that needs some love.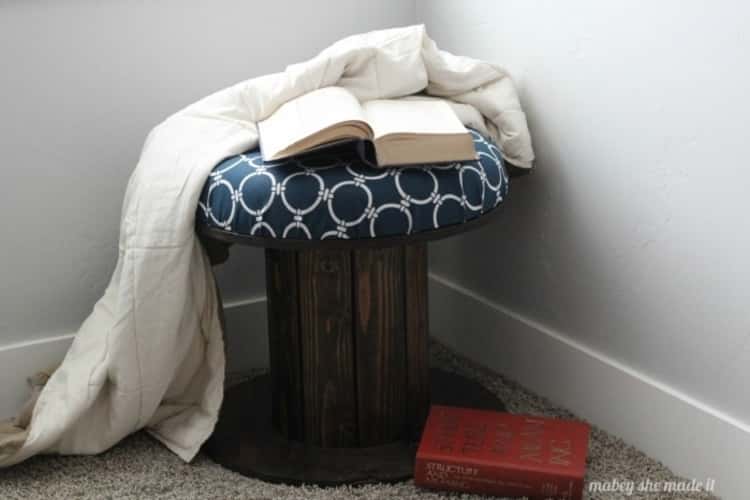 2. Salvaged Wood Spool Ottoman
Love upcycling furniture? You can just use part of your wooden spool to create this salvaged spool ottoman. Both the stool and the ottoman are lovely and are really fun wooden spool furniture ideas.
The ottoman legs can be found at your local Goodwill for a great price.
This is a versatile piece that will bring a touch of class to your living room.
They are also great for creating extra seating space when you have guests around. As they are short too, these can be seats for kids as well.
You can have fun with fabrics to match the aesthetic of your living room. But don't feel obligated to just your living room. Here are some areas you can place your uniquely designed piece:
Guest bedroom (If they love it so much, show them how you made it!)
Kids bedroom (They will love sitting on this as they tie their shoelaces!)
Storage room (Yes, no traditional stools to reach that top shelf!)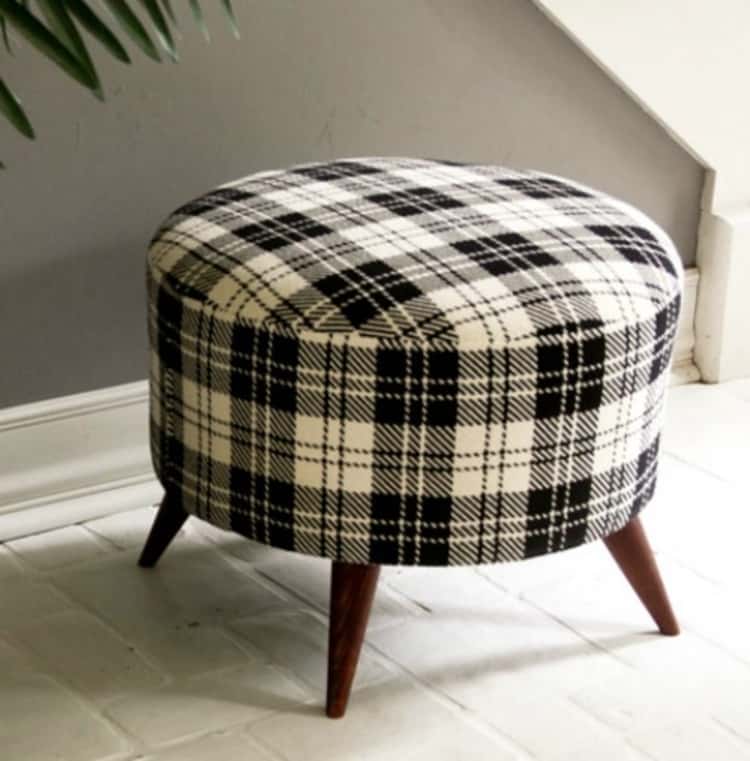 3. DIY Rustic Wall Clock Made from Wooden Spool
This DIY rustic wall clock is gorgeous! We love the oversized look, so if you have a large wall or mantle to fill, this is the perfect project for you.
It will also create a great fall decor piece.
Would this make a great gift idea? Absolutely! This will be perfect for your friends and family that love rustic, farmhouse decor.
4. Wooden Spool Science Lab Kids Play Space
An outdoor science lab and play kitchen will be such fun for the kids! They can create and concoct all kinds of fun things without making a mess in the house. Additionally, if your family loves upcycling furniture, this will be an interesting DIY project for the weekend or school holidays.
If you want your kids to spend more time outdoors, this is a splendid idea. It's not only cheap to create but kids can be carefree with their fun projects. They don't have to worry about making a mess and cleaning up. You can create holes on the spool top that will hold colorful basins to avoid spillage. These can be emptied by an adult once the project is done.
Adding the umbrella creates a cool space so kids can enjoy these on warmer days.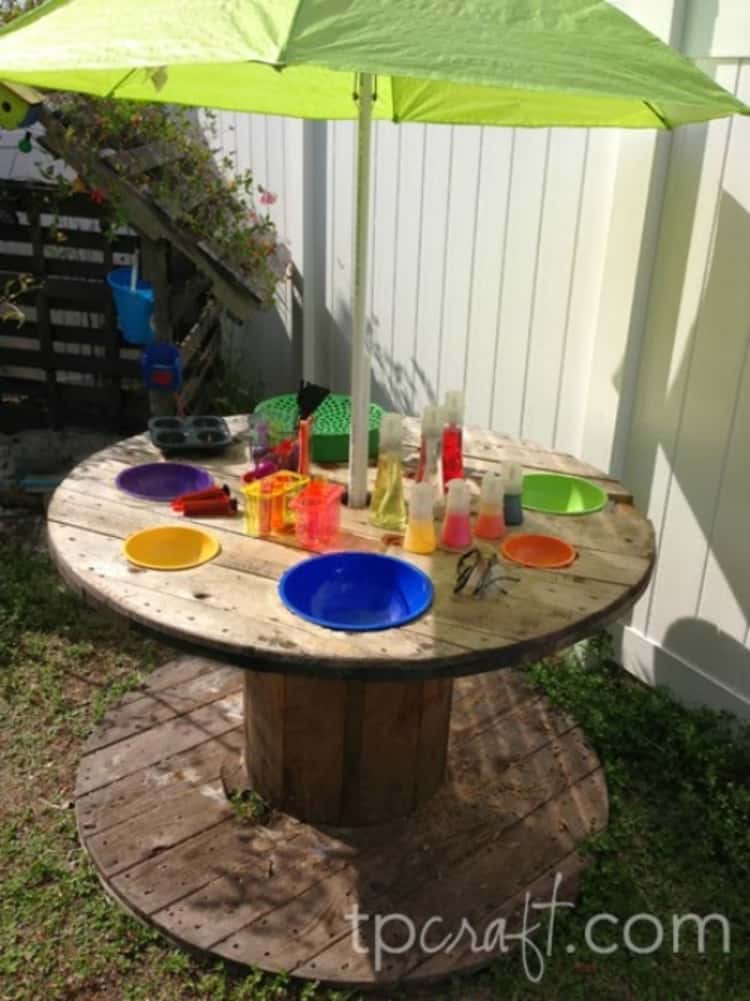 5. Rustic Console Table – Furniture Made from Wooden Spools
Cut a wooden spool in half to create a rustic console table (or two). They're terrific for the foyer, hall, or as a desk that doesn't take up too much space. This will add a countryside feel to your hallway. If your hallway is large, go for a larger wooden spool and vice-versa. Adding some candles here in the evening will create a dreamy ambiance.
Adding a mirror of contrasting color above the console brings your hallway to life. Moreover, the mirror brings in more light to your space so you can't go wrong with this! For more practicality, this can act as a coffee stand or cocktail stand at the end of your living room. As always, you can play around with color or stain the console to your preferred finish.
6. DIY Wooden Spool Bookcase
Create a movable spool bookcase to house your favorite books. This is a great bookcase for the kids' room or your craft room. It is mobile so this can easily be switched from room to room depending on your design needs.
You can create a unique spool bookcase without the wheels and place it in your living room to add some interest. Similarly, adding a white coat of paint creates contrast with your books so it stands out more.
Kids will love this unique concept for their books. Adding a pillow on the spool instantly makes it a reading spot.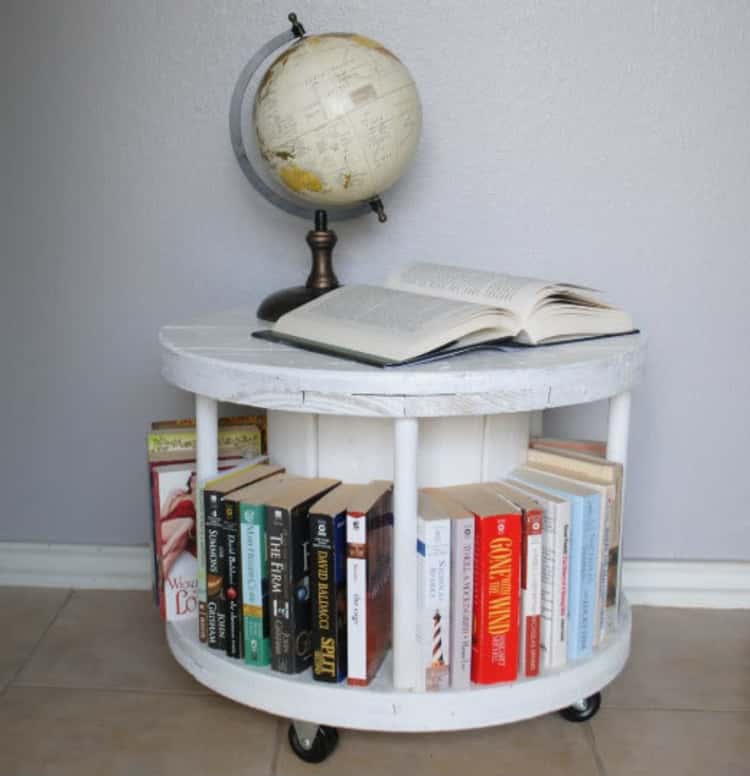 7.Wooden Spool Coffee Table
Wire spool tops or bottoms make generously sized coffee tables. Put wheels on the bottom to move it around when you need it. This instantly creates more space in your living room compared to the traditional coffee table. You can paint your wooden spool table to match the design of your living room. Adding a vase of fresh flowers will greatly enhance your living room.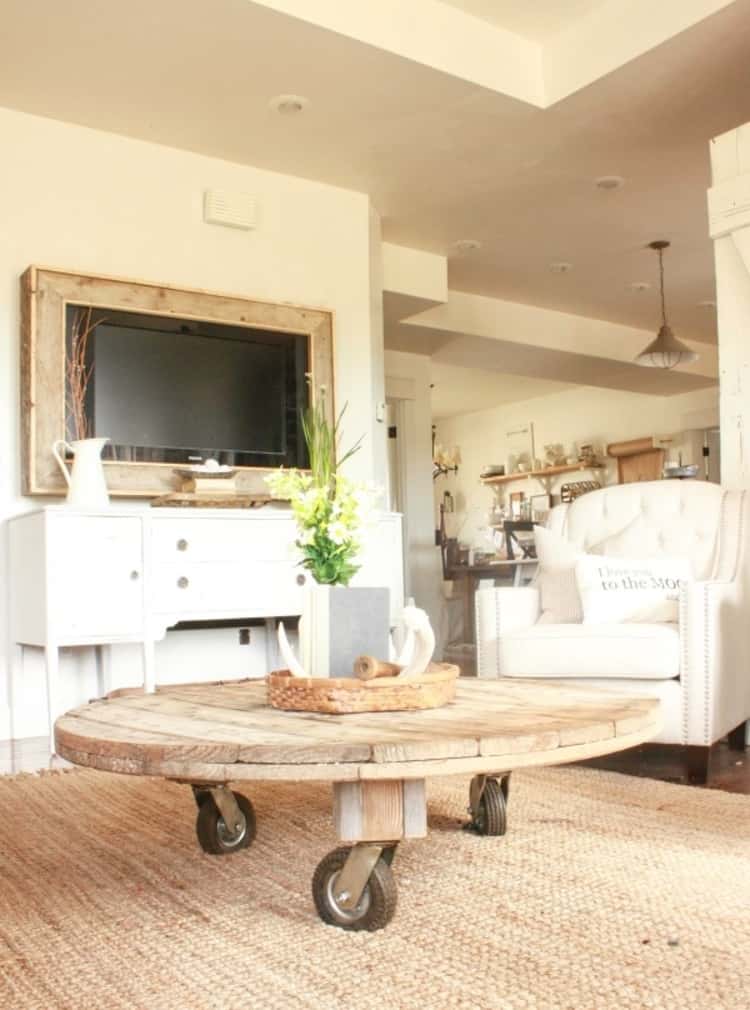 8. A wooden spool see-saw
Here's another fun idea for the kids: a spool see-saw! A couple of small kids can sit on each side, doubling the fun.
This is a fun outdoor idea for your backyard that kids will love. If you are hosting a birthday party, this an instant attention grabber that will keep the kids busy with lots of chances for pairing up. You can paint your see-saw with fun colors to make it more interesting.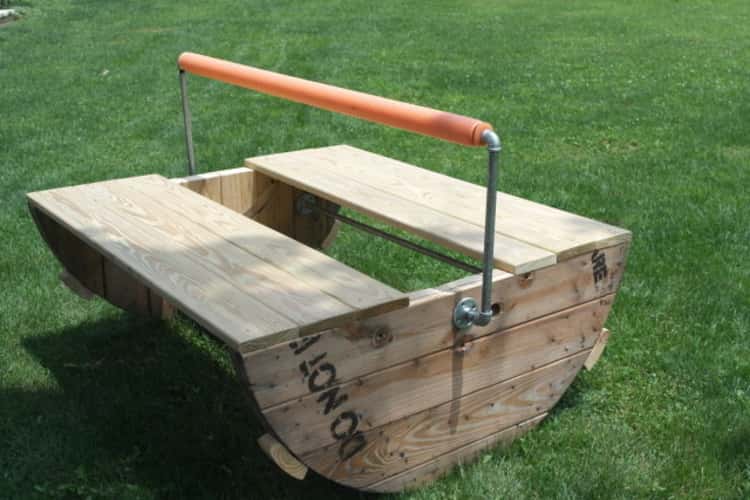 9. Wooden spool outdoor bench
Combine pallets and cable drums to create an outdoor bench for your garden or patio. If you're looking to have a fun and creative outdoor space, this is an affordable idea. Put this together with a wooden spool coffee table and it adds a laid-back feel.
You can relax here with your guests when hosting and it is a smart conversation starter. The outdoor bench can be dressed up to create a cozy spot for reading or watching the stars at night.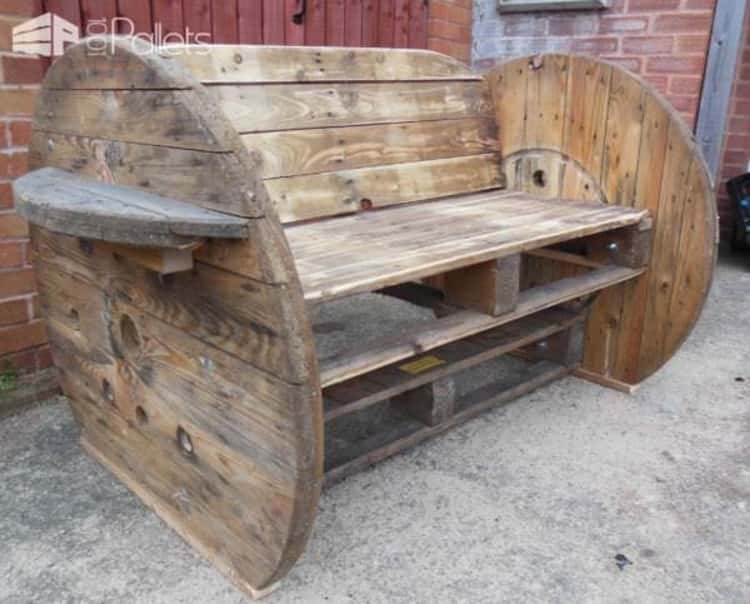 10. Wooden spool DIY mirror
As if wooden spool ideas couldn't get any more diverse, here's another unique upcycling idea. Adding mirrors around the house creates the illusion of space thus making a small space seem larger. When a mirror is placed opposite a window or next to it, your space will look much brighter. For a dull-lit room, a mirror placed near the bulbs will help maximize the light.
Cut out the center of the spool and add a mirror for a gorgeous DIY mirror for your bathroom, bedroom, or hallway. This gives an out-of-town wooden cabin feel.
Here's another way to make it!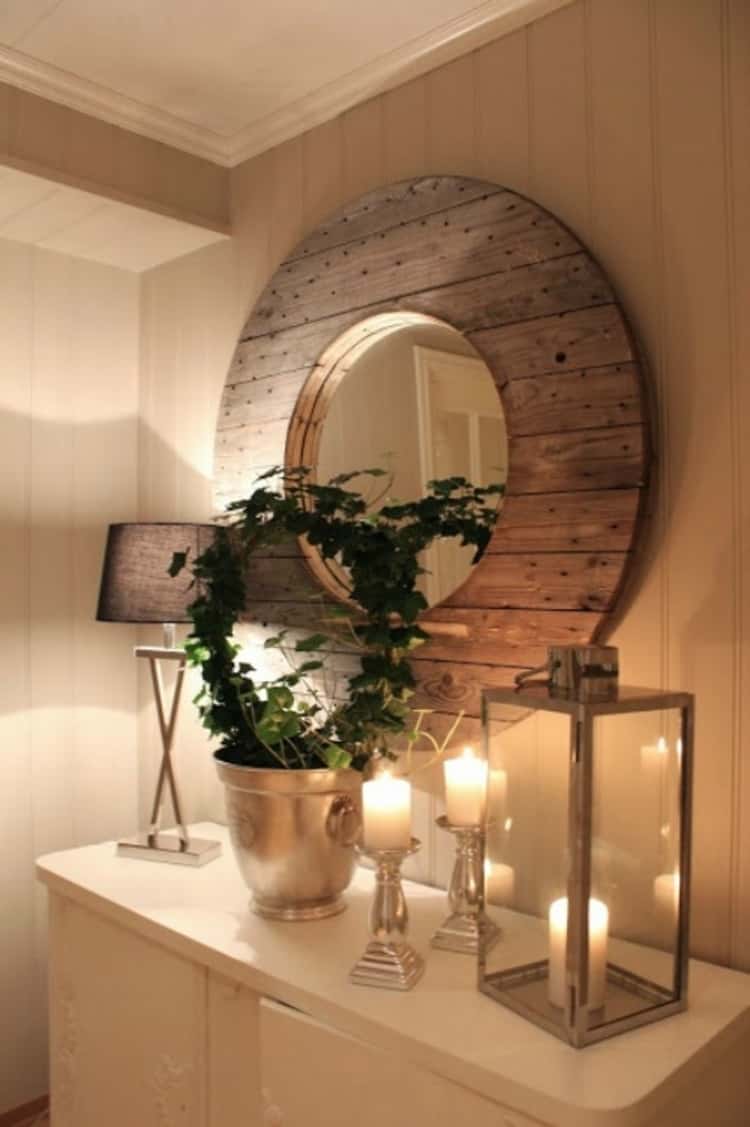 11. Cable Spool Headboard
Need a new bed without spending too much? Remove the top of your wooden spool and add a coat of varnish to create a rustic cable spool headboard.
This is a cool way to refurbish your bedroom and give it an industrial look. Not only that but the bed becomes the focal point of the room. Adding a bedside lamp on the side or some hanging string lights on the headboard will make the room feel warmer in the evenings.
This will be a great idea for your teenager's bedroom if they're looking for a more mature feel to their space. Create this with them for some more bonding time. They will love it!
12. Ballard-inspired patio table
Need some more patio inspiration? This next wooden spool idea is so simple it will get you rushing to the store.
Stain the wooden spool a darker color, add some rope in two colors to the middle, and add a glass cover to create this Ballard-inspired patio table.
Feel as creative as you need to be with this one. You can paint the ropes a different color to create a different aesthetic too.
This table can house your plants and can also hold your cocktails on a summer day.
Wouldn't you love to host your book club around this interesting piece? It's perfect!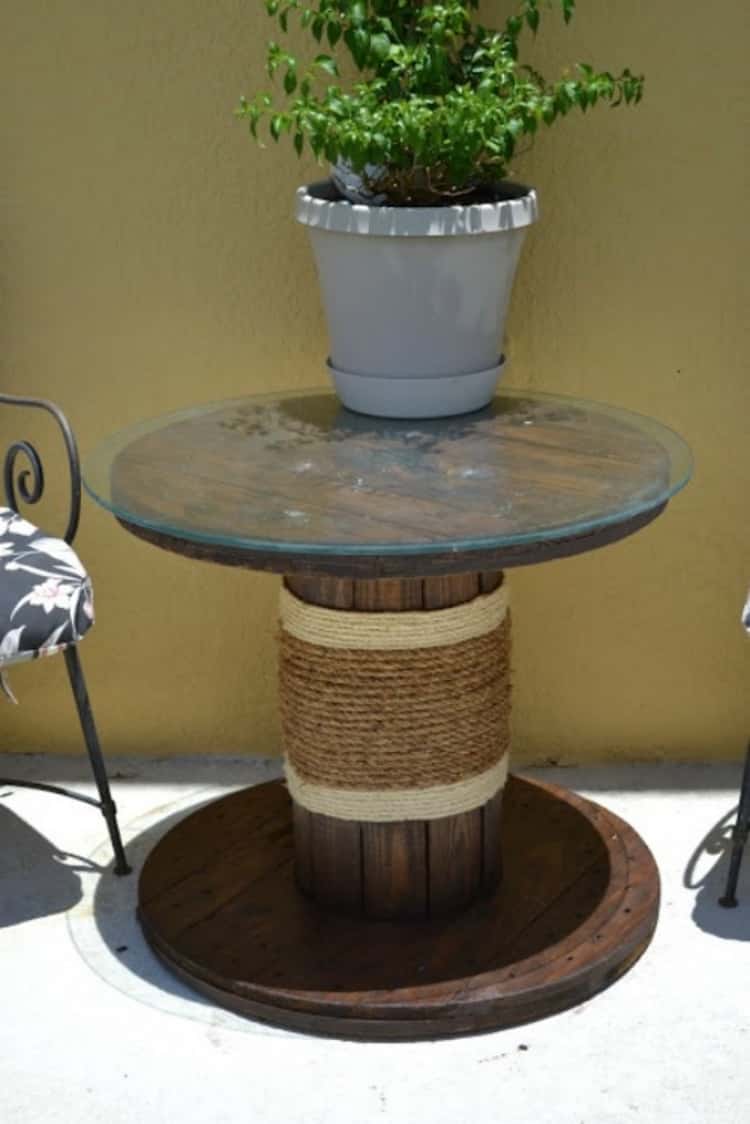 13. A wire spool and metal tub coffee table
Need more wooden spool table ideas? This one is unexpected and genius.
A wire spool and metal tub coffee table will make a great addition to your porch or patio!
These two pieces come together so perfectly and make a great craft project if you love to DIY around your home.
The best part about this DIY project is that you will not need extra material to hold the spool down. Because it is quite heavy, placing it on the metal tub instantly gives you a table.
You can use a new metal tub or simply paint and polish an old one to give it a new look.
Furnish your wooden spool to create the desired look you're going for.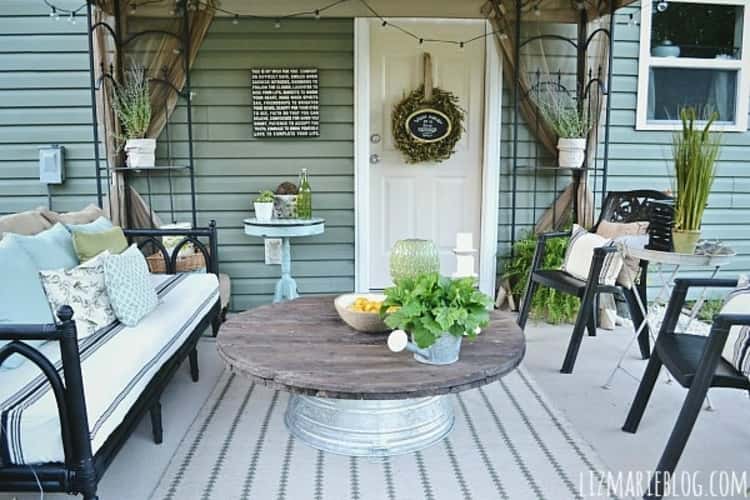 If you enjoyed these wooden spool ideas, you may also like these posts: