Get ready…these aluminum foil hacks are going to take your "hacks" game to a whole other level. You'll be wondering what took you so long to figure this out on your own!
You enjoyed our plastic wrap tips and tricks, so we decided to compile some tips for something else you use around the home every day: aluminum foil! We had no idea it was so versatile. It can help your fruits and veggies last longer, remove rust and cut your ironing time in half. Which one of the aluminum foil hacks is your favorite?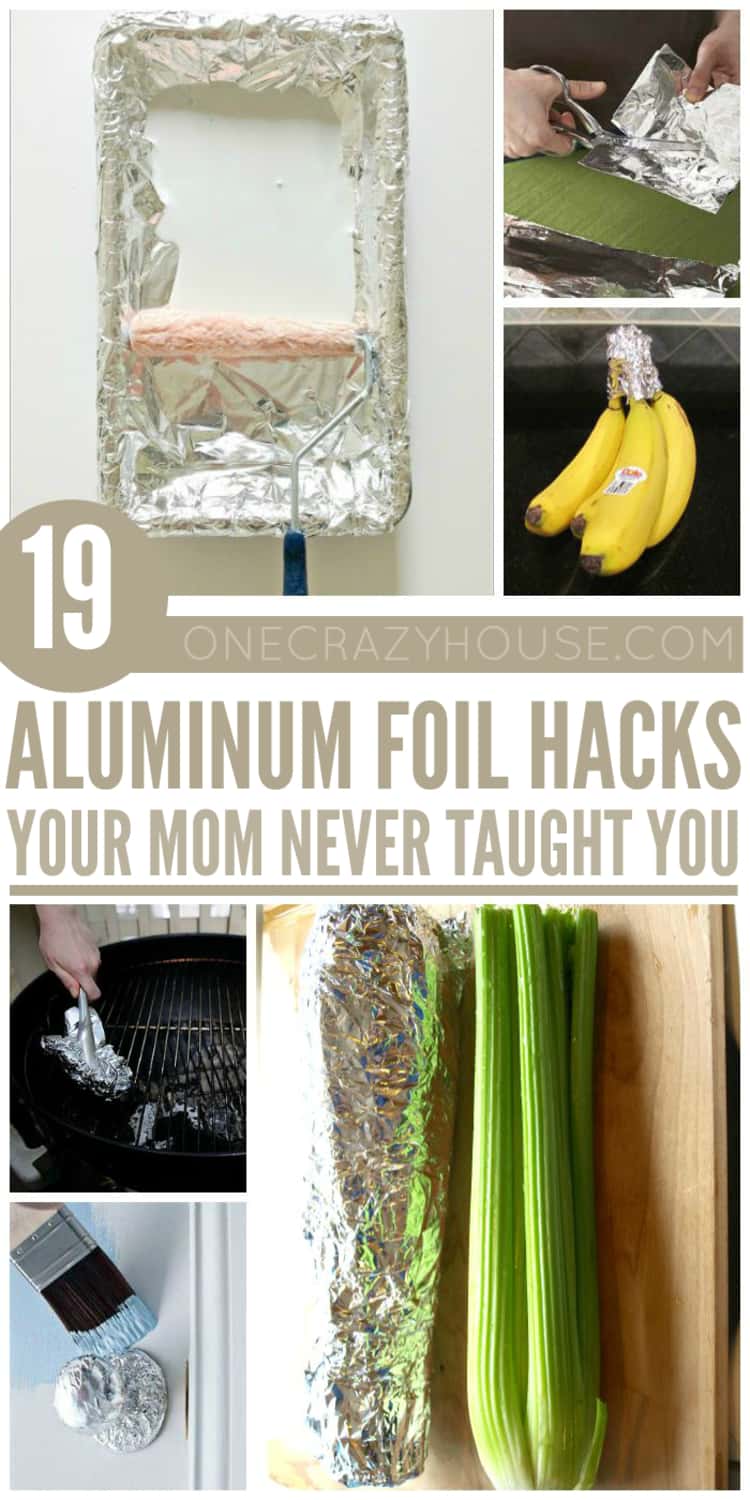 19 Simple Aluminum Foil Hacks
1. No-stress Cleanups After DIY Paint Sessions with Aluminum Foil
I bet you have not cared to explore your artistic side because of the mess paint can create. That cleaning up is certainly not the first item on your to-do list and neither is it on mine. Maybe it's time to relive those childhood memories and paint your heart out on a frame. Clean up easily between DIY sessions with this trick: cover your paint tray with aluminum foil. You'll never have to wash another paint tray!
2. Use Aluminum Foils to Enjoy That Greasy Steak Without Clogging Your Drains
You know you can't pour grease down your drains, right? Line a bowl with aluminum foil and drain the meat. When the grease hardens, toss the foil in the trash. This hack is an easy way to drain your meat, dispose of the grease and save on drain repairs. No need to tire yourself with a steel wool. Has tin foil ever given you a better deal?
3. Keep Paint Off Your Knobs and Locks with Aluminum Foil
Tired of getting paint spilling on your knobs when you never intended to repaint them? Protect doorknobs and locks with aluminum foil when painting. This way, you'll get a much cleaner and tidier paint job. No more 'oops' moments.
4. Use Aluminum Foil To Give An Old Dresser New Shine
Crazy, right! Who thought plain ol' tin foil could be used to decorate? And with VERY commonplace stuff. Refurbish an old dresser or cardboard box with aluminum foil. Crumple it up, smooth out the wrinkles, spray on some glue, and apply the foil. Easy as pre-school projects!
5. Make Your Fave Dish and Let Foil Do The Cleaning For You
Never clean your oven again. Okay, maybe a bit too much. Clean your oven less frequently with this aluminum foil hack that's so simple you'll hate yourself for not knowing it sooner. Leave a sheet or strips of aluminum foil in the bottom to catch drips and replace as needed. Oh! What a blessing tin foil is to us foodies.
I love cooking except for an annoying step – cleaning up

Katie Lee
6. Make Tarnished Silver Shine Again With This Aluminum Foil Trick!
If you have an obsession with shiny stuff, this hack is for you! Keep your silverware free from tarnish with this fun kitchen experiment that's safe enough for the kids to watch. All you need is:
Aluminum Foil
Baking Soda
Salt
Vinegar
Hot water
Line your sink with aluminum foil, add equal parts (teaspoons) of baking soda and salt – the ratio depends on what you're cleaning. Add half part (cups) vinegar and watch it bubble. Add your boiling water and soak your silver things like pots, cake pans and cookie sheets for 2 minutes. That's it!
7. Clean Your Grill Without A Grill Brush with this Aluminum Foil Hack
We all know it's best to clean your grill immediately you're done cooking. But that doesn't always happen. Here's an aluminum foil hack that will clean the grates and remove any burnt food hanging around. Clean your grill by laying aluminum sheets on the grill, putting the grill on for a few minutes until the grates get hot then scrubbing the grates with a crumpled ball of foil.
8. Let the Aluminum Foil Keep Your Bananas 'Just Ripe'
If you find yourself with more bananas than you can use at once, put foil on the ends of bananas to keep them from ripening too soon. This will save you the heartache of seeing your bananas go bad, a lot of money, and buy you some extra time to think of what to make with the bananas before you go bananas!
9. No Dryer Sheet? Foil's The 'Tin' You Need
Household items have a way of running out just when you need them. Or during odd hours of the night. If you run out of dryer sheets, toss a crumpled ball of aluminum foil into the dryer instead. It removes static, makes clothes fluffy and you can use the same ball of foil for up to a year. Who needs dryer sheets now?
10. Keep Your Celery Crunchy and Fresh with this Aluminum Foil Hack
Nothing is as disappointing as limp vegetables. They'll make the kids hate veggies even more and we don't want that. Fresh vegetables are also more tasty and flavorful. Well, no more limp and soggy celery stems. Instead of leaving celery stems in the bag and tossing it in the fridge, wrap your celery in aluminum foil to keep it fresh for up to 4 weeks! Unbelievable, right? You can also wrap carrots, onions, and melons in foil to keep them fresh longer.
10. Use Aluminum Foil To Protect Edges
No, not those edges. Perfect pie crust edges. Use aluminum foil to make your own pie guard. Lightly place aluminum foil over the edges of your pie to prevent the crust from over-browning and keep your award-winning pies perfect. Yes, foil has more uses than lining your oven.
11. Save Money On The Contact Paper With Tin Foil
Line cabinets and drawers with aluminum foil instead of contact paper. You can flip it over and use the other side before throwing it away. This is cheaper and more accessible alternative light reflector in dark cabinets and is super easy to clean. Use a damp sponge and voila!
12. Aluminum Foil Keeps Pesky Birds Away From Your Precious Fruit Trees
Oh! The pain of tending to your fruit trees so dutifully and having birds come to eat your fruits! Save yourself that pain and the hustle of manually chasing birds away or buying expensive bird netting with this simple hack. Hang shiny strips of foil to keep birds away from your fruit trees. The shiny side of the strips act as streamers to keep fruit-eating birds away.
13. No More Spills With This Aluminum Foil Funnel
Make a funnel for transferring liquids from one container to another and avoid spillage on your kitchen counter or anywhere else in the house. This way, you don't need different funnels for different liquids. Just dispose of the used piece of foil when you're done.
14. Annoyingly Blunt Kitchen Scissors? Here's How To Sharpen Them with a Foil
Everyone hates objects meant for cutting that don't cut. Like those blunt scissors on your kitchen counter. Fold a piece of foil in quarters to create layers then cut the folded sheet of aluminum foil several times to sharpen the scissors. You can now cut your cooking time down to half with scissors that can cut through almost anything!
15. Conserve Energy With This Cool Aluminum Foil Hack
If your stove's reflector drip pans are eroded, they don't absorb and reflect heat as well and you end up using much more energy cooking. Placing foil on your stove's reflector drip pans allows them to reflect heat better, hence saving you some bucks on your power bill and making the earth a bit happier! This also makes cleaning up a lot easier.
16. Take Amazing Product Photos With This Aluminum Foil Trick
Create reflective surfaces for product photography with a piece of cardboard, aluminum foil, and parchment paper. Reflectors are used to play with lighting and give you the perfect photos by eliminating shadows. Make your own reflector and see the magic you create!
17. Ironing One Side Irons The Other When Using Aluminum Foil
What can't aluminum foil do? You gotta love it! Iron only one side of your clothes with the same results as ironing both. Place a sheet of tin foil under your ironing board cover to reflect more heat. This helps with stubborn creases and effectively cuts down your ironing time.
18. No Curling Iron? Don't Fret. Aluminum Foil to the Rescue
Curl your hair with a straightening iron and aluminum foil. I know you find using a curling iron far much easier but hear me out. Using this traditional hair-curling method results in longer-lasting curls that are stronger and more buoyant. This is because the tin foil holds heat much better.
19. Keep The Kids Busy With These Cute Tin Foil Crafts
Pinterest crafts are cool but these crafts made with readily available material are way cooler. You don't need to spend so much buying toys and you get to spend a lot of time making these tin foil crafts with the younger ones. Playtime has never been more colorful and fun.
You will need the best aluminum foil and Ultimate 3 in 1 dispenser if you want to stay organized.

More Household Hacks from One Crazy House
Which aluminum foil hack are you going to try today?