At One Crazy House, we love finding unexpected ways to use household items. This time, we looked for smart ways to use shower caps. Why? Well, they're cheap, they're disposable, and you probably have a few in your home that you've already forgotten about. So go find them, and let's put them to use!
Wacky Ways to Use Shower Caps
1. Use a shower cap to pack your shoes
Pack an extra pair of shoes and protect your clothes by placing a shower cap over your shoes in your luggage. Before traveling, I thought I had to get my shoes super squeaky clean so as to keep the suitcase clean. Can you imagine getting your sneakers clean when going camping in the woods? I love this idea. Simply wrap up your shoes in a plastic shower cap to contain the dirt.
Another clever way to use shower caps for shoes is to keep a pack at the front door on a rainy or snowy day. If you need to quickly grab something in the house, wrap your wet or muddy shoes in the shower cap and dash in!
2. Use a shower cap to keep your bike seat dry
Do you bike to work? If so, you've probably sat on a wet seat more than once. Rainy days can sure spoil a commute! Keep your seat dry no matter the weather with a simple shower cap. This is the part that worries us most when parking our bikes outside. When the bike gets wet out in public, and we do not have a towel around to dry the seat. Always pack a shower cap in your bag. It will come in handy! Isn't that smart?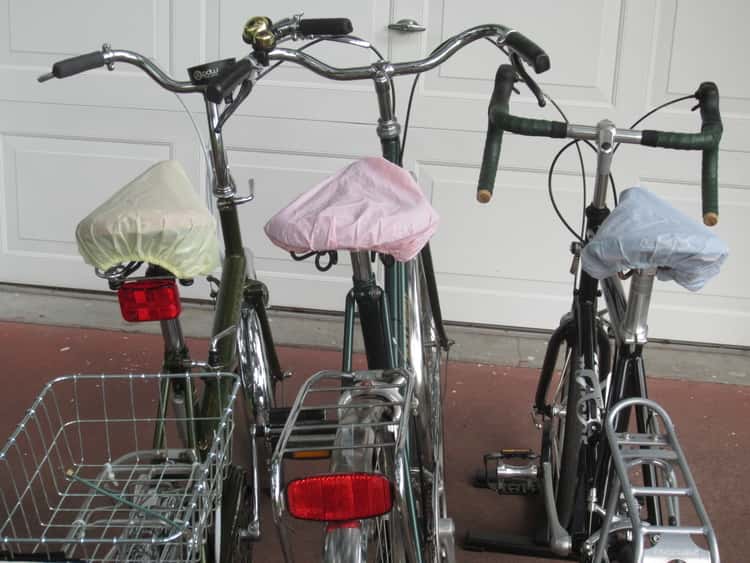 Brilliant Way to Use Shower Caps In The Kitchen
3. Use a shower cap on your mixer attachments
Keep dust off your mixer attachments by placing them in a bowl and covering them with a shower cap between uses. This is a brilliant tip! I think I will buy a pack of shower caps and keep them in the pantry just for kitchen use. If you have kids and pets running around, this is a great cover too.
4. Use a Shower Cap to Cover Rising Dough
Here's another genius reason why shower caps in your kitchen are a necessity. Use a shower cap to cover rising dough! I have always used a towel to cover my dough, but all it needs is a little warmth, right? For this clever process, just spray the inside of the cap with cooking oil. This works great too because the cap is elastic and snugs up against the sides of the bowl. I do not know why I had not thought of this!
This is not only useful for dough rising, but it is also a great cover against dust or any pet hairs.
5. Cover your tablet with a shower cap
Here's another use for the kitchen: If you use your tablet to read recipes while you cook, cover the tablet with a shower cap to prevent a messy screen. With so many inspirational cooking videos available, I am happy to admit that I have sought inspiration and motivation (lol!) for meals on YouTube. No more greasy screens or having to wash your hands each time you need to hit pause or rewind.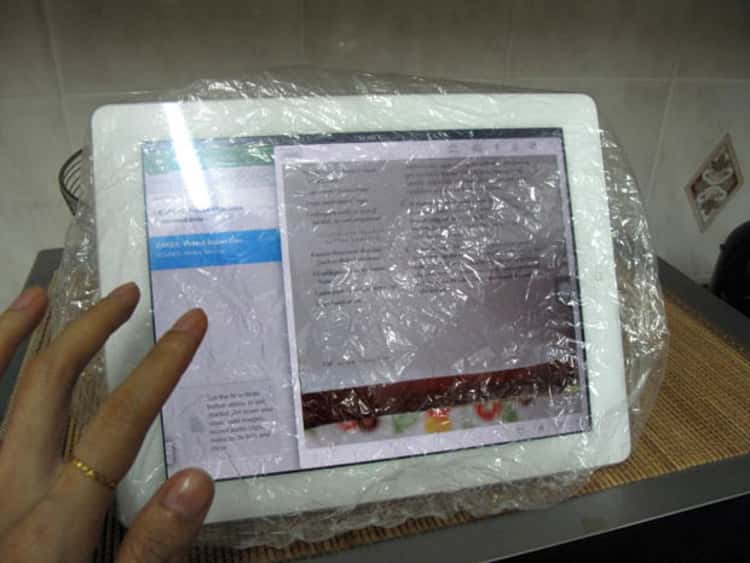 6. Use a shower cap to cover your leftovers
Cover your leftovers! There's no need to pay for expensive bowl clings when you can reuse one of these. Unlike cling film, these can be reused over and over again. Another great tip I got here is to pack up these shower caps when going out on a picnic. Use it to cover your bowls of fruit and pudding when outdoors without wafting off insects like crazy!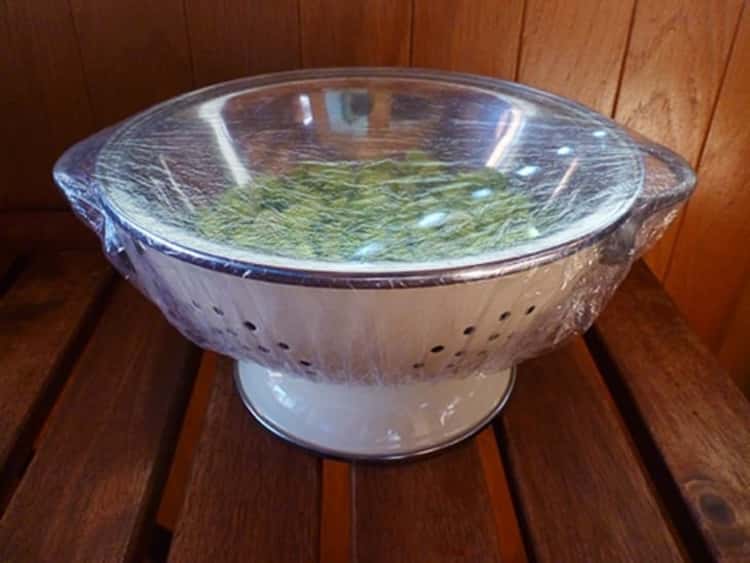 Use a Shower Cap For a Quick Hair Fix
7. Use a Shower Cap to Achieve a Blowout
Not hot rollers? No problem! Use velcro rollers, a shower cap, and a blow dryer to get gorgeous curls in minutes.
Here's how to put together this hot look at home:
Put all your hair up into velcro rollers and poke holes in a shower cap to mimic a hood dryer
Slip the nozzle of your dryer into the shower cap
Use a low setting to dry the hair followed by a cool setting to set the curls
Once your hair is set with the cool air, remove the cap and take the rollers down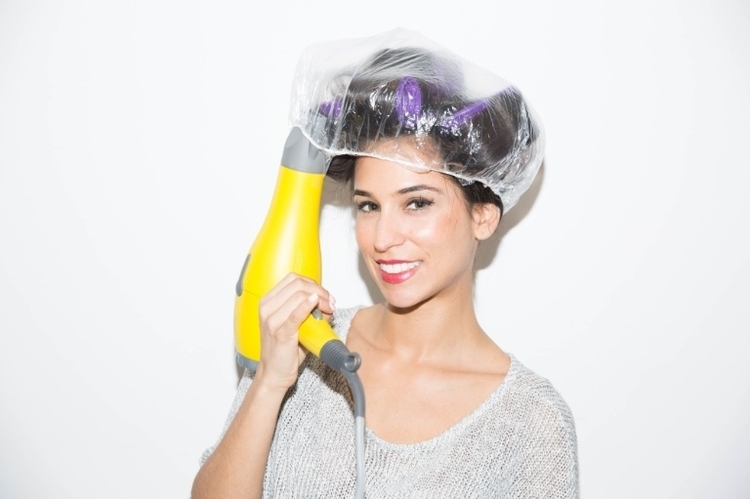 Smart Way to Use a Shower Cap on Your Work Desk
8. Use a Shower Cap to Catch Crumbs
I'm a notorious snacker, but at work, I didn't always have a bowl handy. I should have kept a shower cap in my drawer to catch those crumbs! So smart! No clean up needed and you don't have to worry about those sneaky crumbs getting on your keyboard and suddenly there are roaches. Gross! With kids spending more time taking online classes, I think this is the safest and bet on getting them settled at their desks. Some yummy cookies on their desk so they don't have to run into the kitchen every 30 minutes.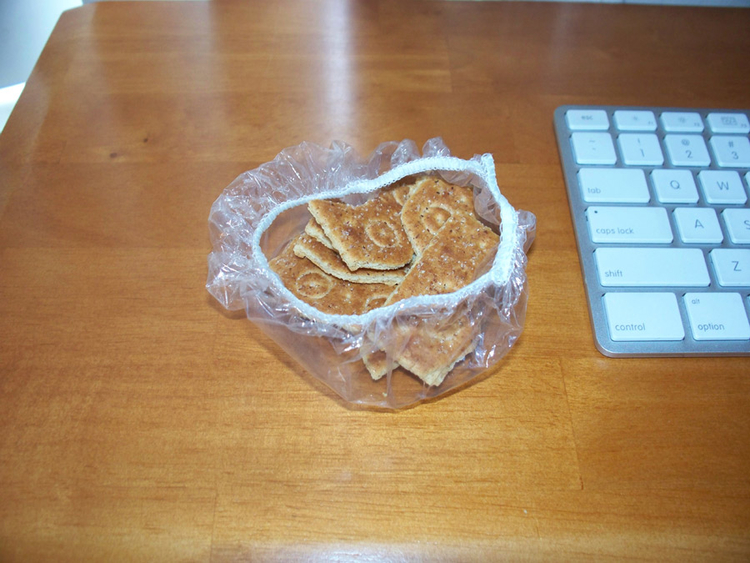 9. Use a shower cap to protect against germs
Hotel remote controls are so germy! Cover it with a shower cap to protect your fingers from all those microbes. I am kicking myself for not thinking of this. Usually, I will reach for an antibacterial wipe in such cases whether I am in a plane or a hotel room. Now you can save your wipes (which are not as cheap as a pack of disposable shower caps!)
Use Shower Caps For a Sea-Themed Party
10. Make a Shower Cap Jellyfish
Make shower cap jellyfish for an under the sea party. This is perfect for Little Mermaid fans! You can follow this fantastic DIY tutorial to create these in your kids' room. It is so simple and the materials needed can be found at home too. I look forward to doing this and will actually add this to my holiday activities. Do you love this ocean-themed idea?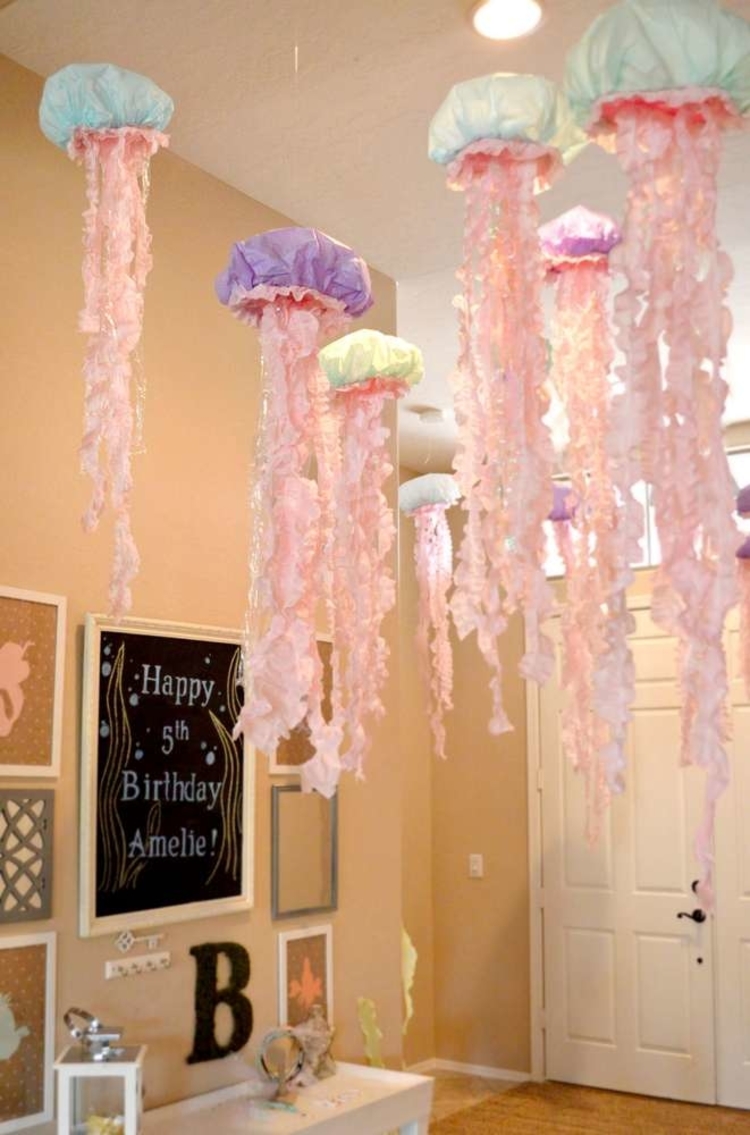 Use shower caps for DIY Gardening
11. Use a Shower Cap to start a mini-garden
Start your plants in a made out of a plastic container and a disposable shower cap from a hotel. Hey, it works!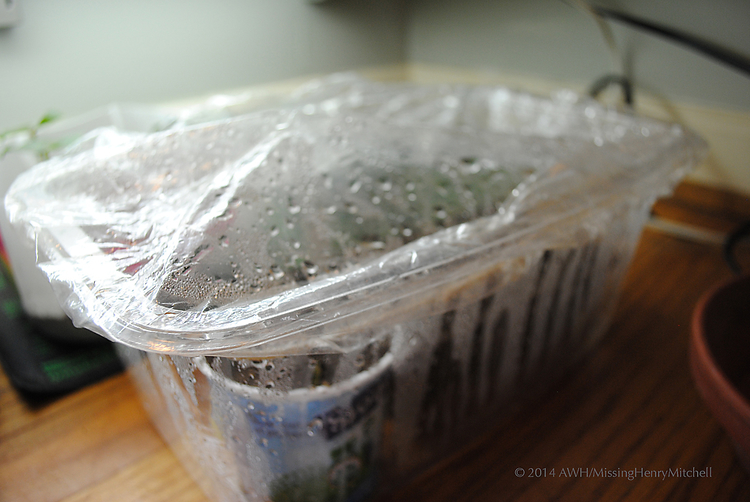 12. Use a Shower Cap to cover cut fruits
Cut a huge watermelon and need to keep it in the fridge? Hello, shower cap. Cover watermelon when heading out to a picnic or outdoor party. In fact, it's a great idea for covering any dish quickly to keep the bugs at bay. Need a nifty hack to keep your fruits cool when heading out? Wrap the pieces of fruit in a shower cap and place them in a carry-on cooler. Another alternative would be to place ice cubes in a shower cap and have it act as a cooler!

Use Shower Caps To Protect Your Photography Gear
13. Use Shower Caps to Dustproof your camera
Removing lens caps can take up precious time when you're trying to move quickly from one shot to another. During your session, cover lenses with shower caps to keep dust off. For this to serve you best on your next safari, go for a thick shower cap that is plastic on one side and toweling on the other side. If you're driving while shooting, with the camera hanging out the window, here's how to do it. Use the toweling part on the outside of the camera so it collects dust and you keep your camera lens off any lint.

14. Use Shower Cap To Water-Proof Your Camera
Or use a large shower cap if you're photographing in less than ideal conditions. This is a handy trick for moms photographing their kids' sports activities, too. Wedding photographers will find this quite useful and anyone doing an outdoor photoshoot. You never know when you'll get caught in a rainstorm, so stick one of these in your bag!
BONUS SHOWER CAP USE:
15. Use a Shower Cap for Your Horses' Feet
Most of us don't have horses, but if you're one of the lucky ones and have one that won't stand in buckets to get his hooves soaked, try this trick. Looks like a fancy horse! A shower cap can be used to soak your horse's hoof.  This is great for treating abscesses or infections on the animal's foot. Just like you would do your own footbath at home, you need some warm water and Epsom salts. Next, place the horse's foot in the shower cap and fill it with enough water and Epsom salts to cover the top of the hoof. To prevent the cap from slipping off, you can use good old duct tape to secure the bag for 20 minutes.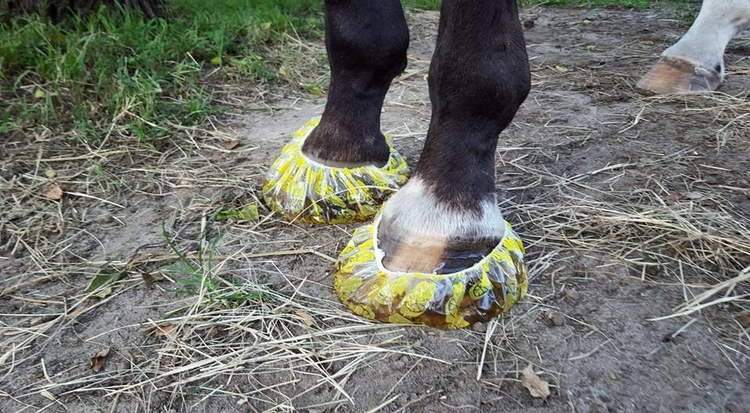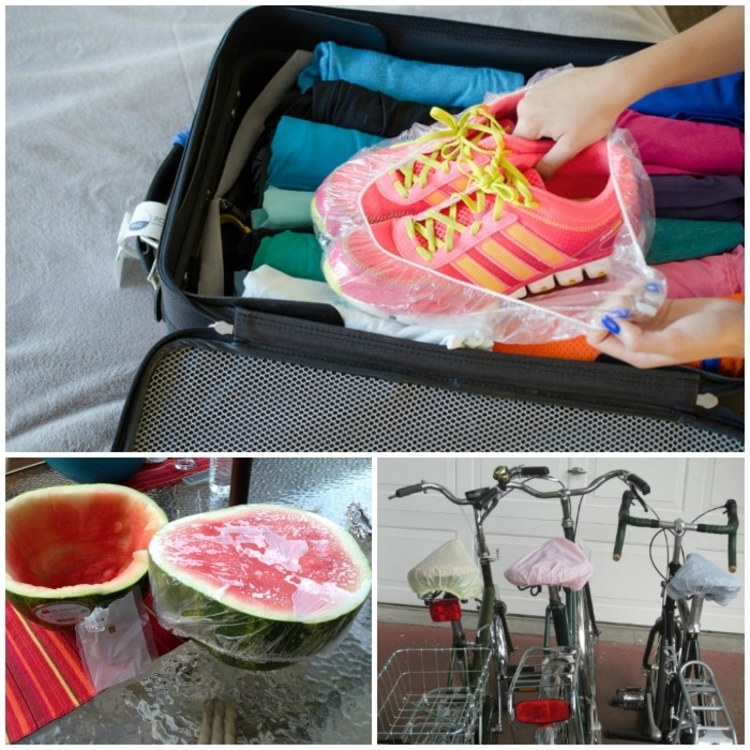 Did you LOVE these handy shower cap uses?
We've got more daily lifestyle hacks at One Crazy House! Check out these related articles on the blog: