In one day, we can put our skin through a lot of stress. Being our body's largest organ, our skin protects us from head to toe so it's only fair  that we treat it with the utmost care, starting with this diy skin toner. It'll remove oils and products from your skin gently, so it's wonderful for oily and acne-prone skin. DIY beauty products are the best, aren't they? They're frugal, easy to make and you know exactly what's going into them.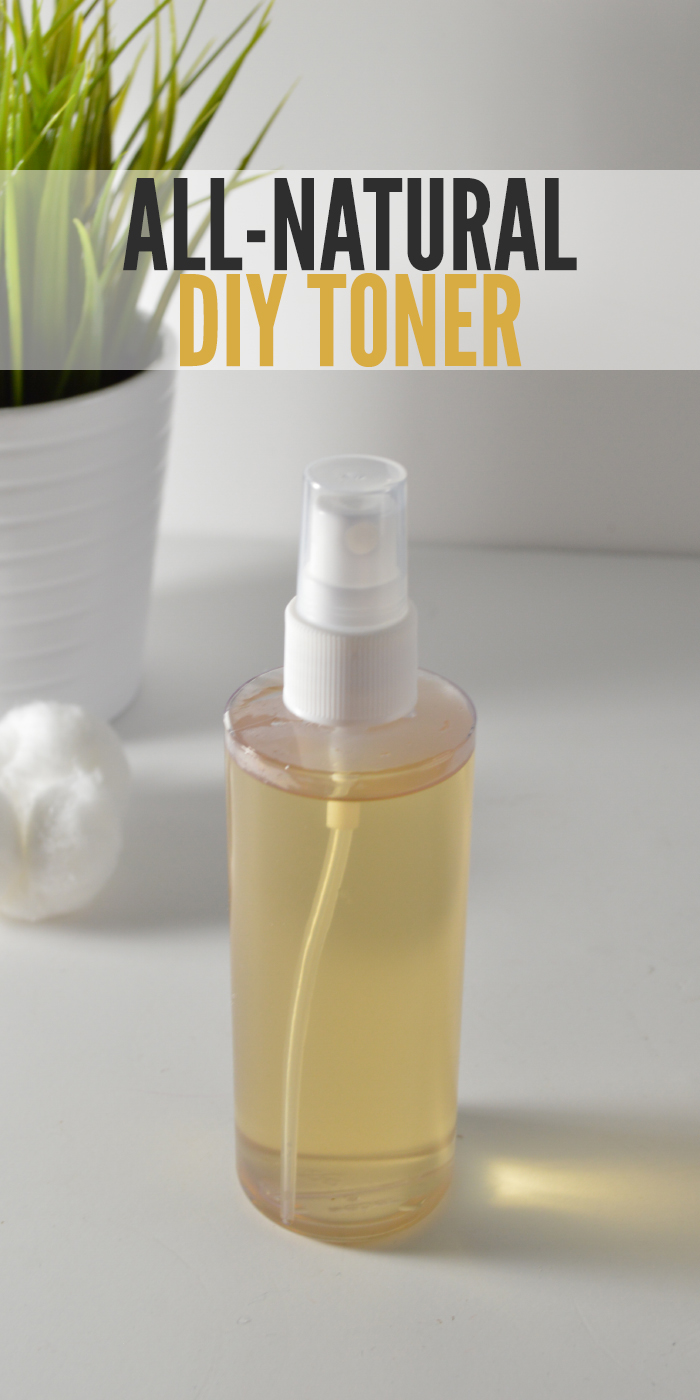 The skin on our face can get very sensitive. Environmental factors like harsh weather, germs and bacteria can cause it to react in many different ways. This is why we are often encouraged to get into the habit of washing our face on a daily basis. It's important to find cleansing products that are compatible with our skin and that consist of safe ingredients.
When considering a facial routine, one should never forget about toner. While many people skin this step, it's actually essential in keeping your PH balanced and also, keeping your pores at bay. Not to mention, it also prepares your skin for any lotion or cream that you'll be applying afterwards.
Did you know that you can make a toner treatment from your very own home? Many store-bought toners contain a high amount of alcohol which can cause extreme dryness. Moreover, many toners contain less-than-stellar chemicals, and who wants to slather chemicals all over their face?
Today, we came up with a simple DIY toner while keeping your budget in mind. This toner is minimal in ingredients and extremely simple to make. You probably already have all of the ingredients in your pantry.
Ingredients for DIY Skin Toner:
Green tea leaves, enough for one cup of water
1 cup hot water
1/4 cup apple cider vinegar
3-5 drops of essential oil (your choice oil, but this step is very optional)
1 spray bottle or mason jar
Steep your tea in the hot water according to tea's directions. Let cool completely. In a bowl, mix tea with vinegar and essential oil. Pour carefully into your spray bottle or mason jar.
Some people like applying their toner with a facial pad, especially when it's stored in something like a mason jar. If you decide to put your toner in a spray bottle, spray it on and pat it into your skin with your fingertips. This is a much gentler application for your face.
Let us know if you decide to try out this homemade toner. What do you think of it? How simple was it to make?
Get more beauty ideas here:
Makeup – 15 Tricks for the Best Eyes