Need a new garden project for your kiddos? Build your feathered friends a cute place to nest and dine. These DIY birdhouse ideas and plans are easy and adorable! Whether you're looking for a complete DIY project or a fun way to dress up pre-made bird houses, you'll find lots of inspiration here.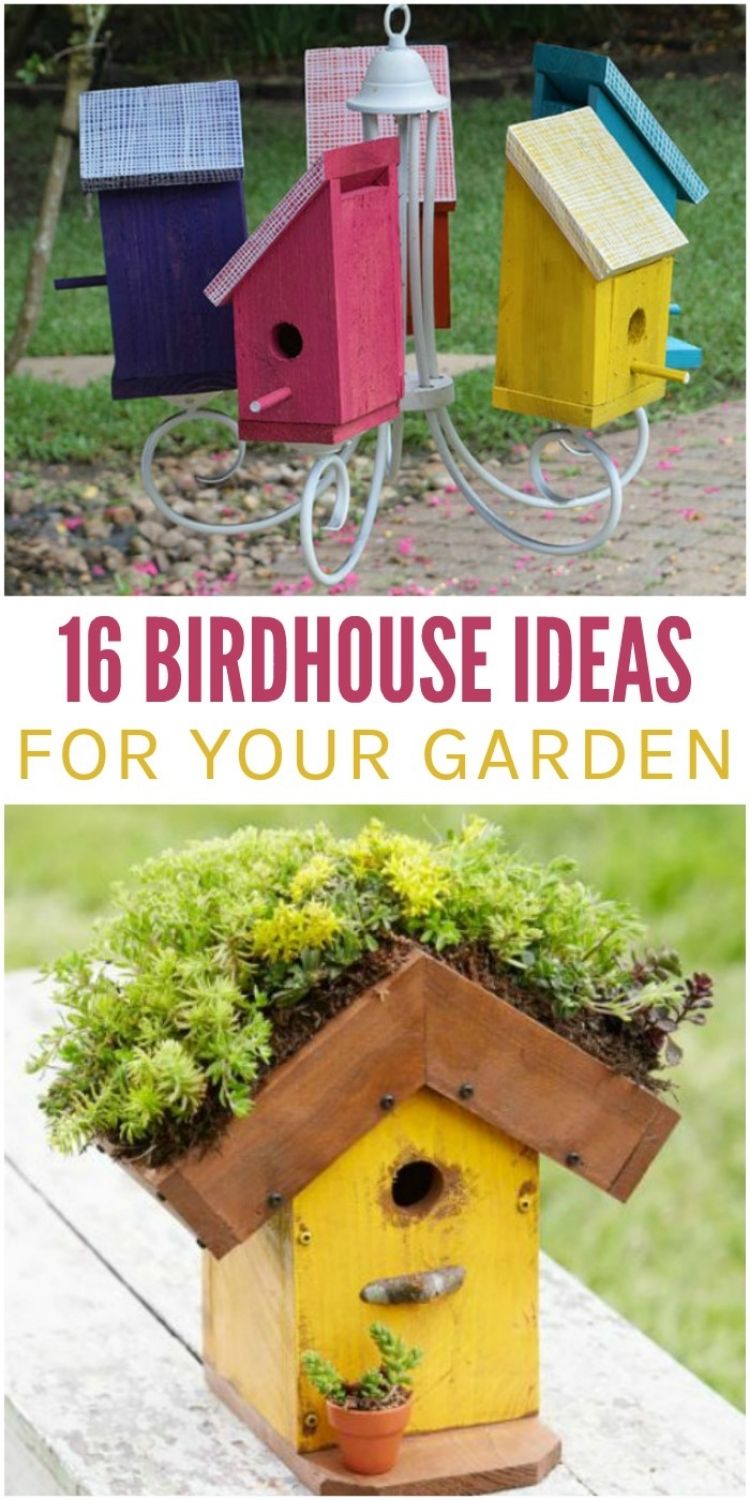 DIY Birdhouse Ideas for the Garden
Our gardens are our peaceful havens, right? And hearing the birds singing and seeing them at our feeders is a welcome delight on those lovely spring and hot summer days. Adding some homemade birdhouses to your outdoor experience is just a ticket for more serenity. The birds will thank you! Check out these DIY birdhouse plansfor those lovely chickadees, hummingbirds, sparrows, or nesting birds!
1. Birdhouse Chandelier
Wouldn't this birdhouse chandelier look amazing in your garden? It's a great way to revamp a chandelier body that no longer fits with your interior decor using simple tools. You can find birdhouses at a craft supply store or you can build your own simple version of this DIY birdhouse plans.
Grab an old chandelier from a thrift store. And, get ready to create your own birdhouse chandelier:
Remove all the wiring
Cut a circular piece of wood to act as a stabilizer in the center of the chandelier, drilling holes for each chandelier arm to go through.
Use a small amount of Gorilla Super Wood Glue to each chandelier arm to act as a thread lock for more stability
Drill a 2-inch hole through the cup area of each arm and use a wood screw to attach to the birdhouse.
Isn't this such a welcoming feature to attract birds to your garden? This wooden birdhouse can be a perfect nesting box. Get ready for bird watching!
2. Living Roof Birdhouse
Want a simple birdhouse? Build the perfect nest for your backyard birdies by building them a living green roof birdhouse. The plants themselves will be a wonderful attraction for them, don't you think? So fun to make, too.
Gather these supplies and you're ready to create this cool rustic birdhouse:
Barrier paper or plastic to protect the wood
Soil and moss
poultry wire
sedum plants
Don't forget to clean out the birdhouse after use. So it's ready for your new residents next spring!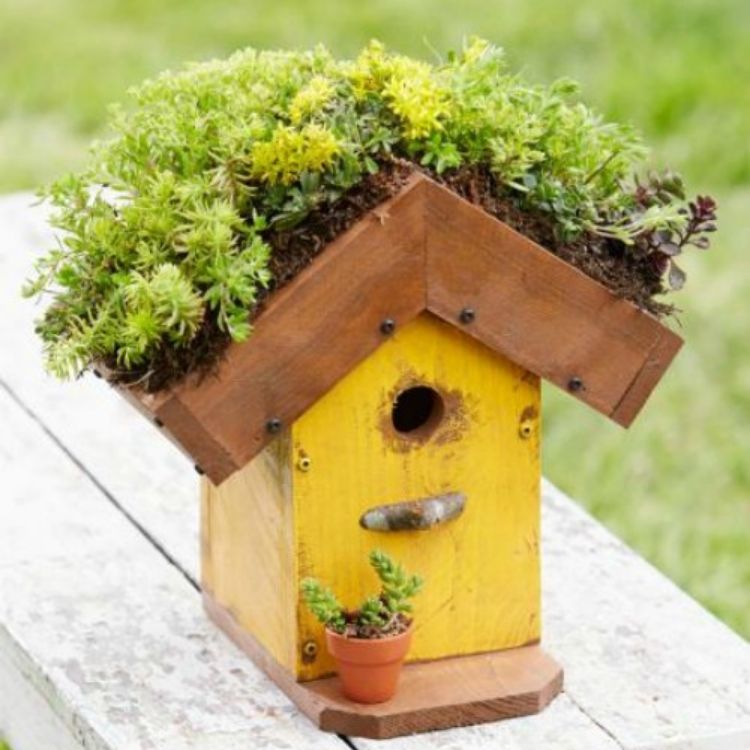 3. Upcycled Clock Birdhouse
This backyard birdhouse for your little bird lover will be a hit! Convert an old desktop clock into a DIY birdhouse. This is a great project for a thrift-store find.
Once you remove the clock face, you will need to cut a smaller hole (2″ max) out of a piece of plywood to put behind the opening. You don't want predators attacking your little birdies.
Add some wine corks or a wooden platform to the inside bottom so your birds don't have to go so deep into their birdhouse.
A wooden knob or empty thread spool on the front will make a perfect perching spot.
Here's hoping you get to see baby birds from your window view!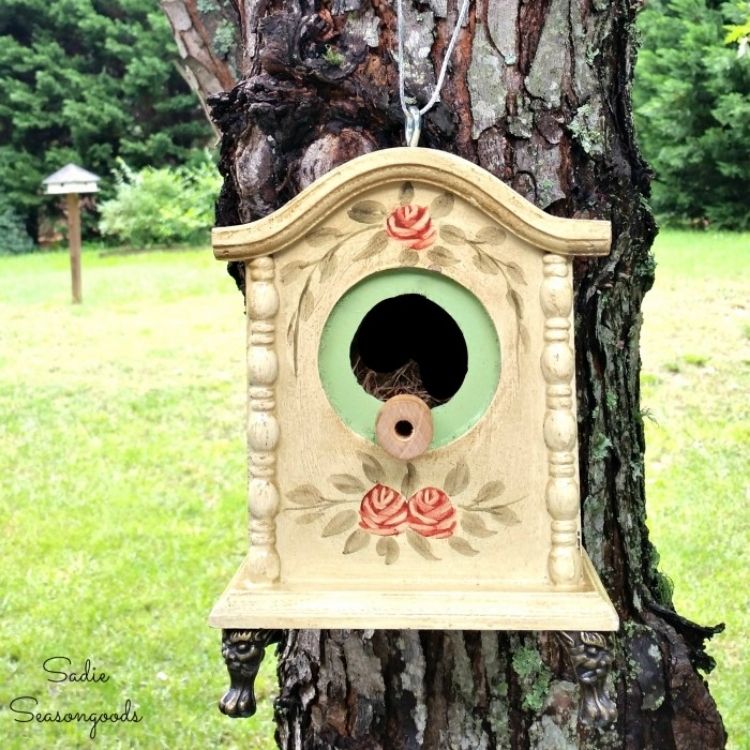 4. Penny Roof Birdhouse
Make a pre-made birdhouse a little more special with a pretty penny roof. The copper effect on the roof is so unique and the scalloped edges are exquisite! Plus, the effect can be enhanced by painting the birdhouse with a complimentary white-washed look. Different 'aged' copper pennies add to the textured look. It's so cool!
Use some all-purpose adhesive and wear gloves! 
Start at the bottom edge and work up the roofline. From the bottom of the roof working up glue a straight line of pennies across. Don't forget to overlap the pennies a bit to get that scalloped look. You will want to alternate the pennies between the ones below them to cover up space in between them.
Be sure to put a small amount of glue on the wood and two small amounts on top of each penny as you lay the new penny down.
This is seriously the coolest idea!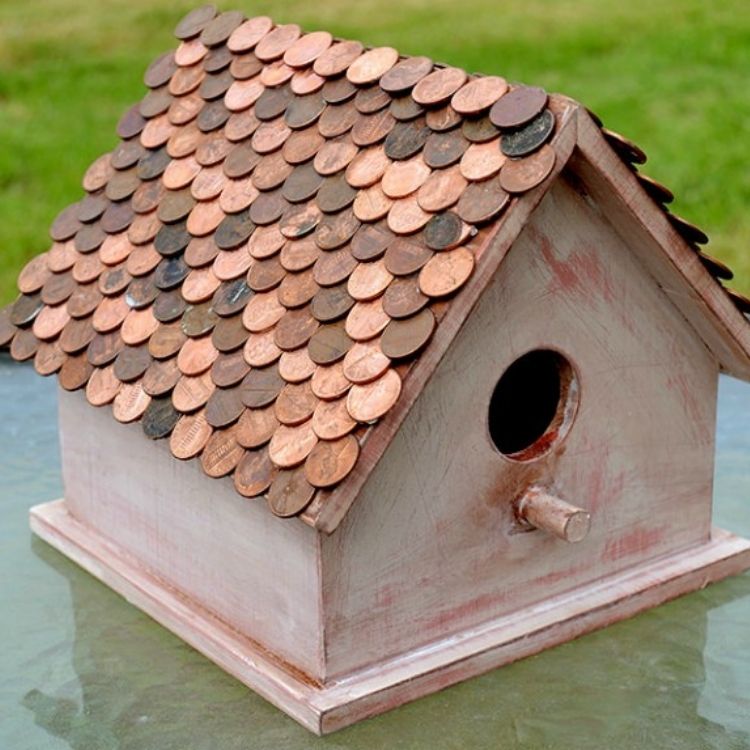 5. Decorative Stone Birdhouse Ideas are a Stunning Addition to any Garden!
Birdhouses and gardens are like peas in a pod. They are just meant to be together! Even if…it's just a decoration.
You could use a pre-made birdhouse as your base for creating a gorgeous stone birdhouse. Or you can also cover old canisters with stone and add quirky tops if you'd rather do a total DIY version. You can collect smooth stones to glue onto the surface or you can buy some river rock or even a small bag at a local craft store. These lids are old lamp shades spray-painted to add to the rustic look.
Of course, these are intended for decoration only. You may want to block the entry so birds don't make the attempt to use it.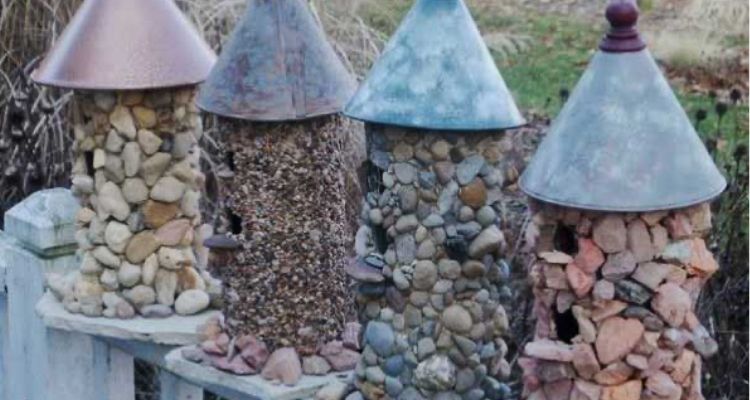 6. Rain Boot Birdhouse
Make some boot birdhouses with the kids! What a fun way to repurpose their rainboots after they've outgrown them. And why not let the kids help? Cut the roof pieces out of wood and the support beam between the roofline. Use an Exacto knife to cut the hole for the birdie to get into its new home. Isn't this just adorable?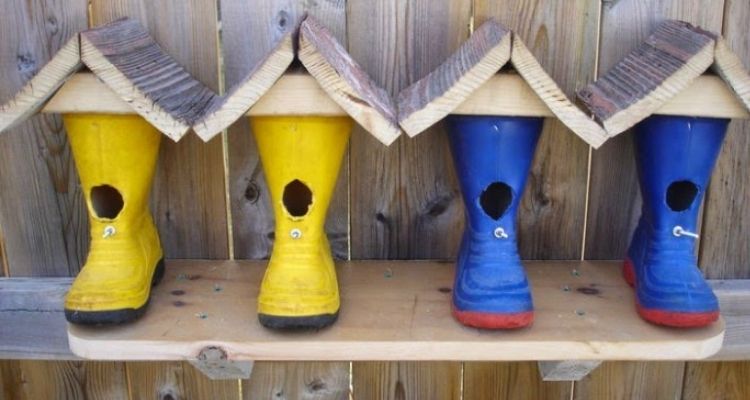 7. Stencilled Birdhouse Idea?
Paint a premade birdhouse using stencils to create fun and great design. This stenciled birdhouse is gorgeous and easy!    If you're a stencil crafter, you will love to do your magic with this idea! Use your favorite stencil pattern. Grab a sponge and some thinned paint and dab the sponge lightly over your stencil onto your birdhouse. With stencils, you can make any premade birdhouse look fabulous!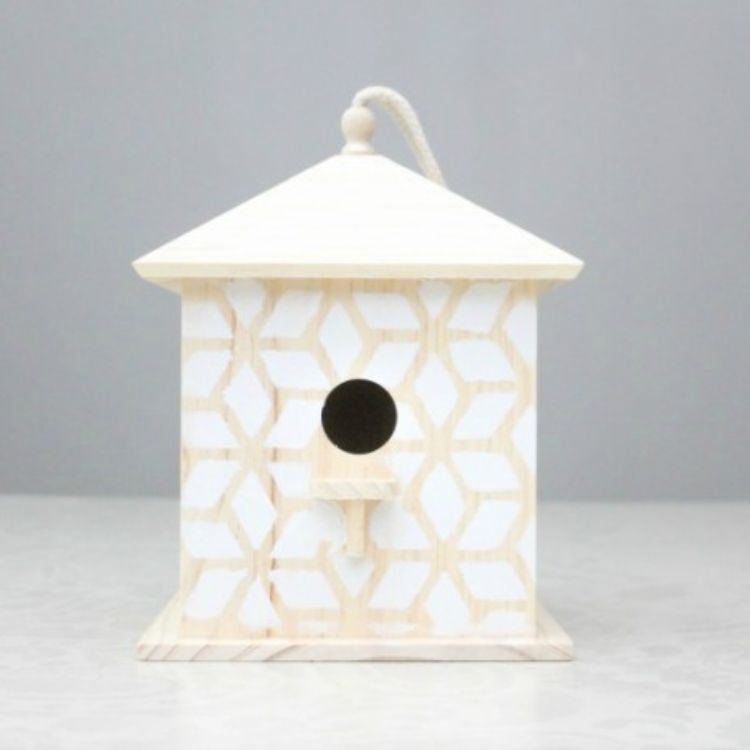 Kids Birdhouse Ideas for Fun Craft Projects
8. Milk Carton Birdhouse
This easy DIY birdhouse is a fun craft for the kids. This would be an amazing spring project for them to create. More than that, they will be thrilled to see and hear the little birdies at their backyard feeder. And it's super simple to make!
Use an old milk carton – wash and let dry
Cut a hole for the door – a small hole is best for small birds
Prepare surface with light sanding or primer
Paint and decorate!
Use hot-glue to attach the tree bark for the "roof".
Spray 2 coats of sealant to make it waterproof.
Add a twig under the opening as a perch for the birds, and another twig under the roof.
Fill the bottom with some grass or straw or hay and add a few stones to give it some weight.
When the birdies are finish nesting, you could also use this for a bird feeder. Get those binoculars out and your bird book spotting guide!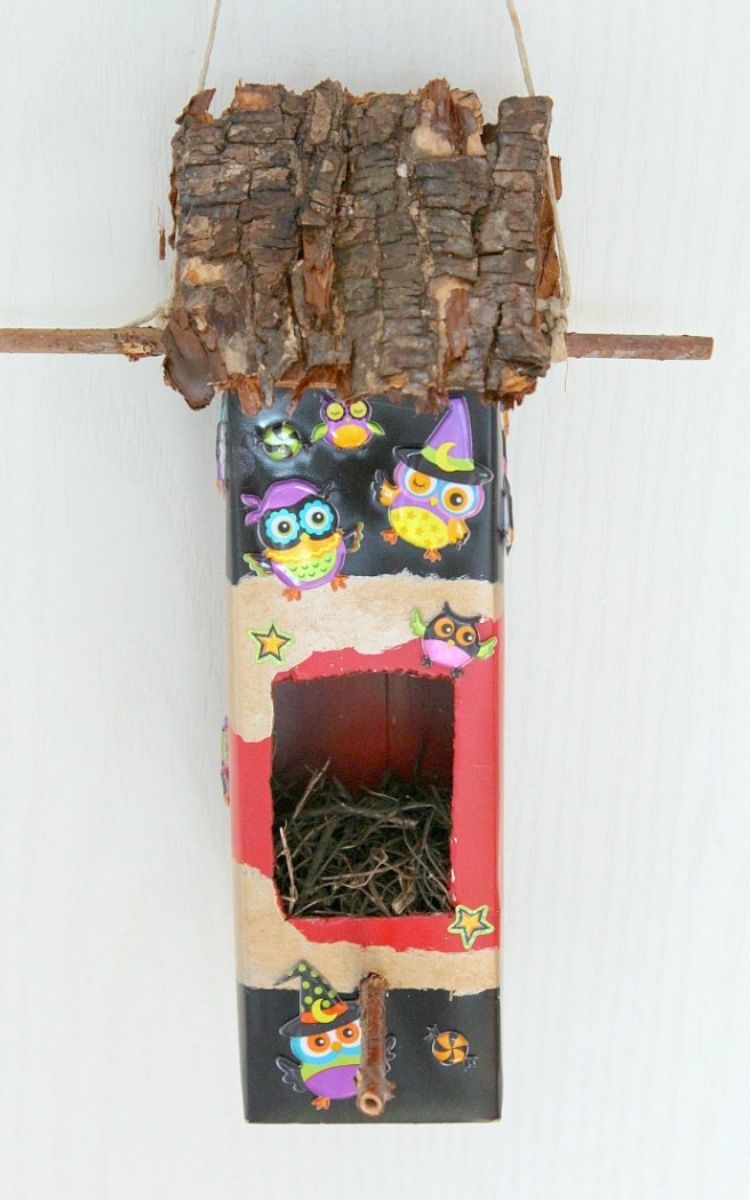 9. Kids Painted Birdhouse
All kids love to paint! And painting something that can hang in their backyard makes it extra appealing. This is so easy, peasy, and fun! Use chalkboard paint and chalk markers to make a bright, colorful birdhouse. You'll want to use a spray sealer if you plan to hang your birdhouse outside.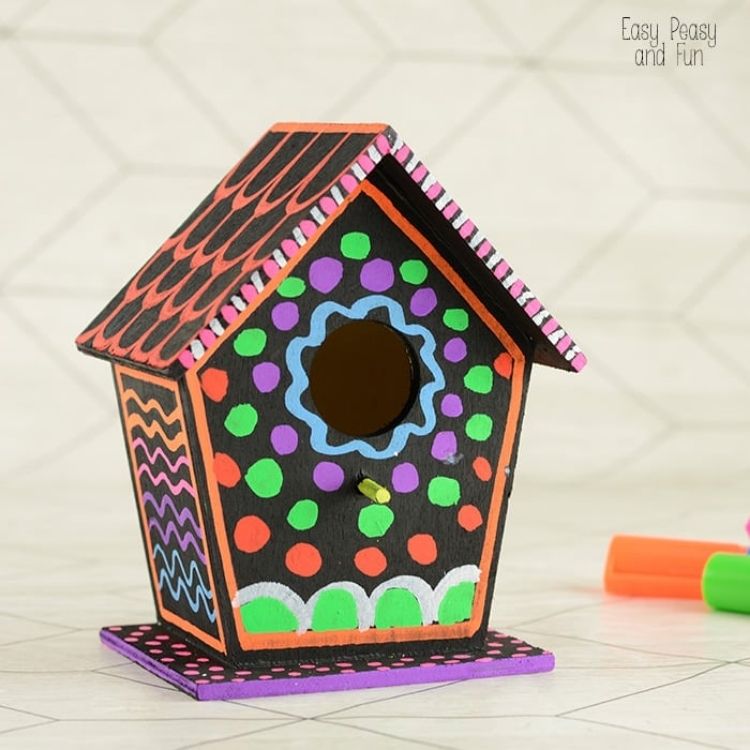 10. Lincoln Log Birdhouse
Make an upcycled birdhouse using your kids' old wooden logs. Grab your logs and get creative. I love the authentic look of this log cabin house, with windows and all. Perfect holes for the little birdies to fly in and out of. This one was made right on a plastic tray, which then served as a bird feeder at the same time. Now, this looks like a home any bird would pick, don't you think?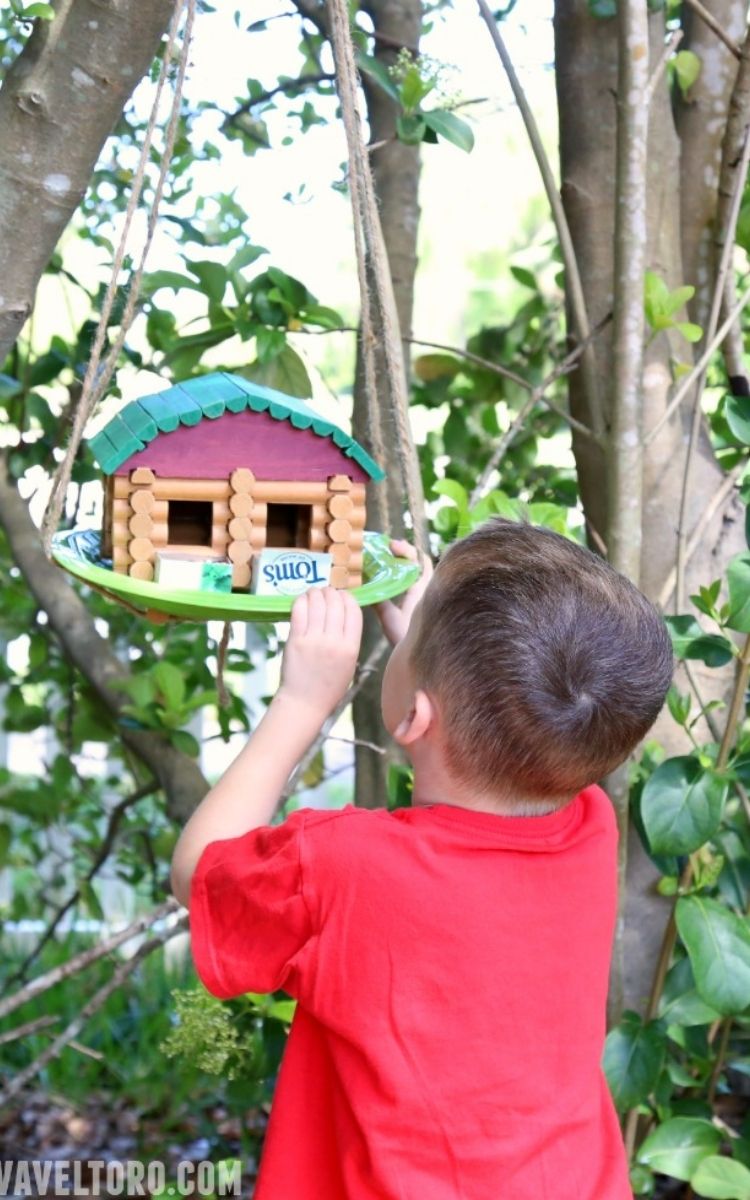 11. Painted Gourd Birdhouse
These gourd birdhouses are amazing! Did you know you could use gourds like this? Just let them dry out for a few months until the shell becomes hard and the insides dry out completely. Then, clean out the 'guts' and scrub the shell to remove any leftover dirt or mold, and wash with a little bleach water. Cut a 1 1/2″ hole for the entry.
And…get ready to do the fun part!  Spray paint and let the kids decorate!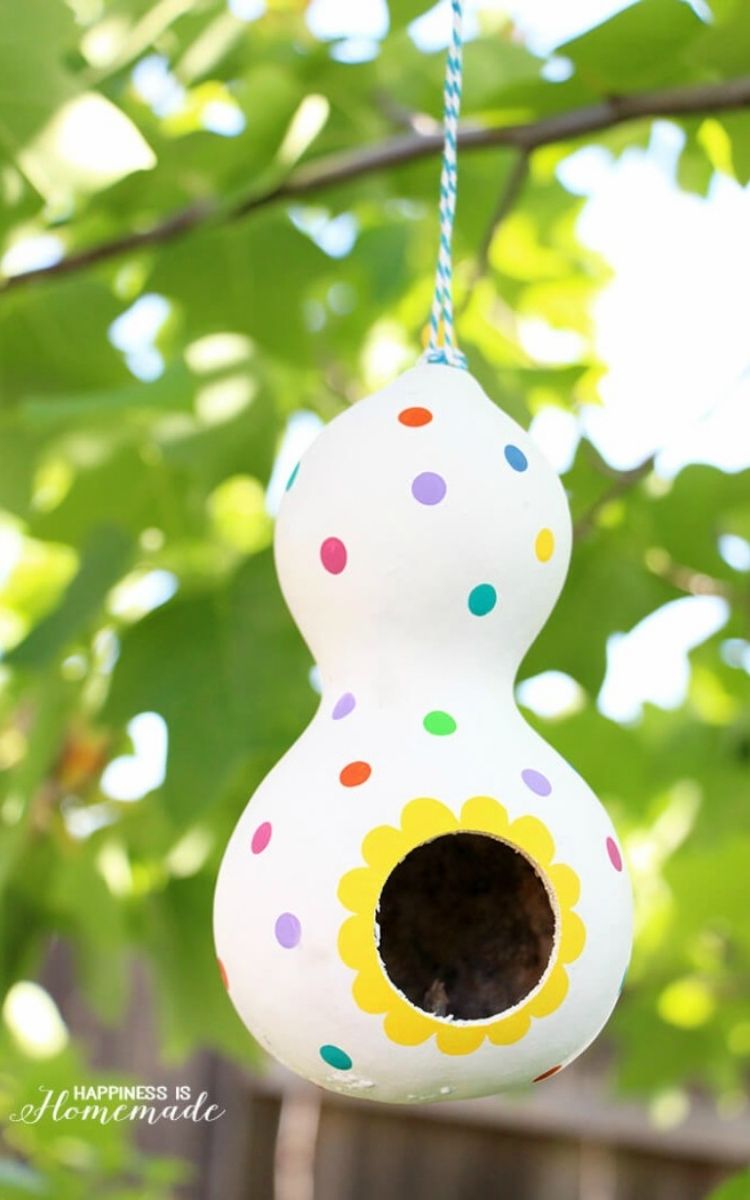 12. Fabric Covered Birdhouse Ideas
Yes, you can put fabric-covered birdhouses outside. The secret? Outdoor mod podge!
I also added a little bit of whimsical trim I also found at the hardware store. Can you believe this is trim that you buy to go with corrugated metal roofing??
Cut the fabric pattern out and laid it on the front of the birdhouse.
Add a layer of outdoor Mod Podge onto the birdhouse. Then carefully smooth the fabric onto the surface.
Once the fabric is on, add another layer of Outdoor Mod Podge and let it dry.
These exquisite birdhouses even have added mitered trim added to the bottom. I love that they're on painted posts and would look so great in any garden!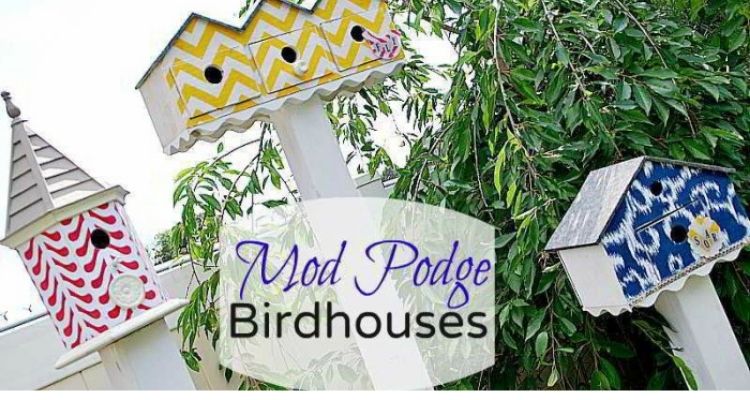 13. Angry Birds Birdhouse
How about an Angry Birds birdhouse? Won't that be fun for Angry Birds fans? Grab a premade birdhouse, some Mod Podge, some acrylic paint, and print off some coloring Angry Bird pages and you're all set for a fun kids activity!  The Mod Podge acts like glue, so use it to apply the cut-out image Mod Podge looks a bit milky white before it dries, but don't worry, it will dry clear.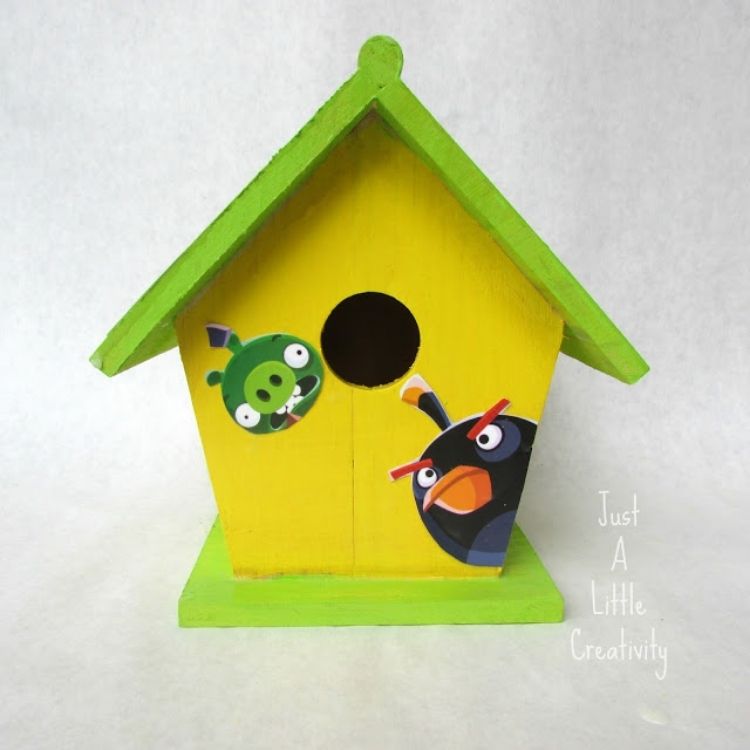 14. Simple DIY Bluebird house
For something a little more on the practical side, build some bluebird birdhouses. They're not frilly or fussy, but they serve their purpose well! And, Bluebirds like nesting in birdhouses in natural tones. These birdhouses are perfect for attaching to fence posts along a driveway or in a field.
You can find simple plans that make this birdhouse with one board and a few cuts!  Then all you need is some screws, a circular drill for the entry hole and you can whip these off in an afternoon. Don't forget to put a few drainage holes on the borrowed piece and a little hole at the top in order to easily screw it onto a fence post.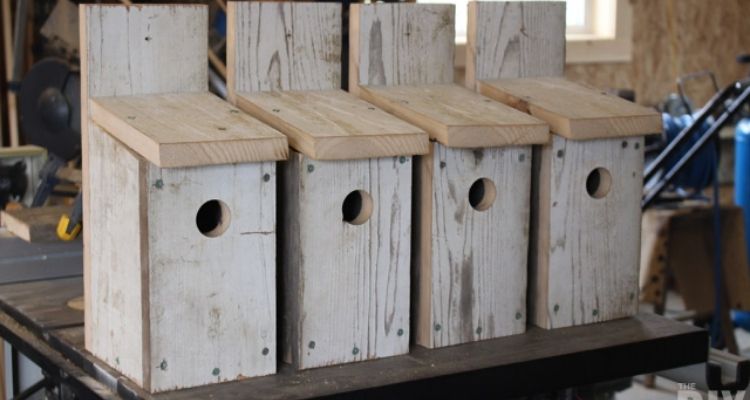 15. Road Map Birdhouse Ideas
Want to create a memory piece and a haven for the birds at the same time? Make some road map birdhouses that represent your favorite places and enjoy them in your garden for years to come!
Search for different style birdhouses that resemble or connect with a memory of your favorite place. Find your road map of that trip and then let the fun begin!
Choose paint to coordinate with the colors on the map
Create a template out of paper to fit the birdhouse
Decoupage the map with a thinned glue mixture
Apply the map to the birdhouse and press out the air.
Once completely dry, add a final coat of decoupage.
I think these are wonderful keepsakes! And birds like to travel long distances, too!
16. Easy Wooden Post Birdhouse
This easy birdhouse is made without nails or glue — how amazing is that? It's the perfect project for people who shy away from complicated DIYs. This is the same idea as the plain bluebird house but this time, no nails or screws! All you need is someone to cut you the pieces of wood. (Exact sizes are given in the link). The wood is stained so you can see the woodgrain. LOVE IT!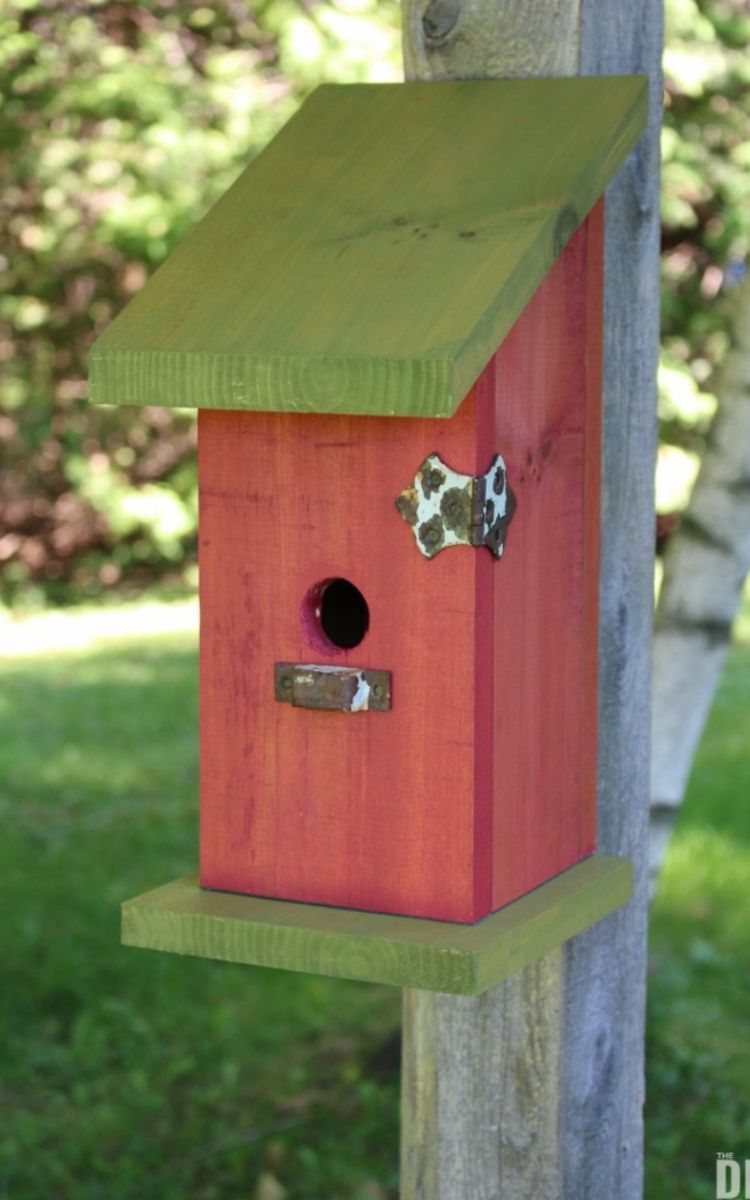 If you liked these birdhouse ideas, you'll love these other ideas for the garden, too: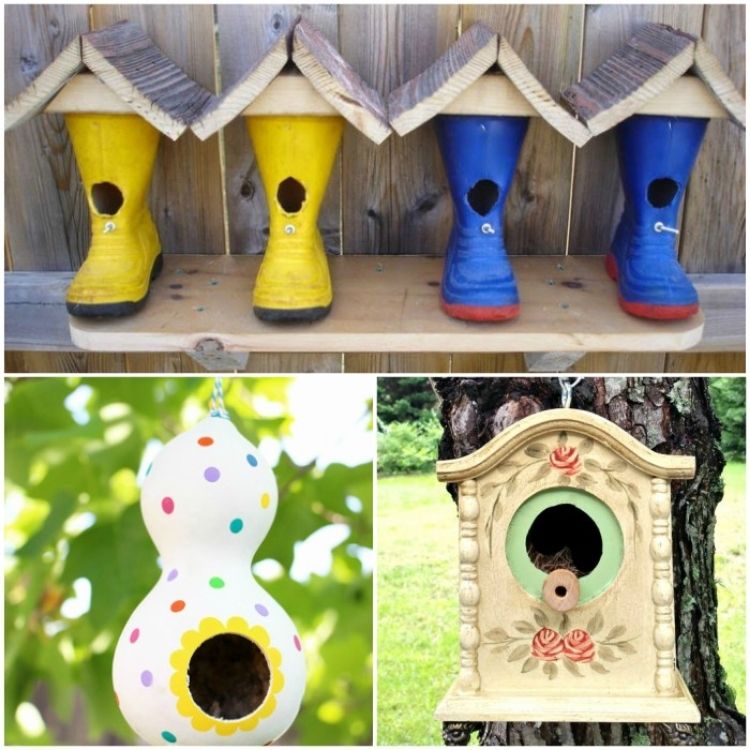 What is your favorite birdhouse design?