Doesn't losing a game piece make you crazy? How about trying to stack those boxes on each other and keep them from toppling (especially if you have a large board game collection)? We've found some of the best board game storage ideas to help you streamline family game night and make managing all those games just a little easier.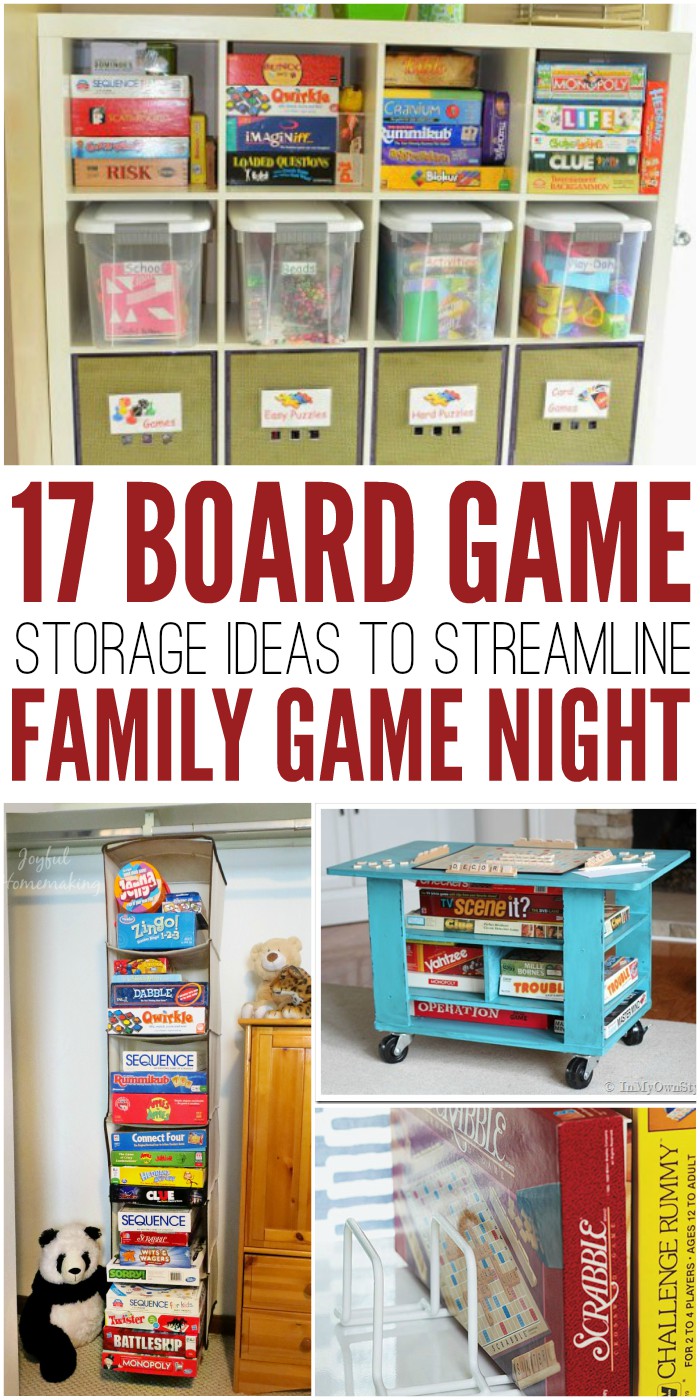 Easy Board Game Storage Ideas
Build a rolling game table to store your family's favorite board games. It's great to have a space to put the board without having to clear off a counter or table for everyone.
Have a whole closet dedicated to board games? Follow the advice of the smart mom at Raising Lemons. She decided on plastic drawers to keep everything uniform. Drawers are easier to deal with, and you don't have to worry about differently-sized boxes toppling over.
Cubby storage is always a winner in our book! It's a bit neater than regular shelves, and you can easily build your own cubby unit or purchase one.
If you prefer to stand your board game boxes but are afraid of the pieces falling out, simple, cheap headbands are the perfect solution! They fit around most board game boxes, and if you have girls, you probably have loads of these things lying around.
Why not try your hand at some custom labels? Just use an empty container and a pretty label to mark the game and number of pieces to make sure you always have all the pieces in order to play your game.
For a super easy organization idea, just use baskets and Ziploc bags. Cut out the game's instructions and cover, pop them in the baggie, and you're all set.
Keep boxes upright and in their places with a wire pan rack.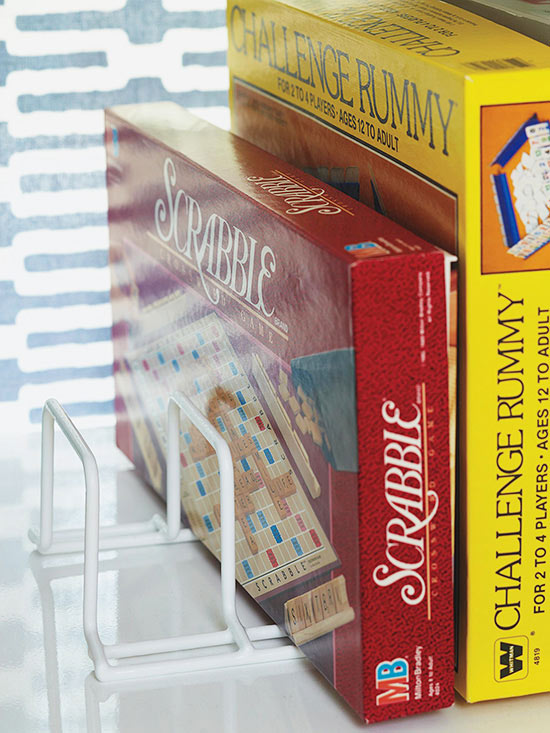 We think this repurposed ladder shelf looks great! It easily accommodates many sizes of boxes, and it looks terrific as a fun display in the family room or playroom, too.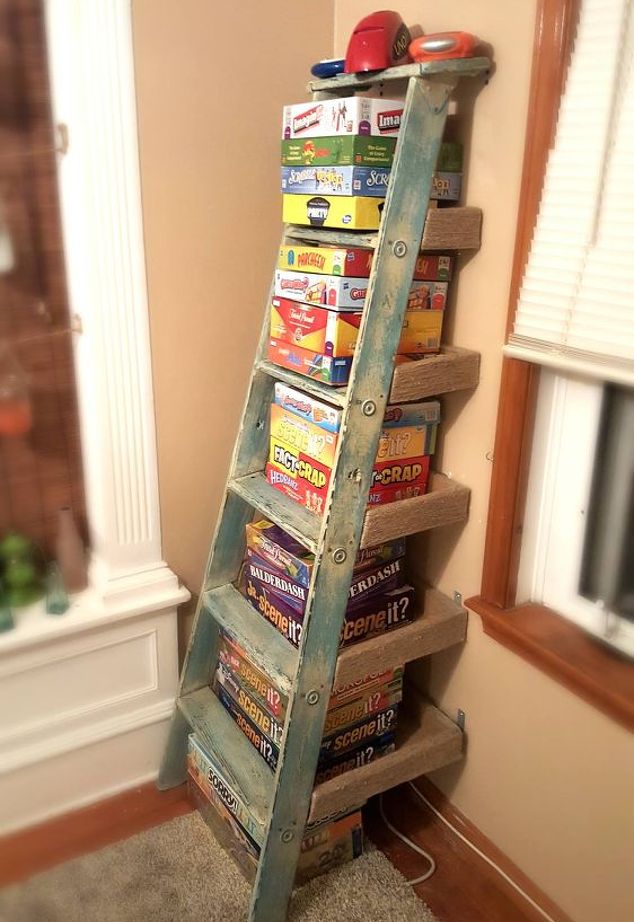 Speaking of fun displays, turn your games into a fun game board storage art project. Just put the pieces in baggies on the bag, and put the board game in a frame. Cool!
A hanging closet organizer allows you to make use of vertical space and hide those board games in a closet to get them out of the way.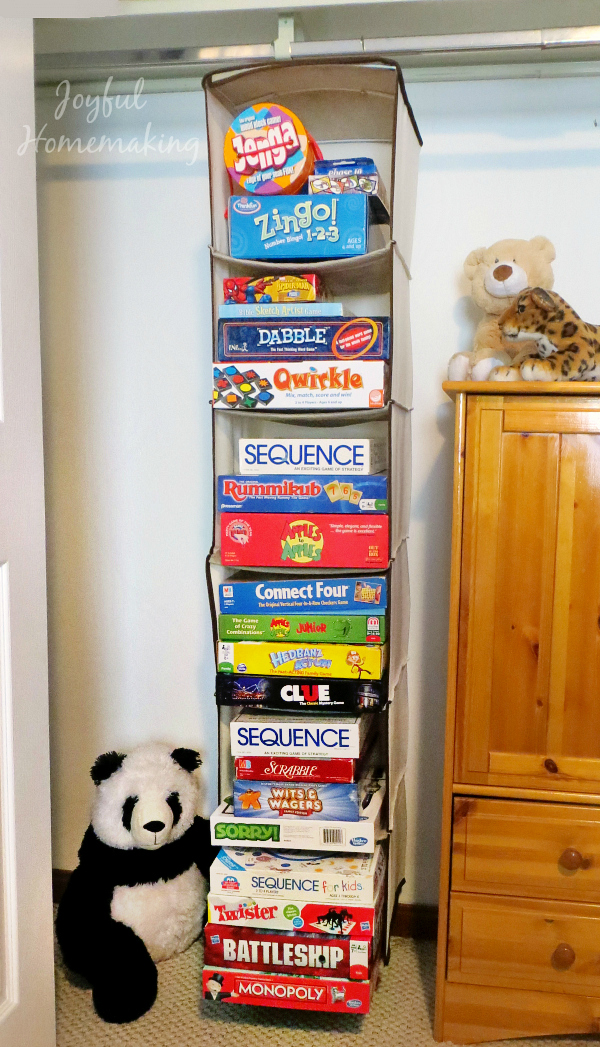 A Dollar Store cheese container is the ideal size for storing playing cards for Uno, Go Fish, etc. If you can't find the cheese container, a traveling soap container works well, too.
Scrapbook cases only cost a few dollars each and offer perfectly-sized, clear game board storage with plenty of room for all the pieces, too.
Scrapbook pouches also work extremely well, especially if you want to fit your board games into an even smaller space.
For another card game alternative, try pencil boxes. They come in all kinds of fun colors, so it's easy to find the one you need in a pinch.
And for one final tip on storing cards: try index card boxes. I've seen these for less than a buck apiece at Walmart and Dollar Tree, so it's a super affordable organizational tool.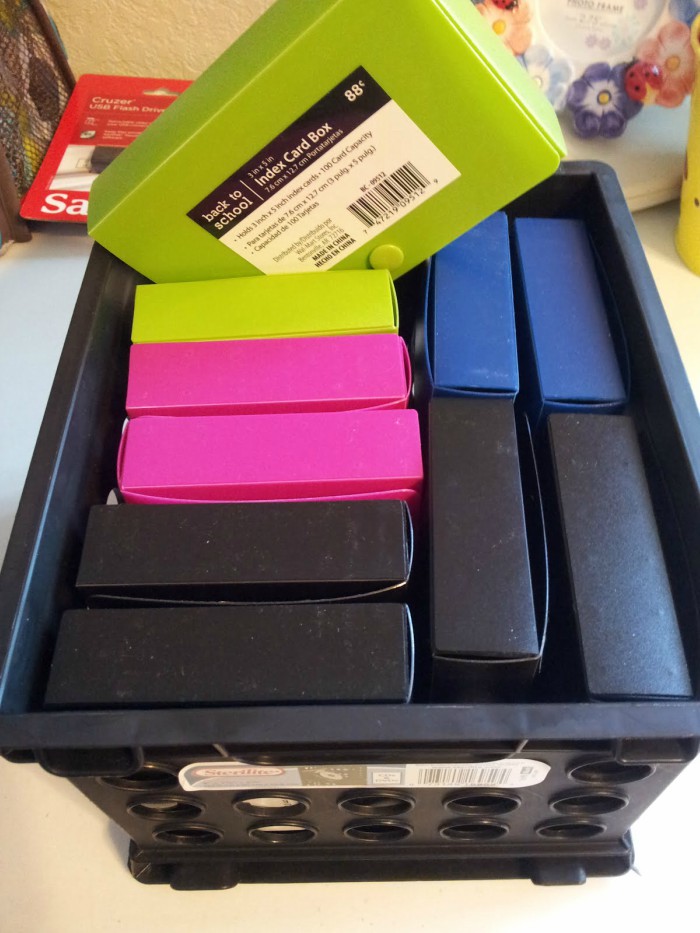 Kids always losing dice? Put the dice in small containers that they can shake up and lay on the game table. Genius!
Isn't this gaming tower swivel organizer brilliant? Not only does it house the board games, but the game console controllers and accessories are attached to the pegboard on one of the other sides.
What's your tip for keeping board games neat and tidy?