How amazing would it be for you to be able to upcycle and repurpose your old baby's cribs – so that you can always have a piece of that sweet newborn baby stage showcased in your home? You may be surprised to find that there are actually several different ways to repurpose crib with fun ideas out there! Here are just a few ways that a baby crib can have a repurposed life.
Whether you're turning it into a useful organizational piece, a functional piece of furniture, or even a new play area for your child in your kid's room, you'll be glad that you don't have to throw it out! Let the older cribs have a new life in these awesome craft project ideas!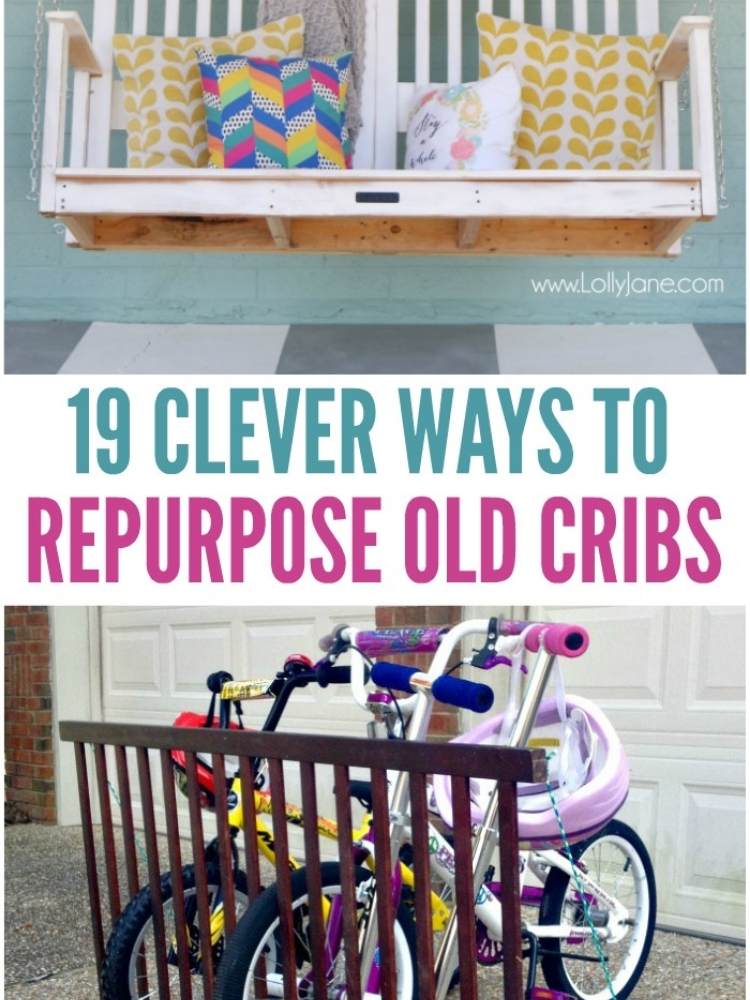 If you like this list, be sure to check out 16 Ways to Repurpose Changing Tables while you're here!
Repurpose Crib with Some Creative and Fun DIY Ideas
One thing that most parents have in common is how we can be nostalgic with letting go of our precious little one's baby items. It may seem silly to some, but, one of the hardest things we did was get rid of our son's crib. When your baby transitions from a crib to a toddler bed, it is a really big milestone in their development. I wish I had found these crib repurpose ideas before we got rid of our son's crib. If you just can't stand the thought of getting rid of yours, this list is perfect for you. Create some cool furniture, jewelry organizer, organization rack, new table, and many other stuff when you repurpose old cribs!
1. Chalkboard Easel
This crib repurpose idea is so fun and practical! Turn your old crib into a big chalkboard easel for your porch. They're perfect for seasonal decorating, parties, and more. It would even be cute for a business (think homemade goods or sandwich shop to list daily specials) or even as your own menu board for your house! What a great project with so many different uses!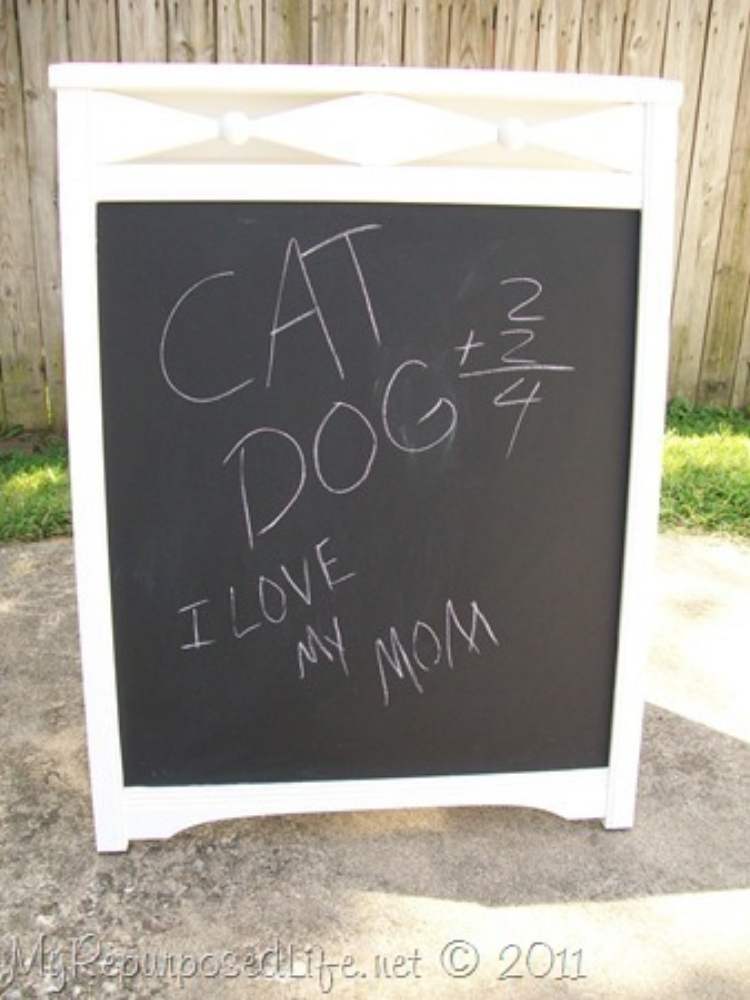 2. Magazine Rack from a Repurposed Crib!!
If you just love your magazines, but hate having to dig through a basket to get to your favorite one, then this is the perfect DIY project for you! Keep your magazines handy behind a chair or off in the corner by turning one side of the crib into a magazine rack. Your repurpose crib now keeps your magazines from getting all bent!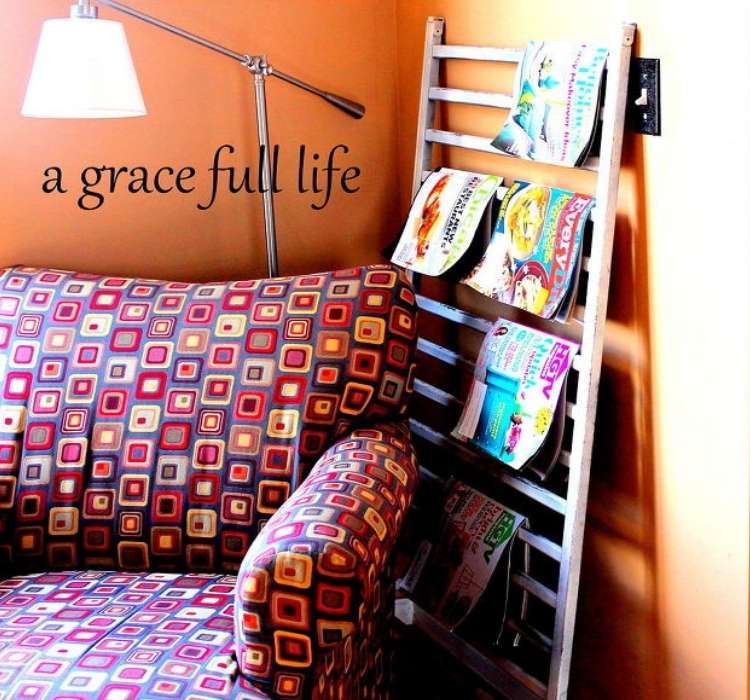 3. DIY Upcycled Couch
Were you blessed by a set of multiples in your family? Or maybe you just had little ones really close together. Either way, if you have several cribs, then this is a great way to repurpose those cribs! Just turn them into a couch and VOILA! This is a great piece for a kids' room, dorm, or the basement!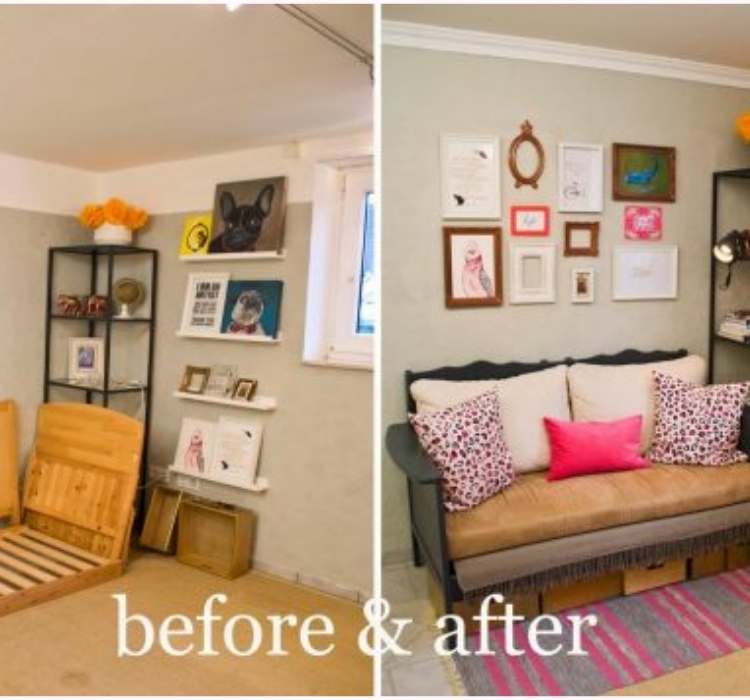 4. Repurpose Cribs into a Kid's Bookshelf
If your house is flooded with children's books instead of magazines, then just change the magazine rack to a kid's bookshelf! This repurposed crib makes an ideal bookshelf for the kids. Those board and picture books fit on it perfectly and make it easy for little ones to see which book they want to pick.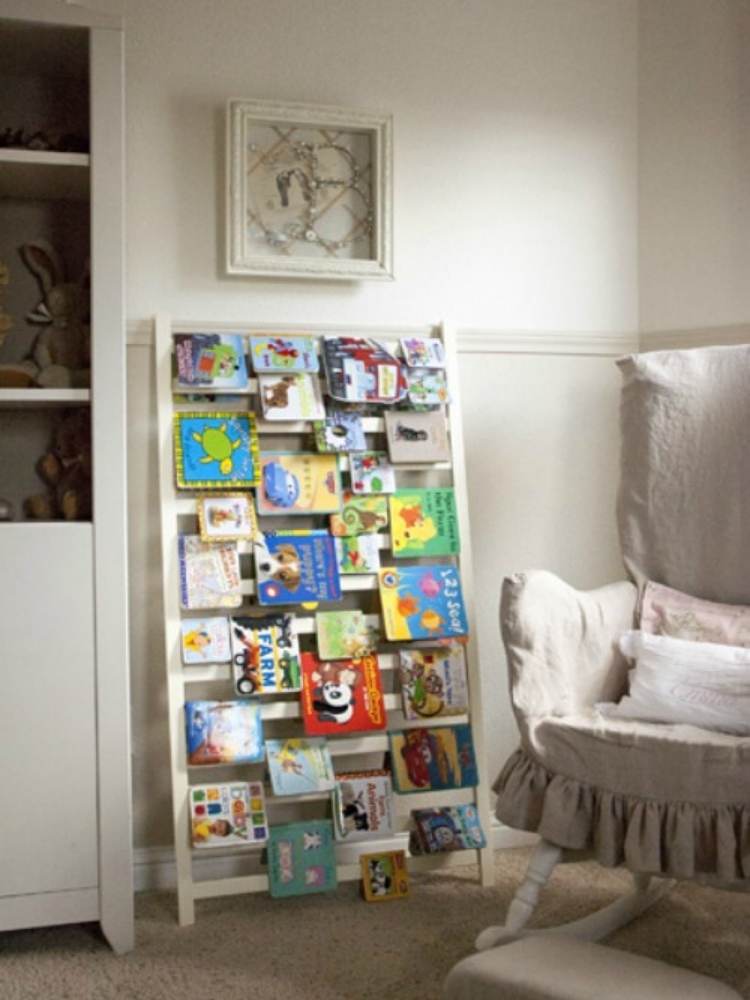 5. DIY Drying Rack
I've always wanted a drying rack in the house, but I'd have never thought of this idea to turn one side of the crib into a drying rack!
Mount it to the door of your laundry room
Pull it out when you need it
Put it away when you don't
How genius is that!?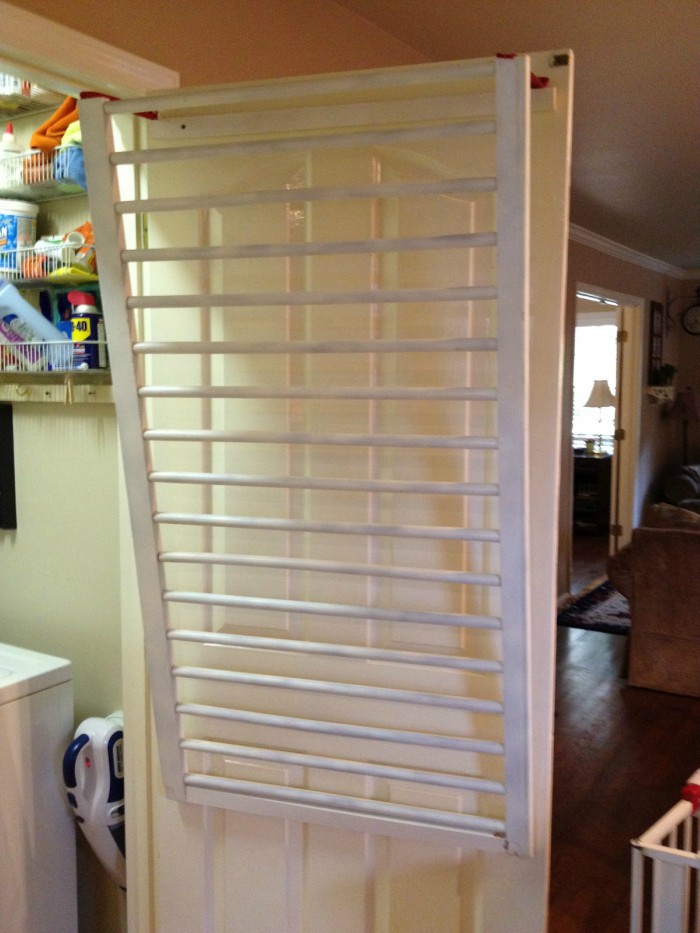 6. Chore Chart
If you're as busy as most mom's it's always good to have a way to keep up with everyone's tasks and chores that they're responsible for. This brilliant mom turned her old crib rail into a chore chart and behavior system for her kiddos. She even offers printables and lots of ideas to recreate her project!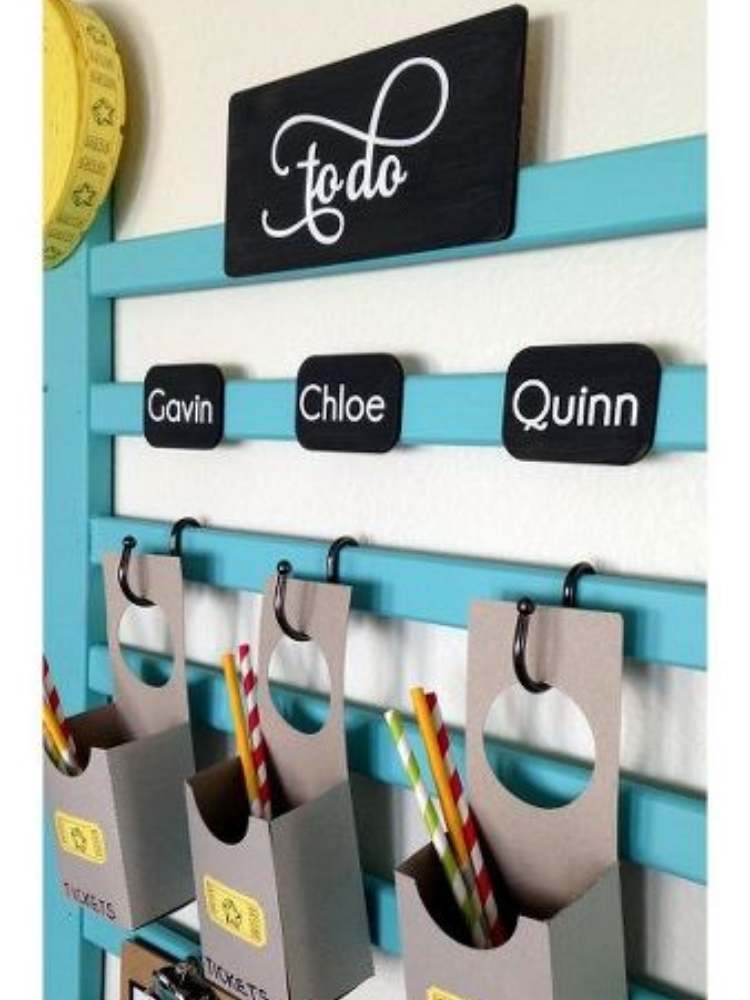 7. DIY Crib Porch Swing
This crib repurpose idea is not only clever, but also really pretty! Use your old crib to create a gorgeous porch swing for everyone in the family to enjoy. I love this idea because you can treasure a part of your child's babyhood while still making something your whole family can enjoy.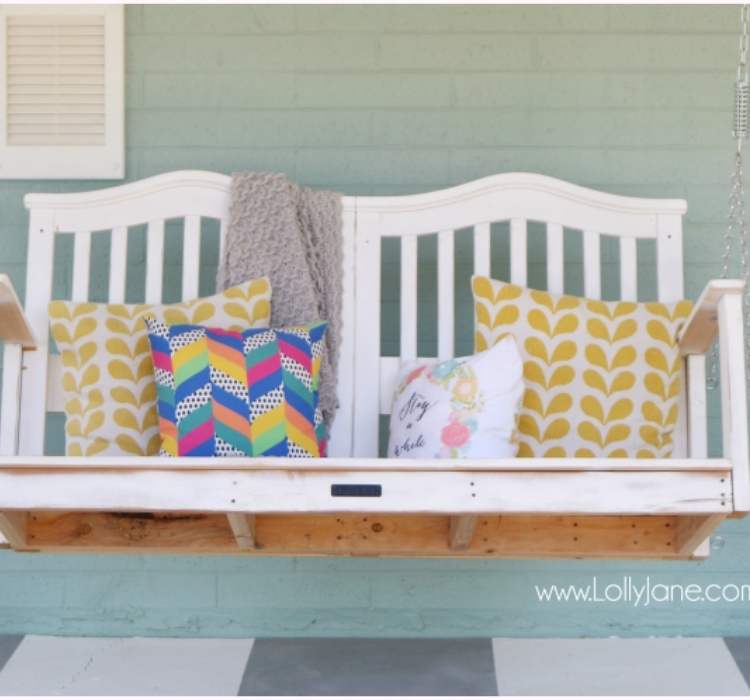 8. Toy Chest
As parents of young ones, is there ever time that there aren't toys laying around everywhere? Well, with this creative project, you can make sure those toys in the playroom get put away every time! Just repurpose your old crib into a toy chest for your child! And what's extra special about this project, is that it is sure to be one of those pieces that your kids want to keep for their own children in the future!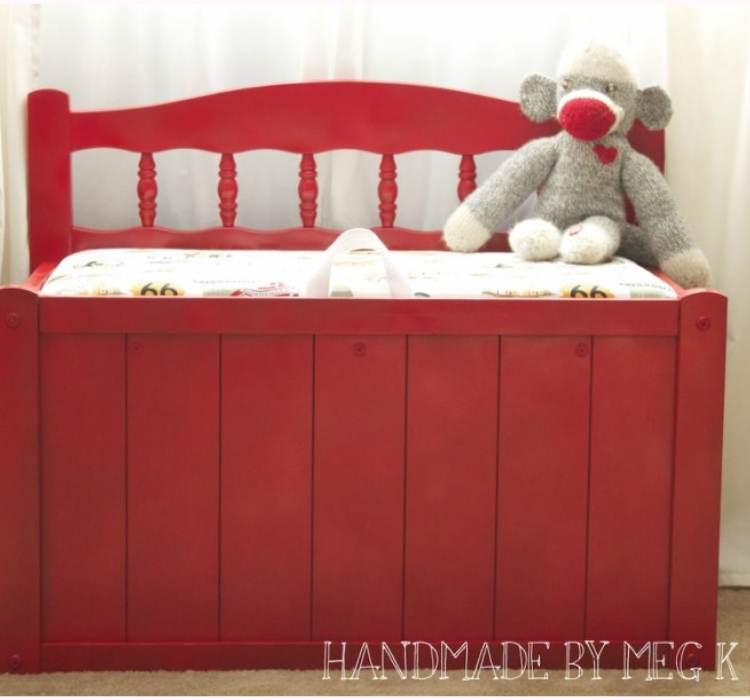 9. Crib Bench
This one is absolutely adorable! If you're looking for a cozy reading nook for your kid's room or if you're a photographer and need some extra photography props, turn your old crib into a crib bench. Seriously, we can't believe how adorable this project is! This could also be used in your entryway for people to sit and remove their shoes.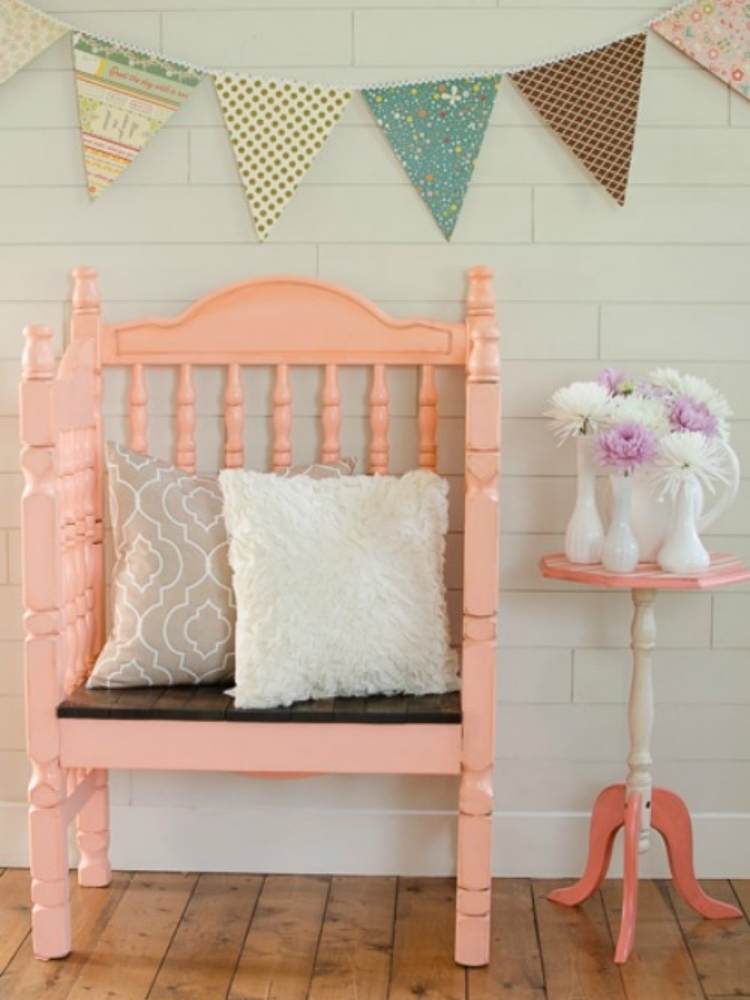 11. Art Table
Have a creative and artisitc member of the family? Then this DIY crib project will be their dream come true! Your child will love creating new ideas and projects on this repurposed crib turned art table. You can make it extra special by painting a chalkboard top, and adding pails of chalk, crayons, lots of craft paper, and more to their little creation station! This table is sure to get those creative juices flowing.  Heck, I want one for myself!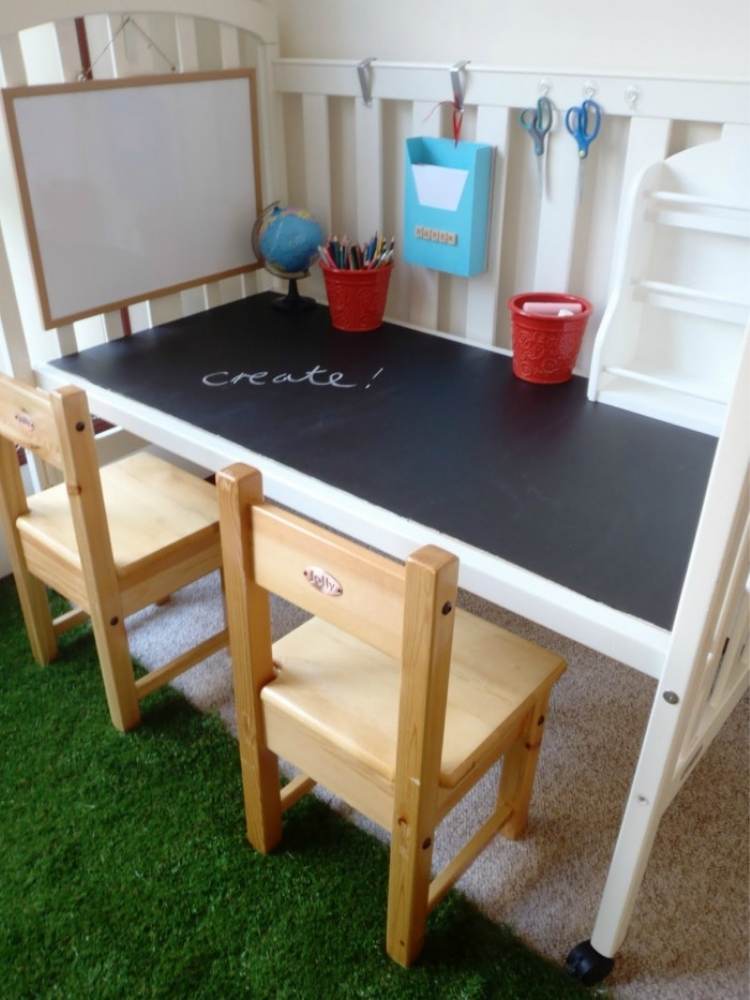 12. DIY Crib Garden Bench
Another really great repurpose project is to create a garden bench from your old crib. We love the rustic look of this bench created by pairing light gray paint, dark gray paint, and furniture wax to create the distressed look.
Tip for Dads: This would make a great Mother's Day gift that she will love for years to come!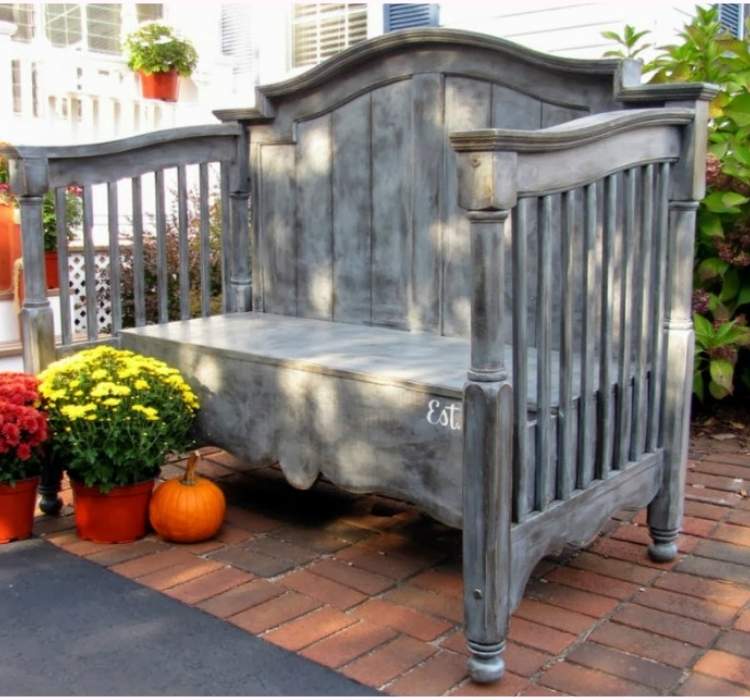 13. Craft Storage
Maybe you can't use all of the parts of your old crib, but if you can use the crib spring, then you can turn it into this handcrafted storage by attaching baskets, pails, and jars to hold all of your crafts supplies! This could also be used for a dorm room to hold pictures, pens, pencils, and more! Why stop there? If you are crafty enough, you can even adjust some things and make this into kitchen storage for all of your utensils and measuring cups. The possibilities are endless!
14. DIY Shoe Rack
What??  You can, Repurpose crib sideboard into a shoe rack for heels!!  Freaking GENIUS!!
Are you constantly running around the house trying to find a complete pair of shoes? Well, then this DIY shoe rack is a perfect hack for all of your heels. It looks pretty enough that you can even set it out to display instead of tucking it into a closet. Plus, it lets you easily see what shoes you have and what you need. Oh, who am I kidding? We can always use another pair of heels!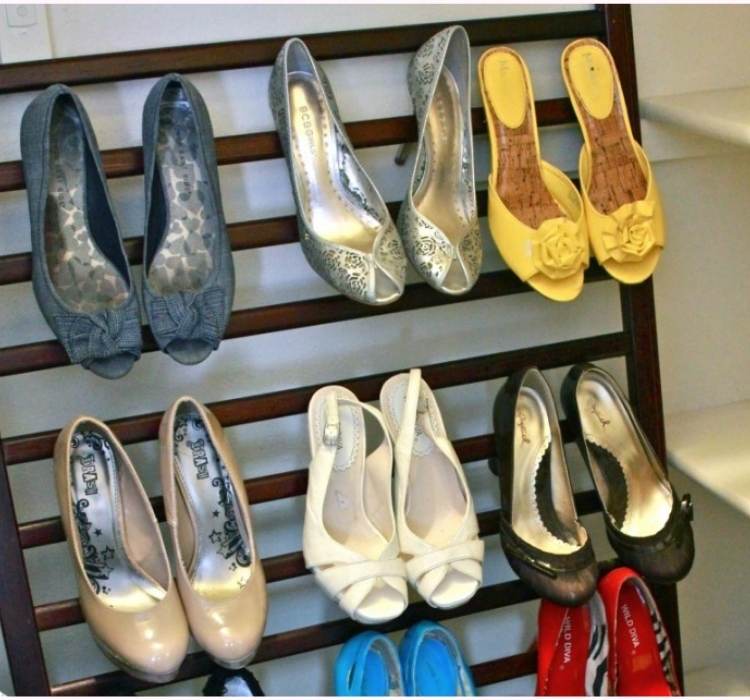 15. Hot Wheels Display: A Fun Repurpose Crib
Does your little one have a love for hot wheel cars? Are you tired from stepping on them all day long? Then use the side rail of your old crib to make this terrific hot wheels display. (Unsure of original source. If it's yours, please let us know!) Another way that this can be used is as a spice rack in the kitchen or even as a place to store your fingernail polish or makeup!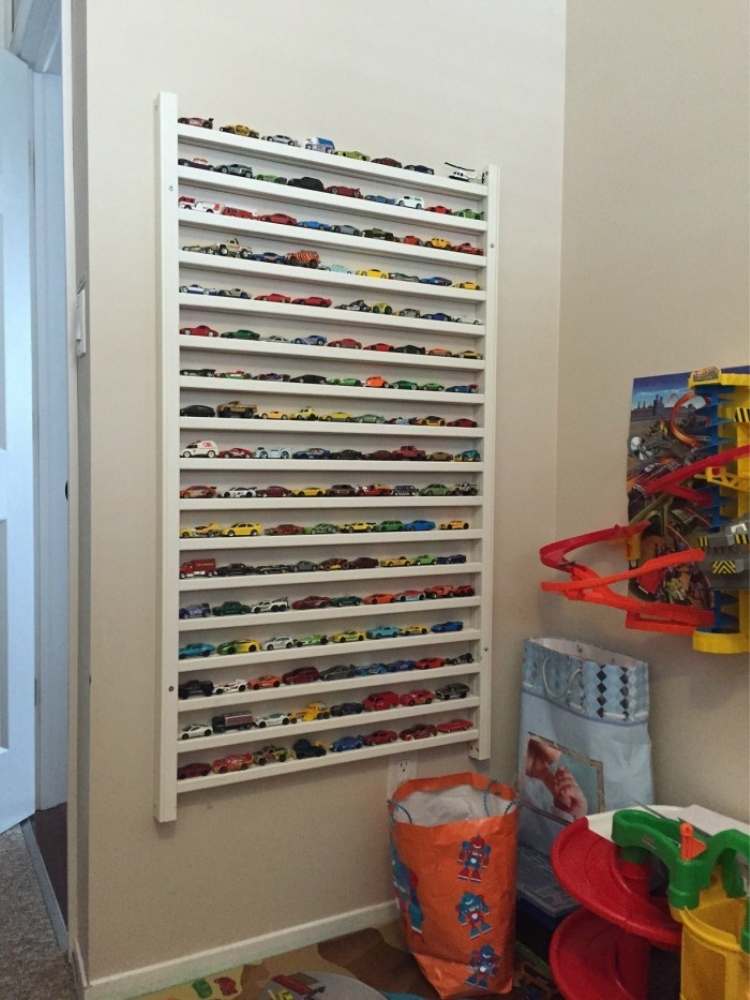 16. DIY Message Board
This is a fun one! Turn the crib spring into a message board where you can put important pieces of mail, notes to your family, shopping lists, and more. This also makes a great dorm room accessory for photos or reminders of assignments and events!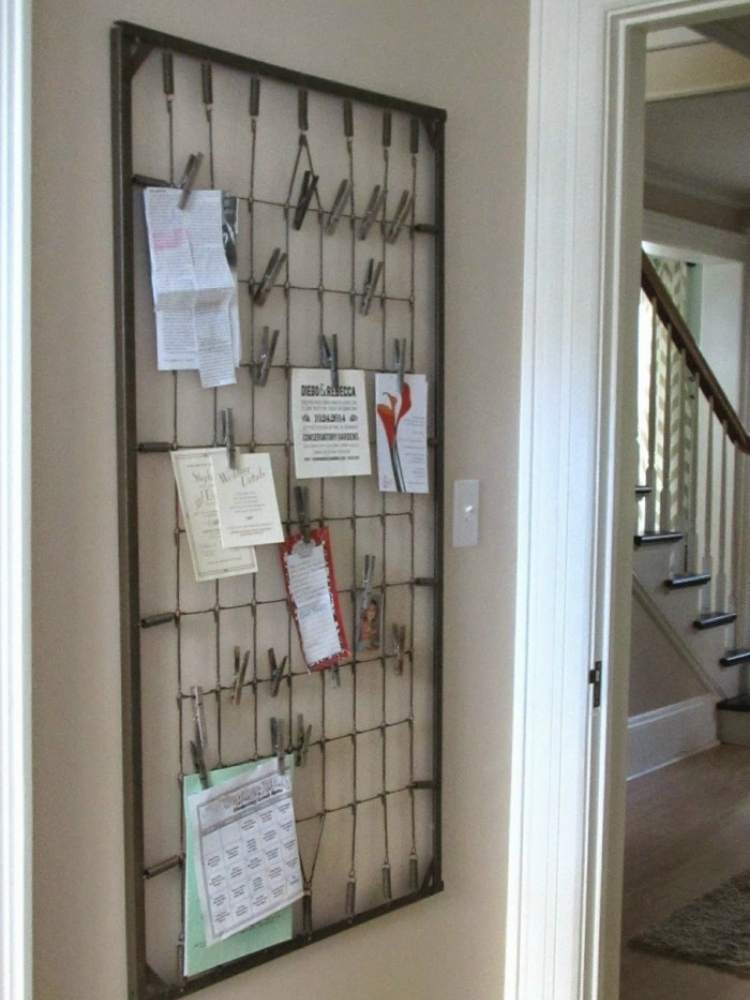 17. Repurpose a Crib into a DIY Dog Crate
Do you have a furbaby at home? Then try converting the crib into something for your furbaby! This dog crate is such a genius idea for dogs and puppies.  And it'll look a lot nicer in your home than those wire crates you buy at the pet supplies shops. Cute and functional!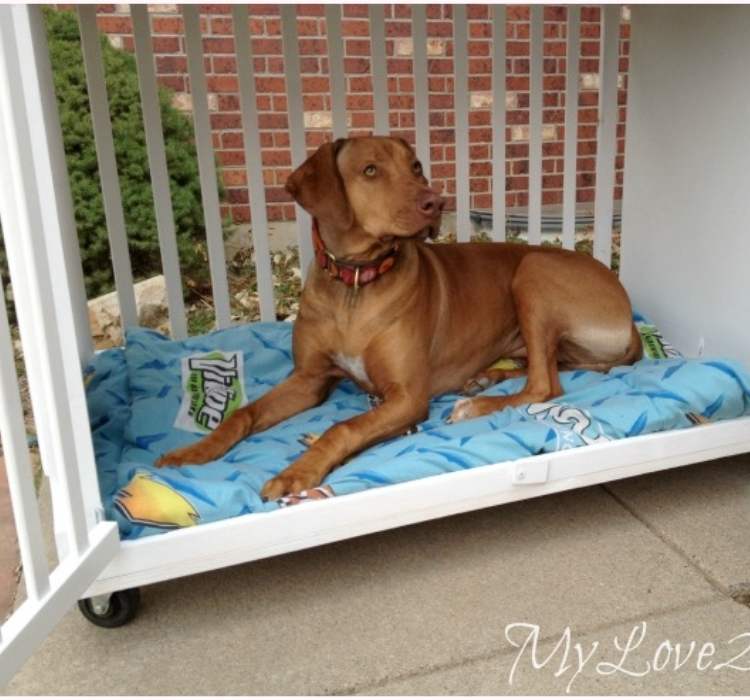 18. Bike Rack
Do your kids leave their bikes laying around in the garage or in the yard? We have a solution for that problem! Repurpose your crib into a bike rack for your kids' bicycles and scooters. It will be a big help with organizing your garage.
19. Play Tent
What kid doesn't love playing in a tent? With this outdoor play tent (made from a crib repurposed) your kids will have so much fun playing outside, out of the sun! Be sure to use waterproof fabric if you plan to leave it outside. If you use it in your child's bedroom, you can use any fabric that you want. Wouldn't it be just perfect as a reading nook?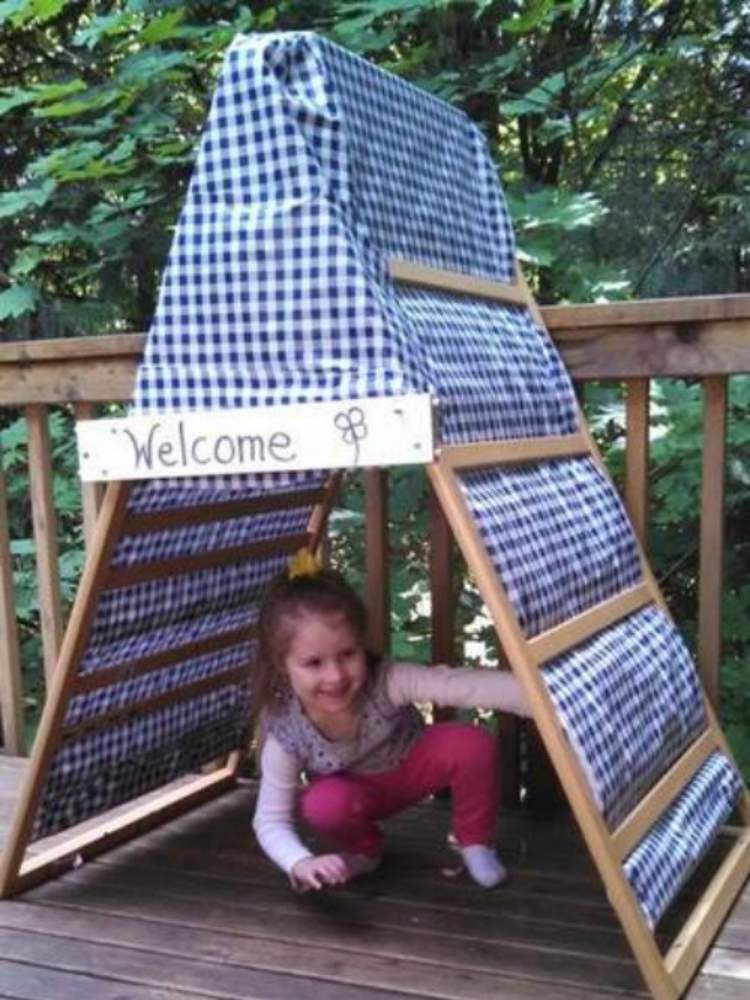 20. Bar Cart
This crib repurpose idea is one just for the adults!  Turn your crib into a bar cart for yourself! It's perfect to pull out for a barbecue night in the summer or New Year's Eve party!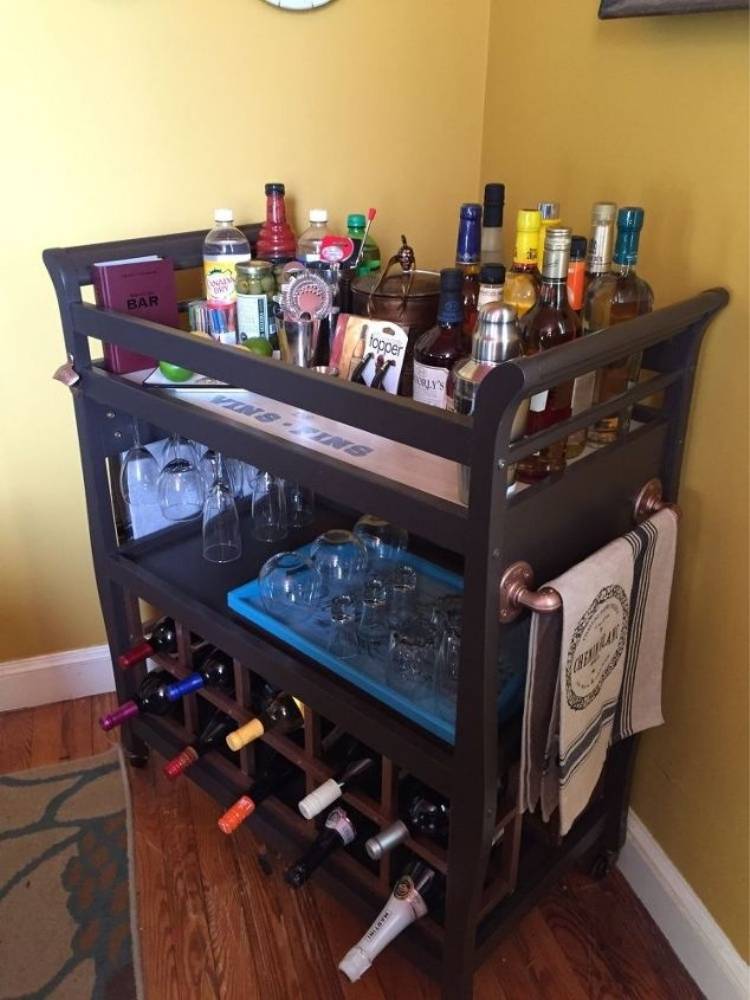 Crib Repurposed: Ideas for the Sentimental Parent
Transitioning your little one from their baby crib to their new toddler bed or big bed is an event to remember! But, there is no need to get rid of that old crib just yet. If you like to upcycle and repurpose your items instead of buying new, try one of these fun and creative DIY ideas for repurposing your crib. This will let you keep something that's old and sentimental to you and turn it into something new! It will definitely add to the sentiment of the crib.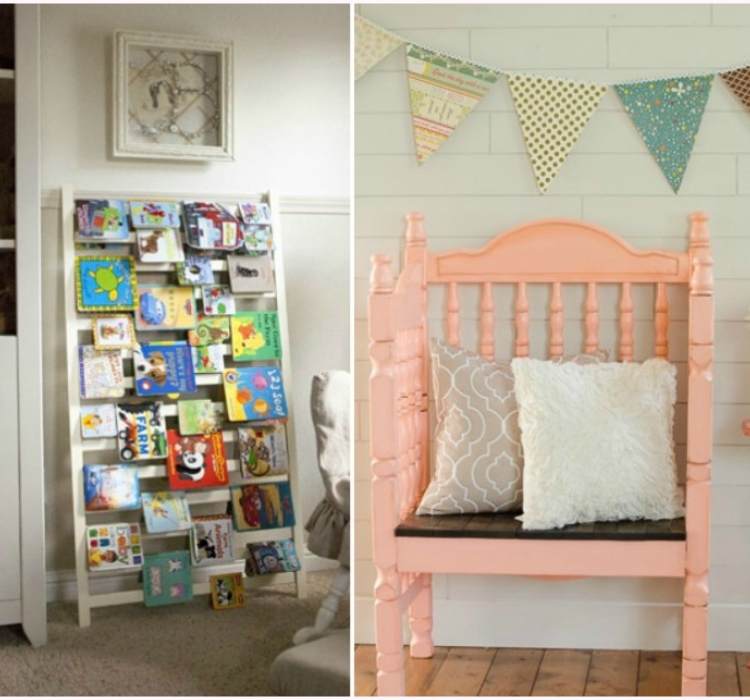 Be sure to check out our other DIY and repurposing blogs:
Which of these repurposed crib ideas have you tried doing?