Mason jars are amazing multi-purpose items, so they are great items to have laying around! They are sturdy, non-toxic containers, which makes them perfect to use in so many different ways like storing food, using in crafts, and so much more. Prepare for your mind to be blown with all of these unique ways you can use mason jars around the house.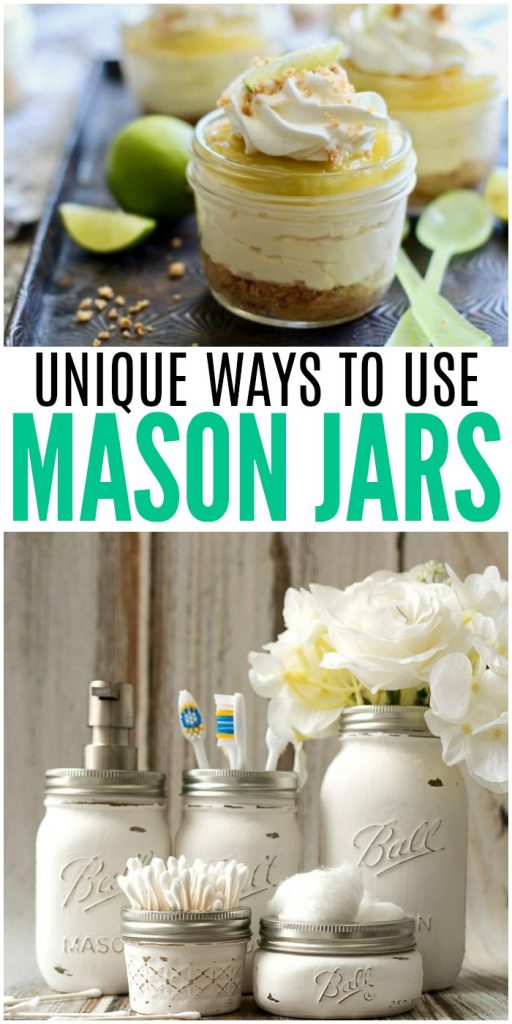 Unique Ways to Use Mason Jars in Your Home
So, we're no stranger to mason jars here at One Crazy House. We've posted about them before – Father's Day gift ideas, meals, and even how to upcycle them. But here are just a few more ideas to get you brainstorming!
Soap Dispenser

You can buy a kit for a soap dispenser for mason jars. You simply get a lid that has a pump to dispense soap, that you twist on the lid of the jar. These are so cute for a rustic chic look! Customize the jar with paint to give your bathroom a unique add-on.
Store Bathroom Products In them
Check out the tutorial to this beautiful set on Mason Jar Crafts! Store makeup brushes, q-tips, cotton balls, or whatever else you want in them. Then sit them out for display and easy access.
Sugar Scrubs
If you make your own sugar scrubs, mason jars work great for storing them. They seal tight so you don't have to worry about your scrub drying out. When your scrub gets a little low, simply grab a spoon to get to the bottom of the jar.
Nail Polish Remover
Grab a mason jar and cut a sponge down to size to fit inside. Then pour some nail polish remover into the jar. Then when you go to remove polish, just stick your finger in, rub your nail around on the sponge, and it will help wipe away your nail polish.
Herb Garden for Indoors
Create your own herb garden indoors with some mason jars. I love this tutorial from Living Well Mom! Just add some potting soil, place whatever herb plants you want in the soil and set the jar by a window that lets in the sun.
Salt and Pepper Shaker
Consider using mason jars for salt and pepper. Simply poke tiny holes into the top of the lid so that when you shake a little goes out. They actually have kits as well to buy online, if you aren't that crafty.
Sewing Essentials
Use a mason jar for sewing essentials. Place small items like buttons, measuring tapes, and other notions inside the jar. That way they won't get lost, and you can see exactly what is inside the jar.
No Bake Desserts!!!
I love desserts! Doesn't this Mini Key Lime Cheesecake from Princess Pinky Girl look AMAZING! Plus eating out of a mason jar just makes it that much more fun.
Attach to Blender
Want a single serve smoothie? Blender blades fit perfectly onto a pint size mason jar. So next time you are craving a smoothie, try using a mason jar for single serve!
Single Serve Meals
Looking to prep up some meals for the week? Consider using mason jars to store your food. Mason jar meals to eat on the go, are so easy to do! From salads to overnight oats, you can use mason jars for anything.
Use as Drinking Glasses
Pull out your mason jars and use them as drinking glasses! They are great and look really neat! Just take the lids off and you are good to go!
Matchstick Holder
Put some matches in the jar, and then secure some sandpaper under the lid ring. Just cut the sandpaper to fit to size. Then you have a matchstick holder!
Toothpick Dispenser
Take a nail and hammer some holes into the lid of the mason jar. Then put some toothpicks in the jar and secure the lid. You now have a toothpick dispenser.
Spice Holder
Grab little mason jars, and use them for spice holders. Either paint the lids with chalkboard paint or attach labels to each jar, that way you know what spice or herb is in the jar.