Hippity Hop! Easter is just around the corner, and with that comes planning a nice and delicious Easter Dinner for the family. Whether you are tackling the Easter Dinner all by yourself or designating dishes for each family member to bring so it is a big potluck dinner, I have Easter Dinner recipes for you! I have gathered some scrumptious Easter Dinner recipes to add to your meal. From a Crock Pot ham to delicious side dishes, and of course unforgettable desserts! Check out all these fabulous recipes below and try them out today, so that when Easter rolls around you are prepared with some stellar dishes to serve.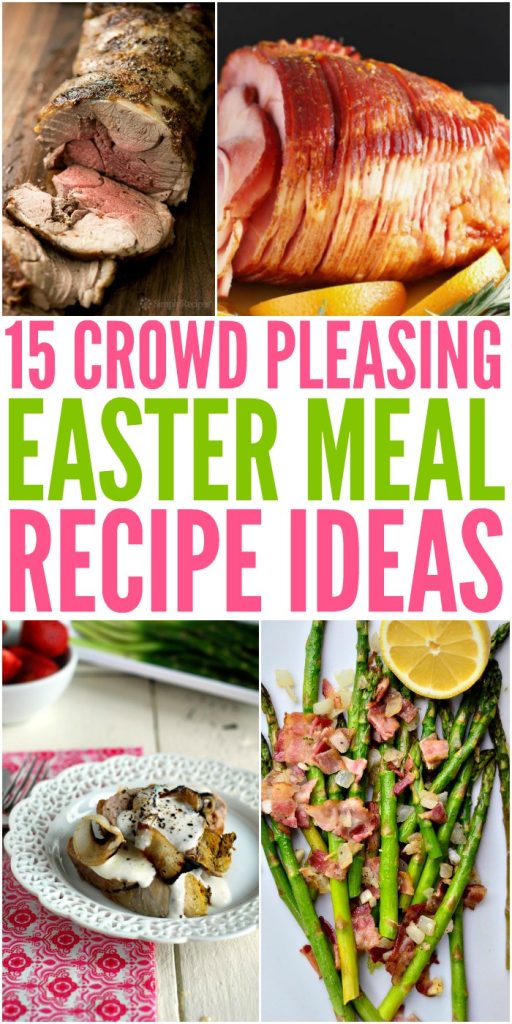 15 Easter Dinner Recipes to Try This Year
At family dinners on the holidays, a lot of times we have each family member bring a dish or two. That way the workload isn't fully on one person, and we get a variety of food. I create a list of what each person is bringing so each member can see, and then we can create a whole meal of sides, salads, main dishes, and desserts, for a complete holiday dinner. This has been a huge help in years past, and you can either send a mass text, create a private group in Facebook, where people can add their menu items, or call each member of the family.
With that all lined out, then comes the fun part of finding new dishes to add to our dinner. I like to make a few traditional items that I am known to bring, and then I like to go on the hunt for new recipes to try out. I love bringing in new sides and desserts to keep mealtime fun and not being the same foods every family holiday. So, if you are like me and on the hunt for some new Easter Dinner recipes to try, you might find a few below!
Main Entree – Easter Brunch or Dinner
Let the slow cooker do the work overnight with ham and cheese breakfast casserole by Mom on Timeout.
Are in charge of the ham this year? You might consider making A Mom's Take spiral ham in your Crock Pot. It will allow you to free up your oven for side dishes, and makes cooking the ham simple!
This ham variation from Honey and Birch looks amazing. You'll have to use your oven for this easy orange honey ham, but it definitely looks worth it.
If you don't want a classic ham or turkey as the main dish, try this lemon herb pork tenderloin from Your Home Based Mom. It has a beautiful presentation and truly melts in your mouth with tenderness and flavor.
Another option is Dine and Dish's Pepper Crusted Pork Loin. I can imagine how flavorful it is with that sour cream and onion sauce.
This leg of lamb recipe from Simply Recipes looks delicious! The roasted crispy outer layer carries so much flavor.
Hmmm…a whole Easter dinner in one hour? I'm game, thanks, Chelsea's Messy Apron!
Side Dishes
Bread is a main focal point for our family meals so homemade rolls are a must. Check out this butter roll recipe for light and flaky rolls that will please everyone.
Deviled eggs just seem like a must at Easter, or is that just my family? It is a great way to use up any hard-boiled eggs you dyed for Easter and a tasty treat.
The Reluctant Entertainer's Asparagus with Bacon and Shallots would work perfectly as a side dish for many holiday get-togethers.
Looking for a pasta salad to bring as a side? This club pasta salad from Val's Kitchen is very light and refreshing and packed full of rich flavor.
Play Party Plan's creamy twice baked potatoes are a fun twist from classic mashed potatoes and gravy. These are cheesy and topped with crunchy bacon crumbles.
Another unique potato option is this spinach and bacon smashed potatoes from A Worthey Read. These potatoes are anything but ordinary. You have smashed potatoes mixed with bacon, spinach, onion and a creamy mixture that makes these highly delicious. I guarantee there won't be any leftovers with this side dish.
Dessert and Treats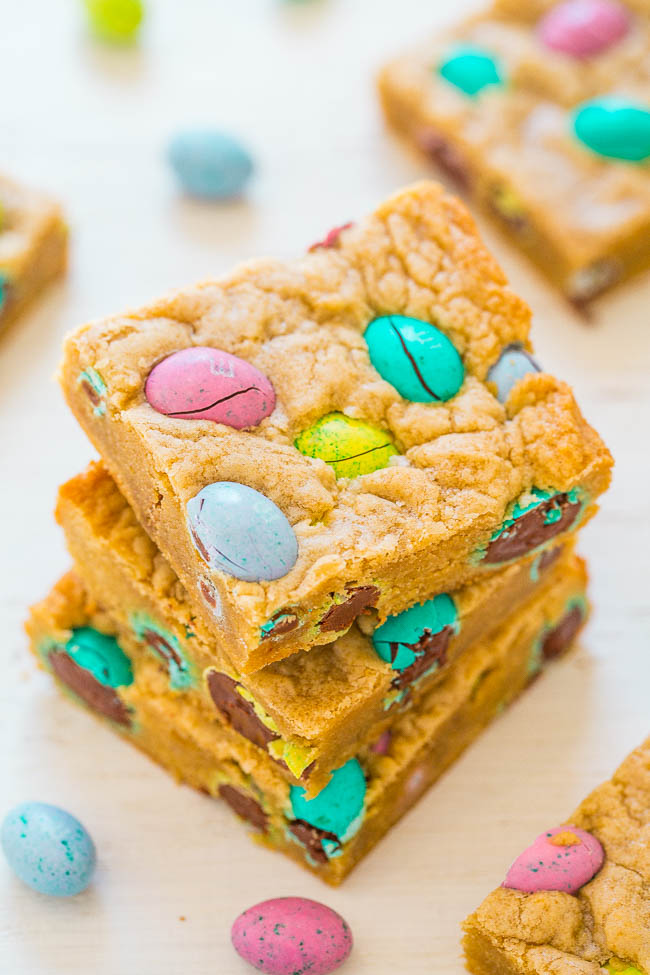 I could definitely see myself chomping down on these Easter Egg Blondies by Averie Cooks even before dinner is served.
Kicking It With Kelly's Egg-shaped fruity cereal treats are a fun new modern take on a Rice Krispie! They are colorful and full of fruity marshmallow flavor that will please your sweet tooth.
Check out these adorable carrot cupcakes, from A Pumpkin and a Princess, that offer that hint of spice with the rich cream cheese frosting that screams Easter.
For more Easter ideas check out these great posts: