Are you the type of person to carry your earbuds with you wherever you go? If so, you've probably found them in a tangled mess in your bag more than once. I know I have. But we've found an easy solution — bunches of them, actually. Whether you're looking for cute and cuddly or low-key and practical, like to sew, or don't even know how to thread a needle, one of these 16 DIY earbuds cases is for you. Now more do you need to fret about tangled or even lost earbuds. They will be safe and tangle-free, right where you left them.
Don't miss our headphones fix to turn even a cheap pair of earbuds into a noise-canceling set.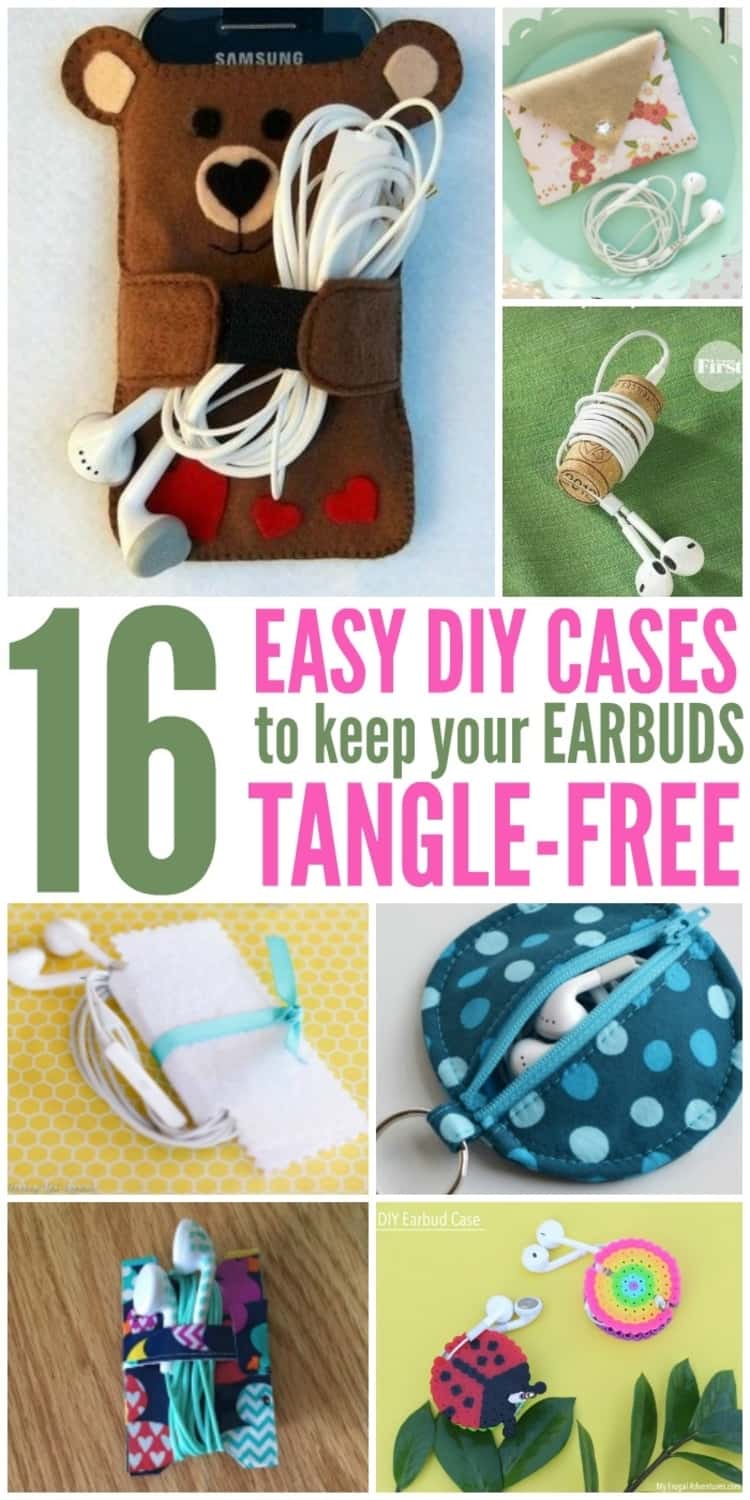 Easy DIY Earbud Cases
1. Upcycled Breath Mint Container
Here's a cute and easy DIY for an earbuds case that no one will believe isn't custom-made. Collect as many old mint containers as you can find around the house, cover them with different quirky pieces of fabric scraps using adhesive, and you'll have a variety of stylish DIY earbud cases to hold your earbuds. You can either toss the container in your purse or attach it to a keyring to hang outside your bag. No need for a sewing machine and measure seam allowance! Smart!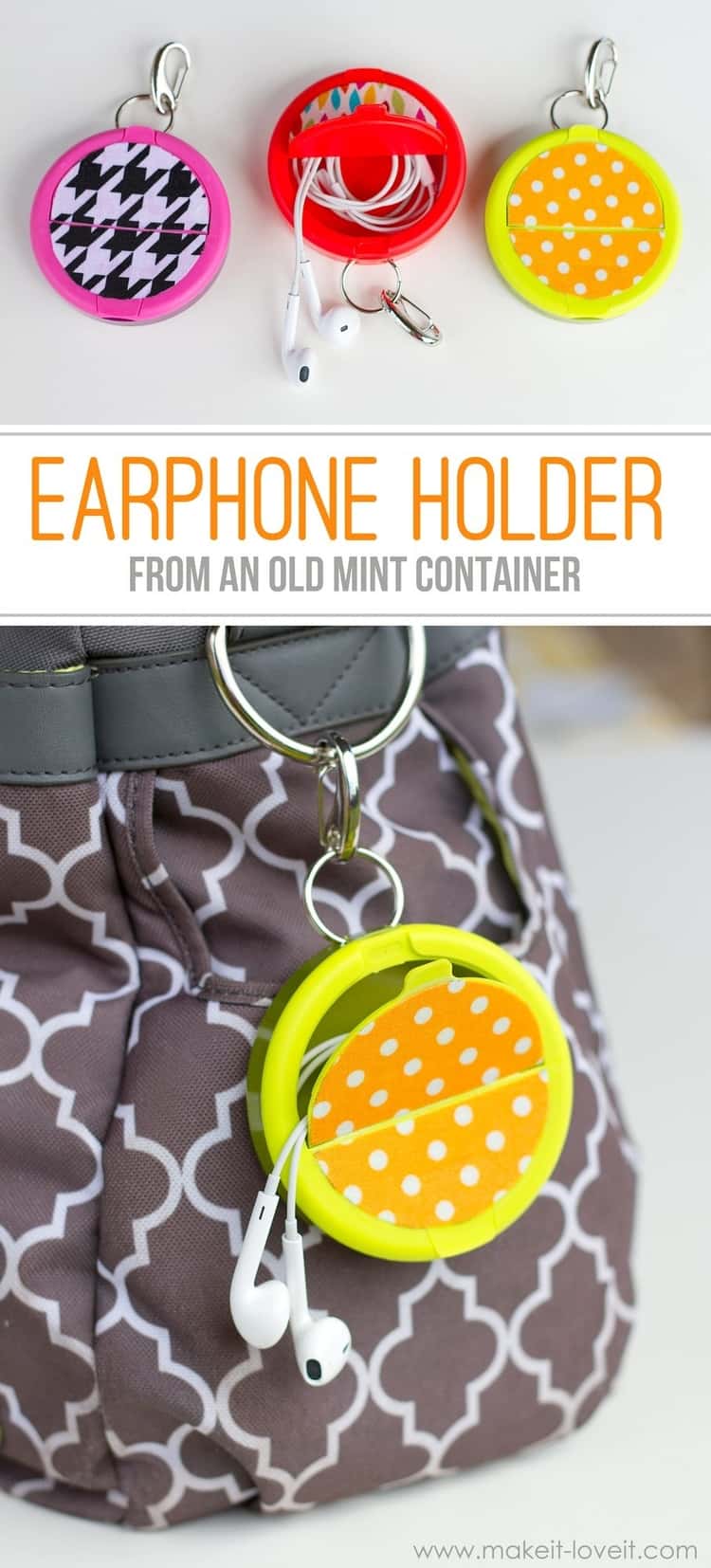 2. Felt Fabric Earbuds Case
This is one easy DIY earbuds case that would also make a great gift! Bid goodbye to the frustration of tangled earbuds in 10 minutes or less, by making this felt fabric or fleece DIY earbuds case.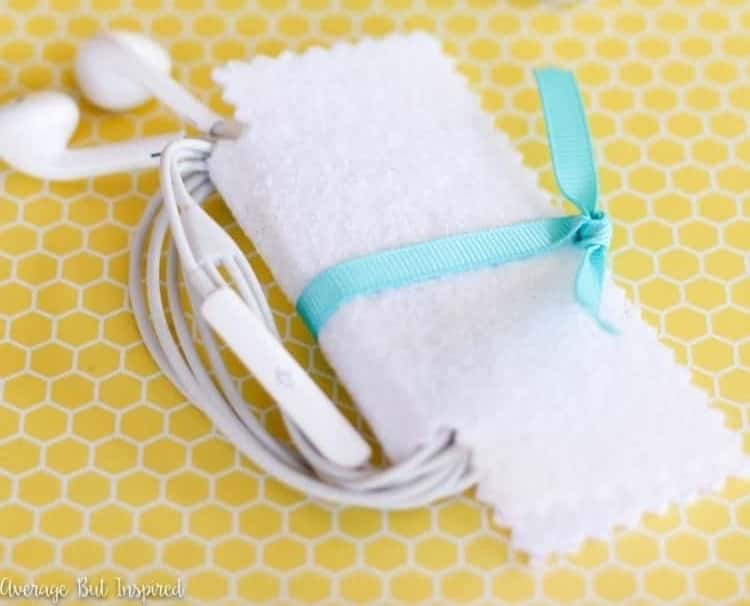 For this, you need:
Stiffened felt fabric
a pair of scissors and pinking shears
Velcro dots
Disappearing ink marking pen
Ribbon
Hot glue gun and glue stick
Pencil
Paper
Procedure:
Start by drawing and cutting a square piece of paper of about 4″
Make cuts at the top and bottom middle of the square, so your template looks like the letter "H."
Now trace your template onto the felt fabric with the disappearing ink pen.
Cut out an "H" shape from your felt fabric, then place 2 Velcro dots on the inside and outer edges of the "H" shape.
Flip your "H" shape over and glue some ribbon on the outer side. Leave a little tail on each side, but trim just enough of the ribbon so it's not too long, otherwise, you'll be back to another tangling mess.
Wrap your earbuds around the inside notches, fasten your earbud holder, and you can now start enjoying your no-sew tangle-free earbuds! 
Tip: Get as creative as you want by making this in any color, adding details like buttons, monograms, or contrasting stitches along the edges.
3. Simple Felt DIY Earbuds Case
Here's another simple felt option that's a little more dressed up with an additional piece of different colored felt fabric, some stitching, and a button.
For this DIY earbuds case, trace and cut the circular shapes using 2 different-sized jars, trim the edges with pinking shears, place them on top of each other, stitch them together, add a button, and you're done.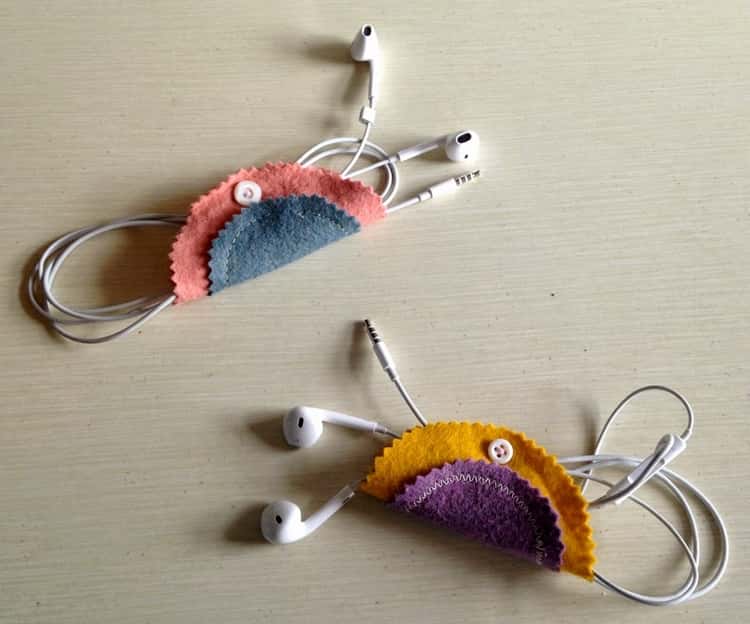 4. Stylish DIY Earbuds Case
This stylish DIY earbuds pouch calls for more materials, effort, and sewing, so if that's fine by you, have a go at it. The case cover is made out of leather, so it's best if you have a leather needle too. I haven't tried this DIY yet, though from what I'm seeing you'll end up with a sophisticated and stylish DIY earbuds case that just lovely.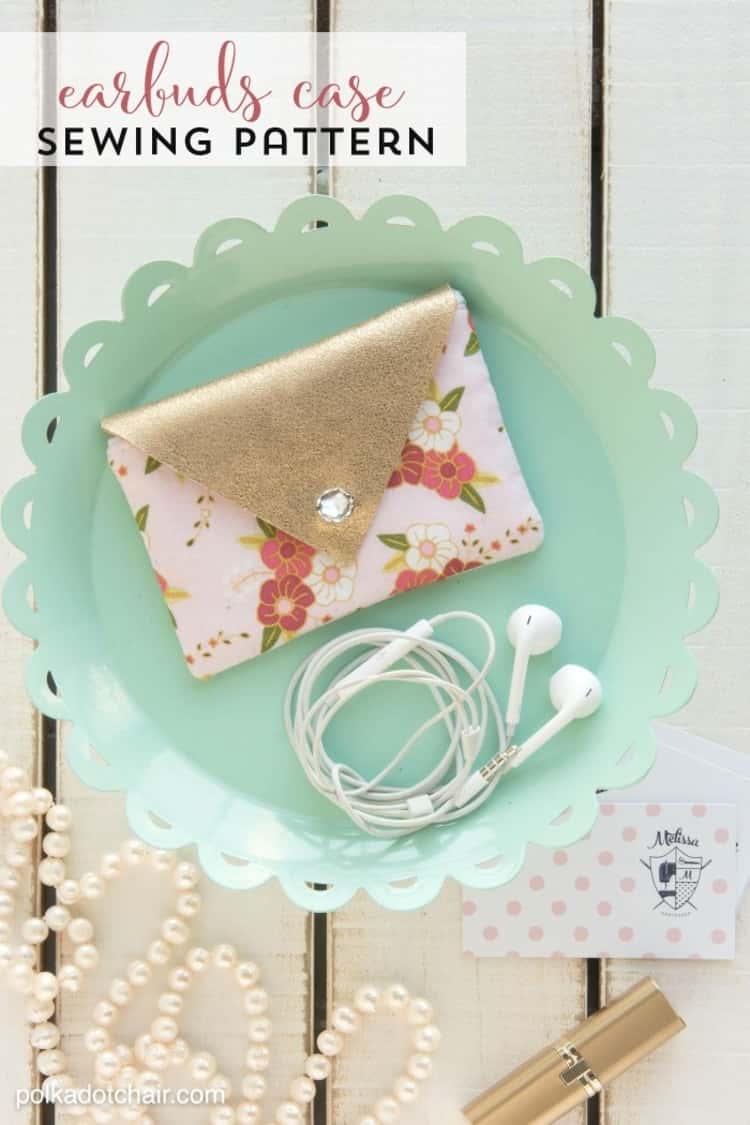 5. Cute DIY Earbuds Case
This is an afternoon project if you enjoy sewing and want to channel your inner animal towards sorting out your tangled earbuds once and for all.
This wool owl earbud case requires several colors of felt wool and it's advisable to plan out and sketch the entire project before shopping for the materials needed. The beauty of this earbuds case is that it's all hand-sewn and it would make an amazing DIY gift!

6. Shabby Chic DIY Earbuds Case
This is probably the easiest DIY earbuds case you'll ever make. It doesn't ask for much; just a pair of wooden 3.3″ long clothespins, floral washi tape, hot glue, and paint in your color of choice.
Add a thin line of glue to the other side of each clothespin, and quickly press them back to back on opposite sides because the hot glue dries out fast. Next, cover the sides of the clothespins you want to be on the outside with washi tape. Finish by painting the clothespins and you'll have made yourself a unique shabby chic DIY earbuds case.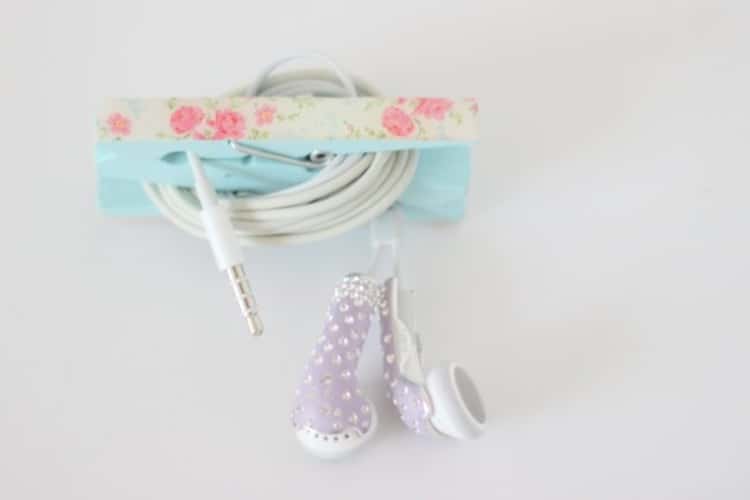 7. The Easiest Earbuds Case Ever!
If you're not much of a seamstress (neither am I), this duct tape earbuds holder seems easy enough. Unfortunately, there are no instructions, but you can likely figure out how to fashion one for yourself. And since duct tape now comes in so many fun colors and patterns, you can make it really pretty!
8. Wine Cork DIY Earbuds Holder
Here's a truly simple version of DIY earbuds holder: wrap the headphones around a wine cork. Drill a hole in the bottom for the end of the headphones. Oops! That was just one wine cork DIY and I know it barely dented your collection. Here are some more wine cork DIYs!
9. Keyring Earbuds Case
If like me, you're always losing your earbuds (which is why I never buy expensive ones), maybe this keyring earphone pouch will help. I almost always know where my keys are and now that's where my earbuds will be!
10. Portable Earbuds Container
You can turn an empty Mentos gum container into a pretty handy earbuds case, as you can use the earbuds and keep them contained at the same time.
For this DIY earbuds case, you'll drill 2 holes. One in the container cover where the earbuds will pass through, and one at bottom of the gum container for the plug. Pass the earbuds through the top so that they're left sticking out and you can adjust the length of cord needed.
Next, neatly wrap your earbud cord using a rubber band. This makes it easy for you to adjust the length of the cord needed when your earbuds are in use or to tie up extra cord length when not needed. Now pass the plug through the hole you drilled at the bottom and then place the neatly wrapped cord in the gum container.
Whether on the go or not, your earbuds will not be a tangled mess with this DIY earbuds case.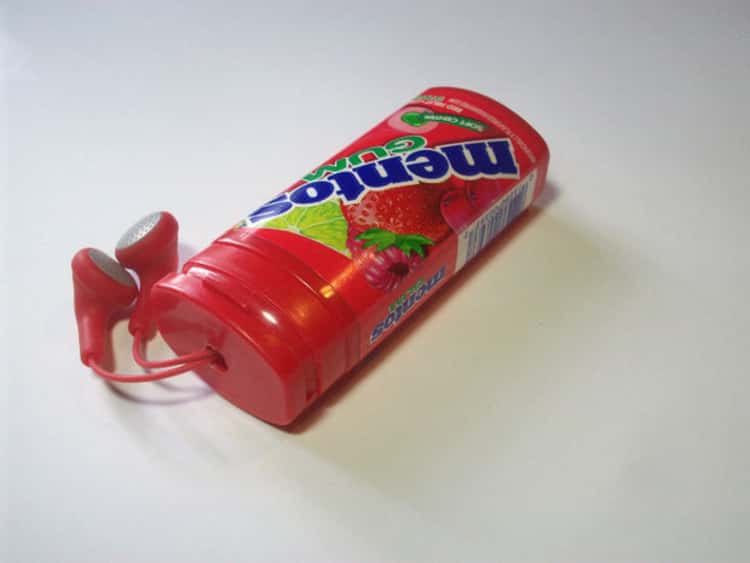 11. Easy Craft DIY Earbuds Case
If you have kids, this is a DIY earbuds holder project they will be happy to help with. Allow them to choose their favorite colors to create unique earbud holders that they'll love and enjoy having. These cases are made with Perler beads, and you can make any design you like. Critters, superheroes, rainbows… let your imagination run wild.
For the adults, having several diy earbud cases allows you to change to any color or designs too!
12. Recycled Credit Card as a Earbuds Holder
Put your expired credit cards to use. This is also a good option for those preapproved cards that come in the mail.
On one end of the card, drill 2 holes where the earbuds will go in. From each hole, cut a line to the closest outside edge. These are the slits you'll use to slide the earbuds and their respective cords into place. On the opposite edge of the card, drill a smaller hole for the earbud plug as well as the slit to the outer edge through which the earbud cord will be sliding.
You can bid the tangled earbuds mess goodbye, thanks to your old cards!
13. Binder Clip DIY Earbuds Holder
Who would have thought a binder clip would be an amazing rescue from the tangled earbuds mess as a DIY earbuds holder? Simply attach a binder clip to the desk, and wrap your headphones around them. That'll let you keep them within quick reach without cluttering up your desktop. While this is an office hack, the binder clip will also hold your coiled earbuds so that they don't tangle when you need to put them in your bag.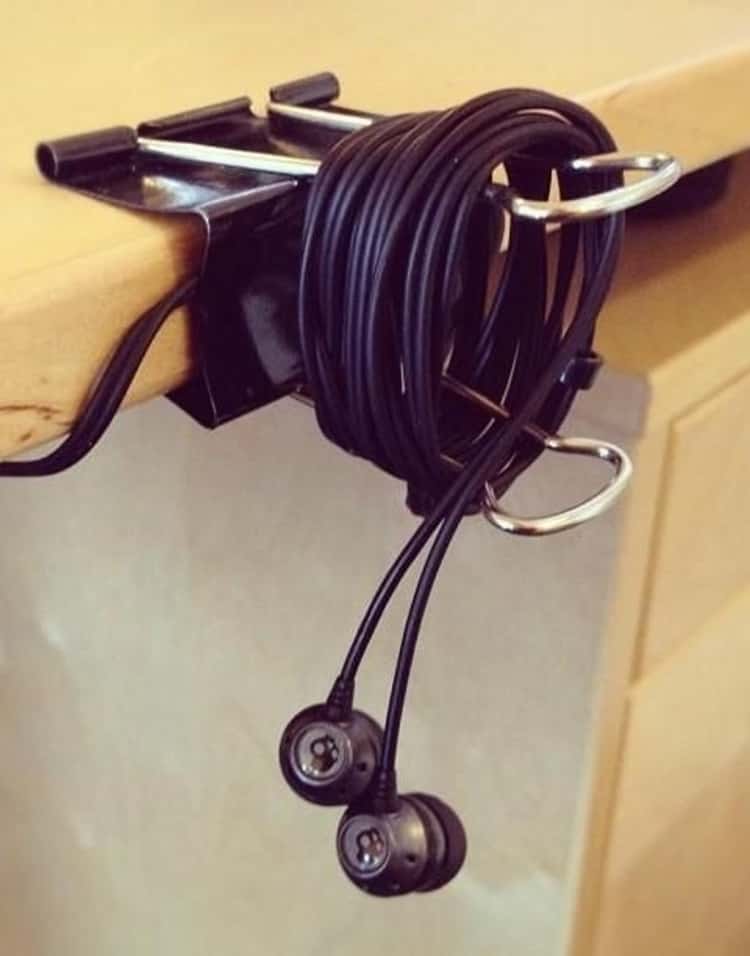 14. Adorable Case Made With Bear Hands
This bear organizer holds the phone and headphones, and you have to admit that it's pretty darn adorable.
It's a hand-stitched, 2-in-1 felt project that is a no-instructions-needed, simple DIY for making an earbuds case. Cut out felt fabric to fit your phone as well as the decorative front pieces. Once done with the stitching and decorating the phone case, the black velcro will hold and keep your earbuds tangle-free.
15. Crochet Cute DIY Earbuds Cases
Even if you're not blessed with crocheting skills, this is an easy DIY earbuds case that you can make after a few minutes of watching YouTube tutorials. I know it's that easy because that's how I learned to crochet. Go ahead and try your hand at this simple yet stinking cute crocheted cord holder.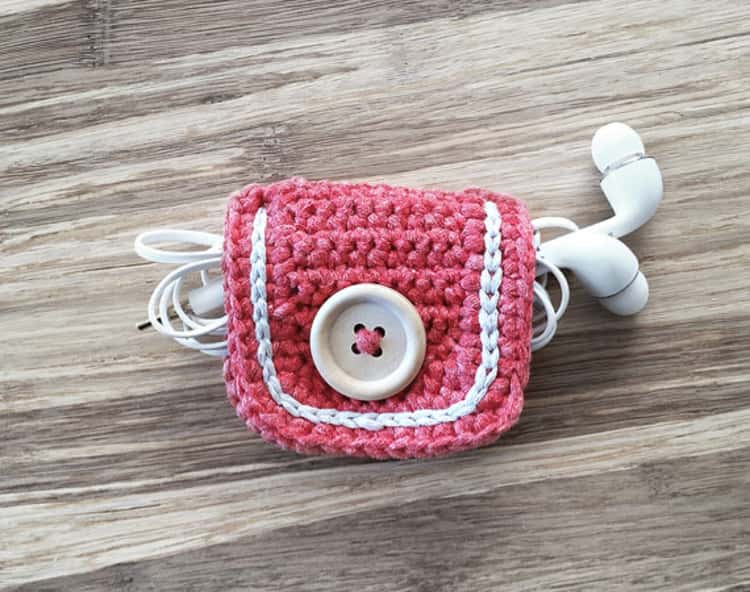 16. Wanna Taco A DIY Earbuds Case?
Here's another no-sew cute-as-a-button option: a taco earbuds holder! Don't you love it?
So when you have a song stuck in your head or just a desperate need to get away for a minute, you can trust that, with these solutions, you don't have to worry about the frustration of tangled earbuds. Did you find your perfect solution?
WAIT – There's More fun DIY projects to try out:
Which of these easy DIY earphone holder projects is your favorite?