Your entryway speaks to people more than any other thing when they first visit your home. It is like the first impression you make when meeting new people. It can make or break you. Does your family trek through the front door each day dropping backpacks, briefcases, coats, umbrellas, shoes, and more? What a mess! It can be quite a bother especially if you have a big family and you can't keep repeating the same rules of the organization now and then! Entryway ideas are what you need.
And the help you need is here! Thank Goodness. If you're losing your sanity over the state of your entryway, fret no more. Here are 15 stylish and functional entryway ideas that'll help you find a place for everything that comes through your door at the end of the day. Looking for mudroom ideas? We have those, too! But first, let's hop into the list of entryway ideas we've got for you.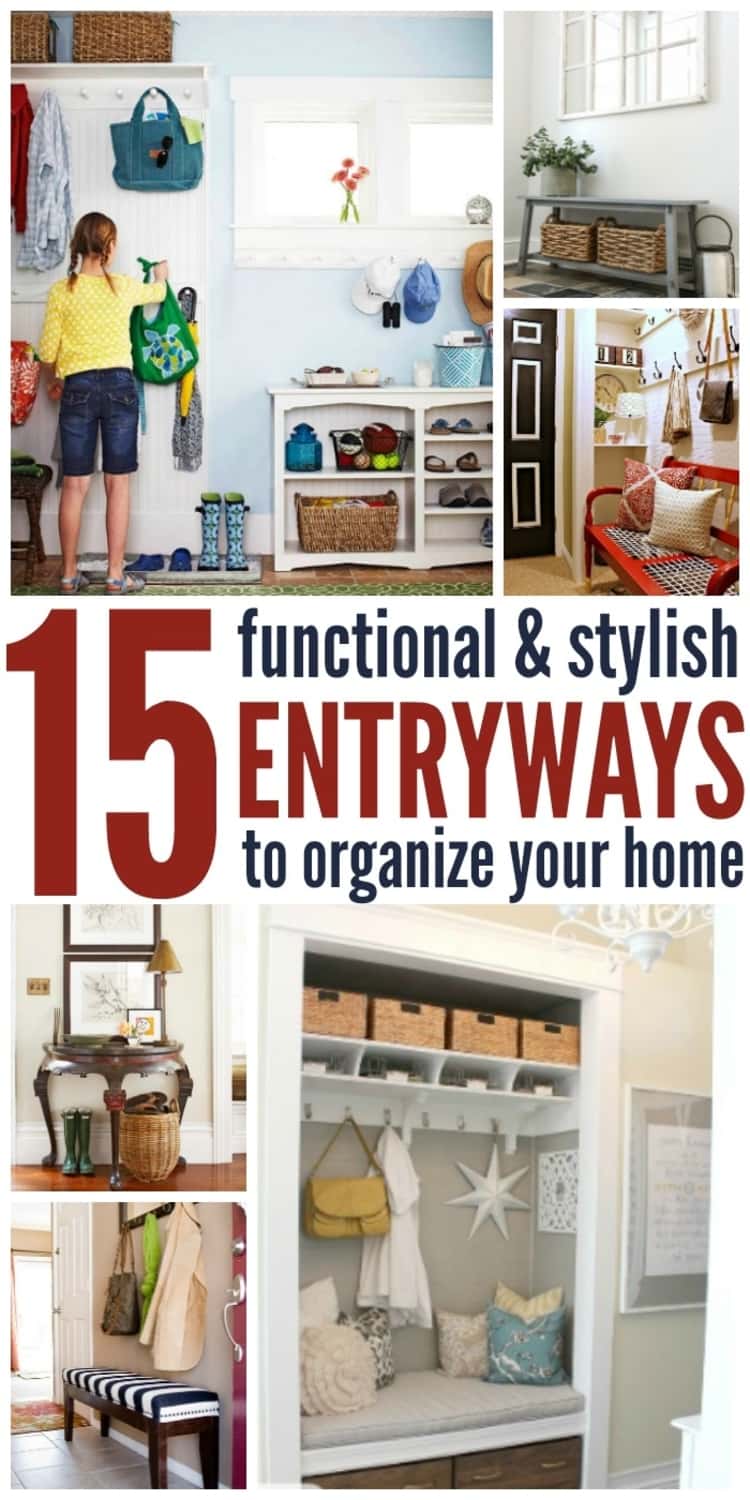 Entryway Ideas to Organize and Streamline Your Home
1. Easy Upholstered Bench
You may be thinking to yourself, "my house is pretty small and so is my entryway. Thus having an entryway idea is not going to sound logical." Who said it can't be done? In a small entryway, a narrow bench is a perfect solution for putting on and taking off shoes. The mirror with the hooks means fewer holes in the wall, so it looks a little cleaner than hanging a mirror and hooks separately. And voila, you got a nice and functional setup for your small house.
2. Entryway Coat Closet
Those of you who think a closet is meant for the bedroom only? The shock on you! Haha. You can create one for your entryway too. And so is your entryway a hallway with a coat closet? If that's the case, the organization is of the utmost importance! Here you see hooks on the back of the door for bags and accessories, and a hanging organizer to hold things like scarves, hats, and gloves.
3. Marked Spaces For All
For big families, you can decide to have everyone get a space or spot of their own in the entryway. Create clearly marked spaces for everyone's stuff so there are no arguments about what goes where. This chalkboard idea above each space is super smart. Plus it makes things to be done in an agreeable manner. A great entryway idea.
4. Small Entryway Table
Here, a small table provides enough space for everyone to drop their keys, change, and phones upon entry, and shoes can be stored in the basket underneath. Tidy and pretty! It becomes so easy to retrieve the things the next day and more so makes your entryway more organized and just right. Isn't this a beautiful entryway and a functional one so to say!
5. Entryway Table with Shelf
You can never get enough entryway tables so here's another take on the entry table with a pretty rug underneath, a small stool for sitting and removing shoes, and plenty of space for some knick-knacks. And the color of the table is just so inviting. Makes the space look and feel warm. You can adopt such colors for your entryway. On top of the aesthetics, there is so much space for placing things such as the small shelving unit below underneath the main tabletop.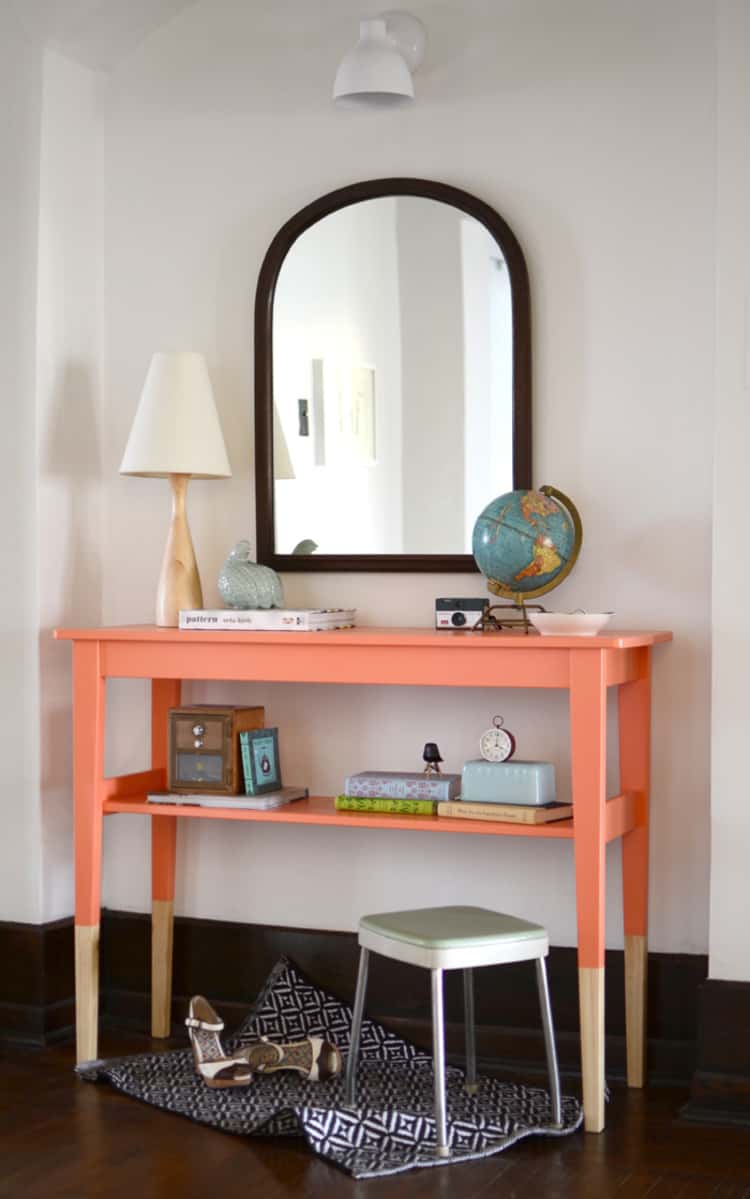 6. Simple Entryway Bench
This simple entry bench with storage baskets is gorgeous. The baskets can hold shoes and hats, scarves, etc., while the potted plant on the bench adds a decorative touch. The bench also offers rest for when someone is pretty tired and wants to take off their shoes while still having a rest. It can also serve as a place to just chill at times. Isn't this a sight to behold!
7. Closet Come Mudroom
Here's another coat closet converted to a mudroom. The cubbies underneath the bench are genius (I'd put baskets there), and the shelf above the hooks with baskets is ideal for putting accessories or important papers you need to remember on your way out. The hooks are for hanging raincoats and jackets that are worn often when stepping out. It is big enough to accommodate a big family and thus functional.
8. Wall Turned To Mudroom Space
Another of the great entryway ideas is to turn a blank wall into a fabulous mudroom-style space with some boards and hooks. Look at the difference! The look is so simple yet offers a wide room of space for people to hang their coats, hats, and even keys on the hooks. Space doesn't have to have lots of things placed in it so as to achieve its functionality. This simple idea is all it takes to make your entryway an ideal space.
9. Transform a Closet into a Mudroom Nook
Thought we were all done with closets? Well, you thought wrong! Again presenting to you these brilliant homeowners who turned their coat closet into a mudroom nook It possible was lying idle with nothing to be stored in it. But now it has gotten a lot more functional. You can see the four phases of the project with the before and the after with all the partitioning and renovations that have taken place.  Isn't it just a genius idea?
10. Rustic Wooden Shelf
Another of the classic entryway ideas is a rustic wooden shelf that serves as the station for all the footwear, bags, and accessories. It is simple but functional! You can easily make this at your home with wood that has been placed idly somewhere. For a low-budget functional entryway, this is one of those ideas that you can try out. Plus it brings the vintage-style vibe with it.  You can have the shelf contain as many shelving units if possible. But this one serves just right and is simple.
11. Hooks for Kids
Growing up I was shorter than every one of my siblings. They used to tease me coz I always had to climb on the entryway bench to hang my coat or school backpack. I grew taller with time though. So folks if you have kids, of all the entryway ideas you've got, don't be afraid to hang those hooks a little lower. In the middle of the wall is about the perfect height for little ones to hang their coats and bags without any help. These ones are low enough for even the shortest one to get his stuff hanged.
12. Shoe Cabinet For Entryway
Although this is not a mudroom or entry, it provides great ideas for one. The shoe cabinet from IKEA being one, and the hooks at kid height being the other. You can definitely have the same size of shoe cabinet or smaller size depending on your entryway space and need. The beauty of this is you can be as experimental with the idea as much as you can. Even the colors can be changed depending on what you want.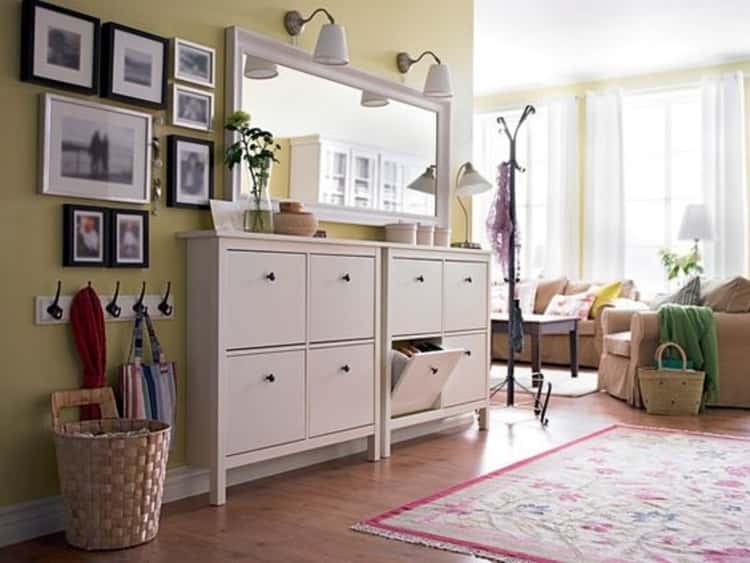 13. Board and Pegs For Entryway
Install beadboard and pegs along a blank wall in your entry to fashion a quick, affordable, and easy mudroom. You can also have a shoe shelving cabinet to store shoes and tennis balls or rugby balls. The basket placed on one of the shelves comes in handy for small things that can't be hanged on pegs. It such a stylish way to design your entryway and make it a whole lot functional.
14. Bins for Entryways
Put items that don't belong into bins. You know what I'm talking about moms — the balls, sports equipment, jump ropes, and miscellaneous items that make their way into the house somehow. This makes your home cleaner and is a way for your kids to be responsible and organized. Mater of fact you could ask your kids to label each bin so that they know what goes where whenever they get to the house.
15. Hallway Turned Entryway
Finally, you MUST click through to see the before pictures of this hallway turned entryway. It was so narrow! But they removed the closet doors, added a bench, some hooks, lighting, and a few other touches to make this a truly functional "mudroom". You are so much allowed to repurpose some part of your space to turn it into a stylish space and much more functional than it was before. This is such a brilliant of the entryway ideas you can think of. So yes break a leg as you try it out.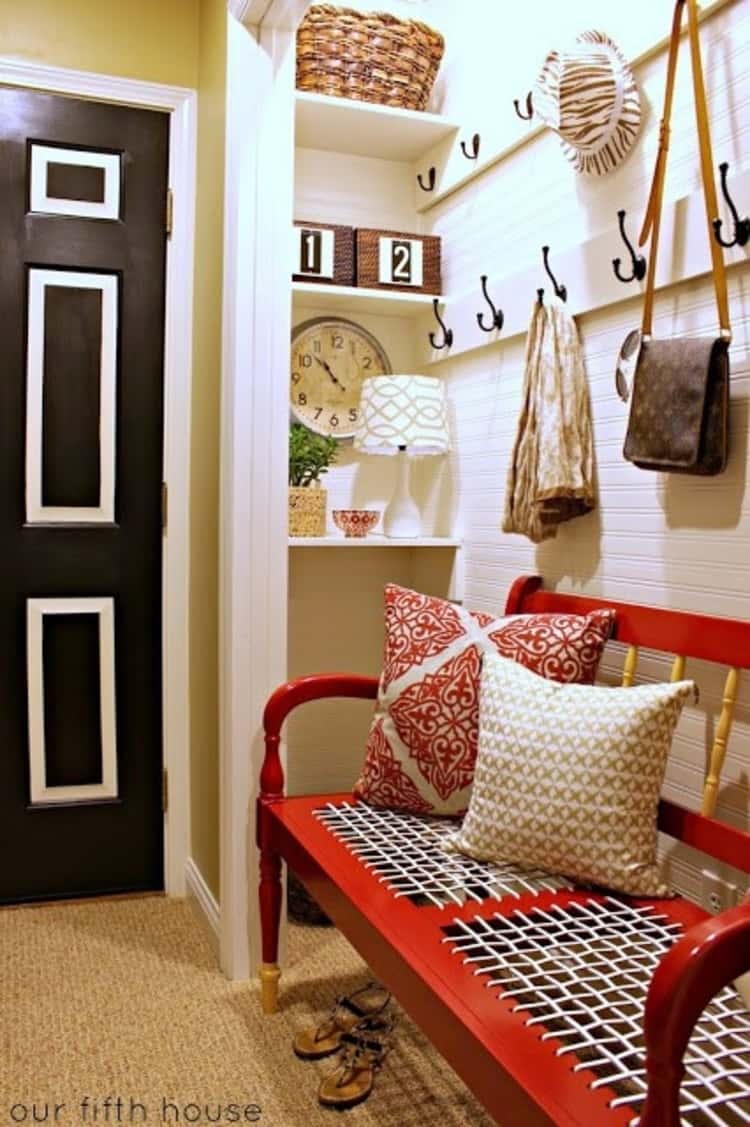 Certainly, there are so many ideas and options you have now, given the above tips we've tipped you with. You could try out as many as you want and let us know how the experience is for you in our comments section.
Having a simple uncluttered home is a form of self-care. – Emma
Have you enjoyed all the entryway ideas we had for you? Check out more ways to get your home organized!