It's time for New Year's resolutions and cleaning up your eating habits diet. Make food prep part of your new healthy routine! Here is your guide for successful healthy food prep.
After every holiday season, I find myself feeling a bit sluggish. I don't know about you, but I tend to enjoy more than my fair share of gingerbread, eggnog and other goodies. Once the new year has arrived, it's time to clean up my eating habits and my diet.
Truth be told, my secret weapon for accomplishing what can sound (and feel) like a monumental task is meal prep.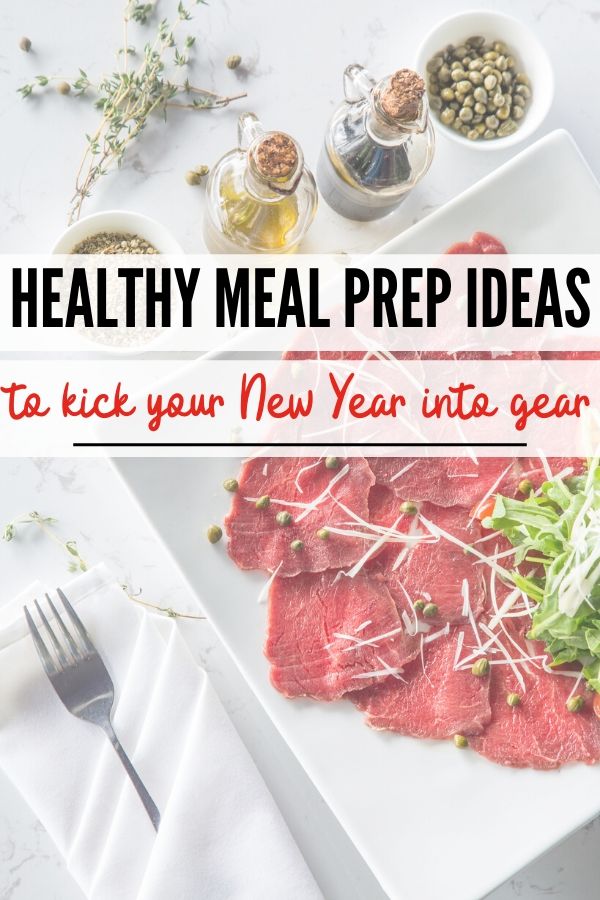 What is Meal Prep?
New to meal prep? Here's the skinny:
Meal prep (or food prep) is planning your meals and preparing some or all of your meals for the week ahead of time.
There are 3 simple steps you can take to plan your meals in advance:
Menu planning
Grocery shopping
Prepping food
Not only does it save you time, but it also helps to ensure you eat healthier foods more often instead of reaching for "quick" options such as processed and prepackaged snacks or meals that go over your daily calorie needs.
Make food prep part of your routine, and before you know it, it will become part of your lifestyle!
Healthy Food Prep Tips and Ideas
It's not easy to choose healthy foods when you lead a busy life — and let's face it, we all lead busy lives.
That's what makes meal prepping so beneficial. Thankfully
1. Pick a Food Prep Day
First, pick a day of the week to prepare all your meals.
For many people, Sunday is the best day because it's a day when you are off work and you can enlist the help of your entire family if you need it.
2. Choose The Meals
Decide which meal you are going to prepare first: Breakfast, Lunch or Dinner.
If you are preparing for a family, then prepping your dinner meals first would probably be the best use of your time as dinner is known to time of day where most people tend to stress about meals.
However, if you are single, or cooking for one or two people, then you may want to try to prepare breakfast or lunch meals first.
Next, decide on the recipes you are going to prepare.
Stick with Family Favorites
If you're new to meal prepping, don't start out with all new healthy recipes. Start planning with recipes you are familiar with and know for a fact that your family loves.
Once you feel comfortable, you can start to introduce newer ones over time.
Plan Simple Meals
Chicken is a favorite among many meal preppers because it is extremely versatile, easy to store, and easy to freeze.
Scroll down to the bottom of this post to see a list of some of my favorite quick and easy meal prep ideas I use on a regular basis!
This Is The Time To Multitask
Remember that you can cook lots of different things at the same. Use your stove and oven space to its fullest potential by cooking multiple things at the same time.
Use Your Crockpot
Okay, this one is obvious, yet so many new meal preppers don't think about it. The Crockpot has been a favorite among moms for decades. Use it to make simple, great-tasting meals then store them away.
Bonus: you can even use your crockpot to cook a meal while you are cooking other meals in the oven or on the stove.
Healthy Meal Prep Tips for Weight Loss
Here are some easy ways you can get more nutrition and appropriate portions into your meals without any added extra effort:
Load Up On Veggies
Veggies should make up 1/3 to 1/2 of your meal to provide high amounts of nutrients and fiber that will help keep your appetite in check and metabolism going strong.
Eat Lean Proteins
Eating more lean protein (chicken, fish, shrimp, grass-fed beef, or tofu) will help keep you satisfied and supports lean muscle, which is important for weight management.
Use Whole Grains
Use quinoa, farro, brown rice and whole-grain pasta as a base for some of your food prep. They pair with just about any protein, veggies, and flavor you add.
You can also use beans, lentils, peas, corn or potatoes to make your dishes hearty. Aim to keep your starch portion to 1/3 or less of your meal.
Add Some Healthy Fats
Use small amounts of healthy fats like olive oil and avocado oil when cooking, or throw a few whole fats like olives, nuts, and avocados on top.
Eat More Fruit
Fruit is a great way to dive into meal prepping. You can cut up different types of fruit and store them just like any meals you could prepare. You can easily make fruit salads or smoothies to go along with your prepped meals.
Minimize Added Ingredients
Ingredients like salt, cheese, heavy sauces, high sugar dressings can easily turn into extra calories and can add up quickly.
Instead, use calorie-free additions to add more flavor and variety – like lemon, fresh herbs, garlic, paprika, or chili flakes.
Cheap Meal Prep Help
For those times when you really need to stay on budget, there are a few tricks you can use to help save money at the grocery store.
Buy store brands
Use coupons and/or money-saving apps like Ibotta <LINK>
Plan and buy ingredients that are 'in-season', as they are usually cheaper
Meal plan with budget-friendly healthy ingredients like eggs, eggs, vegetables, rice, and chicken.
Plan simple meals – the more elaborate the recipe, the more expensive the meal is.
Hopefully, this guide has given you some great healthy meal prep ideas to help you get started and reach your New Year's goals.
After all, that is what meal prepping is all about!
Easy Meal Prep Ideas
Here are some great recipe ideas to get you started: