Looking for Easy Make Ahead Freezer Meal Recipes?? We've all been there right?! So busy, so tired or so hungry that we can't see straight.
And how many times does that translate into cereal for dinner…or fast food…or ordering a pizza? Or maybe a need comes out of nowhere and you have to throw together a meal for a sick friend, or someone who just had a baby but you have nothing on hand.
With some proper planning, and a collection of easy make ahead freezer meals, you can avoid those dreaded "oh, no…what am I going to do?" moments.
Check out our roundup of some of the most convenient, no fuss meals to make ahead and freeze. Pick a few favorites and carve out some time to prep – then, when you're ready, just throw it in your slow-cooker or oven and dinner will be ready in no time!
Make Ahead Freezer Meal Ideas
#1: Ravioli Lasagna
With just a few simple ingredients and little to no prep ahead of time, you can get a cheesy, hearty and down-right comfort food casserole ready to go at a moment's notice. This is a super versatile option too that can easily be tweaked to accommodate the taste buds on your home – make it extra meaty, load up on the vegetables, add some extra cheese…make it your own!
Source: neatnestorganizing
#2: Chicken Stir-Fry
While this one requires cooking the chicken and blanching the vegetables ahead of time, it still comes together very quickly and is not complicated! Once you've partially cooked the food, lay it on a cookie sheet to freeze for about an hour (this prevents everything from freezing together in one clump). Then combine all ingredients into a gallon-sized freezer bag and lay flat in the freezer until you are ready to use.
Source: superhealthykids
#3: Spaghetti Sauce
This is one of those "staples" that is super versatile and can be used in a variety of dishes. Obviously, good ol' spaghetti is always a good option. But you could also make parmesan chicken, pizza, creamy tomato soup, sloppy joes, etc. Make up several batches of this and be ready to whip up any number of home-cooked meals in a jiffy!
Source: The Pioneer Woman
Video: Freezer Organization Tips
Want to organize your freezer like a boss? Check out this short video to see some super helpful freezer organization hacks for yourself!
#4: Cheesy Chicken Broccoli Rice Casserole
The combination of cheese, chicken, broccoli and rice just screams comfort doesn't it? Mmmmm…while this version does require a bit of prep work (you need pre-cooked rice, chicken and par-steamed veggies) it's well worth it – it makes *at least* FOUR meals!
Source: moneysavingmom
#5: Healthy Breakfast Burritos
If you've got about thirty minutes to spare one evening, you can quickly whip up these breakfast burritos that will last you a week or more! Healthy ingredients plus minimal prep equals a hearty breakfast option that will get your morning started on the right track every time.
Source: tone-and-tighten
#6: Freezer-to-Crockpot Chicken Fajitas
What could be easier than literally dumping a bunch of ingredients and then throwing it in the freezer? In less than ten minutes, you can have this meal prepped and in your freezer, ready to pull out at a moment's notice. Then, while your crockpot does all the hard work, you can concentrate on whipping up some brown rice and beans for the side, and dinner is ready!
Source: thehumbledhomemaker
#7: Meatball Veggie Soup
This soup packs a hearty punch with beef meatballs (but you could easily sub turkey or chicken if you prefer), your favorite seasonal vegetables, and a sauce that's as good as it is easy! Throw all your ingredients into a Ziploc bag or freezer safe container, then simply thaw and throw into your crockpot when you're ready to eat. Doesn't get any simpler than that!
Source: newleafwellness
#8: Freezer Oatmeal Cups
Those individual packets of oatmeal can be convenient, but they contain a lot of ingredients that you may not want you or your family eating. Take advantage of this creative idea, and control exactly what your family eats as the day gets started. These oatmeal cups are pre-cooked, then frozen into individual serving sizes for busy mornings – just pop them in the microwave (or on the stove if you prefer) long enough to heat them. And, you can add anything you want to make your own flavors – think local fruit that you got on sale and need to use up, or your favorite nuts, or even chocolate chips!

Source: cupcakesandkalechips
#9: Tuscan Pasta
With all the prep work done ahead of time, you can enjoy a delightful Tuscan pasta, even on a busy weeknight! Depending on the size of your family, this can make 1-2 meals and only takes about 20 minutes. At dinner time, just pop it in the oven and let the aroma fill up your kitchen!
Source: sixsistersstuff
#10: No Boil Manicotti
Want to have manicotti, but don't want to pre-cook the noodles? No problem! With the recipe, simply mix your filling ingredients in a Ziploc bag, then use the bag to pipe the filling into your UNCOOKED noodles. Assemble into a 9×13 and pop it into your freezer, then pull it out and bake when needed. Add a quick side salad, and you've got a fantastic meal that didn't cost you a lot of time!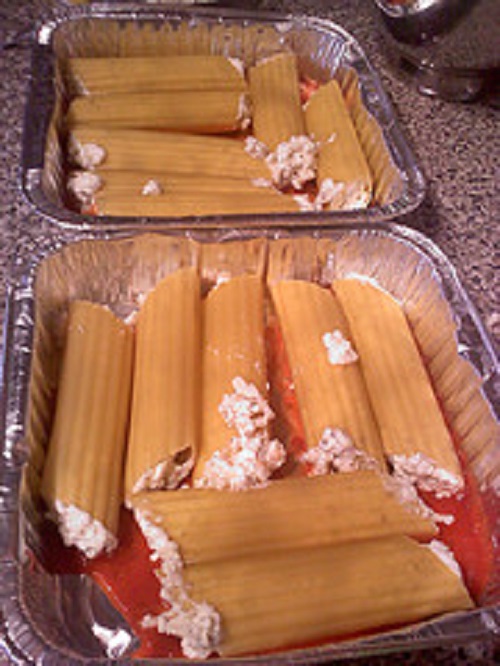 Source: 5dollardinners
#11: Enchilada Casserole
This Mexican casserole comes together with just a few easy steps and is a great casserole at the end of a long day. It will taste and smell like you spent all day in the kitchen!
Source: tasteandtell
#12: Muffin Tin Meatloaf
Put a spin on traditional meatloaf and bake individual servings in a muffin tin! This recipe is super easy and from start to finish it comes together in under an hour. These can be taken out and reheated in the oven for an effortless dinner, or even sent to work or school in a lunch box.
Source: somethewiser
#13: Black Bean Taco Soup
Soups are a great freezer meal to keep on hand – they are filling, easy to make, and very versatile. Feel free to change up any ingredients to suit the taste buds in your home! Simply cook your protein, then add in the additional ingredients based on what you like. Allow to simmer for about 20 minutes, then freeze. When you heat this soup up on a cool night, it will taste like it's been simmering all day!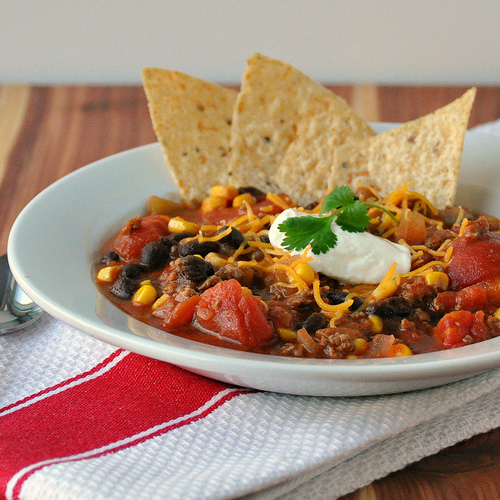 Source: thewaytohisheart
#14: Chicken Noodle Casserole
This beautiful casserole is like chicken noodle soup in a creamy casserole form. You're going to want to double this recipe every time you make it, trust us. Your veggies are baked right into the casserole, so grab this one from the freezer, pop in the oven and dinner is served.
#15: Roasted Veggie Burritos
You will NOT miss the meat in this burrito. It's packed full of hearty vegetables and when you combine that with beans and cheese in a whole-wheat tortilla, you get a guilt free burrito that you can eat at home or on the go.
Source: skinnyms
#16: Whole Wheat Banana Nut Bread
This bread is baked ahead of time, then sliced and frozen. Makes it super simple to grab one or two slices at a time, versus having to eat the entire loaf once you thaw it (although, that might not be a problem either).
Source: moneysavingmom
#17: Whole-Wheat Pizza Pockets
Want a healthier version of those freezer-section pizza pockets? They sure are convenient, but leave a lot to be desired as far as nutrition goes. This recipe is a winner – with a focus on whole, unprocessed foods, you can feel good about whipping up a batch of these and grabbing them as needed – they reheat very quickly and easily in the microwave (or oven if you prefer) and you can't beat the taste!
Source: 100daysofrealfood
#18: Slow Cooker Party Pork
As the name suggests, this is an awesome crowd pleasing recipe. If you're having guests over, or plan to provide a meal to someone in need, give this one a try. With only FOUR ingredients and no requirement to prep ahead of time, you can get this freezer ready in about five minutes. Then just thaw, pour into your slow cooker and let the magic happen.
Source: newleafwellness
#19: Honey Mustard Baked Chicken
Chicken recipes don't have to be complicated to be really, really, good. Take honey mustard baked chicken, for example. Super easy, very little prep, and VERY good! With just a few ingredients, you can prep this chicken and have it in the freezer ready to go when everyone gets home late from a long day.
#20: Chicken, Potato, Broccoli & Bacon Bake
Remembering the name of this dish is the hardest part of getting this one ready. Nothing needs to be pre-cooked, so simply assemble and pop in the freezer. Then bake when you're ready to eat. This recipe is a family friendly success – kids and adults alike love it!
Source: kyleecooks
#21: Frozen Chocolate Banana Bites
Who says freezer-friendly food can only be entrees? Sometimes you just need a little treat right? Well, avoid opening that pint (or gallon) of ice cream by making these easy chocolate banana bites. With just 3 ingredients, they couldn't be simpler. Once assembled, just freeze, eat and repeat!
#22: Individual Pasta Packets
What could be easier than individual bags of pasta that you can pop into the microwave when you've had "one of those days"? Or packed in a lunch box for a hearty meal at school or work? All you need to do is pre-cook your pasta to al dente, then freeze on a cookie tray before putting in a bag (to prevent sticking). Then pair with your favorite sauce and a quick personal sized meal is ready to go in no time!
Source: frugalitygal
#23: Lemon Raspberry Muffins
Muffins are perfect for busy mornings, or for a sweet treat after school or at the end of the day. These muffins come together quickly, don't require any obscure ingredients, and can easily be frozen. And with their bright fruity flavor, you can enjoy a couple!
Source: leannebakes
#24: Freezer Breakfast Sandwiches
Most people don't have time to whip up a breakfast sandwich in the morning, but if you've got about 30 minutes to set aside before your week begins, you can easily prepare about two dozen sandwiches that only need to be zapped in the microwave! This recipe is so simple – the key is to bake a cookie sheet of eggs, then slice into squares for your sandwiches. Assemble, wrap, and freeze!
Source: favfamilyrecipes
#25: Blueberry Freezer Jam
This no-fail jam recipe is SO easy, you won't believe that there is NO cooking required. This is a great recipe to keep on hand and stock your freezer with – grab one when your family wants some fresh jam on toast or pancakes, or if you want to gift a friend.
Source: kleinworthco
#26: Meatballs
Keeping your freezer stocked with these meatballs gives you options when you need to whip up something quick. Maybe you feel like spaghetti and meatballs, maybe you don't. You're not limited with these – freeze them and then pull out the quantity you need to make what you want – maybe a soup, Swedish meatballs, or a meatball sub.
Source: onehundreddollarsamonth
#27: Frozen Pizza
Does your family love pizza? Make a few of these ahead of time and satisfy their cravings without having to go the frozen route, or digging into your wallet to pay for delivery.
Source: intentionalbygrace
#28: Freezer Smoothie Packs
Smoothies are a great way to get your fruits and veggies in, but they can be really time-consuming with all the cutting you have to do! Set aside one afternoon or evening and prep freezer-friendly smoothie packs. Then, just grab one from the freezer and pop it into your blender with some milk, water or juice and have a fresh smoothie in a matter of seconds!
Source: dessertnowdinnerlater
#29: Kielbasa & Veggie Skillet Meal
Not all freezer meals require a slow-cooker, and this is a great example of a one-pan meal that can be prepped and frozen ahead of time. It is incredibly versatile and takes mere minutes to put together. Use your favorite veggies and sausage, chop and freeze. That's it! When you're ready to eat it, simply pour into a skillet and let it cook for a few minutes.
Source: southerncalisaver
So which one will you try first? Do you have any other favorite freezer meals?