Just because the holidays are right around the corner, that doesn't mean that you have to bust your holiday budget. In fact, it seems that we are forgetting the real point of the holidays…Family, food and just being together! If you are starting to feel the pressure of the holiday budget being busted, you aren't alone. Millions of people around the world are searching for ways to find the perfect holiday gifts but stay within or below their budget.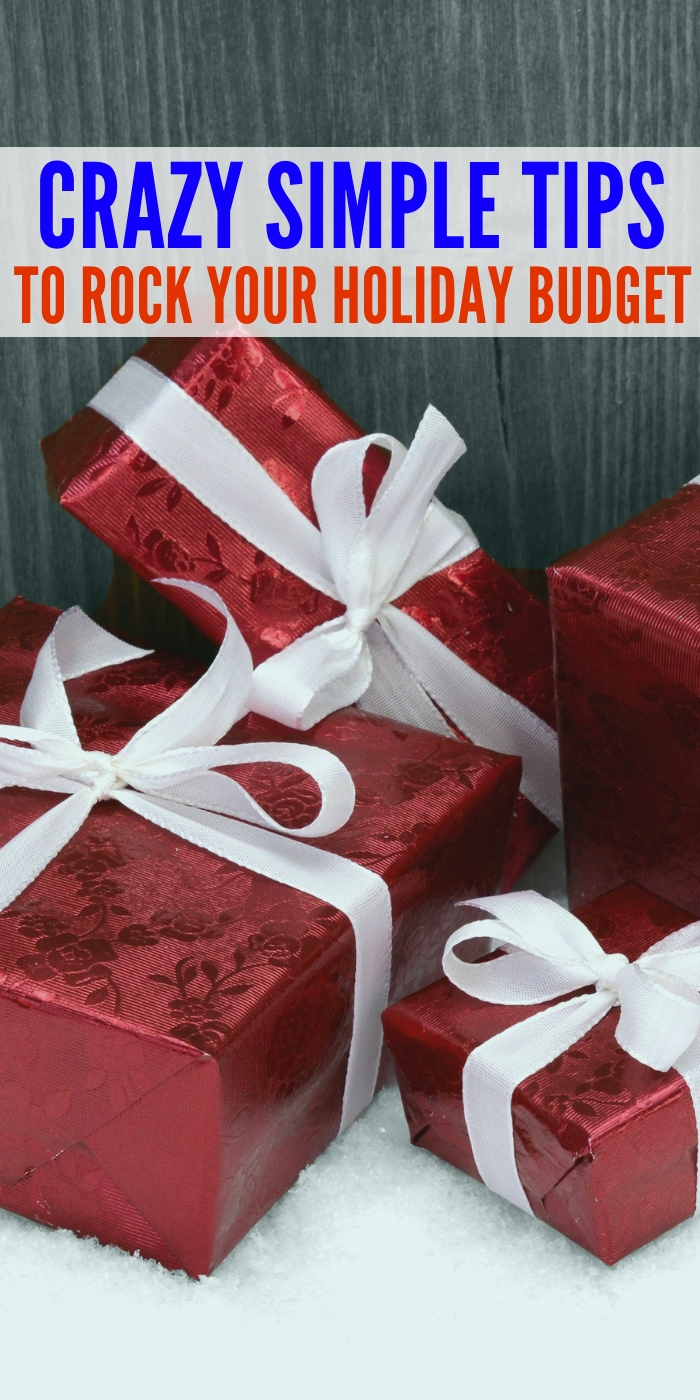 Don't start to dread the holidays just because you are worried about the price points of certain gifts! It's possible to stay below your holiday budget with just a few simple tips and planning!
How To Tackle and Stay Below Your Holiday Budget
Be good to your holiday budget this year and try this crazy simple tips!
Give homemade gifts instead of store bought ones.
Not everyone enjoys a pricey gift from the store! Instead, try giving out homemade gifts this year for the holiday season. Homemade gifts will mean more and show a lot more effort and thought than just running out to the store to buy the first thing that you see on the shelf.
Have a year where you regift items that you already own. 
We've all got too much stuff, right? Why do we feel like we need to add to it year after year? This holiday season, put your foot down and say enough, is enough. Dig around in your closets and drawers and find items that you have that you can pass along to others. Just think…you can declutter some of your stuff and save a bunch of money by not having to go out and buy a bunch of gifts. Sounds like a double holiday budget wins to me.
If you start the holiday season off without a budget or a limit set, then you'll have no boundaries to go by. The limit is up to you. You can set it per person, per gift or as an overall amount. But above all else, set a limit! That way, you know your budget, and you're making certain that you're taking the steps to stay within that budget.
Buy your gifts in bulk when they are on sale. 
Wanna know a little secret? You don't have to wait until the month or two before the holidays to start buying gifts. Hit the sales all year long to get the best bang for your buck. Stores always tend to have great sales throughout the year so if you see something that you know someone would like for the holidays, buy it in bulk for others as well!
Don't let the holiday stress cause your bank account to feel stressed, too. With these simple tips, you can rest easy knowing that you're going to stay on track with your simple holiday budget. If something is going to make you go over budget, you just don't need it!
Remember, the reason for the season isn't about gifts so there is no reason to go overboard with expensive and pricey presents!
How do you stay below your holiday budget?